Updated October 31, 2023
This is a comprehensive review of United Airlines' Premium Plus Seats. I have been a big fan of United's Premium Plus since its inception and have flown in this class of service many times. One significant upgrade from regular economy class is indeed in the seat itself. Today, I am going to share with you every single feature and detail of United's purple seats.
Table of Contents
What is United's Premium Plus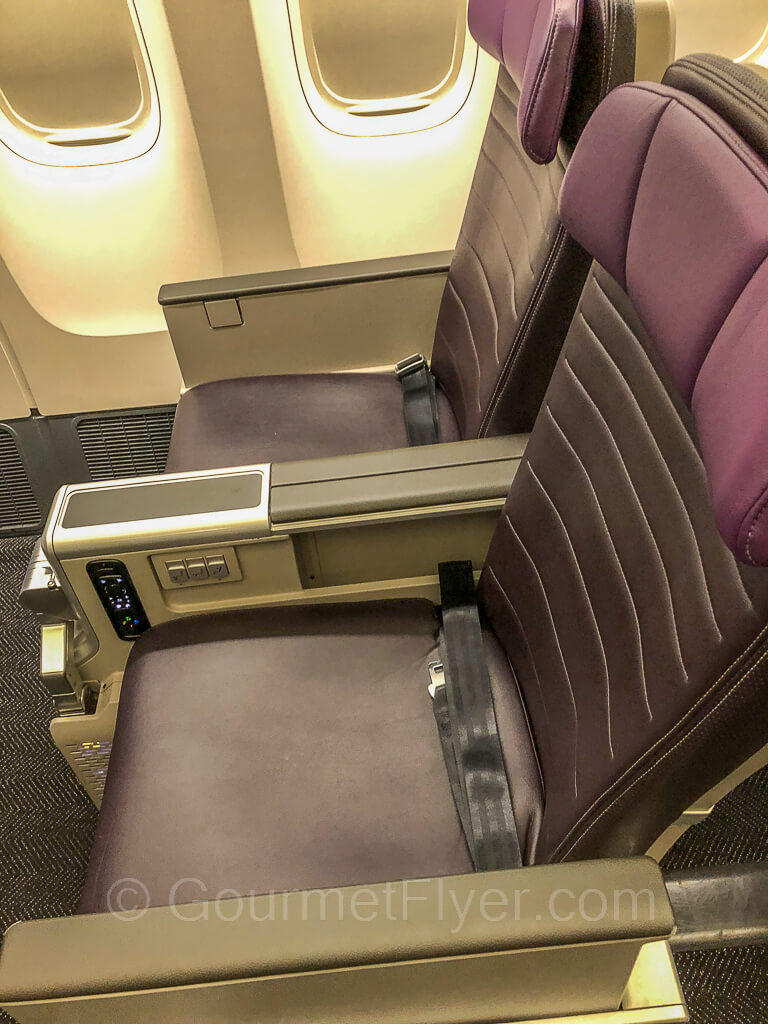 Premium Plus is united Airlines' version of Premium Economy class which is a step up from regular economy but is still miles away from Polaris, United's international Business Class. This class of service is installed on the airline's Boeing 767, 777, and 787 widebody aircrafts. As of this writing, Premium Plus is only available on the following routes:
Transpacific
Transatlantic
Premium Transcontinental (LAX/SFO – EWR/JFK)
Hawaiian flights (except to and from the West Coast)
Some of the perks include priority check-in, security line, and luggage handling, complimentary alcoholic beverages, and upgraded dining.
This article focuses on the Premium Plus seat itself. Go here for a comprehensive review of the entire flight's experience.
Cabin Configuration
United's Premium Plus is located between Polaris and regular economy. United does a very good job in making it look and feel like a separate cabin, although technically, this is still economy class. There is a partition between the last row of Premium Plus and the first row of Economy Plus (regular economy seats with extra legroom) but there is no curtain.
The configurations and the number of rows of Premium Plus seats, where available, are summarized in the following table: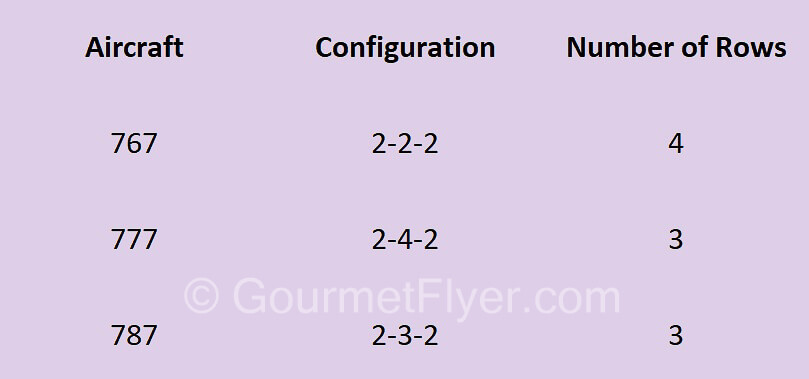 Couples will love the 767's 2-2-2 configurations. My wife and I always choose the two seats in the middle section whenever possible so that we'll each have an aisle seat. For the 777 and 787, couples who book early and secure a pair of the seats on the window side also enjoy the extra private space and comfort.
Dimensions and Measurements
United's Premium Plus seats are wide enough that most people can fit in comfortably. In most instances, if you are seated next to a stranger, the seat and arm rest are wide enough that you probably won't be rubbing elbows with your seatmate. Bulkhead seats offer almost unlimited legroom, and the seats behind them also have plenty of pitch for comfort.
For comparison purposes, the table below shows the seat width, pitch, and recline of a non-bulkhead seat on a Boeing 787-10 aircraft.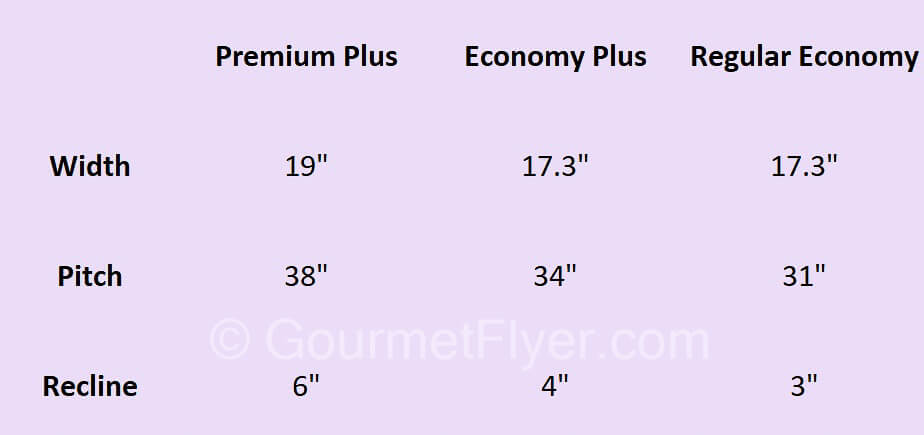 To put the above dimensions into more context, a non-bulkhead United First seat on a Boeing 737-900 aircraft has seat width/pitch/recline = 20"/37"/5".
Amenities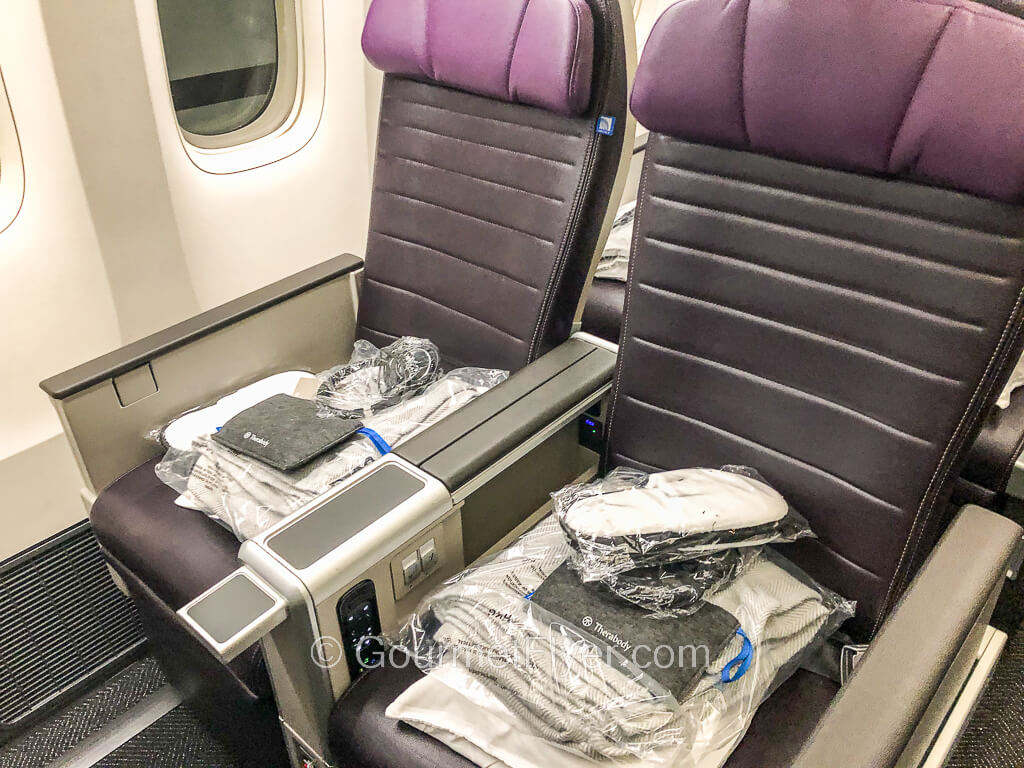 For most long haul transpacific or transatlantic flights, a pile of goodies awaits you at your seat when you board the plane. You'll have a good quality pillow that is much larger and slightly firmer than those in standard economy. Saks Fifth Avenue blankets, same as those in business class upfront, will be there to keep you warm throughout your journey. The slippers provided are also top quality and are the same as those in the Polaris cabin. The quality of these slippers is so good that they are good for multiple uses. Sometimes I pack them in the original plastic bag and use them for my connecting flights.
Your United Premium Plus seat also comes with an amenity kit which provides adequate toiletries for your convenience during your overnight stay 36,000 feet up in the air. Last but not least, you'll also find a pair of noise cancelling headsets for the seatback entertainment system. They will be your good companion during your long journey across the oceans.
Power Outlet and Headphone Jack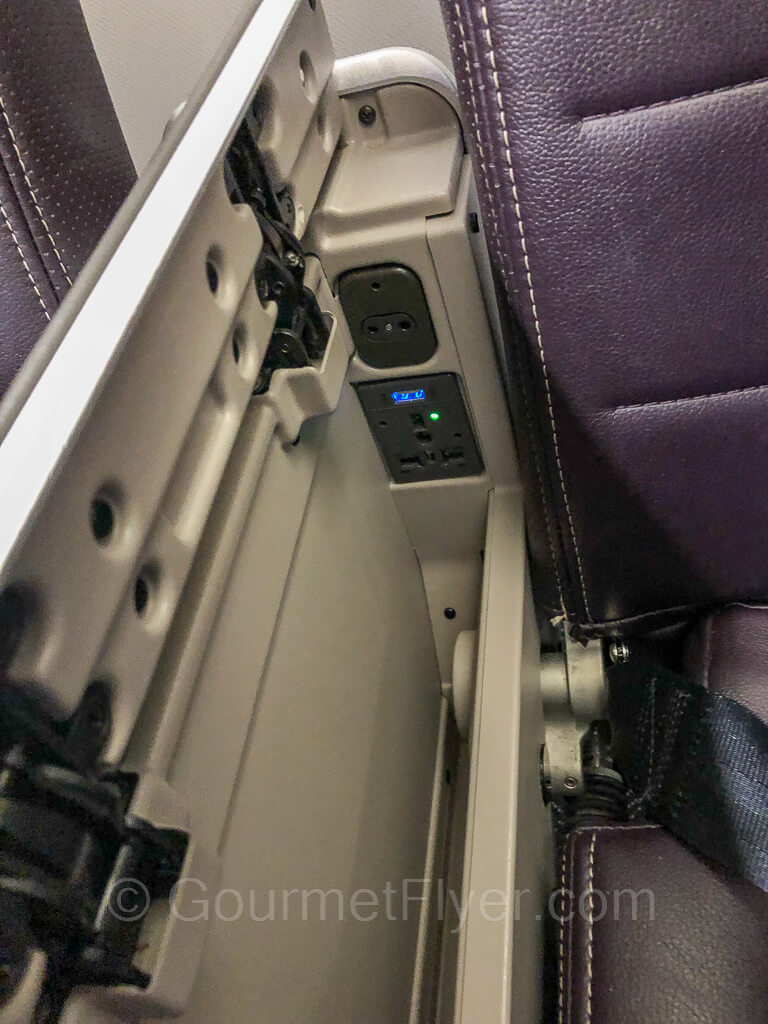 I often see passengers look all over the place for the power outlet or headphone jack and when I see that, I always offer my assistance. They are at the least obvious place – behind you and under the armrest as shown in the picture above.
Although the location might not be intuitive, I really like the design and its placement. Firstly, unlike in a regular economy seat, you don't have to bend down to look for the power outlet which is typically near your ankles. Secondly, you can place your phone on the armrest when you are charging it.
Moreover, having the wire of the headphones come from behind me makes perfect sense, so there is never a wire next to me or in front of me. There is also enough space to install two different types of jacks – the two-prong jack for the upgraded headphones and the single-prong 3.5mm jack for the regular earbuds.
Entertainment System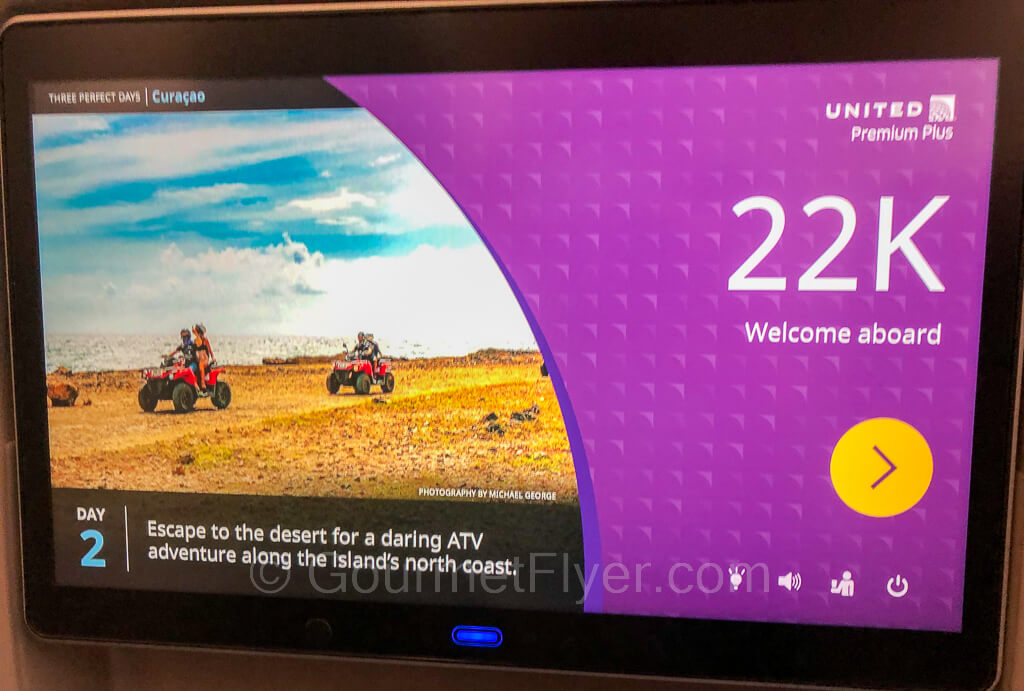 The seat back entertainment screen is much bigger than the ones in regular economy. On a 787-10 it is 13" in a Premium Plus Seat versus 9" in regular economy.
On a transpacific or transatlantic flight, deluxe noise-reduction and stereo Hi-Fi headphones (with 2 prongs) are always provided. My experiences in Premium Transcontinental flights are mixed. Sometimes I was given the upgraded headphones, but sometimes I was given the cheap one-prong earbuds usually provided in the regular economy cabin.
A remote control for the entertainment system is provided and is located on the side panel of the seat. In the widebody aircrafts on international routes, these are the same remote controls as the ones in economy. To release it, press the release button and gently pull it out toward you. To return it to the bracket, pull the remote out until the wire is completely extended and then release gently as it slides back into place.
Coat Hanger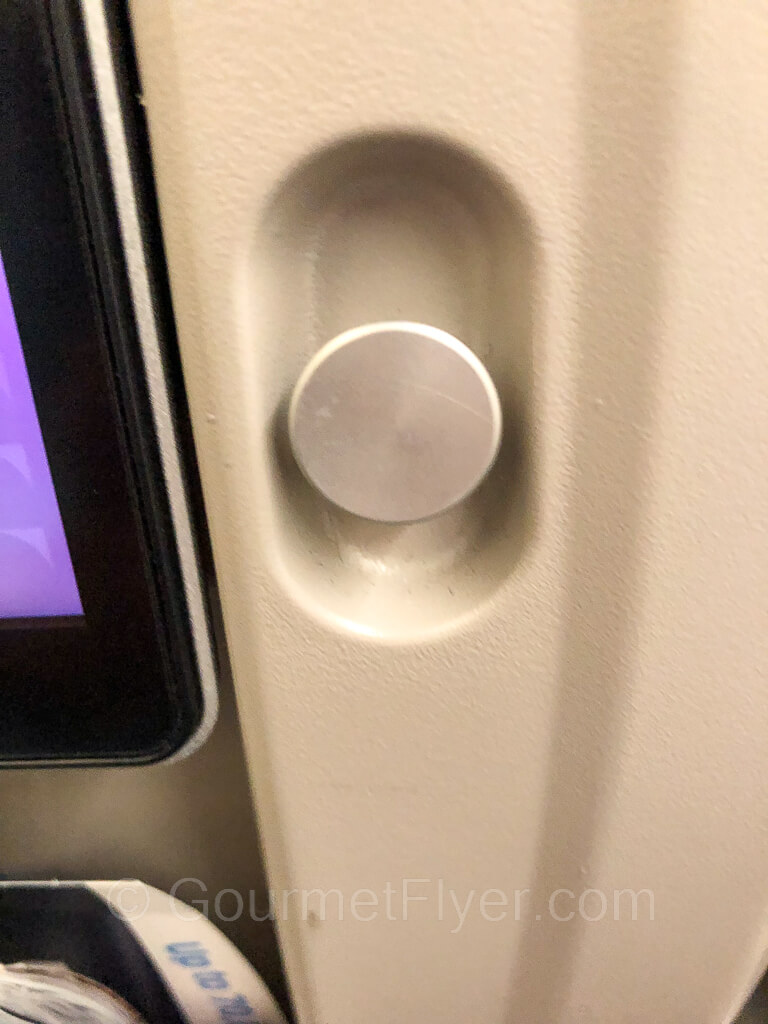 This might appear to be something very minor, but sometimes it is the subtle thoughtfulness that counts. Not only does it hold your jacket, but it can also hold your headset while not in use, as well as a light purse or makeup pouch.
Footrest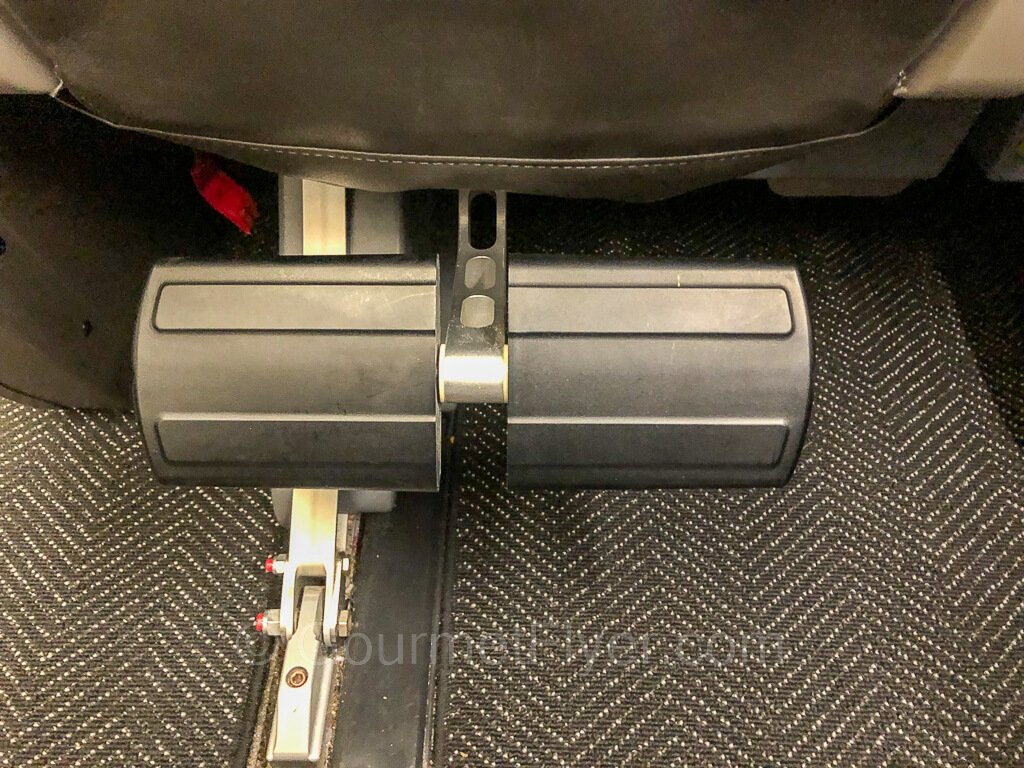 This is my favorite part. With my seat back at maximum recline and the footrest at an optimal position, I can actually nap pretty well on a long-haul flight.
The footrest is adjustable. To reset it, tilt it all the way up with the top of your shoes. To set it, press it down with your shoes to your desired position. Then tilt it slightly up and then step on it again. To change its position, reset it by tilting it all the way up and repeating the process.
Bulkhead Row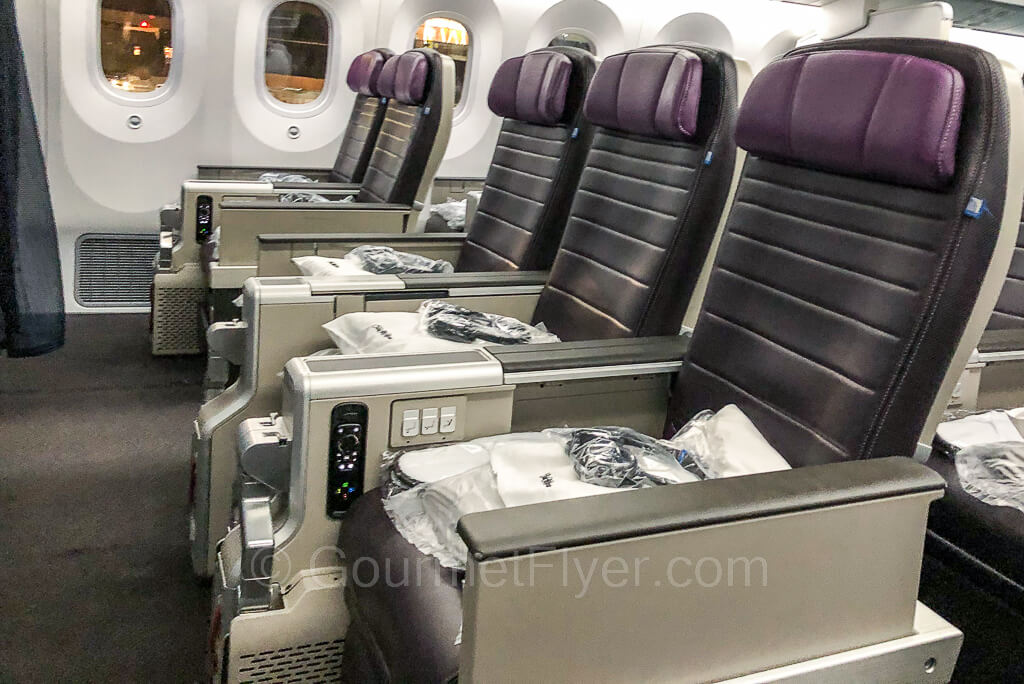 Although the bulkhead row has lots of extra legroom, it is not my favorite row. But let me emphasize that this is just my personal preference, and you might actually like a bulkhead seat.
Another advantage in addition to the extra legroom is that nobody reclines into your space. Moreover, you also get served first, maximizing your chance of getting the entrée of your choice.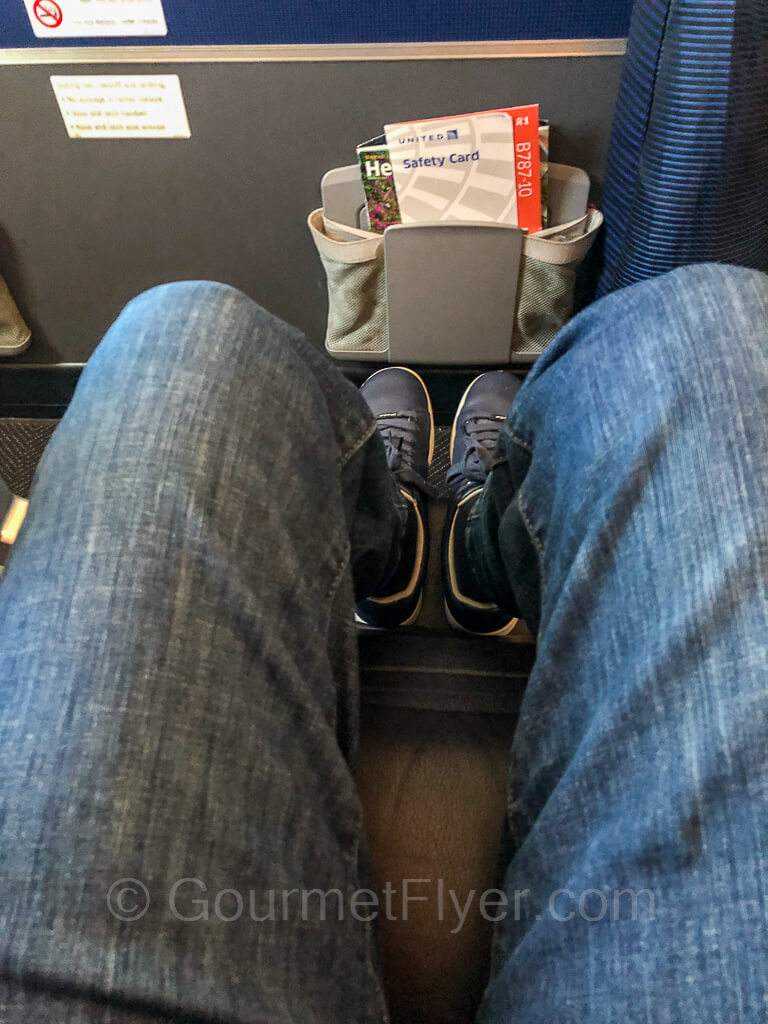 Personally, I don't like the leg rests that are offered on the bulkhead rows. I sleep better with the footrest in the other rows. The leg rest, as you can see from the picture above, does not elevate high enough for it to be useful. I could not put myself in any position that is more comfortable than just leaving my feet on the floor.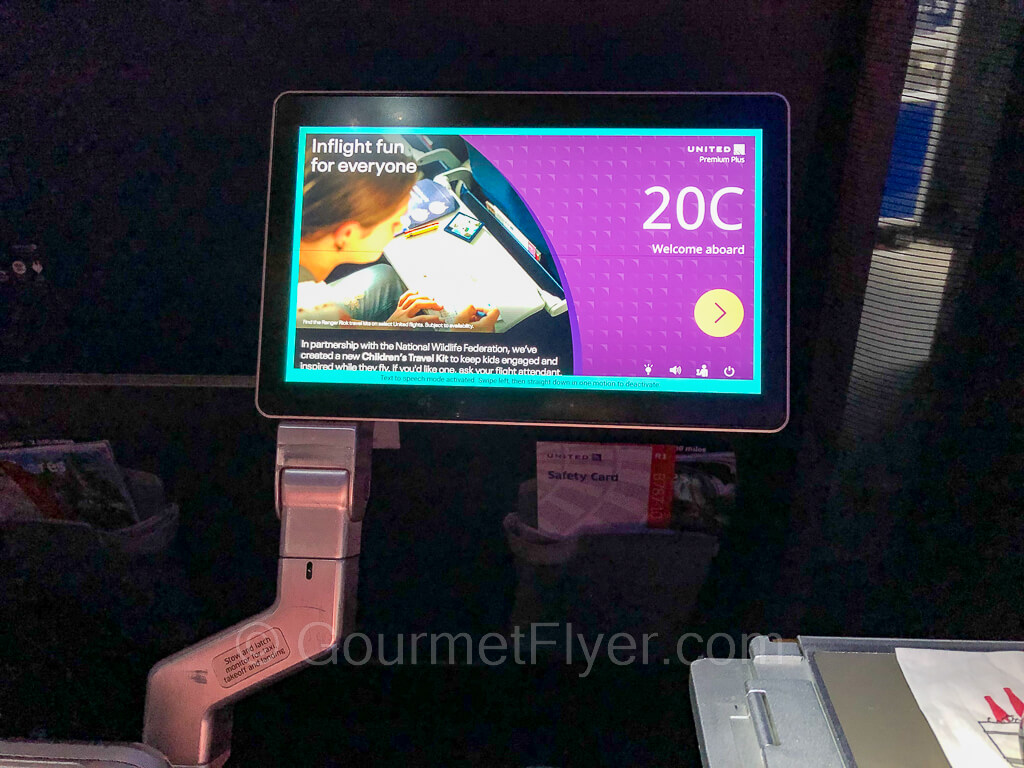 I am also not a fan of the bulkhead entertainment screen which has to be stowed before takeoff and during the final decent. That takes away a lot of my movie watching time. Moreover, the screen size is smaller than those in the other Premium Plus rows (approximately 11.5" vs 13").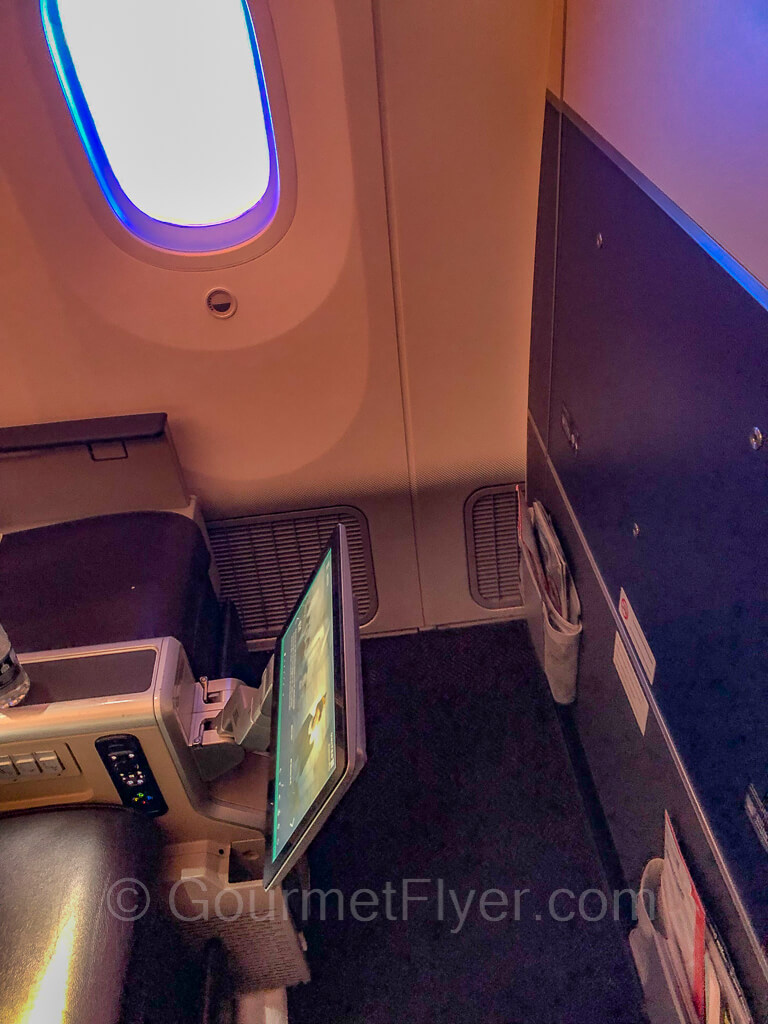 One good design of the entertainment screen on the Boeing 787 PP cabin, however, is that it is rather compact, and the arm does not reach too far out. This leaves enough space so that most passengers of average size in the window or middle seat can access the aisle even with the aisle seat passenger's screen fully extended.
Conclusion
United's Premium Plus seat certainly offers a lot more space and comfort than a regular economy seat. Moreover, I feel that there is a lot of subtle thoughtfulness in its design. I've flown in it many times on flights that are over 10 hours long and I have slept quite comfortably for a few hours at a time.
If you are willing to spend a bit more than economy class on a long-haul flight but are not prepared to splurge thousands of dollars for a Polaris Business Class lie flat, I think that the United Premium Plus seat is a good middle ground, as well as the best bang for the buck. For a recent review of the entire in-flight experience, including amenities and meal services, please visit:
In Depth Review of United's Premium Plus Service SFO – AMS 777-300ER
If you are interested in United Polaris Business Class, go below for a comprehensive review of the Polaris pod seat: