Updated July 31, 2023
The restaurant scene in Tokyo is probably one of the most fascinating in the World. From fresh sashimi delivered directly from the fish market next door to iconic ramen names that are recognizable internationally, there is never a shortage of exciting places to eat in Tokyo.
It took me several trips to this vibrant city and numerous meals before I could compile this comprehensive guide. Moreover, there are literally thousands of great restaurants in Tokyo, so even if you try one new place a day every day, it is still not easy to come up with a top 20 or top 30 list.
Therefore, my recommendations below are focused on eateries which I believe will provide you with the richest local flavors as well as the most memorable cultural dining experiences. Most places have moderately priced menus that offer good values, and the best bang for your buck.
Table of Contents
Traditional Japanese Food in Tokyo
Gyukatsu Aona Shibuya
Hours: Daily 11am – 11pm
Of all the places to eat in Tokyo, gyukatsu, (or beef-katsu) is a beef lover's dream come true. If you've ever had tonkatsu, the breaded and fried pork cutlet, then you can easily see that gyukatsu is the beef equivalent of the same idea.
Gyukatsu Aona has 3 locations, and this one is in Shibuya, a 10-minute walk from the World-famous Shibuya Crossing.
The katsu rendition with beef is deep fried in high heat so that the panko breading is crusted and crispy while the beef wrapped inside is rare. It's hard to describe, but maybe fried sashimi that the fish is still raw inside?
There are choices of different cuts of beef, and if you are not in Japan often, I would recommend getting the Wagyu cut and spoil yourself a little!
Fukagawajuku Main Branch
Located just across the street from the Fukagawa Edo Museum and housed in a non-descript building, Fukagawajuku Main Branch is the original of the two locations in the neighborhood. It is rather small, with a shared table that seats about 8 and two small tatami tables that each sits 2 – 4. It has an open kitchen and the whole set up gives you the cozy feeling that you are dining at the home of a friend.
The restaurant serves traditional Fukagawa-meshi, a quick meal that local fishermen ate during breaks in the Edo period. There are two versions. "Bukkake-meshi" is a bowl of steamed rice topped with clams and green onions. To make "Takikomi gohan," the rice is cooked together with the clams in dashi broth – somewhat like zosui, a Japanese rice soup. Both are delicious and fully embrace all the local flavors and traditional cultures. I highly recommend ordering the combo so you can get a taste of both.
Asakusa Umaimon Aduma
Hours: Daily 11am – 9pm
While Asakusa Umaimon Aduma is located in a touristy area with numerous restaurants and shops near the path to Sensoji, be assured that the food is authentic and top quality. The ground floor is a casual café style setup that almost looks like your local Japanese restaurant.
The second floor is traditional Japanese tatami seating, and you will need to remove your shoes and store them in a locker. If you are uncomfortable doing this, tell the hostess that you want to sit downstairs. But if you want to soak in all the Japanese culture while you are there, go sit upstairs!
One of their specialties is the Gomoku yasai soba, which is a bowl of thin noodles in a rich broth topped with vegetables, tonkotsu, and half a medium boiled egg. This has long been a favorite of the local Asakusa people.
I am going to get the other local specialty – the Asakusa Geisha's secret omelet with tonkatsu. The story is that this comes from a secret menu known only to the Asakusa Geisha. In short, it is like a fried rice omelet topped with a very rich and tasty gravy and served with deep-fried pork cutlets. Hits the spot!
Bento box lunches as well as a good selection of sushi and sashimi are also available.
Okura Yurinoki
Hours: 11am – 5pm on days the museum is open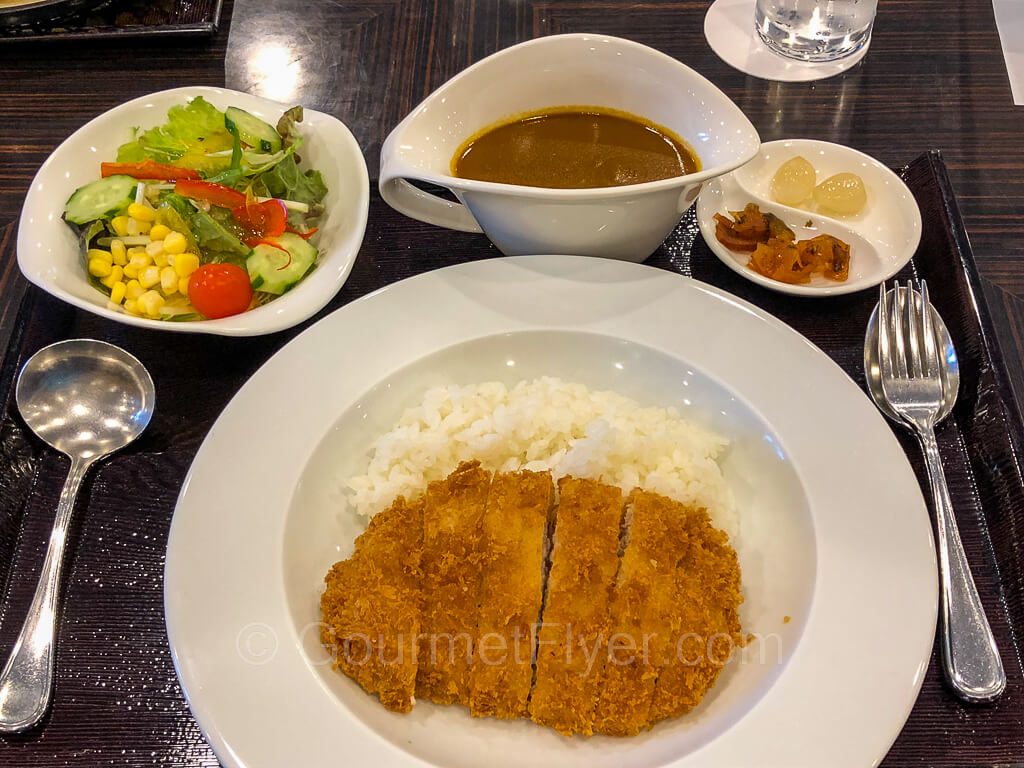 Located on the National Museum campus between the Honkan and Toyokan buildings, Okura Yurinoki serves traditional Japanese cuisines in a European café setting. Although my curry tonkatsu was served in a Western setting, be assured that it was as authentic and as good as it could get. The pork cutlet was tender and fried perfectly with a light panko coating. The curry was mild and slightly sweet, characteristic of Japanese curry.
My wife had a soba with tempura, and it was very good too. Other Japanese favorites include bento, Yurinoki set and Komachi set. Although the menu is mostly traditional Japanese, a few Western entrees such as pasta or steaks are also available for the museum's international visitors. This is a great place for lunch in Tokyo while visiting the museum.
Yakitori Jidoriya
This is an Izakaya place frequented mostly by locals, so it is great if you are looking for some authentic local flavors and an organic, unpretentious atmosphere. However, the catch is that they are not as English friendly as large chains or touristy places. So, knowing a few words of Japanese helps.
The menu is quite extensive, and I can tell you that the wings are excellent. Order both versions of the wings – fried and grilled. As the name implies, yakitori is their specialty, and these skewers are the perfect companion for a liter of beer. I also recommend chicken meatballs, stuffed mushrooms, and bacon-wrapped asparagus.
Tokyo Station Buffet
Hours: Daily 11am – 10pm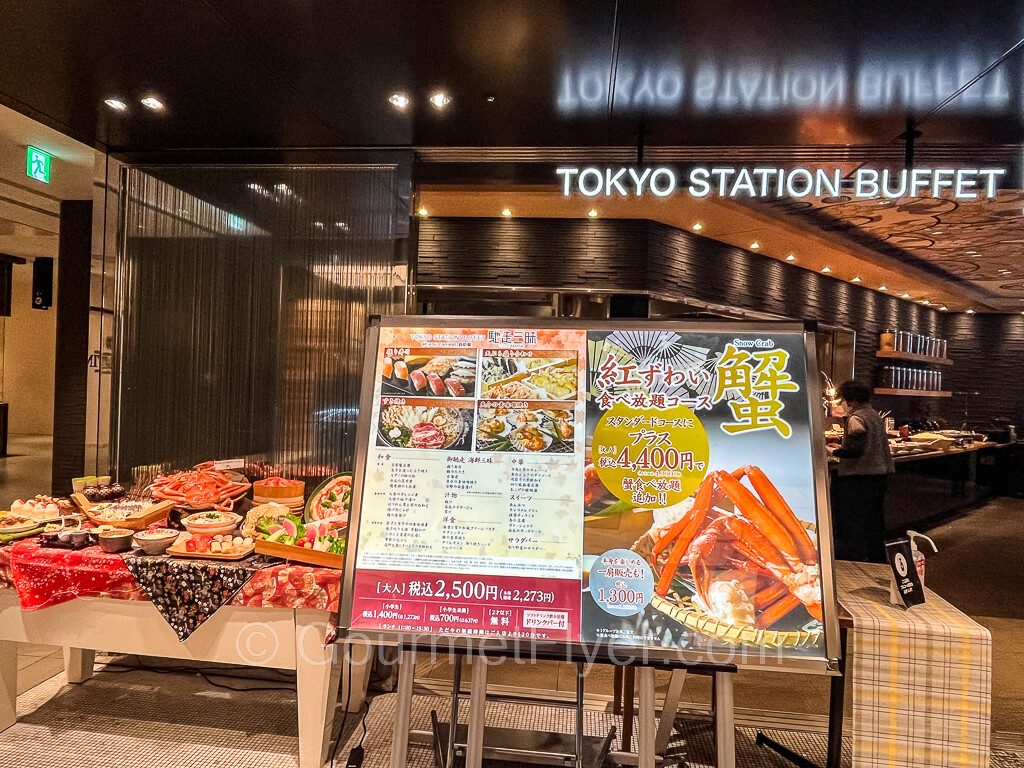 Located on the 12th floor of the Daimaru Department Store on the Yaesu side of Tokyo Station, this is a moderately priced buffet which offers great value and is a good place to taste a wide variety of Japanese and international foods. Prices are only ¥2,500 (add ¥4,400 if you want to include crab legs) and it is all you can eat with a 2-hour time limit. With prices so cheap, you need to be reasonable with your expectations.
They have traditional Japanese cuisines, including some sushi and raw shrimps. The Japanese fried chicken and fried fish are both very good. On one end of the buffet island is a salad bar with delicious sesame dressings. One the other end are some Chinese soups, fried rice, and dumplings. I really like the hot and sour soup as it is rich, moderately spicy, and flavorful.
Fusion Western dishes include meatballs, beef stews and a flatbread pizza which is quite good. I especially like the Japanese style meatballs in a rich and somewhat tangy tomato-based sauce. Dessert selections are plentiful, but portions are very small, so you just need to grab a few of each. Soft drinks, tea, and coffee are included in the price and are self-served.
Sushi in Tokyo
Tsukiji Fish Market
Hours: Mon – Sat 8am – 2pm; Sun 10am – 2pm;
Individual restaurant's hours may vary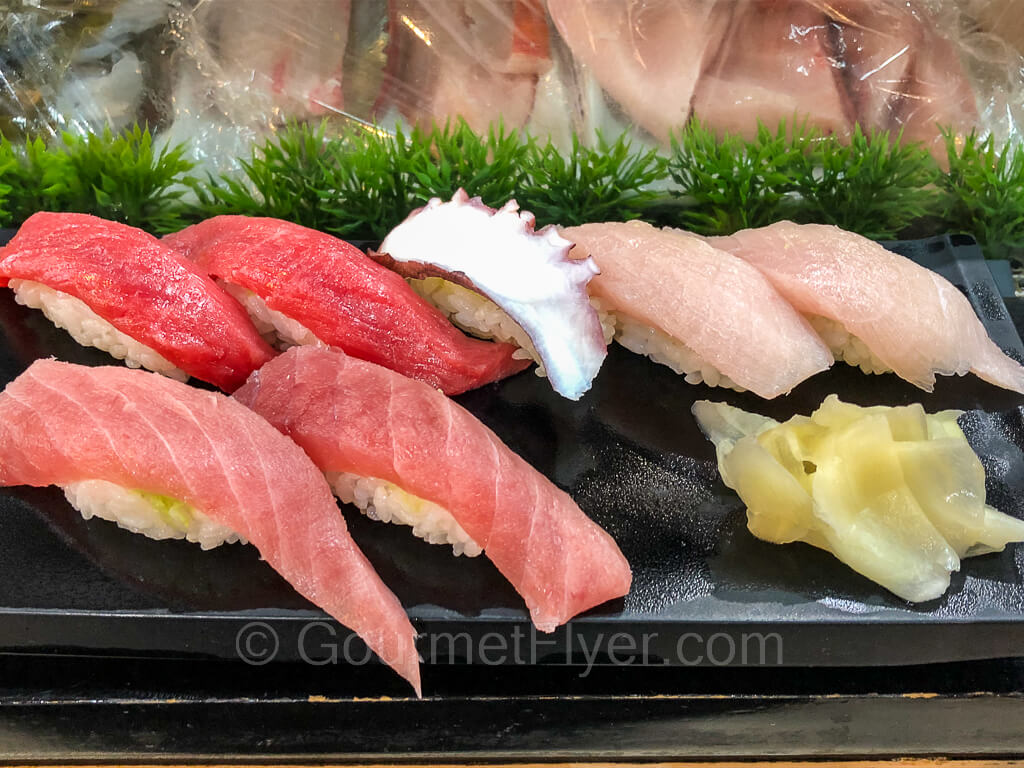 Let me first clear up the confusion whether the market is still open or closed. The wholesale fish market where professionals bid, and auction freshly caught fish is the "outer market" and it has moved to Toyosu. However, the market where you will be getting your sushi lunch from is the "inner market", where eateries and shops are located. This is the best place in Tokyo to eat fresh sushi and sashimi.
There are many types of eateries here, from small food stalls to rice bowl counters, small sushi bars to full-service restaurants. Most of the smaller operations open from early morning until early afternoon. The larger restaurants are also open for dinner. A few places are open 24 hours. There are also many street food vendors and eating in the street is part of the cultural experience and fun.
In addition to all the eateries and food vendors, there are also many stores selling a wide spectrum of merchandise from fresh or processed meat and seafood to dry goods and produce. Kitchenware, Japanese tableware, and sushi knives are also very popular items for sale.
Tsukiji Fish Market Walking Food Tour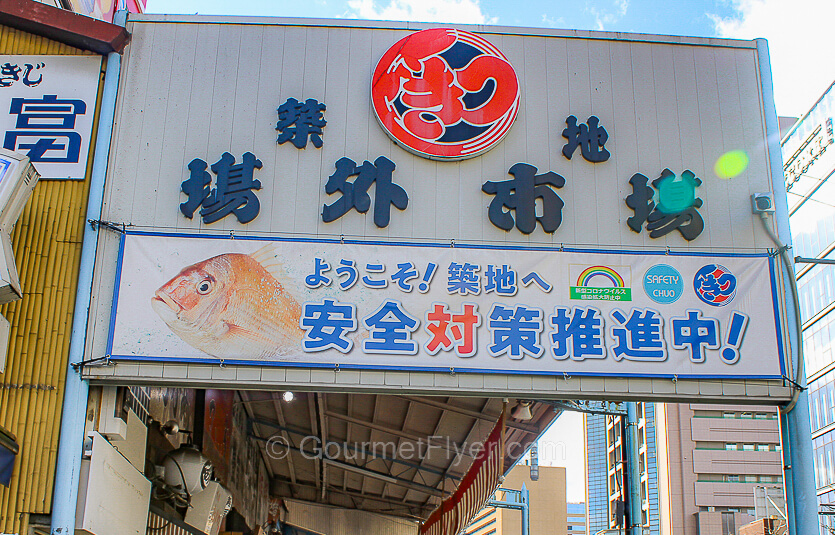 The Tsukiji Market is a foodie's paradise full of local eateries, sushi bars, food stalls, fresh seafood hawkers, as well as bakeries and souvenir shops. It is certainly a must-visit during your trip to this vibrant city. However, the maze of narrow streets, huge crowds, or language barrier could be challenging to some. A guided food tour is a great alternative to venturing around the market by yourself, especially if you want to fully explore the many culinary aspects of Japanese food.
The Tsukiji Fish Market Walking Food Tour is a 3-hour journey through the streets of this iconic market as well as nearby attractions. You will learn about the cultures and cuisines of Japan as you sample various snacks along the way. An added bonus is the opportunity to learn about Japan's religions as you visit a temple.
This is a small group excursion that limits the size to a maximum of 6 people to ensure a personalized experience as well as attentive service from your guide. A seafood lunch at the market is also included.
Sushizanmai Honten
Hours: 24 hours daily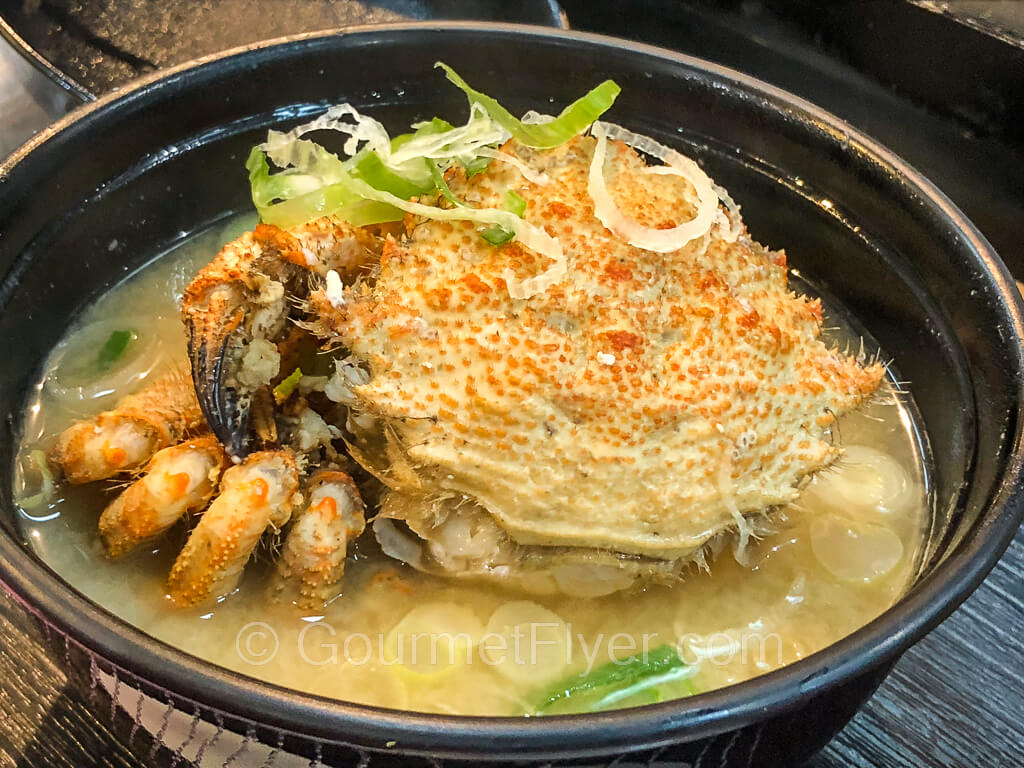 Sushizanmai is a large sushi chain in Japan and their main location in the outer ring of the original Tsukiji Market – Sushizanmai Honten – is their original store. This location is open 24 hours a day, every day of the year.
They are famous for their fresh and large selections of tuna, especially toro and blue fin tuna. If you love the best tuna, go with the blue fin combination sashimi plate that offers 3 types of blue fin with varying degrees of fattiness.
They are not just a sushi restaurant. Their tempura is amazing too. The portion is large and is filed with shrimps, pieces of fish, and a good variety of vegetables. Last but ot the least, please don't forget to get their signature clam miso soup and crab miso soup. Both are absolutely delicious and unique, and they sell out early all the time.
Sushi No Midori
Hours: Mon – Fri 11am – 3pm and 5pm – 10pm;
Sat 11am – 10pm; Sun 11am – 9pm
Sushi No Midori is a small chain of sushi restaurants that are well-known among locals. The Ginza location, Umegaoka Sushi No Midori Sohonten Ginza, where tourists rub elbows with locals, is particularly popular. They do not accept reservations and a one to two-hour wait is very typical.
Long lines form before they even open and there is a reason – they serve top quality sushi at very affordable prices. The portion of the fish that sits atop the rice is huge if compared to similar places. Torched tuna, eel, and salmon are among the locals' favorites. This is one of the best places for a casual sushi lunch or dinner in Tokyo. Super value too!
Fish is always fresh. The sushi menu is extensive and English friendly. Service is friendly and most employees speak good English.
Sushidan
Hours: 11:30am – 2:30pm and 5:30pm – 9pm
Closed Wednesday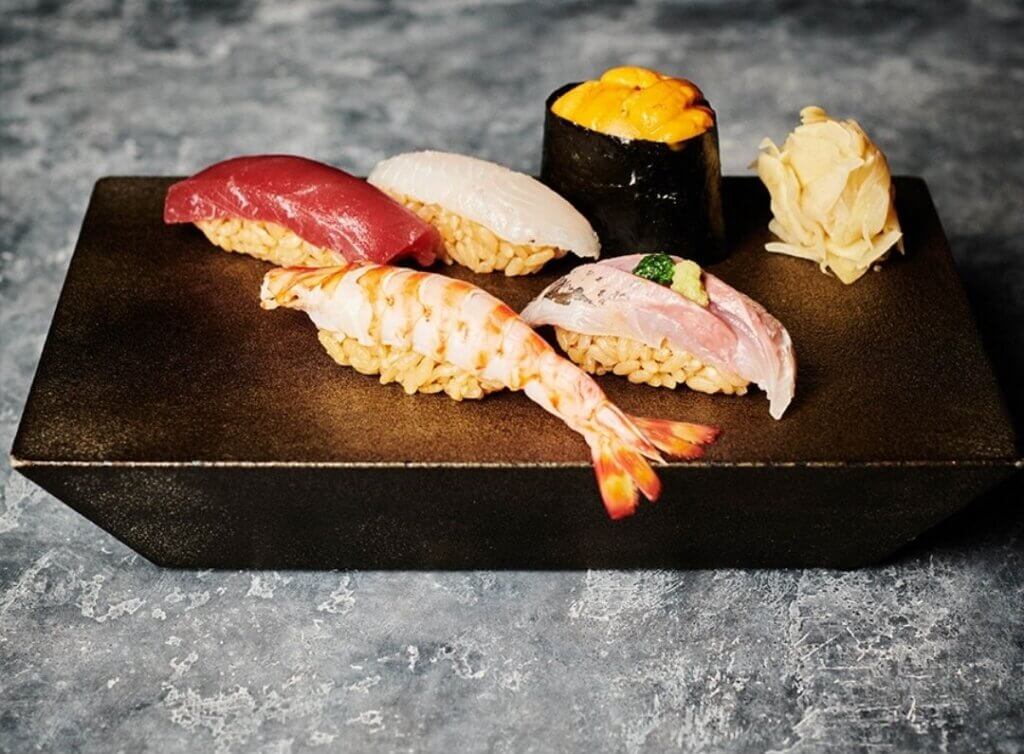 Sushidan is the creation of celebrity chef Hiroyuki Sato and a sister restaurant of the Michelin Star famed Hakkoku. Located in the trendy gastronomic playground of Eat Play Works, this small sushi bar is family friendly, and prices are surprisingly affordable for Michelin Star quality food. This fits perfectly with my "best bang for the buck" philosophy in my search for the best places to eat in Tokyo.
At 3,300 yen and with the quality matching that of Hakkoku, its lunch special is one of the best sushi values. Dinner starts from 5,550 yen. Their sushi style is traditional and maintains the nigiri only philosophy. That is, no rolls of any kind are served.
The counter has only 11 seats, and reservations are not accepted. Customers are somewhat expected to eat fast and leave, so this is not an ideal business lunch or date night spot.
Ramen in Tokyo
Ramen Street
Hours: Daily 10:30am – 11pm
While we are on the subject of ramen, let me introduce you to Ramen Street, where you will find some of the yummiest local ramen restaurants. It is not really a street, but a section of the underground shopping and dining complex in Tokyo Station. To find Ramen Street, you need to go to the Yaesu side of the station. Tokyo Station is huge, so if you get lost in the maze, just ask somebody. Almost every local knows where Ramen Street is.
There are 8 restaurants located literally side by side, each with its own specialty and local flavor. My personal favorite is ramen store #3 Rokurinsha, which serves tsukemen – a special type of ramen where the broth and the noodles are served separately. The noodle is dipped into the very rich almost gravy-like broth before eating. This unique type of ramen is not easily found outside of Japan.
My other favorite is #4 Senmon Hirugao which specializes in shio ramen, which are typically thinner noodles in a broth rich in seafood flavor.
As with many ramen places, you order by purchasing tickets from a machine. During busy times (which is almost all the time), there are attendants there to assist you.
Of all the places to eat in Tokyo, your experience here will stand out to be a unique and rich cultural dining experience.
Ippudo
Hours vary by location
There are certainly numerous ramen eateries in Tokyo and Ippudo is among one of the best that you will find. With over 100 locations all over Japan, there is probably one near you. They are also in New York among other places in the US but let me assure you that what you get in American is not the same thing.
The menu is quite focused on several of their specialties. Their signature is the Shiromaru Classic. It is a Tonkotsu ramen with thin Hakata noodles in a rich and milky pork bone broth. Delicious is an understatement. If you want some bold flavors, check out the Ippudo Karaka which is served in a hot and spicy broth. There are 5 level of heat, from standard to ultimate. Pictured above is the medium (level 3) ramen with a rich layer of chili oil.
Ichiran
Hours vary by location
Ichiran is the other iconic ramen restaurant in Japan with about 20 locations in central Tokyo, many of them are open 24 hours. Yes, ramen for breakfast, lunch, dinner, and late-night menu. In popular places like Shinjuku, don't be surprised to find a long line even around midnight.
Ichiran is the perfect example of a small-menu-perfect-execution operation. They specialize in their Classic Tonkotsu Ramen and stay away from a menu of a dozen variations which most other restaurants offer.
The signature of a bowl of Ichiran ramen is the blob of Hiden no Tare – their Spicy Red Sauce – in the center of the bowl. This hot sauce kicks the already rich flavor of the broth up another notch and makes your dining experience close to heavenly.
Afuri
Hours vary by location
While there are literally numerous ramen restaurants that line the streets of Tokyo, Afuri stands out from the crowds with its citrus infused broth. Their signature ramen is the Yuzu Shio (salt) Ramen and Yuzu Shoyu (soy sauce) Ramen. It is made with a chicken and dashi broth infused with the distinct citrus flavor of yuzu – a mandarin orange like fruit found mostly in China and East Asia. The ramen is topped with half a flavored egg and tender slice of chashu which are delicious.
They have many locations in the busiest districts of the city such as Roppongi or Shinjuku, so chances are there is one near you. They have now expanded into the United States in cities like Portland, Cupertino, and Los Angeles. However, due to the hardness of the water, the citrus flavored broth is not as good in the US locations. So, while you are in town, be sure to get the real and authentic taste there!
Beer Halls and Casual Steakhouses in Tokyo
World Beer Museum
Hours: Daily 11am – 9pm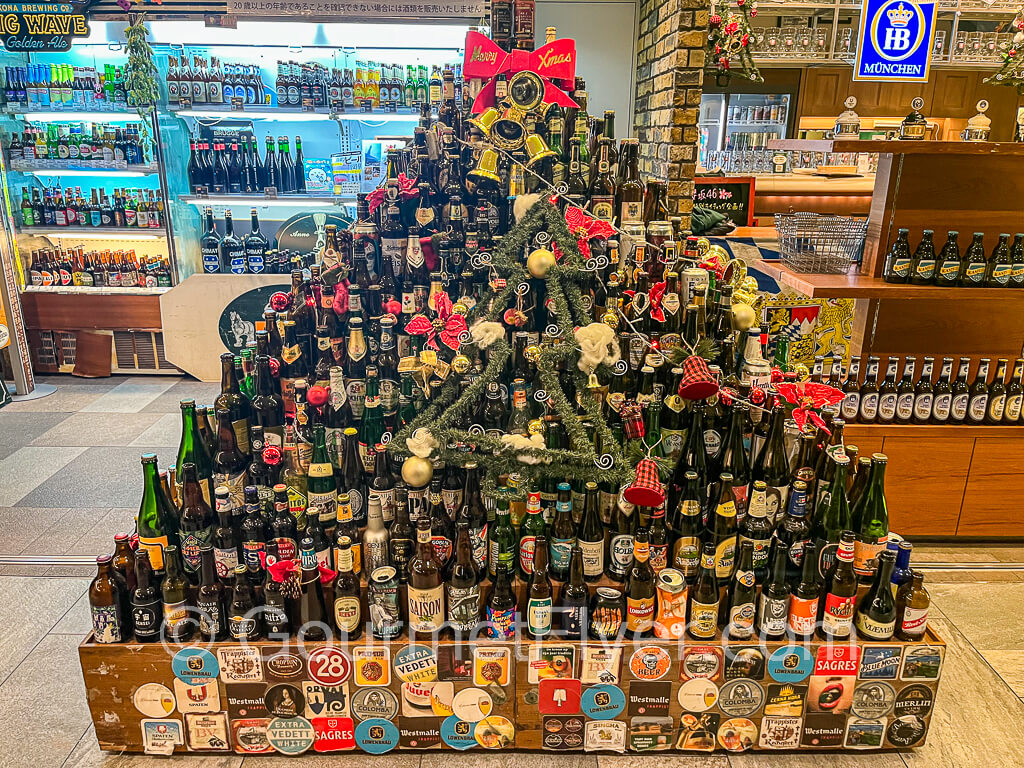 It is not a museum but a beer hall and pub-style restaurant which has an extensive collection of beers from around the World. Located in the Skytree Town, it is certainly one of the great lunch or dinner options during your visit to the famed observation tower.
The beer menu has probably over 200 beers available, and this is no exaggeration. They even have my favorite Czech beer Pilsner Urquell on tap – a beer that is extremely hard to find in Japan. Other than individual bottles and a few dozen drafts, a variety of flights are also offered.
The food menu focuses on European entrees and include favorites such as fish and chips, German bratwursts and schnitzels, Italian pizzas and pastas, and Spanish paella. Yes, they have seafood paella (pictured above right), and it is good. The seafoods are fresh and tasty and the entire dish is flavorful and delightful.
Ginza Lion Beer Hall
Hours vary by location
Ginza Lion is a chain of German style beer halls in Japan that serve mostly Western food. The selection of beers is quite extensive, although more than half of them are Japanese brands.
Their major menu items are steaks, pasta, pizza, and fish and chips. Nothing fancy, but they all go well with a liter of beer! I am getting a sirloin steak!
The steak is cooked medium rare, which is almost the standard in Japan. It is pre-sliced and served on a sizzling platter atop a stack of grilled onions. French fries and a side of black pepper sauce accompany the plate.
If you've had Japanese food several days in a row, this is the perfect place for a change of scenery and diet. A touch of Bavarian flavors makes the experience even more delightful.
The FooTNiK British Pub and Football
Hours: Mon – Sat 11:30am – 12:30am; closed Sunday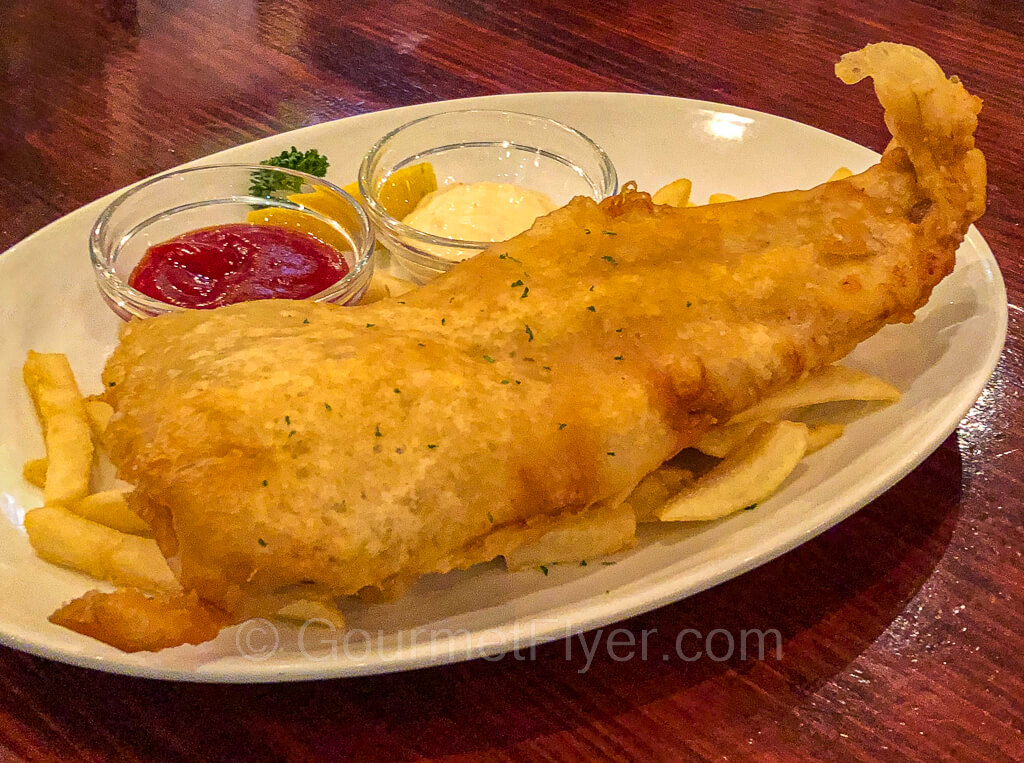 This place is not just a home away from home for the Brits who might be homesick but is for everyone who wants to enjoy a night out in an authentic British pub. Watch some football (yes, football, not soccer!) on the several wide screen TVs. Grab a few pints of beers. Wash down some bangers and mash or some fish and chips. The place is casual, relaxed, and lively; the vibes are super cool!
This food is actually quite good, and I loved the fish and chips that I had. They even served it with malt vinegar. Granted, I've had much better ones in the streets of London, but I am just thrilled that there is a real British pub just a short train ride away from Tokyo Station.
Ikinari Steak
Hours vary by location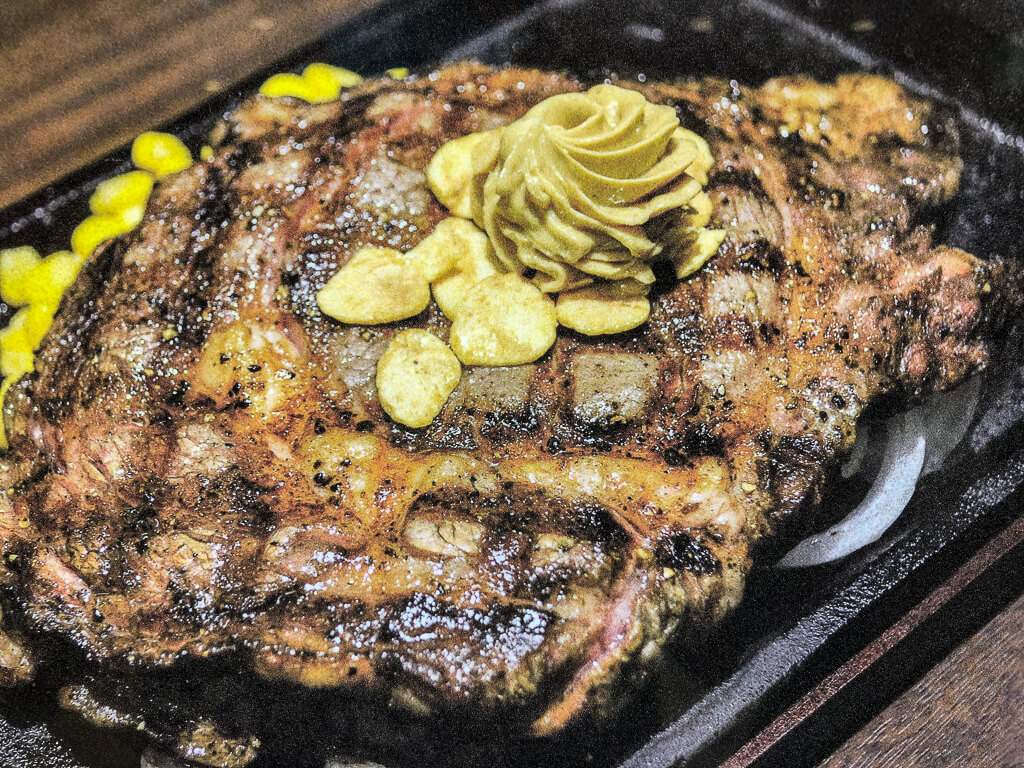 This is a chain of seriously no-frills casual steakhouses that serves thick and juicy steaks at very low prices. It is so without bells and whistles that you actually eat your steak while standing. There are no chairs and since you are standing, you probably won't linger long so you eat and leave quickly, enabling them to have a high turnover which supports the good quality and thick steaks at low prices.
The menu is no-frills as well. You have only three choices: Filet, sirloin, or ribeye. Choose the size (weight). Select rare, medium rare, medium, or well-done. Enjoy!
Tsubame Grill
Hours: Daily 11am – 11pm
Tsubame Grill is located in Mark City near the World-famous Shibuya Scramble Crossing. This is a vibrant area with numerous eateries. Tsubame is a great place if you are looking for some Western good eats with a little Japanese flavor.
They are best known for their hamburger steak (often referred to as Hamburg steak) on a sizzling platter. This is one of Japan's most popular and well-liked Western fusion favorites.
The platter is indeed sizzling and is very hot, so please be careful! The yummy-looking hamburger steak sits atop a bed of grilled onions, and is served with a baked potato, dipping sauce, and Japanese yellow mustard. The beef is good quality, and the steak is juicy and rich in flavor.
Tsubame Grill is casual and family friendly. Prices are moderate. English menu is available.
Western and Fusion Restaurants in Tokyo
Brasserie Paul Bocuse Musée
Hours:11am – 9pm; closed Tuesday
Brasserie Paul Bocuse Musée is a French restaurant located in the architecturally innovative conical "island" inside Tokyo's National Art Center. You can access it via a bridge on the third floor.
They have a daily lunch special which is a good value. The grilled white fish is fresh and delicious. The chicken confit is moist, tender, and rich in flavor. It is served with a mustard sauce. Dessert is a Crème brûlée with a perfectly browned and crispy crust.
This is the perfect place to take a break between exhibitions and savor a nice and relaxing lunch.
Ichozaka Bistro Japonais
Hours: Daily 6am – 12am
Ichozaka Bistro Japonais is a moderately upscale gastropub type restaurant located in the Shinagawa Prince Hotel. They have a full dinner menu as well as tapa style small plates that you can enjoy with your drinks. The food is mostly Western and Japanese fusion.
Pictured above is a fried seafood combo app which is quite amazing. The coating appears to be something like the shredded phyllo pastry dough used to make the Greek or Turkish dessert kataifi. This is not only creative, but delicious too.
In Japan, you have to get a Wagyu steak at least once. I always end up getting it at least a couple of times each trip. The steak is very tender, juicy, and rich in beefy flavors. It is also beautifully garnished.
Denny's
Hours vary by location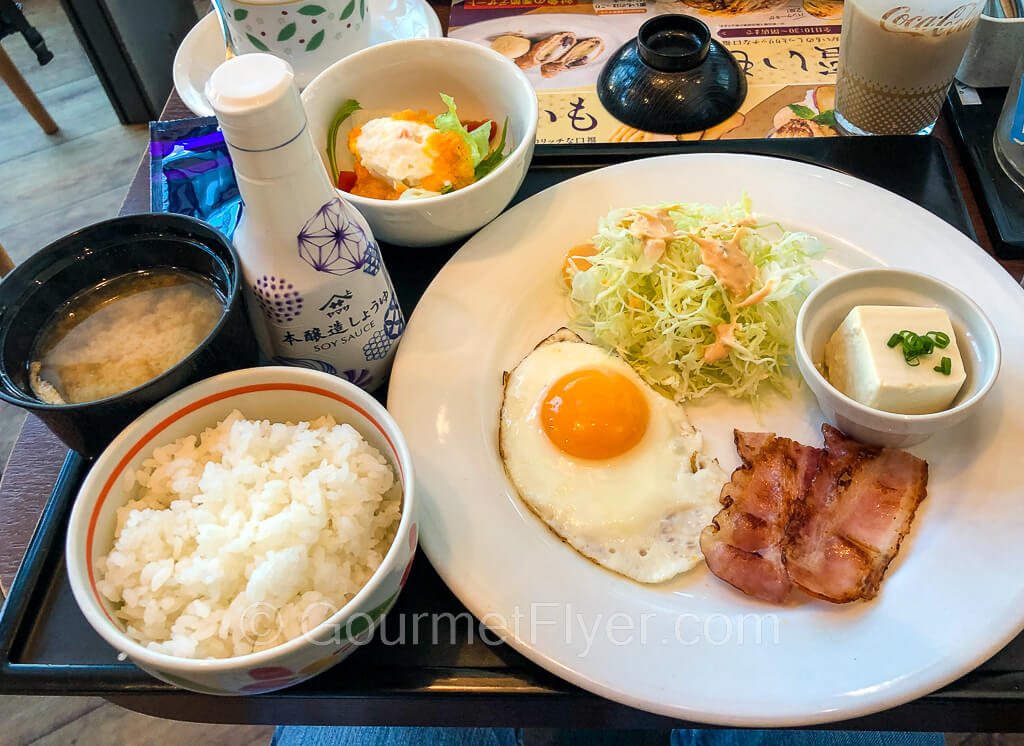 Yes, Denny's! Believe me, the Denny's in Japan is so much better and different from those in the US. This is my favorite place to eat breakfast in Tokyo. They serve Western style breakfast with a Japanese flavor and each combo comes complete with miso soup, tofu, salad, and rice. Traditional Japanese breakfasts with fish are also available.
If you go there for lunch or dinner, I highly recommend the hamburger steak (aka Hamburg steak) served on a sizzling platter – this is a Japanese favorite that you have to try at least once. My other recommendation is the spaghetti. Get their Japanese style carbonara or Bolognese.
Fujiya
Hours vary by location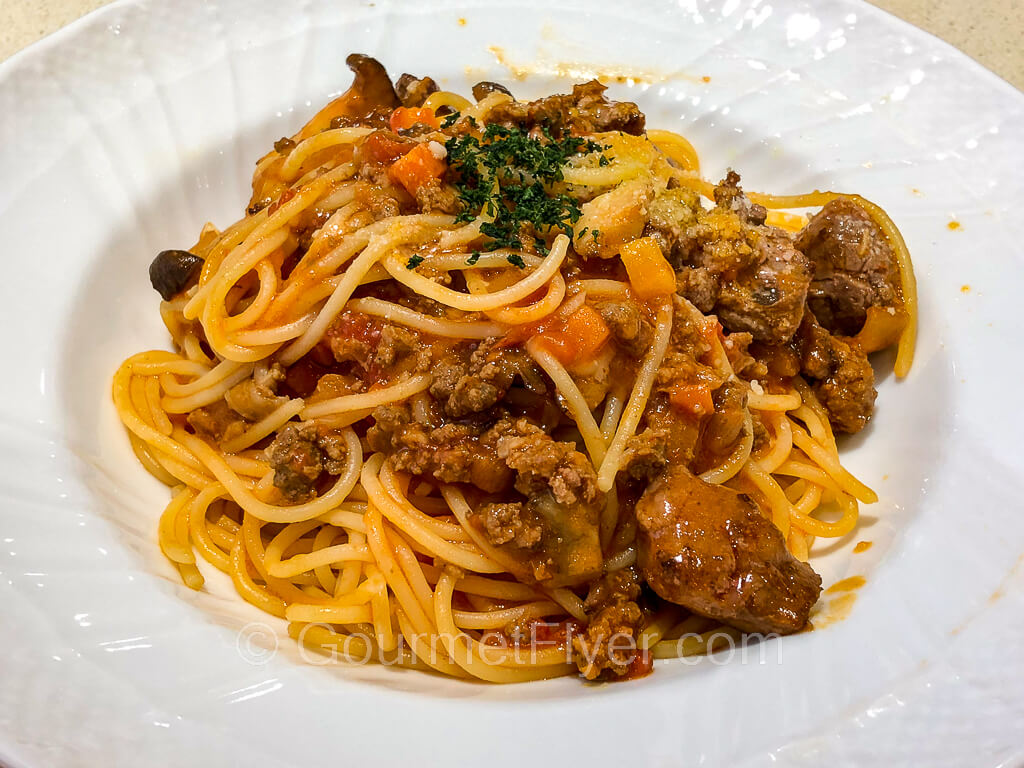 Fujiya is a chain of restaurants serving international and fusion cuisines in a family-friendly atmosphere. The menu is rather extensive, with a large selection of salads, meats, seafood, and pastas dishes. They are well-known for their Hamburg steak which comes in several varieties and combos.
I personally like their pasta dishes best, especially the Japanese style spaghetti Bolognese, which is rich in fresh tomato flavors with large chunks of beef. The baked Macaroni Gratin with chicken and shrimp is another great pasta dish. Fujiya's extensive menu and its moderate prices make this a great place for a casual western lunch or dinner while you are in Tokyo.
And don't forget dessert. Their parfaits are extremely popular, and they are not just for kids.
Tim Ho Wan
Hours: Daily 11am – 11pm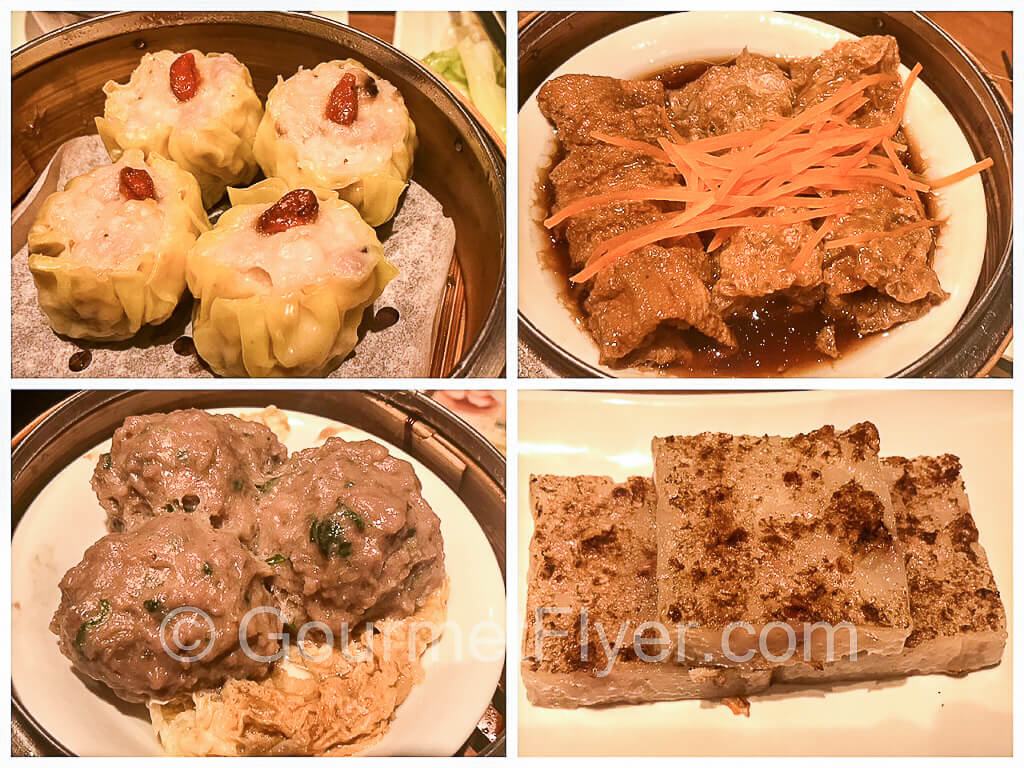 Tim Ho Wan of Hong Kong Michelin Star fame has been expanding to major cities around the World, and there is one in the Hibiya district right here in town. After visiting the Tim Ho Wan in Singapore and New York, I had the feeling that locations outside of Hong Kong are not on par. Tokyo's THW confirms my feeling. While the dim sum here is not bad at all, it is not Michelin Star standard either.
If you are craving for Hong Kong style dim sum while staying in this Japanese city, THW is probably the best that you can get (without a daytrip to Yokohama's Chinatown). The dim sum is good but keep your expectations reasonable.