September 6, 2022
This is a comprehensive review of my recent flight experience on United Airlines' Premium Plus class of service from San Francisco (SFO) to Amsterdam (AMS). Premium Plus is United's version of Premium Economy Class and UA does a very good job in both its hard product and soft product, especially on international routes. This review will walk you through my entire experience from start to finish, and will provide you with plenty of details and insights.
Table of Contents
Pre-Flight
Premium Plus passengers can check in at United's Premier Access counters and will also enjoy priority security lines as well as priority luggage handling. Not only are your first two bags free of charge, but you will also find them among the first bags to arrive at the luggage carousel. However, access to United Club is not free, but you can purchase a pass at a discounted price. If you plan on using the club, be sure to purchase this option when you check in online.
Customers with UA Gold (or higher) or Star Alliance Gold status have access to all of the above priorities even when flying regular economy, including United Club access on international flights.
Passengers also do not have priority boarding, and you will either board in group one or group two if you have status, or group three or higher if you do not have status. Since I have Platinum status on United's Mileage Plus, I boarded in group one promptly and without incident.
The Seat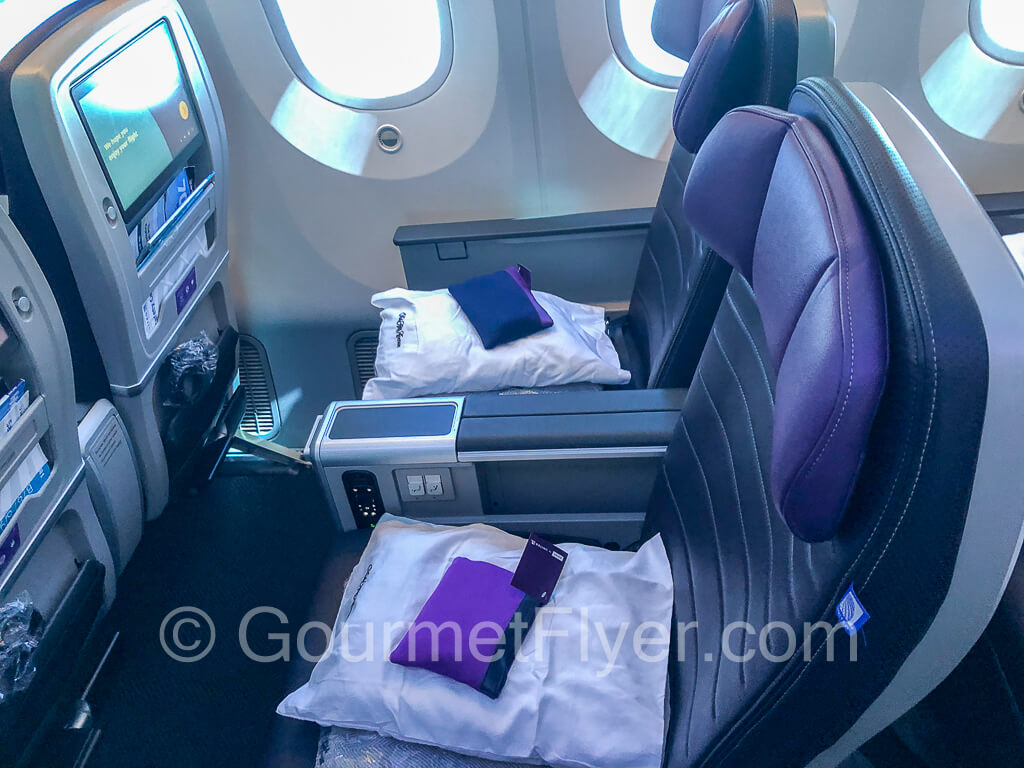 United does a good job in marketing Premium Plus as a separate cabin, although technically it is still economy class. As you can see from the picture (above right), there is a partition between these purple seats and the first row of the blue Economy Plus seats (regular economy seats but with extra legroom).
Flight 968 from San Francisco to Amsterdam was operated on a Boeing 787-900 aircraft and the configuration of UA's premium economy was 2-3-2. Couples traveling together will enjoy the two-seaters by the windows that offer extra comfort and private space. The middle section of three seats together may not sound too appealing, but I assure you that they are not bad at all – the seats and armrests are wide enough that you won't be rubbing shoulders or elbows with your seatmate.
For a detailed and comprehensive review of the Premium Plus seat itself, please go here. I will devote the rest of this review on the soft product – amenities, beverages, meals, and service.
Amenities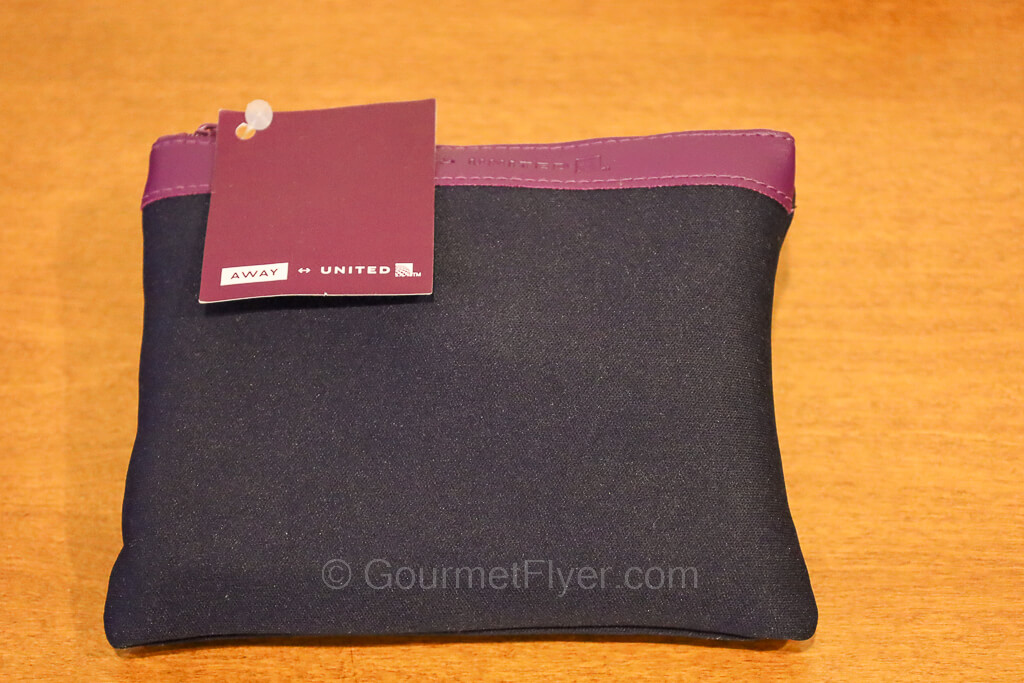 Saks Fifth Avenue pillows and blankets, exactly the same as those in Polaris Business Class, were already placed on my seat when I boarded. The only difference is that you will not have the firm foam pillow that the passengers enjoy upfront. On top of the beddings was an amenity kit.
The amenity kit was adequate, and contained the following essentials for an overnight stay in the sky:
Dental kit with toothpaste
Sunday Riley hand cream 0.17 fl. oz.
Sunday Riley lip balm 0.14 oz.
Ear plugs
Eye mask (shade)
Single use polyester socks
Beverage Service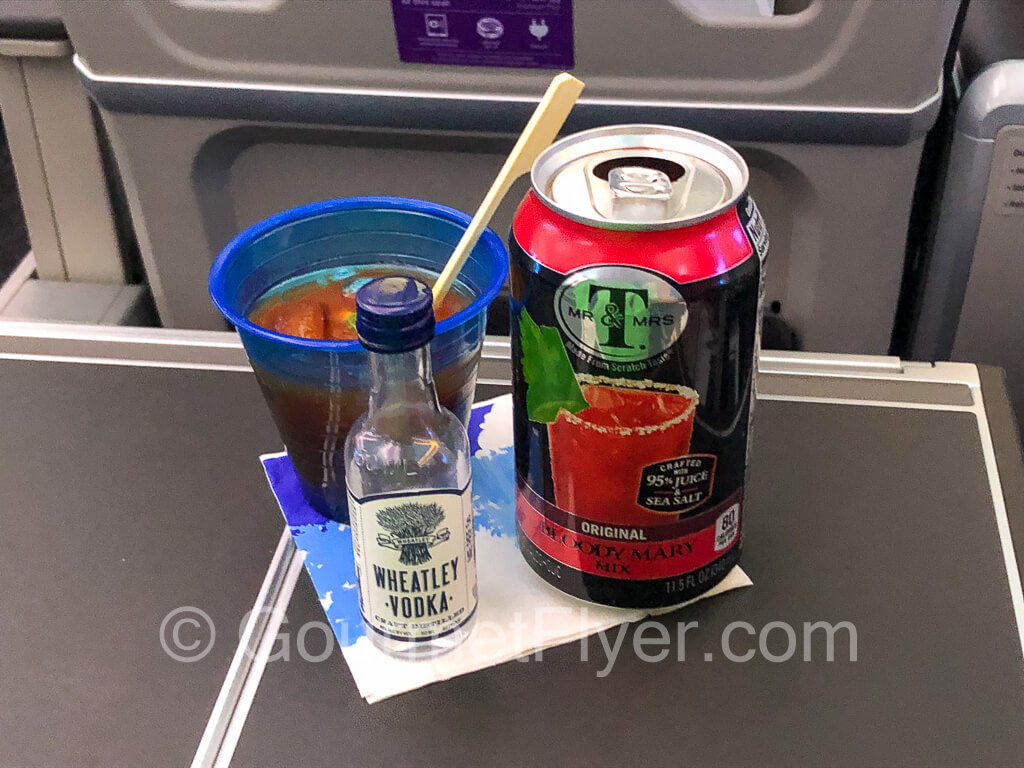 On United's transatlantic and transpacific flights, beers and wines are served free of charge even in regular economy class. In Premium Plus, you have the benefit of complimentary liquor and cocktails.
For some reasons, there were many postings in various travel forums in the spring and summer months that hard liquor was not available in the purple seat cabin. There were plenty of confusion and inconsistencies – including the flight attendants themselves as to what were available for free.
I guess by July/August, the confusion was settled by United's management, and hard liquor and cocktails are indeed complimentary in United' Premium Plus cabin as of this writing. I actually ordered hard liquor cocktails on several international PP flights recently just to confirm this.
Dinner Service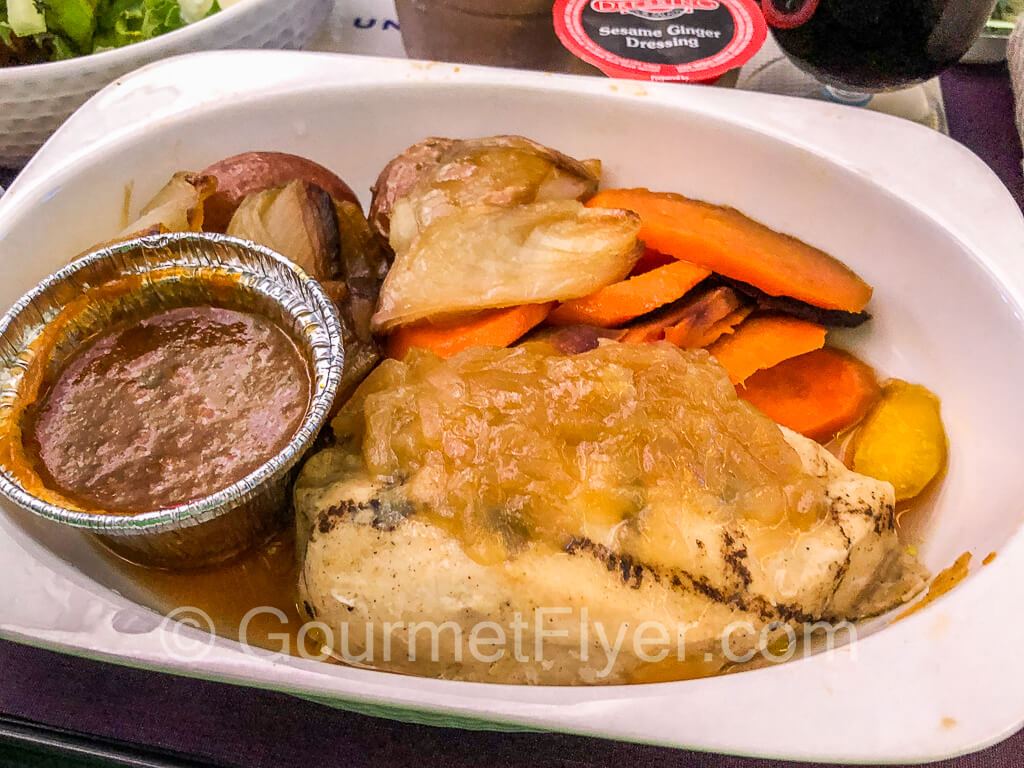 Dinner was a grilled chicken breast served with a very tasty Bordelaise sauce. The chicken was slightly dry, but this was airplane food reheated in an oven, and I was reasonable in my expectations. Actually, dipping the chicken in the delicious sauce made it juicy and tasty and it was really fine with me.
Sides include carrots and a blend of various baby potatoes. On the same tray there were a garden salad tossed with pieces of watermelon, a warm roll with butter, and a small cup of very rich chocolate ice cream. Since the days of COVID, desserts are no longer served separately in economy class (and that includes PP). But the ice cream was still mostly frozen by the time I finished the main dish.
Mid-Flight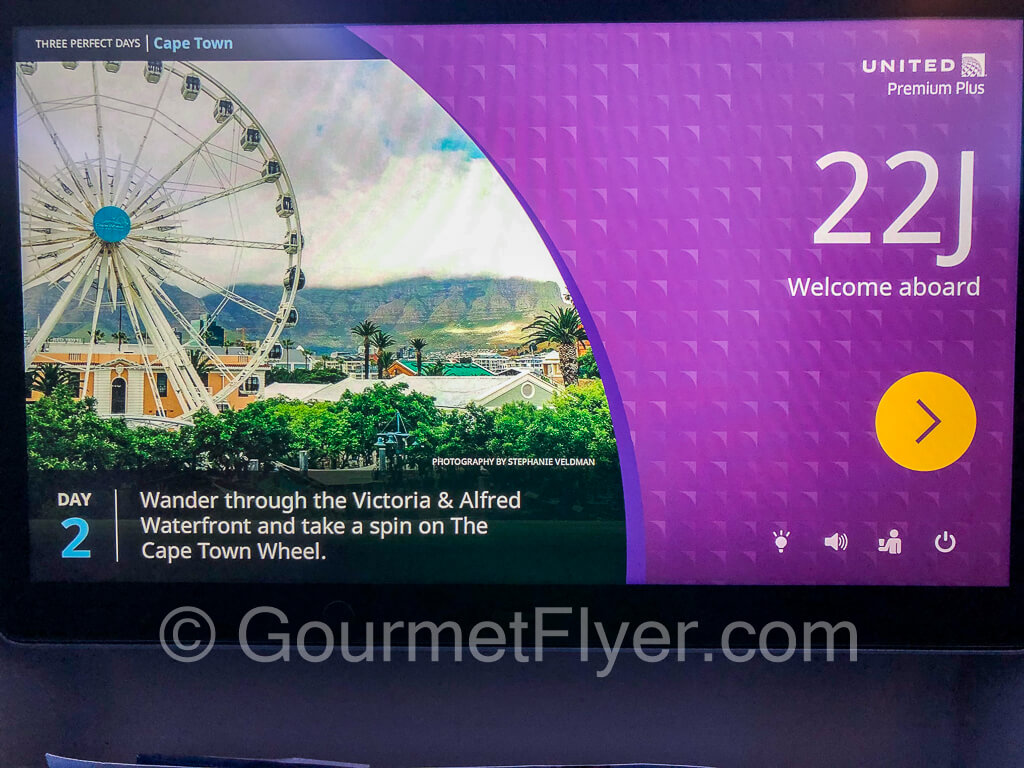 The in-flight entertainment screen was much larger than that in economy (13" vs 9") and that came with deluxe headphones with noise-reduction functions. I watched a couple of movies while sipping my bloody Mary. When I needed another drink, I walked to the galley to request one, telling the FA that I was seated in the Premium Plus. I got served courteously with absolutely no issues.
These PP seats reclined further than those in regular economy (6″ vs 3″) and with the footrest adjusted to an optimal position, these chairs were comfy enough for me to nap a couple of hours at a time. I was almost sure that there was a mid-flight snack of some sort, but I completely slept through the service so I couldn't tell you about it.
Pre-Arrival Meal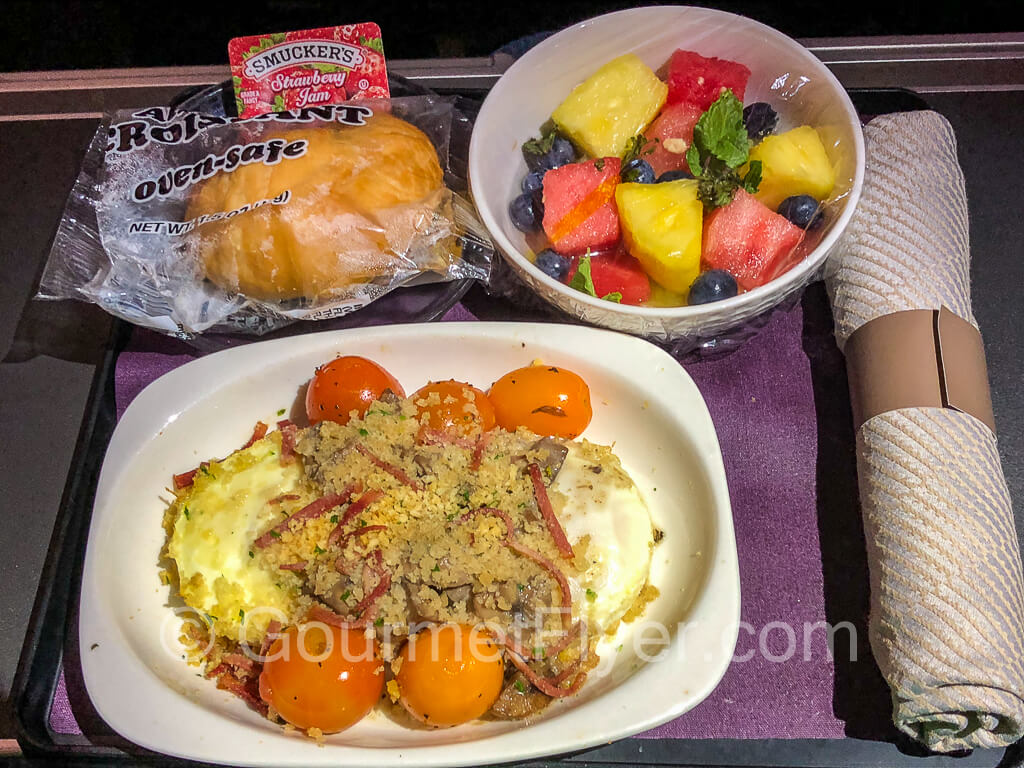 The pre-arrival meal was a significant improvement since my last few international Premium Plus flights on United Airlines. I know COVID among many other issues such as staffing and resources shortages have been challenging for most, if not all airlines. But let me assure you – UA has recovered well, and on this flight, breakfast was amazing – by airline food standard in premium economy.
Breakfast was a serving of two cocotte eggs (French baked eggs) with mushroom and bacon, accompanied by a medley of grape tomatoes. A fruit plate and a pastry were also on the tray. It was good and it hit the spot!
A coffee and tea service followed, and after that, we were less than an hour away from Amsterdam Schiphol Airport.
Conclusion
Kudos to United for a significantly improved Premium Plus in-flight experience compared to my previous flights in the same cabin in the recent months. I was particularly impressed by the pre-arrival meal which was actually quite similar to what I had in a recent Polaris Business Class service. The soft product has improved tremendously in terms of food as well as service. I found all the flight attendants courteous, friendly, as well as professional.
In a nutshell, I will say that United's Premium Plus is a solid product that is worth an upgrade from regular economy class. It is also a solid middle ground if you want a step-up from economy but are not ready to spurge the several thousand dollars for a business class ticket.