October 1, 2023
This is a detailed review of my recent roundtrip experience on United Airlines' Premium Plus class of service between San Francisco (SFO) and Hong Kong (HKG). Premium Plus is United's version of international premium economy class which features a spacious and comfortable seat, enhanced dining experience, upgraded amenities, as well as complimentary alcoholic beverages. This review will walk you through my entire experience on both the outbound and inbound journeys.
Table of Contents
Pre-Flight
If you don't have elite status with the airline, one of the greatest perks of PP is the ability to breeze through check in and TSA screening with the use of UA's Premier Access counter and its priority security lines. Note that if you have TSA Pre-Check, use the Pre-Check Lane instead. You will still need to remove your shoes, laptops, and liquids even in the Premier Lane.
Another benefit is priority luggage handling. Your checked bags will have a red tag on them and will be among the first to arrive at the carousel at your destination, along with the baggage of Business Class passengers and elite members of the airline.
If you want to pamper yourself a little while at the airport, you can purchase a United Club pass at a discounted price, but you have to purchase it as a bundle when you buy your ticket or when you check in. As far as I know, the discount does not apply when purchased at the door. Note that this offer is only good on the outbound trip from the US.
Passengers with Gold or higher status with United's MileagePlus Program or Star Alliance Gold status enjoy all of the above benefits when flying in any class of service, including club access on international itineraries.
The Seat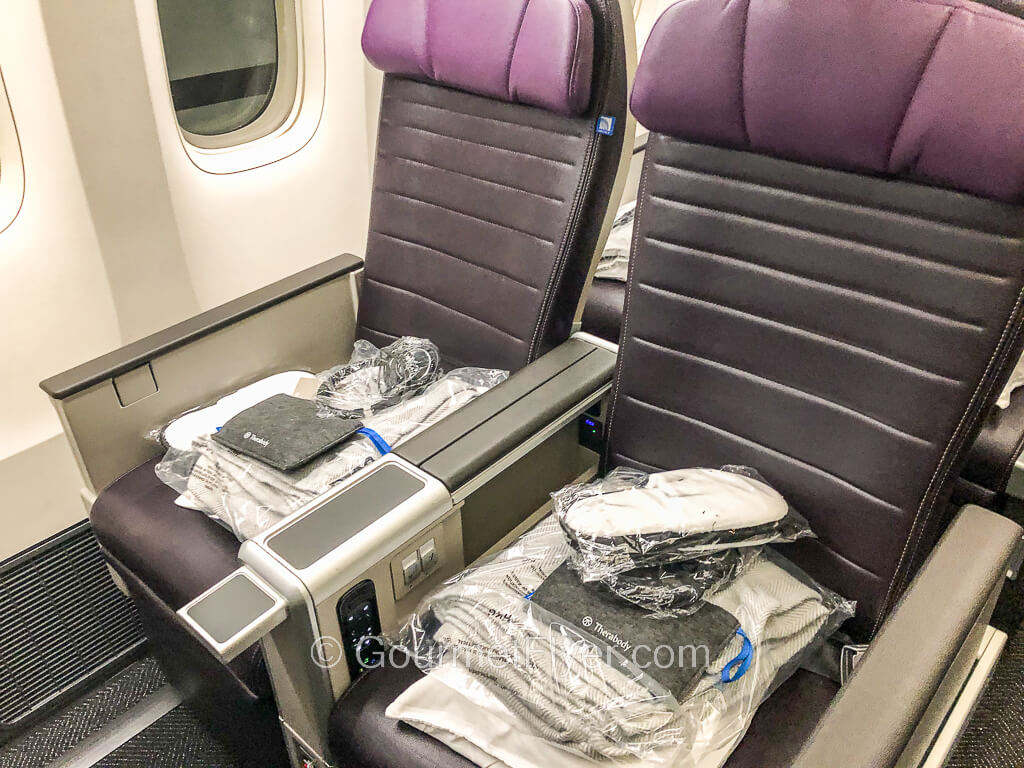 United Airlines does a good job in presenting Premium Plus as an upgraded and separate cabin. There is a partition between PP and the first row of economy but there are no curtains.
My roundtrip journeys between San Francisco and Hong Kong were both operated on a Boeing 777-300ER aircraft, and the configuration was 2-4-2. My wife and I always enjoy the two-seaters by the windows that offer extra space and privacy that is perfect for couples.
Overall, these Premium Plus seats are more spacious and about two inches wider than those at the back of the plane. The armrests are wide enough that when traveling solo, you won't be rubbing elbows with your seatmate. You also enjoy more legroom with 7 inches more pitch than standard economy.
For more information, please see:
Comprehensive Review of the United Premium Plus Seat
Amenities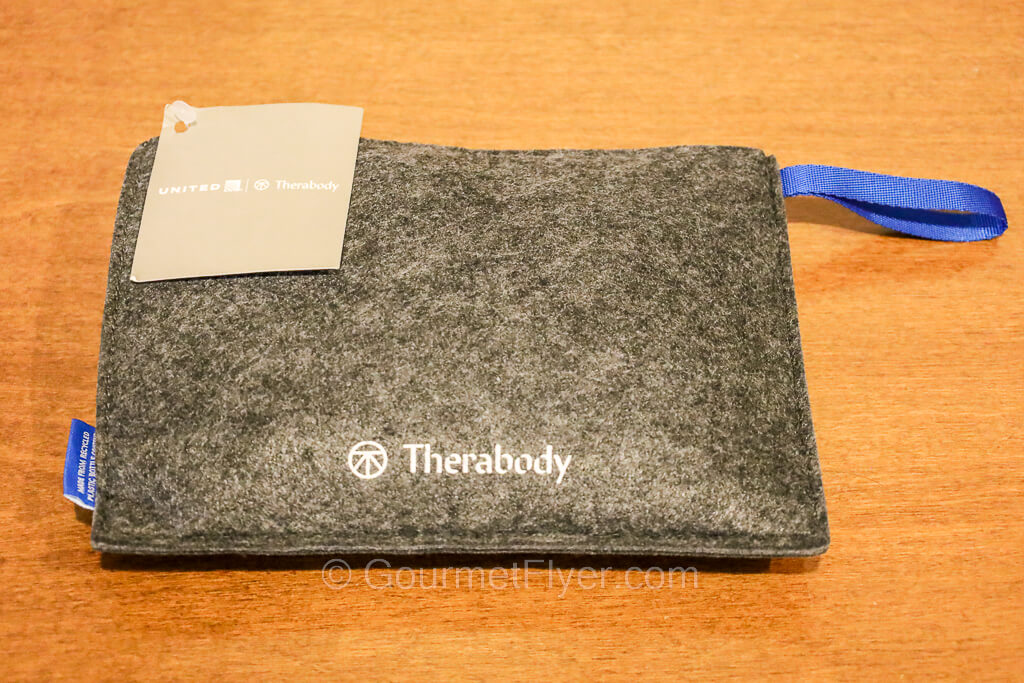 When I boarded, I found a stack of goodies already placed on my seat. They included Saks Fifth Avenue blankets, a soft pillow, a pair of high-quality slippers, and noise cancelling headphones – all exactly the same as those in the Polaris Business Class cabin (before the October 2023 upgrade). On the top of the stack was a slightly enhanced amenity kit which included a bigger and better-quality pouch and featured skin care products by Therabody.
Its contents included facial cleansing towelette, hand cream, and lip balm contained inside the Therabody pouch, ear plugs, socks, eye shade, facial tissues, and a dental kit with toothpaste.
One of my favorite new additions to the kit is the facial cleansing towelette which my wife loves.
All of the above amenities and setup were identical on both the outbound and inbound legs of my trip.
Beverage and Dinner Service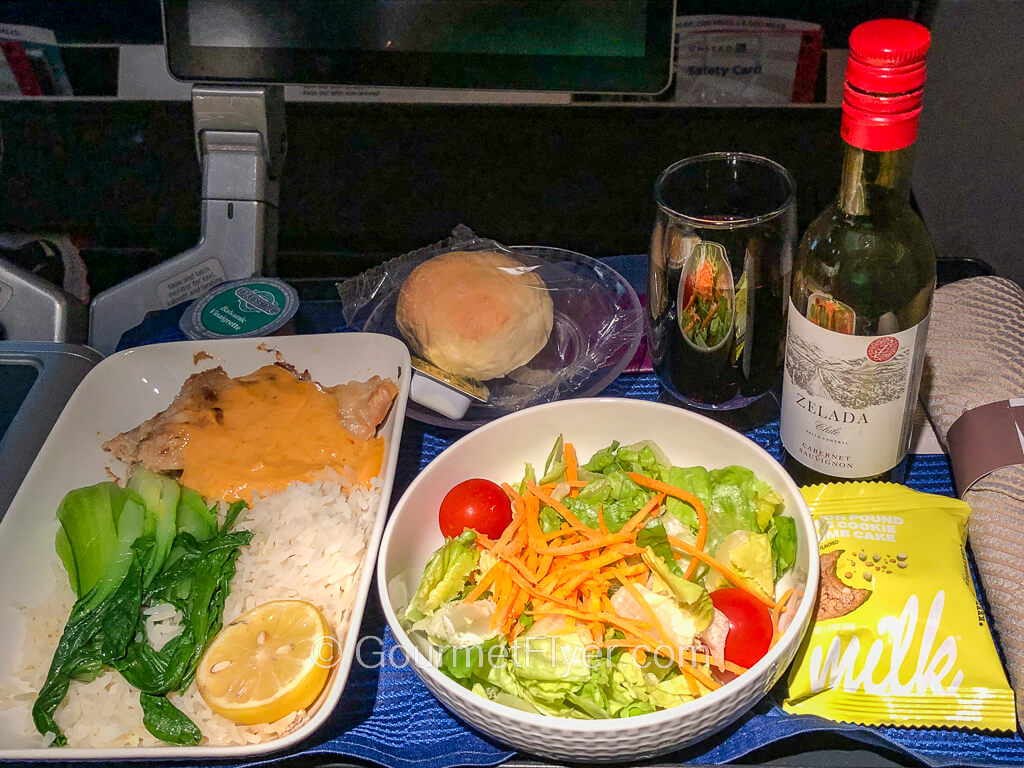 Both of my outbound and return flights departed late at night so it made sense that beverages and dinner were served together as many passengers would like to go to sleep. Both the beverage and meal carts rolled out at the same time and the FA's were very efficient in getting everyone served in a timely manner.
For beverages, beer and wine were always free, even in standard economy. When I asked for a red wine, I was given an individual mini bottle instead of a pour from a large bottle. These appeared to be the same mini bottles that they sell in domestic service. Liquors were complimentary in the Premium Plus cabin, and I would enjoy a couple of cocktails later.
Dinner on my way from San Francisco to Hong Kong was Thai chicken which was a grilled thigh filet served with an Asian curry like gravy over steamed white rice and Chinese vegetables (bok choi). The tray was accompanied by a dinner roll, a green salad with balsamic dressing, and a packaged dessert, which (sadly) replaced the ice cream that they have served in the past.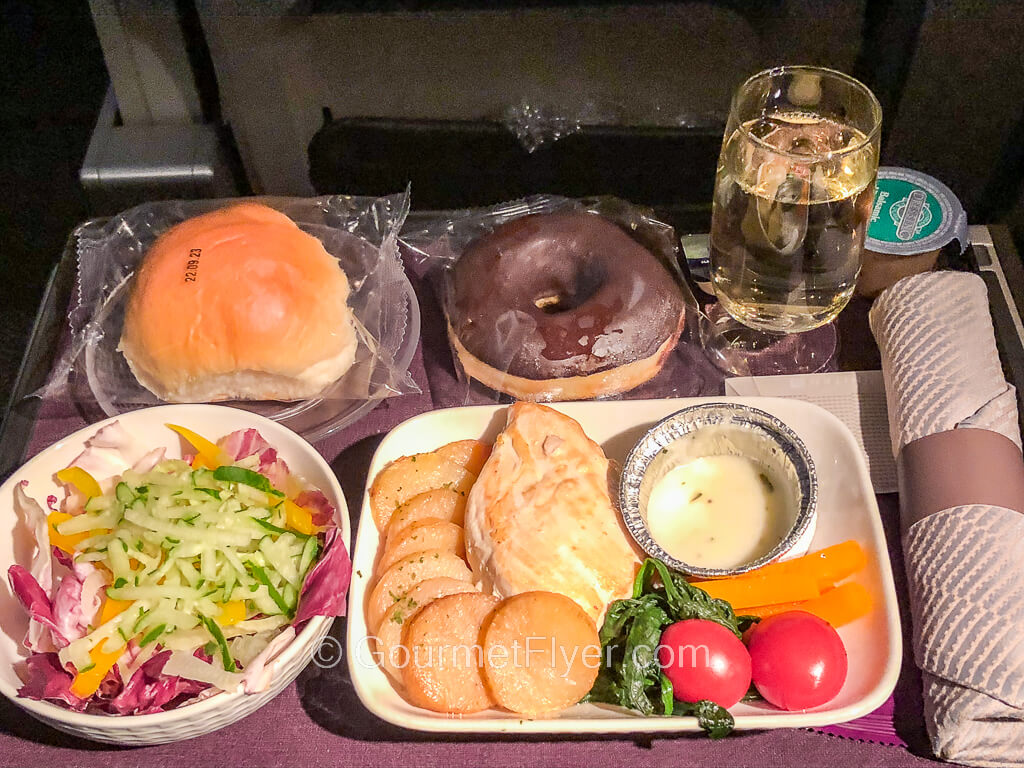 It is interesting to note that on my return trip, when I asked for white wine, there were no mini bottles, but I got a pour from a large bottle.
Dinner on my way back to SFO was grilled chicken breast served with a side of creamy dipping sauce. The dish was accompanied by sautéed sliced potatoes and a medley of vegetables. The chicken and potatoes were good, and I definitely enjoyed this meal more than the flight from SFO. The dinner tray came with the usual green salad with dressing and a dinner roll with butter. But what was shocking was a chocolate donut for dessert. UA, are you serious?
The vegetarian option on both flights were mushroom and vegetable fried rice.
In-Flight Entertainment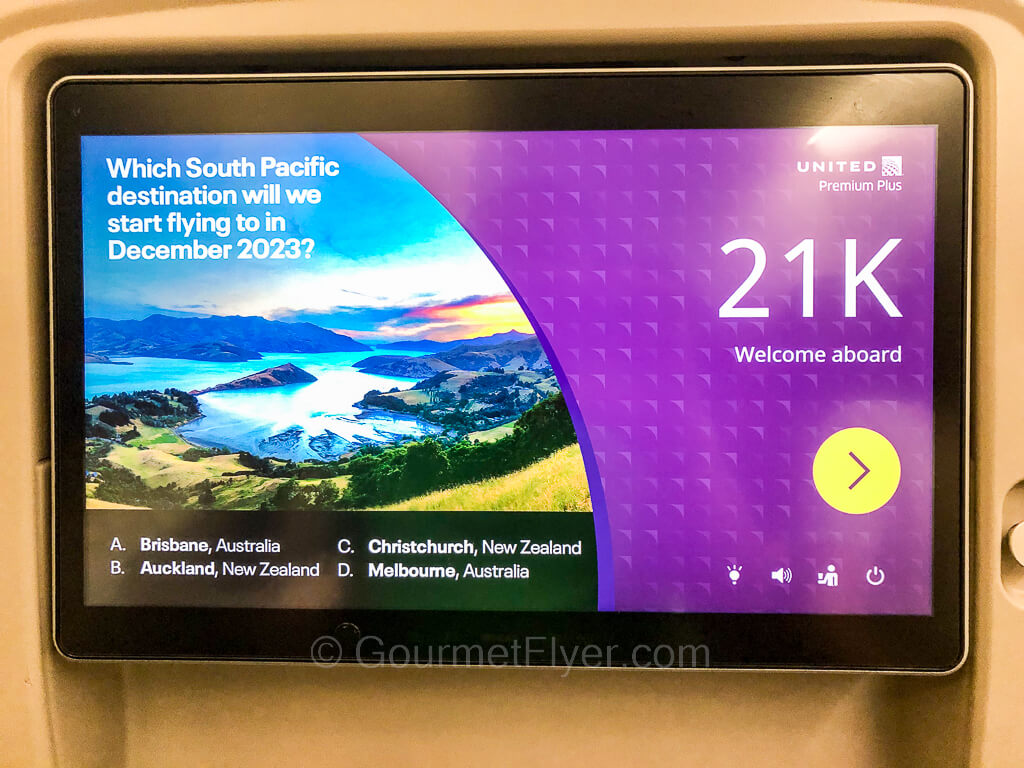 In United's Premium Plus cabin, you enjoy a much larger seatback entertainment screen (13" vs 9" in economy) as well as upgraded noise-reduction headphones. There were plenty of movies and TV shows and I can say there were literally hundreds of programs to choose from. They included recent blockbusters as well as classics through the decades. I don't know what took me so long, but I finally got a chance to see Top Gun: Maverick.
International movies and TV shows from Hong Kong as well as many Asian countries were also available. Other entertainment options included games, music channels, relaxation modes, among a few other features that I could not remember.
Mid-Flight
The midflight snacks on both trips were an unmemorable sandwich served with some packaged snacks. The best thing was that the beverage cart came around so I could order another bloody Mary. I had to give the FA's kudos for circulating the cabin often throughout the flight with trays of water and to pick up trash. I sipped a couple of cocktails, watched some movies, and also got some sleep. With the footrest at an optimal position and the seatback in full recline, I could nap quite comfortably a few hours at a time.
Pre-Arrival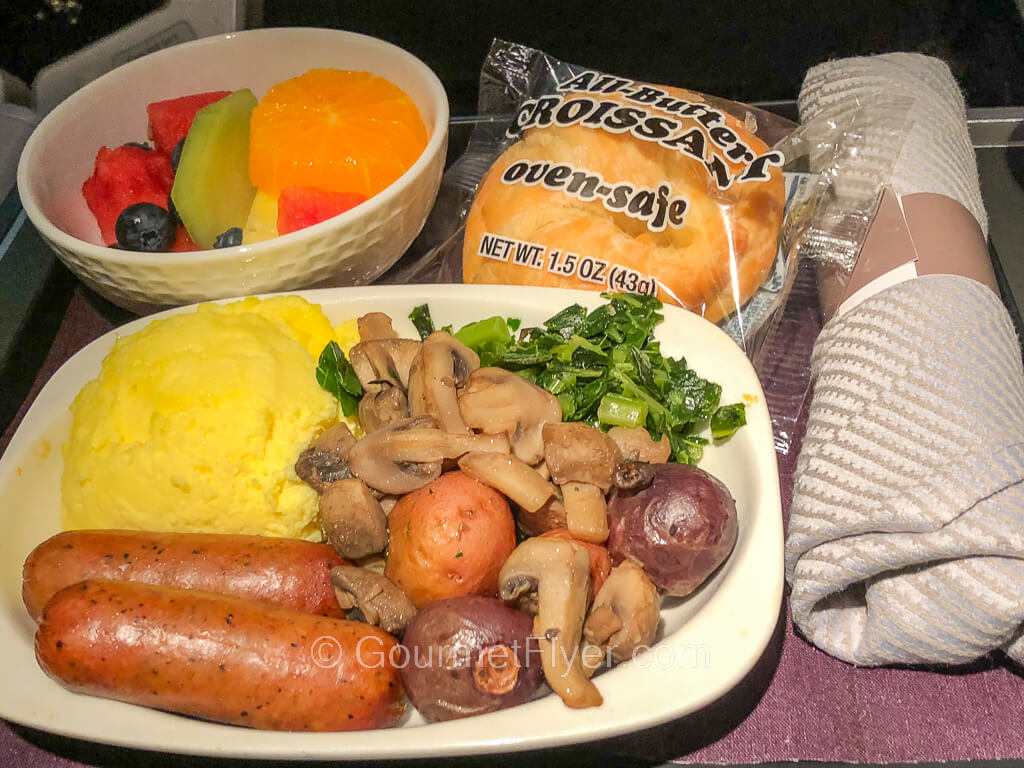 The quality of United's pre-arrival meals has been steadily improving in recent years and I am very pleased with both of my breakfasts.
Breakfast on my way to Hong Kong was a dish of scrambled eggs served with two delicious sausages, sautéed mushrooms, and a medley of roasted baby potatoes. A bowl of fresh fruits and a packaged croissant accompanied the entrée.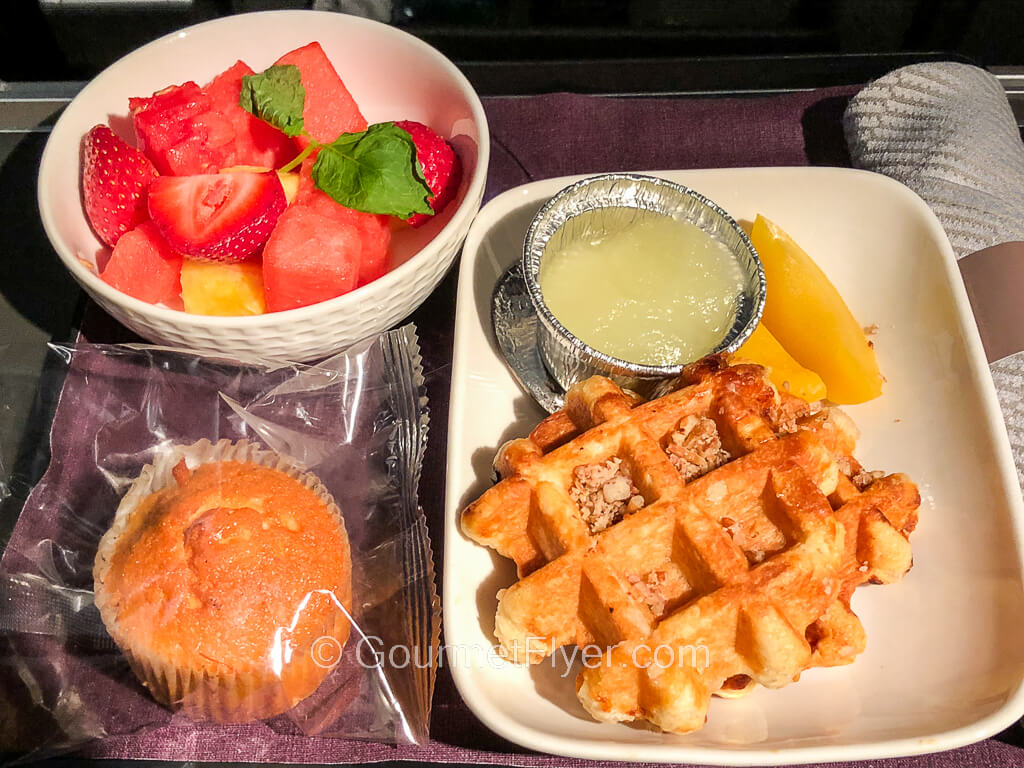 On my return leg to San Francisco, a similar egg and sausage entrée was offered but I wasn't hungry and also wanted something light and sweet. So, I opted for the waffles with apple sauce which turned out to be a good decision. The waffles were crispy, not overly sweet, and carried a hint of cinnamon which was perfect for my palate. They were rather light and small but there were two of them. The tray also included a muffin and some fruits so there was plenty of food for me.
After the meal, we were about an hour away from touchdown.
Conclusion
Overall, I was very pleased with my roundtrip Premium Plus flights – United's version of international premium economy class. The seat was spacious and comfortable, and I managed to nap quite well. Service by the FA's was adequate, friendly, and professional.
I enjoyed the food for the most part. But I will give UA some constructive feedback in just one word: Dessert! Please bring back the ice cream, sherbet, or better yet, the gelato. Or at least have something decent like a sponge cake or cheesecake. The packaged dessert was unmemorable, and I forgot what I ate. And chocolate donut for dessert? You can't be serious!
My final verdict is that United's Premium Plus is a huge step up from economy and is also a good middle ground if you don't want to spend several thousand dollars for a business class ticket. For me, on a 15-hour flight it is good value if the price difference is within 20 – 30% of a regular economy fare. If you are sitting on some MileagePlus miles, this might be one of the best values to use them and give yourself an upgrade to the purple seats.