Updated August 24, 2023
Tokyo is without a doubt one of the most fascinating cities in the World and the list of things to do and places to see is probably endless. My recommendations below focus on directing visitors to soak in all the arts, cultures, and history of the city while also having some fun along the way. I have also included a couple of day trips for those who have enough time to see the major highlights of Tokyo and would like to venture beyond the bustling city.
Whether you are staying here for just a few days to a few weeks, you will never run out of exciting things to do in Tokyo. I have been there over half a dozen times and staying a week or longer each time, and I am still exploring new places to visit. To help you efficiently plan your itinerary based on your interests, I am grouping my recommendations by categories. I hope you will find my list helpful, and that you will enjoy your visit as much as I always do.
Table of Contents
Cultural Attractions in Tokyo
Kabukiza Theater
There are literally numerous things to do in Tokyo so sometimes it could be hard to prioritize what is most important to see. But if you are seeking a cultural experience, the Kabukiza Theater should be near or at the top of your list.
Japanese operas typically consist of multiple acts and can last half a day or up to a full day. The Kabukiza Theater lets you purchase tickets for just a single act so that you can explore this rich Japanese culture in about an hour. Note that single act tickets are only sold at a special counter on level 1 (that is, not at the regular box office.)
Believe me, you don't need to speak any Japanese to appreciate these operas. The acting is so powerful, the music and emotions are so compelling, that you can easily tell the flow of the story. It's like going to an Italian opera and not speaking any Italian at all.
Personally, I think this is a great experience to get a taste of the rich Japanese culture. Certainly not to be missed.
Meiji Jingu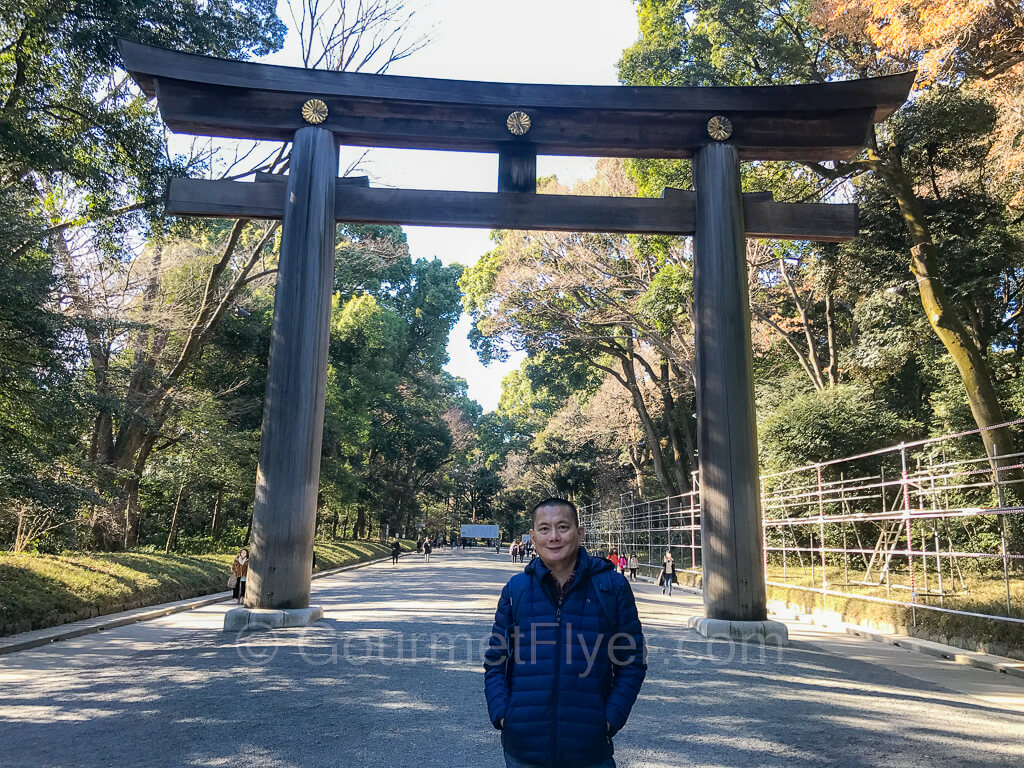 Meiji Jingu is a shrine dedicated to the Emperor Meiji, who is often known to be the emperor who transformed the country from Old Japan to New Japan. He is credited for the Japanese industrial revolution as well as a series of political and social reforms.
I find that the most enlightening moments occur during the walk to the shrine and not at the shine itself. The shrine is majestic, of course, don't get me wrong. But it is the walk to and from the shrine that invokes a Zen-like inner peace for me.
Once you've reached the shrine, there are different sections for different religious rituals. As with any religious places that you visit around the World, observe quietly and be respectful.
Sensoji
Kannon is Japan's goddess of mercy and in a nutshell, Sensoji was built in honor of the goddess in the year 645 AD and it is Tokyo's oldest temple. This is really a religious site, and most locals go there to pray. But somehow it has become a major tourist attraction. In a way, it is like tourists in Paris flocking to see Notre Dame Basilica.
On the way there, you will pass through streets of vendors selling anything from yummy street foods to souvenirs and clothing. Want something to take home? No worries. Many stores there sell Japanese goodies such as cookies, chocolate, and the popular Tokyo Banana. They are all packaged to fit nicely into your carryon luggage.
Hungry? Not a problem. There are numerous restaurants to choose from. I highly recommend Asakusa Umaimon Aduma.
Imperial Palace
The Imperial Palace is the official residence of the Emperor of Japan. It is a majestic castle sitting on 280 acres of parks and garden and surrounded by massive moats. It is just a short walk from Tokyo Station so if you are in the area, it is certainly worth a visit. The main area that is open to the public is the Imperial Palace East Gardens. However, most of the inner grounds are closed to the public except on January 2 (New Year's Greeting) and February 23 (Emperor's Birthday).
Guided tours to the Palace grounds are available in Japanese and English. Advanced reservations made through the Imperial Household Agency are required.
Monzen Nakacho and Fukagawa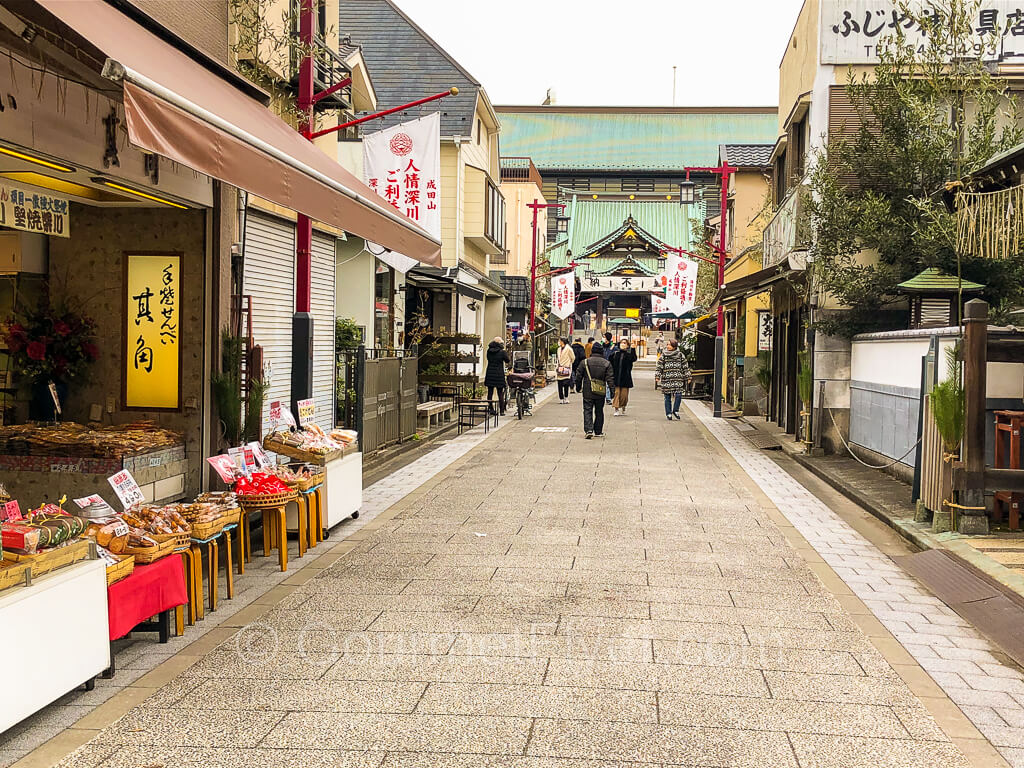 Monzen Nakacho is a charming and traditional neighborhood which almost takes you back in time. To explore the region, take Exit One from the Monzen Nakacho station and take a right to take a stroll down Tomioka Street. It is a quaint alley with a few cafes, small restaurants, and traditional stores. It will lead you to Fukagawa Fudoson Temple. From there head to Tomioka Hachimangu, a majestic shrine which is one of the largest in Japan. There are many other small streets in the area that you can explore, including the famous Tatsumi Shindo, a small alley packed with small Izakaya bars – somewhat similar to Memory Lane in Shinjuku.
An extension of the walking tour is to head to the Fukagawa Edo Museum from there (a 15 to 20-minute walk) and further explore the neighborhood. The museum has a life-size replica of an entire community in the Edo Period. Just across the street from the museum is the main branch of Fukagawajuku, a small traditional restaurant that serves authentic Fukagawa-meshi, a fisherman's quick meal of clams and rice in the Edo period.
One Day Bus Tour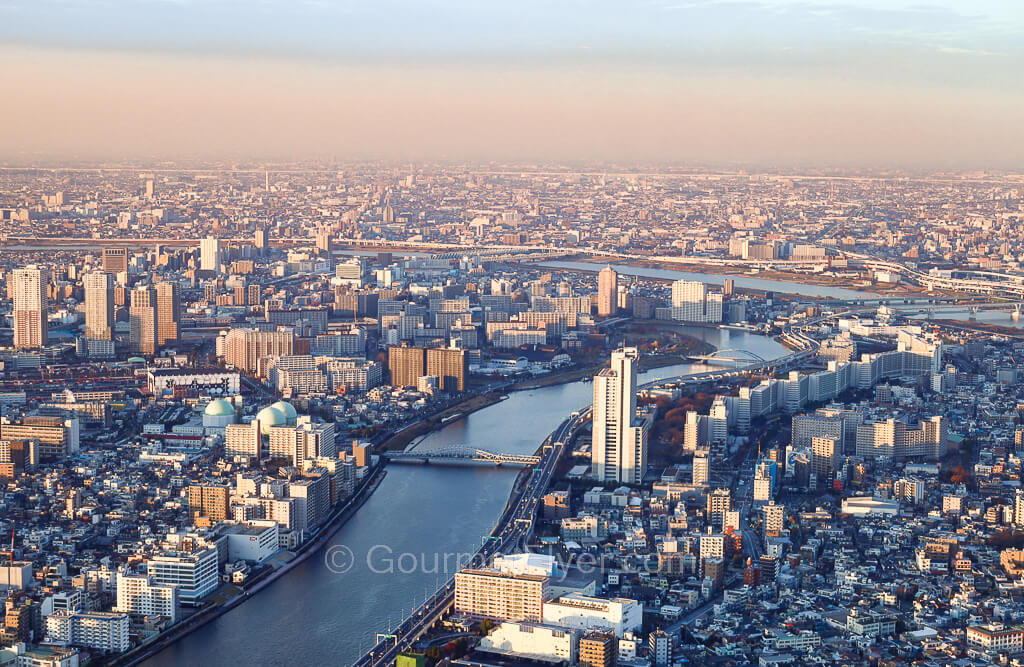 The One Day Tokyo Bus Tour is perfect for those who would like to see all the major landmarks of this vibrant city in a day in a well-planned and organized itinerary, but do not want to deal with transportation, logistics, and language barriers.
This is a 10-hour journey through the street of the capital of Japan in a deluxe air-conditioned coach with English speaking guides. Your morning includes tours in the iconic Meiji Jingu Shrine, Imperial Palace, and Senso-Ji Temple.
Lunch and matcha service at the historic Asakusa district is included.
The highlights of your afternoon include skip-the-line entry to the Skytree, a visit to the famous manmade island of Odaiba, and a cruise under the Rainbow bridge to enjoy the spectacular skyline of the city.
This is the best one day in Tokyo deal that you can find. See the complete itinerary and detailed information here.
Arts and Museums in Tokyo
Tokyo National Museum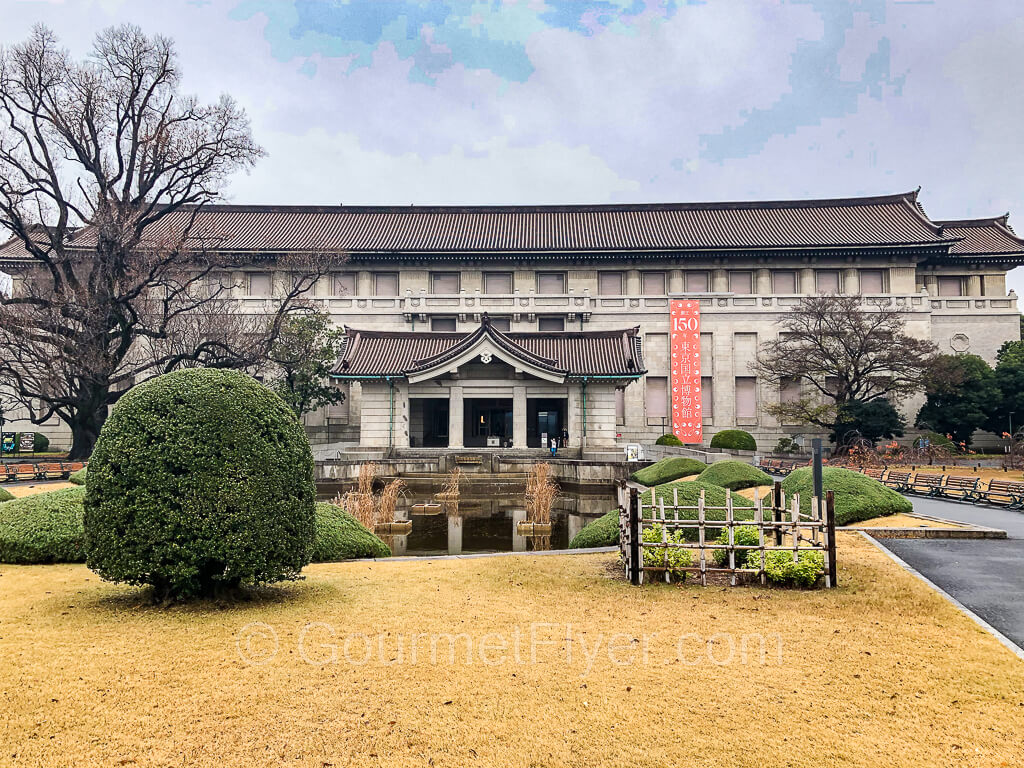 Tokyo National Museum is one of the largest museums in the World with over 110,000 pieces of art and artifacts on display. The museum is divided into six main galleries, each with multiple rooms. The entire complex is huge, so I suggest that you first focus on the main gallery – The Japanese Gallery (Honkan) to catch the quick overview of the history, arts, and cultures of Japan. If you are running short on time, enjoy "Highlights of Japanese Art" on the second floor first, as it is indeed the centerpiece of the museum.
The Toyokan Gallery focuses on collections from Korea, China, and other Southeast Asian countries. Ancient temple and religious artifacts, Buddhist statues, calligraphy, and textiles can be found in the Gallery of Horyuji Treasures. This is a great museum that will both entertain you and enrich you in numerous ways.
National Art Center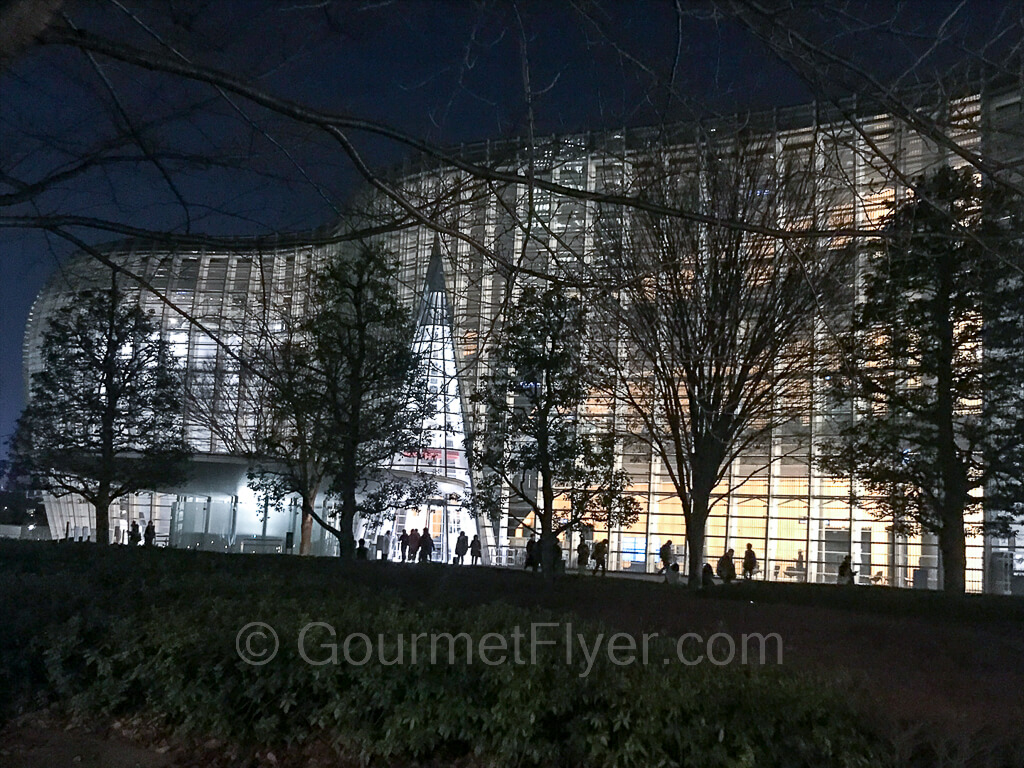 The National Art Center maintains a large permanent collection of fine arts from Japan, from traditional to contemporary. The building itself is a well-known architectural gem in Japan.
It is also well-known for its ongoing special exhibitions of compelling stories, extraordinary talents, as well as traditional masterpieces from around the World. The last few times I was there, I was very blessed with the opportunities to see the exhibition of Makoto Shinkai, the innovative filmmaker of romantic anime dramas, as well as Japan's legendary architect Tadao Ando.
As of this writing, the next major special exhibition will be the "European Masterpieces from the MET in New York from February 9 to May 30, 2022.
If you want to take a break between visiting galleries and enjoy a delightful lunch, I highly recommend Brasserie Paul Bocuse Musée located on level 3.
Metropolitan Art Museum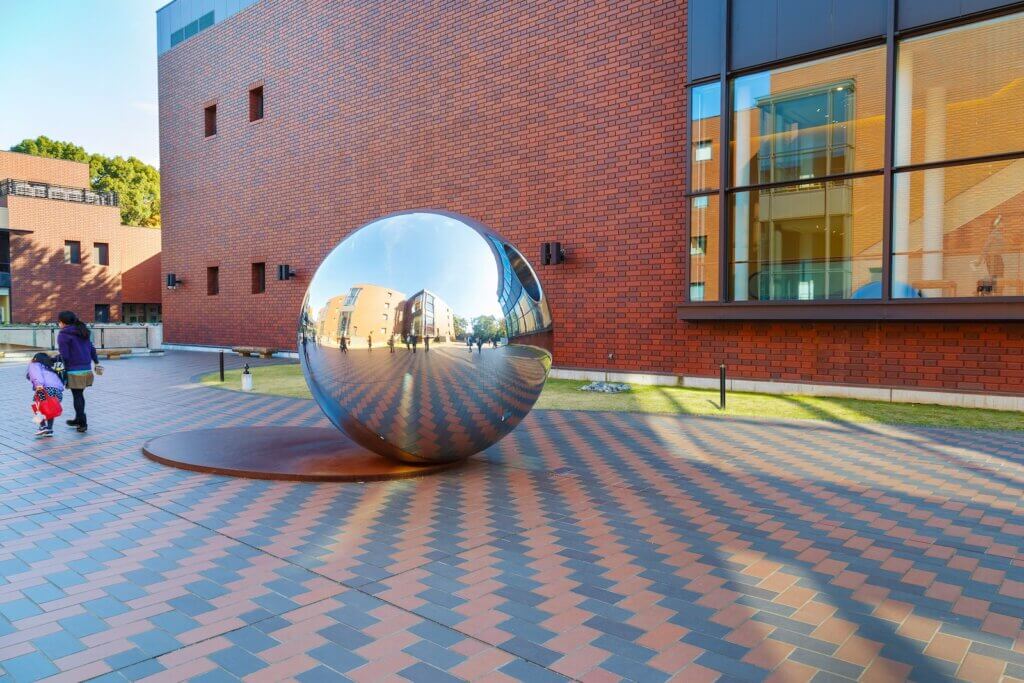 Located in the famous Ueno Park alongside other world class museums, the Metropolitan Art Museum is of the same caliber as other major art museums across the globe. It is also where you will find Western masterpieces from renowned artists such as Van Gogh or Monet during special exhibitions. The majority of the galleries though are dedicated to Japanese art, from the Edo Period to modern days.
The museum also has many contemporary sculptures on permanent display on its grounds, such as the iconic metallic mirrored sphere known as My Sky Hole: Light and Shadow. One particular gallery houses 36 impressive works of calligraphies by 30 calligraphers. Admission to the museum is free, but entrance fees to special exhibitions are required. Fees vary by exhibitions.
Mori Art Museum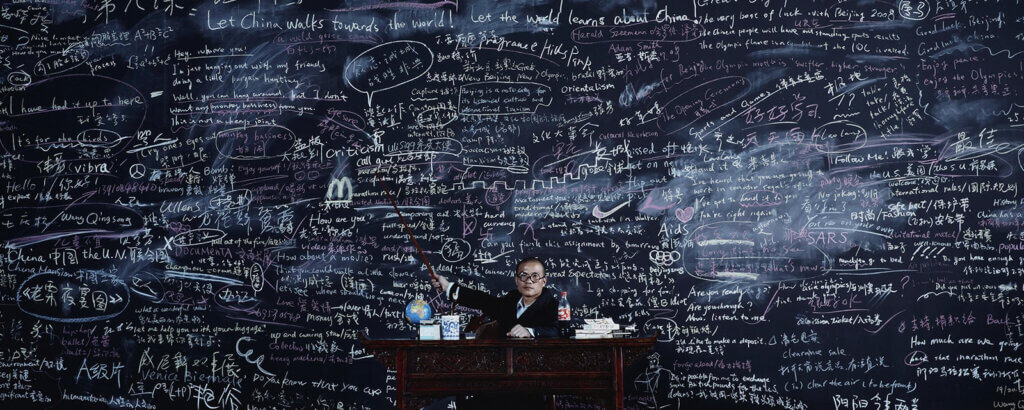 Mori showcases about 500 contemporary original art works of universal themes from mostly Japan and the Asia Pacific region. Founded in 2003, one of its goals is to stimulate cultural discussion and learning through its exhibitions.
The current special Exhibition "Contemporary Art Through School Subjects" (4/19/23 – 9/24/23) takes you into and beyond the classrooms to explore the many facets of art inspired by history, languages, literature, mathematics, and sciences. Its next special feature "Our Ecology" (10/18/23 – 3/31/24) makes the connection between humanity and the ecosystems that we live in. It focuses on artistic expression of activism and environmental issues.
Located on the 52nd floor of the Roppongi Hills Mori Tower, it also provides visitors with a panoramic view of the city.
Adventures and Attractions in Tokyo
TeamLab Borderless
Update: As of August 31, 2022, TeamLab Borderless in Odaiba has been relocated to TeamLab Planets in Toyosu,
Of all the attractions in this vibrant and exciting city, I would say that TeamLab Borderless is one of the very few must-sees. It is a dynamic art form that you don't experience often, and it may even change your perception of arts.
The arts are simulated by fluid and synchronized movements of lights, colors, mirrors, lasers, and sound. It is "borderless" in the sense that the art is not contained in a frame, a boundary, or a border. They flow dynamically from wall to wall and from ceiling to wall. There are no road maps, and you roam freely with the arts. Sometimes you might get lost, but I am happy to get lost in paradise.
Skytree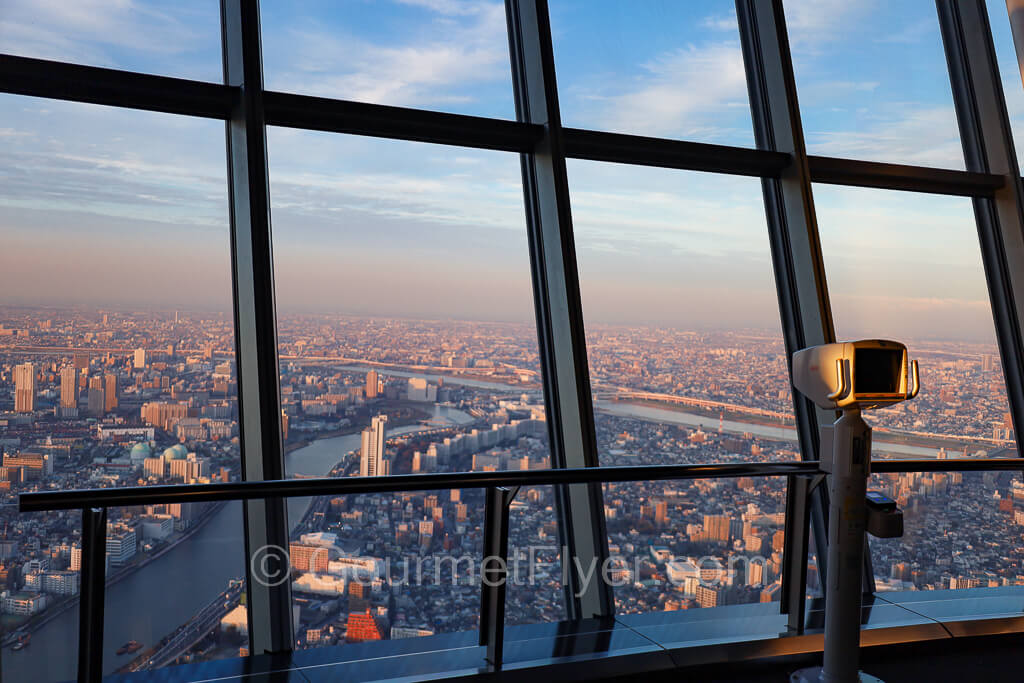 Skytree is Japan's tallest observation tower and is among one of the tallest in the World. There are two levels of observation decks. The Tembo Deck has 3 levels, starting off with the lower level with a glass floor. The middle level houses the Skytree Shop and the Sky Restaurant where you can dine with a gorgeous view. The top level is the main observation area.
The highest deck is the Tembo Galleria which you access via a glass elevator. It requires a separate ticket and is included if you buy a combo ticket at the entrance. You can also purchase access by paying the additional fee at the Tembo Deck. The Tembo Galleria is somewhat like a spiral walkway that ramps upward to finally reach the highest point of the observation deck.
The view from the Tembo Galleria is stunning. The windows are much bigger, and the lights are dimmed for better photography. From my own experience, it is certainly worth the additional fee. On a clear day you can see as far as Mount Fuji. The best time to go there is just before sunset when you can take absolutely awesome Instagram-worthy photos as well as beautiful night scenes.
At the base of the Skytree is Skytree Town which is a large shopping and dining complex. There are a couple hundred shops as well as plenty of dining options, from small cafes to family restaurants to fine dining. This is also where you will first enter when you arrive by train. You will find the entrance to the Skytree on the 4th floor of Skytree Town.
Ueno Park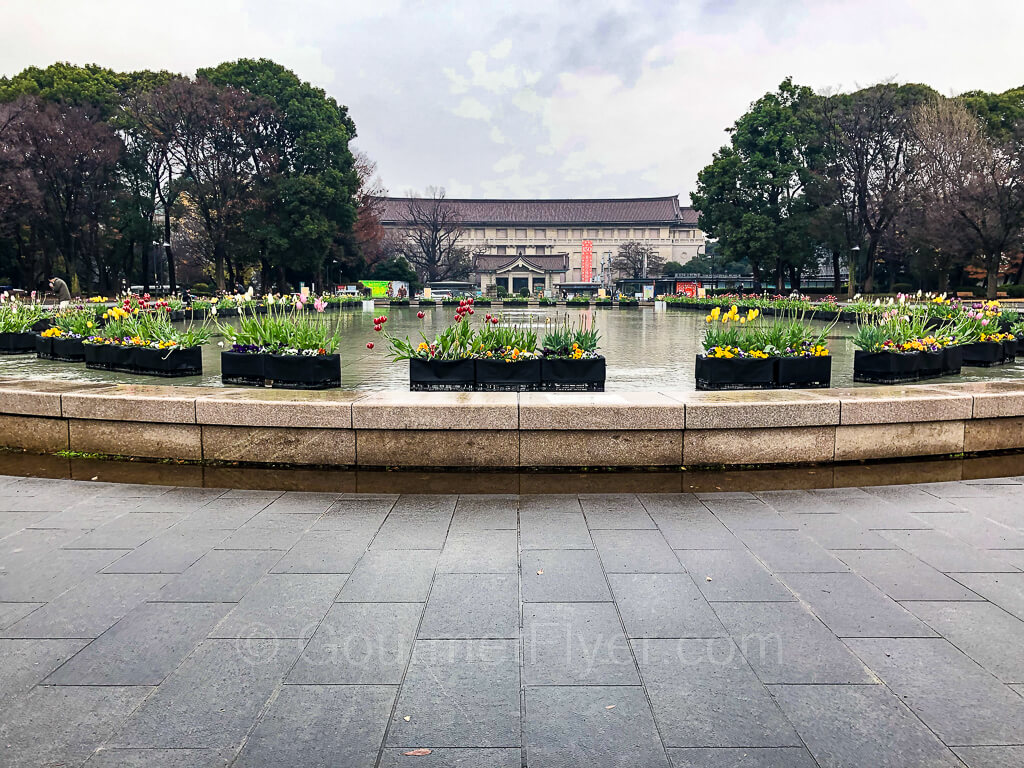 With over a thousand cherry trees planted along its main pathway leading from the Keisei Ueno Station to the center of the park, Ueno Park is one of the most popular spots to enjoy Japan's famous Cherry Blossom from late March to early April and is the venue for many hanami (花見, flower viewing) parties during the season.
While Cherry Blossom is the centerpiece of the park in early spring, the Shinobazu Pond located in the southwest of the park is famous for its lotus blossom in summer. The area near the pond is also where several shrines and temples are located.
Ueno Park is also home to several world class museums, such as the National Museum, Metropolitan Art Museum, and the National Science Museum. It is also home to the Ueno Zoo which houses the giant pandas from China.
Shibuya Scramble Crossing
This is the busiest, most chaotic, and most insane pedestrian crossing in the World. Maybe this is why people from around the World come here to see what it's like! This is also a perfect destination for local sightseeing and walking tours.
I like to come here at night. The place is lively and vibrant. There are numerous restaurants and bars in the area, and you will never be thirsty or hungry. But the inter-connected complexes are so large and confusing, you might get lost. But I am perfectly fine with getting lost in paradise.
Tokyo Station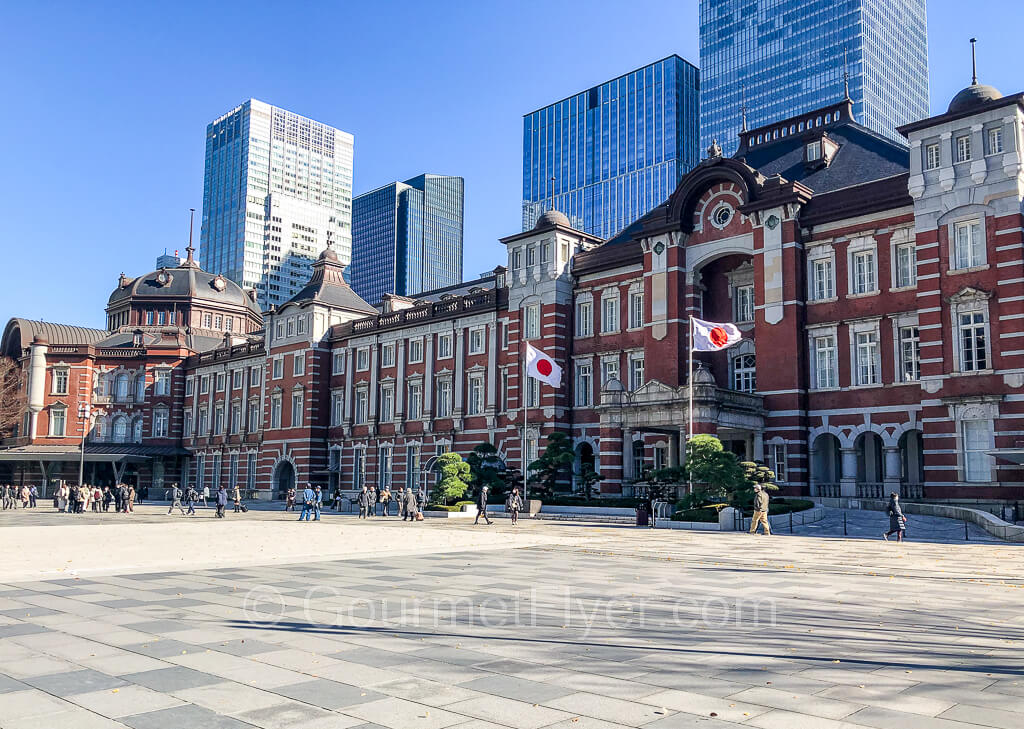 Yes, I am suggesting a train station as an attraction and one of the major things to do in Tokyo. In Japan, many major train stations are built like mega shopping, dining, and entertainment complexes, and Tokyo Station is among one of the largest.
Tokyo Station is so large that most first time visitors are almost certain to get lost, so I am giving you a rough guide here. There are two main sides. The Marunouchi side is one the west and is easily recognizable by the iconic red brick structure pictured above. This is where most JR and subway lines are located. The Yaesu side is on the east and is where most shinkansen (bullet train) platforms are located. There is only one passageway connecting the two sides on the north end of the station – commonly known as the "north passage".
Major attractions include First Avenue (the major shopping and dining arcade that also connects you to other side streets), Ramen Street, Okashi Land (candy street), Tokyo Character Street (a dream for anime fans), Nippon Gourmet Road (a foodie's paradise), and Daimaru (Japan's leading and iconic department store). To make your trip more enjoyable, there are numerous coin–operated lockers of various sizes for you to store your luggage.
Akihabara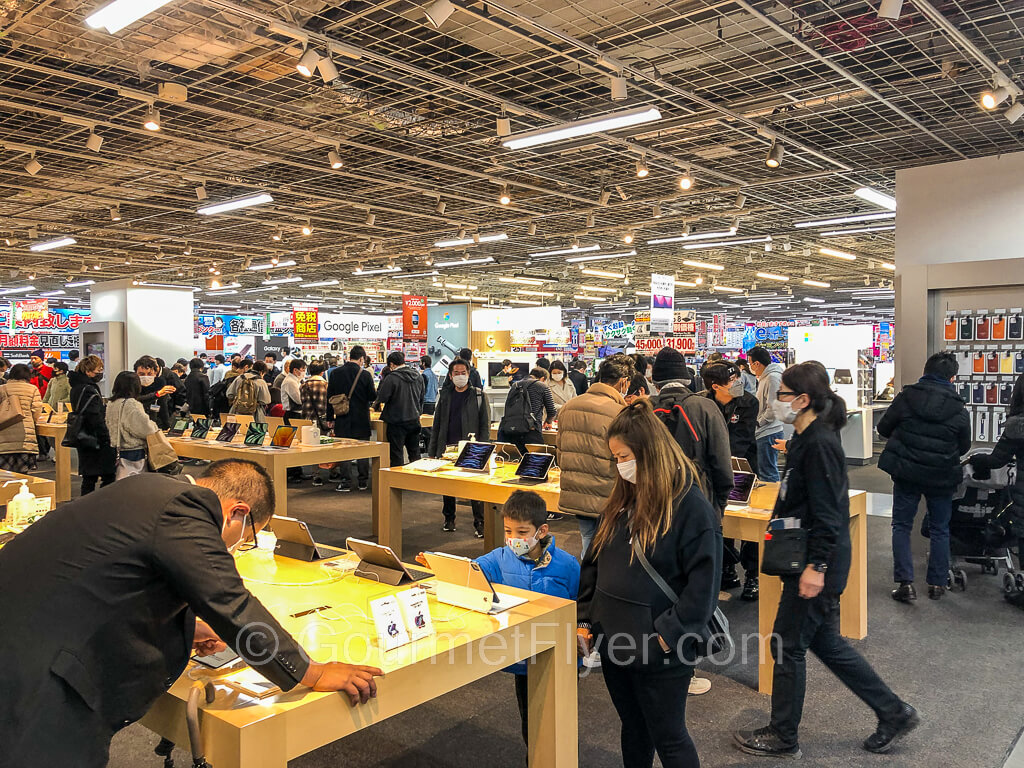 Akihabara is an area that embraces hip and pop cultures and is a favorite hangout for teenagers and young adults. You will often find street performers as well as musicians in this vibrant area which becomes quite lively at night.
One favorite attraction pretty unique to Japan is maid café, where waitresses are typically cute young girls dressed in costumes and serve their customers like "masters". They tend to be really bubbly and cutesy and it's a fun place to have a quick meal. Yes, your meal needs to be quick as most maid cafes have cover charges and if you stay beyond an hour, you have to pay again.
For me, I go there for the electronics. Akihabara has the largest collection of electronics in the country and also at the best prices. If you cannot find something there, it probably doesn't exist in Japan. The most prominent store is the 9-story warehouse style Yodobashi-Akiba. Any tech enthusiast could easily spend half a day there.
Foodie Destinations in Tokyo
Tsukiji Fish Market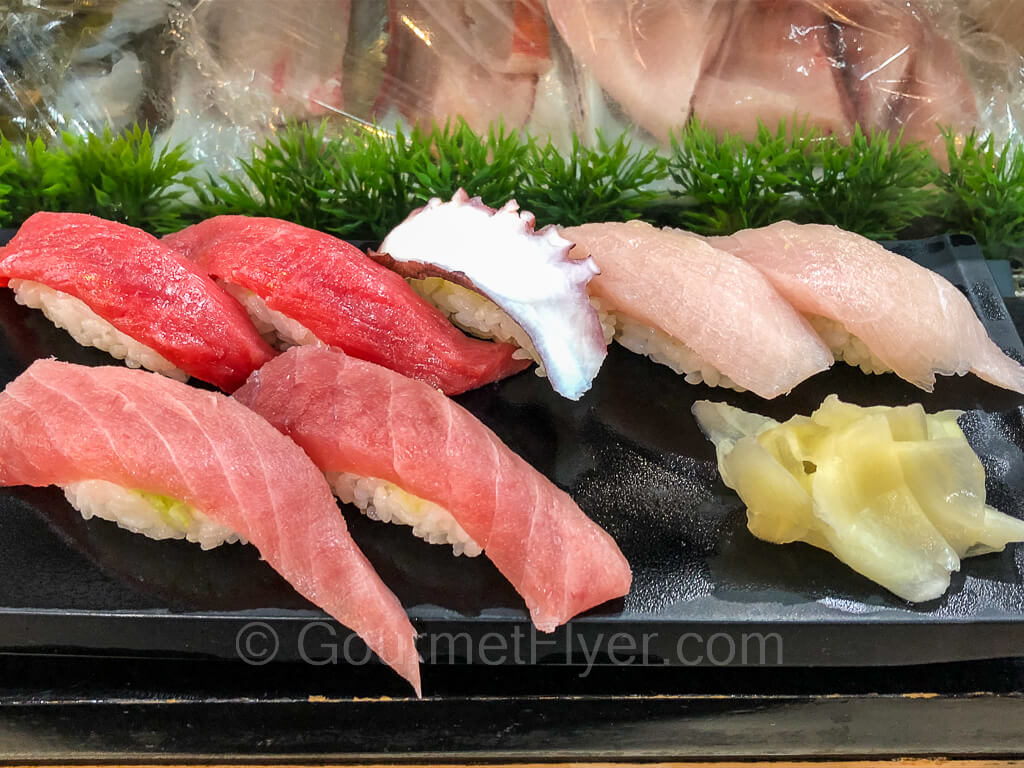 Let me first clear up the confusion whether the market is still open or closed. The wholesale fish market where professionals bid, and auction freshly caught fish is the "inner market" and it has moved to Toyosu. However, the market where you will be getting your sushi lunch from is the Tsukiji Outer Market, where restaurants and shops are located. This is the best place in town to eat fresh sushi and sashimi.
There are many types of eateries here, from small food stalls to rice bowl counters, small sushi bars to full-service restaurants. Most of the smaller operations open from early morning until early afternoon. The larger restaurants are also open for dinner. A few places are open 24 hours.
Even if you don't like raw fish, it is still a great thing to do to stroll around to soak in the local flavors and culinary cultures of Tokyo. You can also do some shopping and pick up some authentic Japanese tableware, kitchenware, as well as souvenirs.
Tsukiji Fish Market Walking Food Tour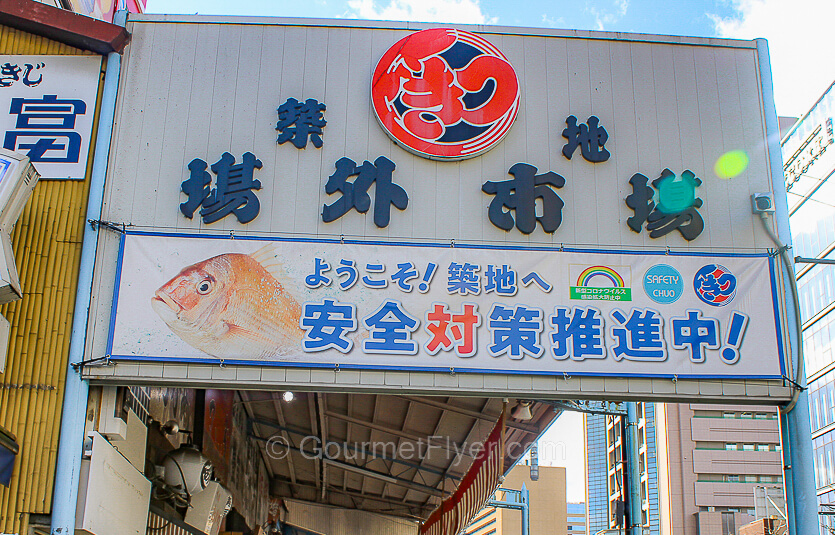 The Tsukiji Market is a foodie's paradise to both local and visitors alike and it could be both fun and challenging to navigate your way through the narrow alleys and huge crowds. If you would like to fully explore the market with insights into the culinary traditions of Japan without language barriers, a guided tour is a good alternative.
The Tsukiji Fish Market Walking Food Tour is a 3-hour exploration through the maze of this iconic market with a knowledgeable English-speaking guide. You will learn a lot about the cultures of the country as you visit nearby attractions, including a temple. There will be plenty of snacks along the way for you to get a taste of Japanese street foods. You will also enjoy a complete seafood lunch at the market.
This small group tour is limited to a maximum of 6 people to provide the participants with an intimate experience as well as a personalized journey.
Ramen Street
Whether you like ramen or not, Ramen Street is a cultural experience not just for foodies alone. With 8 top-notch ramen restaurants located adjacent to each other, this is almost like the ultimate ramen journey. This is what I always refer to as the "cultural dining experience".
If you want to try a different type of ramen which is not as common back home, I'll recommend restaurant #3 Rokurinsha, which serves tsukemen – a special type of ramen where the broth and the noodles are served separately. The noodle is dipped into the very rich and almost gravy-like broth before eating.
Ramen Street is located in the Yaesu side of Tokyo Station. If you happen to be taking a train from this station or just passing through, add Ramen Street to your itinerary.
Memory Lane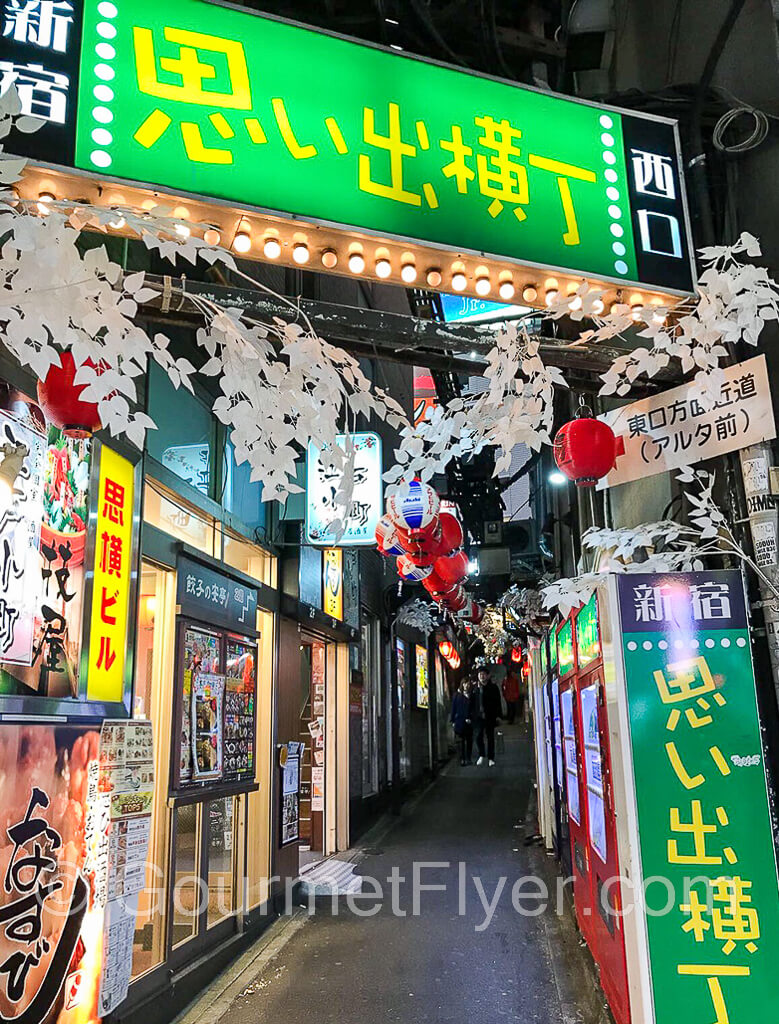 Want to eat like a local? I mean, really eat like a local?
Just steps away from Shinjuku Station and nestled among the bright lights of department stores and contemporary restaurants is a dark and narrow alley called Memory Lane (Omoide Yokocho). This is where local salarymen go after work in the evening to wash down skewers of yakitori with mugs of beer. To really capture the authentic atmosphere, you have to go there at night.
Memory Lane is home to about 60 small bars and izakaya-style restaurants. At night, tourists rub elbows with locals in the mostly small eateries with tight seating. Some are more like food stalls with open fire barbeque and counter seating. Beers and sakes flow freely. Smoke and loud chatters fill the air. This is unpretentious local dining at its best!
Daytrips from Tokyo
Odaiba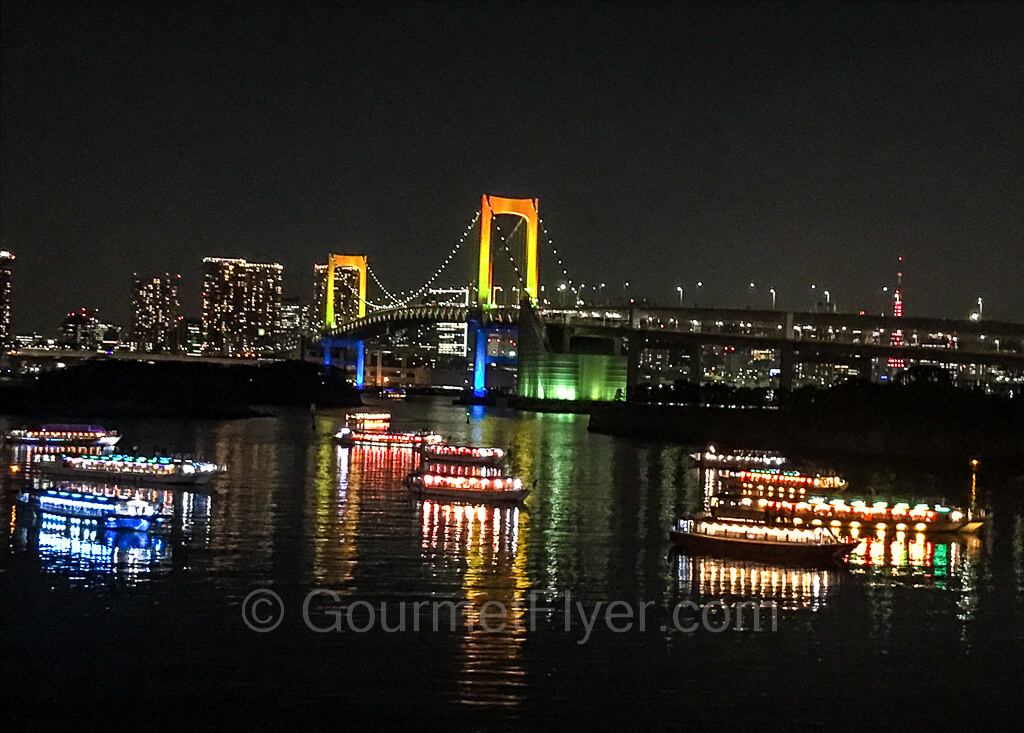 Odaiba is an artificial island connected to the city via the gorgeous Rainbow bridge and the Yurikamome Train Line. It is a trendy and contemporary entertainment complex popular among locals as well as tourists. This place is vibrant and lively at night. It is also one of the best spots to photograph the Rainbow Bridge at night (see picture above.)
This is a shopping, dining, drinking, and entertaining paradise. There are several major buildings. The Deck is a huge complex with floor plans that are built like the decks of a cruise ship. Diver City is another major complex where kids and adults alike flock to see the 60-foot tall Gundam Statue and its interactive lights show at night.
Venus Fort is Venice themed and is somewhat like the Forum in Las Vegas, but to a smaller scale. Aqua City is more dining focused, and you can also find some American flavors in here. Just a short walk away from Aqua City is Tokyo's Status of Liberty.
There are numerous attractions in Odaiba, and it is a perfect destination for a daytrip.
Enoshima
One of the best things to do in Tokyo is actually to get away from the city itself. Enoshima is a quaint island just about an hour away by train. It is an ideal place to take a break from the hustles and bustles of the city and enjoy a leisurely day and a change of scenery. Note that the island can get very crowded during the summer months, especially on weekends. If you happen to visit during summer, try to schedule your trip on a weekday.
Read my article "Daytrip to Enoshima" for detailed information.
Yokohama
Yokohama is a very convenient day trip from Tokyo easily accessible by trains. Depending on your location in the city and whether you are near a major train station, your train ride will take anywhere from 30 minutes to a little over an hour. You will experience a fusion of Chinese and Japanese cultures and cuisines in one of the World's best and largest Chinatowns. Yokohama is also one of Japan's major seaports and a shopping and entertainment paradise. Kids will love the amusement park and Ferris wheel.
Read my article "Daytrip to Yokohama" for detailed information.