August 30, 2022
This is a comprehensive review of my recent flight experience on United Airlines' Polaris Business Class from Munich to San Francisco. This flight was on a Boeing 777-300ER aircraft with retrofitted Polaris pod-like seats, so I was really looking forward to spending over 11 hours on these comfy lie-flats. In the end, it turned out that the hard product itself was indeed outstanding, but the soft product was not as stellar.
This review captures my entire experience from start to finish, including in-flight services, amenities, as well as all the meals served. Although I am well-known to be a United fan, I am writing this review as objectively as I can, and maybe even providing some constructive feedback to UA as well.
Table of Contents
Pre-Flight
In the US, Polaris passengers can check in using United's Premier Access lanes which typically have much shorter lines and offer priority luggage handling. They also go through security in the "Gold Track" priority lane. In Europe, Polaris passengers also have business class check in perks as well as access to Europe's "Fast Track" security screening.
Since my flight originated in Athens, I could walk from the Schengen area through passport control directly to United's Non-Schengen H gates without going through airport security. So, I did not get to use the Fast Track perk, although I would have been entitled to it anyway as a Star Alliance Gold Member even if flying in economy class.
United's Polaris passengers also have access to Star Alliance Lounges in Europe. In Munich, that would be Lufthansa's Business Class Lounge. Unfortunately, my incoming flight was running late, and I had a very tight connection, so I did not get to enjoy the lounge.
But I can tell you from my past experience in Lufthansa's Business Class Lounge that it is very spacious and comfortable, and they always have a hot food station. My last few stops there, they served chicken schnitzels and bratwursts. Pair that up with an ice-cold German beer, and it is as good as it gets!
Boarding
Boarding in Europe is generally disorganized and sometimes chaotic because they do not like to use roped lines and barriers to separate boarding groups like UA does in the US. Global Services and 1K members (the two highest tiers of UA's elites) managed to get themselves separated to one pre-boarding area. But for group one passengers – that included Business Class customers and UA's Platinum and Gold Elites – the boarding experience was somewhat chaotic. The front of the boarding area was packed with people even when only group one was called. And we also did not know where to go as there was just people everywhere.
It ended up that I was among the last few passengers in the front cabin to board the plane – which is why some of my pictures this time are not as good because the business class cabin was already full when I got there.
The Seat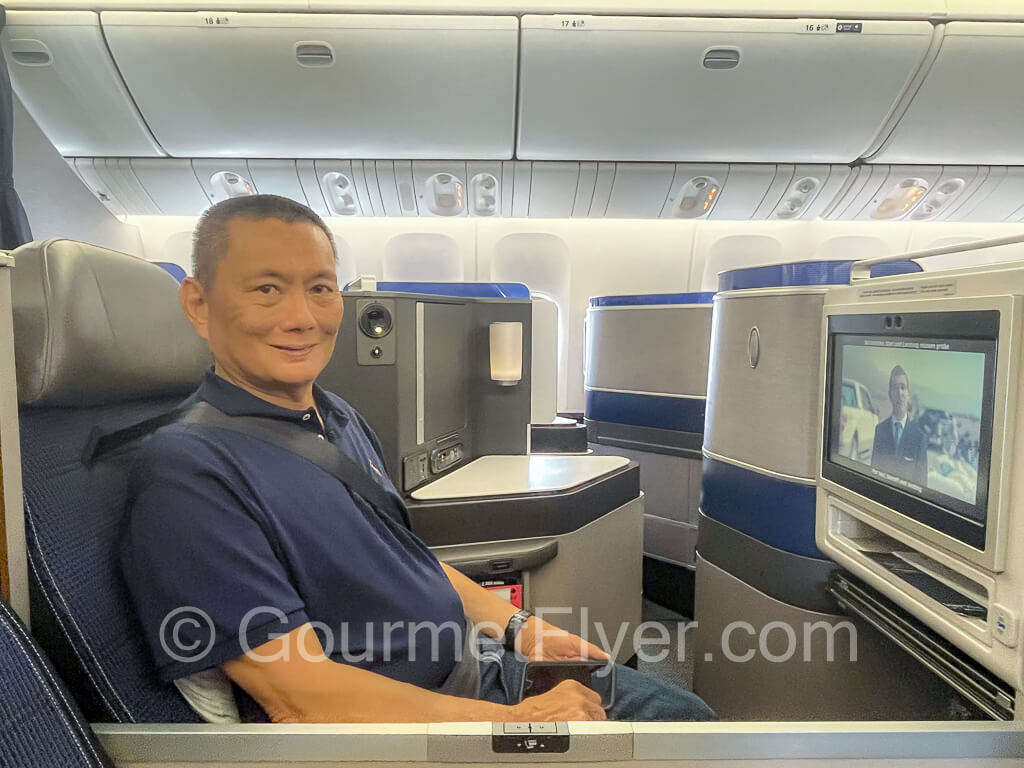 It took United Airlines several years to completely retrofit all of its Polaris seating and this extensive project is now mostly complete. These cubicle-like seats are indeed world class and rival any of their global competitions in the business class category.
Please go here for a comprehensive review of the Polaris pod seat itself. I will devote the rest of this article to the soft product – that is, mostly beverage, food and service.
Pre-Departure
I am sorry to say that the only consistency in UA's pre-departure beverage service is its inconsistency, and this applies to both domestic first class as well as international Business Class. On one flight it was juice or champagne. On another flight, the FA was so nice that she was willing to get me a beer when I asked.
This flight? None. Nada. Nothing. Zilch. And there was plenty of time for the service. I was among the last in group one to board and after I was seated, economy passengers continued to board for about another 30 minutes. And many minutes more have elapsed before pushback.
Amenities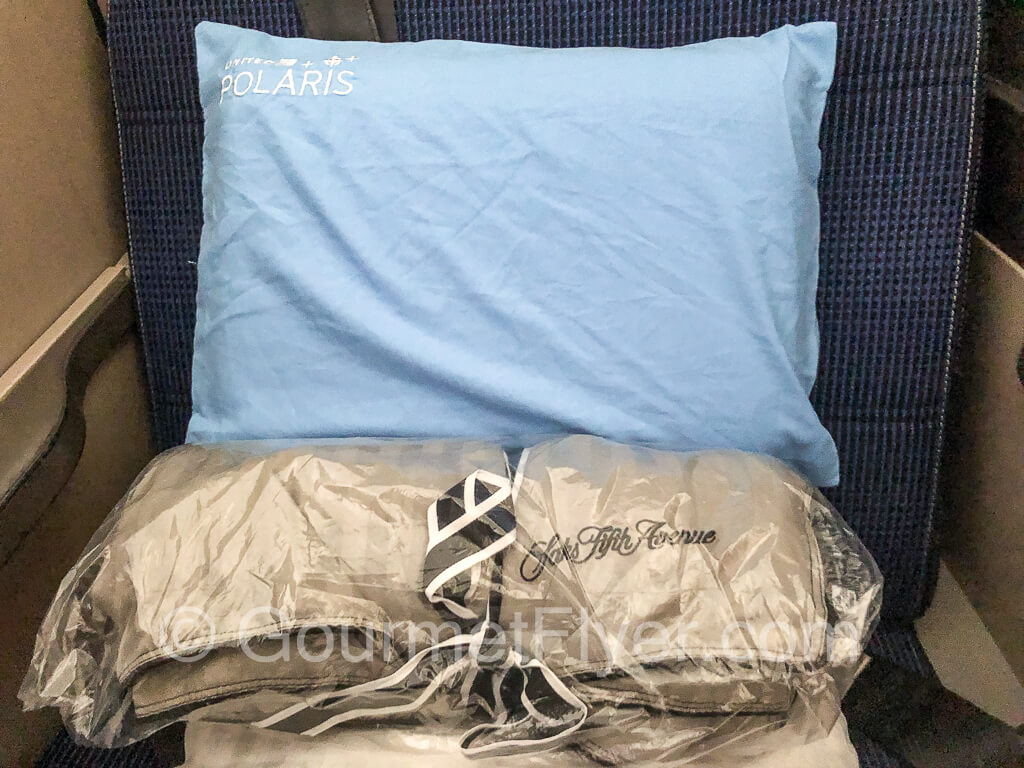 Saks Fifth Avenue beddings were already on my seat when I boarded and there were two types of pillows – a soft pillow (white cover) and a firm foam pillow (blue cover) which was great for neck support.
But my familiar pair of slippers were missing! Upon further investigation, slippers are now available only on flights 12 hours or longer and are available by requests only. That is, they no longer place the slippers on your seat by default and you have to ask the flight attendant for them.
Amenity Kit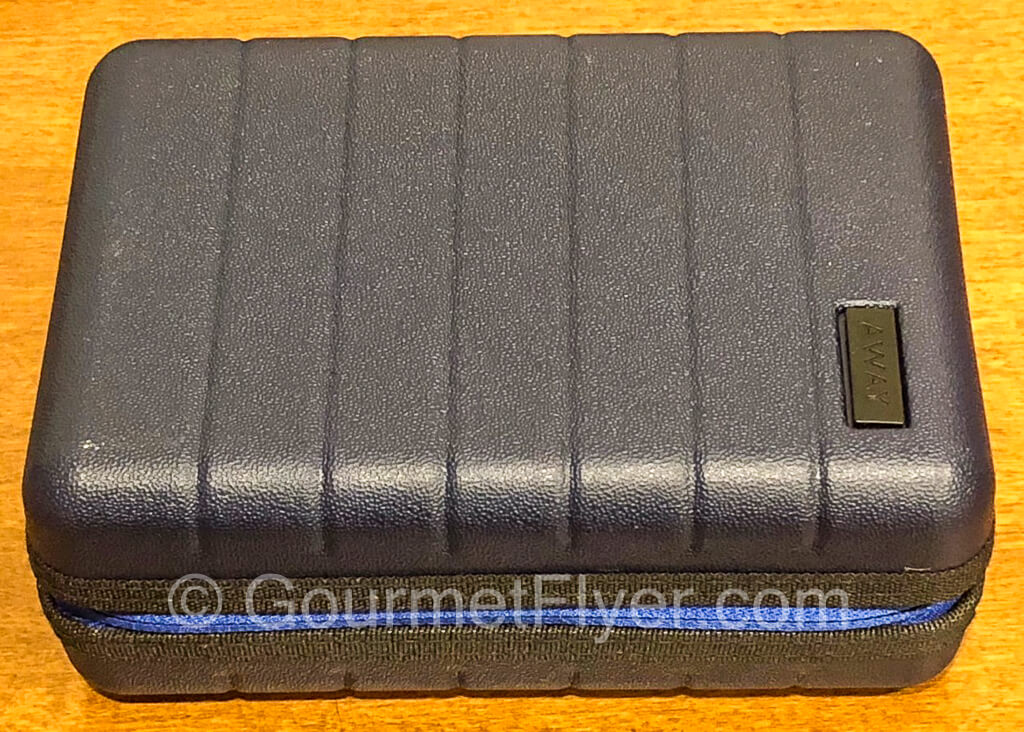 The amenity kit came in a plastic case that was placed inside the cubby next to the seat when I boarded. The plastic case was somewhat flimsy and cheap looking and had little reuse value. The contents, however, were adequate for an overnight stay up in the air. They include:
Sunday Riley Hand Cream 0.33 fl. Oz.
Sunday Riley Face Moisturizer 0.17 fl. Oz.
Sunday Riley Lip Balm 0.14 oz.
Sunday Riley Facial Cleansing Cloth
Dental Kit
Earplugs
Pen
Tissues
Socks
Eye mask
Menu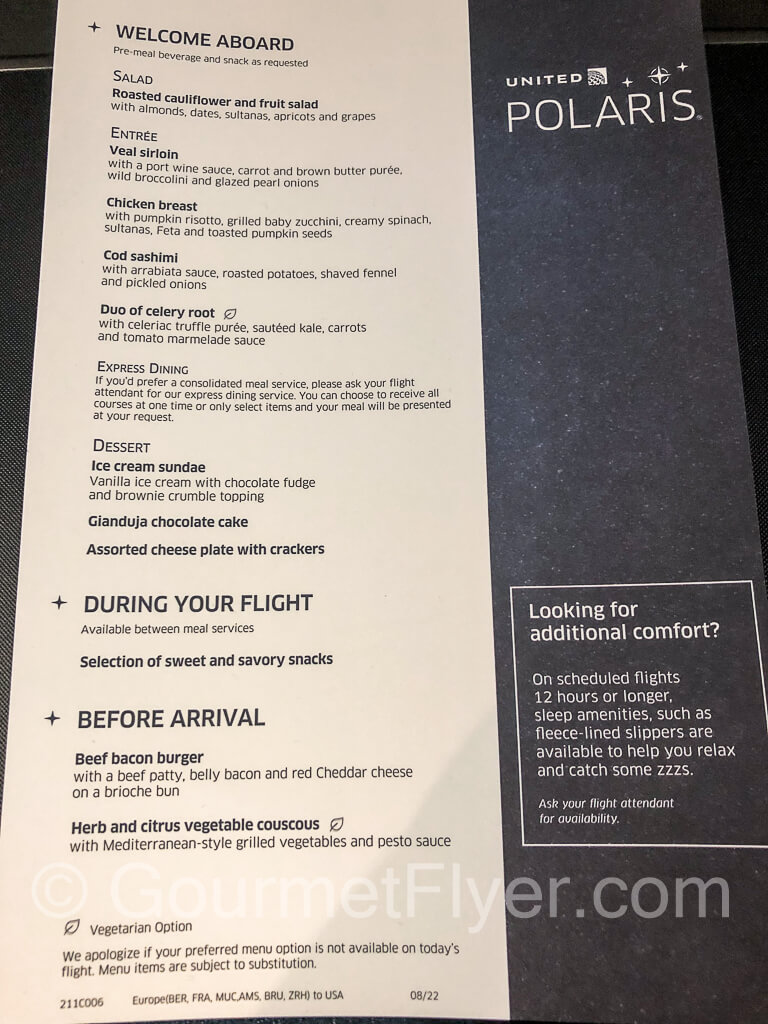 The menu was already placed on the seat when I boarded. This was just a single page menu listing the offerings for the flight and was not the impressive and elaborate 10-page booklet that we saw in the early days of Polaris.
A few comments on the menu:
This is the standard menu in August 2022 for flights originating from parts of Europe (Berlin, Frankfurt, Munich, Amsterdam, Brussels, and Zurich) to the US.
On the day of our flight, the veal was not available and was replaced with beef, which turned out to be a good choice for me.
Based on what I saw other passengers were served and comments from flyers from some traveling forums, the sashimi was not raw fish (like the real sashimi as we understand it) but was a cooked fish filet.
If you have flown UA's international Business Class before, especially in its earlier years, you'll notice that the appetizer is missing from the menu. That is, no more smoked salmon or prawn cocktails!
It is interesting that it was on the menu where I found out why the slippers were missing.
Dinner Service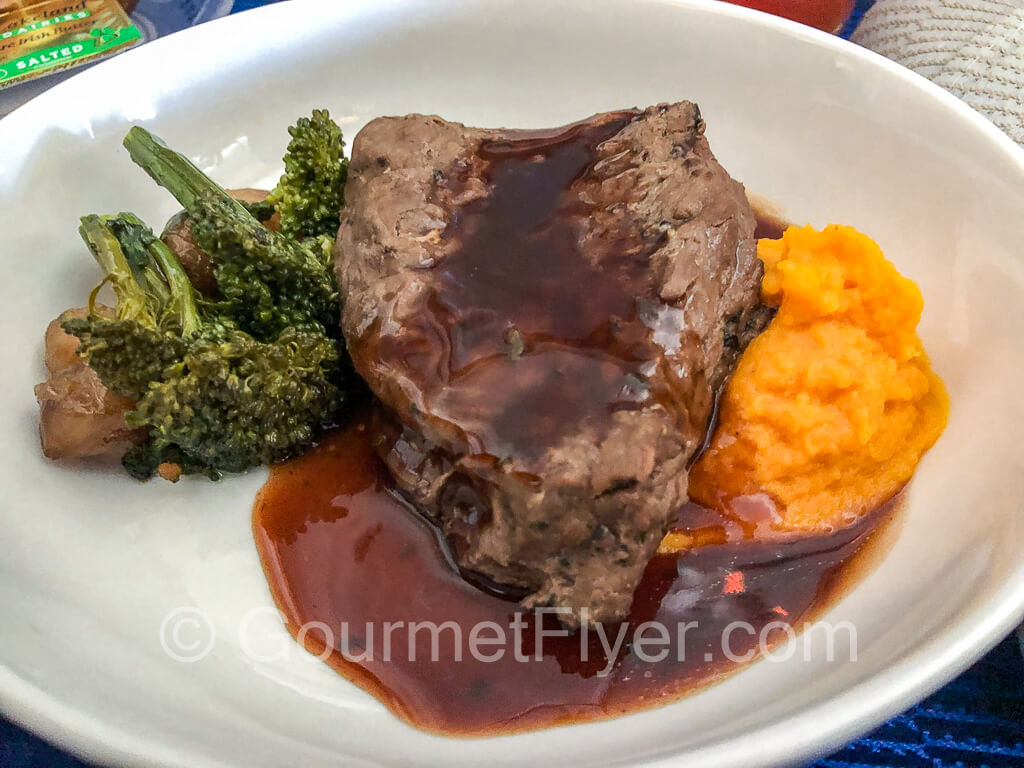 As I mentioned earlier, the veal was not available and was substituted by the beef rib which turned out to be my favorite. The beef was tender and flavorful and was served with a brown braising sauce that was slightly sweet and had a hint of red wine. The beef was accompanied by a small serving of broccoli and mashed sweet potatoes.
The roasted cauliflower salad tasted much better than it looked. I found the fruity components of the salad refreshing. I had the chocolate cake for dessert and that was delightful.
Mid-flight Service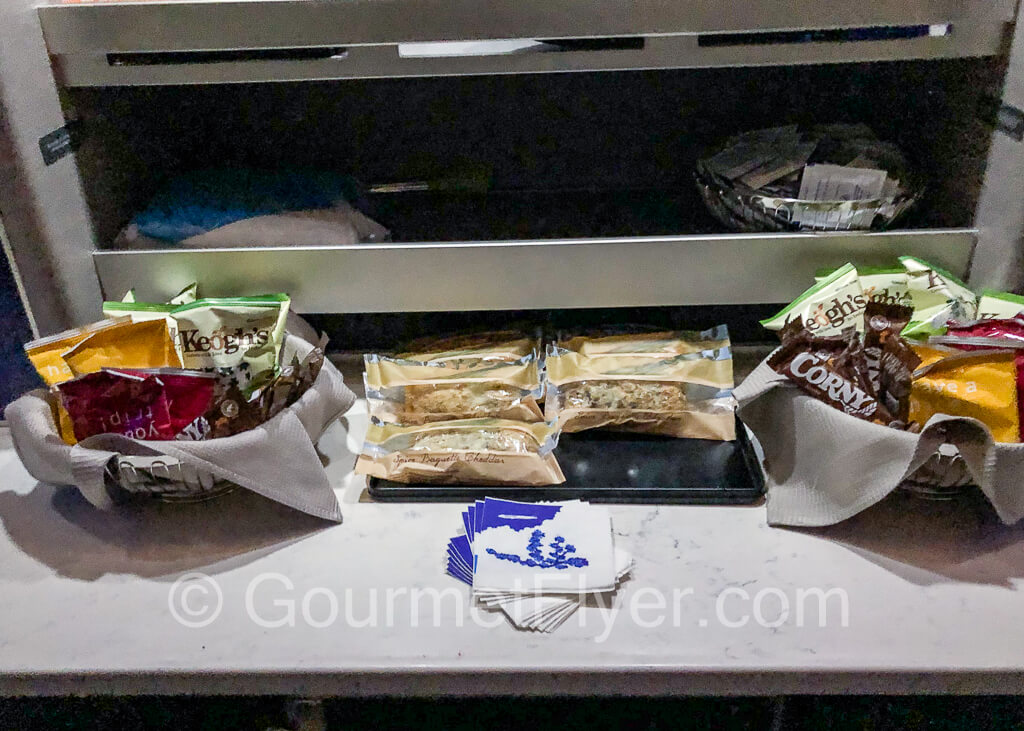 The mid-flight snack was a baguette sandwich that was actually quite good. If you find the lie-flat seat so comfy that you sleep through the mid-flight service, no worries! The baguette sandwich along with other snacks are always available in the galley and are self-served. You do need to get your drinks from a flight attendant though.
If I were asked for one thing that they could improve, I would say that during the flight the FA's could check the cabin more often to see if there is anything that we need. I didn't mind walking to the galley (I very rarely use the call button, even in business class) to get a drink, but it would be really sweet if the FA noticed that my glass was empty and offered me another drink.
Pre-Arrival Service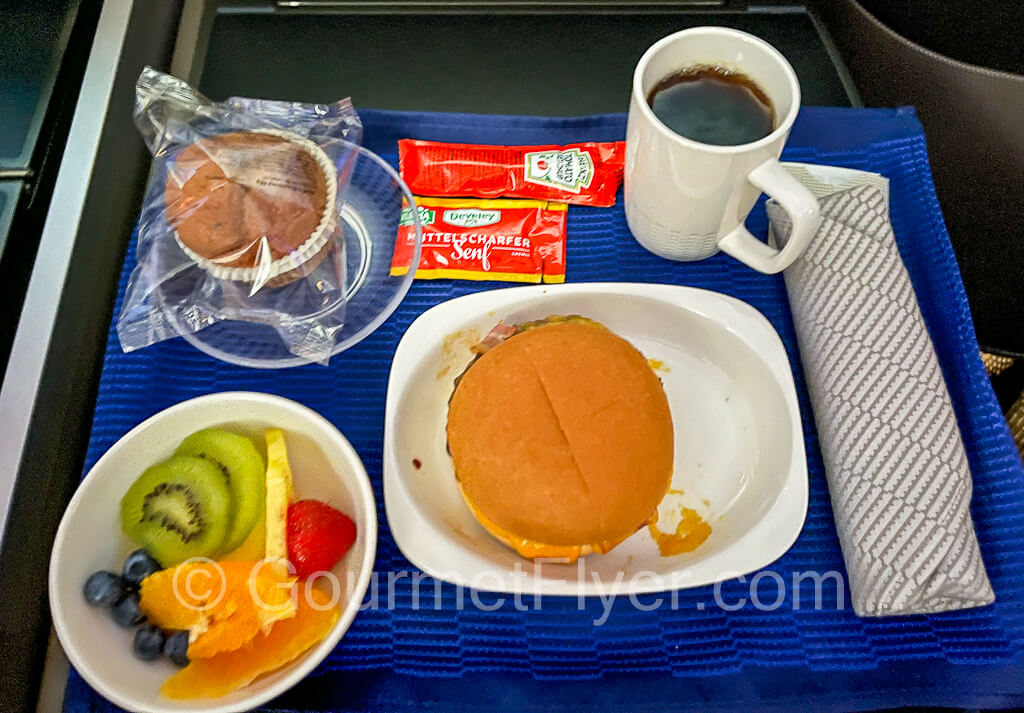 Simply put, the bacon cheeseburger was as good as it gets at 35,000 feet up in the air. One thing that I really liked was that we had an afternoon arrival and they served lunch instead of "breakfast". The burger was delicious and hit the spot. I was able to run to my tight connection upon landing without having to stop and grab food.
The burger was accompanied by fresh fruits, pastries, and a beverage service. After the service, we were less than an hour away from touchdown.
Conclusion
Overall, I found my experience on this United Airlines' Polaris flight enjoyable and delightful. I was particularly impressed by its hard product – the lie-flat pod seat. You can find a comprehensive review of the cubicle-like seat itself here.
The soft product was good, but honestly, not the best and not to the extent of being impressive. For example, the case of the amenity kit is really ordinary, to be polite. I still remember the very nice and soft leather pouches from UA's Business Class years ago that were so good that I saved a few of them and still use them in my travel today.
For long-haul international flights, slippers should just be placed on the seat by default.
I was completely satisfied with the meal services — given that it is airline food reheated in an oven, our expectations need to be reasonable. However, I missed the appetizer dish and hope that they will bring it back.
The service of the flight attendants was adequate, professional, courteous, and friendly throughout the flight, but not outstanding. For example, there was no pre-departure beverage service. Moreover, I really wish they had walked around the cabin and checked with us more often.
The ultimate verdict of my review of my experience on this particular United Airlines' Polaris Business Class flight is:
Hard Product: A+
Soft Product: B+