Updated March 14, 2023
While I wouldn't call the Phoenix and Scottsdale area a foodie's paradise, but it is certainly an area packed with exciting places to enjoy a wide variety of cuisines. It is where you can find many different cultural dimensions of culinary innovations – from a hearty breakfast with a Latin twist to a traditional American burger with Mexican flavors. This is where Asian meets fusion and gives birth to creations such as the Southwestern egg rolls.
During your stay in the Phoenix and Scottsdale area, don't be surprised to find a legendary Chicago deep dish pizza or an iconic burger from New York. Enjoy steak frites in a French bistro or grab some of the best BBQ ribs outside of Texas. Sample the Southwestern rendition of Latin cuisines or indulge in a lively Japanese Izakaya feast.
Most of the places to eat in the Phoenix and Scottsdale area recommended below are moderately priced and family friendly. However, I also included a few upscale fine dining options where you can enjoy a more sophisticated meal, surprise a loved one, celebrate a special occasion, or just to splurge a little for the night.
Table of Contents
Breakfast and Brunch in Phoenix and Scottsdale
OEB Breakfast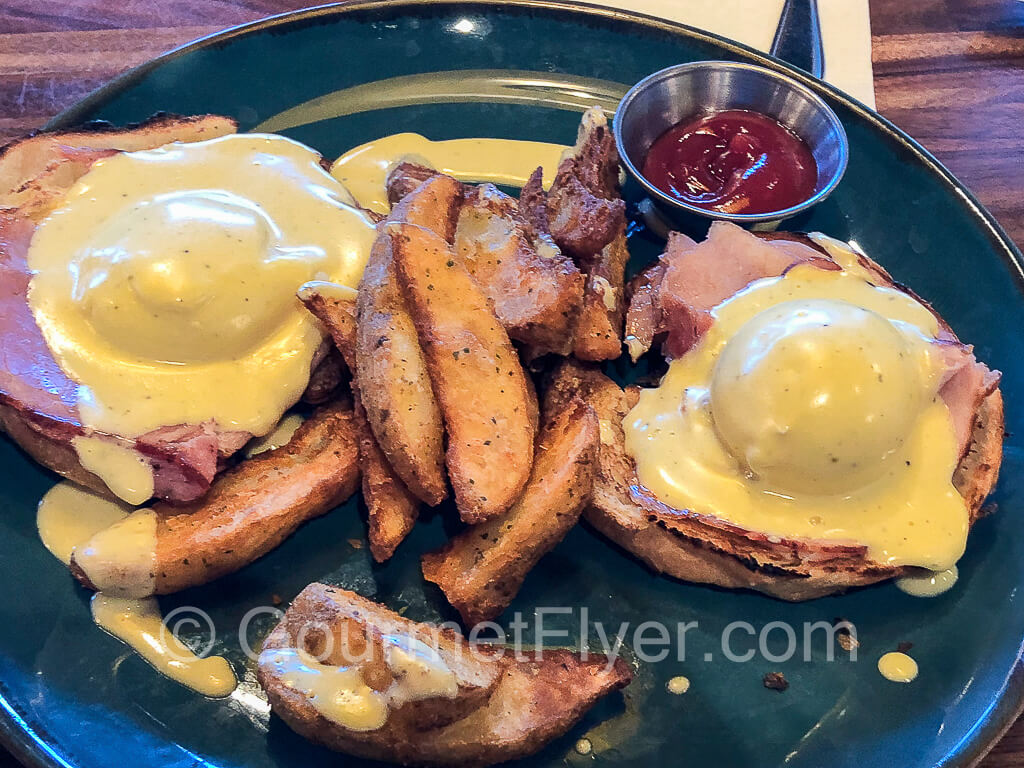 OEB is a Canadian farm-to-table breakfast and brunch bistro with locations in Scottsdale and Newport Beach in the United States. They are in North Scottsdale not far from the Musical Instrument Museum if you are heading that way. They serve amazing breakfasts with a passionate menu filled with innovations and surprises.
They serve Bennies on a French butter croissant which make them somewhat unique and different. I have tried their traditional and Florentine Bennies and I like them both. My wife loves their breakfast crêpes which are thin and with the slightly chewy texture. If you want a feast, order the lobster and shrimp crêpe! French classics like the Croque Madame is also one of my favorites. And don't forget to get their famous duck fat fries – they are really good!
Original Breakfast House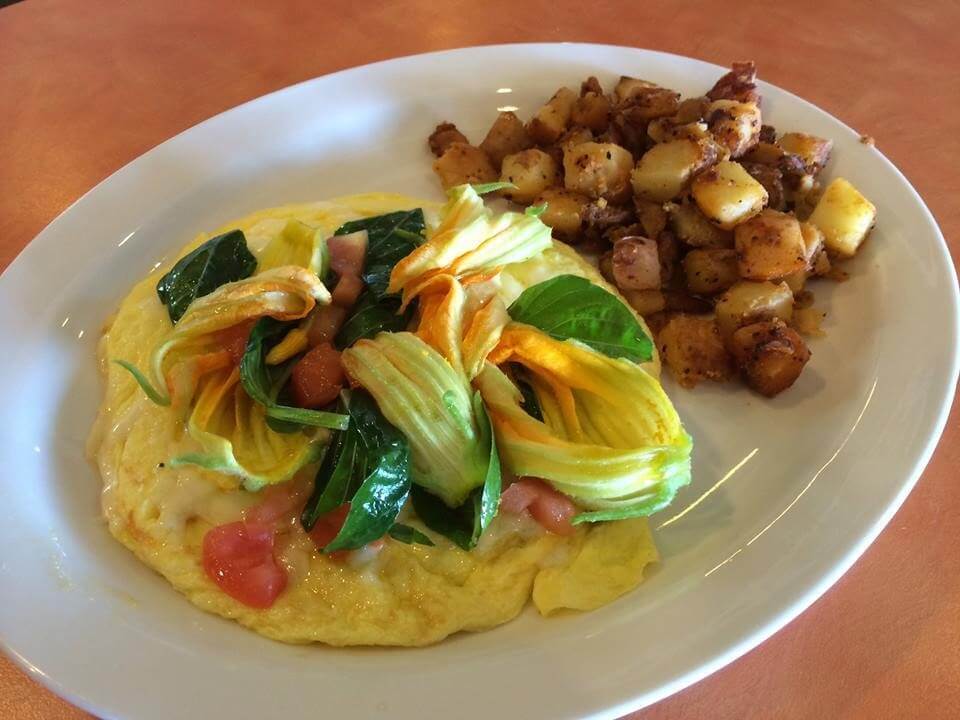 This is a local's favorite which commands long waits up to an hour on weekends. But the food and service are so good people keep coming back despite the insane wait times. The place is family friendly; the décor is surprisingly contemporary given the look of the exterior, and the atmosphere is cheerful and casual.
They are well-known for their brioche cinnamon rolls, blueberry pancakes, and Belgian waffles. Another famous house specialty is "chicken fried chicken", which is always perfectly golden brown and not too greasy. For a Southwestern fare, try the Huevos Rancheros Verde – two eggs served with corn tortillas, black beans, melted cheese, and salsa verde.
Reservations are not accepted. Cash only!!!
The Blind Pig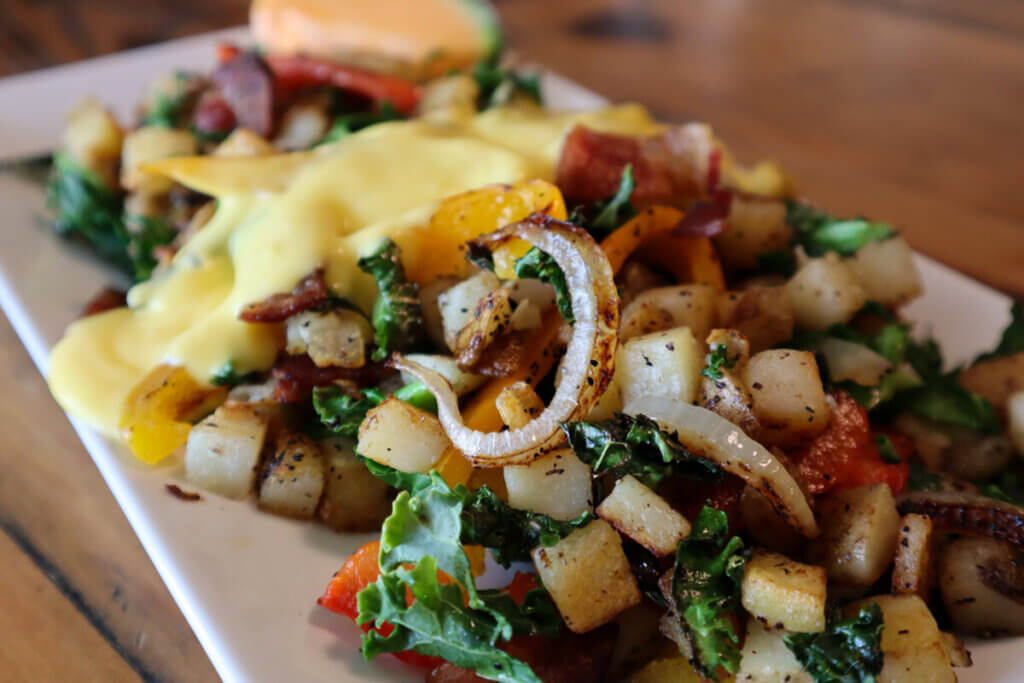 The Blind Pig is a trendy all-day brunch restaurant that focuses on fresh and locally sourced ingredients. They serve mostly traditional American breakfasts with a Mexican flair. Entrees from south of the border include chilaquiles, a popular Mexican breakfast dish made with fried corn tortilla chips topped with guajillo chili, queso fresco, and avocado and an over medium egg. Chorizo omelet is another local's favorite with a southwestern flavor.
My favorite is the Italian Benny which is served on polenta instead of a muffin which gives it a unique flavor and refreshing taste. Other American staples like hanger steak, burgers, and spaghetti and meatballs are available throughout the day.
American Restaurants in Phoenix and Scottsdale
Gertrude's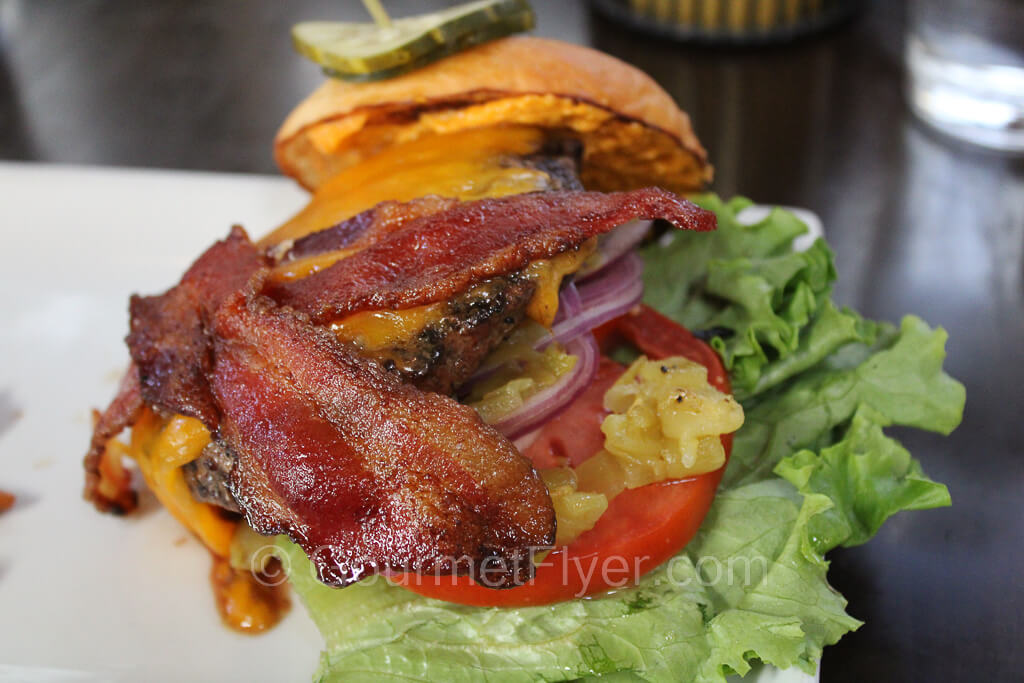 Gertrude's, located inside the Desert Botanical Garden, is the perfect spot to have breakfast, lunch, or dinner during your visit to the garden. It has patio seating that provides a stunning desert backdrop for your dining pleasure. But on really hot days, I usually opt to sit inside.
They serve excellent Egg Benedicts – you can have either the Sonoran made with green chili pork, or the crab Florentine, made with crab cakes and spinach. For a Southwestern taste, get the Huevos Ranchero scramble featuring corn tortillas, refried beans, and scrambled eggs.
Gertrude's cooks up one of the best burgers in town and their menu is seasonal. The last time I was there I had the green chili bacon burger which had a Latin twist in flavor and a kick of spiciness. I absolutely loved it. The most current menu shows a Gertie burger made with mushroom, Swiss cheese, red onions, and a bold steak sauce. That sounds really delicious.
They are very popular, and the restaurant is always packed during peak seasons. Reservations is highly recommended.
Tru Burger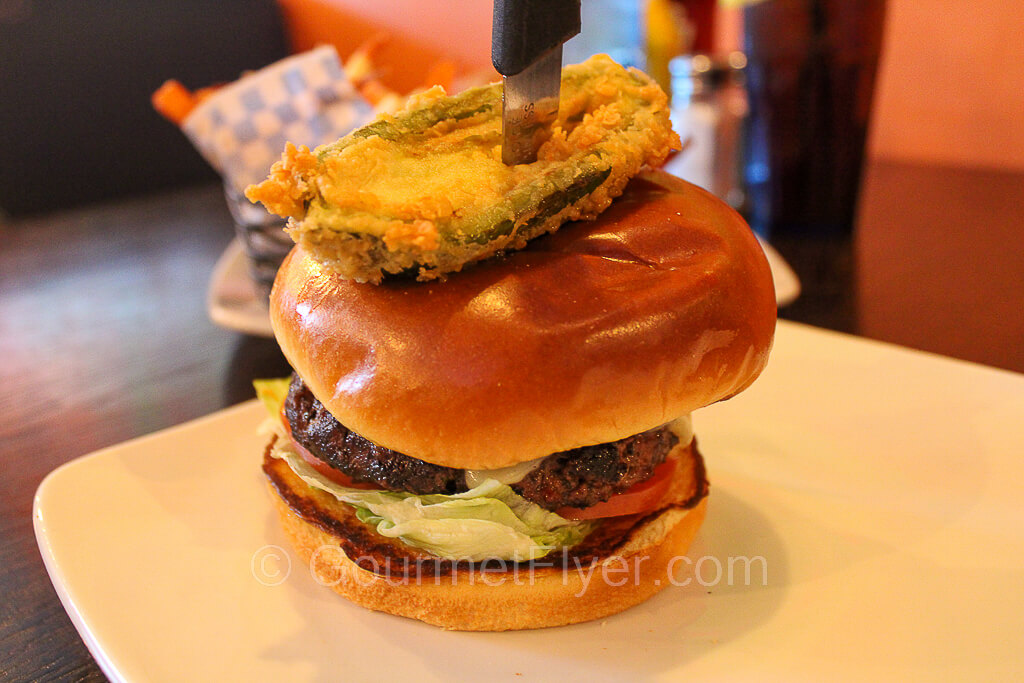 This is a family run gourmet burger restaurant in Midtown Phoenix, just a short drive away from the Heard Museum. This is truly a local gem that cooks up some of the best burgers in town. My wife's favorite is the jalapeño burger which is moderately spicy hot and adds a Southwestern twist to a traditional burger. My favorite is the whiskey barbeque, an American favorite with a Southern flavor.
They have burgers in so many global flavors that there has to be one that suits your palate. Try a Mediterranean burger with feta cheese, kalamata olives, pickled red onion, and tzatziki sauce. Or the Tokyo burger topped with panko crumbs and brushed with miso ginger aioli. How about a Hawaiian burger with pineapple and teriyaki sauce? Or an Italian burger topped with mozzarella, fresh basil, and balsamic reduction sauce?
Hand Cut Chophouse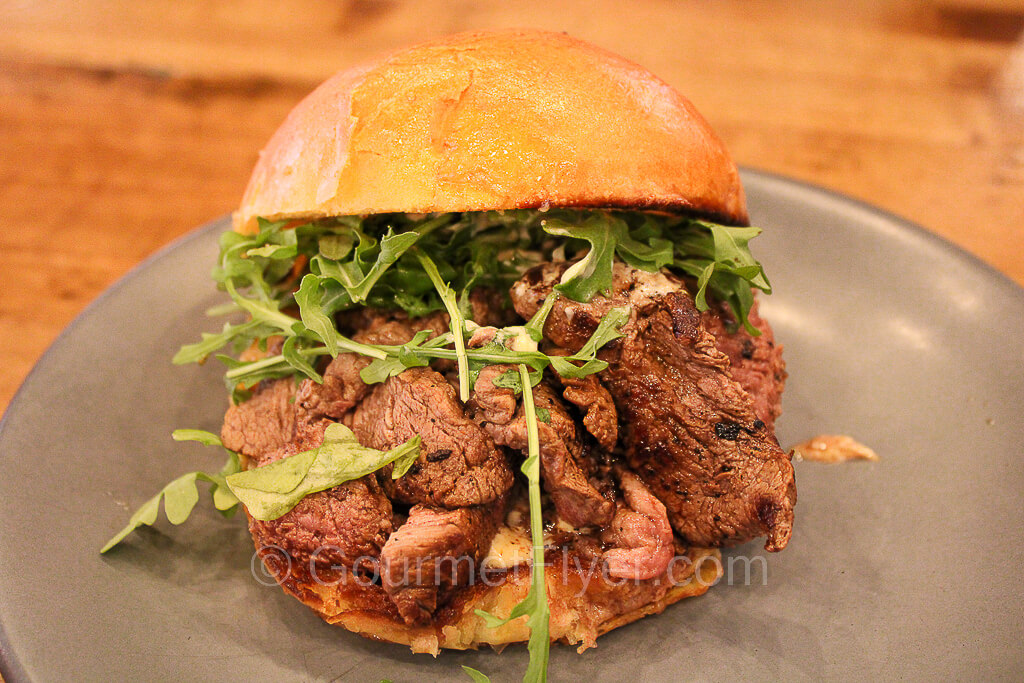 This is a trendy steakhouse in Scottsdale near the Fashion Square area. It has a high-energy ambience with modern décor and a touch of simple elegance. It is a great place for a fine dining experience in a contemporary setting.
My lunch favorite is their signature steak sandwich made with a thick stack of sliced beef tenderloin, bourbon pineapple jam, blue cheese, and topped with arugula. I also love their sweet potato fries which are some of the best that I've had.
For apps, I always get their spice-rubbed wings which are fried to perfection and finished with garlic and herb honey. Dinner entrees are mostly steaks, chops, or pasta. Hand Cut offers several prime cuts of steaks like filet mignon, flat iron, or rib eye. For a hearty meal, get the 16-ounce bone-in New York.
Trapp Haus BBQ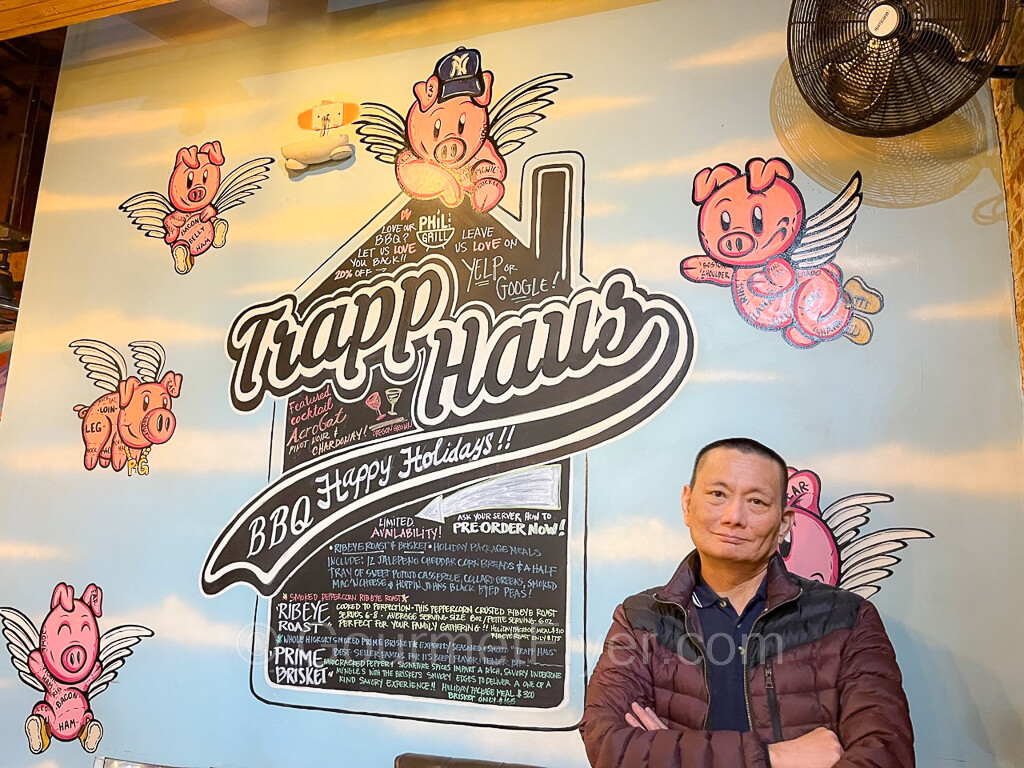 Located in the lively Roosevelt Row in the midst of vibrant street arts, Trapp Haus is without a doubt one of the best places in Phoenix to eat barbeque meats. My wife and I shared a full rack of ribs and half a pound of brisket, and they were delicious. Definitely among the best barbeques that we've ever had.
The ribs were fall-off-the-bone tender and richly flavorful. The brisket was so tender we could cut it with a fork. I particularly like the fact that the BBQ sauce was not overly sugary and was not overwhelming at all. We also tried their BBQ baked beans and smoked mac and cheese, and they were also very tasty. The food was so delicious that we finished everything, which was a lot for us!
Some of most popular local recommendations also include their pastrami, hot link sausage, and dry-rub Nashville hot wings. Both dine-in and takeout are available. They get very busy at night and especially on weekends, so for to go orders, I highly recommend that you place your order online ahead of time.
Lou Malnati's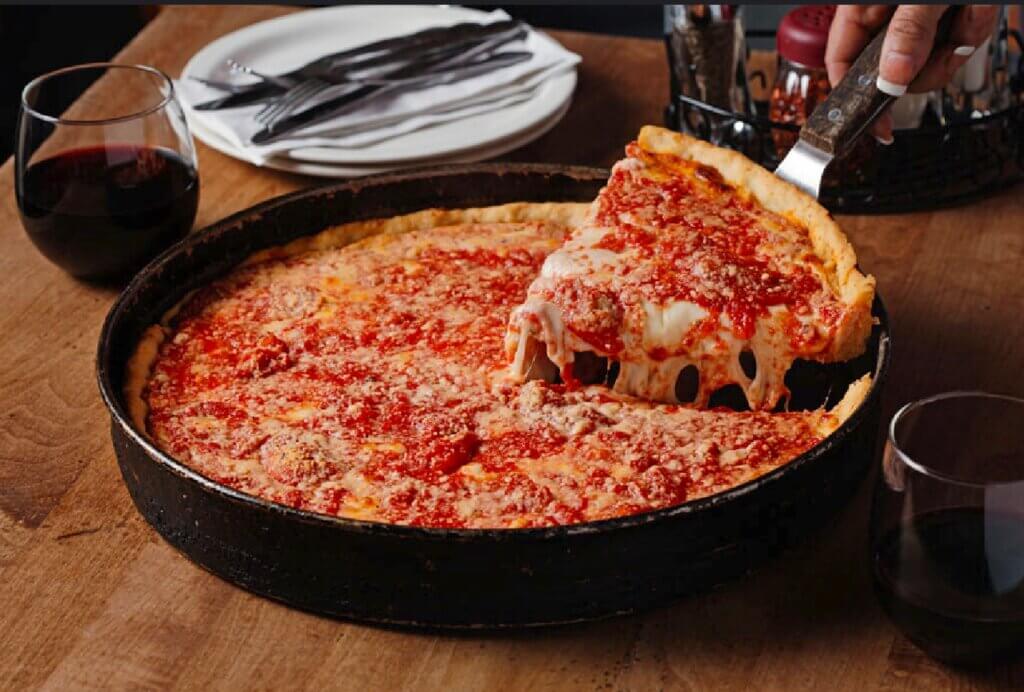 You can literally get a slice of Chicago while you are in the Valley of the Sun as the Legendary Lou Malnati's actually has 8 locations in the Greater Phoenix Area. Arizona is actually one of only three states where Lou opens shops outside of Illinois. So if you love a good Chicago deep dish pizza, don't miss the opportunity while you are in town.
Lou Malnati's deep dishes are famous for their buttery and flaky crusts known as the "Buttercrust". I also love Lou's pizza sauce which is loaded with chunks of fresh tomatoes. The sauce is rich and refreshing and does not taste as processed as their competitors'. For apps, I highly recommend their wings which are fried to perfection and tossed in their secret "Buff-a-Lou" sauce.
Shake Shack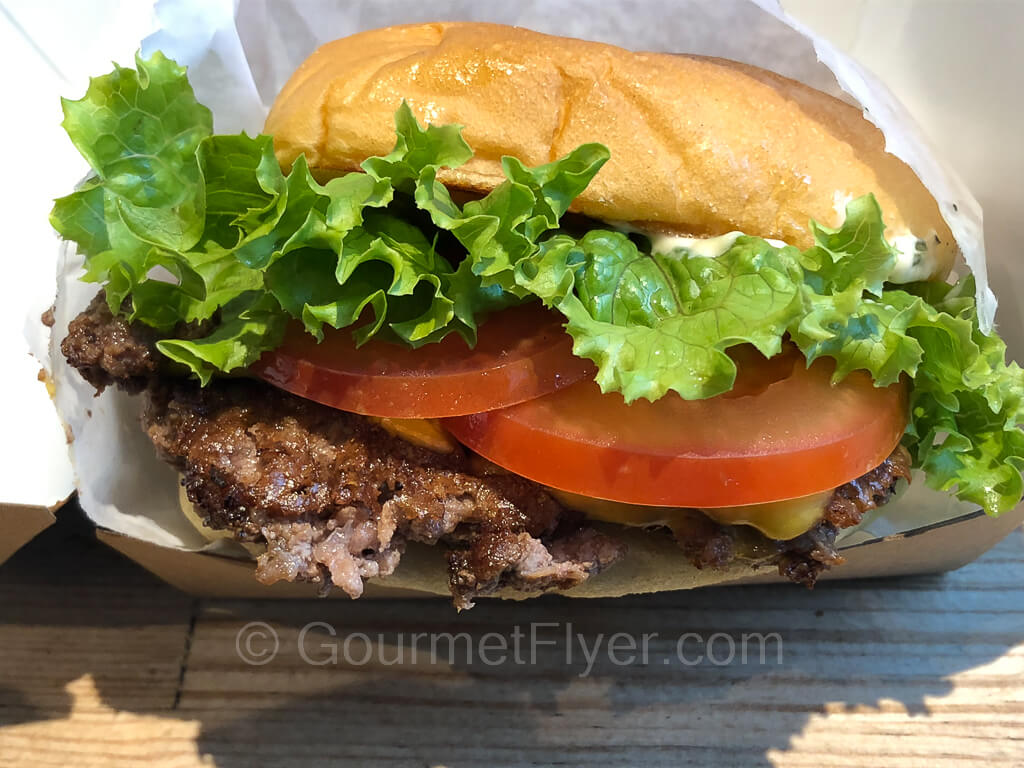 Not only can you enjoy a classic Chicago deep dish pizza while you are in town, you can also grab an iconic Shake Shack burger from New York. In fact, you can grab one as soon as you land as there is one location in terminal 3 of Phoenix Sky Harbor airport. The other 3 stores are in Scottsdale and Gilbert.
Just like In N Out in California, Shake Shack is one of the best fast-food burgers that you can get on this planet. Their beef patties are 100% Angus blend, fresh, and never frozen. I always get their signature ShackBurger with lettuce, tomato, and secret ShackSauce. To add more variety and dimension to the palate, try an avocado bacon burger. Whatever you do, don't forget the fries – crinkle cut fries! And top them off with bacon and cheese sauce for a richer flavor.
White Chocolate Grill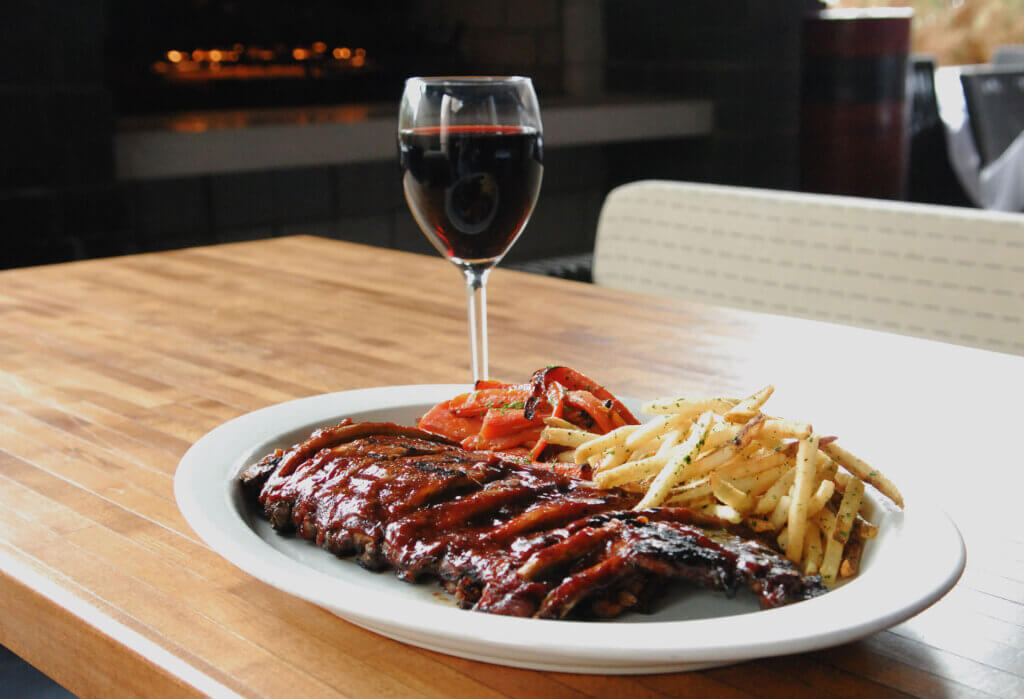 The White Chocolate Grill is a trendy American restaurant in the Phoenix area with a somewhat sophisticated décor and a setting that reflects a simple elegance. It is close to upscale dining but at moderate prices. It is great for special occasions or a date night without splurging too much.
It serves mostly traditional American cuisines, but some items have a Southwestern and fusion twist to them. For apps, I particularly love their AZ egg rolls which are made with spicy grilled chicken and black beans and finished off with jalapeño sauce and salsa.
For a traditional American classic, get their baby back ribs which are fall-off-the-bone tender and brushed with their secret signature BBQ sauce which is so good that you think you are in Texas. For fish lovers, seabass is their popular local's favorite. Meat lovers will enjoy a selection of prime steaks that are always perfectly grilled but without the stuffiness of a traditional steakhouse. For an innovative rendition, try the parmesan crusted filet.
Southwestern Cuisines in Phoenix and Scottsdale
The Mission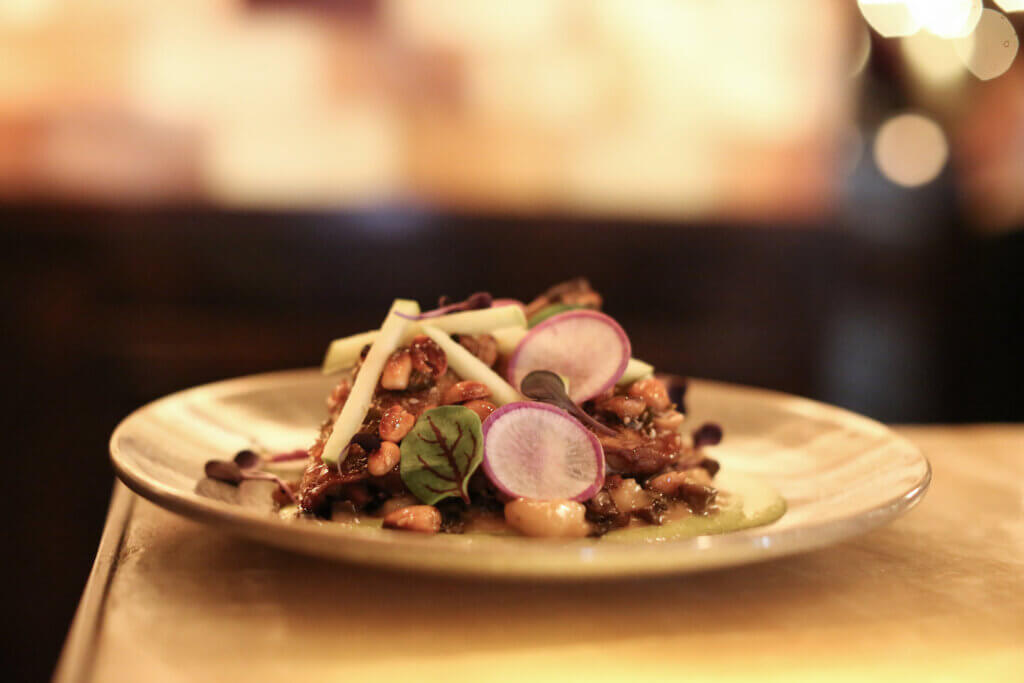 The Mission has two locations in Scottsdale – Old Town and Kierland Commons. I usually go to the one in Kierland Commons, which has breathtaking architecture and a contemporary interior. The Old Town location has an Old-World charm enhanced by a sophisticated elegance. Both places have a cozy and romantic atmosphere which is perfect for a date night or an intimate celebration.
The Mission serves Latin cuisines with a trendy twist of flavors and presentation. Their signature dish is the smoked and slow braised pork shoulder brushed with a sweet and mildly spicy pineapple habanero glaze. The meat is so tender it falls off the bone with the touch of a fork and melts in your mouth. For apps, I like their duck carnitas empanadas. For dessert, spoil yourself with an order of espresso churros!
Cocina Madrigal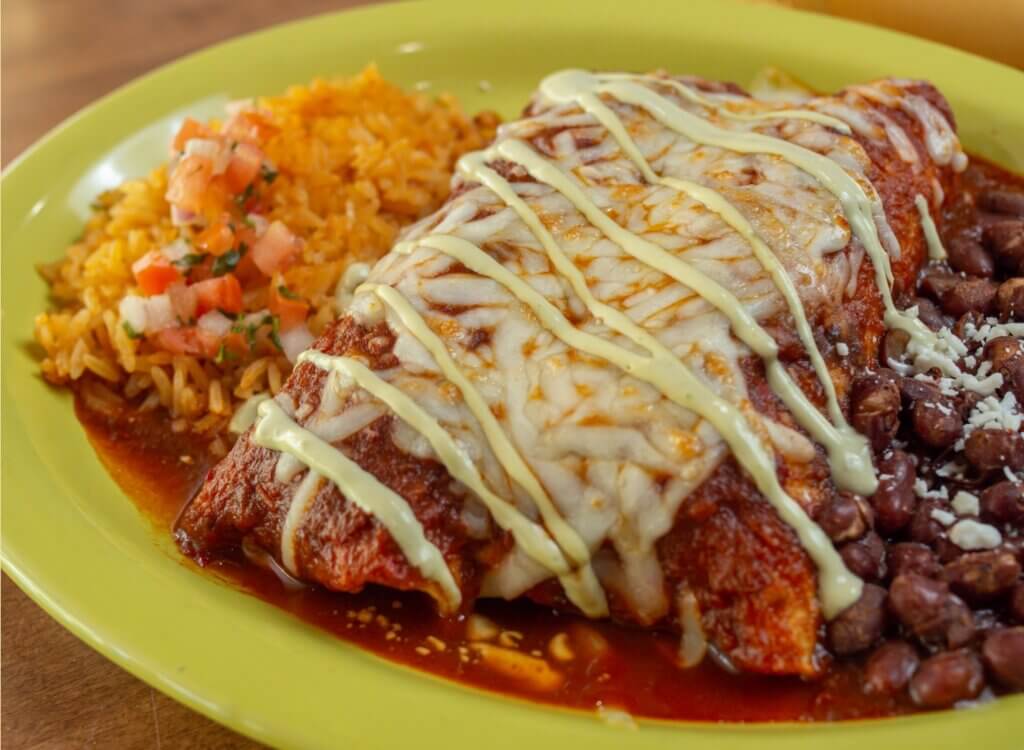 Cocina Madrigal, founded and operated by chef Leo Madrigal, is a very popular Mexican restaurant in Phoenix. They specialize in handcrafted tacos and homemade enchiladas, and also carry one of the most extensive and expansive tequila menus in town. The cuisine is "Nuevo Latino", which is classical Mexican dishes blended with a contemporary twist.
The al pastor is one of their most popular tacos. It is made with marinated pork mixed with roasted pineapple and topped with red onions, cilantro, and salsa. Another popular local favorite is their beef birria enchiladas (pictured above), made with slow-braised beef birria mixed with chili sauce, topped with melted cheese, and finished with a touch of avocado cream.
For a healthier plate, get a charred romaine salad with jalapeño cilantro dressing. It is absolutely delicious and refreshing. For dessert, I am getting the churros with Bavarian cream.
Los Sombreros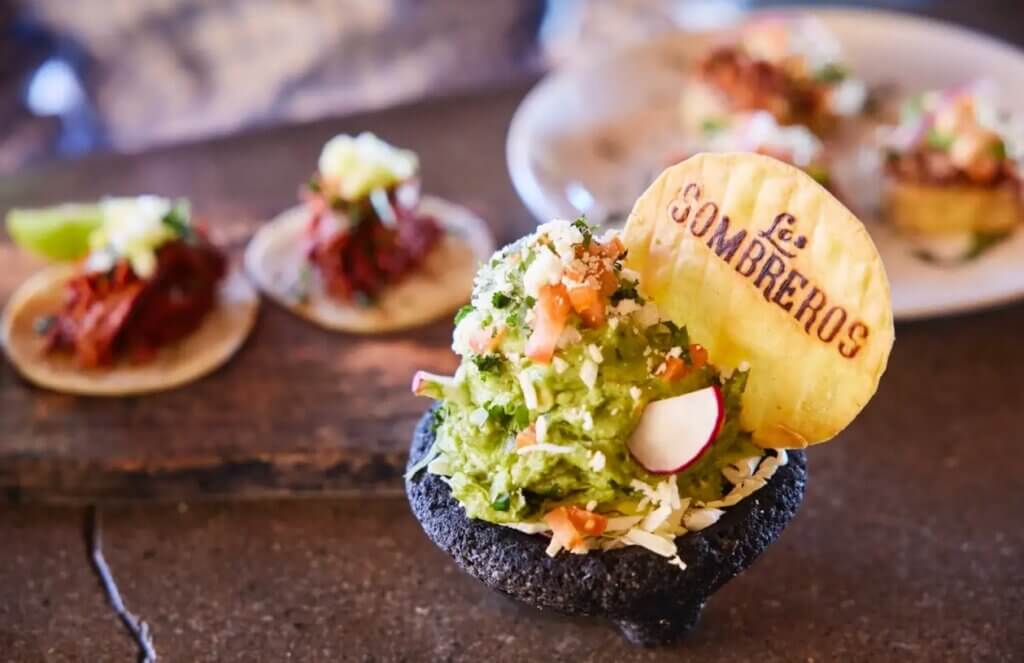 This is a charming restaurant which looks like an older brick house from a distance, but the interior is really nice with a warm ambience, colorful décor, and beautiful murals. This sets the stage for a feast from south of the border in a local neighborhood restaurant in Phoenix.
Their cuisines are Oaxaca inspired and highlight the specialties from Mexico's South Pacific coast. To start the night, go with the fresh shrimp ceviche cooked in lime juices with a twist of cilantro and served over tostadas. Locals rave about their house-made guacamole, so you might want to give it a try. For tacos, my foodie buddies recommend their ribeye steak soft taco which is one of Los Sombreros' signature dishes. Another very popular locals' favorite is their carnitas – slow roasted pork served with pico de gallo and the kitchen's famous homemade guacamole. For dessert, churros with Piloncillo ice cream is the way to go!
European Cuisines in Phoenix and Scottsdale
Francine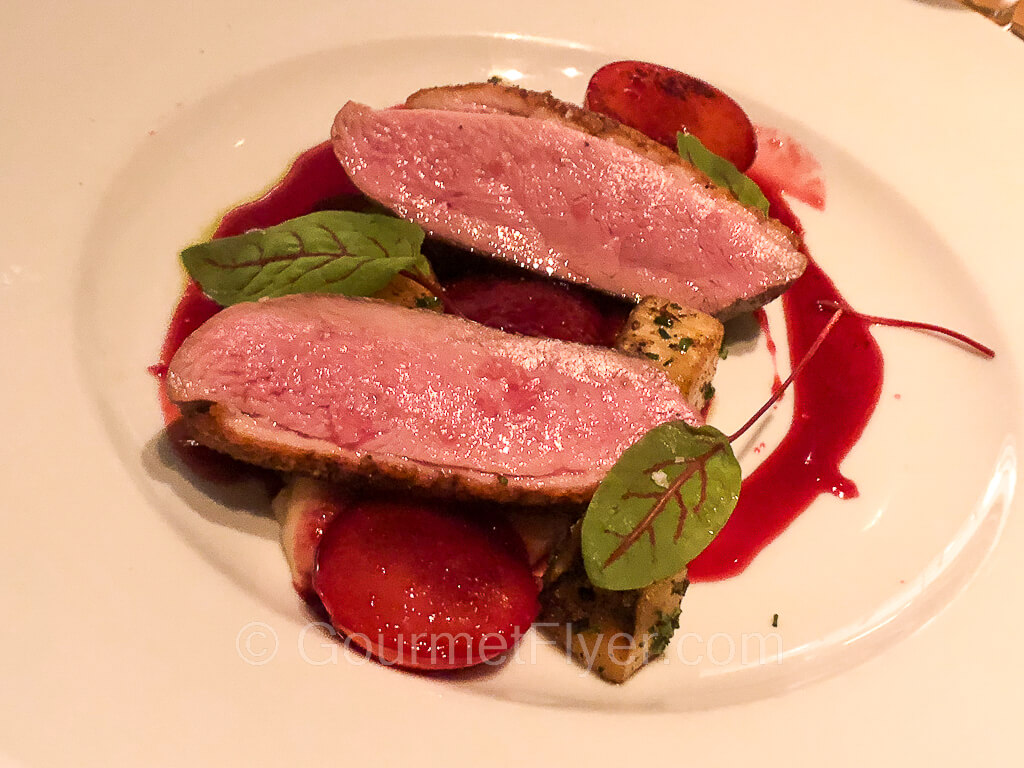 Francine is an upscale French restaurant located in the Crystal Court of Scottsdale Fashion Square. The cuisines cater to fine dining and are inspired by the French Rivera with a Mediterranean twist in their flavors. The décor of the restaurant is elegant, and the atmosphere exudes the charm of Parisian dining. The place is particularly lively at night and is absolutely a chill place for sophisticated fine dining. However, the last time my wife and I were there, we found the place so noisy that I won't recommend it for a romantic date night.
One of their most popular appetizers is the grilled octopus which is definitely a Mediterranean favorite. For entrees, steak frites appear to be their most popular dish. My wife and I wanted to try something different to sample their flavor profiles, so we ordered a crab ravioli and a duck breast. They were both very tasty and I would certainly recommend them. For seafood lovers, Francine's signature dish is their Bouillabaisse with fish, mussels, and shrimps.
Mora Italian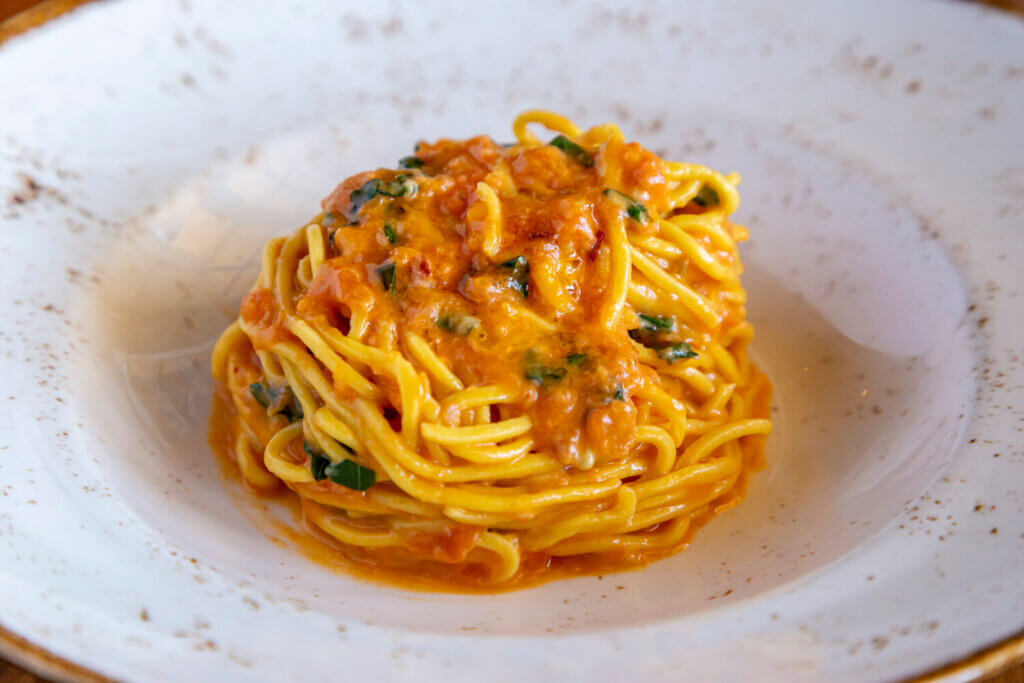 Mora is an upscale, trendy, and osteria style Italian restaurant in Uptown Phoenix. It has an elegant and chic dining room that is accompanied by a high-energy and expansive bar as well as a cozy outdoor patio.
Celebrity chef and owner Scott Conant delivers a trendy rendition to traditional Italian cuisines in his menu which includes creative dishes such as the black campanelle pasta with clams, calamari, and shrimps. Another one of their signature pasta dishes is rigatoni with a very rich and flavorful Wagyu Bolognese sauce. This is almost out of this World.
A good choice of their famous wood-fired pizzas is funghi – Italian for mushrooms – which delivers a rich aroma of truffled fontina fonduta to your table. For apps, get their charred octopus with squid ink aioli or pork and veal meatballs. For dessert, salted caramel budino (an Italian pudding) is a sure winner! Reservations are highly recommended, especially on weekends.
EVO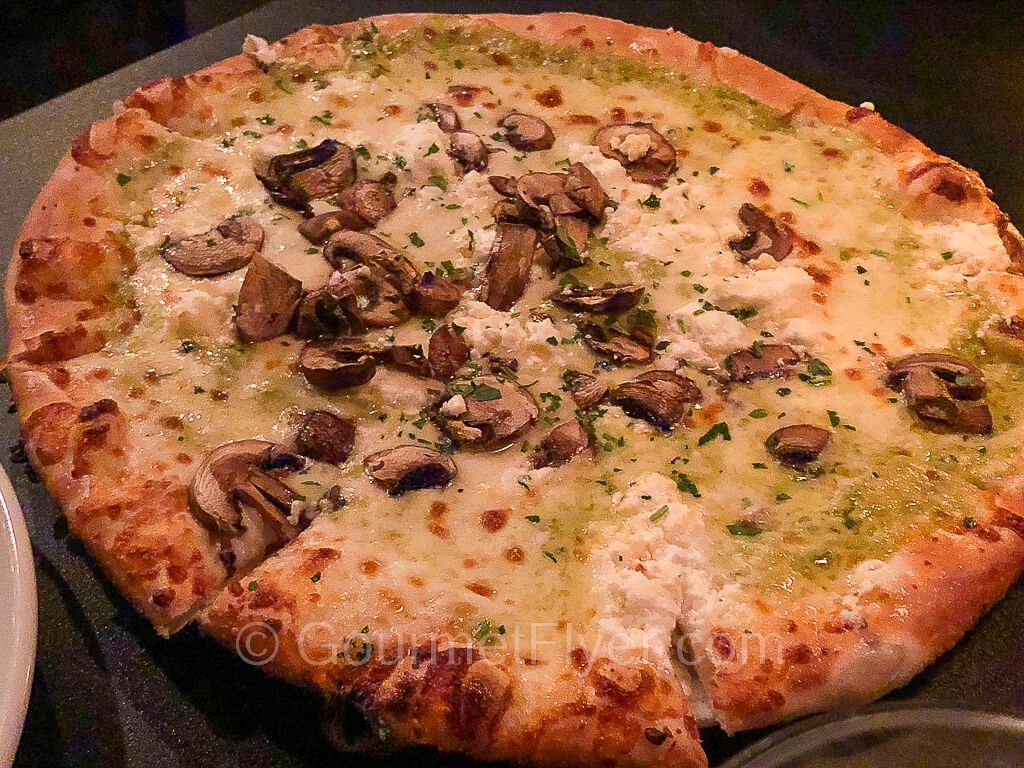 In the heart of Old Town is a neighborhood gem that serves Italian cuisines with fresh locally sourced ingredients and robust flavors. The décor appears upscale, but the atmosphere is casual and friendly and is perfect for a family gathering. It is also a great place for a cozy dinner for two, and my wife and I really enjoyed our time there.
The menu offers a good selection of classical Italian favorites such as tapas, pastas, and pizzas. For a small plate, I highly recommend getting the Polpette – their house made meatball with pomodoro sauce. For pasta, we shared a spaghetti Bolognese and really liked it. The sauce was rich in fresh tomato flavors and the pasta was perfectly al dente. Our most memorable dish of the night was a funghi pizza made with leek crema base and topped with a medley of mushrooms.
EVO is opened till 2am daily and is the great place for a late-night dinner or drinks and tapas in the Phoenix or Scottsdale area.
Zinc Bistro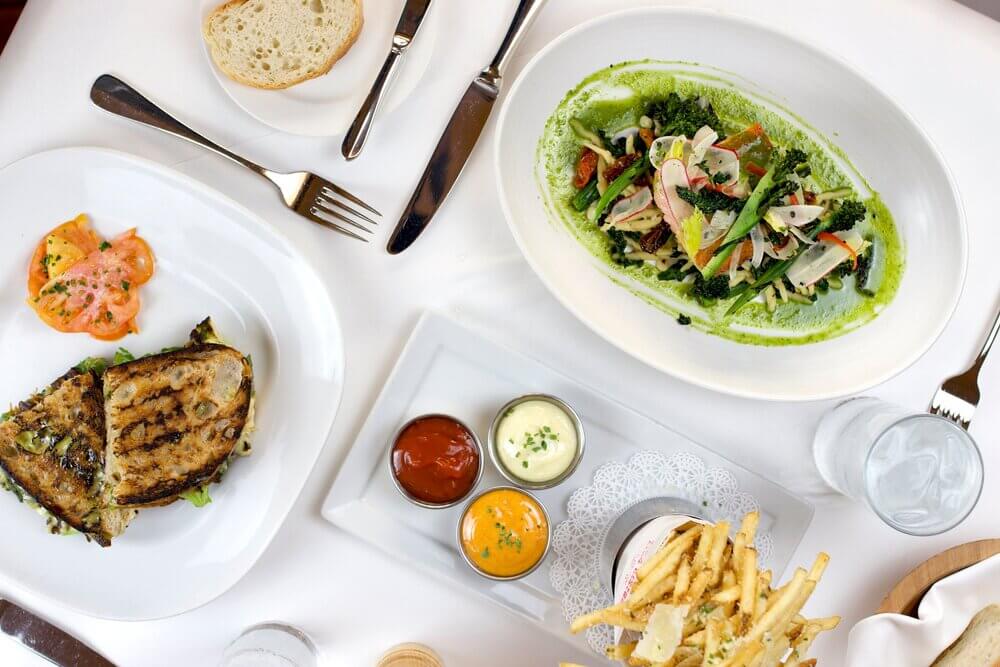 For Parisian style dining in the heart of Scottsdale's Kierland Commons, check out the award-winning Zinc Bistro. The décor is upscale and elegant, and its atmosphere exudes the charm and nostalgia of a bistro in the streets of Paris.
The menu is full of classical French favorites such as croque Monsieur, duck confit, Bouillabaisse, and steak frites. If you like to splurge a little for a romantic dinner, surprise your loved one with a Chateaubriand dinner for two which also includes onion soup and a souffle.
Asian Places to Eat in Phoenix and Scottsdale
Nishikawa Ramen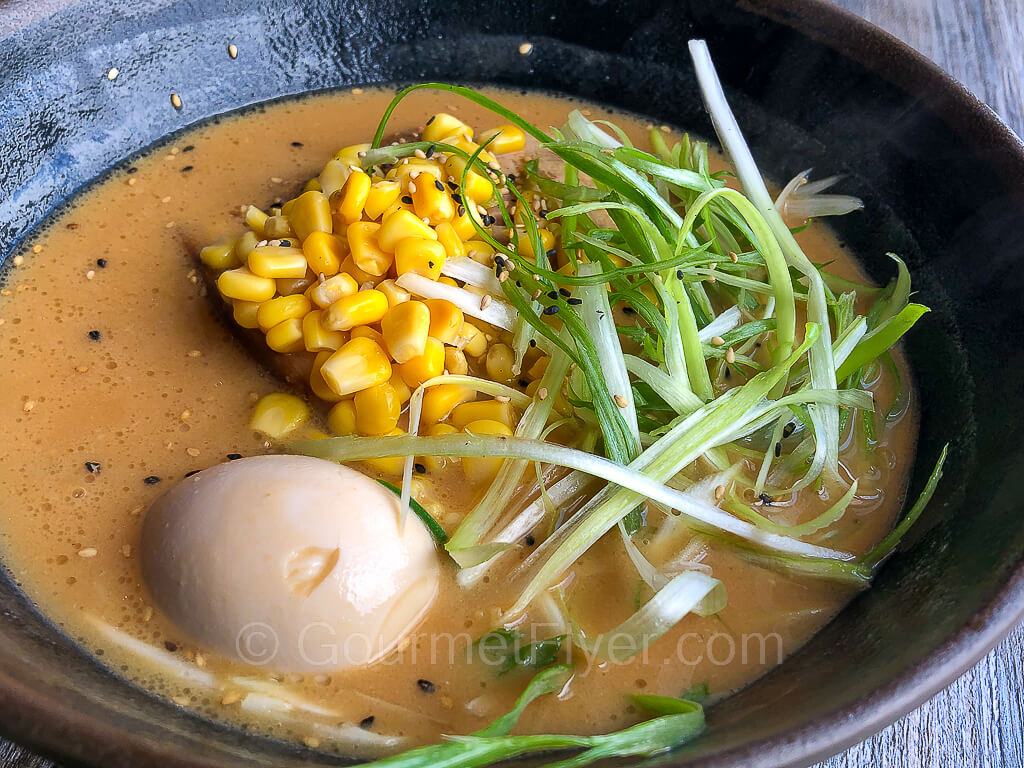 I was craving for ramen on a recent trip, and I wasn't expecting to find anything half-decent in the Valley of the Sun. I was pleasantly surprised when I ran into Nishikawa which cooks up some great ramens comparable to some of the best in Southern California or New York. I soon discovered that Nishikawa was founded in 2016 as the first authentic ramen restaurant in Phoenix, as well as the entire state of Arizona.
The classic tonkotsu ramen is served in a rich and flavorful pork bone broth and comes with traditional Hakata style straight ramen. It is topped with chashu (sliced marinated pork), and seasoned egg, and garnished with green onions. There are also many options for add-ons, such as corn as shown in the picture above.
Other options include the Miso which is flavored with soybean paste and comes with curled noodles. The black ramen is seasoned with black garlic oil and topped with fried onions and dried seaweed. For apps, I like their pan-fried pork gyoza and chicken karaage.
Zu Izakaya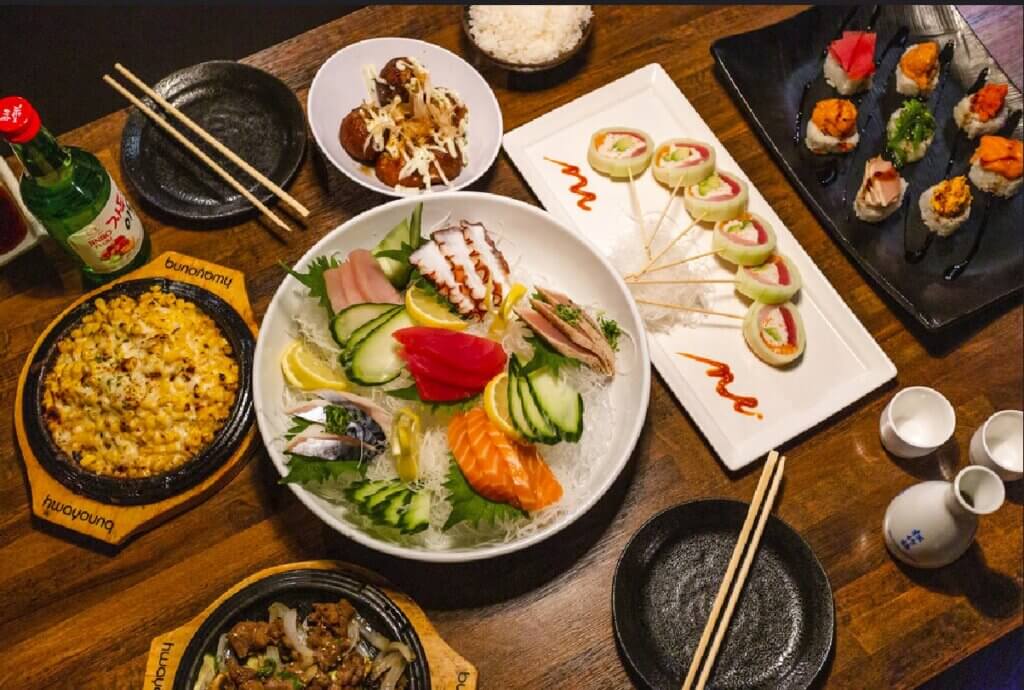 Zu is a vibrant and lively neighborhood gem that is very popular and is completely packed every time I was there. It is a great destination for sushi, hot pots, or an authentic Japanese izakaya experience. Their menu is huge with literally a few hundred items.
For sushi, they have dozens of options for you to choose from. One of my favorites is the spicy tuna roll, which is simplistic but fresh and tasty. For something fancier, I like their fire dragon roll – made with spicy crab mix, shrimp tempura, cucumber, and baked eel. Plenty of nigiri sushi and sashimi are also available.
My wife and I shared a bulgogi mushroom hot pot the last time we were there, and it was so good. For the true izakaya experience, you have to get a few skewers and wash them down with your beers or sake. The Kurobato sausage and beef and pork meatballs are my favorites. They are open till midnight Monday to Saturday, so it is a great late night hangout for drinks and yummy good eats.
Phoenix Palace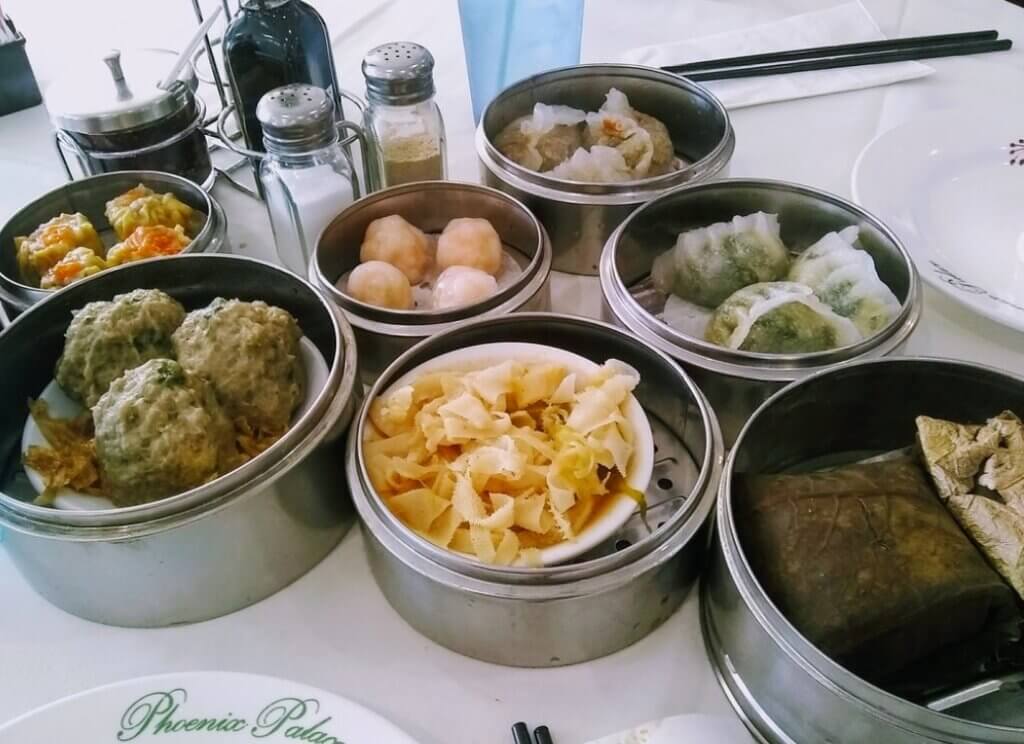 Chinese food is probably not on the top of your list of cuisines that you must try in Arizona. But if you want a change of scenery for your palate and grab some dim sum lunch or Chinese dinner, Phoenix Palace is one of your best options in town.
Dim sum comprises of a variety of classic Chinese staples and are served daily until 3pm. They include shrimp and pork dumplings, beef meatballs, egg rolls, rice noodle rolls, lotus rice, among a couple dozen other items. The server ladies push the dim sum carts around the tables, and you pick your food from the carts.
Dinner entrees are mostly authentic Cantonese cuisines blended with some Americanized variations. Traditional dishes like sweet and sour pork, kung pao chicken, French style beef, and salt and pepper shrimps are local favorites. This is more like a hole-in-the-wall place and there is not much décor to speak of. But you get some of the best Chinese food in town with large portions and low prices.