August 30, 2023
As an airport lounge at an outstation, the United Club at Seattle Tacoma International (SEA) is actually quite a decent one, in terms of size, food and beverage service, and amenities. It has a bright and contemporary décor that is a huge improvement from the old location at the "N" gates. The lounge is certainly a quiet haven from the sometimes-chaotic Seattle airport, especially during the city's cruise seasons. Although the place may seem crowded at times, there is sufficient seating so that you can almost always find a comfortable place for yourself. Throughout the day, travelers come and go in waves, so even if the place seems packed at a moment, calm and peace return quickly as flights depart.
Table of Contents
Location
This United Club is located in Concourse A across from gate A10. The UC sign is not obvious and could be easy to miss. You are better off looking for the end of the moving walkway as pictured above. From there, you'll take the elevator upstairs.
As of this writing, the hours are 4:15am to 10:00pm daily.
Access
The following are not the official policies but are the general admission guidelines in a nutshell. For complete access rules and policies, please refer to the airline's website here.
UC members travelling on a UA or Star Alliance flight.
United Mileage Plus Gold or Star Alliance Gold passengers traveling on an international flight operated by a Star Alliance carrier.
Non-United Star Alliance Gold members traveling on a UA domestic flight.
Chase Explorer Card one-time pass holders (subject to capacity limits). There are also signs posted that entry could begin no earlier than three hours prior to your flight's departure time.
Access can also be purchased as a bundle when you buy your ticket online at the airlines' website. Sometimes, the bundle is also offered when you check in. One-time passes at the door are sold on a space-available basis only. Time limits may also apply.
Seating
The layout of the United Club at Seattle Tacoma Airport is well designed and is loosely partitioned into three separate areas.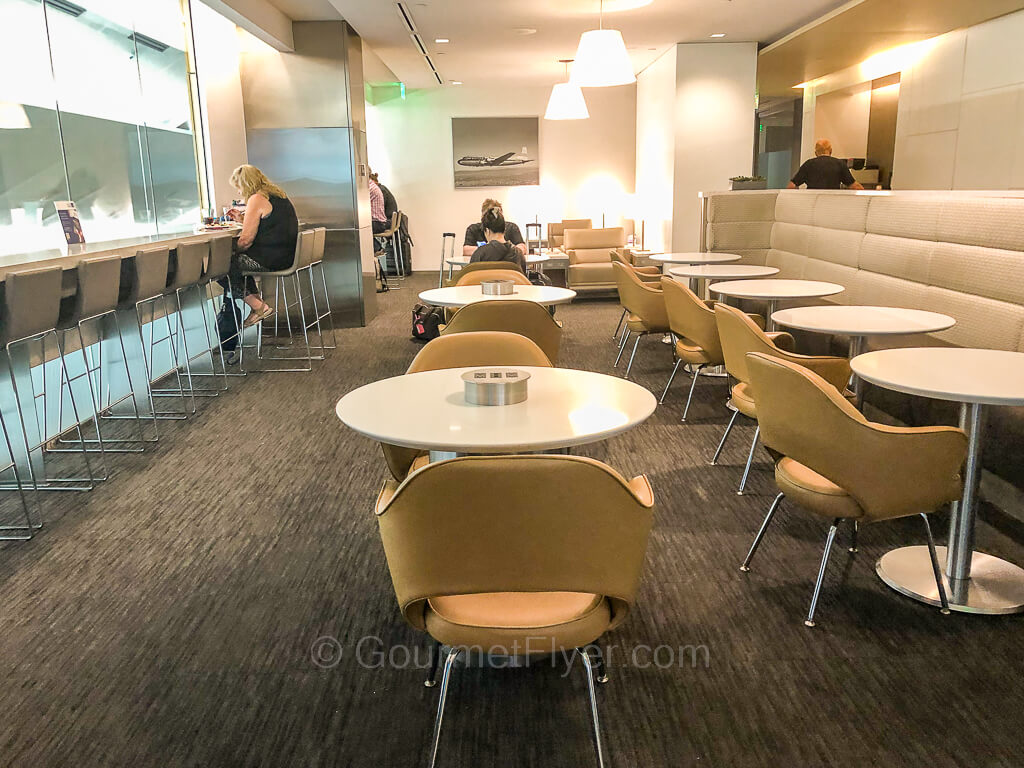 Immediately upon entry is the area with a long bar-high countertop that lines the windows looking down into the terminal's walkway from around gates A9 to A10. They are accompanied by two rows of round dining tables. Some tables have popup power outlet consoles, and some don't.
This is usually the most crowded area as most people see this area first and tend to settle down right there.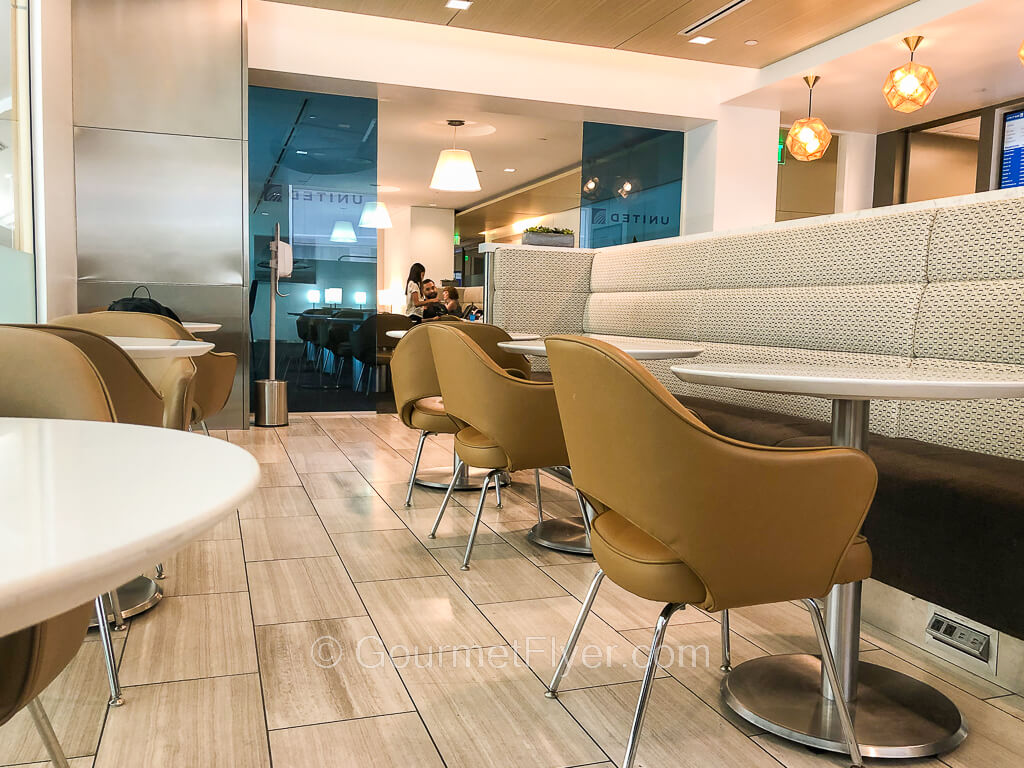 If you walk a little further down, behind a blue glass partition is a small area where the bar and the buffet are located. A few more round dining tables positioned there give the space a dining room kind of feel.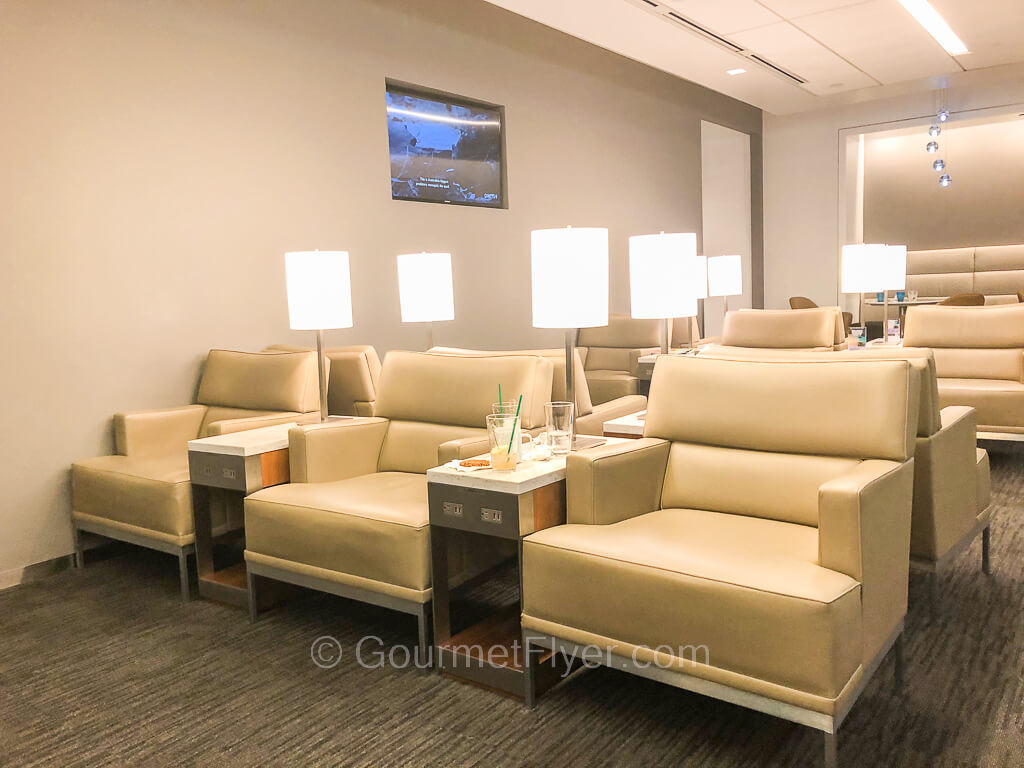 If you take a left where the restroom signs are and go past the restrooms, you will find a much more spacious area and probably with fewer people too. There are several sets of United Club's signature wide and comfy lounge chairs separated by coffee tables with charging outlets. Two large communal table type of high tops, also equipped with power and USB outlets, are accompanied by a long work bench with highchairs that is placed against a wall.
Lunch and All-Day Snacks
A long buffet table is set up against a wall next to the bar. I am impressed with the wide variety of food offerings that are almost comparable to a UC at a major hub. There are not really just snacks, but rather enough food for a complete lunch.
The few times that I was there recently, the servers were excellent! They diligently refilled the trays of food and also brought out various rotations often. The buffet counter was kept very clean and was well maintained. Empty dishes were promptly removed from tables, and empty tables were quickly bussed and wiped down.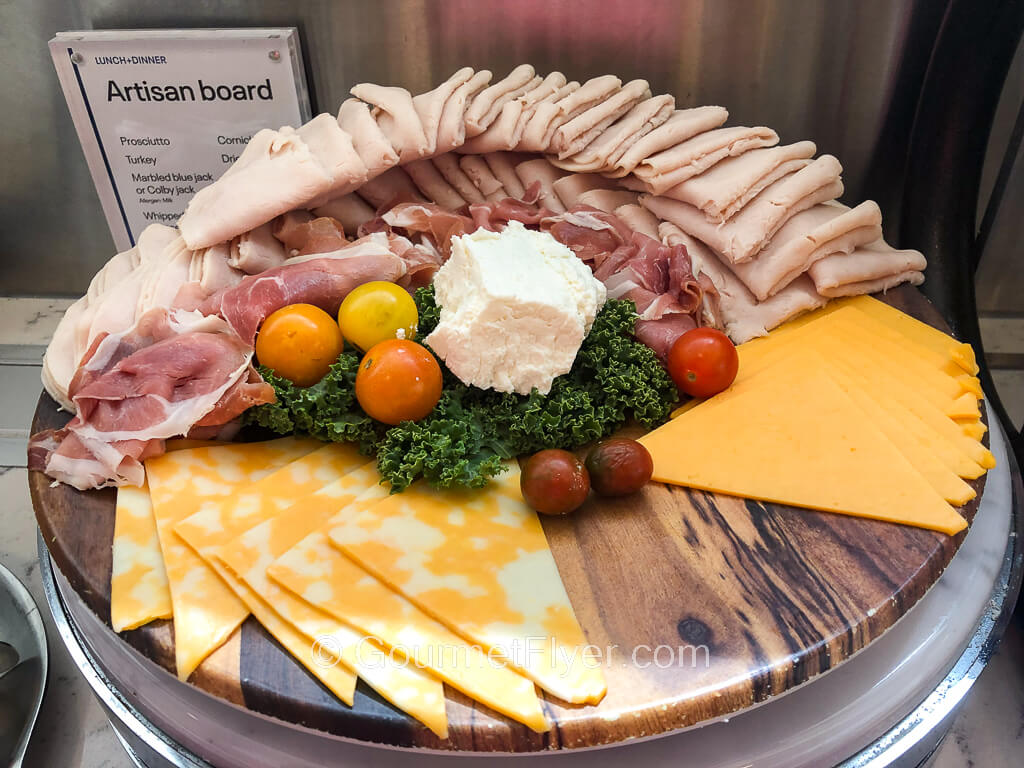 For starters, there is an Artisan Board that is great for some light snacks or apps to go with a drink. On the board, slices of prosciutto and turkey are accompanied by a medley of cheeses. An assortment of crackers is also served on the side.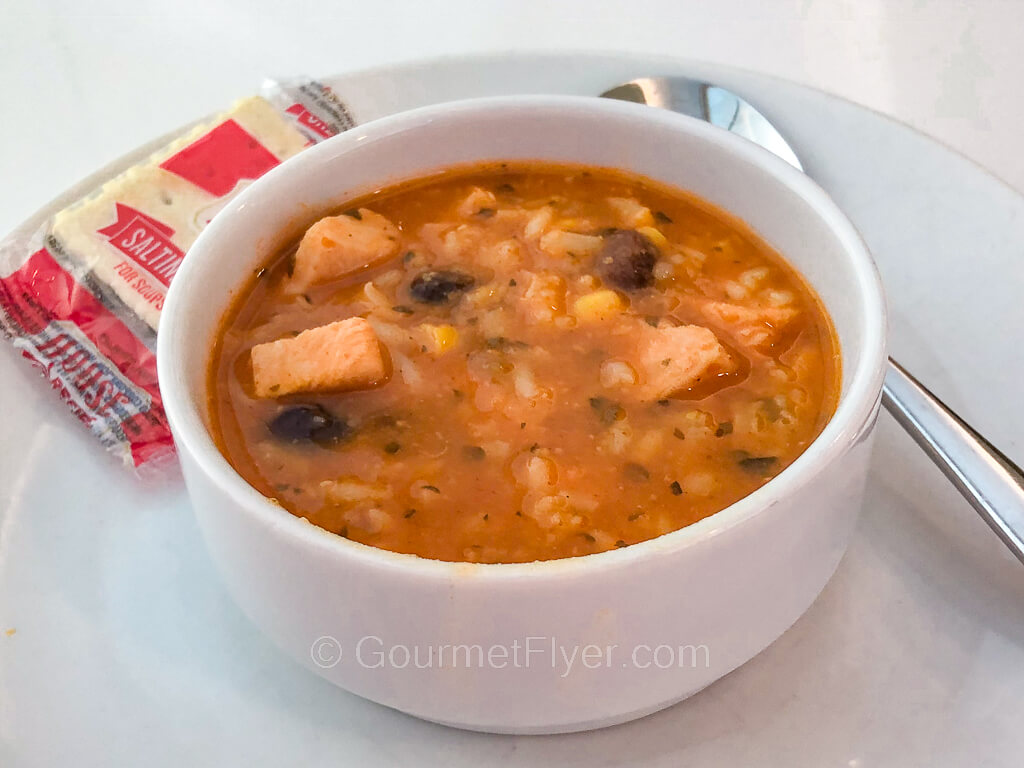 They usually bring out the soup around 11am and it is served throughout the day. The last few times that I was there, it was a delicious chicken tortilla soup loaded with lots of rice, black beans, and cubes of chicken breast.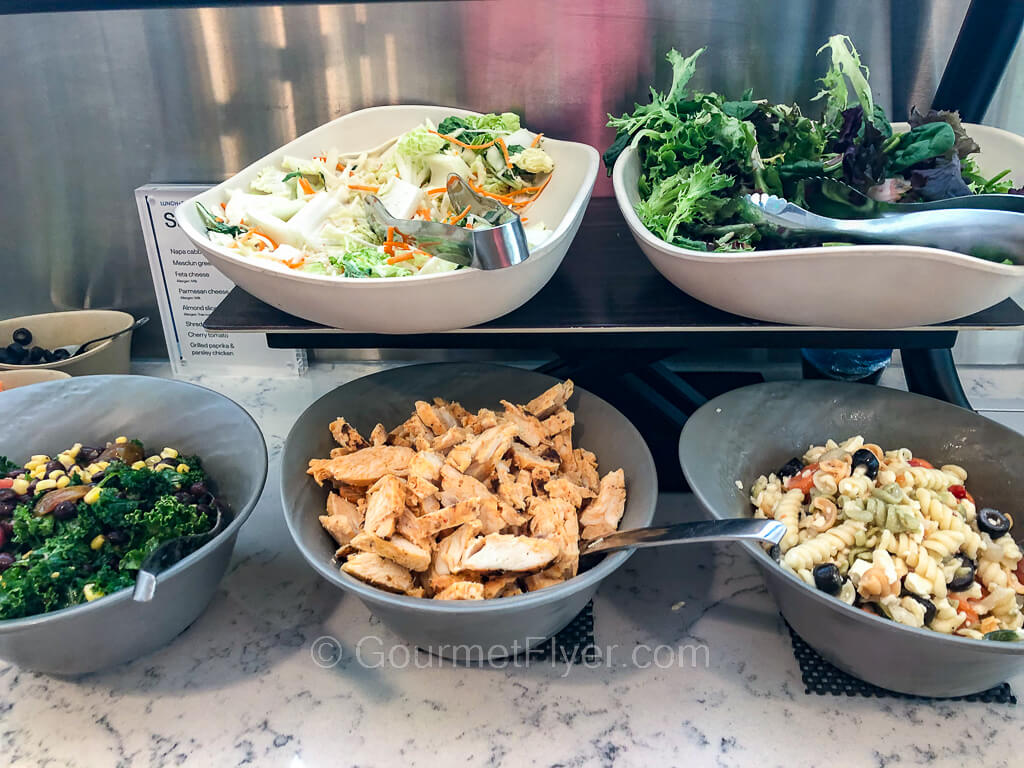 The salad bar consists of a nice mix of greens and is paired with some premade blends such as black beans and corn. Chunks of grilled chicken breast meat seasoned with paprika are also served. I also like their pasta salad, although it is slightly too sweet for my palate.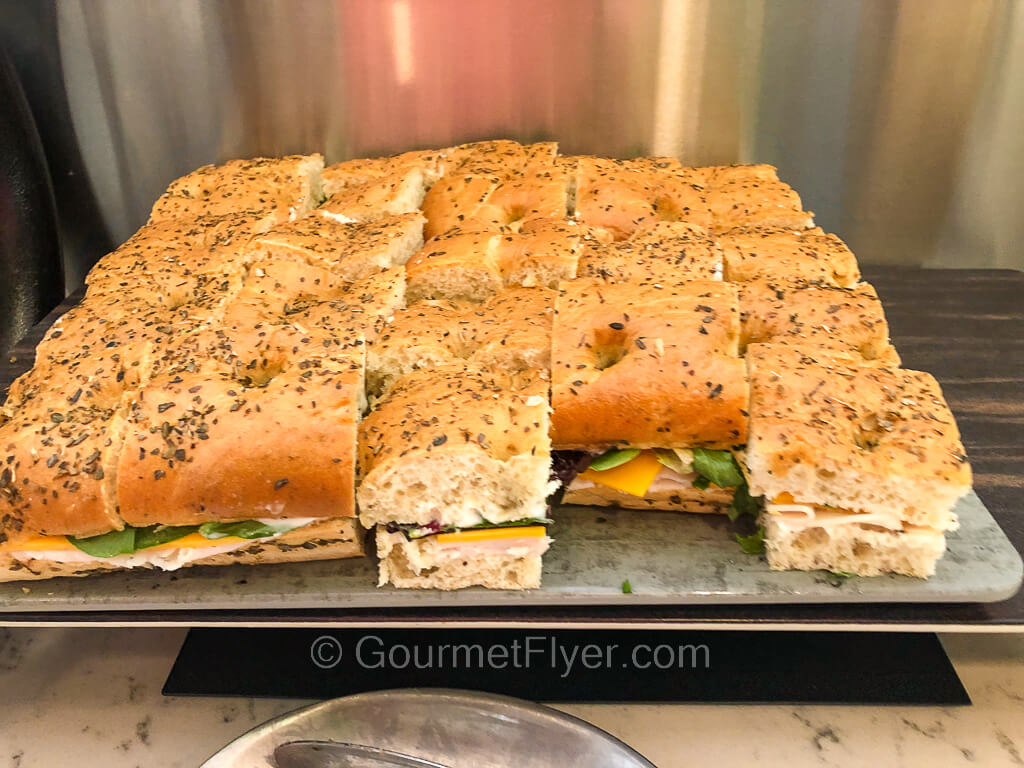 Various plates of sandwiches and wraps are rotated throughout the day. Sandwiches are usually ham and cheese or turkey and cheese. The wraps are usually either veggies or tuna.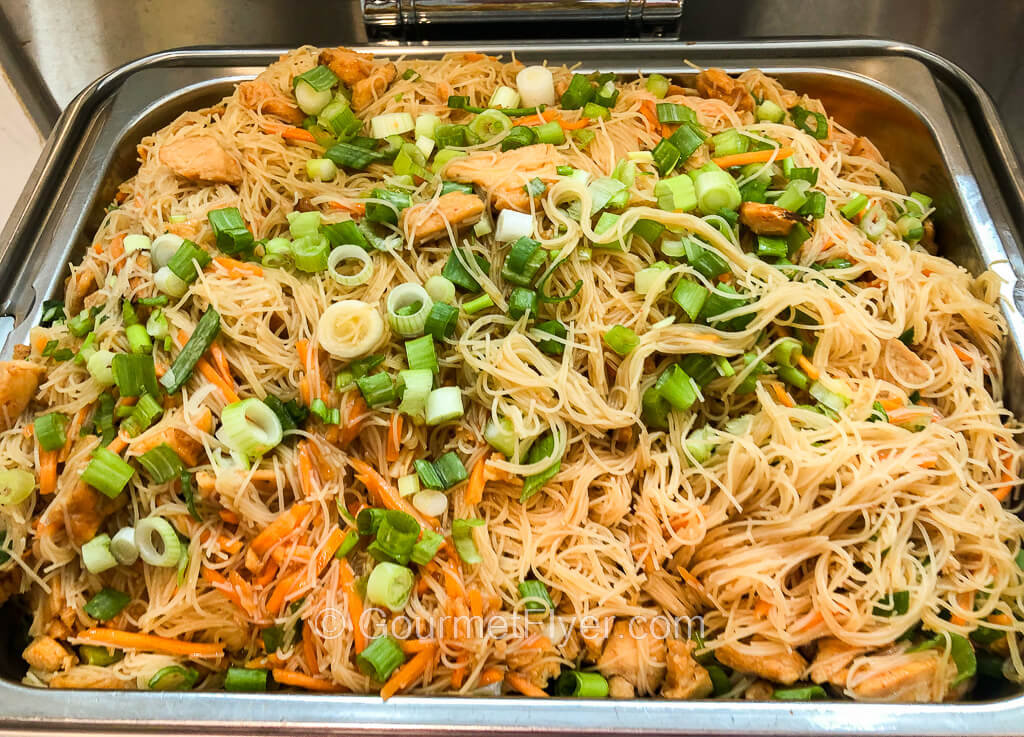 If that is still not enough food, there is also a hot entrée each day. Shown above is pan-fried vermicelli (one type of thin rice noodles) with teriyaki chicken strips and green onion.
Desserts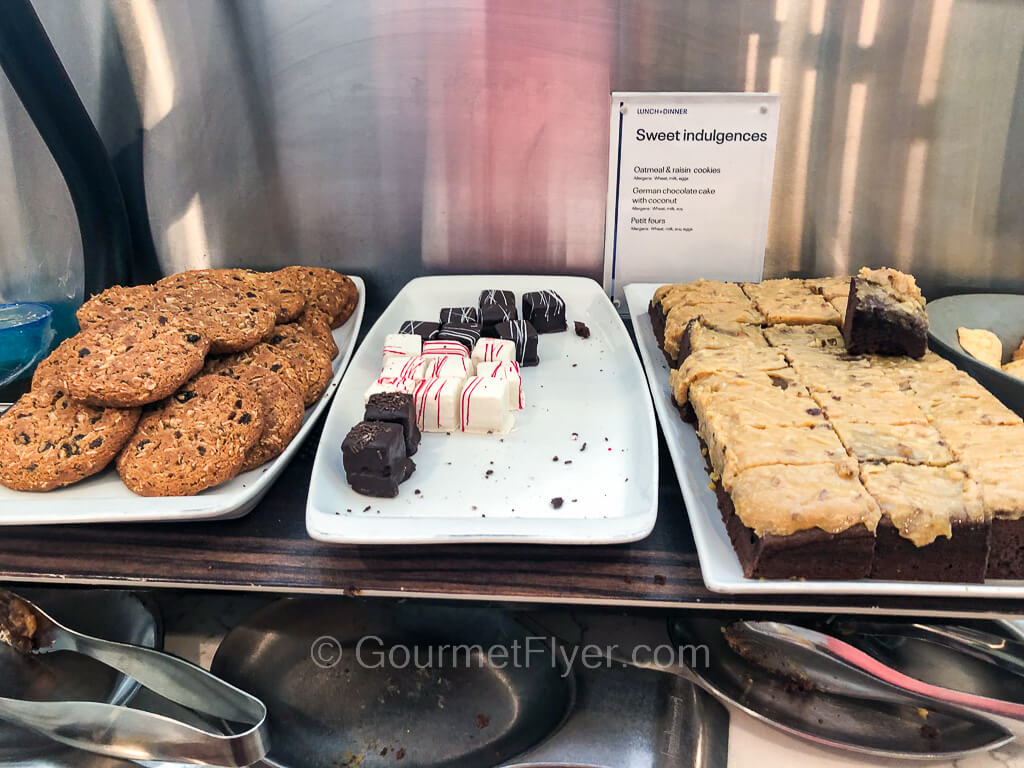 Although there is plenty of food for a full lunch, the meal is not complete without some sweet indulgences. Shown above from left to right are oatmeal and raisin cookies, petit fours, and German chocolate cake with coconut. As you can tell, the petit fours are the most popular ones.
Bar and Beverages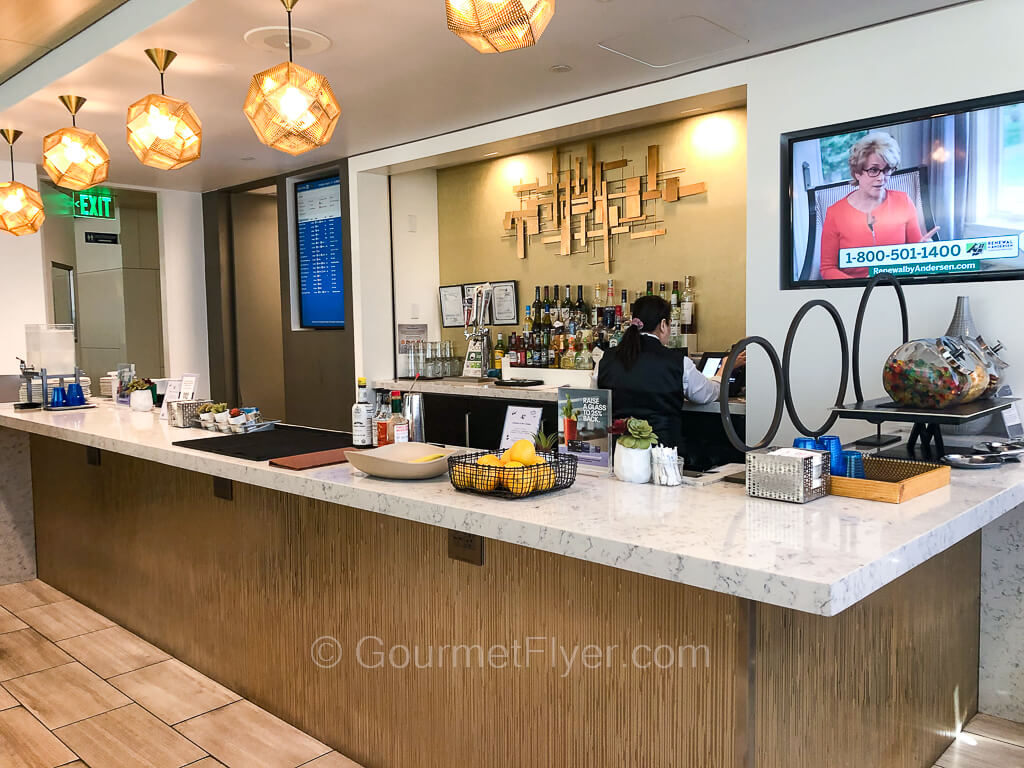 There is a full bar staffed with a bartender but there are no bar stools. It makes sense not to have them as there is really no space there. The narrow corridor in front of the bar is one of the pathways leading to the buffet so it is a high traffic area probably not suitable for bar stools.
Just like all other United airport lounges in the US, house beers on tap are usually something like Budweiser or Coors. They are complimentary, and so are house wines, and well liquors (Smirnoff vodka, Jack Daniels, and the likes). Imported beers (Stella, Heineken, etc.), premium wines, and call liquors (such as Grey Goose, Black Label) will set you back anywhere from $5 to $15.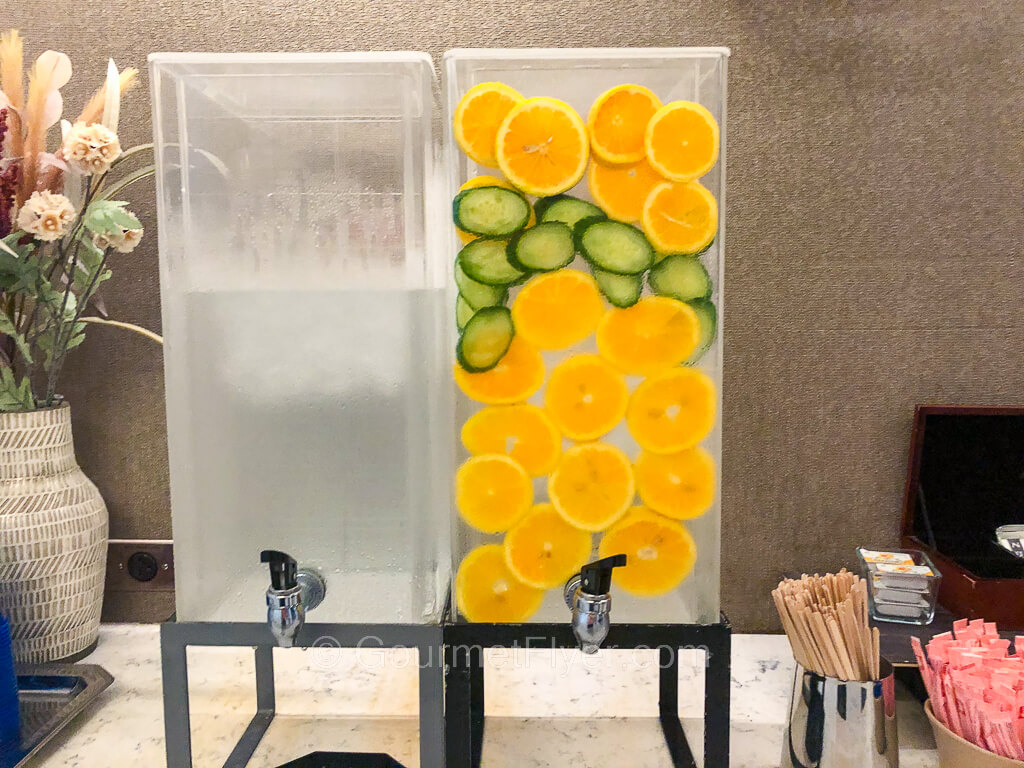 A tub of citrus and cucumber infused water sits next to a tub of plain iced water.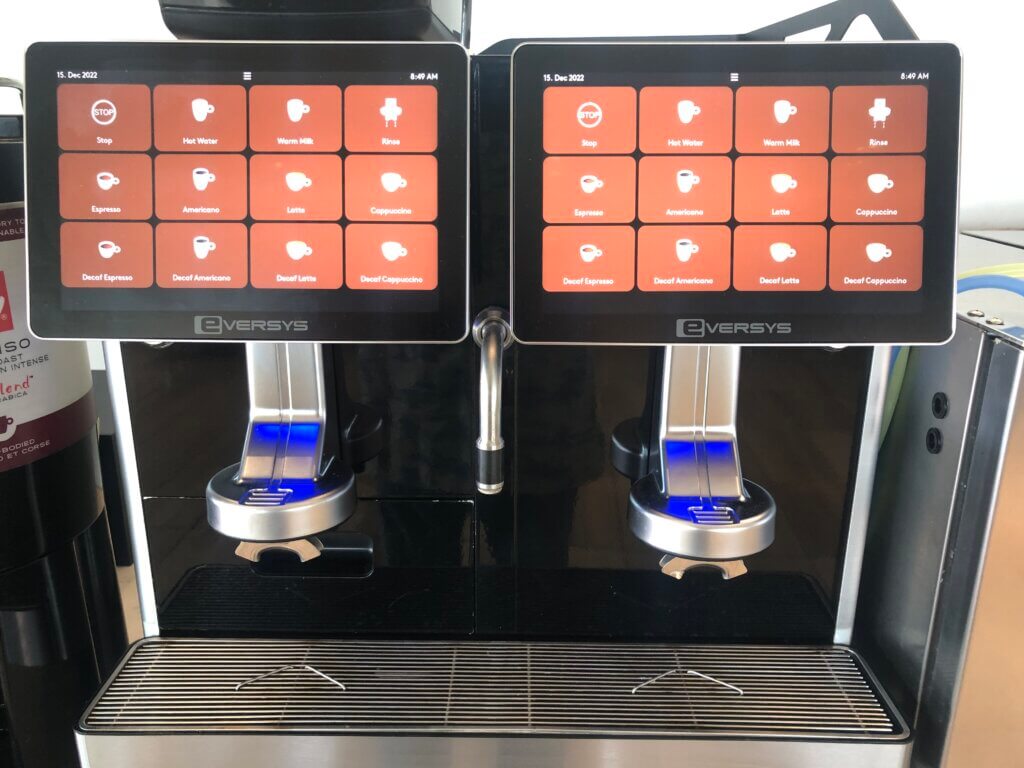 There are two espresso machines for your fancy coffee drinks. They are very easy to use, and they make good lattes too. This is also where you get hot water for tea if you need it.
Surprisingly, and quite annoyingly too, there is not a soda machine, and you have to get your sodas at the bar from the bartender.
Conclusion
My overall review of this United Club at Seattle Tacoma International Airport is very positive, and I am particularly impressed by the lunch and all-day snack options, which are usually quite weak at many other outstations. The service by the staff was also immaculate the few times that I was there recently. Seating areas are spacious and comfortable, and I also like the design that places different ambience and moods in the various areas within the lounge. I particularly like the area behind the glass partition which gives me a dining room kind of atmosphere.