Since I often have to change flights at San Francisco International Airport (SFO) for both my domestic and international itineraries, I have become a frequent visitor to the United Club there. Although there are two other UCs in the terminal – at the E gates and the G gates – the one at the Rotunda is definitely the largest and the best and is my favorite. This is a summary review of this United Club at the Rotunda at SFO airport based on my various visits at different times.
Table of Contents
Location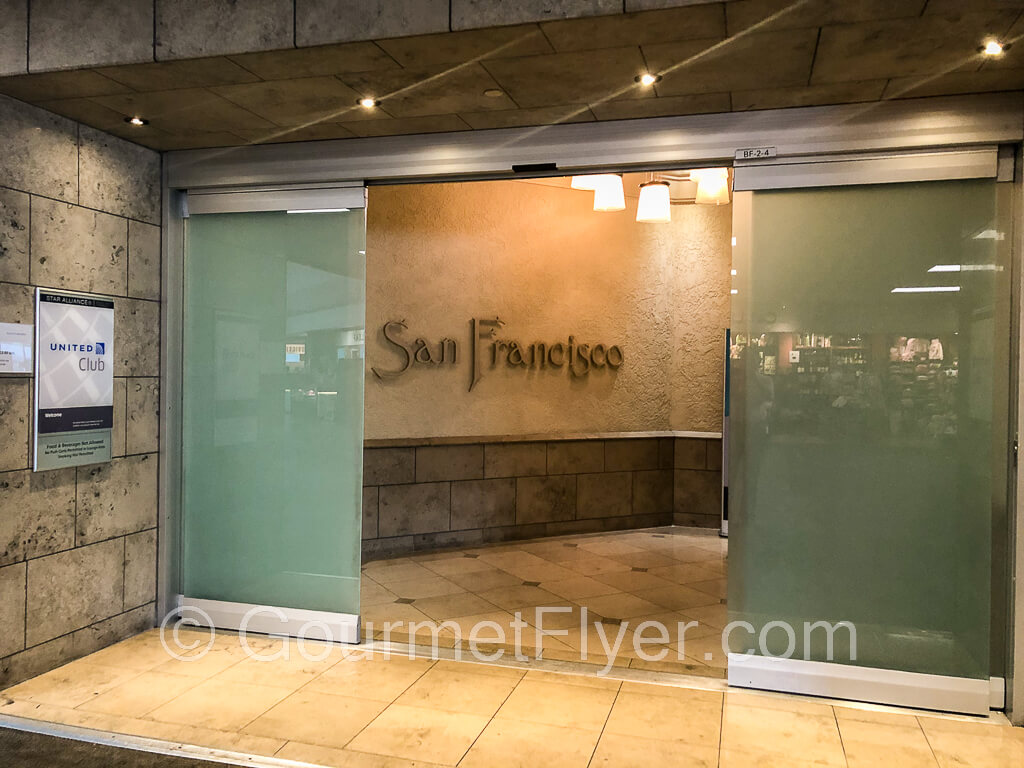 This United Club is located in terminal 3 of San Francisco International Airport and is in the F concourse near gate F11. The entrance is located at the rotunda across from the food court. If you are coming from the security checkpoint, the entrance is just feet away from the end of the moving walkway on your right.
First Impression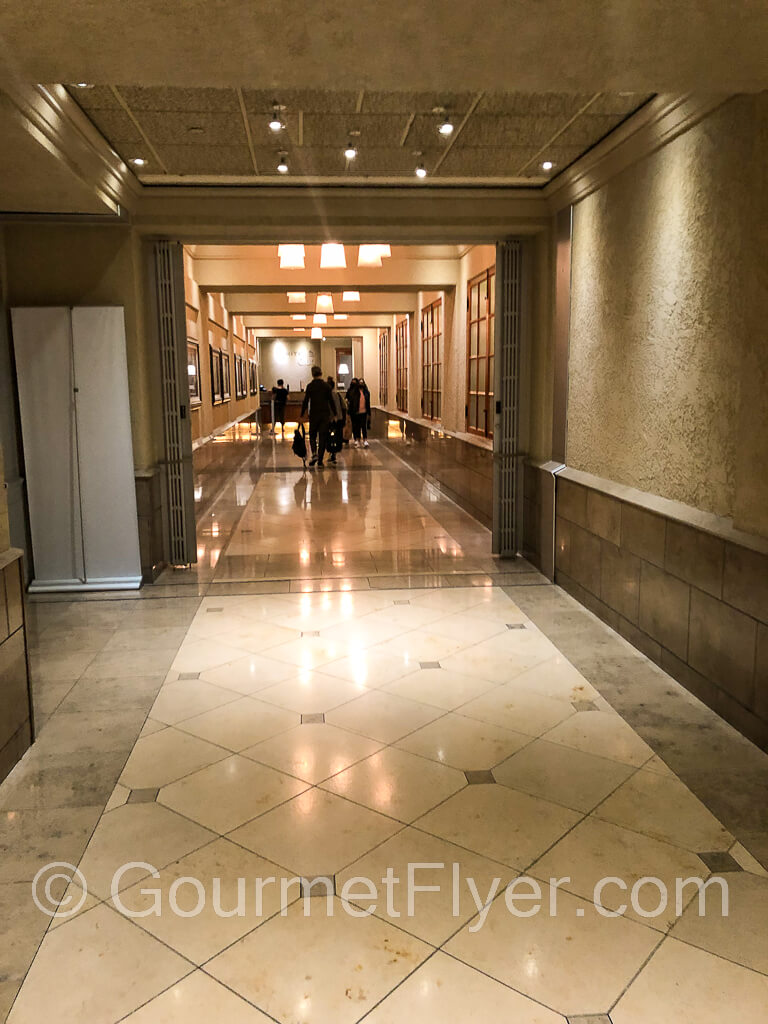 The moment you enter the club through the automatic doors you'll walk down a long corridor with marble floors and nostalgic paintings hanging on the wall. I don't know whether the long corridor is by design or by necessity, but it certainly adds to the grandeur of the experience while we are all so used to walking through the doors and seeing the reception desk just feet in front of us.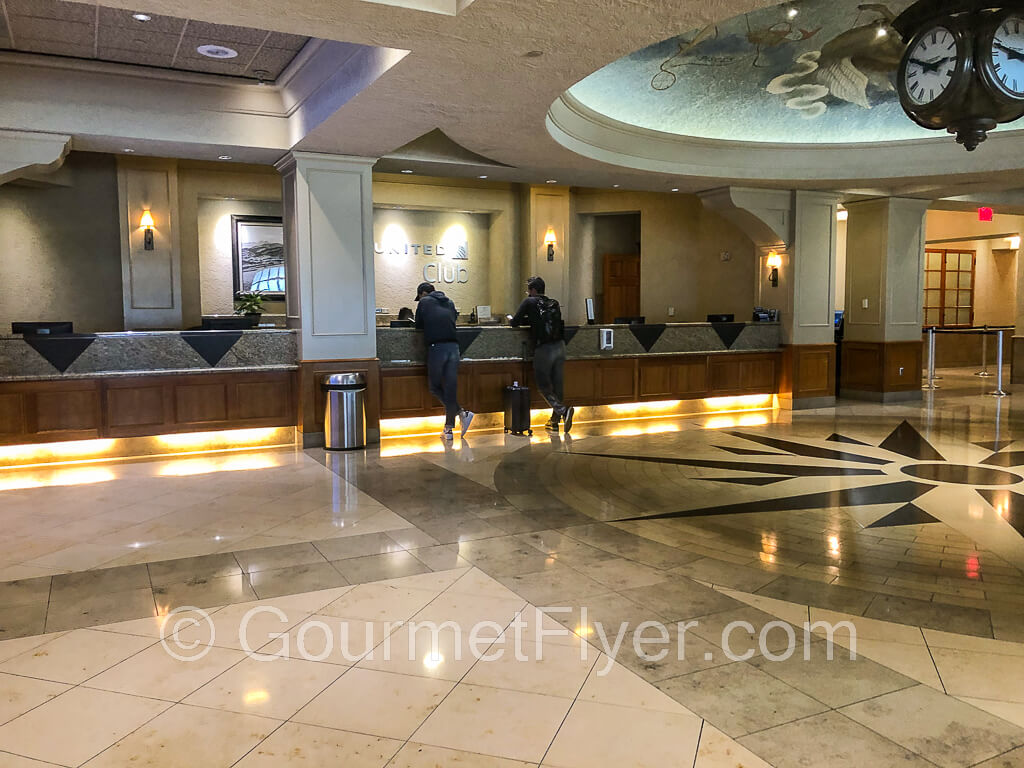 Once you've had your credentials checked by the agent, you'll walk into a large and majestic-looking lobby with marble floorings and a nautical-themed décor. Right above you are a classical four-faced clock hanging in the midst of a glorious ceiling fresco. Of all the UCs (and airport lounges for that matter) that I have been to, this is certainly one of the most elegant and impressive entrances that I have experienced.
Ticketing Agents
Located right at the elegant lobby is also a service counter staffed by the most experienced and knowledgeable ticketing agents. Just the availability of these agents alone is almost already worth the club membership itself. Not only is the wait much shorter – especially during times of massive irregular operations or weather delays – these top-notch agents will handle your issues efficiently. I have used them many times on different occasions and always find them some of the best ever.
Access
Although passengers on United's Polaris Class (business class on most transatlantic and transpacific flights) have access to this UC, they also qualify for the more opulent Polaris Lounge with much better food, service, and amenities. Therefore, few, if any, of them will be here. In a nutshell, access to this lounge is given to passengers who are:
United Club members.
Flying on Business Class on UA's premium transcontinental flights (SFO – EWR).
United Gold or Star Alliance Gold members traveling on a United or Star Alliance international flight.
Non-United Star Alliance Gold members traveling on a UA domestic flight.
In possession of a United Mileage Plus Explorer Card one-time pass.
Able to purchase a one-time pass.
The access rules and policies are numerous and complex. Please refer to the airline's website here for detailed information.
Seating and Work Areas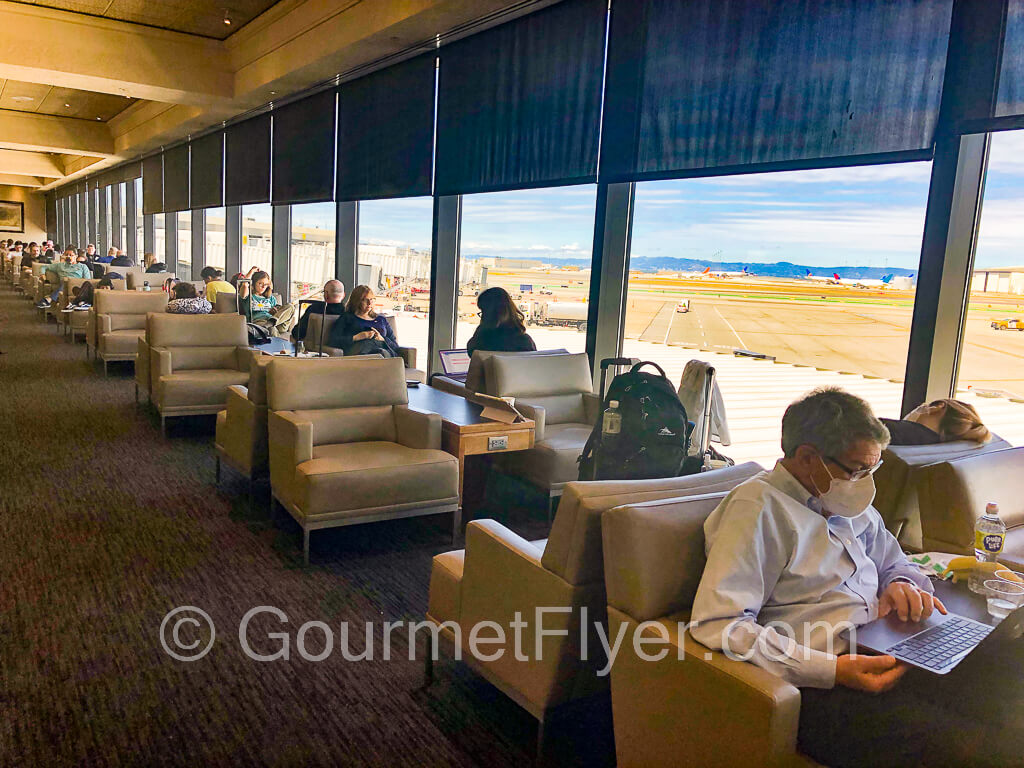 The main seating area has plenty of comfortable lounge chairs lined up against a wall of floor-to-ceiling windows with spectacular tarmac and runway views. Plenty of these comfy chairs are also located in various areas throughout the club. For the aviation enthusiasts, the windows are facing runways 10L/28R and 10R/28L.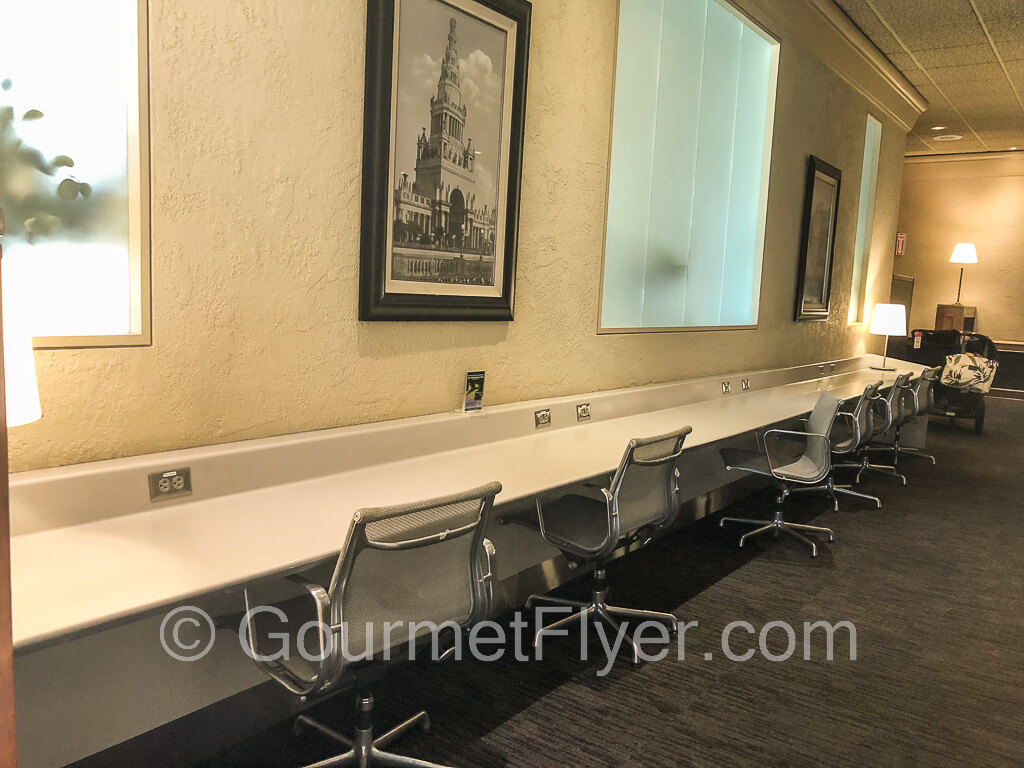 The work area is located at the far end of the club. To get there, walk pass the bar and keep going and you will see a separate room with a long work bench, some lounge chairs, and several workstations.
I actually like this long work bench a lot. First of all, it is seldom used unless the club is completely packed. Most of the time I find this to be a very spacious place for me to eat a snack, enjoy a drink, and do some work on my laptop. There are plenty of power outlets there as well. I also like those ergonomic office chairs which are very comfortable. The only downside is there they don't have wheels, but it's not a big deal to me.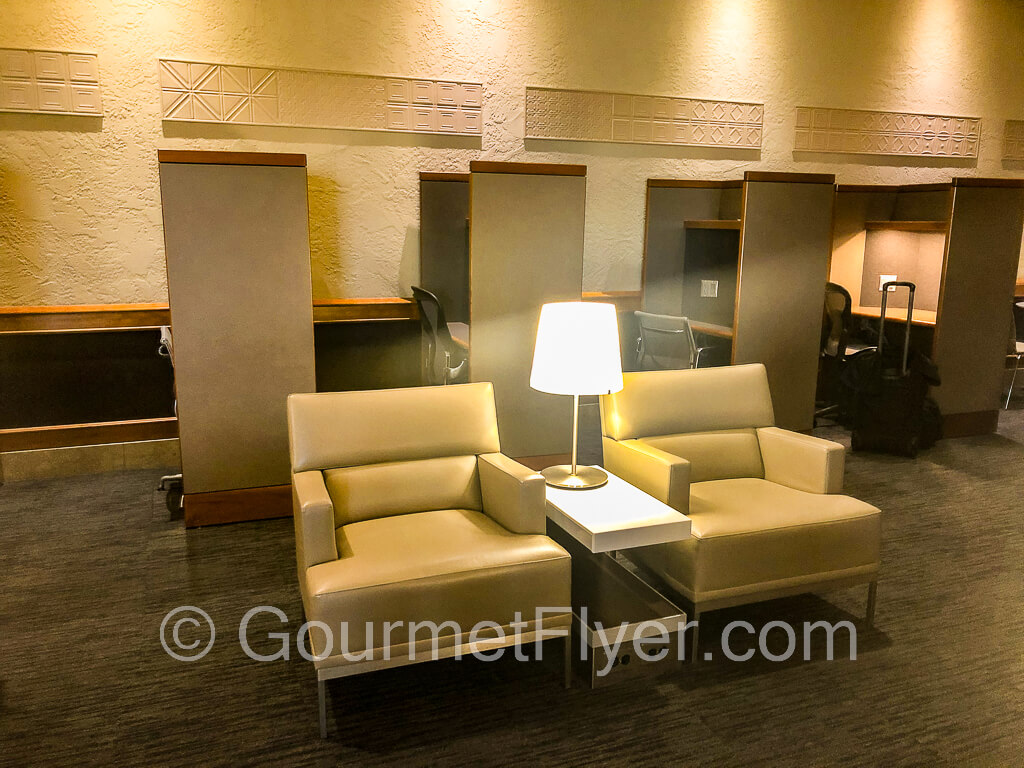 On the far end of the room against the wall are five cubicle like workstations. The workstations are not fancy, but adequate, with a small workspace and power outlets. They offer plenty of personal space as well as a reasonable degree of privacy. This is actually a quiet area of the club and unless the lounge is packed, few people sit there most of the time. I am almost always able to get some work done here.
Bar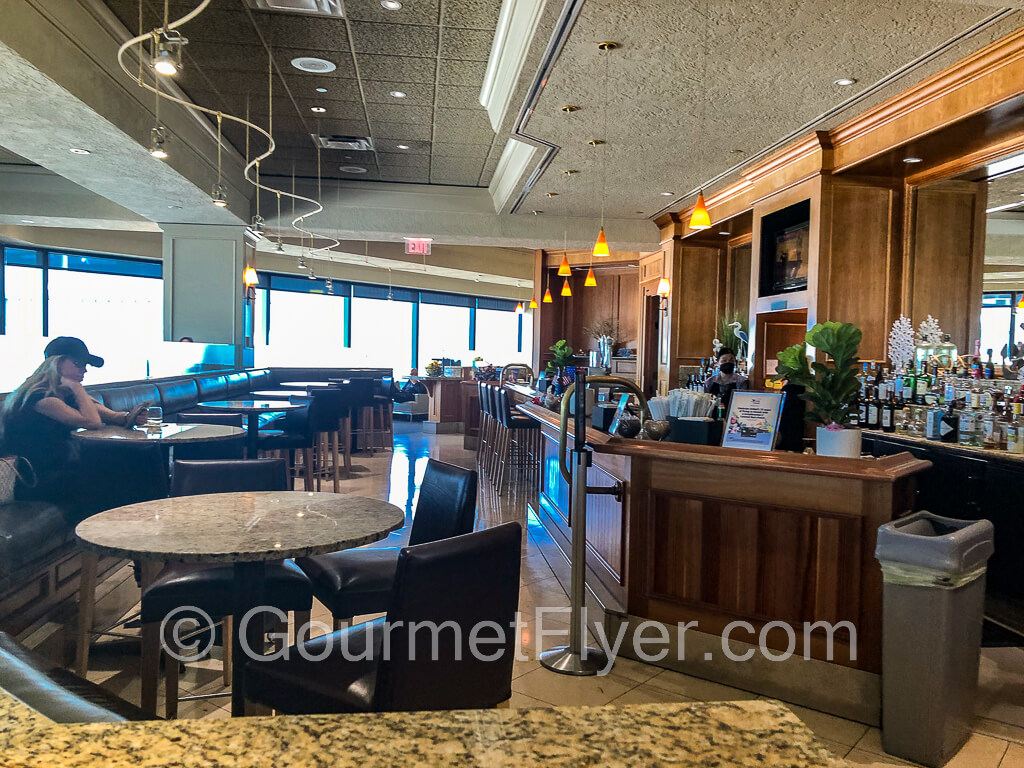 There is a full-service bar staffed with one or two bartenders, depending on how busy they are. There are several bar stools at the bar, and most of the time this is a busy area. In the bar area there are high top tables with highchairs which are quite comfortable. Although these are bar tables, I often find them versatile to work on my laptop while having a drink.
House beers on tap are complimentary. They are usually Michelob or Coors Light or something similar. Premium beers like Stella Artois will set you back five bucks. House wines are also complimentary, but premium wine by the glass cost anywhere from $8 – 15 the last time I checked. Well liquors are free. Call drinks or premium brands run from $7 – 12 or more.
Beverage Service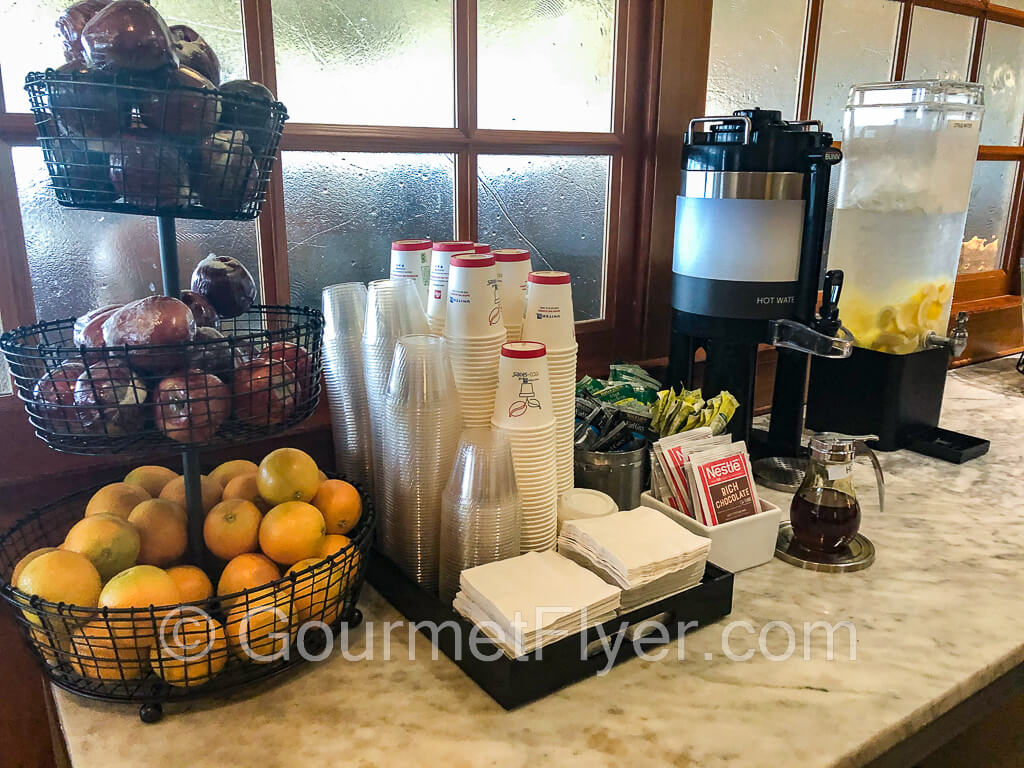 There are plenty of soft drink options available scattered in various areas throughout the place. One soft drink station has a canister of citrus infused iced water, hot water for hot chocolate and tea, as well as a selection of fresh fruits. A self-served soda machine with over a dozen sections is also available. There are two espresso machines which make great lattes and are easy to use.
Food Service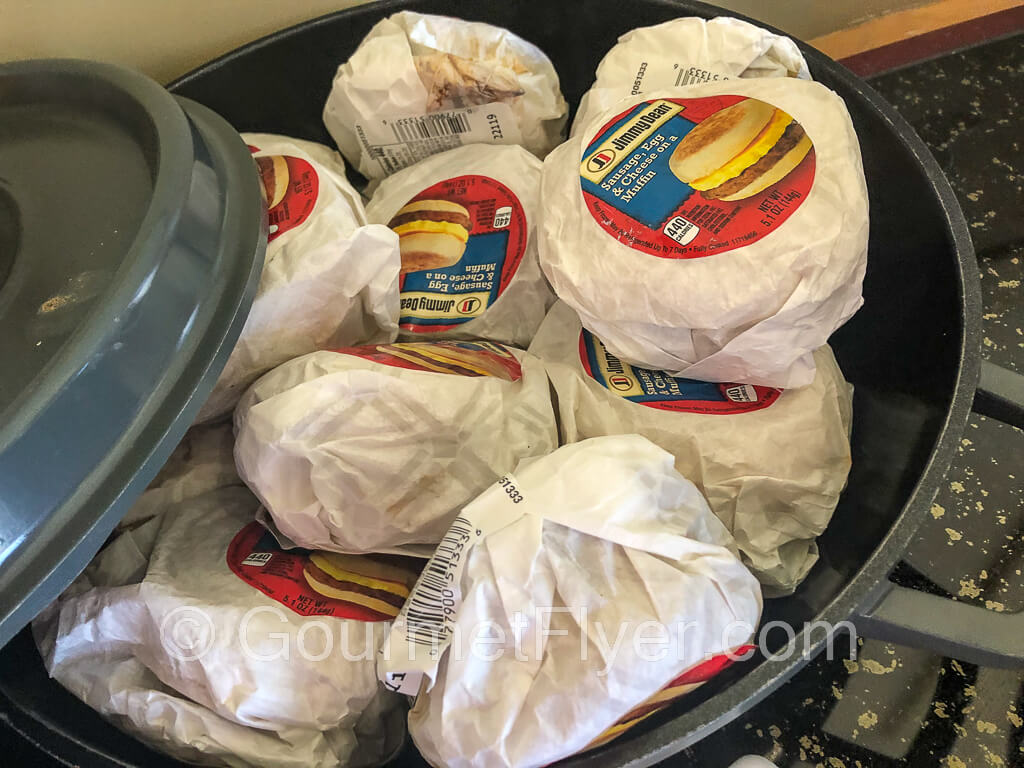 A light snack is offered all day. Hot breakfast items are usually sausage and egg muffins or biscuits and breakfast burritos. Sometimes these breakfast items are also served throughout the day. A selection of muffins, bagels, pastries, and toasts are also available in the morning. The last few times I was there, cold hard-boiled eggs and yogurt were part of the spread.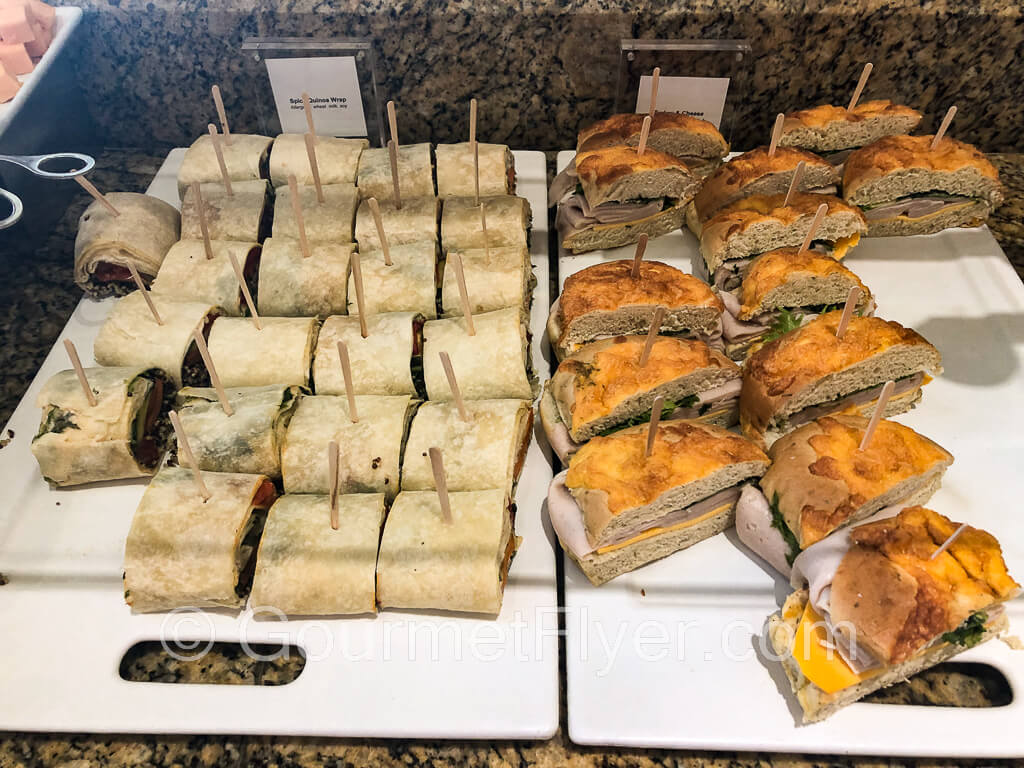 All day snacks are typically sub sandwiches and wraps. A cheese plate with crackers is usually served all day along with a salad bar and fresh fruits. Desserts are typically chocolate chip cookies and brownies.
There is always hot soup available after 11am. For the longest time it was always New England clam chowder. But the last couple of times I was there I was surprised to see a vegetarian minestrone soup. I am glad to see some kind of rotations.
Conclusion
This is one of the largest United Clubs domestically, probably only smaller than the brand-new lounge in EWR or the one in LAX. It is very spacious, and I always have no problem finding a pair of seats with my wife. Sometimes we also manage to grab one of those high-top tables in the bar area which I like. However, it can get very crowded at times, depending on flight schedules. Sometimes as packed as it might be, but after several large, crowded hub-to-hub flights have taken off, seats will open up again.
While this is a great place for one to have a drink and relax before a flight, grab some snacks, or get some work done, it is certainly not the place to go if you are expecting a full and halfway fancy meal. Food is usually United's weakest link when compared to other similar airline clubs or airport lounges. However, if you are not picky and just want a quick bite before or between flights, the spread is adequate, but certainly not sumptuous or even enticing.