Updated April 21, 2023
This is a comprehensive review of the All Nippon Airways' (ANA) Premium Economy seat on an Airbus A380. Among all the premium economy seats that I have flown in, ANA's stands out to be the most thoughtfully designed, versatile, and comfortable. Let me share with you every feature and detail of these seats that make them truly outstanding and make your long-haul flight a lot more enjoyable.
Table of Contents
What is ANA's Premium Economy
All Nippon Airways' Premium Economy is an enhanced cabin that offers a roomier and more comfortable space, a separate cabin, upgraded dining, and other benefits. Some of the perks include a dedicated check-in counter, priority baggage handling, lounge access, and other amenities on board.
This class of service is available on selected flights on the airline's 777-300ER, 787-8, 787-9, and A380 aircrafts. This review is on the ANA's Premium Economy seats on the A380 aircrafts, which primarily serve the Honolulu – Tokyo route, nicknamed Flying HONU.
This review focuses on the seat itself only. For a review on the entire flight's experience, including amenities and meal service, please visit:
Review: ANA Premium Economy HNL – NRT Airbus A380
Cabin Configuration
On the Airbus A380 double decker, ANA's Premium Economy cabin is located in the rear portion of the upper deck, completely separate from the regular seats which occupies the entire lower deck. The standard configuration is 2-3-2. There are a total of 73 PE seats, far more than what other airlines offer on this route. Couples who secure a pair of them on the window side will enjoy the extra private space and comfort.
Dimensions and Measurements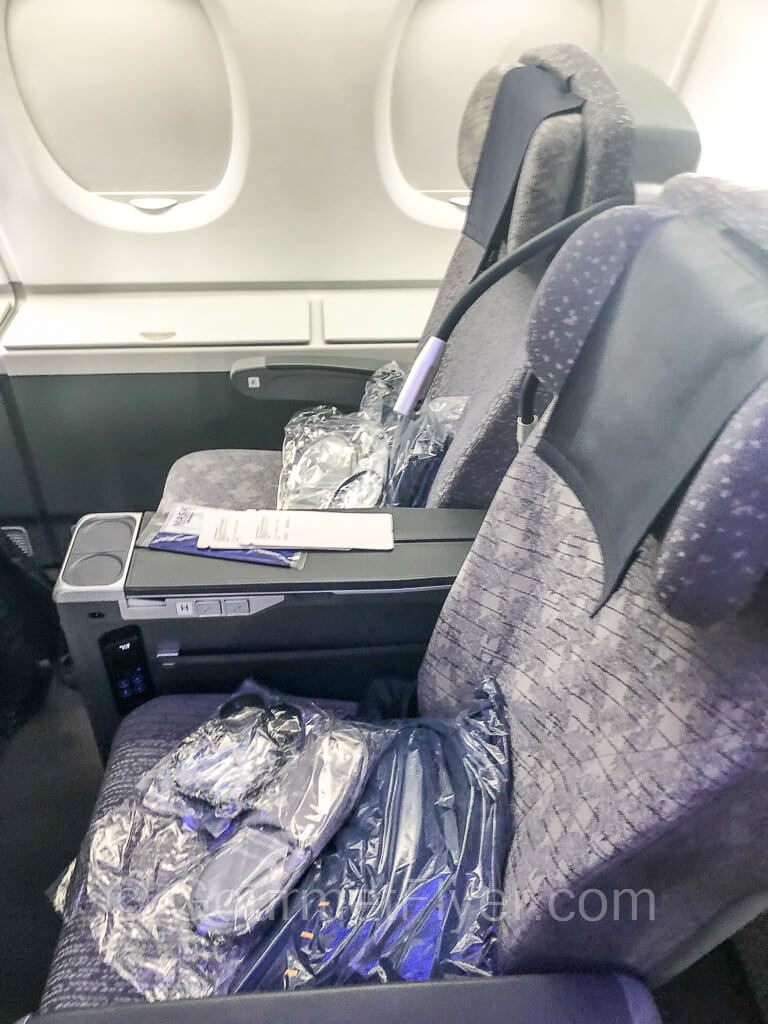 My experience is that the seats are wide enough that most people will find them spacious and comfortable. The extra wide double armrests mean that you probably won't be rubbing elbows or shoulders with a stranger seatmate. On the A380, the width is 19" and pitch is 38". These measurements are almost the same as those on major airlines that have this class of service on the A380 double decker, such as Lufthansa, British Airways, and Singapore Airlines.
To put those numbers in perspective, the economy seats of most major airlines measure between 17" – 17.5" in width and offer a pitch between 31" – 34", with 34" being mostly extra-legroom seats. For more comparison, most US domestic first-class standard average pitch is approximately 37".
Extra Storage Space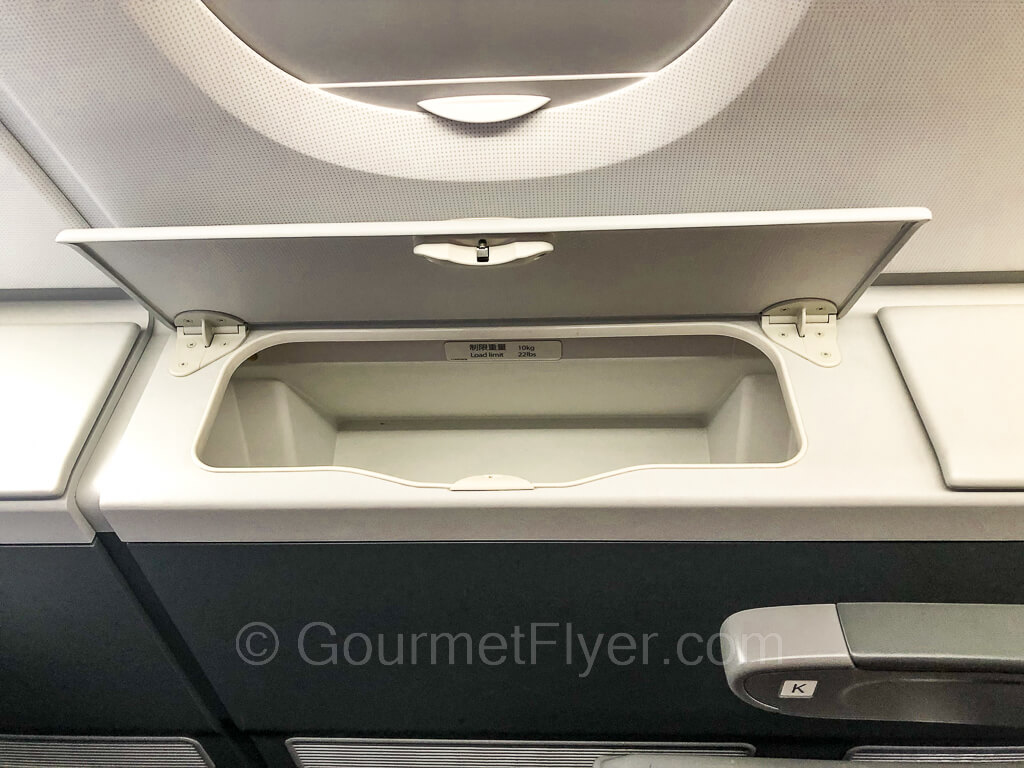 The passengers in the window seats have an added bonus of an extra storage compartment large enough for a purse, a laptop shoulder bag, or briefcase. This is very similar to the upper deck business class window seats on the Boeing 747 of some airlines. The only downside to this extra space is that you may not be used to checking that extra compartment when deplaning and it is very easy to forget and leave your belongings behind there.
Leg Rest and Footrest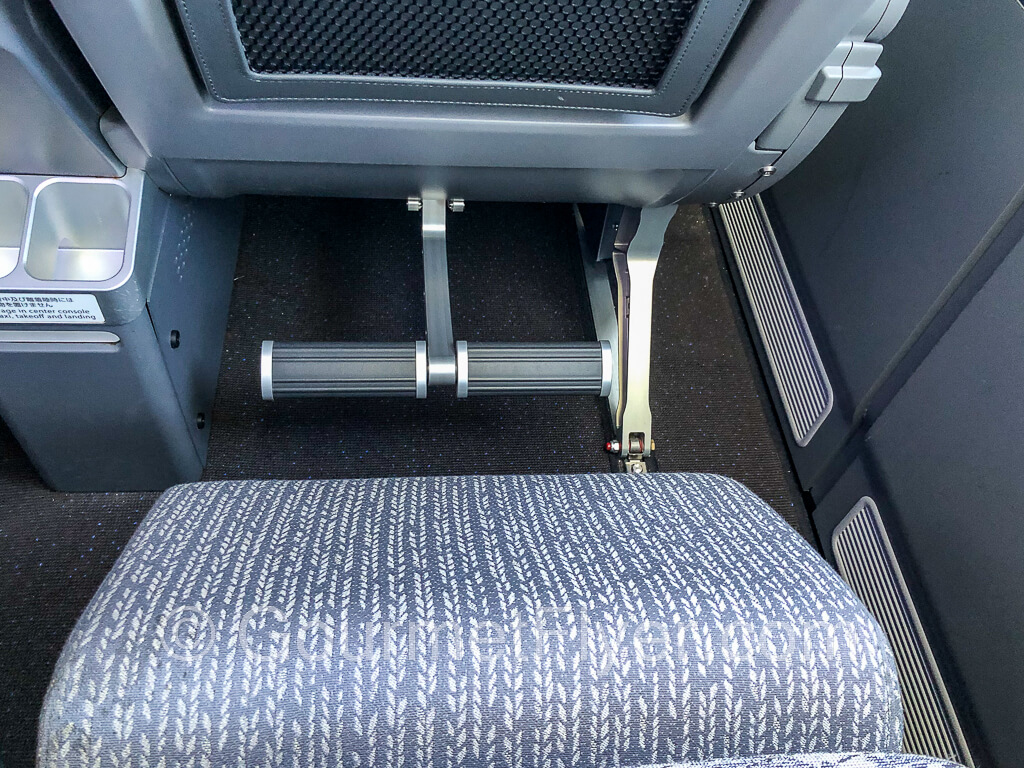 The ANA Premium Economy seats offer both a leg rest and a footrest, which when used in unison and in combination with maximum recline, could provide a rather comfortable and relaxing position. While it is no comparison to a lie flat bed, I still managed to nap comfortably for a few hours. This class of service is a particularly good value on a daytime flight when I can't sleep anyway and don't really need a flat bed.
To release the leg rest, push the middle button on the side panel firmly and hold it until the leg rest is out completely and in the highest position. To use the footrest, push it down with the bottom of your shoes until it's reached a desired position, then tilt it up slightly and press it down again to lock it. To reset its position, tilt it all the way back up.
Entertainment System
The entertainment screen measures 15.6", one of the largest in this class of service in the business. There are adequate movies available and there are plenty of varieties, including some of the latest blockbusters from the US as well as from many Asian countries.
The screen is touchscreen but if you don't want to lean forward a remote control is stowed in the side console between seats. Press the button to release the remote and gently pull it out toward you. To stow it, pull the wire until it is completely extended and then release slowly and let it slide into the bracket.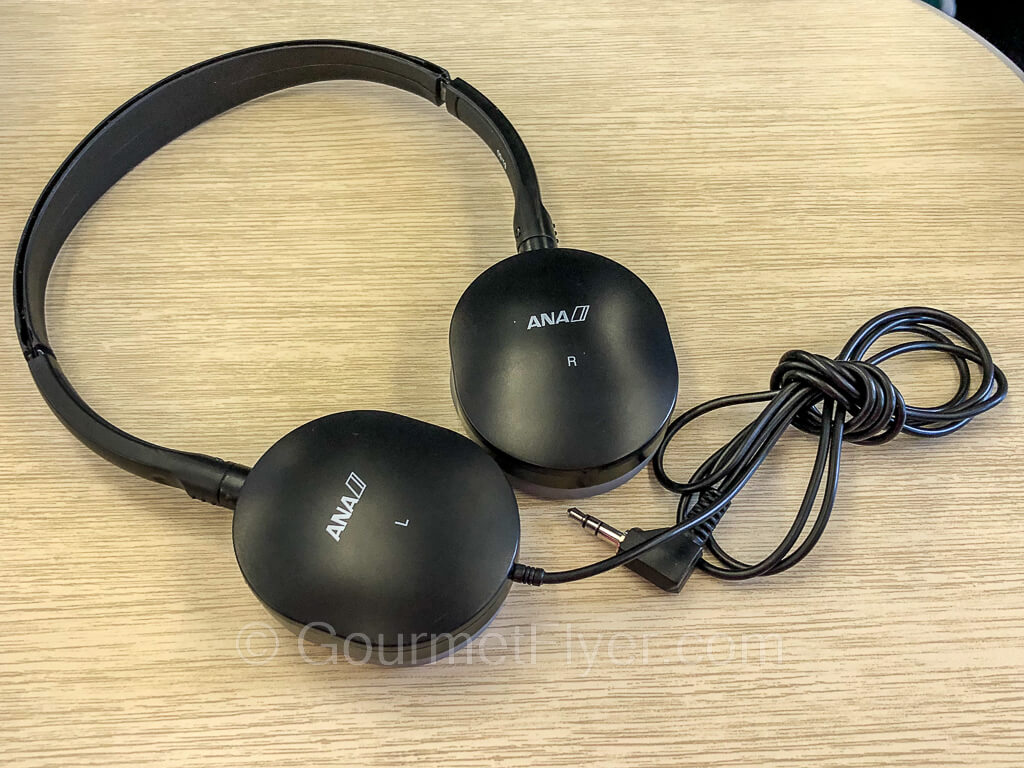 A headset wrapped in a plastic bag was already on my seat when I boarded. This is a good quality headset, much better than the earbuds that I really dislike. The headset was very comfortable, and it did not bother me one bit after using it for several hours. However, it is not the noise-reduction type offered by some other airlines.
Power Outlets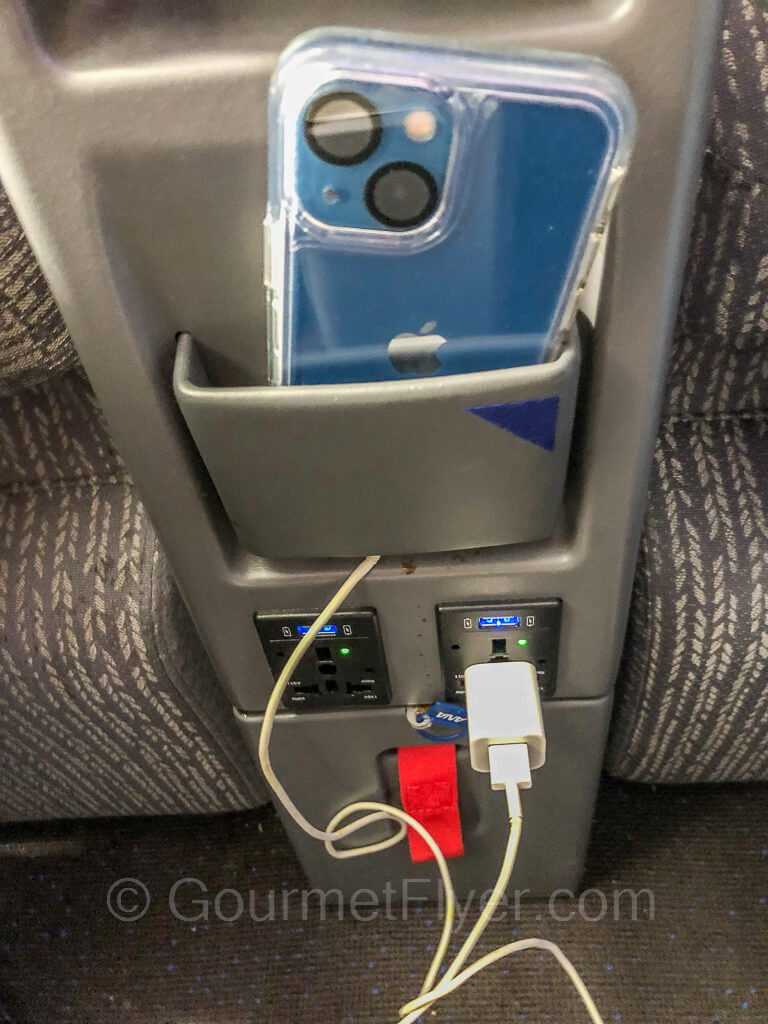 Both universal PC power outlets and USB ports are available at the bottom of the center console between seats. Yes, you do have to reach down to find them, so they are not at the best possible positions. However, the design does come with some thoughtfulness in that there are two phone holders there.
Note that the red tag immediately below the power supply is for the life jackets so be careful not to pull it unless you really need the life jackets.
Swivel Tray Table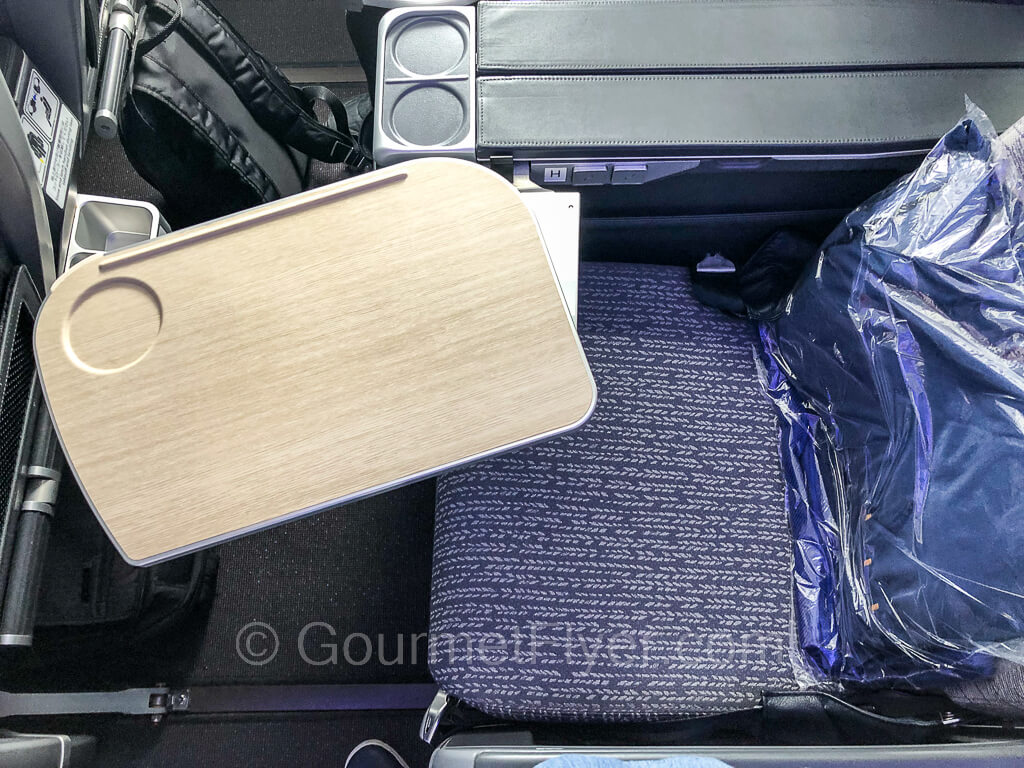 Ever had the experience that you wanted to leave your seat, but you couldn't because there was a full dinner tray on your tray table, and you could not retract the table to get up? Well, the solution is a swivel tray table. You can rotate the table toward the center armrest and that leaves you with enough space to access the aisle.
Now that certainly works for the passenger in the aisle seat, but how about the person in the middle or window and you both have a full dinner tray on your table? This is what you do: The person in the aisle seat have to access the aisle first and return the tray table to the original position. The other passenger will then swivel their own table to stand up, put the table back in the original position, and then squeeze over to reach the aisle.
Adjustable Reading Light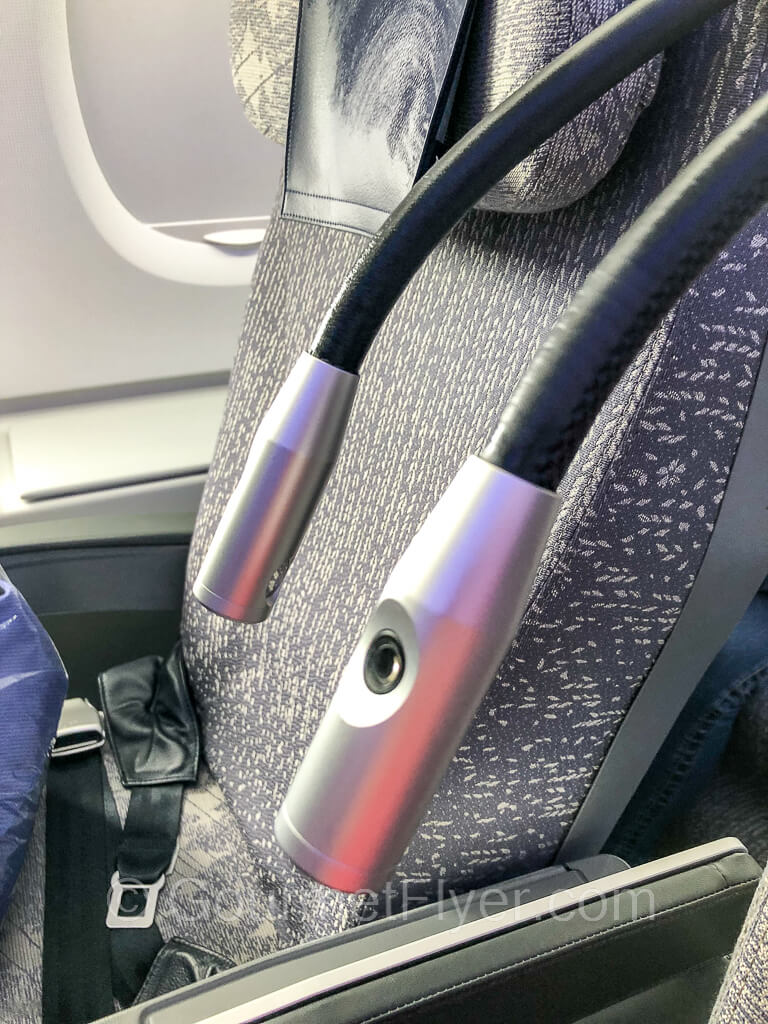 Have you ever found the overhead reading light not in the right angle or position? Especially when you recline your seat? On most aircrafts, these lights are not adjustable. Maybe sometimes the light from a neighbor could be out of position and was so bright that it bothered you? Here is another thoughtful design that you typically only find in business class that could cost a few thousand dollars more.
Your seat comes with a reading light connected by an adjustable bendable wire holder that is flexible in all directions and angles. Your reading light will always be at the perfect position whether you are lying down or sitting in an upright position.
Water Bottle Holders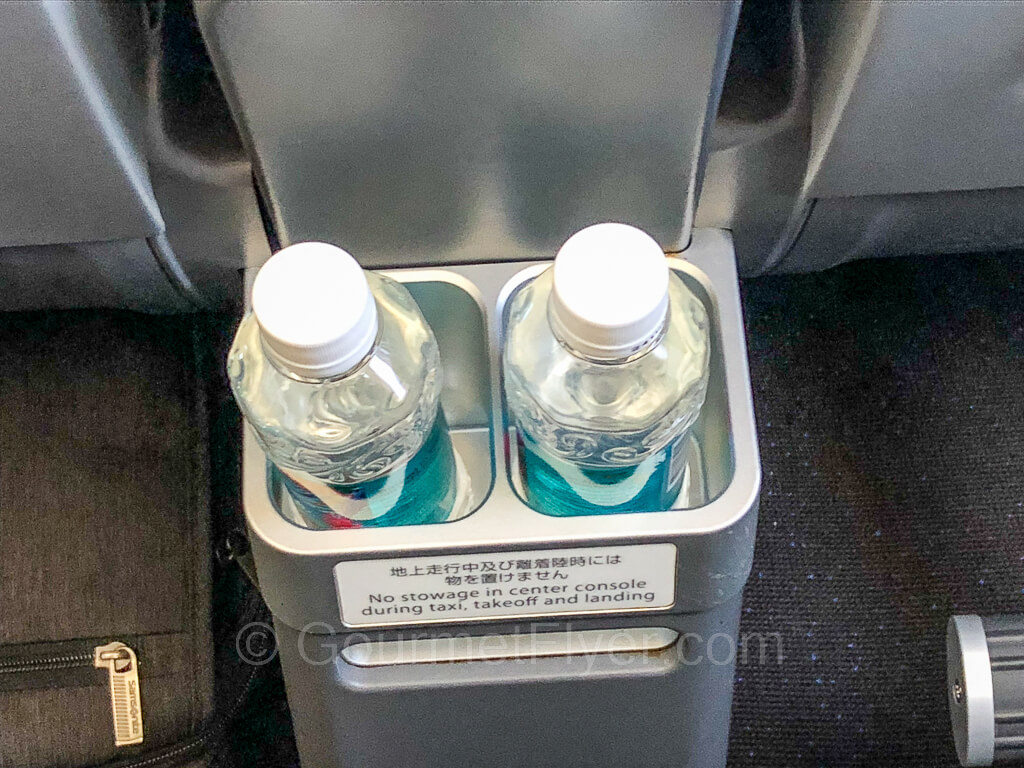 This is a design that is rather subtle but very useful. I can't remember how many times I have awoken from my sleep and searching left and right for my water bottle. You know how hard it is to find a good place to store your water bottle in an airline seat! This is a great design and my only comment on room for improvement is to have the bottled water in the holder by default before boarding (like Lufthansa does) rather than handing them out after dinner service.
Conclusion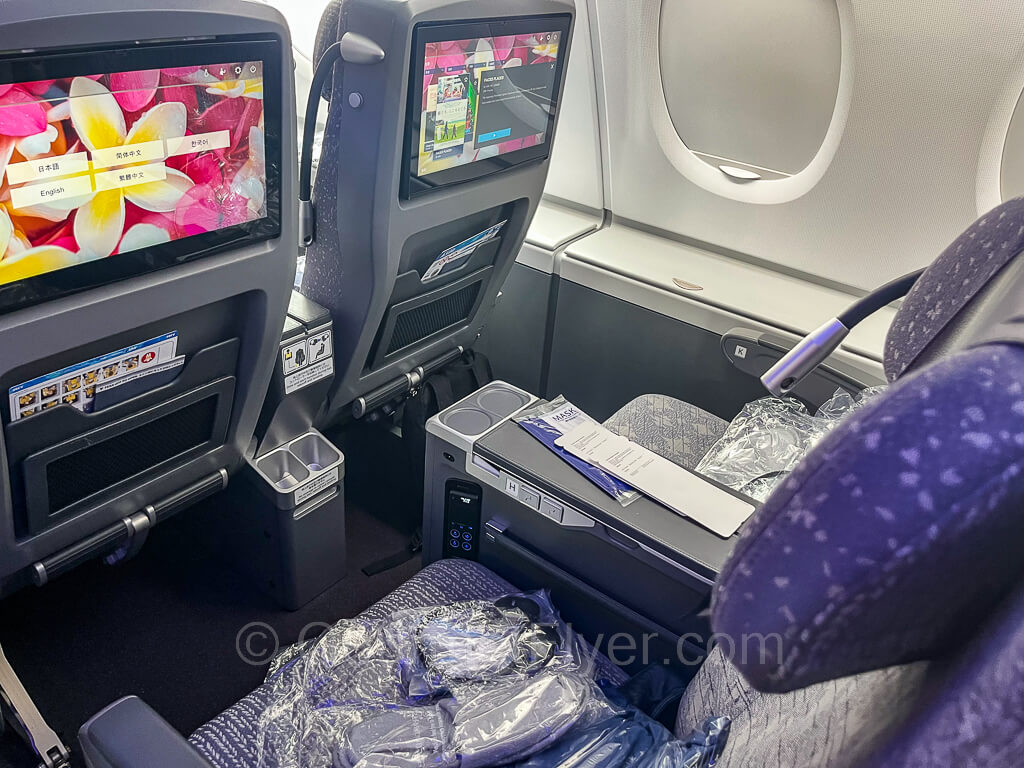 ANA has one of the best, if not the best, premium economy seats in the business. The combination of the footrest and leg rest together works well. There are also many clever designs, from the swivel tray table to the phone bracket and water bottle holder, these are subtle little things that show a lot of thoughtfulness. An adjustable and flexible reading light typically exclusive to the business class cabin is another added bonus.
Oh… did I mention that there is a tablet holder outside the pocket in front of you. There is also a strap in the center console that you can use to hold your headsets when not in use, or other small things like a book or your glasses. And I am almost sure that there is something else that I forgot to write about. In a nutshell, All Nippon Airways' Premium Economy seat on the Airbus double decker is very well designed and offers both comfort and versatility.
For a review on the entire flight's experience, including amenities and meal service, please visit: