April 1, 2023
This review of my recent United domestic First Class flight from Los Angeles to Chicago comes with a twist – it was operated on a Boeing 787-900 with Polaris seats! The lie-flat seat was a much-welcomed amenity on a red eye that departed shortly after midnight.
United is flying more widebody aircrafts in its domestic routes this year, with most of them operating on hub-to-hub and hub-to-Hawaii itineraries. Occasionally, you might also find a re-position flight where the airline has to move a widebody aircraft to a particular airport for an international trip.
While most of UA's domestic flights on widebody aircrafts are operated on the old version of 777-200 with Aerospace Diamond lie-flats, we are seeing more of the 787's with Polaris pod seats flying these routes in 2023.
Table of Contents
Polaris Class Vs Seat
If you read most of the popular travel forums, you'll often see people post that they are flying a domestic route on United's Polaris Class. There is not such a thing! Polaris is United's international Business Class and is offered exclusively on international flights (mostly to/from Asia Pacific and Europe) and it comes with a much higher level of service and amenities.
This particular journey from Los Angeles LAX to Chicago ORD – and numerous other domestic flights operated on a widebody aircraft with Polaris seats – offers just regular United First-Class service. That is, the only extra amenity that you will get is just the seat itself and nothing but the seat.
Pre-Flight
United First offers passengers several perks such as Premier Access, UA's check-in areas reserved exclusively for its MileagePlus Elite members and passengers in premium cabins. You get to check two standard size bags free of charge and also receive priority baggage handling upon arrival at your destination. Another much welcomed benefit is access to express security lanes which can save you plenty of time, especially during peak travel seasons. (TIP: If you have TSA Pre-Check, my advice is to go with Pre-Check as it is usually quicker and easier.)
United First passengers board in Group One, after those with special needs and UA's two highest tiers of frequent fliers – Global Services and 1K – and alongside UA's Platinum and Gold elites.
Pre-Departure
Sadly, UA's only consistency in its pre-departure beverage (PDB) service in their first-class cabins is its inconsistency. There were no pre-departure beverages of any kind (not even water) even though there was plenty of time between boarding and pushback.
The Seat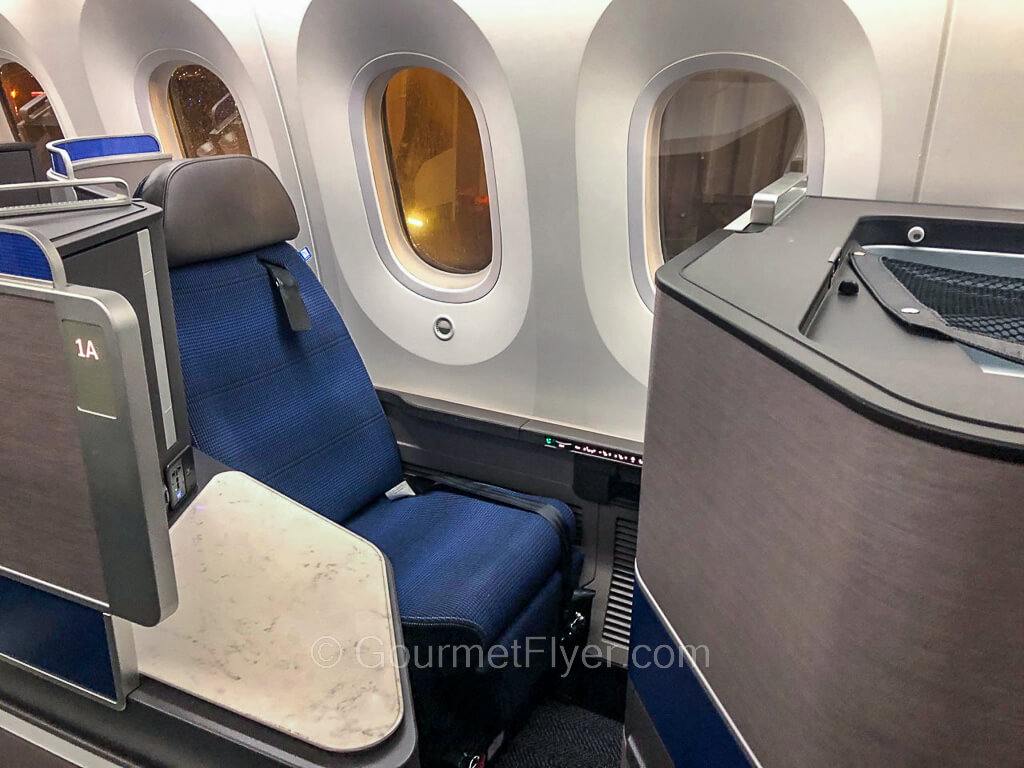 The seats are certainly the highlights of the cabin, and they are in an 1-2-1 configuration, where every seat is an aisle seat. The best seats for solo flyers are the true window seats in the odd-numbered rows. These pods offer two windows for the best views and the seat itself is farther away from the aisle and offers more privacy. Couples will love the odd-numbered middle section where the two seats are closely connected to each other after lowering the privacy partition in the middle.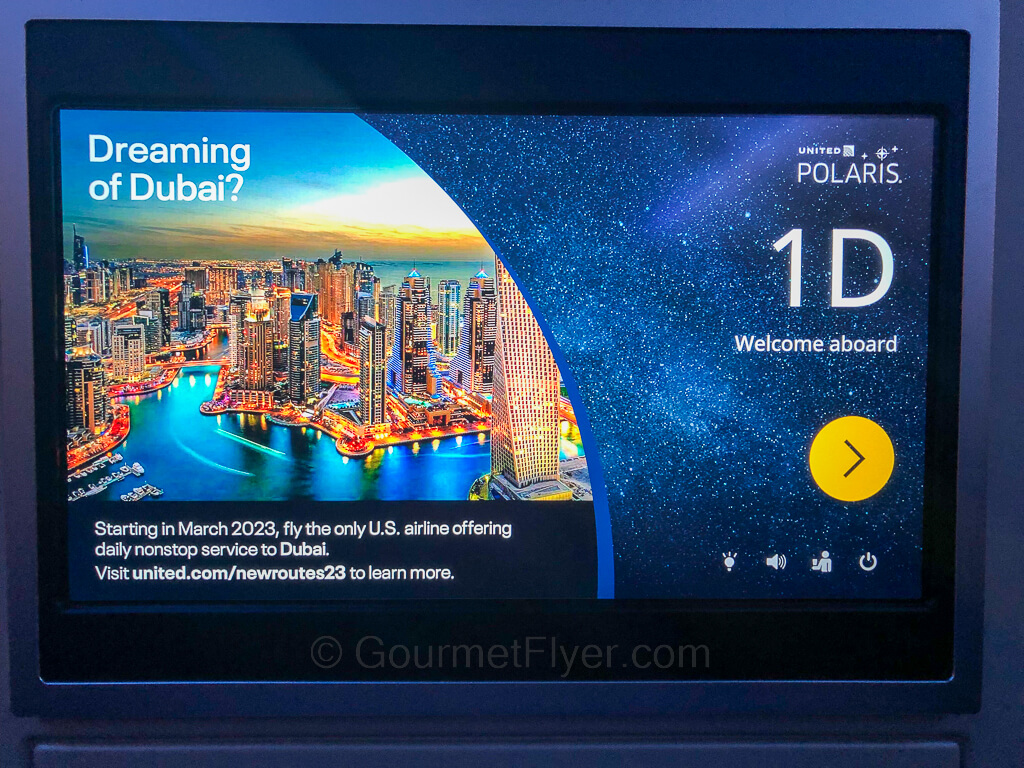 You'll enjoy a much bigger seatback entertainment screen – 16' versus 9" in economy – as well as upgraded noise reduction headphones. There is also plenty of space. Next to your seat is a large table with both AC power and USB outlets and is a great place to charge your laptop. Above the table is a small cubby for personal storage.
The top feature of the pod seat is certainly the fact that it turns into a flat bed at the push of a button. However, on a flight that spent only about 3 hours up in the air, there really wasn't much sleeping time. After dinner, I had maybe an hour and a half for a short nap.
Since this was regular domestic First, there were NO Saks Fifth Avenue bedding or blankets, and there were NO pillows. All we got was one of those thin and flimsy blue blankets typically given in international economy cabins. So, the short nap was not even comfortable at all.
For a comprehensive review of the seat itself, please visit:
Ultimate Review of the United Polaris Pod Seat
Beverage and Dinner Service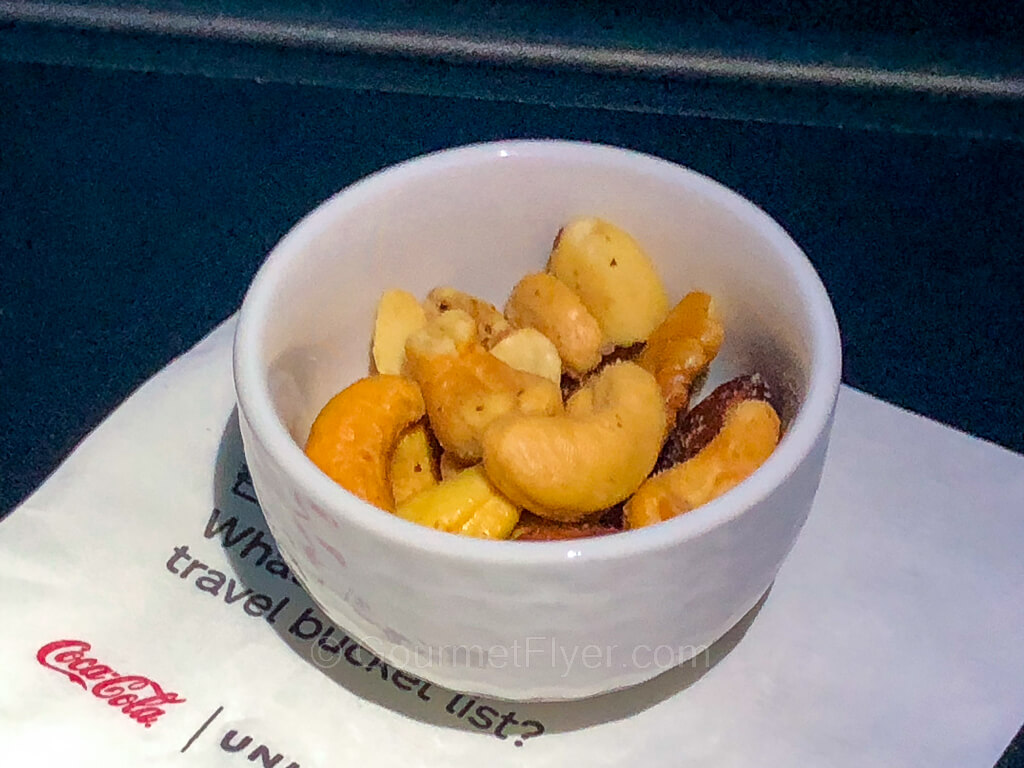 Beverage and dinner service was somewhat inefficient, and I suspected that it was mostly due to the FA's being not familiar with the cabin configuration. From what I could tell, this was a team of FA's that was a bit overwhelmed by the oversized widebody aircraft.
Drinks and dinner orders were not taken while we were on the ground, but after takeoff and almost at cruising altitude. Warm nuts were served after takeoff but without drinks. Our drinks eventually arrived with the dinner tray. On a higher note, though, I ordered another beer after dinner, and it was promptly delivered.
The menu choices for dinner were:
Thai beef meatballs with cilantro lime rice and sauteed vegetables.
Cheese enchiladas with Spanish rice and street corn.
Thai sweet chili glass noodle salad with beef.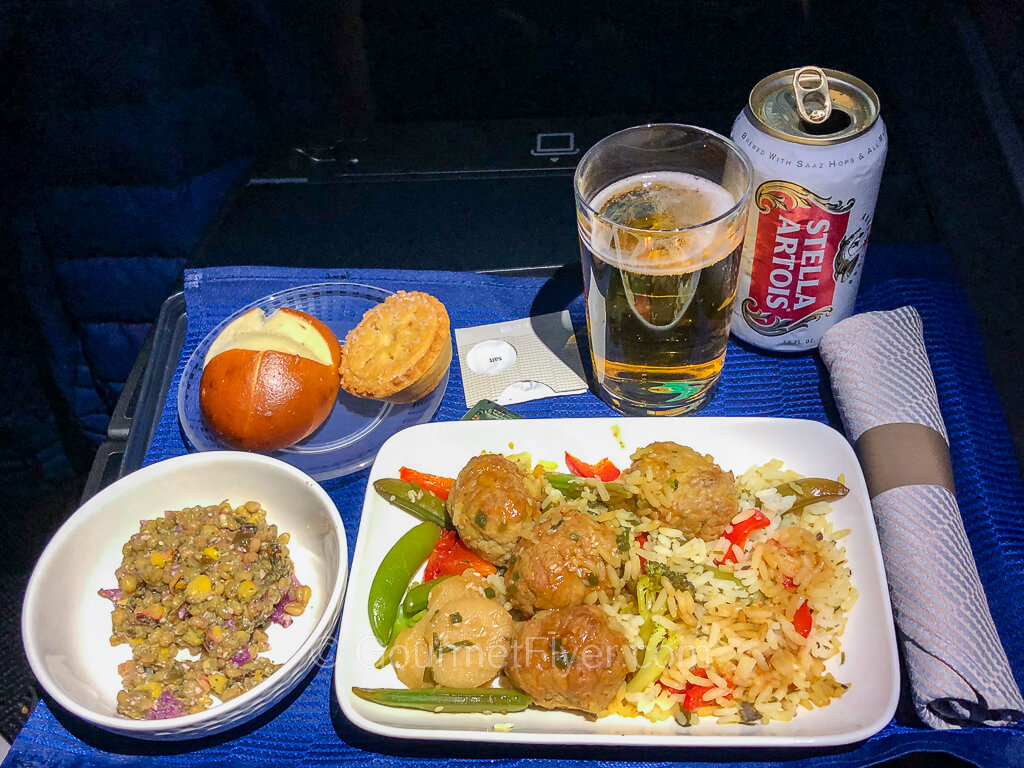 I had the Thai meatballs, and they were delicious. The texture was good, somewhat firm and bouncy but soft enough that you can cut through with a fork. They were moist, flavorful, and slightly spicy.
The side dish was wheat berry salad that tasted better than it looked. Although it didn't look too appetizing, it was certainly a healthy dish! Dessert was an unwrapped and warmed "pie in the sky" served on a plate. This was a new variation of UA's famed dessert that it had caramel fillings in it. It was great!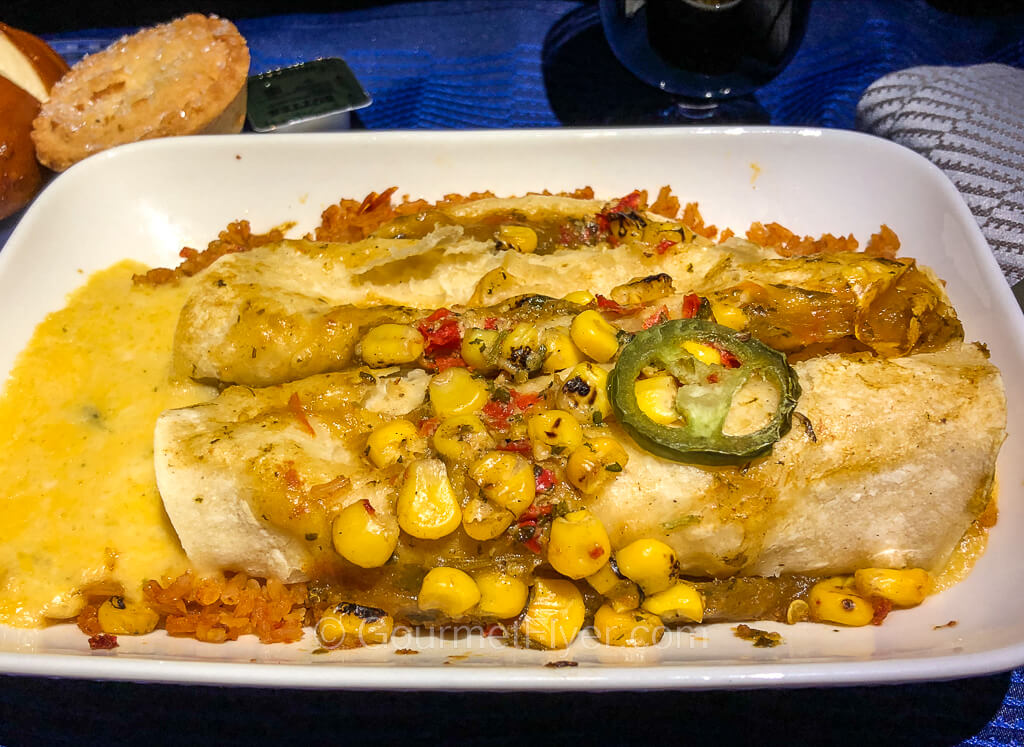 My wife ordered the cheese enchiladas which were served on a bed of Spanish rice and topped with a sprinkle of fresh corn. She said they were good. I tasted a small bite from her plate, and I agreed.
Conclusion
Food was good. I was actually impressed that we were served a full dinner instead of a snack on a red eye departing shortly after midnight. My wife and I both enjoyed our meals. Service was professional, courteous, and adequate, but nothing outstanding. The pre-departure beverage service remained one of the airlines' consistent inconsistencies.
While I was initially quite excited by the opportunity to doze off in a Polaris flatbed on a United First red eye, the reality was that the journey from Los Angeles to Chicago was just too short to truly enjoy and appreciate the lie flat. Moreover, the lack of proper bedding and pillow made my nap quite uncomfortable. Overall, the addition of a Polaris seat did not add much value or comfort to such a short flight other than more personal space and a comfy recliner to watch a movie on a bigger screen.