Your trip to Paris is certainly incomplete without a cruise tour along the River Seine. Not only will you be able to see the majestic architectures and iconic monuments of Paris from a perspective that you cannot observe on land, but you'll also get a good orientation of the major points of interest in the city. This is a review of the various cruise tours along the River Seine in Paris, based on my personal experience from my three separate visits to the City of Lights.
Table of Contents
Bateaux Parisian Seine River Sightseeing Cruise
Seine River Hop-On Hop-Off Sightseeing Cruise
Bateaux Parisian Seine River Sightseeing Cruise
This was the first cruise that I took on my first trip to Paris. In fact, this is probably one of the most popular cruises for first-time visitors, especially if you don't have a lot of time. The starting and ending point is conveniently located near the Eiffel Tower so it is easy to fit this tour into your itinerary.
In about an hour's time, you'll pass through many major attractions like Notre Dame Cathedral and the Louvre. You will also gain an invaluable orientation of the major points of interest and their positions relative to the river.
While a tour during the day will give you a clear picture of the landscapes of Paris, a cruise from sunset into the night will give you the most enchanting view of the City of Lights.
Seine River Hop-On Hop-Off Sightseeing Cruise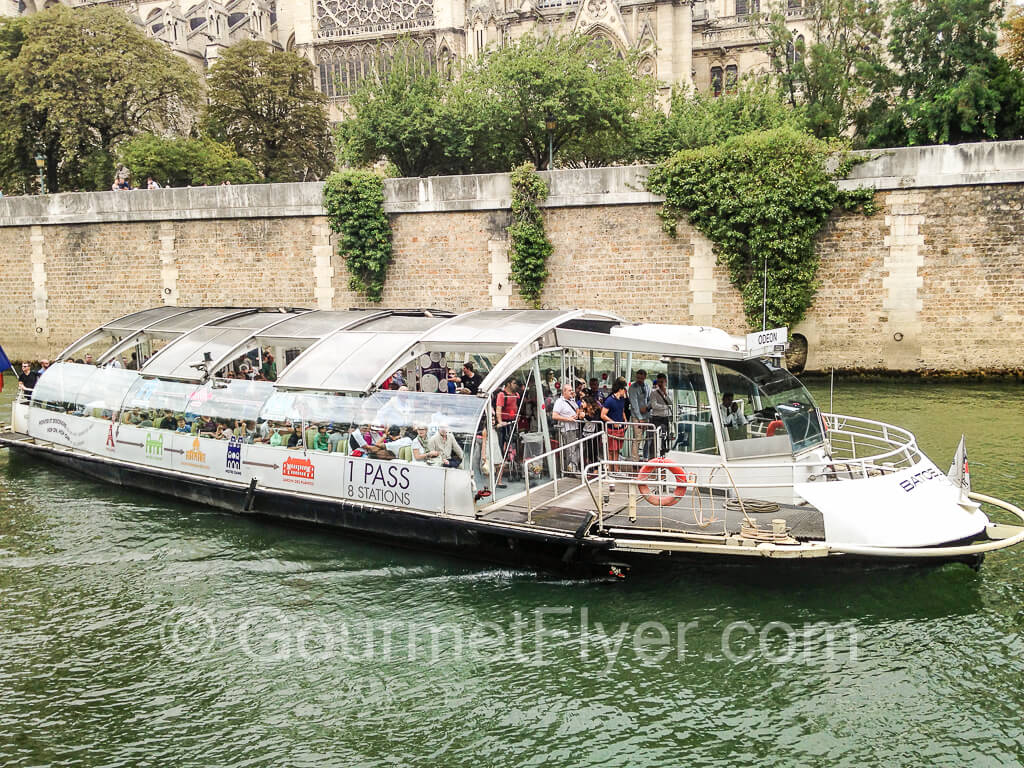 After I've become a more seasoned traveler and gotten to know Paris better, I now prefer the hop-on hop-off boats over the sightseeing tour mentioned above. These boats are like a large water taxi, and you can hop on or off at any of its 8 stops. If you decide to not leave the boat, the entire round trip is about two hours long.
The biggest advantage for me is that it kills two birds with one stone. You get to take a river cruise and visit many of the city's major attractions at the same time. And more importantly, bypassing the notorious Paris traffic and its crowded and confusing subway systems. The 8 stops are:
Jardin des Plantes (Museum of Natural History, The Pantheon)
Hotel de Ville (Hip and trendy district)
Musée du Louvre
Concord (Grand Palais, Avenue des Champs Elysées, Jardin de Tuileries)
Tour Eiffel
Musée d'Orsay
Saint Germain des Prés (Latin Quarter)
Notre Dame
All The Other Cruises
Paris has all the cruises that you can dream of. If you can think of a name, there's probably a cruise associated with it – whether it's lunch, buffet, champagne, happy hour, afternoon tea, sunset, sunrise, … you name it. But from my perspective, if you have taken either one of the above tours, none of the other cruises are worth it.
If you ready to splurge a little and to go for the ultimate cruise, go with the dinner cruise and forget about all the other ones with fancy names.
Dinner Cruise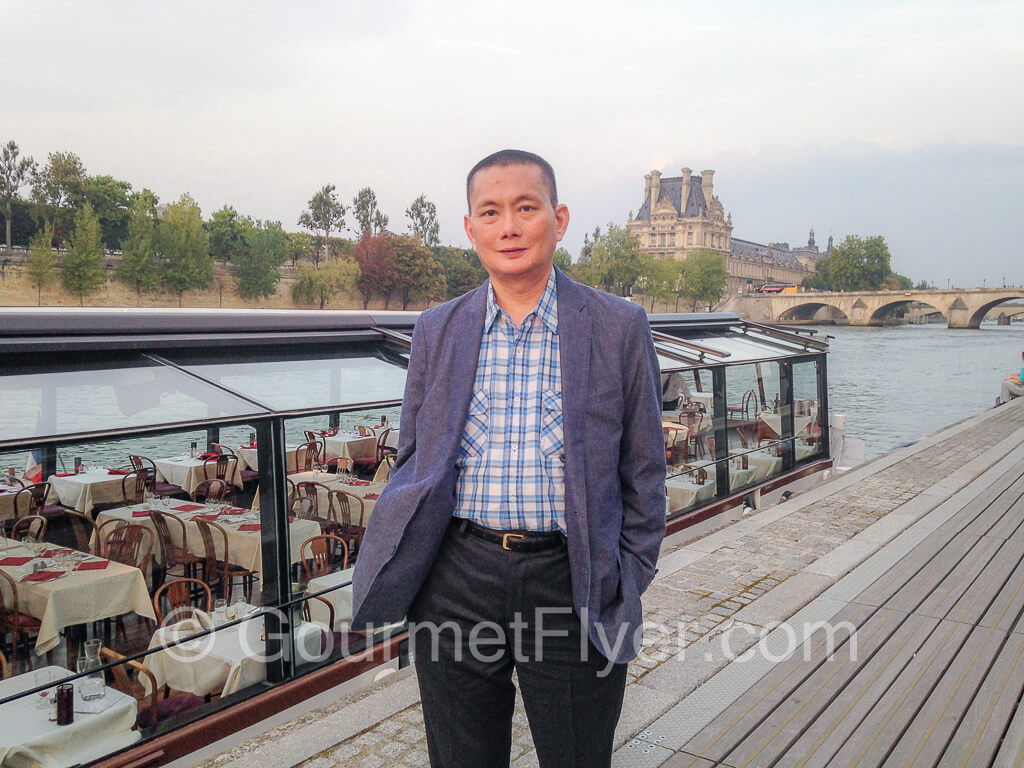 There are two major dinner cruise operators in the city. Bateaux Parisian is the more glamourous and larger boat with live music, a lively atmosphere, and a much larger and probably nosier crowd.
I opted to treat my wife to the La Marina de Paris Gourmet Dinner Cruise. The pier for La Marina is just steps away from the Musée d'Orsay so visiting the museum just prior to the cruise will make for a perfect itinerary.
The La Marina cruise was on a smaller boat with a more intimate atmosphere, which we liked. The décor was not overly glamourous but had a taste of casual elegance which we preferred. The large glass windows all around including the ceiling provided a panoramic view.
Both the food and their presentations were outstanding. Each dish was almost like a piece of art. The first course came with four outstanding appetizers: Scallop in fresh tomatoes, butterfly shrimp, chou pastry with goat cheese, and duck foie gras.
For the main dish, my wife had a grilled fish and I opted to have the chicken leg confit. Both dishes were delicious. I really liked my chicken as the meat was tender, juicy, and flavorful. My wife gave me a bite of her fish and I liked its texture and its taste. Both plates were served with fresh vegetables and a side of buttery and creamy mashed sweet potatoes.
Just when I was telling my wife that nothing was going to top the presentation of the appetizers, our server brought us a stunning dessert plate. This masterpiece of culinary arts consisted of strawberry tartare, lemon shortbread, chocolate mousse, and light toffee cream.
It was an outstanding dinner that we enjoyed immensely. The entire wait staff was friendly, energetic, and enthusiastic. Restrooms were clean and well maintained. We also liked the two-hour length of the cruise which gave us enough time to enjoy a leisurely dinner and to soak in the iconic scenery of Paris.
We found the cruise intimate and romantic, and the small crowd was not overly lively. Cruising along La Seine in Paris at night is truly an enchanting experience. This dinner cruise was certainly magical, and it would remain in our books as one of the most memorable ever.