December 28, 2022
This is an in-depth review of my recent flight experience on All Nippon Airways (ANA) Premium Economy service from Honolulu (HNL) to Tokyo Narita Airport (NRT) on an Airbus A380 aircraft. ANA's Honolulu route, AKA Flying HONU, is serviced exclusively by their A380 double decker with Premium Economy occupying the rear of the upper deck, behind First and Business Class. This review will walk you through my entire journey, from the pre-flight experience in the ANA Lounge all the way to the pre-arrival service shortly before touchdown.
Table of Contents
Pre-Flight
ANA Premium Economy passengers enjoy quite a few perks, including a dedicated check-in counter at the airport, priority baggage handling, and lounge access. However, you do not have access to priority security lines unless you have elite status with the airline or are a Star Alliance Gold member. Since I had TSA Pre-Check, I chose that route as it was even better than the Gold Track that I qualified for.
While it was good to know that my bag would be among the first ones to arrive at the carousel, on this particular trip, the immigration line at Narita Airport was so long that by the time I reached the baggage claim area, all the bags have already arrived. The perk, however, was that all bags with the priority tags were taken off the carousel and placed neatly in a separate area, so it was a lot easier to find my luggage.
ANA Lounge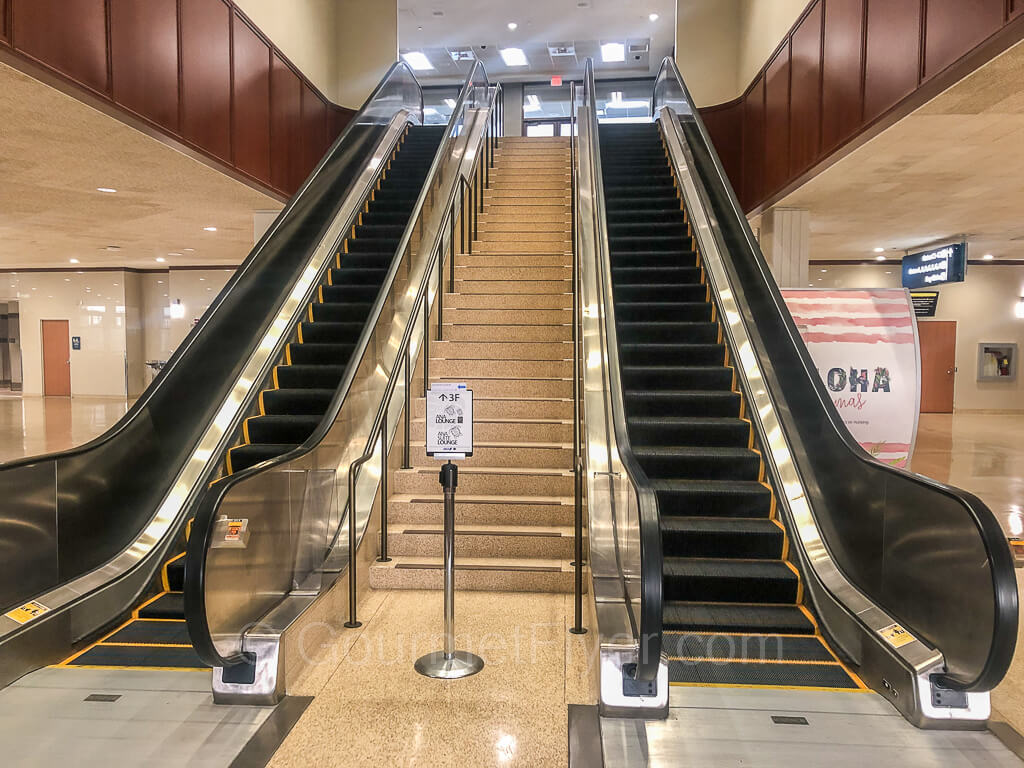 The ANA Lounge at Honolulu International Airport is located above gate C4, which is a double-deck gate used exclusively by the airline's A380 aircrafts. To access the lounge, you'll go up a long escalator at the gate. First class passengers have access to the Suite Lounge while Business Class, Premium Economy, and Star Alliance Gold passengers enjoy their stay at the ANA Lounge.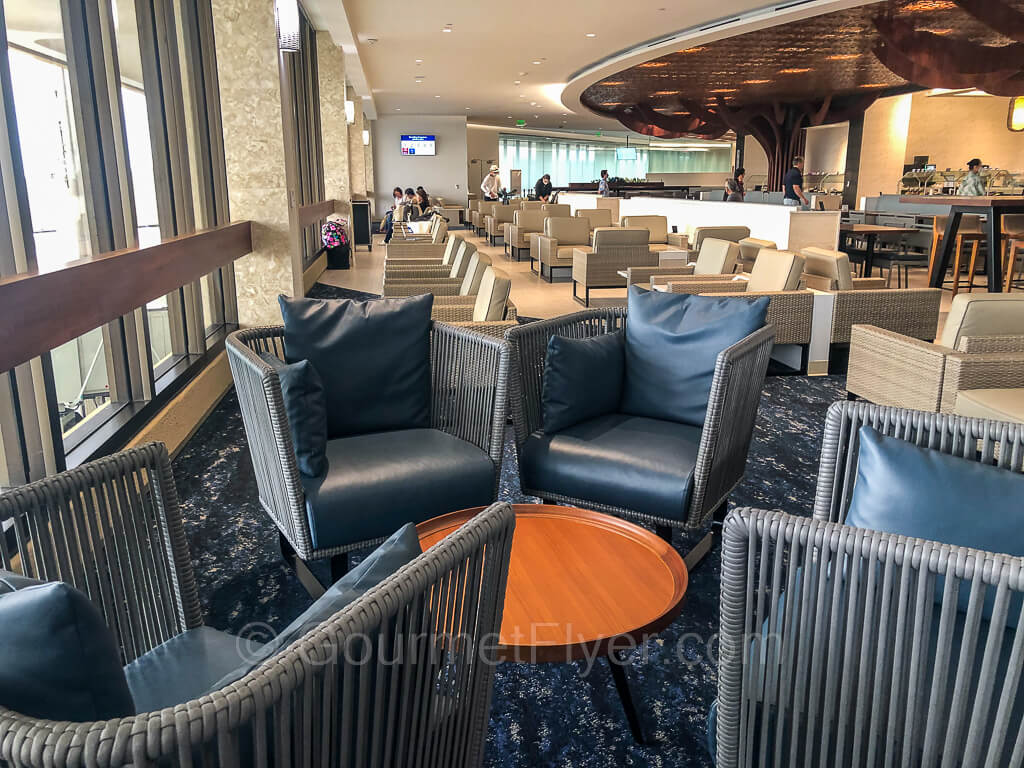 The club is very spacious and there is a combination of different types of seats – from lounge chair to dining tables to workstations. The buffet spread offered a good variety of fruits and salads, finger sandwiches, and hot foods. The hot entrees that day were Japanese meatballs and curry chicken served with steamed rice. Soup of the day was tomato bisque.
Drinks were self-served, including alcoholic beverages. For soft drinks, there were juices, sodas, tea and coffee, etc. For adult beverages, there were two beers on tap plus a dozen or so bottles of liquors and mixers on a counter. Wines and sake were also available.
The lounge was kept immaculately clean by a team of attendants who also replenished the buffet efficiently. The entire staff was professional, helpful, and very polite, reflecting the best of Japanese hospitality.
For a comprehensive review of the ANA Lounge at HNL, please visit:
Review: ANA Lounge Honolulu International Airport HNL
Boarding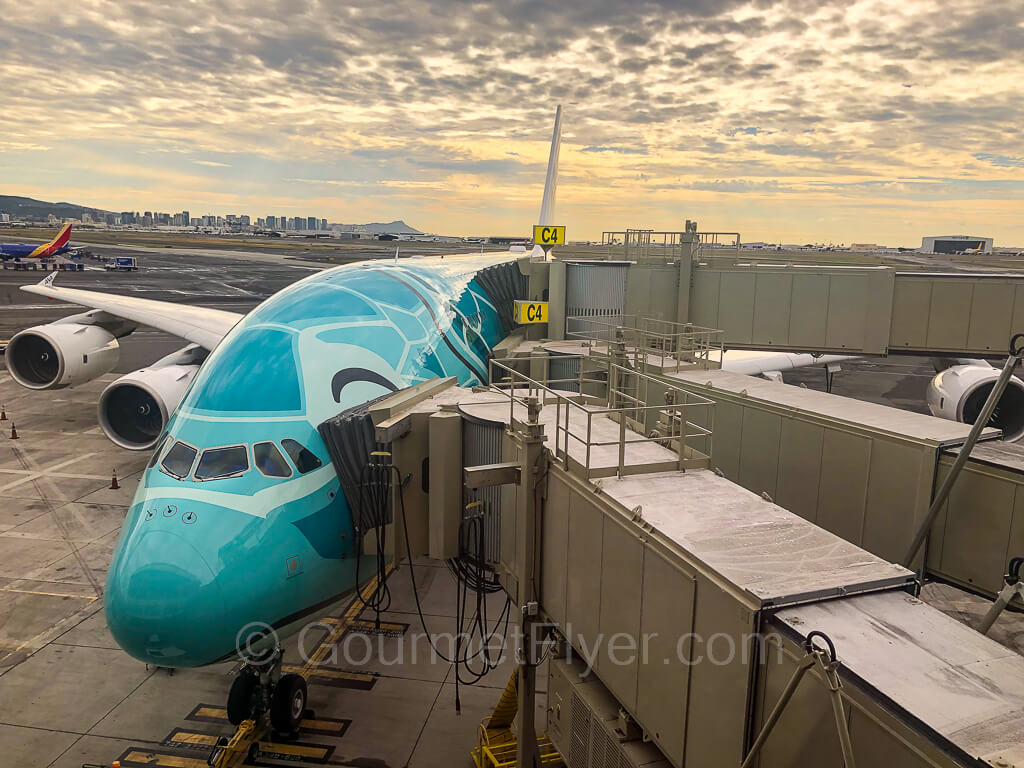 Since First Class, Business Class, and Premium Economy cabins are located on the upper deck of the Airbus A380, passengers board directly from the lounge – this design is ingenious!
There are three jet bridges, two connect the terminal gate area to the lower deck of the plane, while the third jet bridge connects the lounge and Suite Lounge to the upper deck. First Class passengers and Diamond Service members (Mileage Club's top tier) are group one, and they board from the Suite Lounge. Since I am a Star Alliance Gold member, I board in group two along with Business Class passengers and other ANA elites. Premium Economy passengers usually board with regular economy passengers, but in this particular setup, they board exclusively from the lounge.
Note: Star Alliance Gold members flying in regular economy class have access to the lounge but need to go downstairs to the gate for boarding.
The Seat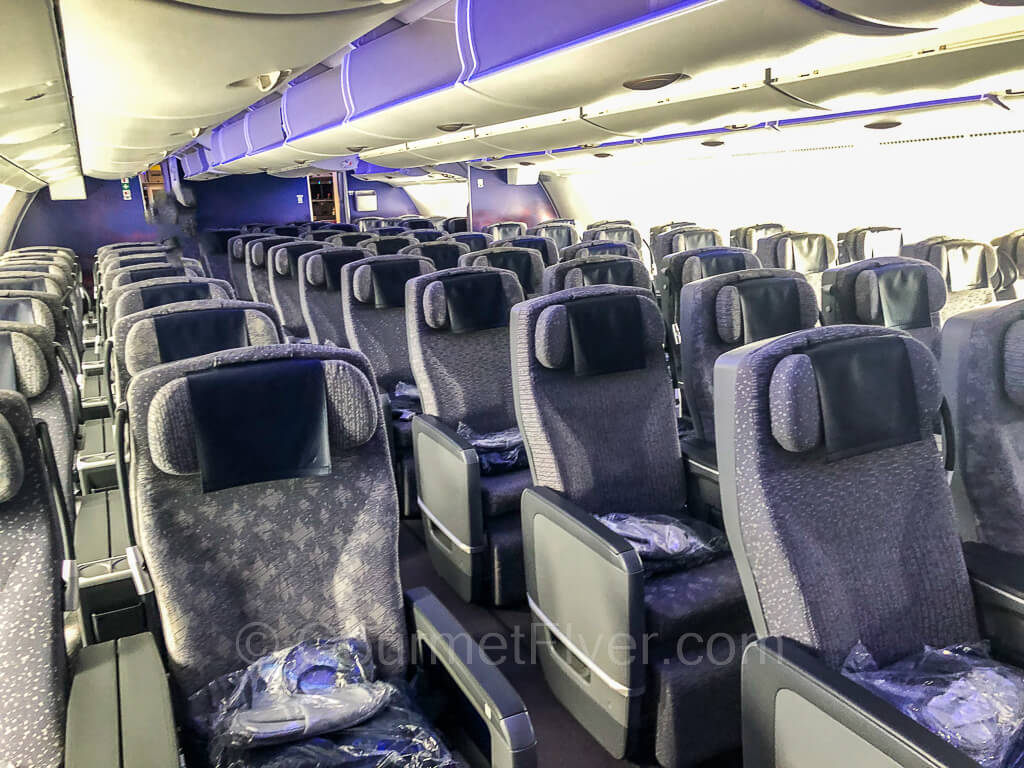 Occupying the rear portion of the upper deck, ANA's Premium Economy has its own completely separate cabin on the A380. The configuration is 2-3-2 and there are a total of 73 seats. The seats, measuring 19" wide and with a seat pitch of 38", are comfortable and roomy. The double armrests between seats mean that you won't be rubbing elbows or shoulders with a stranger seatmate. Couples will love the two-seaters by the window side for the extra coziness and private space.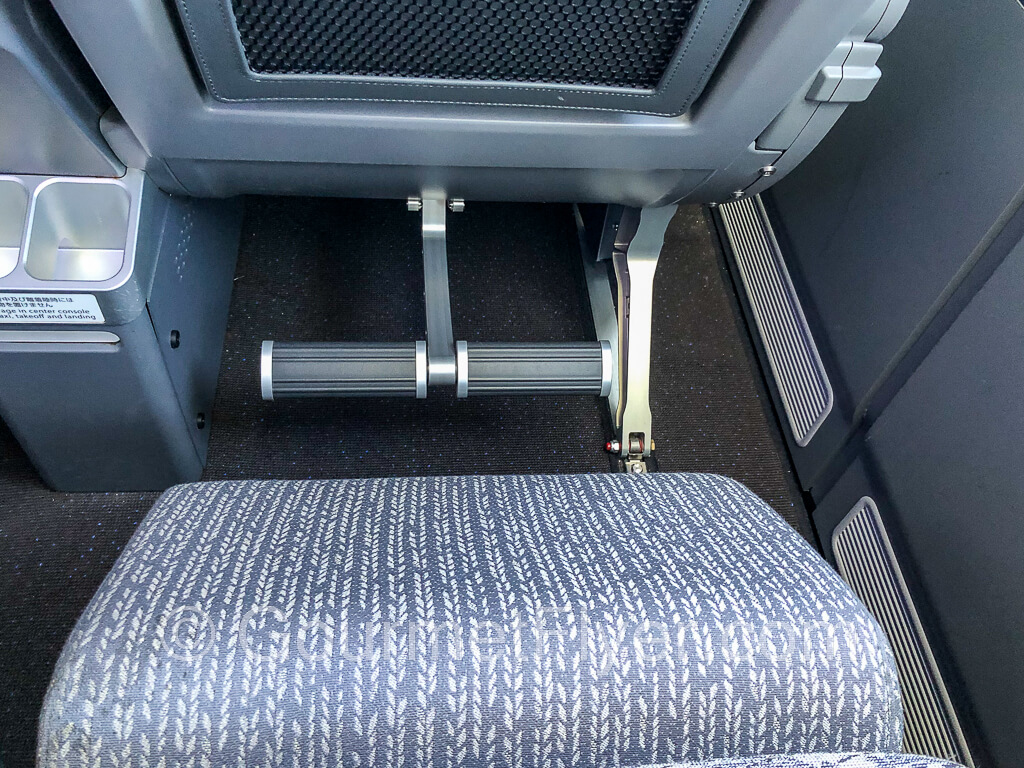 Each seat is equipped with a leg rest and a footrest (bulkhead seats have no footrests) and when used together with the seat recline, they could provide a rather comfortable resting position. Although it is no comparison to a lie flat, I usually manage to nap quite easily a few hours at a time.
Other perks include a large 15.6" seatback entertainment monitor, a swivel tray table, an adjustable reading light, and water bottle holders.
For a complete review of the seat itself, please visit:
Comprehensive Review of the ANA Premium Economy Seat A380
Amenities
When I arrived at my seat, a pillow, blanket, headsets, a pair of slippers, and what looked like an amenities kit were already placed on my seat. Moments after boarding was completed, a flight attendant walked down the aisle with a basket of amenities for the passengers to select. I took a couple of handwipes and a dental kit. Ear plugs, eye masks and some other amenities were also available, but I was somewhat surprised that these items were not included in the kit by default.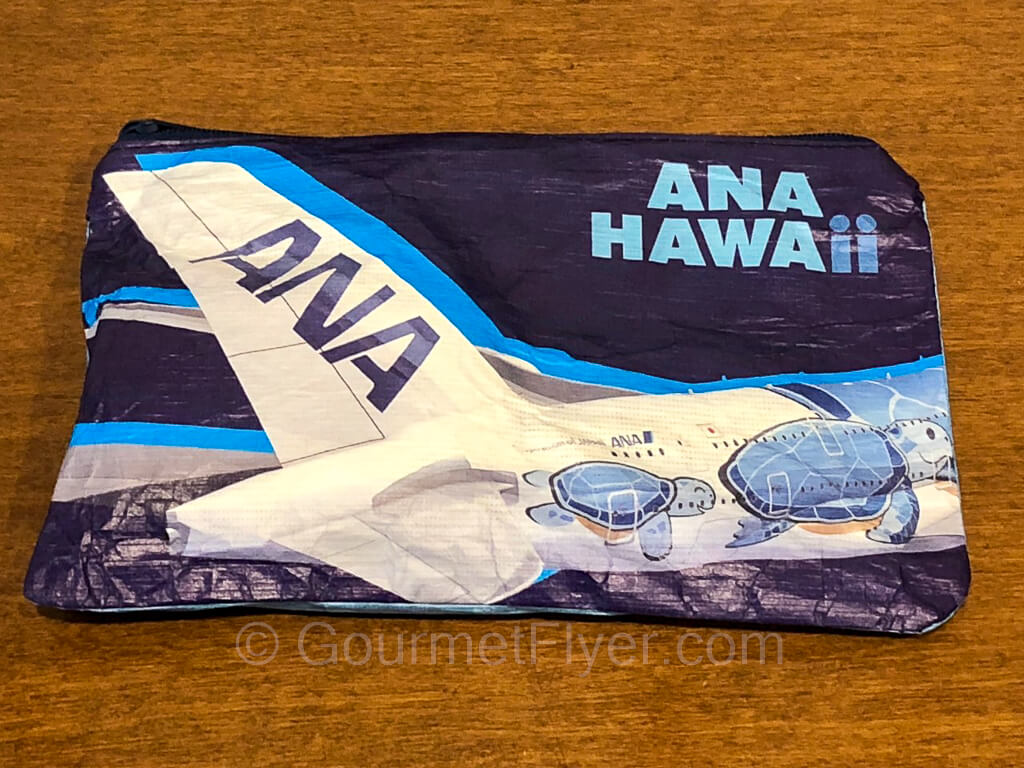 What looked like an amenities kit was a pouch that contained only a pack of Kleenex tissues and a folded bag. The bag, with the Flying HONU design exclusive to this route, unfolded into a nice reusable shopping and beach bag that came in handy.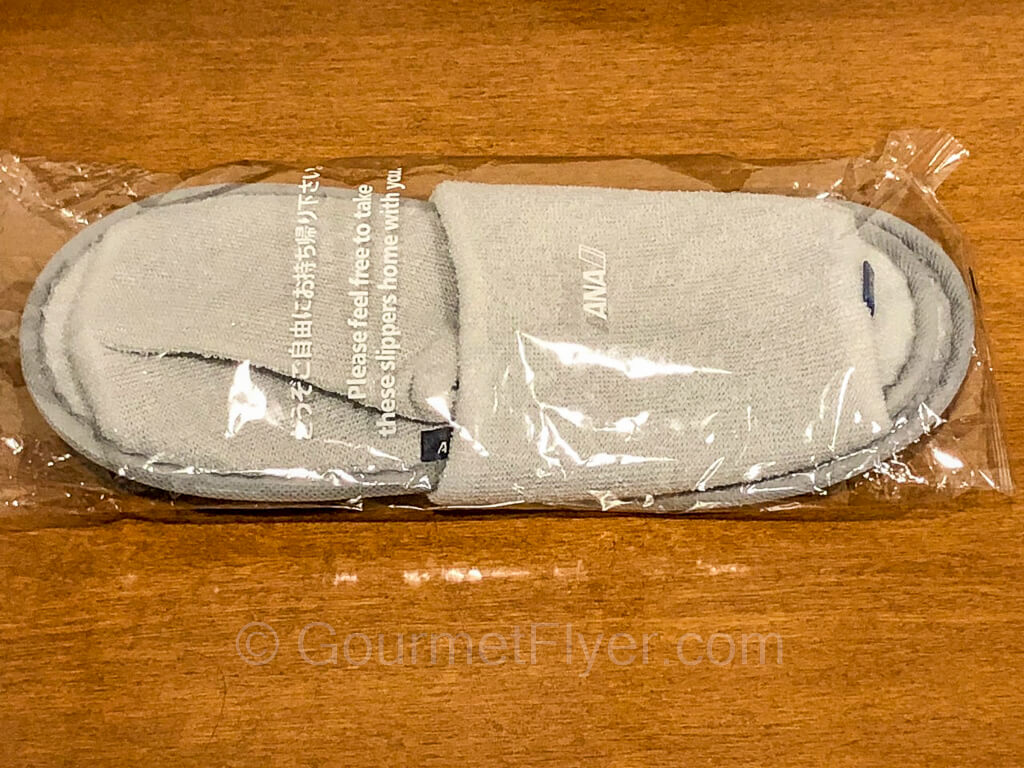 The pair of slippers were made of good quality materials. They were very much like those that you'll find in a 4-star hotel in Japan, sturdy yet comfortable, and you could easily wear them for a week or longer.
Beverage Service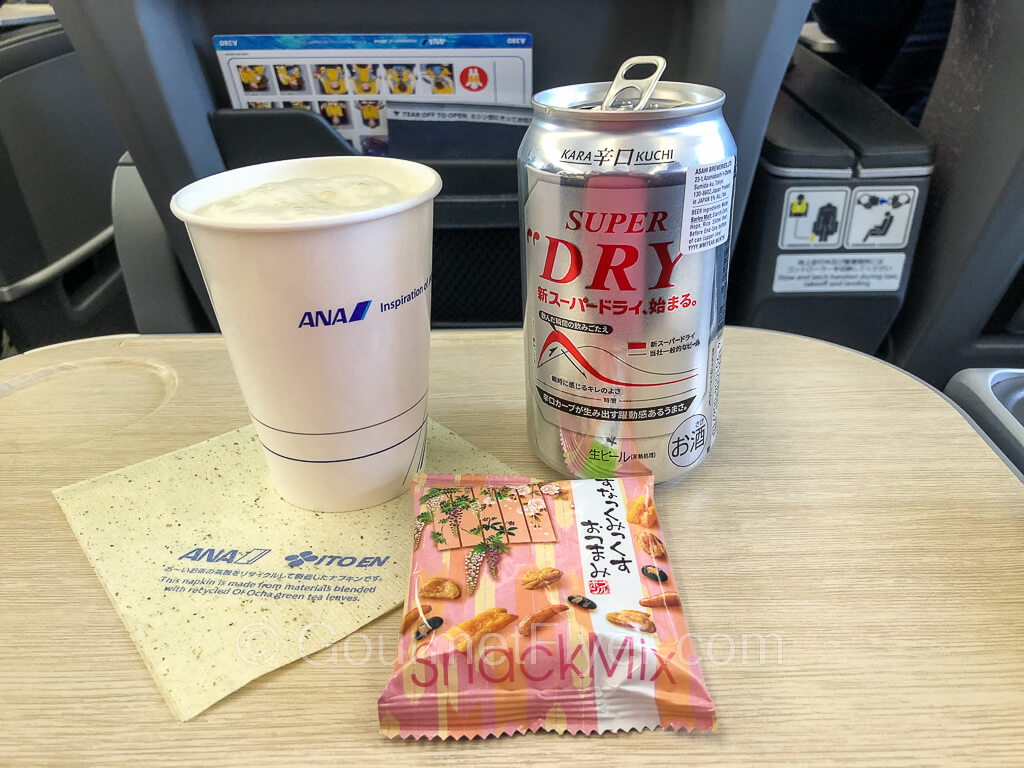 The beverage cart service offered a good variety of juices and soft drinks but very limited alcoholic beverage options – even in Premium Economy. For alcoholic beverages, a good selection of beers was available, including my favorite Asahi Extra Dry. There were also red wine, white wine, champagne, and sake. But no liquors or cocktails at all! Drinks were served in paper cups and not in glassware. This is perhaps the weakest component of ANA's Premium Economy service.
Dinner Service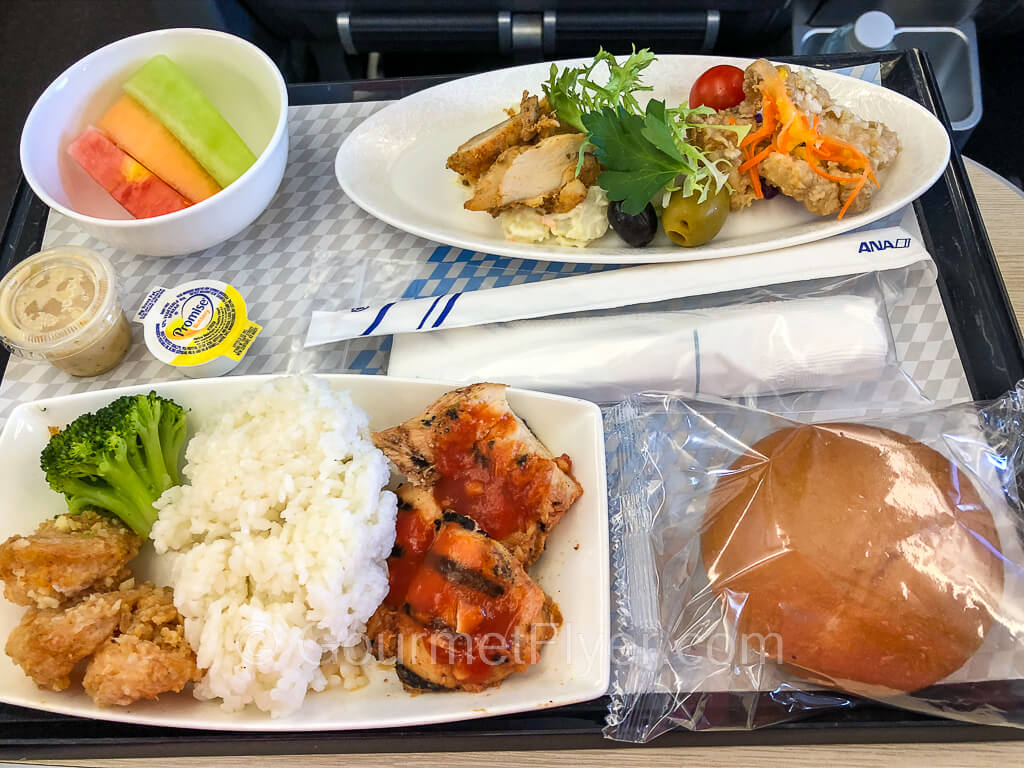 ANA typically offers both a Japanese and a Western dish for dinner. The Western option, which I selected, was Grilled Hawaiian chicken and garlic shrimp served with steamed white rice. The plate consisted of two large pieces of grilled chicken thigh meat and three pieces of fried shrimps. The sauce was a typical Hawaiian teriyaki sauce with a touch of pineapple flavor and was sweet and tangy.
Most Asians and Hawaiians usually prefer chicken thigh to white meat, so although I was hoping to get a chicken breast filet, the meat was appropriate for this route. The thigh meat was actually good – tender, moist, and flavorful. I also liked the garlic shrimps which tasted fresh and went well with my beer. For airline food, this is really quite good.
The cold appetizer on the top of the picture was Cajun chicken and marinated Mahi-mahi served with a rather tiny salad with pineapple sesame dressing on the side. The dinner tray also had a dinner roll with butter and a small bowl of sliced melons. A cup of hot chicken soup was offered to those who want it and was served separately. Dessert, also served separately, was Haagen-Dazs ice cream.
The Japanese option was a fish dish — grilled gold stripped amberjack teriyaki served with Japanese rice rolls. It was offered with the same appetizer and side dishes as the Western entree.
Mid-Flight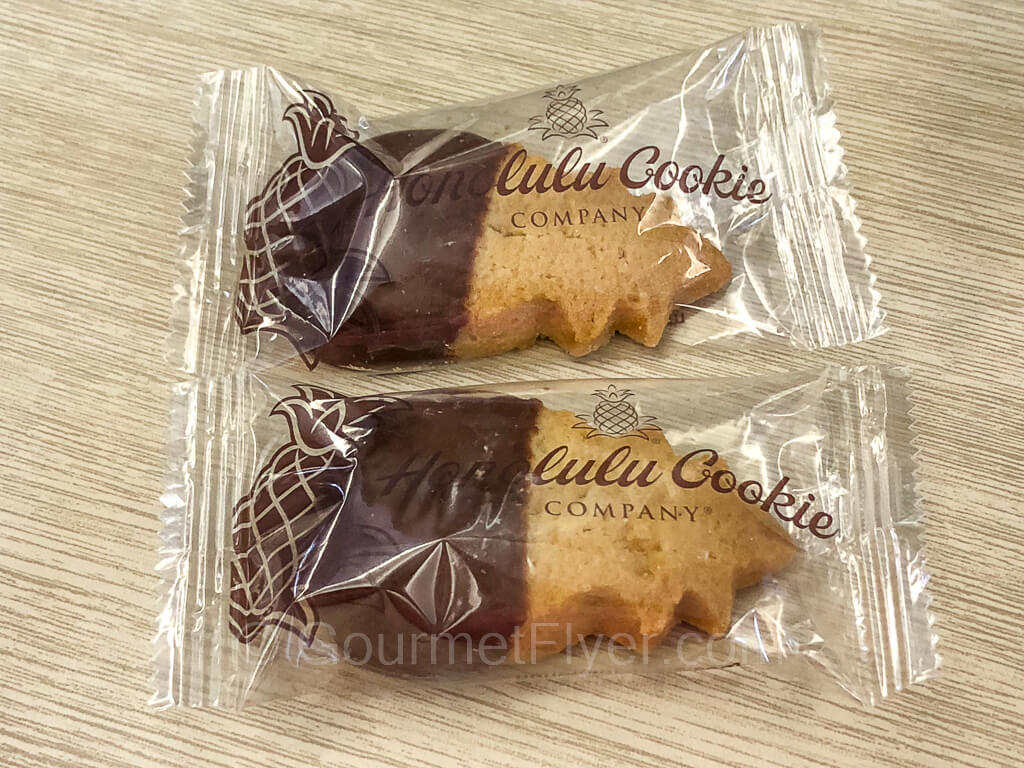 About halfway through the flight was a champagne service, which was impressive for Premium Economy class. I asked for another beer instead of champagne and the flight attendant happily got me one. There were a couple of water service where small, bottled waters were offered by the flight attendants. Cookies, potato chips, and small snacks were also available.
The FAs also walked down the aisles occasionally to pick up trash and check on the passengers' needs. I was pleasantly surprised by the number of times the flight attendants walked down the aisles – definitely more than what I had experienced in Business Class in some US based airlines.
Pre-Arrival Meal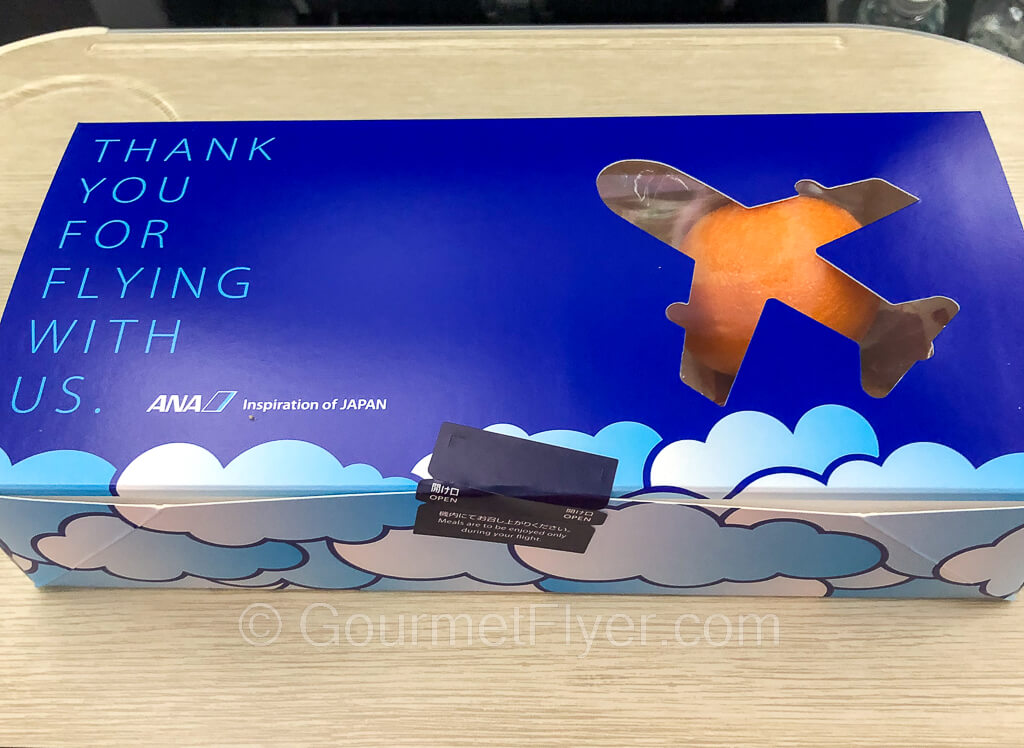 The pre-arrival meal was served in a cute snack box with a "thank you" message. The contents were a tasty tuna salad croissant sandwich, a chocolate chip muffin, and a tangerine. If was an adequate snack only a few hours after a full dinner service.
A coffee and tea service followed, and after that, we were about an hour away from Tokyo Narita Airport.
Conclusion
Kudos to ANA for such a pleasant and enjoyable journey – literally from check-in at the airport all the way to touchdown at Tokyo Narita. I have to say that ANA's Premium Economy Class service on this route and on the upper deck of an Airbus A380 aircraft is a solid product that is certainly worth an upgrade from regular economy class. For me, if the fare difference is within 20 – 30%, I am a fan. It is also a solid middle ground if you want a more enhanced service but are not willing to splurge for the luxury of a Business or First-Class ticket. Moreover, the professional and polite service fully reflects the spirits of Japanese hospitality. My overall verdict of this review is:
Hard Product: A+
Soft Product:
Lounge: A+
Service: A+
Food: A-
Beverages: B