November 3, 2022
When Hong Kong dropped its mandatory hotel quarantine COVID rule, I was among the first to visit the Pearl of the Orient on an All Nippon Airways (ANA) roundtrip flight from Tokyo. This is a complete review of my flight experience traveling in the economy cabin. Since I pre-ordered Paid Exclusive Dining on the Tokyo to Hong Kong leg, there will be a particular focus on ANA's economy class meal services on a short-haul intra-Asia flight.
Table of Contents
Boarding
ANA Economy class passengers without status board in groups 3 through 5. The airline employs the WILMA boarding process where window seat passengers board first in group 3, followed by middle seat passengers in group 4; and finally, those in aisle seats board in group 5. Since I was a Star Alliance Gold member, I boarded in group 2 without incident.
Boarding at an ANA flight is almost always orderly and efficient as you might expect from a Japanese airline, where doing things in an orderly fashion is almost part of the country's culture. There are always agents scattered around the boarding area to assist passengers in need. While some agents are holding the boarding group's number sign, other agents are also there to direct people to the appropriate lines. Everyone on the team works like the components of a well-oiled machine.
Seats and Dimensions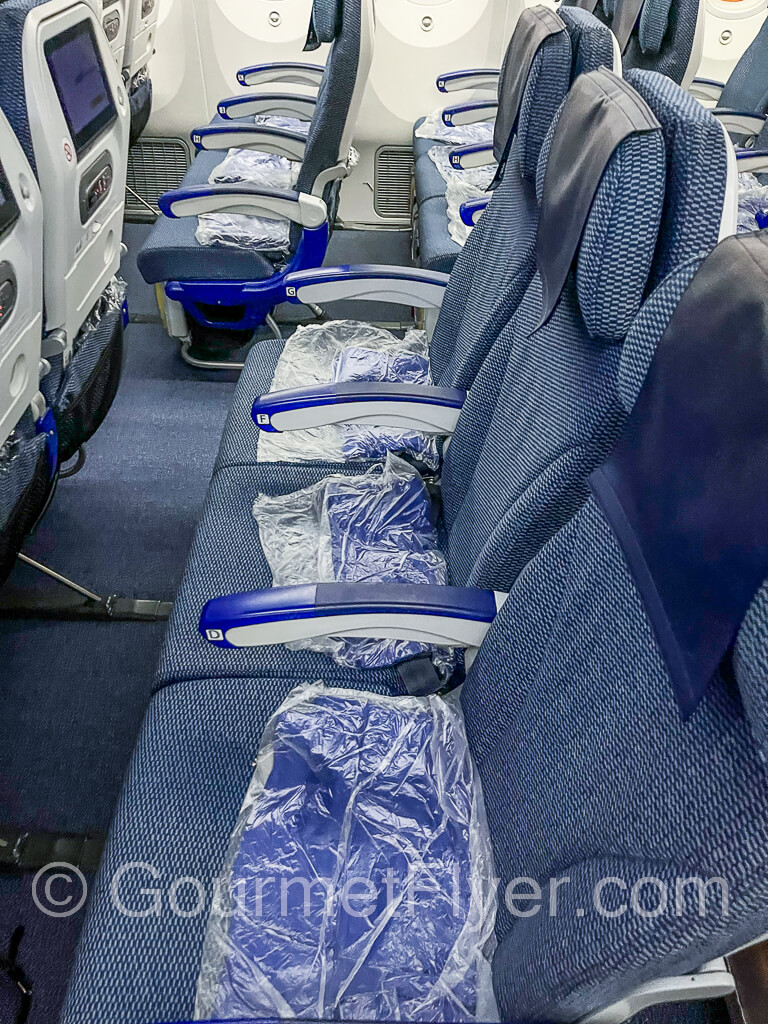 This route is served by a Boeing 787-8 in a 240-seat configuration. It has 42 lie-flat business class seats and 198 seats in the economy cabin. This configuration is one of the airline's workhorses serving between major cities for its intra-Asia routes.
The 787-8 has a 3-3-3 configuration in non-premium cabins which is rather standard for this aircraft. The seat width is 17.3", comparable to that of most other major airlines. The seats are slimmed down to allocate more space for legroom. The seat pitch of 31" closely matches the legroom offered by United, Delta, and American in their economy class cabins.
One feature in this particular configuration is that the rows are not aligned horizontally. The rows in the window sections are slightly ahead of the rows in the middle section, and that works well to make deplaning more orderly – as one row is obviously ahead of the other.
Seatback Entertainment and Accessories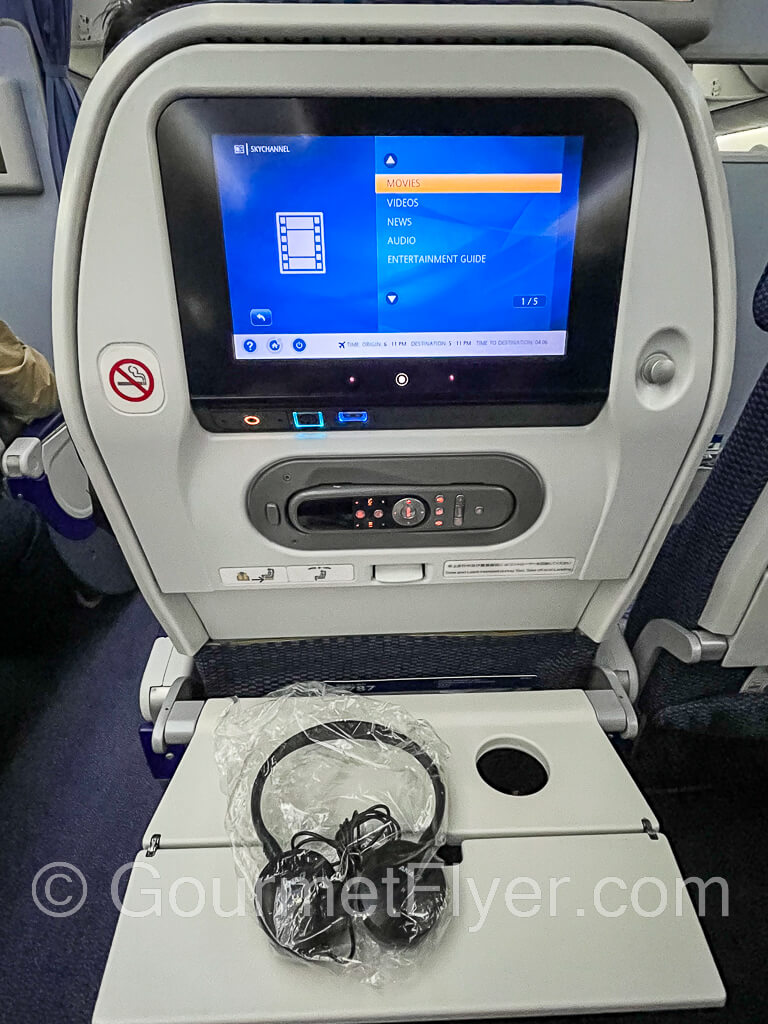 The 9.0" seatback screen is on the lower end of the 9 – 10" offered by most major airlines in the back of the plane. It is also smaller than the 10.6" offered by ANA's own 777-300ER aircrafts. The entertainment library is adequate but does not have a whole lot of titles to choose from. Compared with United, which I believe has the largest selections among US carriers, the selection of content falls short. However, there are enough choices of entertainment for a flight that spends less than 5 hours up in the air.
There are plenty of US blockbusters such as Top Gun: Maverick as well as Asian movies in multiple countries and languages. Some TV shows and short programs are also available. One perk that I enjoy is that we are given headphone instead of earbuds which are very uncomfortable (for me) if worn for hours. The entire seatback panel also comes complete with a remote control as well as USB and AC power supplies.
The seatback has a coat hanger which is also good for a light purse or your headphones while not in use. I find this a subtle but thoughtful feature that I appreciate.
Beverage Service
The complimentary beverage service includes a wide selection of soft drinks. Alcoholic drinks include Japanese sake, red and white wines, and a small selection of liquors limited to choices such as vodka, gin, and whisky. All drinks are free of charge.
Paid Exclusive Dining NRT – HKG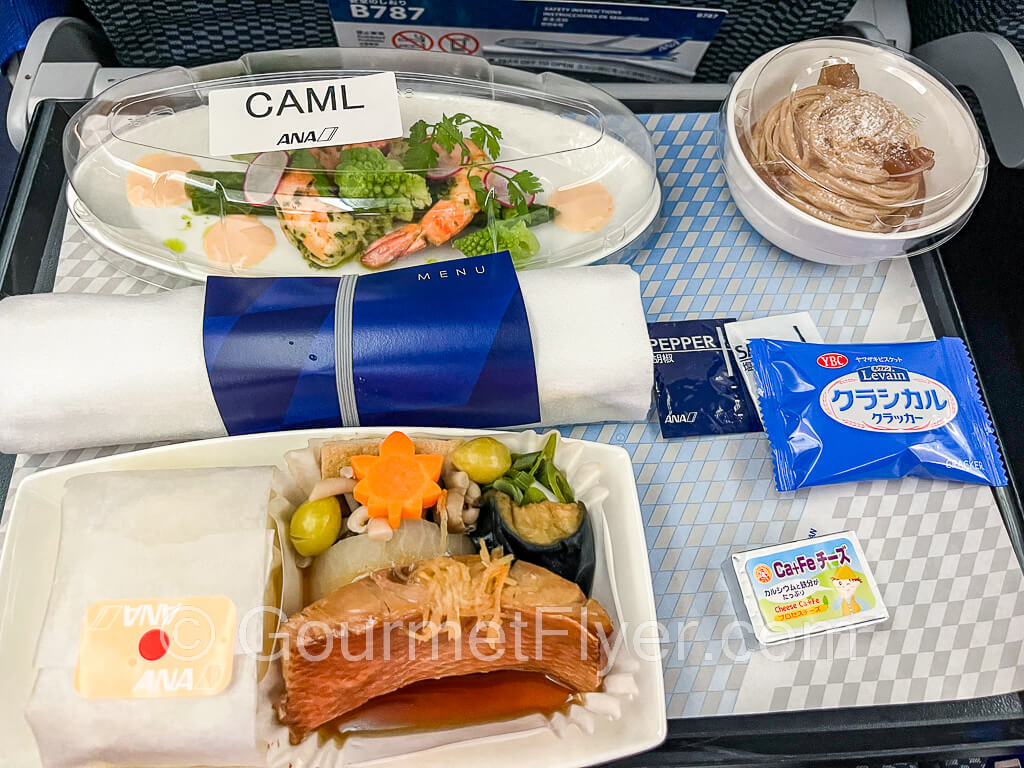 Paid Exclusive Dining is only available on international flights originating from Japan, so I am taking this opportunity to check it out on my flight from Tokyo's Narita Airport to Hong Kong. Paid Exclusive Dining can be ordered online when you purchase your ticket and up until 24 hours before departure. However, there are several restrictions to its availability so please consult the airline's website here for details.
There are typically two choices – a Japanese meal or a Western meal. I've had the Western meal before so this time I am going to check out the Japanese dish. The entrée was simmered alfonsino, which is a deep-water fish also known as red bream. It was a white meat fish, and the meat was on the firm side but still very tender.
The fish was served with a soy-based sauce that was slightly sweet. Side dishes included a medley of sautéed vegetables and Japanese rice rolls. The rice rolls were covered with wax paper when served which prevented the rice from getting dry.
The cold appetizer was a serving of two mid-size shrimps in lobster sauce. The flavor of the sauce was rather mild, and I really could not taste any lobster flavor in it. Dessert was French Marron Chocolat (chestnut cream and milk chocolate mousse cake) served in a bowl.
Overall, the dining experience was enhanced although I found the portion size of the fish rather small. But the quality of the fish was good and without even a hint of fishiness (that is important for me). The price tag as of this writing is 2,500 Yen which I think is reasonable and I am now a fan of ANA's Paid Exclusive Dining.
Regular Economy Class Dining HKG – NRT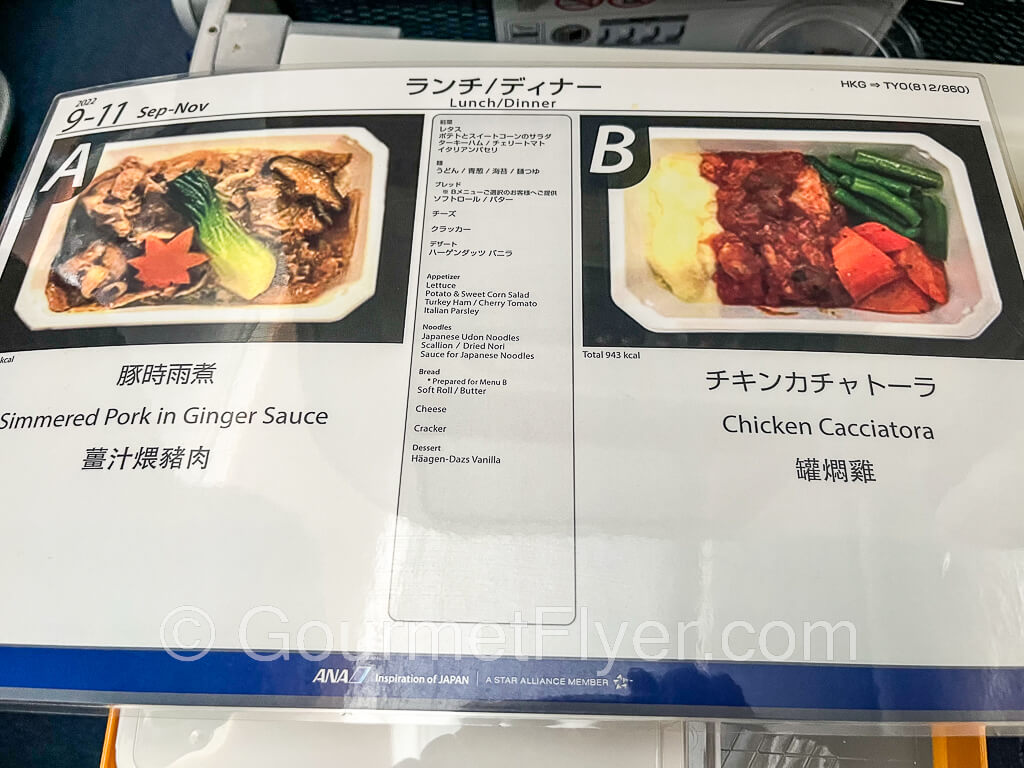 One thing that ANA does very well is that they have menu cards with pictures and complete description of the meal in Japanese, Chinese, and English. They handed us these menus several rows at a time so when the cart arrived at my row, I already knew what I wanted. This made the meal service a lot more efficient as the FA's didn't have to explain the dinner options to everyone and the passengers were ready to order when the cart arrived. It also reduced the possibilities of language barriers.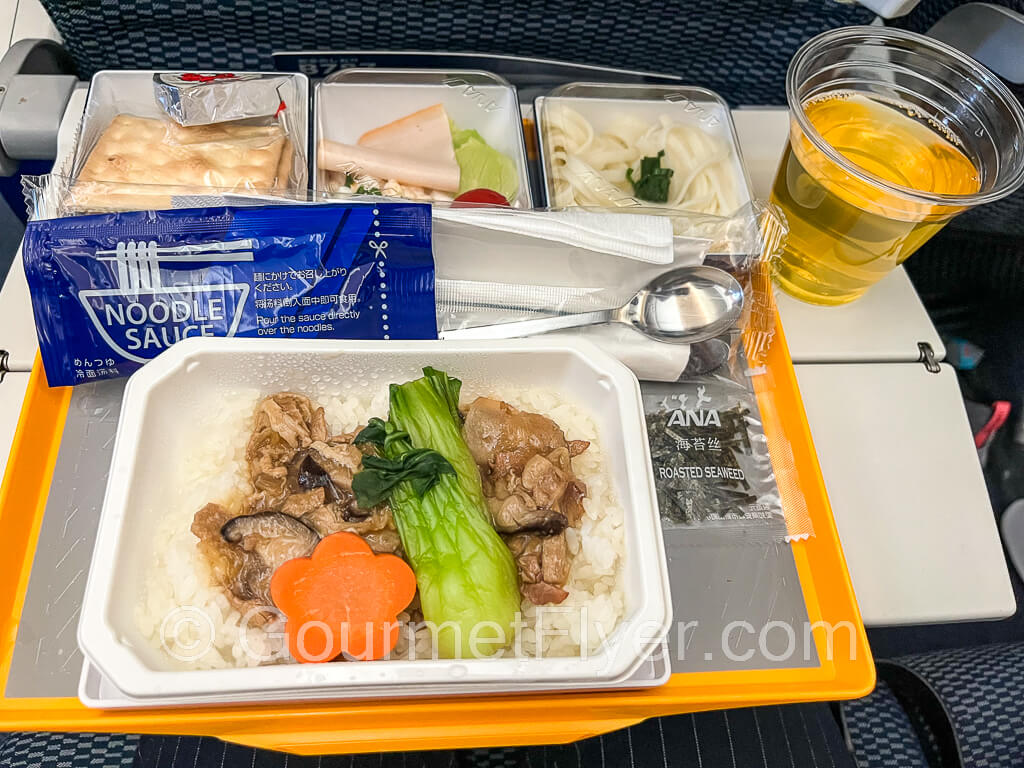 The choices on this segment were chicken Cacciatora, an Italian dish, and simmered pork in ginger sauce, a popular Chinese entrée. I had the pork which was delicious (if you like ginger sauce). It was served over white rice and accompanied by Chinese vegetables and black mushrooms. Side dishes included a potato salad with cherry tomatoes and turkey, cold Udon noodles with sauce, and cheese and crackers. Dinner was followed by a serving of Haagen-Dazs ice cream. This was outstanding for a complimentary meal in economy class on a flight that's only a bit over 4 hours. Last but not the least, service with real silverware instead of plastic cutlery certainly enhanced the dining experience.
Conclusion
Among all the major airlines in the World, All Nippon Airways (ANA) delivers one of the best economy class services. On a relatively short flight slightly over four hours, it serves a delightful complimentary meal. I also enjoyed the enhanced experience that I pre-ordered through Paid Exclusive Dining. Their flight attendants are among the best in the business, truly reflecting the spirits of Japanese hospitality. I am happy to give ANA a strongly positive review and highly recommend their economy class service. While the hard products are somewhat similar across all major carriers, ANA excels in their outstanding soft products and delivers a knockout punch to most of their competitors.