Updated February 3, 2023
Here is my detailed review of the ANA Lounge located in Satellite 2 of Tokyo Narita Airport's Terminal One. All Nippon Airways operates four lounges at NRT and this particular one, which opened in March 2020, is the newest. It is usually the least crowded one in the system – due most likely to the fact that it is not in Satellite 5 and is also lesser known.
My first visit to this particular ANA Lounge was in December 2022 when the United Club was still closed (it has since reopened on January 11, 2023). I was directed to this location when I checked in for my UA flight to LAX at United's counter. Turned out that it was just a short walk from the Satellite 3 gates where United's flights depart from. It is certainly a great alternative to the location in Satellite 5, which is a much longer walk away. Based on my very positive experience, this might even be a good alternative to the United Club that I have become so accustomed to in the past.
Table of Contents
Location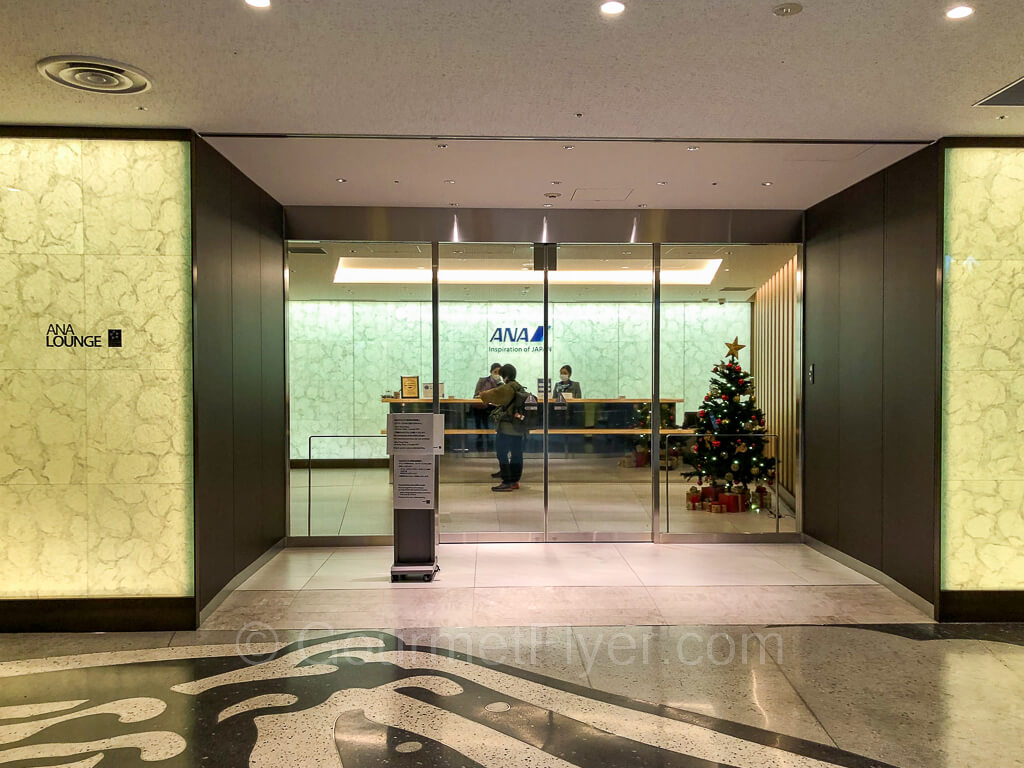 This ANA Lounge serves primarily those eligible passengers departing from the 20's gates as well as from the gates in nearby Satellite 3. It is located in Satellite 2 of Narita's Terminal One and is on the North Wing of the building. From the North Wing passport control exit, take a left and follow signs to gates 21 – 25. From the round satellite area housing those gates, take the escalator near gate 24 to go downstairs.
The hours as of this writing is 1:00pm to 6:55pm.
Overview
Since this ANA Lounge is located below the departure level, there are no windows. If windows and view of the tarmac are important to you, then you won't be happy here so head straight to the location in Satellite 5 which has large windows and panoramic views.
If you do not care much about windows and views and just want a nice place to relax or get some work done, to enjoy a couple of drinks or to grab a hot meal, this place will most likely satisfy your needs. Other than the fact that there are no windows, the overall design of the space and food and beverage menus are very similar to the main facilities in Satellite 5.
Access
The rules for airport lounge access are almost always complicated, so please consult the airline's website here for the complete set of policies, especially on the number of guests allowed. But in a nutshell, access to the ANA Lounge at NRT is available to:
• Business Class passengers
• Premium Economy passengers
• All Nippon Mileage Club Premium members
• Star Alliance Gold members on an international flight with a Star Alliance carrier
Note: There is no Suite Lounge here in Satellite 2. First Class passengers and All Nippon Diamond Services members who have access to the Suite Lounge should proceed to Satellite 5.
Seating and Work Areas
The club at this location is not quite as large as the ANA Lounge in Satellite 5 but it is still very spacious. As I said earlier, this is typically the least crowded in ANA's system here at NRT. Even when late in the afternoon when multiple flights are departing from Satellites 2 and 3, this club is usually busy but not packed.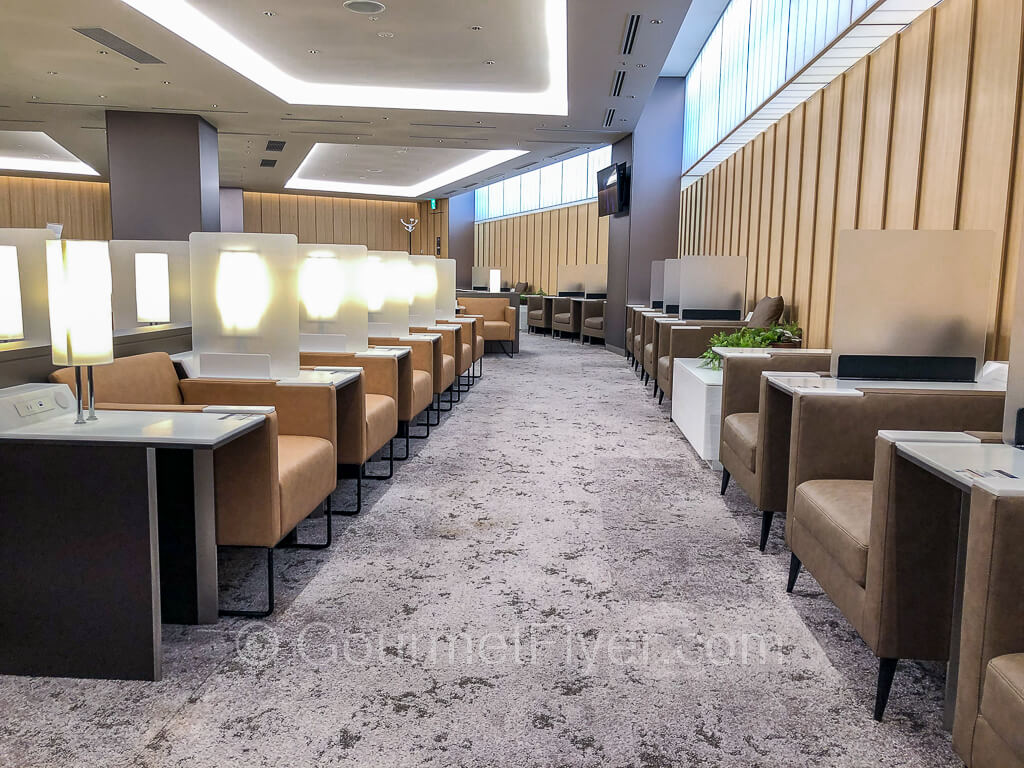 There are mainly three different types of seating available. They are plenty of comfortable and wide sofas with coffee tables in various areas of the club. Many of the sofas are individual seats with glass partitions which provide an extra sense of privacy.
Long communal tables with one single glass partition between opposite facing seats are another option that also works well serving as a workstation. The benches are equipped with AC power as well as USB outlets and is a perfect spot for me to work on my laptop while enjoying a drink and a snack.
There are also a few rows of individually partitioned workstations along the walls of the club. These workstations come with office-style desk chairs with wheels.
Many two-tops and four-tops restaurant style seating with dining tables are also available. These are probably the most tightly packed space inside the lounge as it is where most passengers prefer to sit to comfortably enjoy a pre-flight meal. Well, this makes perfect sense especially when the food there is so good!
Food Service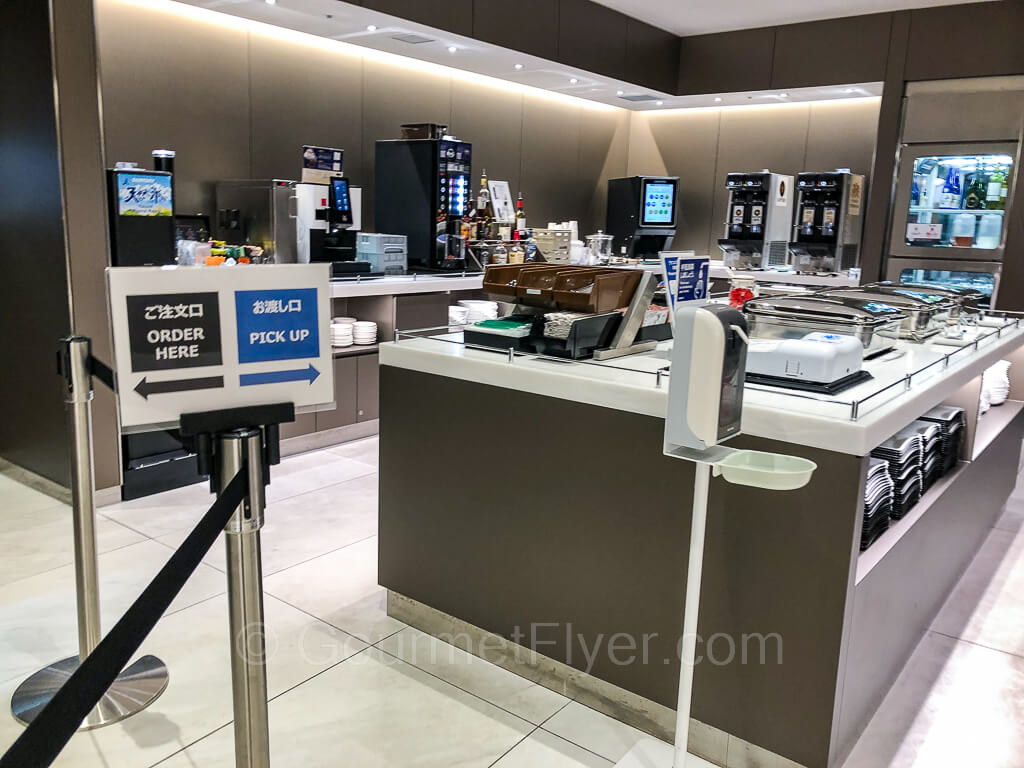 All the food service stations are centrally located in one section of the club. A buffet station is set up on an island in the center of the area as well as on one side of the wall. Beverage stations and machines are arranged in an L shape counter against the other two walls. There is also a line where cooked to order menu items can be ordered from the kitchen.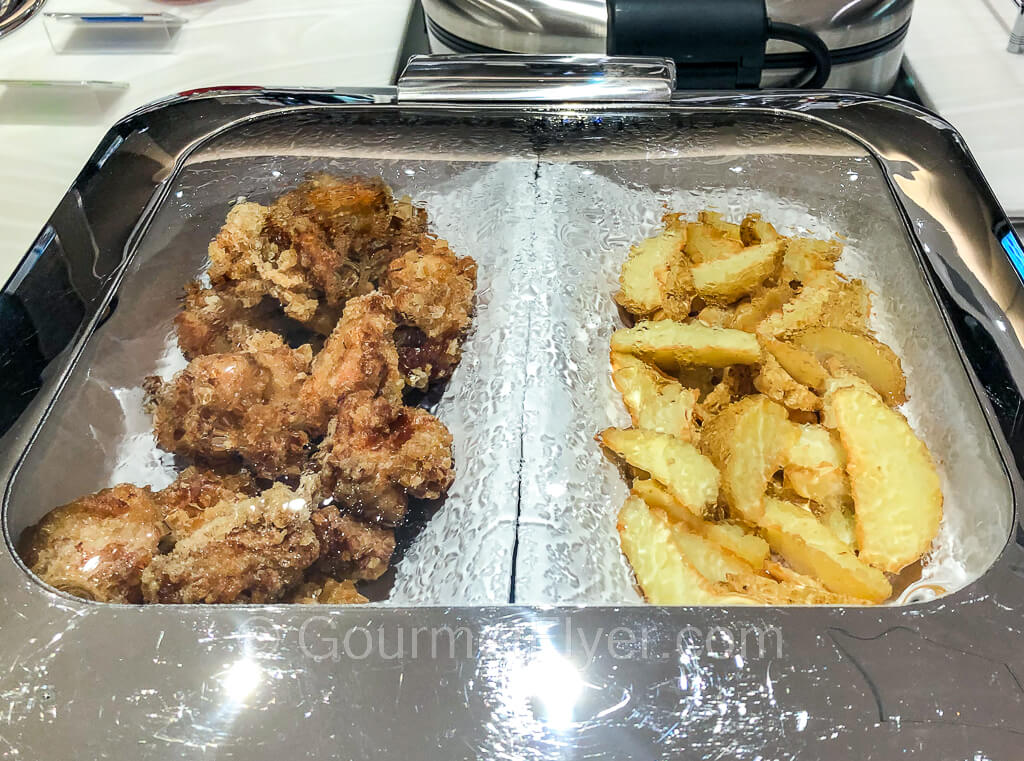 On the center buffet island are two hot serving trays. One tray serves my favorite karaage chicken (Japanese fried chicken) and French fries. Japanese fried chicken is typically made with thighs and legs so that the meat is tender and moist. Both go together well with ketchup.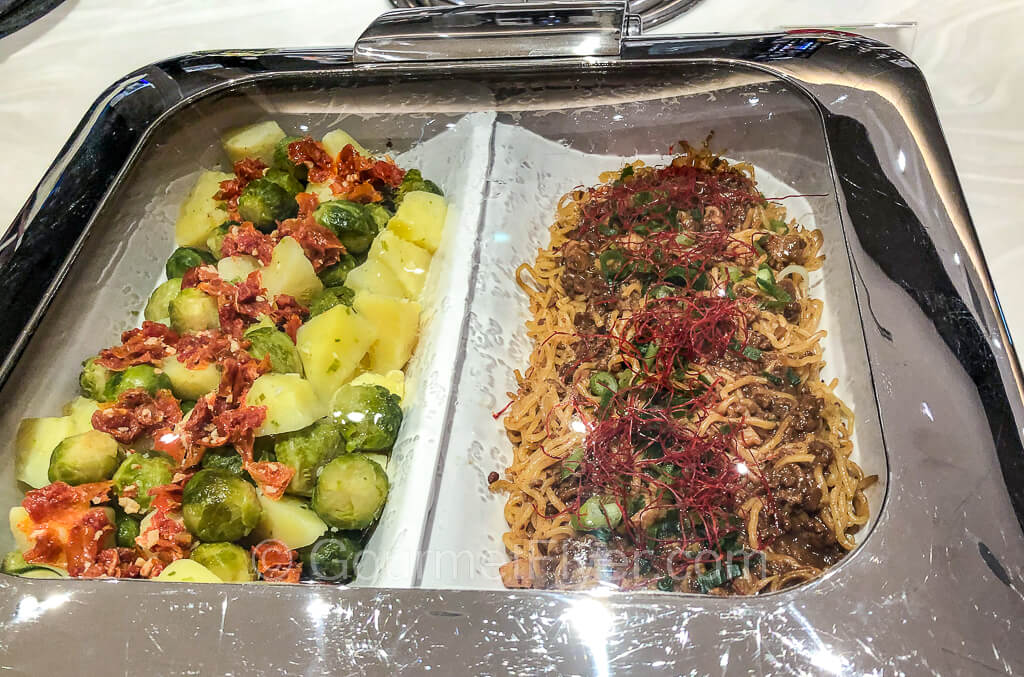 The Taiwanese-style fried noodles with pork are delicious. They are accompanied by a medley of roasted Brussell sprouts, potatoes, and tomatoes which is vegetarian friendly.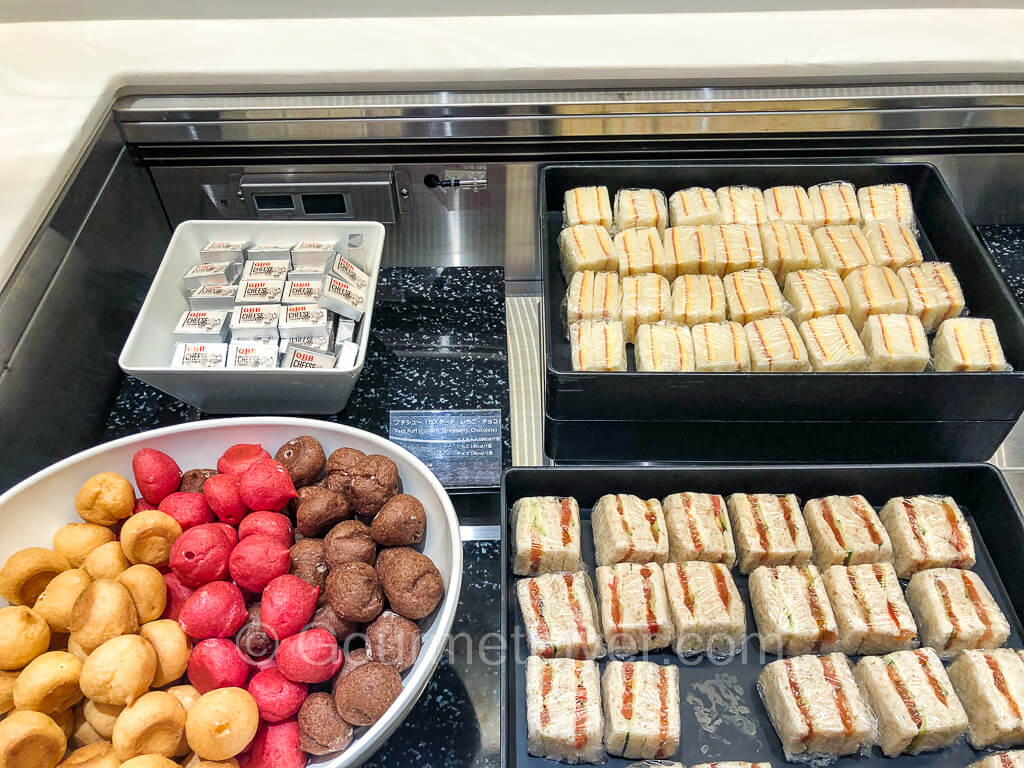 Along the counter against a wall is another section of the buffet service. There are two types of finger sandwiches – typically one is ham and cheese, while another is a vegetarian variety. The finger sandwiches are meticulously wrapped in plastic wraps which are not only sanitary, but they also keep the sandwiches fresh and moist. How thoughtful!
The large bowl full of yellow, pink, and brown "balls" are mini cream puffs in vanilla, strawberry, and chocolate flavors respectively. As with almost all Japanese desserts, these mini cream puffs are light, not too sweet, and not filling. They are SO good so be sure to grab a few of them for the perfect dessert.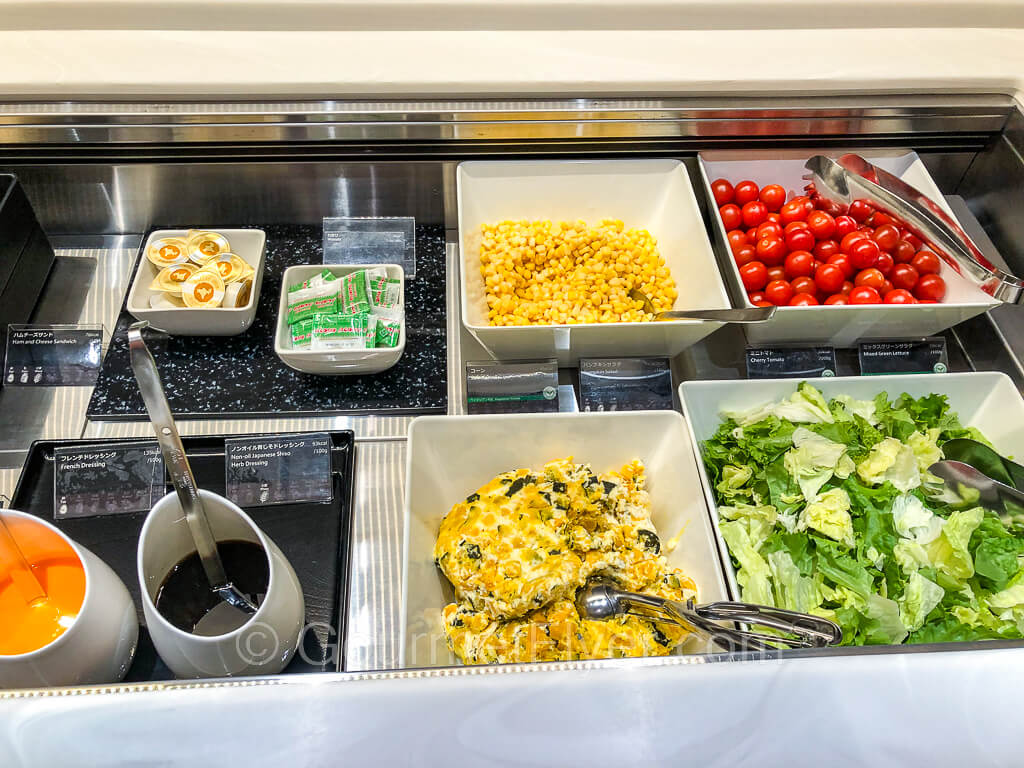 Next to the sandwiches is a salad bar with lettuce, cherry tomatoes, and corn. The bowl on the lower left of the picture above is a pumpkin salad which is delicious and refreshing. Typically, two dressings are provided – one Western and one Japanese. On this particular day, we have French as the Western favorite accompanied by a soy sauced based Japanese dressing.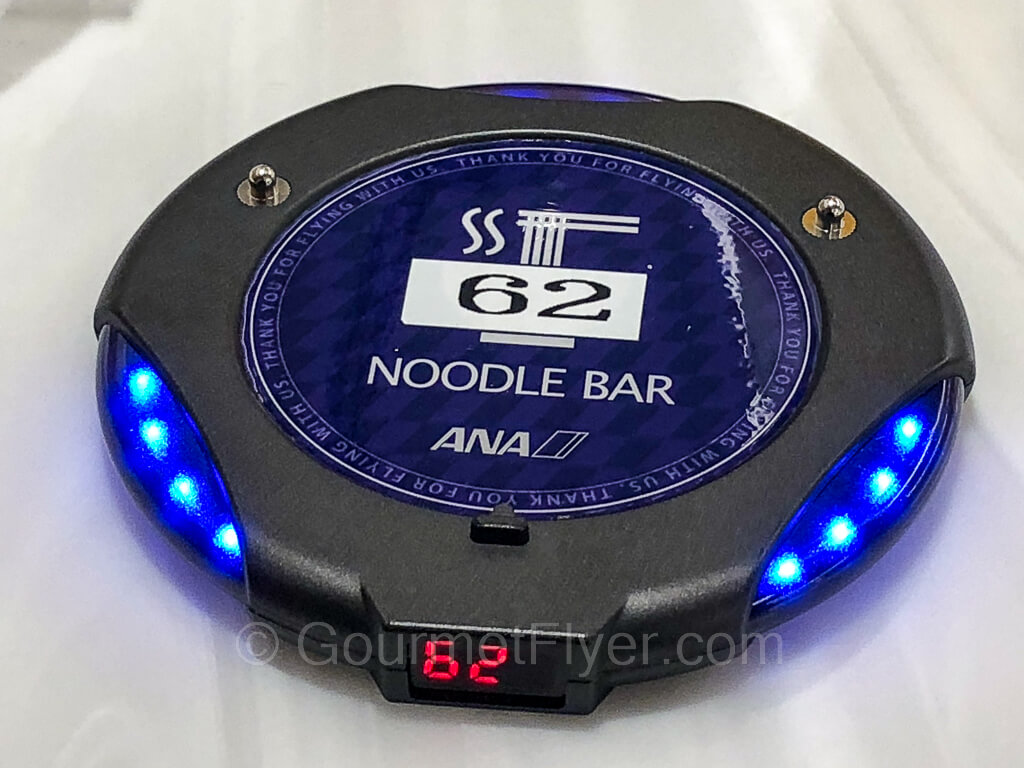 If all of the above is still not enough, you can order freshly made-to-order ramen as well as curry chicken and rice from the kitchen. There are about 6 – 7 varieties of ramens available and although the menu says curry chicken, a vegetarian curry is also available on request.
If you have a Japan cell phone number, you can order from the QR code on your table. When your order is ready you will receive a text. You can also order from the kitchen window, and you will be given a restaurant-style buzzer which will light up and beep when your order is ready.
A piping hot bowl of ramen is my favorite comfort food, especially in winter. I also like Japanese curry which is mild and slightly sweet and not too spicy. The cooked-to-order service from the kitchen here is as good as it gets.
Complete Menu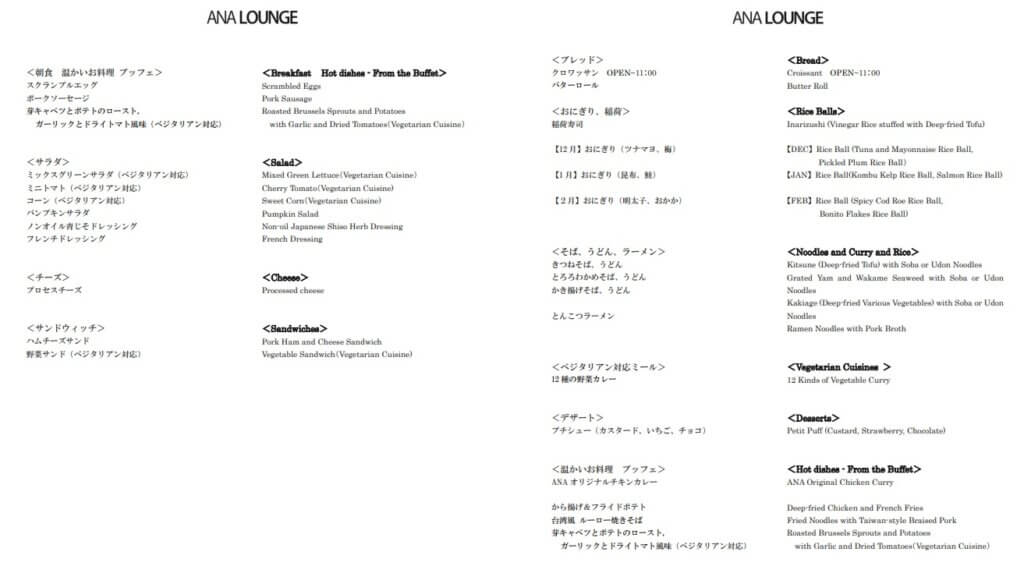 What I've written so far are just the highlights of an extensive food service. Please refer to the picture above for the complete ANA Lounge Narita Airport NRT Menu as of February 2023.
Beverage Service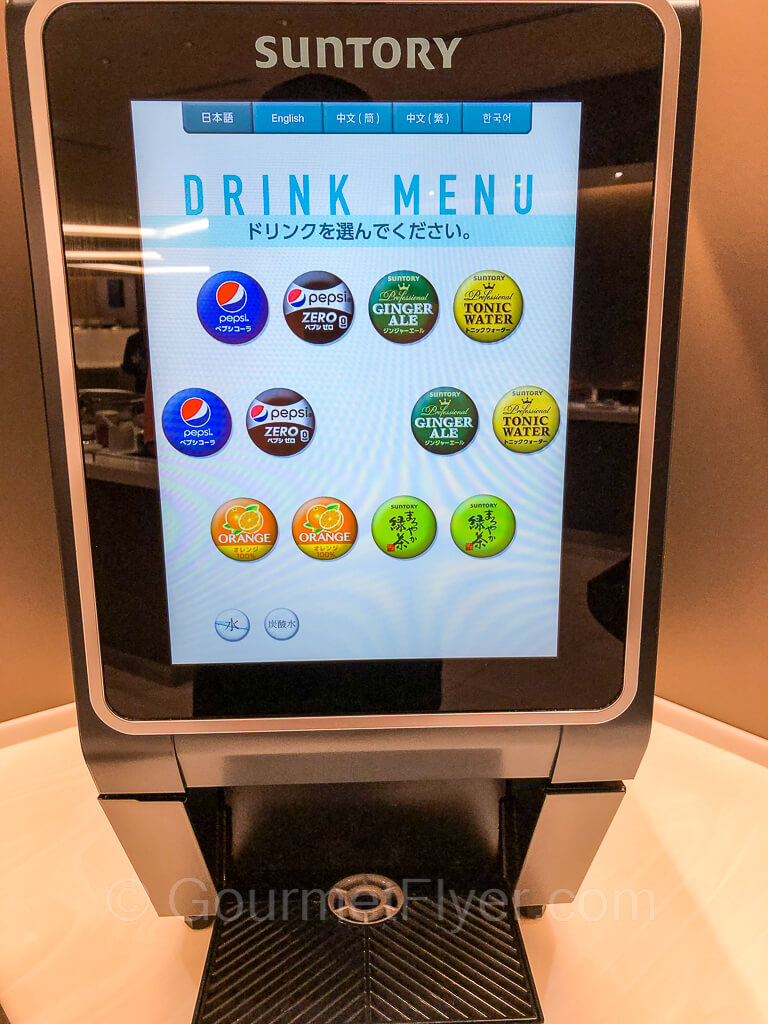 All beverages are self-served although there are almost always attendants there to assist you if necessary. Soft drinks are served in a fountain machine with menus in 5 languages. Operations are easy and intuitive.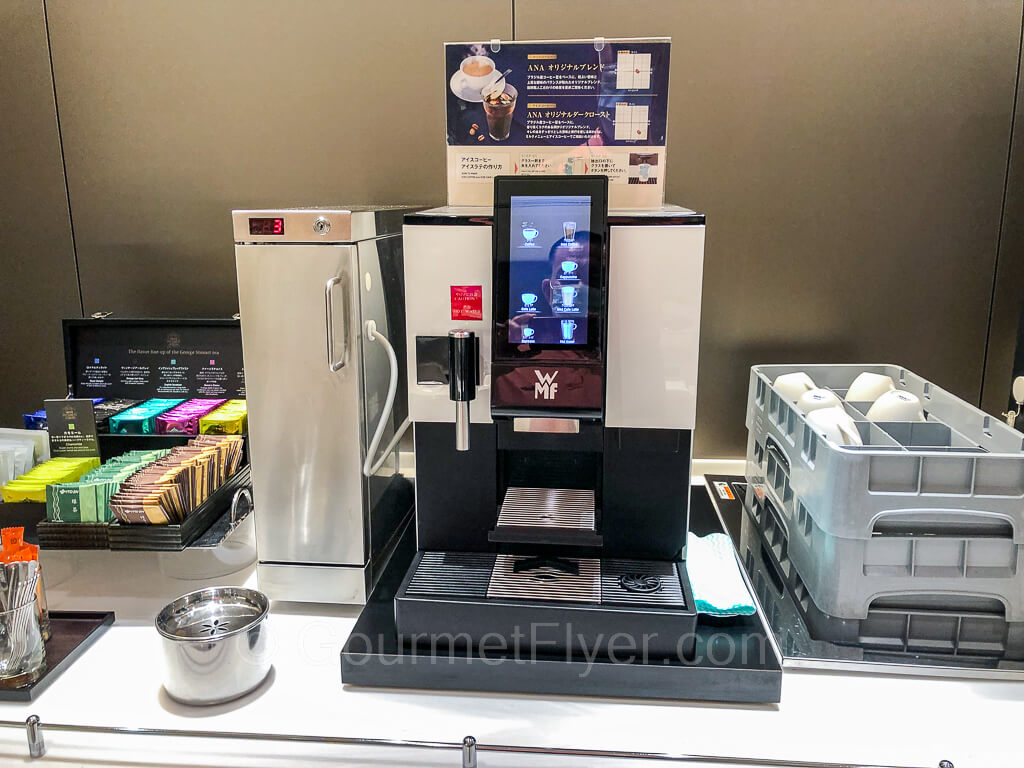 The coffee machine offers a good variety of coffee, latte, and espresso. This is also where you get your hot water for tea. A large selection of teabags is available to the left of the machine.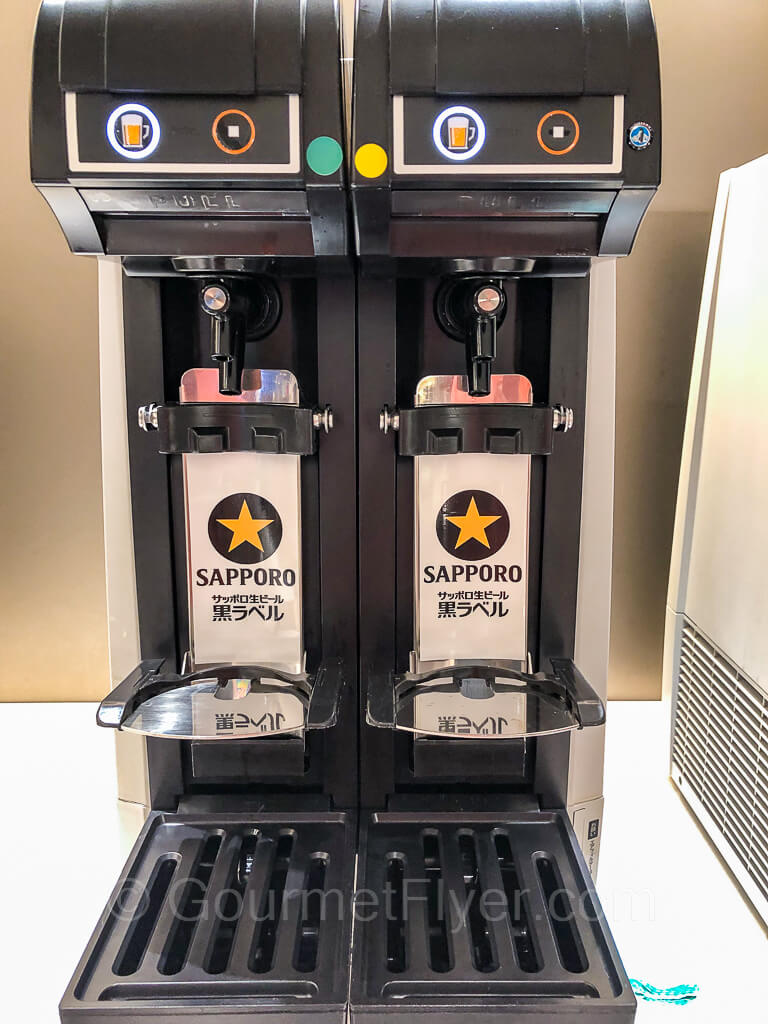 The automatic beer machine is one of the coolest gadgets in Japan. You place a beer glass there and press a button and your glass fills up perfectly – with about an inch of foam on top, and never spills a drop. The only beer on tap is Sapporo, a very popular Japanese beer.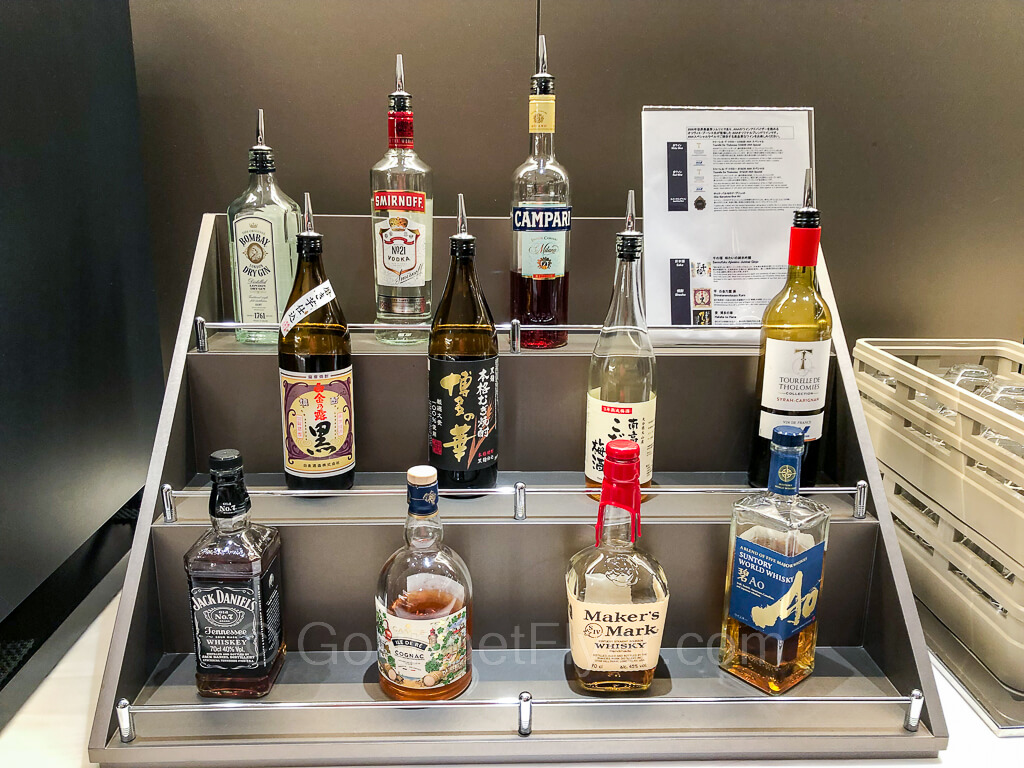 For hard liquors and cocktails, about half a dozen bottles of liquors are available along with bottles of sake and wine. If you want to make a bloody Mary, tomato juice is in the tall fridge next to the beer machine. Soda and tonic water are dispensed at the soft drink fountain machine.
Customer Service
All of the attendants and agents there are professional, friendly, and also extremely efficient. The entire place is kept very clean, and the counters are constantly wiped down. Tables are cleared of empty dishes and glasses promptly. Items in the buffet stations are replenished quickly. There are almost always servers or attendants nearby if you need help or have any questions.
The staff at the kitchen are very efficient as well. All freshly cooked to order ramens are usually ready in about 10 minutes, even when the place is busy and there is a line.
The entire team at the ANA Lounge here excel in what they do and truly reflect the spirit of Japanese hospitality.
Conclusion
The ANA Lounge at Tokyo Narita Airport (NRT) Satellite 2 exceeds my expectations in terms of food, beverage, comfort, and service. The cooked to order ramen and curry dishes are good for a full meal. Yes, the portion is a bit small, but you can always get seconds. The lack of windows and views are certainly drawbacks, but for me, it is compensated by its proximity to my departure gate, especially if it is just a short stay to get a drink and some food. My overall impression is highly positive, and I look forward to enjoying my stay at the ANA Lounge here again in the near future – even when I am flying United out of Satellite 3.