Here is my comprehensive review of the ANA Lounge at Honolulu International Airport (HNL) and I will share with you my very pleasant experience in every aspect imaginable. I gained access to the club in HNL on my ANA flight to Tokyo by being a Star Alliance Gold member as well as a Premium Economy passenger. While I have been to several other lounges of this airline in Japan, this is my first at Honolulu and I was impressed by the lounge's size, extensive seating area, delicious food, and the top-notch service of every single member of the team.
Table of Contents
Location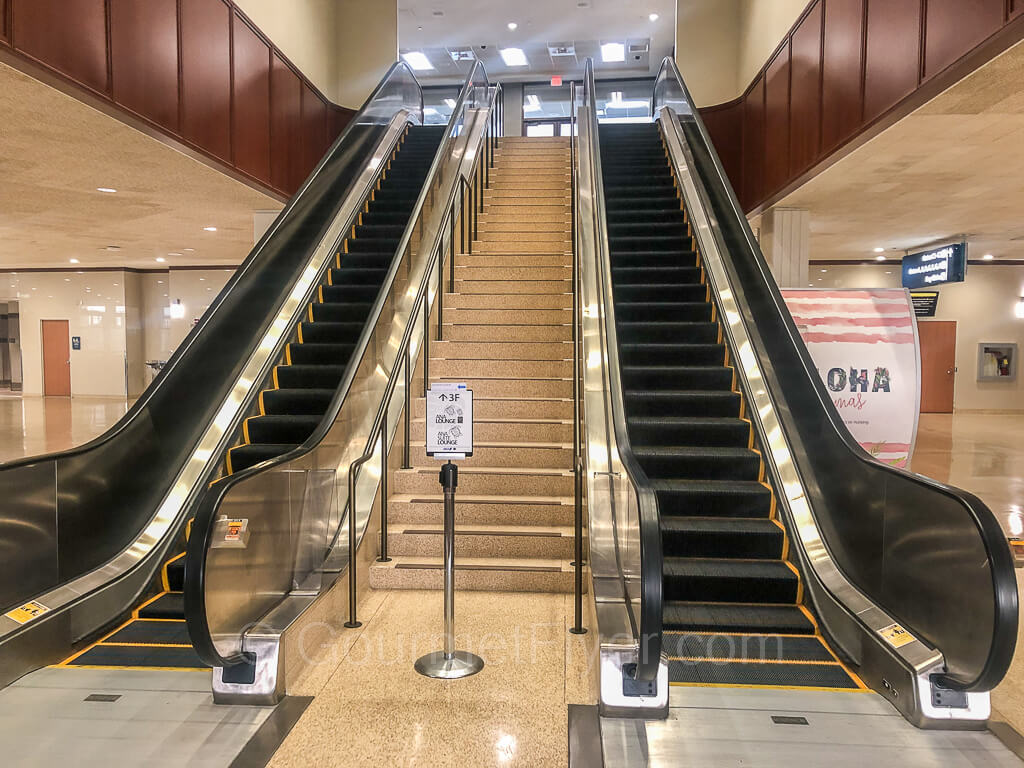 The ANA Lounge at Honolulu International Airport (HNL) is located above gate C4. The departure area is on the second floor, and you will follow the sign to take the escalator up to the third floor. If you are flying to Japan on the airline's A380 Flying HONU service, this will make perfect sense to you as C4 is the two-story gate used exclusively by ANA's A380 double decker. Both the regular lounge and the Suite Lounge share the same entrance. Upon checking in at the counter, you will be directed to the appropriate club based on your class of travel and credentials.
Overview
The overall design of the club is a masterpiece with a Hawaiian theme that is prominently showcased by the wooden sculptures of the island's iconic Banyan trees. Displays of tropical palm tree leaves grace the ceiling and further enhance the club's Hawaiian flavor. Soft Hawaiian music is playing in the background at a comfortable level. Fresh pineapple from the island is naturally a part of the buffet's spread. The moment you walk into the club, you'll almost feel that you are walking into an extension of the island's paradise. And this is only the beginning of a remarkable airport lounge experience…
Access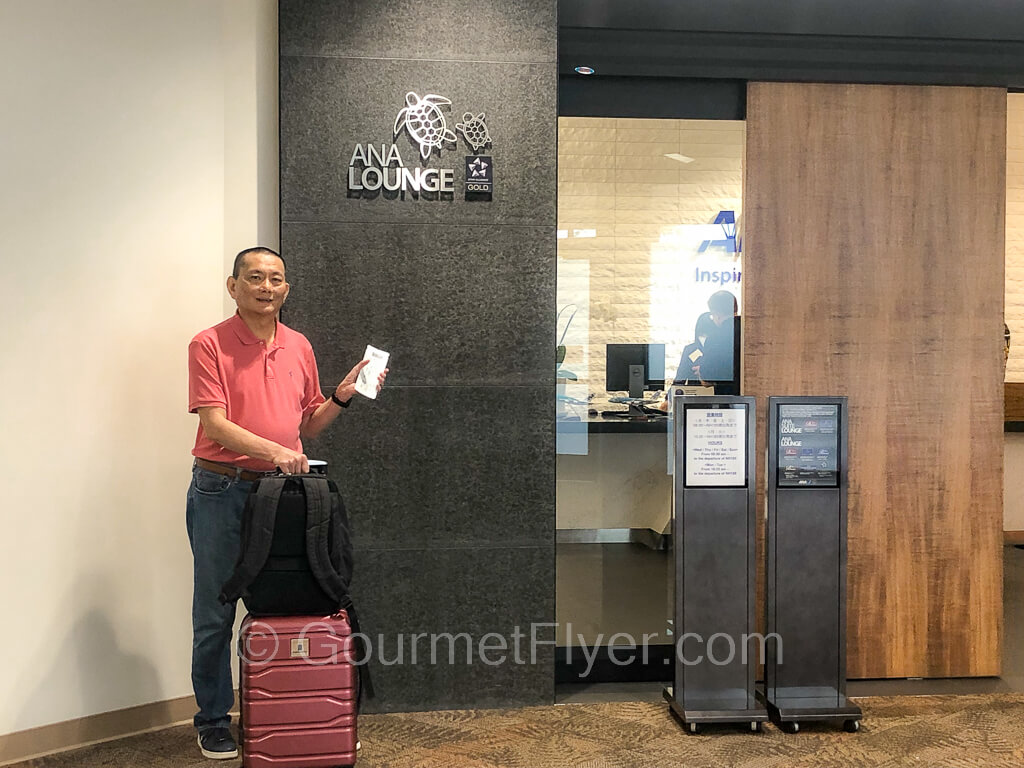 The policies are complex, so please visit the airline's website here for detailed information. But in a nutshell, access to the ANA Lounge at HNL is available to:
Business Class passengers
Premium Economy passengers
ANA Mileage Club Premium members
Star Alliance Gold members on an international flight with a Star Alliance carrier
Note: First Class passengers and ANA Diamond Services members have access to the Suite Lounge.
Seating and Work Areas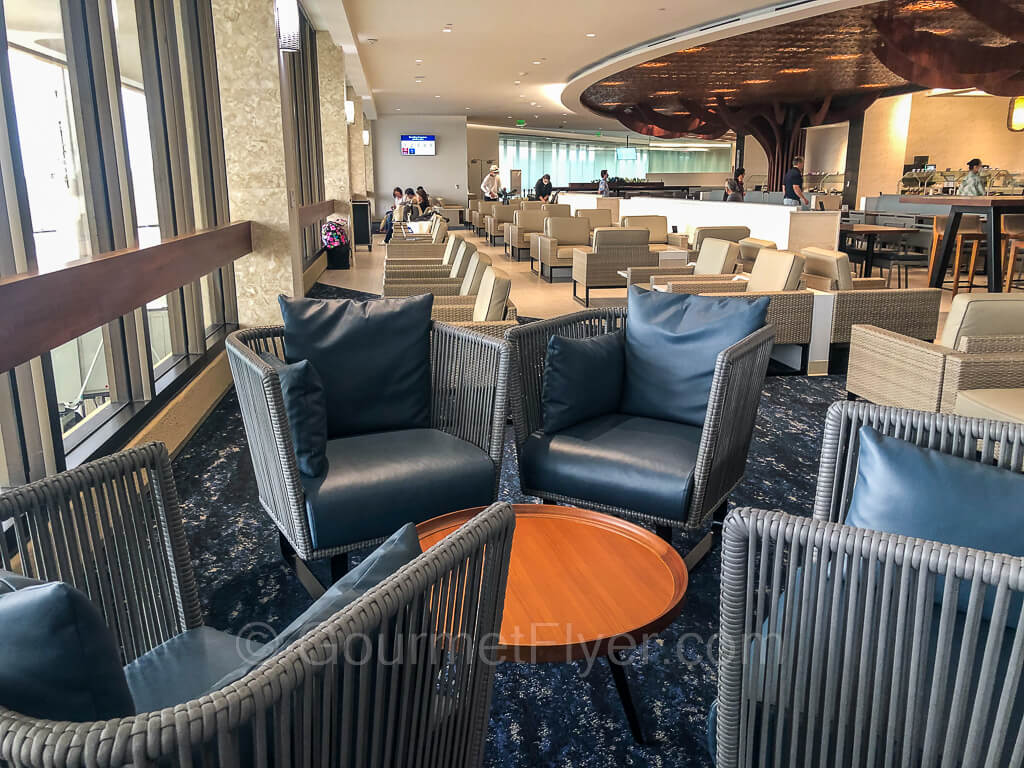 This club is very spacious, and the seating area is extensive, especially considering the fact that it is located in a relatively small international airport in Honolulu. This place looks like it can easily accommodate multiple wide body flights at the same time while not feeling crowded at all.
There are mainly three different types of seating available. Very comfy lounge chairs and sofas with coffee tables line the large floor-to-ceiling windows, providing a spectacular view of the tarmac and runway. On a clear day, you can see Waikiki and Diamond Head. If you are going to Japan on the A380 double decker, you'll see your Flying HONU aircraft waiting for you literally just outside the window.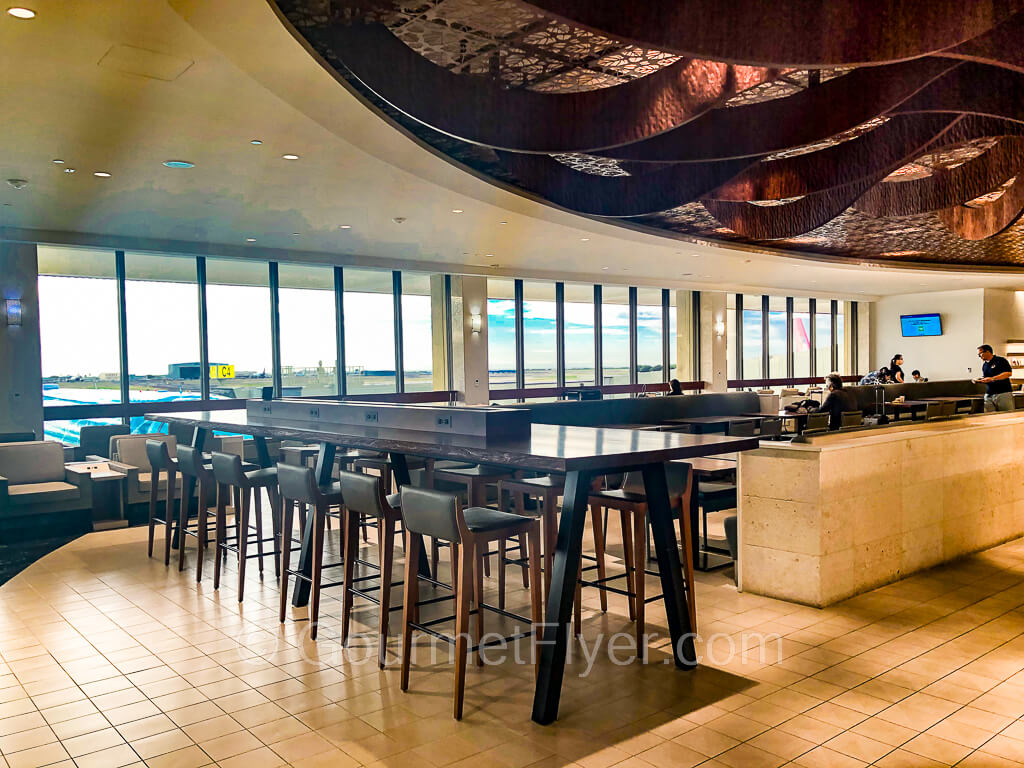 Long benches that look like the shared communal tables in today's trendy restaurants are another seating options that double as a workstation. The benches are large enough to provide a comfortable working and dining space and they also have AC power as well as USB outlets.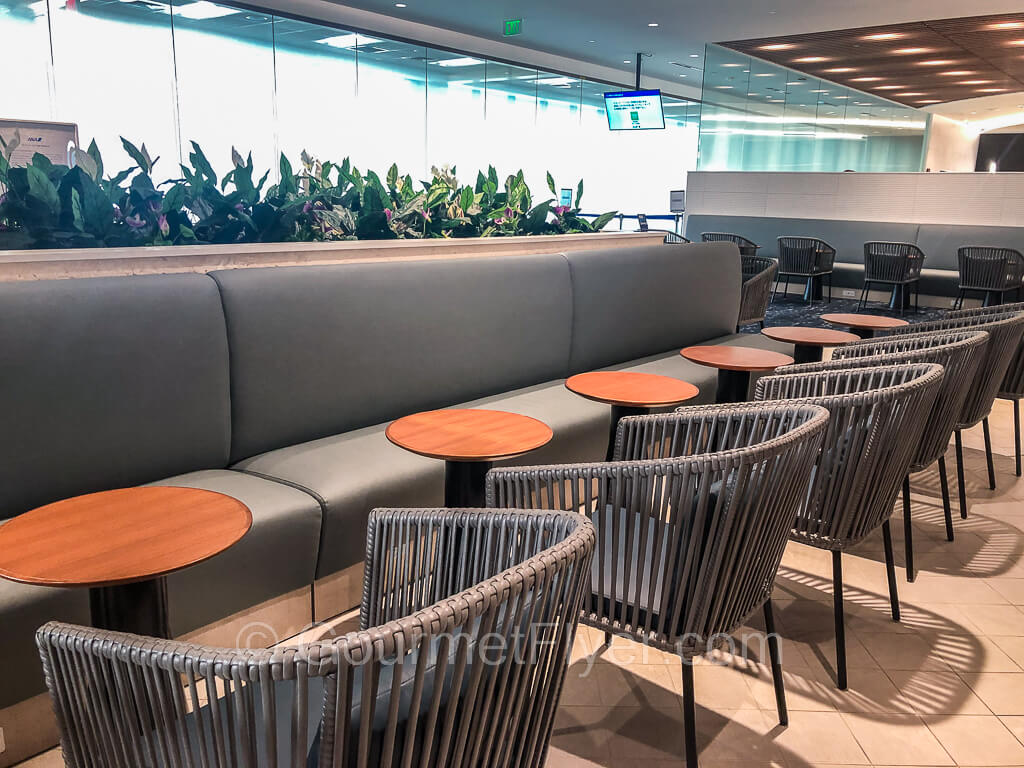 The third type is my favorite – restaurant style seating. Many two-tops and four-tops with round cocktail tables or rectangular dining tables are available and most of them are located near the buffet station – how thoughtful! This is a very nice space to enjoy a snack, a cocktail, or even a full meal before your flight.
Children's Play Area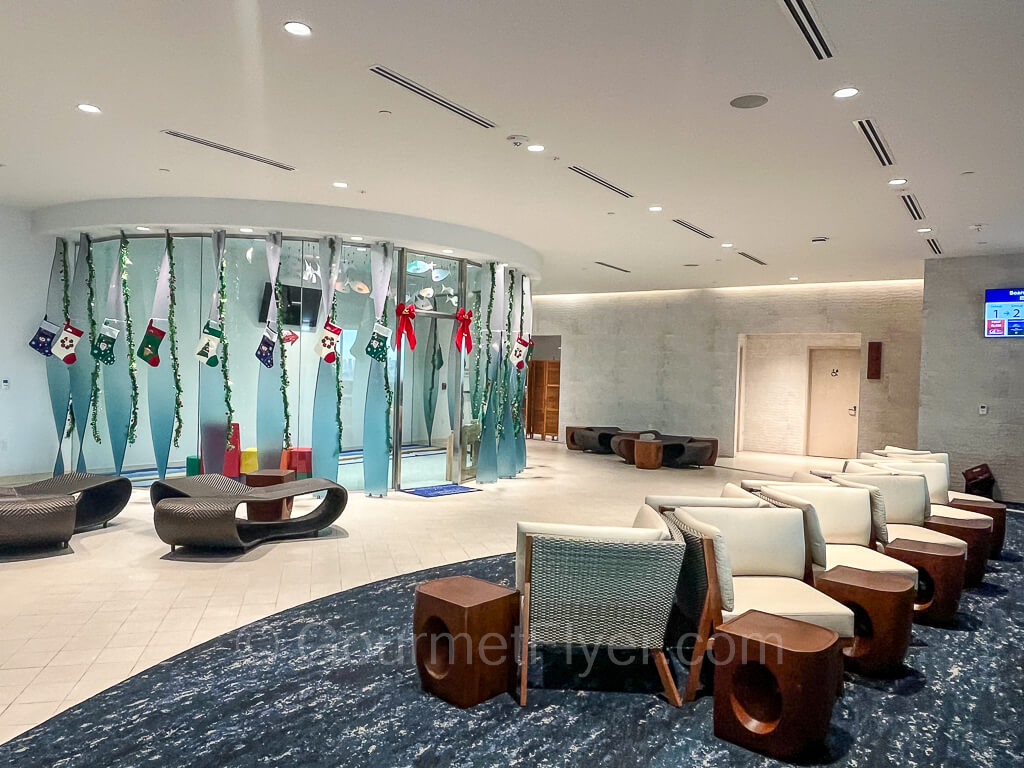 The ANA Lounge at Honolulu Airport HNL is one of very few airline clubs that I find a children's play area. I guess the airline sees that Hawaii is a market that many families travel with small children in premium cabins. The area is large and well-maintained. There are also plenty of seats for parents to be close by and watch over their children.
Food Service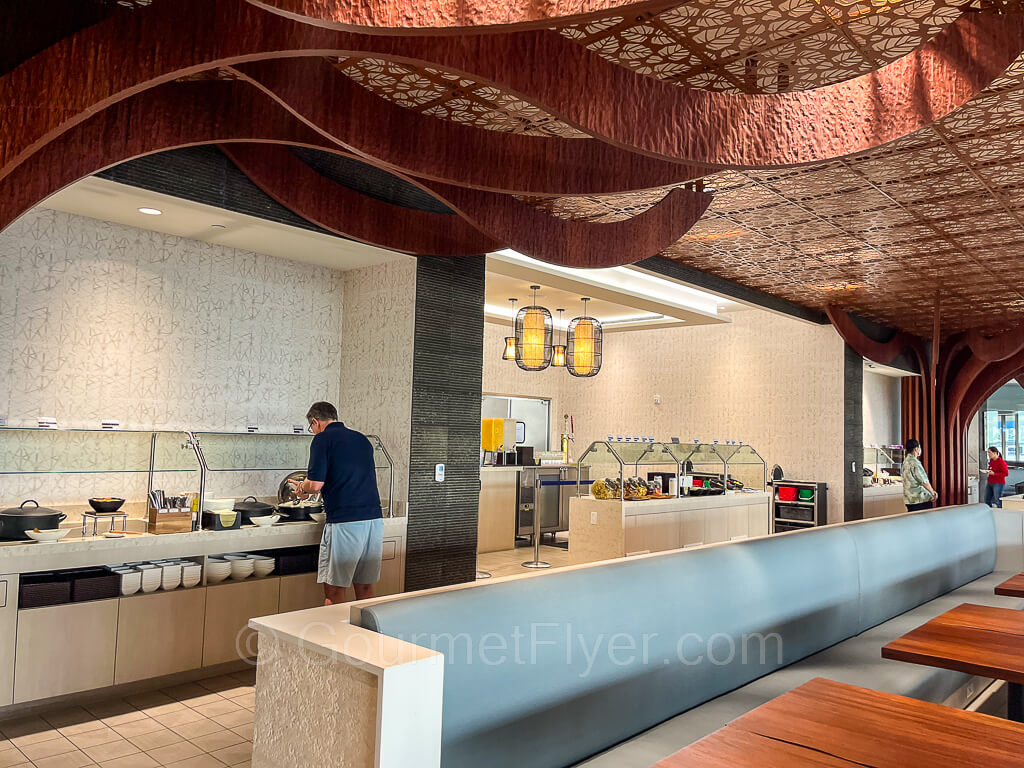 There are two identical buffet counters on each end of the club separated by the drink station and bar in the center. The center station also serves fruits, cereals, and other breakfast pastries.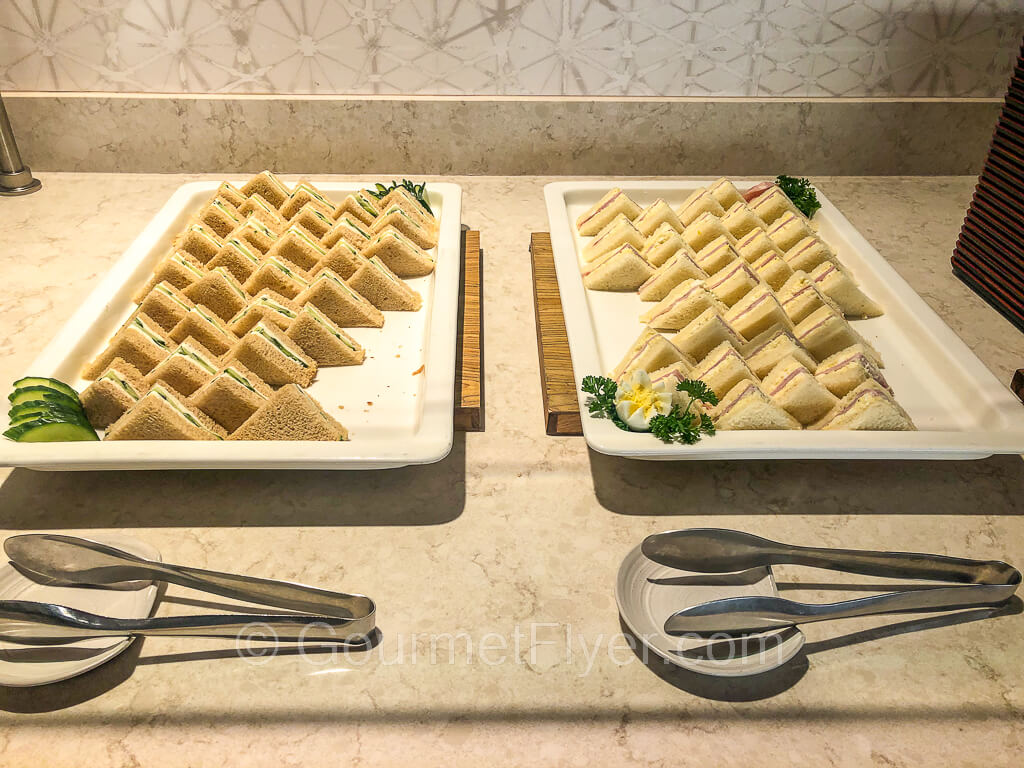 Each of the two identical buffet counters serves finger sandwiches, hot food, and soup. The typical hot food items are curry chicken and Japanese meatballs served with steamed white rice. They are absolutely delicious. These are the same items served in the ANA Lounge in Tokyo as well. They even taste the same – highlighting the consistency of the kitchens. Soup of the day is tomato bisque.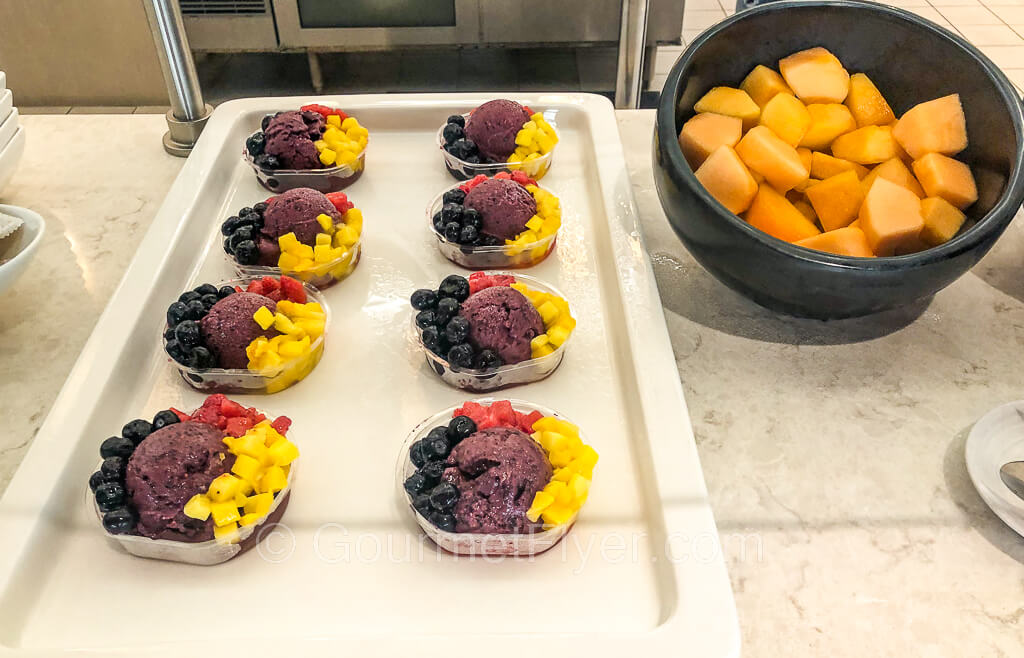 The acai bowls today look really good!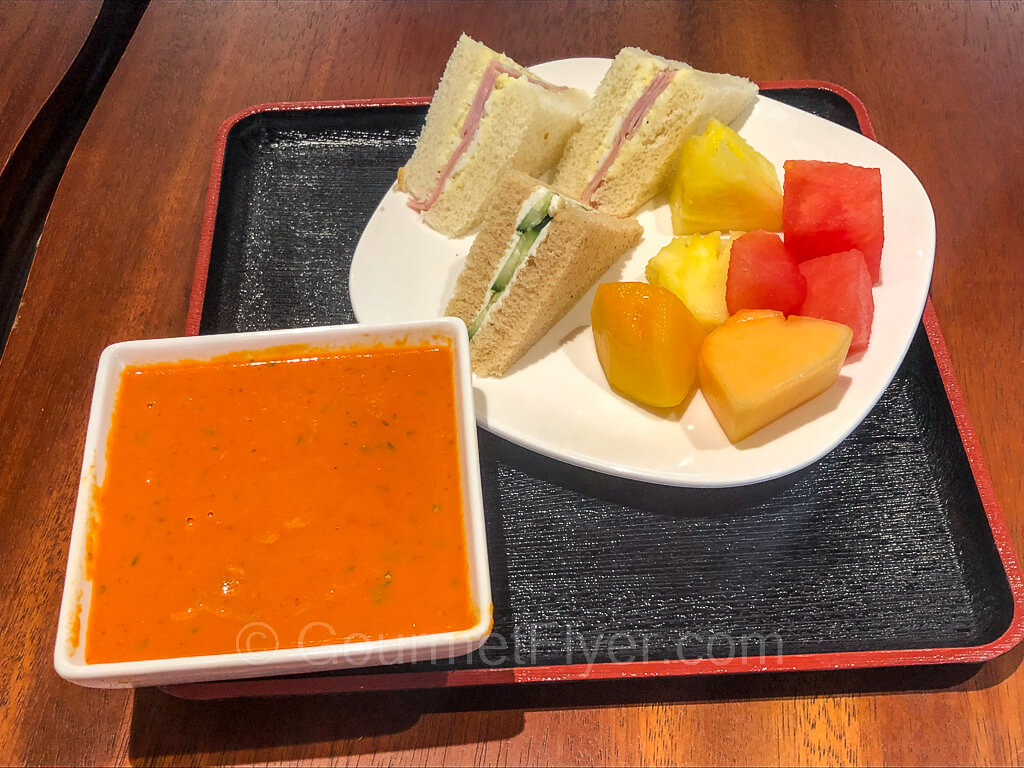 One thing that I like very much is that they give you trays so that you can carry multiple items at once.
The curry and meatballs are both very delicious. The curry is mild and not spicy hot, a characteristic of Japanese curry. I particularly like the potatoes that soak up all the curry flavors. The meatballs are cooked in a rich tomato-based sauce that is slightly sweet and tangy. They both go very well with rice.
Beverage Service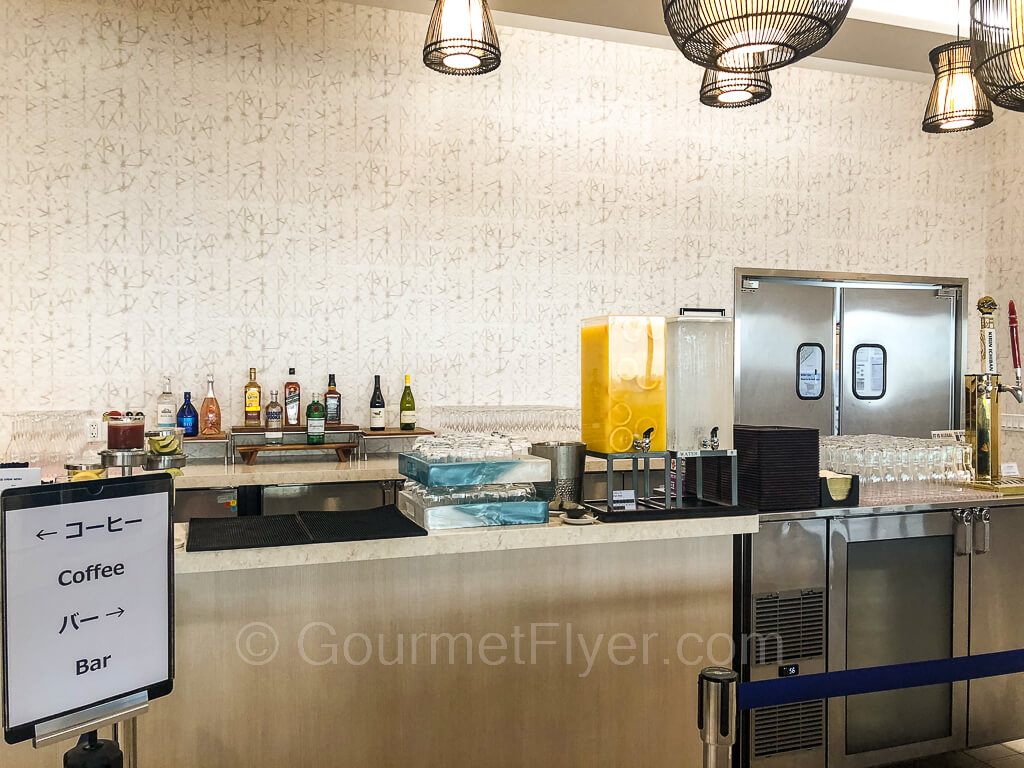 All soft drinks and non-alcoholic beverages are self-served although there are almost always plenty of attendants nearby to assist you if necessary. The drink area is roughly separated into two sides, with coffee, tea, and soft drinks on the left and alcoholic beverages on the right. However, the water station is in the bar area.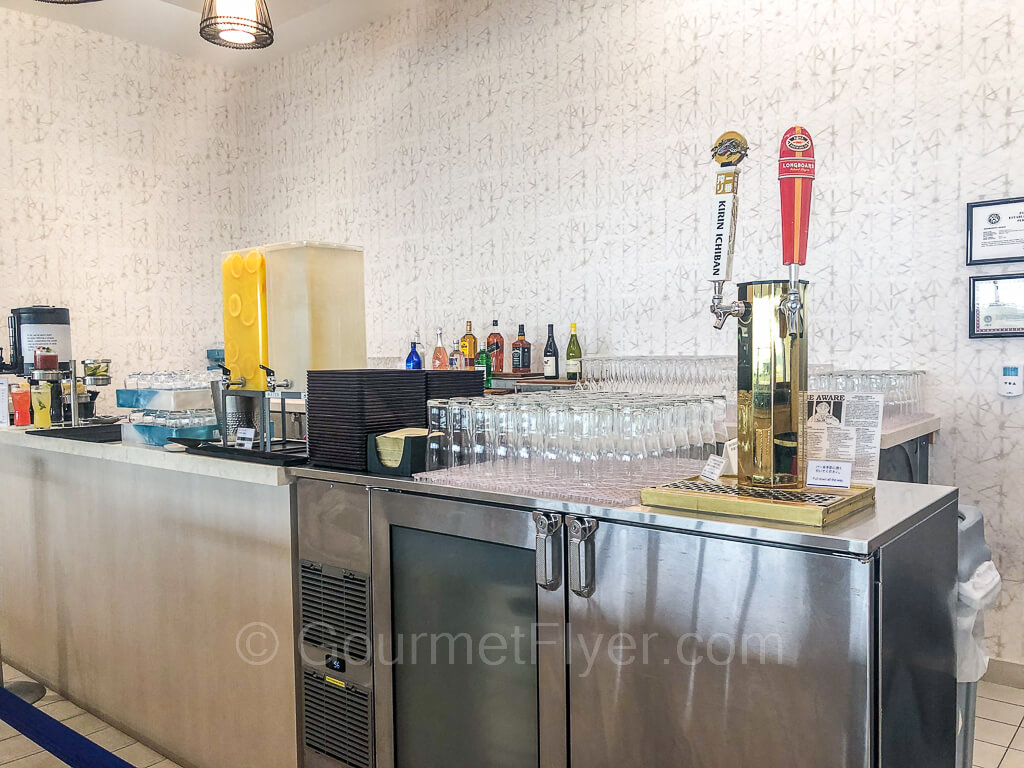 There are two beers on tap – Kirin Ichiban from Japan and Longboard, a local lager beer brewed in Kona, Hawaii. Beers are self-served, but wines, liquors, and cocktails are served by a bartender. They do serve some good quality brands such as Absolute vodka and Johnny Walker Black Label.
Customer Service
All of the attendants and agents there are professional, friendly, and very polite. When my wife and I were taking pictures of each other, an attendant approached us and offered to take a picture for us. That was certainly not expected but very much appreciated.
The entire place is kept sparking clean and the counters are constantly wiped down – if you spill a few drops of gravy on the counter, someone will somehow see this and immediately appear out of nowhere to clean it up!
Buffet items are replenished efficiently and neatly. It appears that if something is less than half full then it needs to be refilled. There are almost always attendants nearby, to clear your table, to answer your questions, to assist you with food and drink, and yes, to take a picture of you.
The Japanese culture has a very high standard of hospitality, and the team here at the ANA Lounge Honolulu HNL takes it to a level that is above and beyond.
Boarding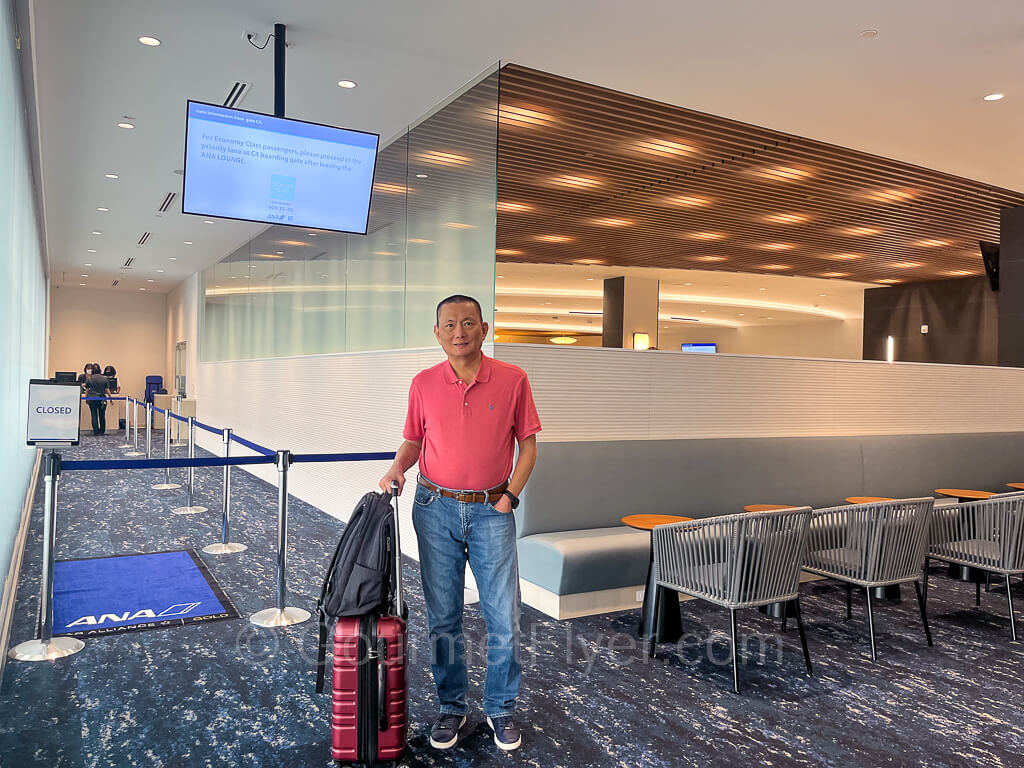 If you are going to Japan on ANA's Flying HONU service on the A380 double decker in First, Business, or Premium Economy Class, you'll board right here at the lounge. This makes perfect sense since all three classes are on the upper deck of the aircraft, they have a dedicated jet bridge going from the club to the upper deck. I think this set up is ingenious!
However, you do need to leave the lounge and walk to your gate for boarding if you are not flying on the A380 double decker, or if you are ticketed in the economy cabin which is located in the lower deck.
Conclusion
The ANA Lounge at Honolulu Airport (HNL) exceeded my expectations by a wide margin – even given the fact that I have been to several of the airline's lounges in Japan. Everything, from the design, architecture and atmosphere to food and beverage to the impeccable customer service, is World class and top notch. An A+ is an understatement.