October 25, 2022
This is a comprehensive review of my recent roundtrip flights between Los Angeles LAX and Tokyo NRT on All Nippon Airways (ANA) economy class. On the NRT-LAX leg I ordered Paid Exclusive Dining, and some emphasis is placed on this review to compare that with regular economy class dining.
Table of Contents
Boarding
At the gate, in additional to the agents that were behind the counter, there were also several agents stationed throughout the boarding area engaging with the passengers. They were actively assisting those who needed assistance as well as the handicapped and elderly. They also made sure that passengers were at the right place and in the appropriate boarding group. Everyone was courteously assisted, and the entire process was smooth and seamless. Since I was a Star Alliance Gold member, I boarded in group two even when flying economy class.
Pre-Departure Service
Overall, I find the flight attendants on ANA professional, friendly, and willing to go the extra mile. They greeted every passenger warmly and made us feel really welcomed. I also saw several of them helping elderly passengers carry their carryon luggage to their seats and stow them in the overhead compartment.
On my NRT-LAX leg which I pre-ordered Paid Exclusive Dining, a flight attendant confirmed my special meal with me and placed a sticker with my seat number and meal on my seatback. Everything was so efficient and well organized and reflected the inspirations of Japanese hospitality.
Seat and Dimensions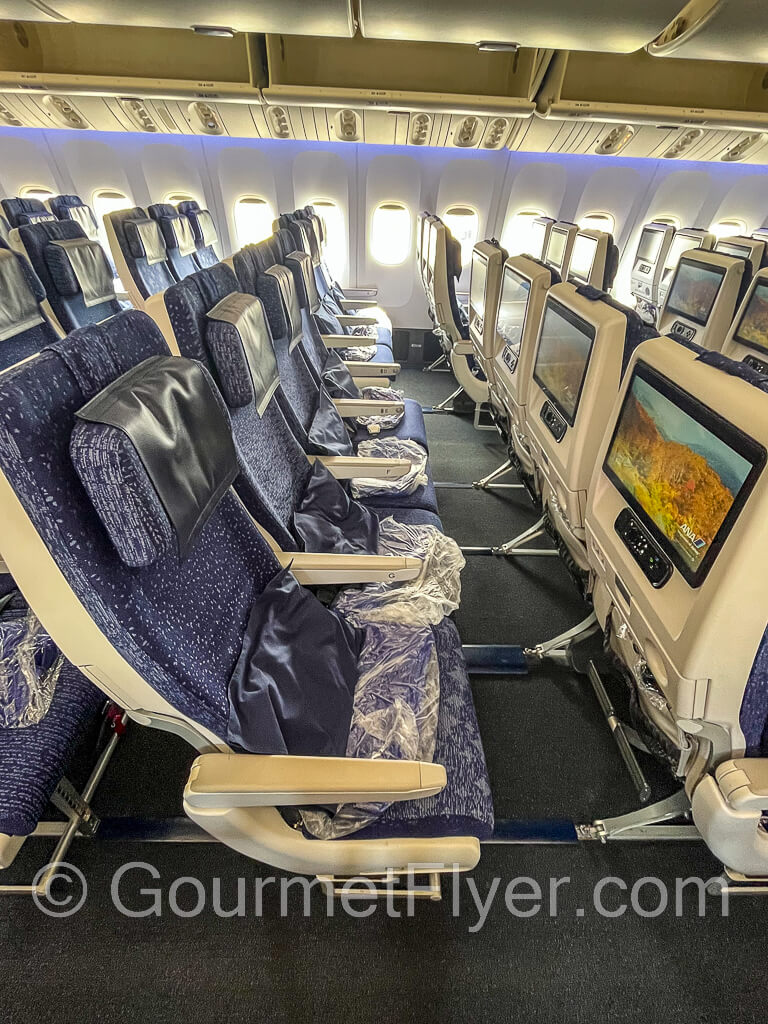 The configuration of the Boeing 777-300ER in economy class cabin is 3-4-3. This is somewhat standard for this aircraft across almost all major airlines' regular non-premier cabins, so the seat width is the standard 16.5". What sets ANA apart on the 777-300ER is the seat pitch of 34" which offers a lot more legroom than the 30" – 31" offered by its major competitors. In fact, the seat pitch of 34' is the same as United's Economy Plus or Delta's Comfort Plus on most aircrafts.
Another feature that makes your long-haul flight in the back of the plane somewhat more comfortable is the footrest. This was a pleasant surprise for me as the footrest is usually available in premium economy class only. With the footrest at an optimal position and my seat in maximum recline, I managed to nap quite comfortably a few hours at a time.
Seatback Entertainment and Accessories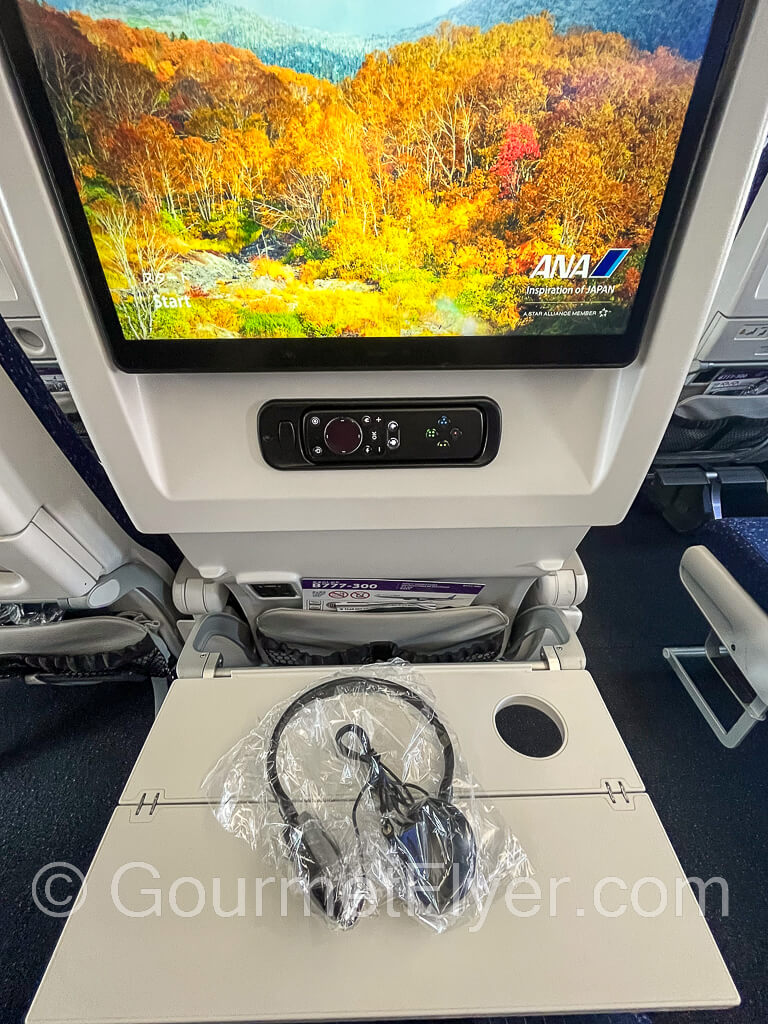 The seatback entertainment screen measures 10.6" which is about an inch wider than the typical 9.0" – 10.0" found in most economy cabins. Another perk that I enjoyed was that we were given headphone instead of the uncomfortable earbuds that are typical in the back of the plane.
A remote control lies in a socket immediately below the screen. A bit lower on the seatback is a charging port with both USB and AC power supply. The tray table comes with a "hole" that serves as a cup holder. It comes in really handy especially when there is turbulence so that your drink won't be sliding off the table.
Beverage Service
About an hour into the flight the attendants passed out wet towelettes (not sanitizer wipes) for us to clean our hands, which is very popular in Asia during mealtimes. It was followed by snacks and a drink cart service. All drinks were complimentary. I had a glass of red wine, and it was reasonably good.
Regular Economy Class Dining LAX – NRT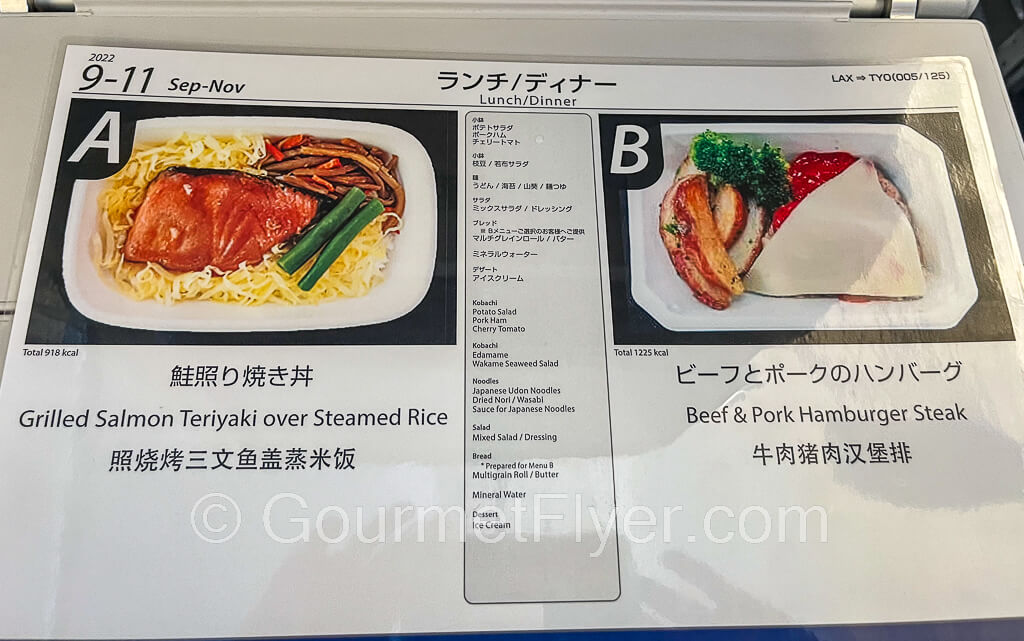 Just before dinner service, menu cards with pictures and full descriptions in English, Japanese, and Chinese were handed to us. They did this several rows at a time so that when the cart came to your row, you would already have a good idea what to order. This is so much better than the "chicken or pasta" that we often hear from US airlines' flight attendants. Not only will you know exactly what your options are, this practice will certainly reduce issues caused by language barriers if they exist.
ANA's Paid Exclusive Dining is only available on international flights departing from Japan. So, on this segment I am having just regular dining. As you can tell from the menu card posted above, our choices were grilled salmon teriyaki and hamburger steak.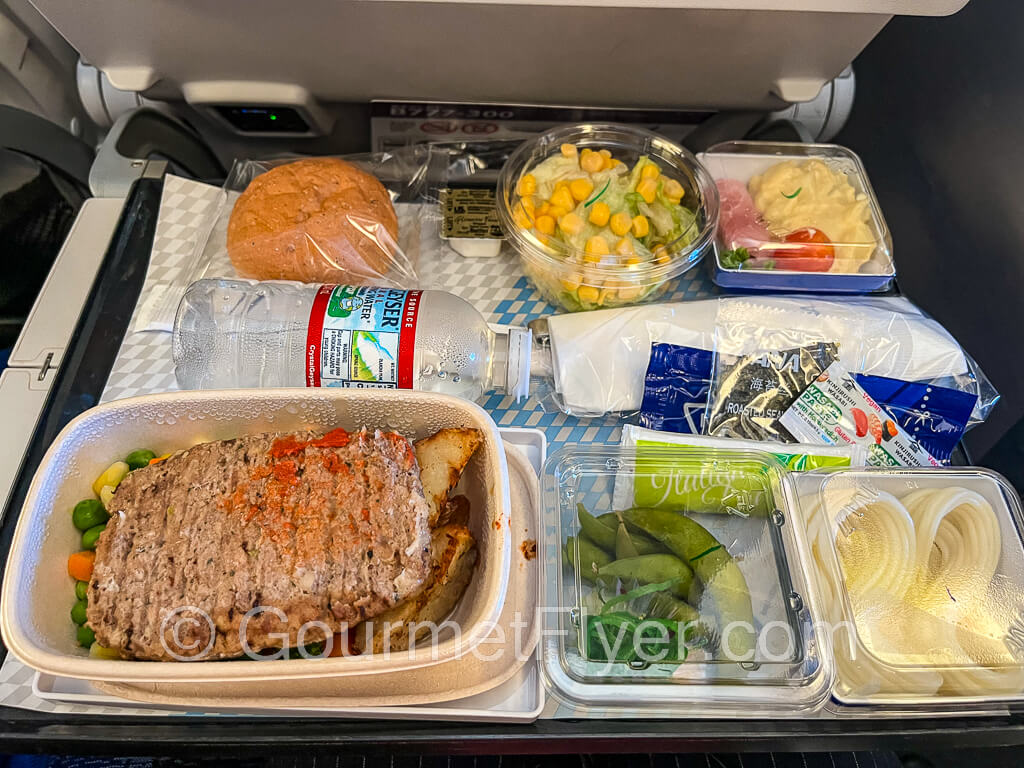 I ordered the hamburger steak which was served on a bed of mixed vegetables and potatoes. Side dishes included a green salad with corn, potato salad with ham and cherry tomatoes, edamame beans, and cold udon noodles served with wasabi and a delicious soy sauce based noodle sauce. Dinner was followed by ice cream for dessert. This was almost like a feast by economy class standards! And kudos to ANA for real silverware instead of plastic utensils!
Every food item was fine although nothing was spectacular or memorable. But this is airline food in the back of the plane, so I have to keep my expectations reasonable.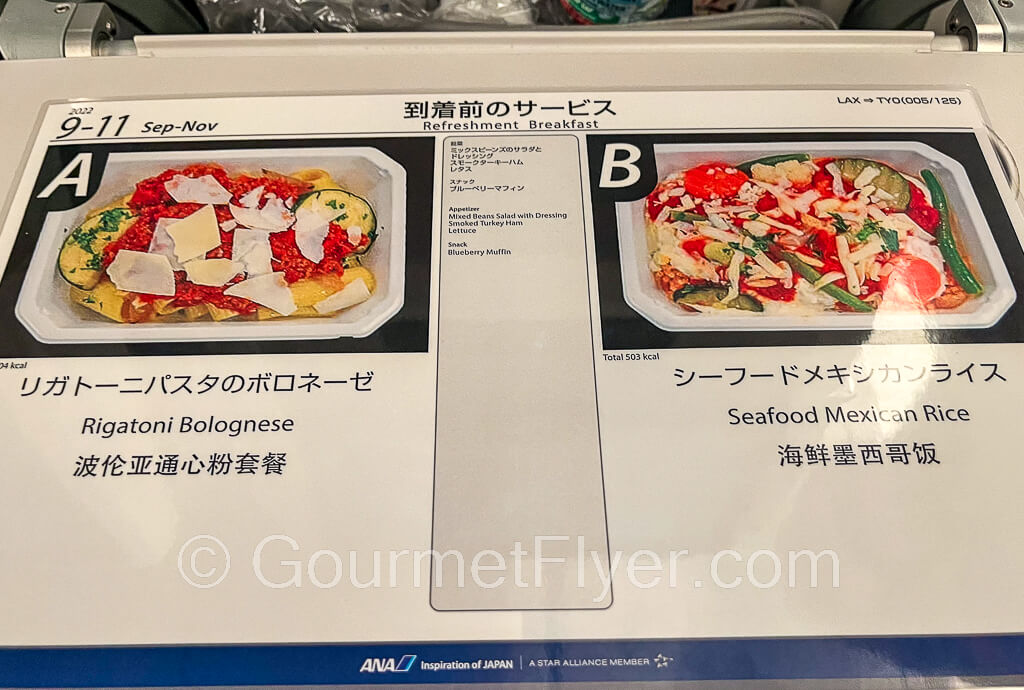 The pre-arrival meal choices were rigatoni Bolognese and seafood Mexican rice. I chose the rigatoni, and the pasta was well cooked and almost al dente. The Bolognese meat sauce was flavorful and quite tasty. The entrée was accompanied by a bean salad and a blueberry muffin. This was a great meal for an evening arrival, and I appreciated the thoughtfulness.
Paid Exclusive Dining NRT – LAX
Paid Exclusive Dining is offered on international flights originating from Japan and on flights that serve a full meal (not short flights that serve just a snack.) To qualify, the ticket must be purchased directly from ANA (ticket number begins with 205) and must be in one of the following fare classes: G, E, N, R (excluding Honolulu routes), Y, B, M, U, H, Q, V, W, S, L, K, X. You can order the special upgraded meal from ticket issue until 24 hours prior to departure. For more information, please visit the airline's website here.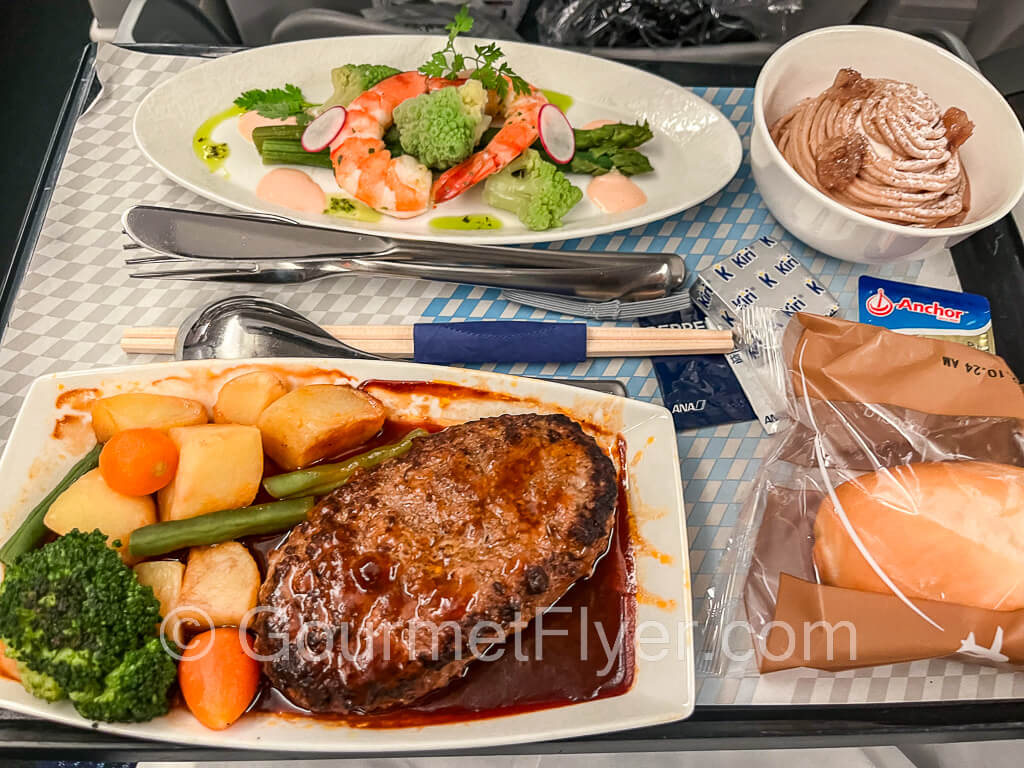 I ordered the hamburger steak just to have some contrast and comparison with the regular meal. The hamburger steak from the Paid Exclusive Dining was all beef (versus beef and pork) and the portion size was much bigger. It was served with a rich demi-glace sauce that had a hint of red wine. Side dishes included sauteed fresh vegetables and roasted potatoes.
The main course was accompanied by a cold appetizer which consisted of two shrimps in lobster sauce. Dessert was French Marron Chocolat (chestnut cream and milk chocolate mousse cake). As with most Japanese or French desserts, it was rich in flavor but not overly sweet.
Overall, the dining experience was elevated to a higher level with an enhanced menu and better-quality food. I really enjoyed it. The cost was 2,500 Yen and I think it is absolutely worth the upgrade and I will do this again. (Due to the strength of the US dollar in 2022, this was less than USD18. However, based on the historical exchange rate pre-2022, this would be about USD23 – still a good value for a decent meal at 35,000 feet up in the air.)
Pre-Arrival Meal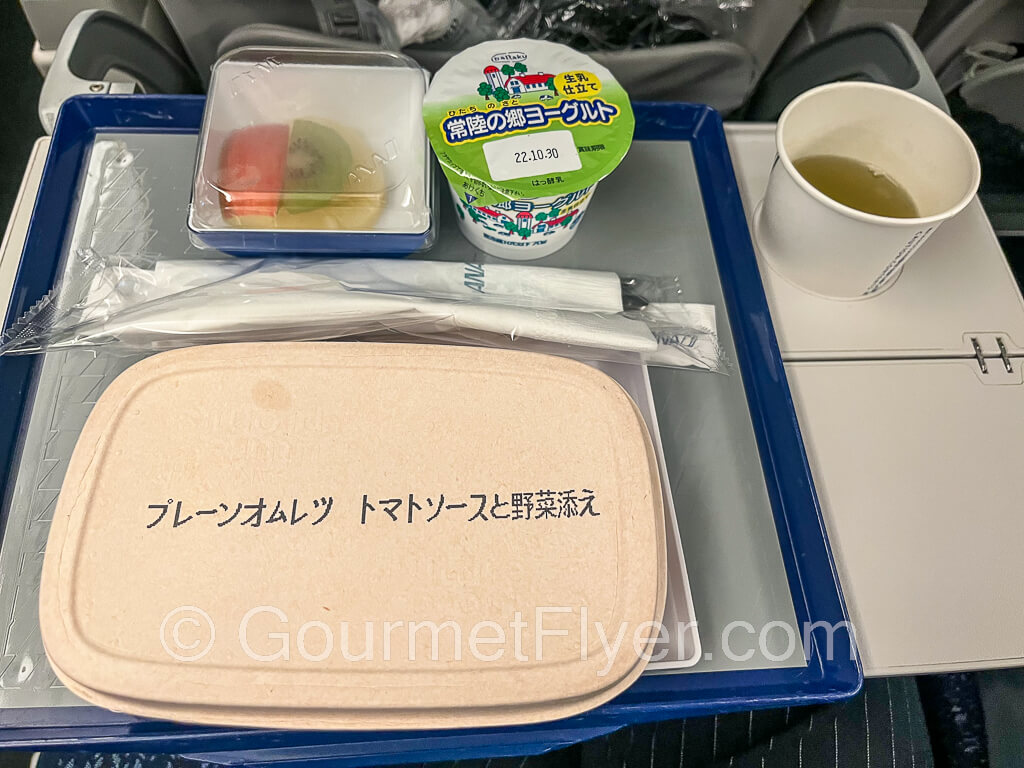 The choices for this segment's pre-arrival meal were grilled red rockfish teriyaki with rice or plain omelet with ratatouille. I chose the egg dish, and it also came with half a sausage. The egg was really good! The inside of the egg was moist and soft and completely Japanese style. The entrée also came with fresh fruits and yogurt and was the perfect breakfast for a morning arrival. I really appreciated the thoughtfulness that the pre-arrival meals matched the times of arrival.
As usual, a drink cart service accompanied the meal and when all was finished, we were about an hour away from touchdown.
Conclusion
All Nippon Airways (ANA) delivered a first class service in an economy class cabin, and I was impressed by both its hard product and soft product. The flight attendants were always professional, cheerful, and they exuded enthusiasm in their work. They are truly the emblem of Japanese hospitality. I also greatly appreciated the opportunity to purchase an upgraded dining at a modest price, and I am now a fan of the airline's Paid Exclusive Dining.
The ultimate verdict of my review on ANA's economy class service between Los Angeles and Tokyo is:
Hard Product: A
Soft Product: A