Updated November 4, 2023, to reflect new operating hours.
Singapore Airlines is well known for providing superior air travel experience and unparalleled hospitality, and this is clearly exemplified by its SilverKris Lounge at Hong Kong International Airport (HKG). The place itself is beautiful, with a contemporary décor that reflects a sense of elegance and sophistication. There are plenty of seating options suitable for dining, relaxation, or work.
Every employee that I've encountered the few times that I was there was professional, and they all exuded enthusiasm in their work. Service was always prompt and courteous. But the most impressive of all the components in this airport lounge is the extensive buffet spread that offers a wide selection of delicious international cuisines.
Table of Contents
Location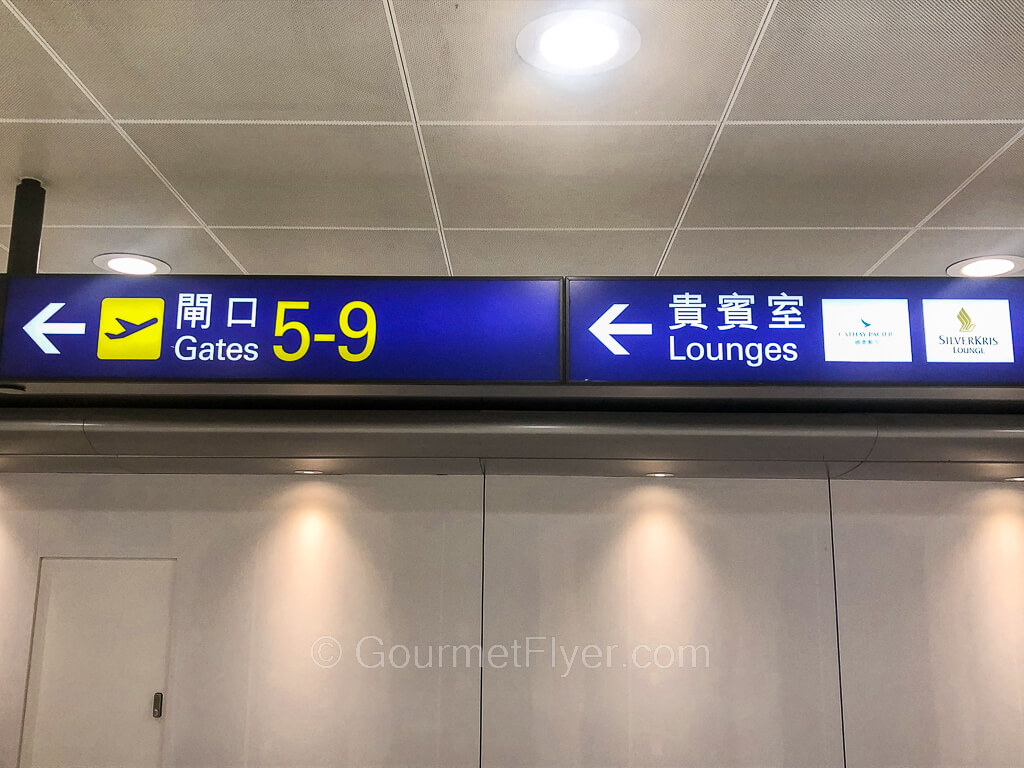 The club is located near Gate 5 of Hong Kong International Airport's Terminal One. The signs leading to it are clear, however, don't be confused by the sign pointing to gates 1 – 4, thinking that gate 5 should be in the vicinity. Actually, it is in the opposite direction. Follow the sign to Gate 5 specifically, as shown in the picture above.
As of this writing, due to renovations, the temporary limited hours are 9:30am to 7:00pm daily.
Updated November 4, 2023: As of this date, opening hours have been extended to 6:15am to 8:00pm.
Access
Rules governing admissions to airport lounges are always complicated so please refer to the airlines' website here for their official policies. But for a very quick reference in a nutshell, in general, the following passengers should have access:
Passengers traveling on Singapore Airlines in Business or higher class of service (First Class or Suite Class passengers have access to the First Class Lounge.)
Business or First Class customers departing on a Star Alliance flight.
The airlines' elite frequent flyers who have KrisFlyer Gold, PPS, or Solitaire PPS status departing on Singapore Airlines or any Star Alliance airlines.
Star Alliance Gold members departing on an SQ or Star Alliance flight.
Seating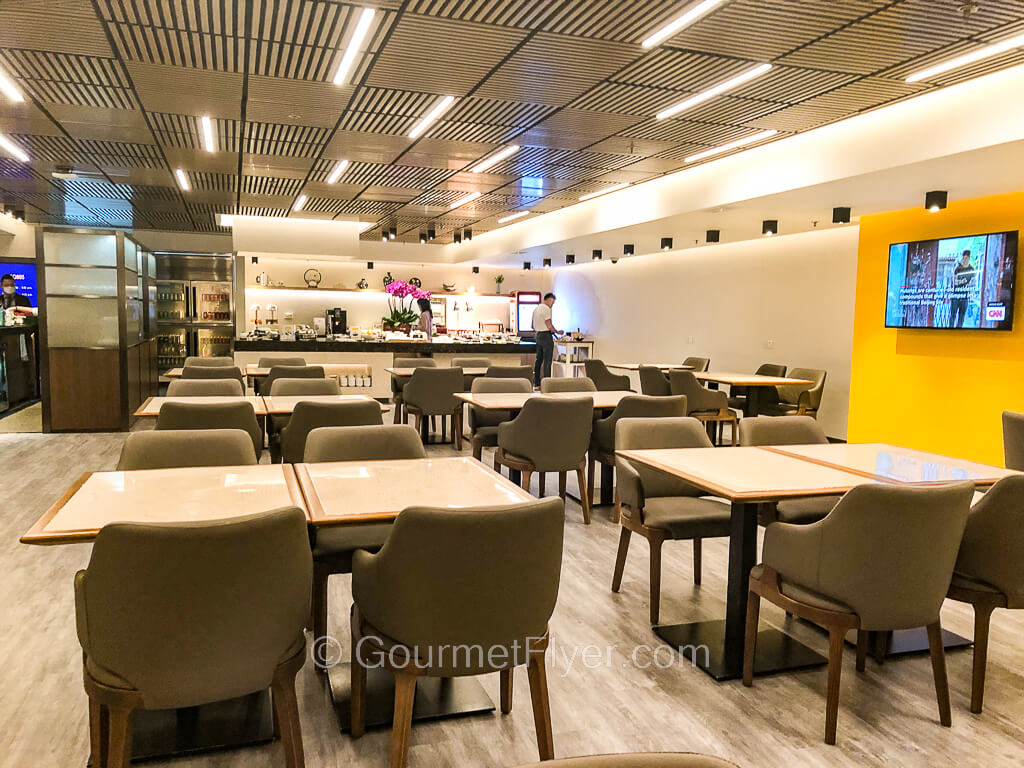 Immediately upon entry and right at the buffet counter is an area with dining tables which resembles the setup of a restaurant. This is a very comfortable space to have a meal or even get some work done. This is my favorite section within the club which has a cozy and casual dining room atmosphere. However, the tables are not equipped with power outlets. But right along the wall of the dining room is a long work bench like counter that has plenty of USB and power sockets.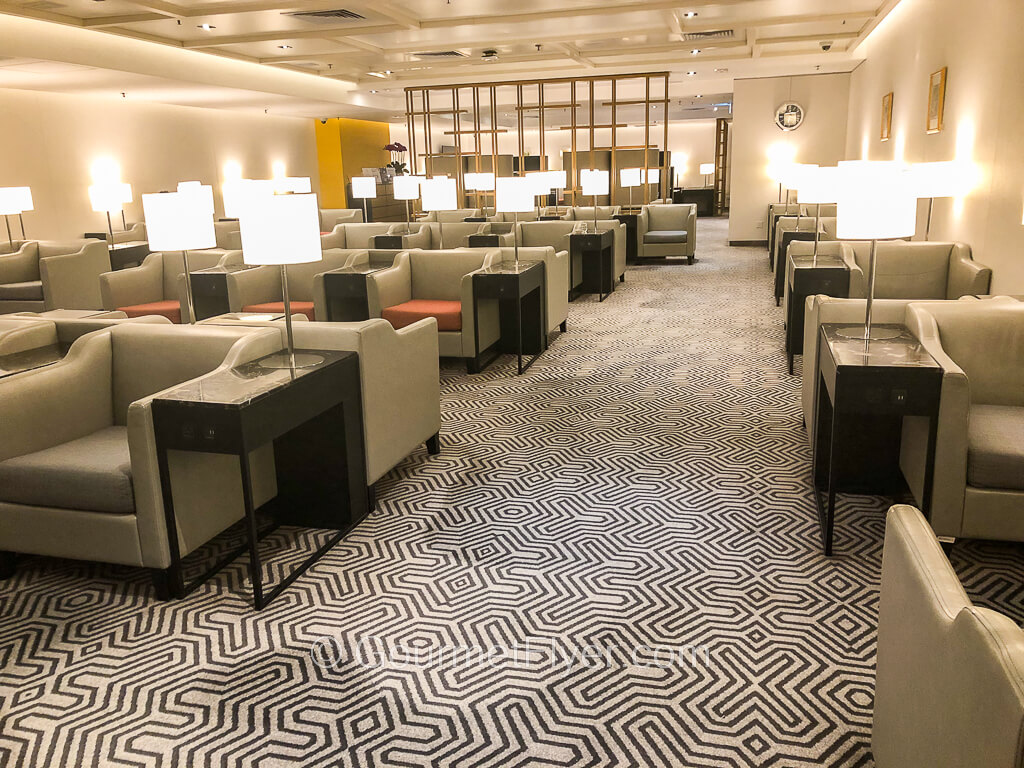 The SilverKris Lounge here at HKG is very spacious and do not feel crowded even with a lot of passengers in there. Seating areas are spaced out in several regions to give the club an open and airy feel. The two main relaxation zones are fitted with wide and comfy sofas accompanied by elegant looking coffee tables with desk lamps and power outlets. As you can tell from the picture above, opposite facing chairs are placed far apart to provide customers with plenty of private space.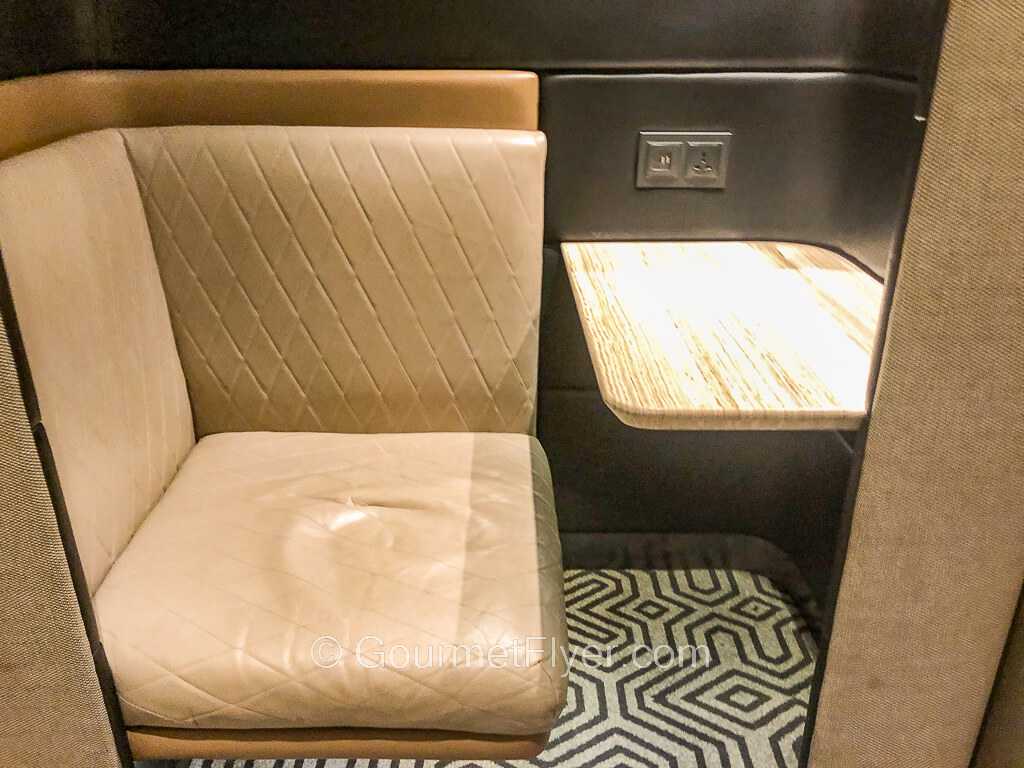 Those who need to get some serious work done with little distraction are happy to find the semi-private cubicle-like workspace that comes complete with a large desk and charging facilities.
All Day Snacks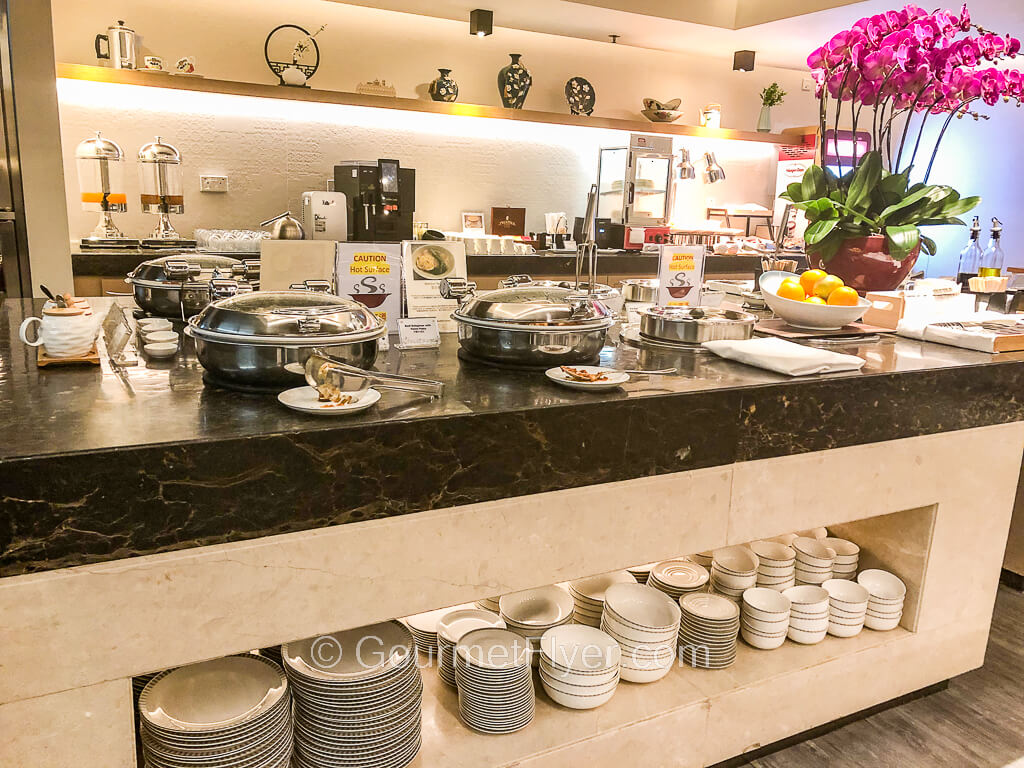 The SilverKris Lounge in Hong Kong has an impressive buffet area with several sections, each serving a wide variety of food. On the main counter shown above are chaffing dishes with international cuisines. On the couple of days that I was there, the hot entrees include:
A pasta dish, such as Penne Bolognese
Sweet and sour chicken
A Chinese vegetable dish, such as black mushroom and bok choi
Vegetarian Mapo tofu (moderately spicy hot)
Steamed white rice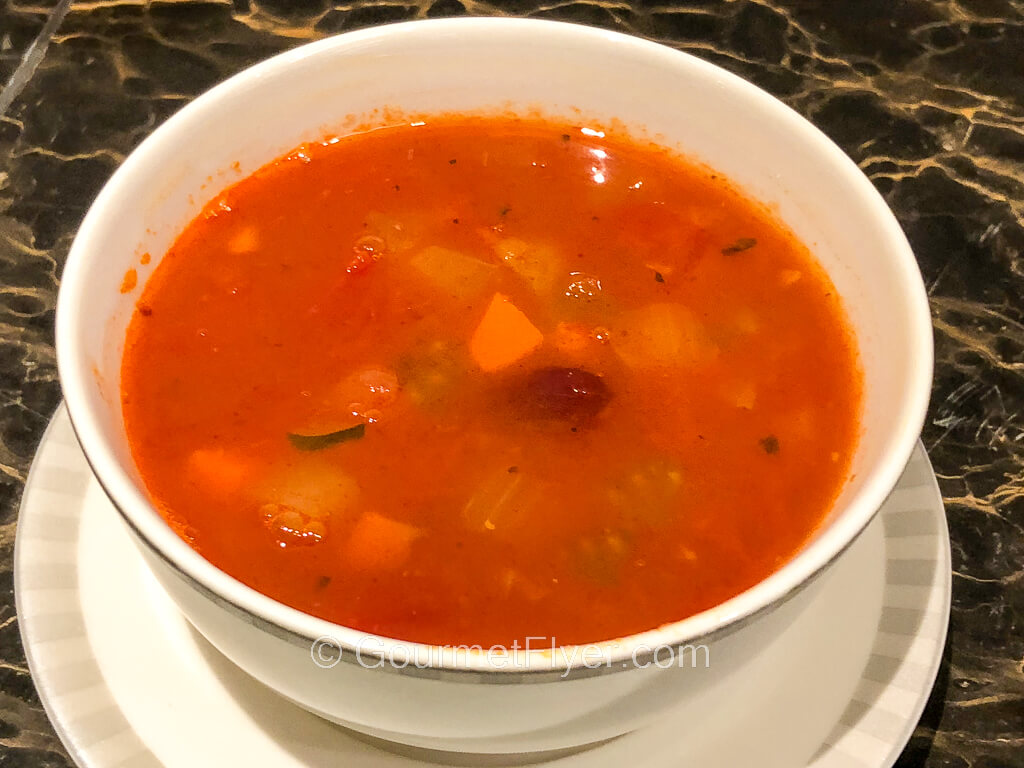 They typically rotate two soups, usually one Western and one Asian.
The Western soup of the day was minestrone which was loaded with plenty of vegetables and kidney beans. It was delicious and I liked it a lot.
The Asian selection was a traditional household favorite of lotus root and black chicken soup.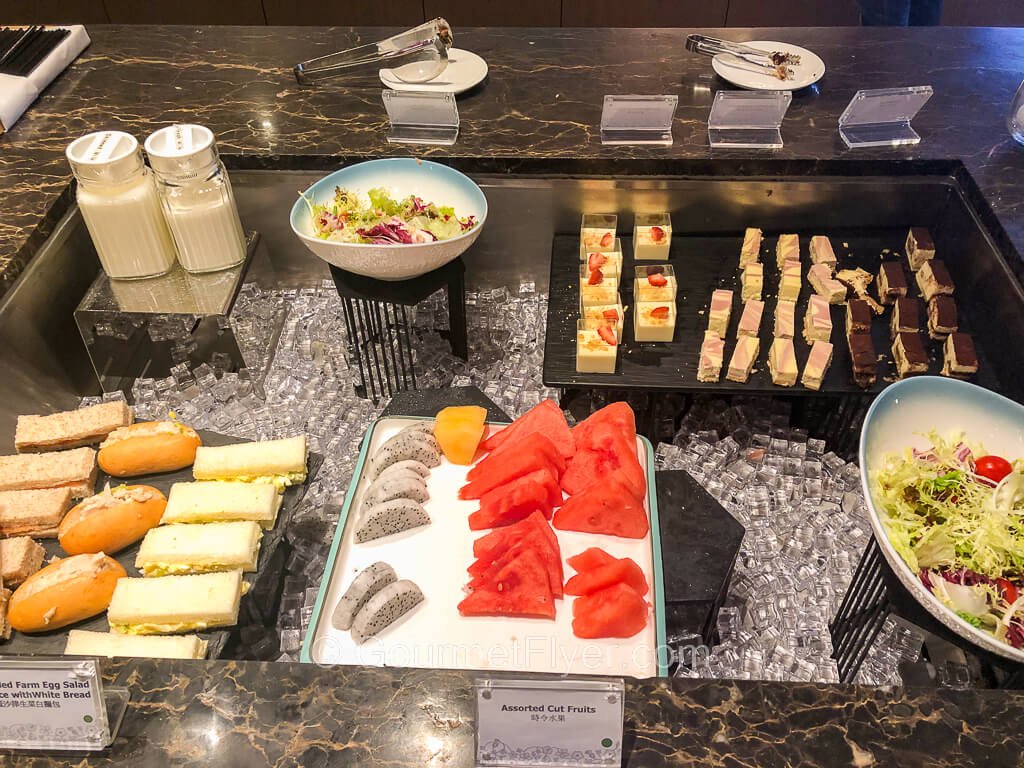 On the other end of the elegant marble counter is a sunken and chilled area which houses a salad bar, assorted cut fresh fruits, finger sandwiches, and a selection of small pieces of cakes.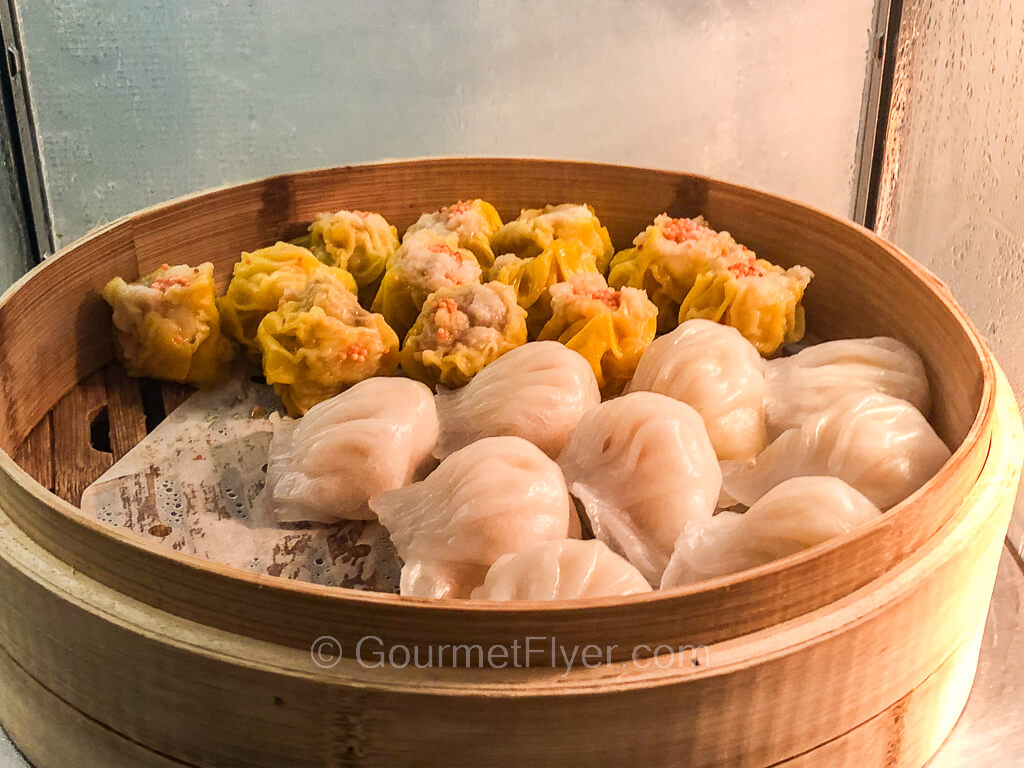 On the back counter against the wall and next to the coffee machines is a warmer with steamed Chinese dim sums. They include har gow (shrimp dumpling), siu mai (pork dumpling), and steamed barbecue pork buns.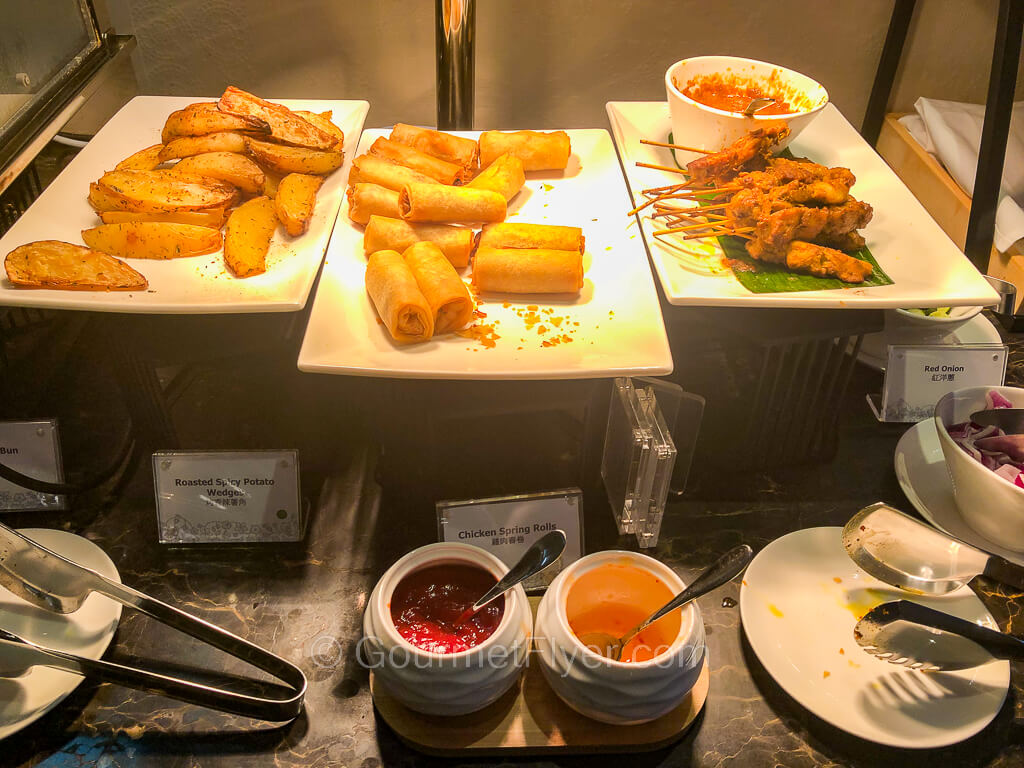 Are you ready for more food? Next to the dim sums is another station of goodies. From left to right on the picture above are roasted spicy potato wedges, chicken egg rolls, and skewers of chicken satay. The satays are really good and rich in authentic Southeast Asian flavor, just like those found in the streets of Singapore or Kuala Lumpur.
Desserts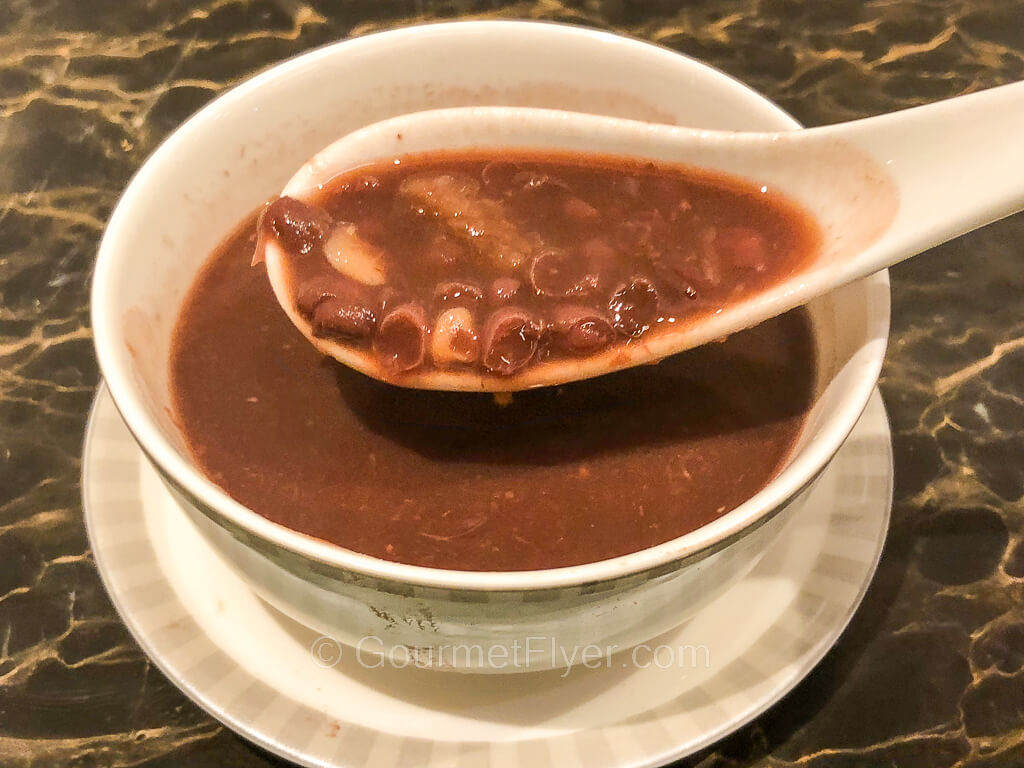 As you can tell by now there is plenty of food, enough for a full lunch or supper. But the meal is not complete without dessert. You already know that an assortment of delicate cakes can be found in the sunken and chilled section of the main buffet counter. However, what I recommend that you must try is the classic and traditional Chinese dessert of red bean soup with lotus seed. This is a very popular dessert that is often served at the end of a banquet style dinner. I think the chefs here at the SilverKris Lounge do a good job with it. The soup is moderately sweet, full of red bean flavor, and has a strong aroma of tangerine peel.
Bar and Beverages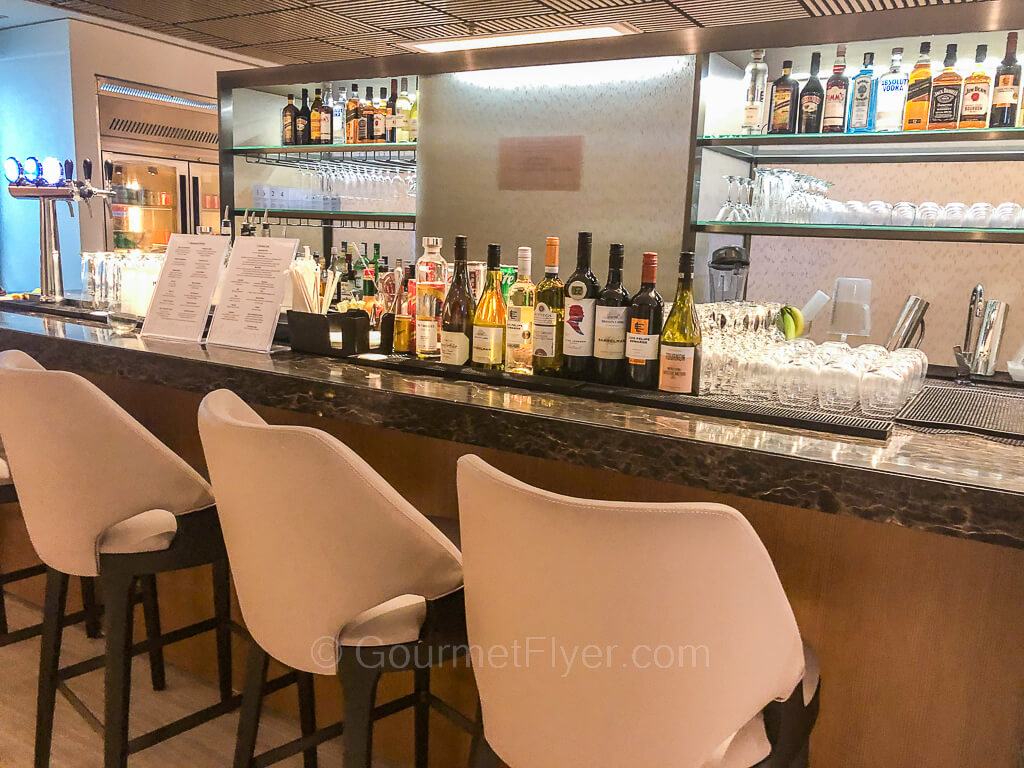 There is a full bar staffed with friendly and professional bartenders. There are five barstools if you would like to sit there.
You can order pretty much any popular cocktails but there is a recommended list of their signature drinks which include bloody Mary, Martini, old fashion, tequila sunrise, among several others. On the list are also local specialties such as Singapore sling and Yuen Yeung martini. A good selection of red, white, and sparkling wines is also available.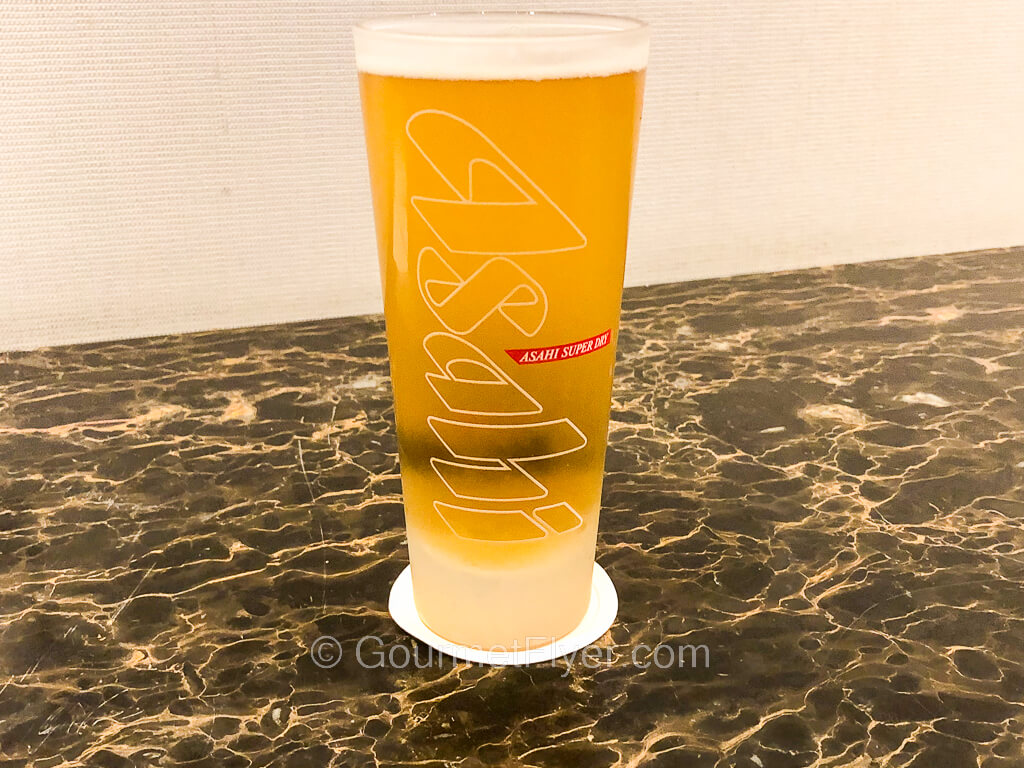 As for beers, Asahi Super Dry and Tiger beers are served on tap, and you have to get them from the bartender. Cans of Heineken and Tsing Tao are self-served and are placed in a glass doored fridge.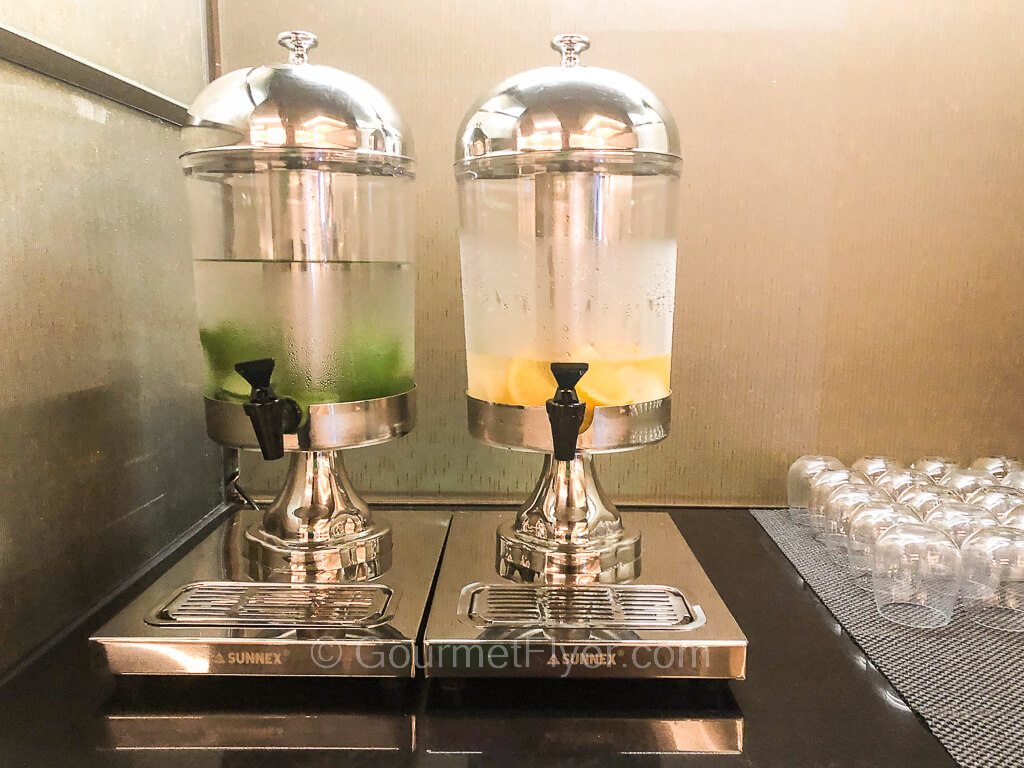 For non-alcoholic drinks, tubs of citrus or cucumber infused water are offered along with dispensers of juices. A coffee machine makes lattes, espressos, and other coffee drinks. It also dispenses hot water for teas. Cans of many different sodas and soft drinks are self-served from a fridge.
Conclusion
I am impressed by the extensive international fares at the buffet. Not only was there a large variety of them, but the quality of the food was top-notch and everything that I tasted was delicious. Service by the staff has been impeccable and unparalleled. Empty dishes were removed quickly, and empty tables were cleared and wiped down promptly. They were so efficient that it almost felt like they appeared out of nowhere whenever they were needed – I spilled a drop of gravy on the countertop, and it disappeared the moment I walked away.
I like the design of the club – from the majestic looking entrance to the elegant interior which exudes a hint of sophistication. The entire space feels airy, open, and comfortable. Overall review of Singapore Airlines' SilverKris Lounge at Hong Kong International Airport (HKG) is highly positive, and I would happily rate them as among the best in the business.