Updated August 21, 2023, to reflect the new furniture and décor of the outdoor terrace.
Updated March 29, 2023, to include more pictures of new food offerings. Plexiglass partitions have been removed from workstations.
Updated December 25, 2022, to include more picture and to reflect the current breakfast offerings.
June 2, 2022
I have a United Club membership and LAX is my home airport. Therefore, I visit the United Club located in Los Angeles Airport (LAX) often – literally dozens of times a year. This is a comprehensive review of the club based on my multiple visits to this location.
This review is accurate as of the time of this writing, and reflects the food, drinks, and services offered at this United Club after COVID measures have been lifted. Self-served buffet-style foods and beverages have returned, as well as glassware in lieu of paper cups and plates. Face masks and social distancing requirements have also been lifted.
Table of Contents
Overview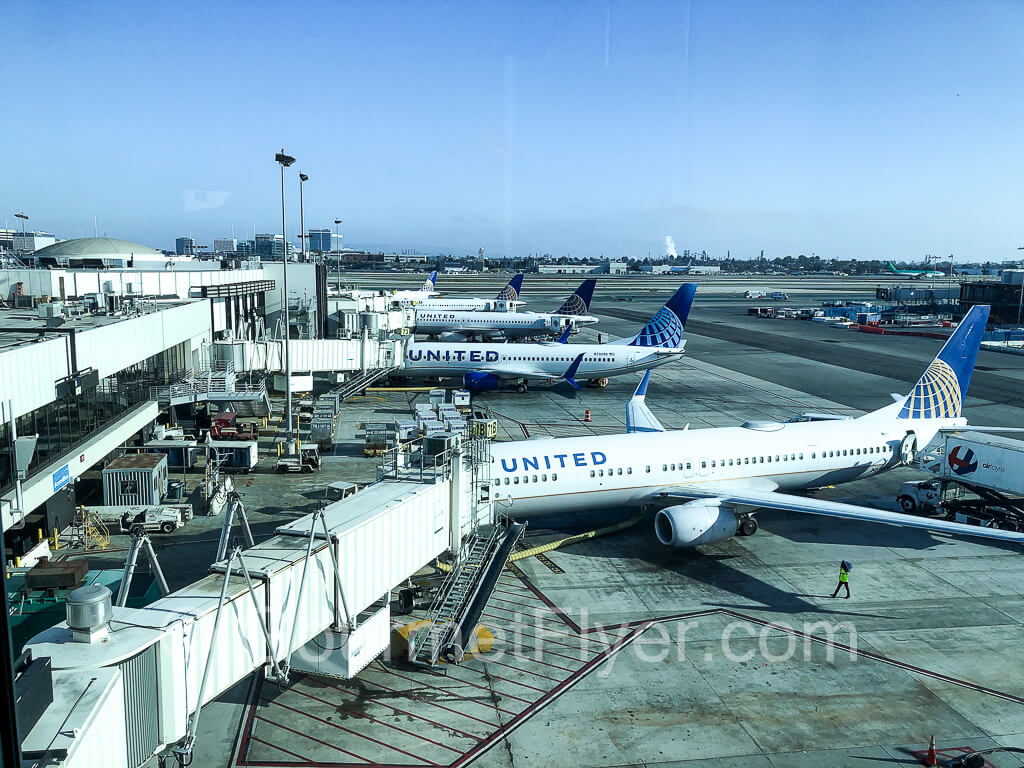 This United Club is located in terminal 7 next to gate 71A. When you go up the short escalator after the TSA checkpoint, take an immediate right toward gate 71A and you will see the huge floor to ceiling "United Club" glass panels.
This is one of the largest United Clubs within the United States and is also one of the newest ones. It has more workstations and seating areas when compared to other UC's located in hub cities, such as San Francisco (SFO), Denver (DEN) or Chicago (ORD). The lounge has an open-space interior design that makes it look and feel very spacious. I have been there during peak hours when it was full, but it didn't feel crowded.
This lounge has one of the best views among all the UC locations that I have been to – and I have been to many, both domestically and internationally. Large floor to ceiling windows offer a spectacular view to United's terminal 7 and 8, as well as takeoffs and landings at the nearby runways (for the aviation enthusiasts, they are runways 7L-25R and 7R-25L). If you love watching planes, grab a window seat and enjoy!
Access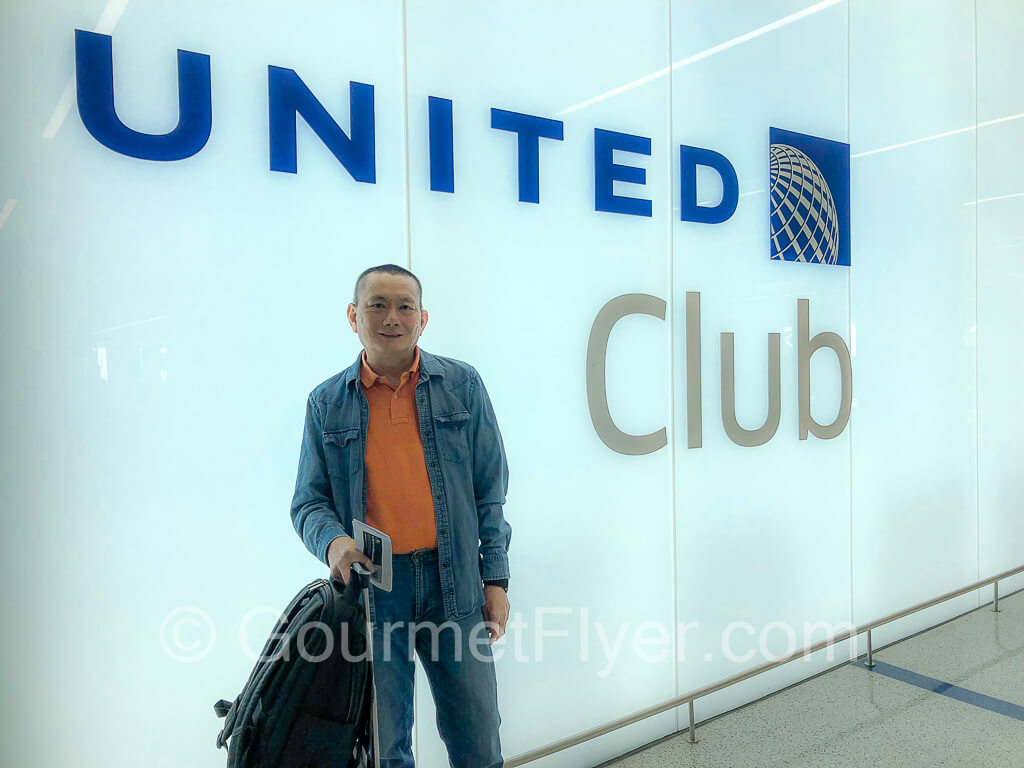 The complete access policy to the United Club can be found on United's website here. In a nutshell, to gain access to the club, a passenger must have a same day boarding pass on a United Airlines or a Star Alliance airline's flight and meet at least one of the following eligibility requirements:
A valid United Club membership.
A boarding pass for United Polaris Business Class (eligible to enter Polaris Lounge where available.) Access is available at departure, connecting, and arrival airports.
A boarding pass for United Business Class on most international flights. Access is available at departure, connecting, and arrival airports.
A boarding pass for United Business Class on premium transcontinental flights. Access is available at departure and arrival airports.
A boarding pass for First Class or Business class travel on a Star Alliance international flight. Access is limited to the departure airport of the international segment only.
Possession of United Mileage Plus Gold or higher status and traveling on an international flight on United Airlines or a Star Alliance airline. Access is available at departure, connecting, and arrival airports.
Possession of Non-United Star Alliance Gold status and traveling on an international flight on United Airlines or a Star Alliance airline. Access is limited to the departure airport of the international segment only.
Possession of a United Mileage Plus Explorer Card one-time pass.
The purchase of a United Club one-time pass.
Seating and Work Areas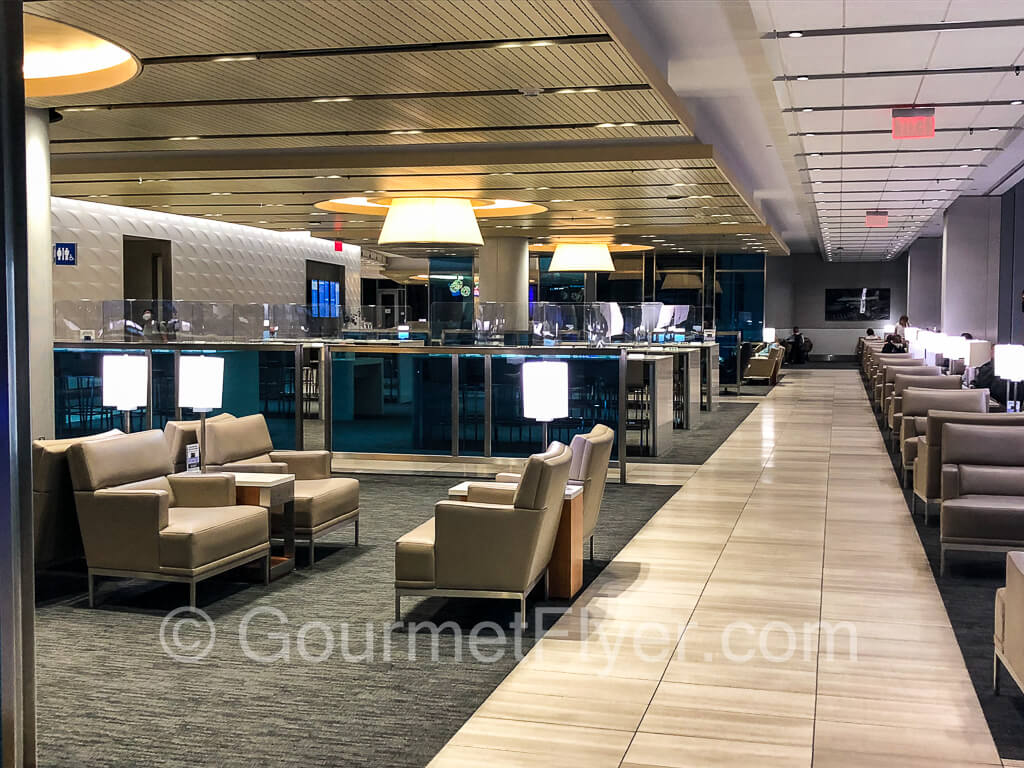 In general, there are three types of seating available. Large and wide leather sofa seats with coffee tables between them line one side of the floor to ceiling windows.
There are round dining tables of various sizes. The small tables seat two, the medium sized tables can seat 4 – 6 people, while the largest tables can comfortably fit 10 people.
There are several sets of workstations with power sockets and USB outlets. These used to function more like a long communal table in the pre-COVID days. But the plexiglass dividers installed during COVID make them look more like individual workstations and I think that works out well.
Updated March 29, 2023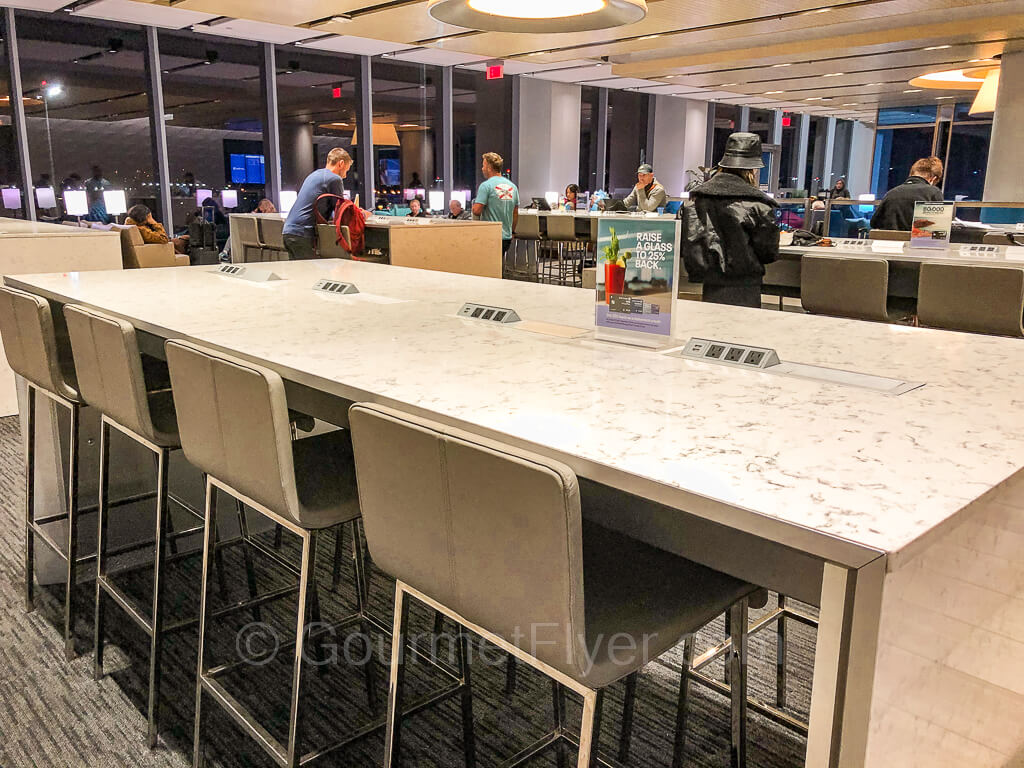 Plexiglass partitions from the days of the COVID pandemic have been removed from the workstations, restoring their original open space and airy design.
Outdoor Terrace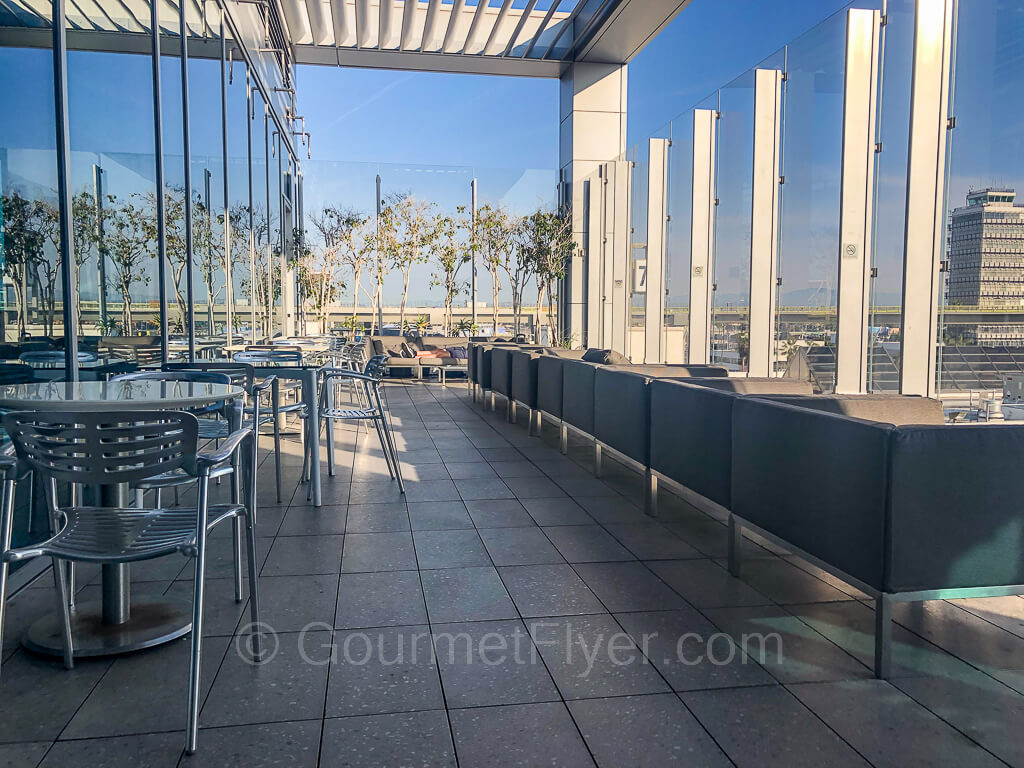 The United Club at LAX offers a large and comfortable outdoor patio-style seating and is a very pleasant space on a gorgeous day in Los Angeles (which is like most days). If you love watching planes, then these are some of the best seats in the house. Note that even though this is an outdoor space, it is strictly non-smoking.
Updated August 21, 2023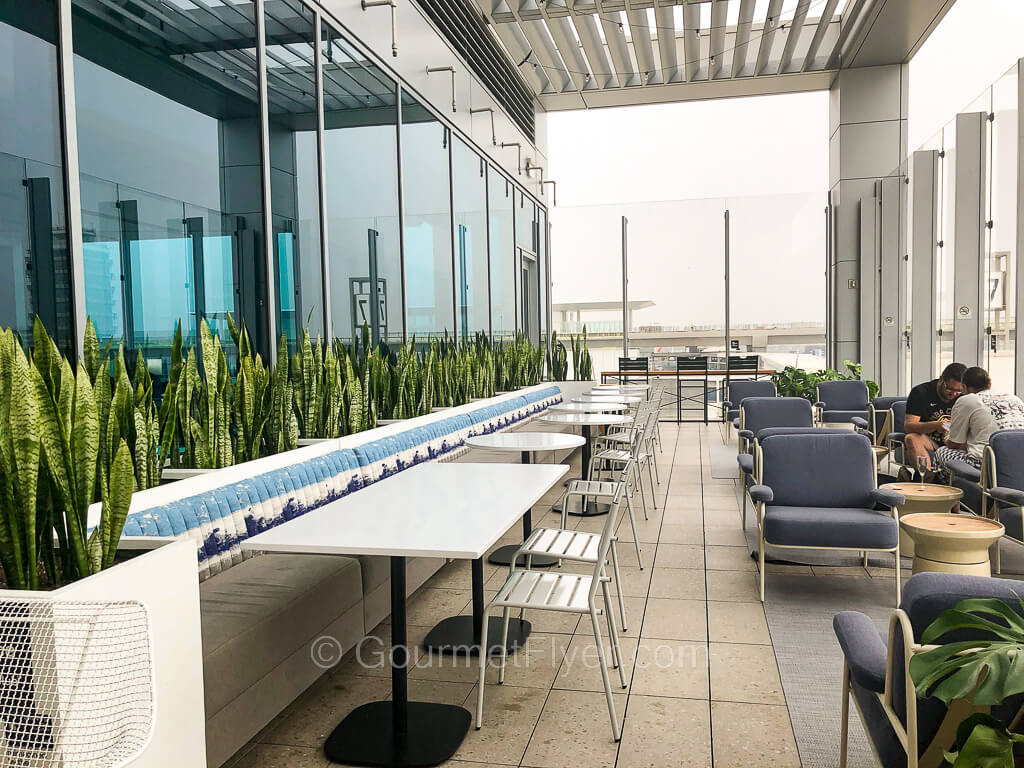 The terrace recently got a facelift that completely changed the décor as well as the atmosphere of the environment. The older and more traditional patio furniture was replaced with more contemporary designs that exude California vibes. Bar tops with highchairs are placed on both ends of the terrace against the glass for the aviation enthusiasts to get a panoramic view of the tarmac.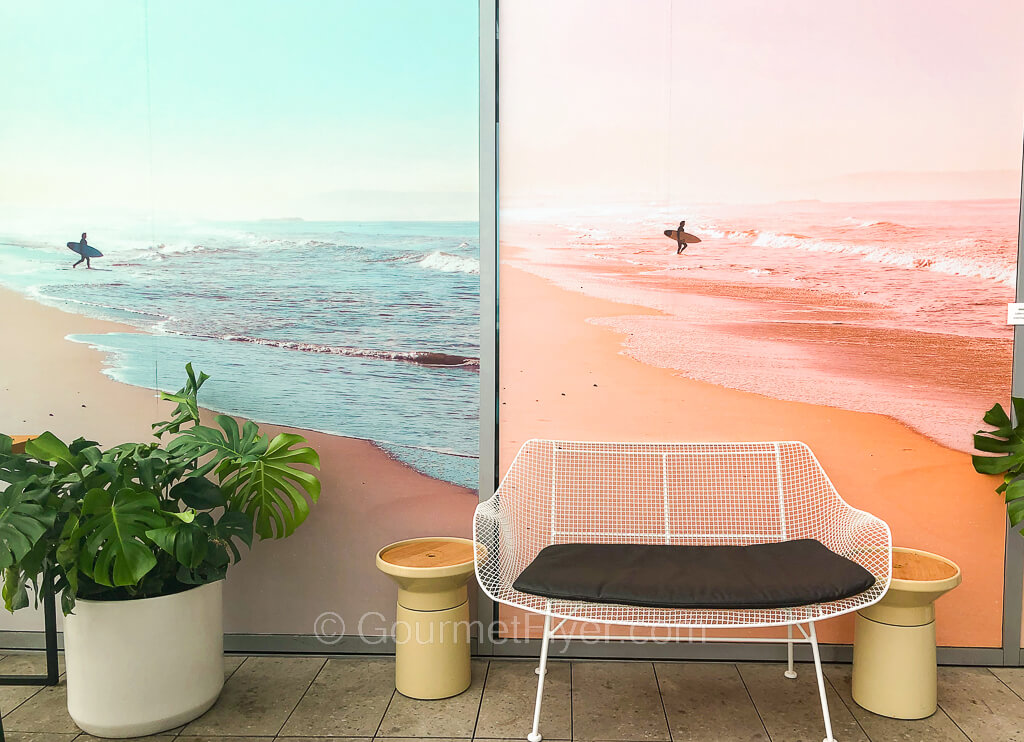 The California beach decor is further enhanced by artsy photography from Kristin Hart's California Surf Series, where the early morning fog creates the mood of a surfer's dream.
Phone (Zoom) Booths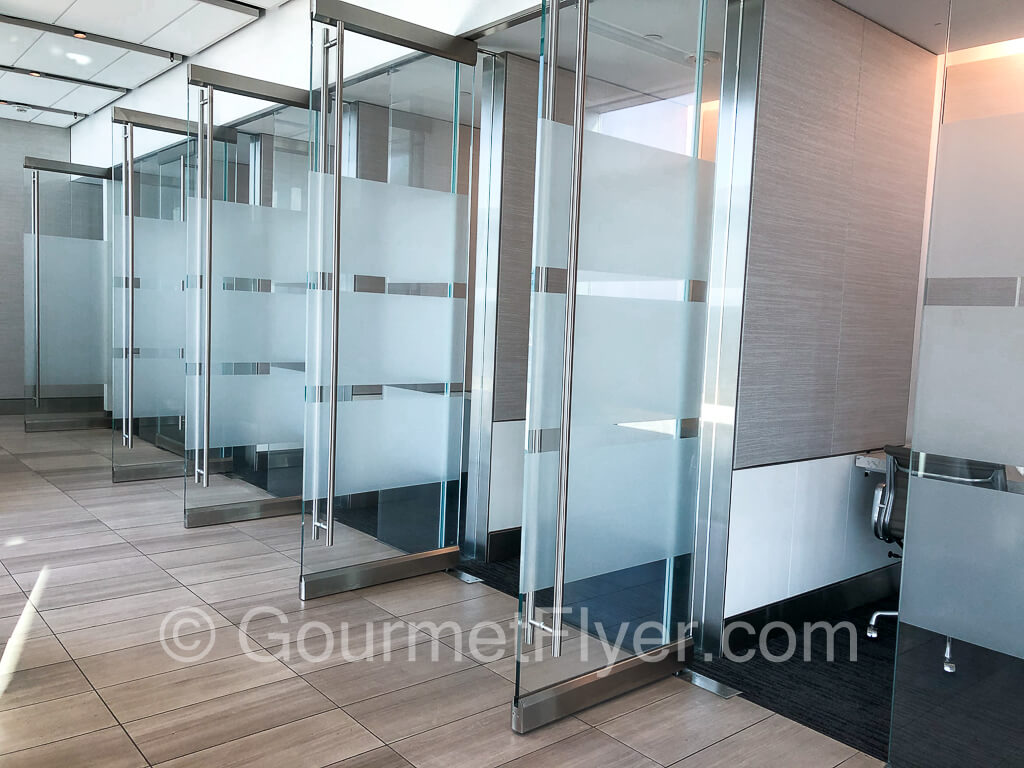 These "phone booths" have now widely been used as "Zoom booths" and they are perfect for that purpose. Inside each booth is a bench table that can be used as a desk, a telephone, and a chair. However, they are not soundproof so please be considerate to your neighbors and use headsets when you are on a Zoom or conference call.
Food Service
Breakfast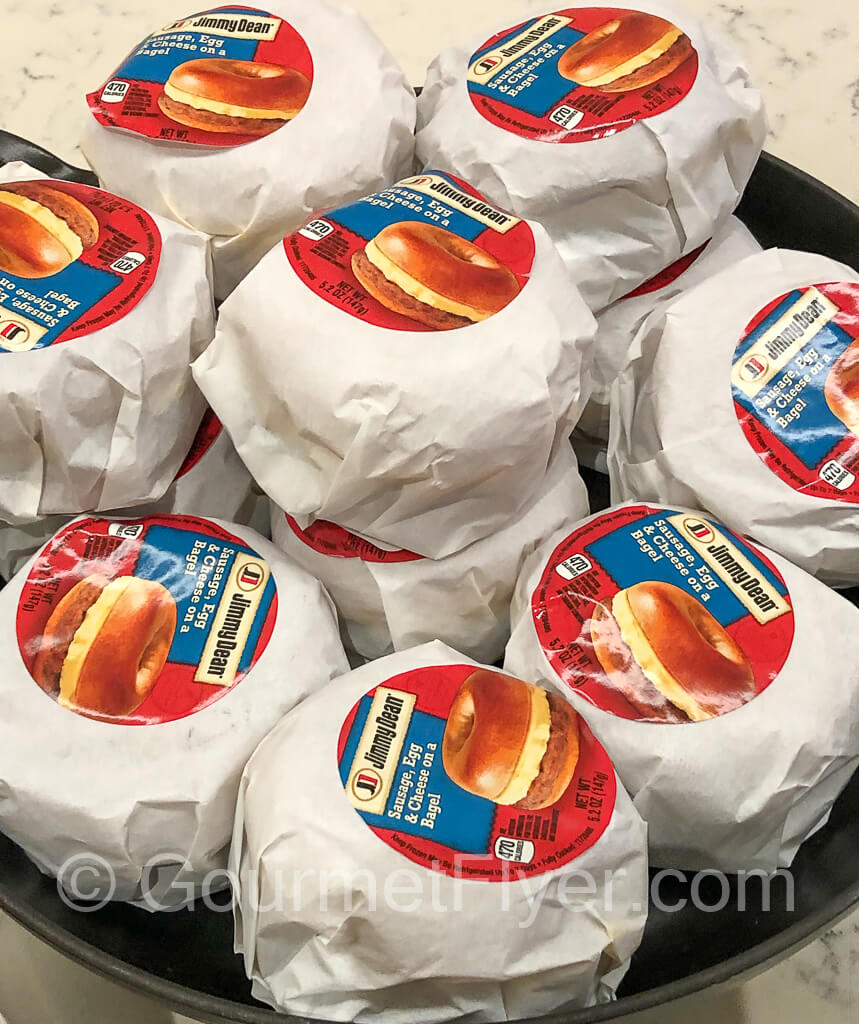 Breakfasts are served from opening until 11am. The main staples are cereals, yogurt, fruits, muffins, and pastries. Hot foods usually are not available until about 7am. Some typical items are sausage, egg, and cheese muffins or bagels as well as beans and cheese burritos.
Updated December 25, 2022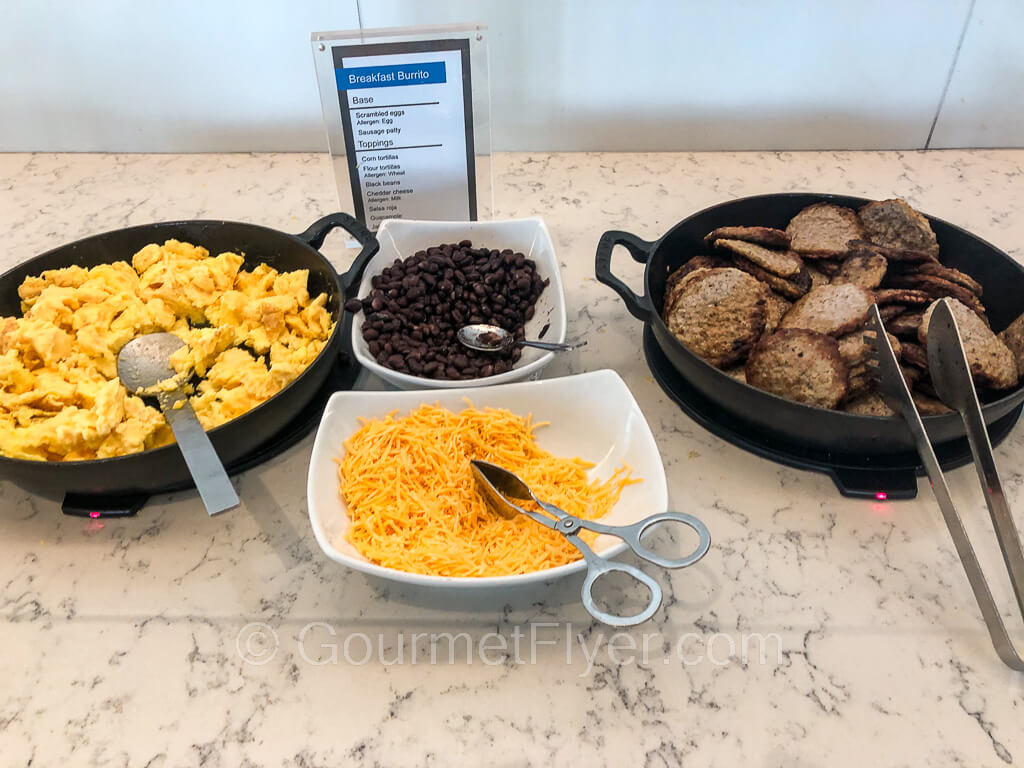 The Jimmy Dean breakfast sandwiches and packaged breakfast burritos are no longer available. Instead, a self-served station is set up with scrambled eggs, sausage patties, beans, and cheese for you to make your own burritos and sandwiches with English muffins or bagels. So, you are no longer stuck with whatever packaged foods that are offered or left, but you can custom make your own plate. This is great and I am a fan!
A selection of seasonal fresh fruits is also available in addition to the cut melons and fruits by the salad bar.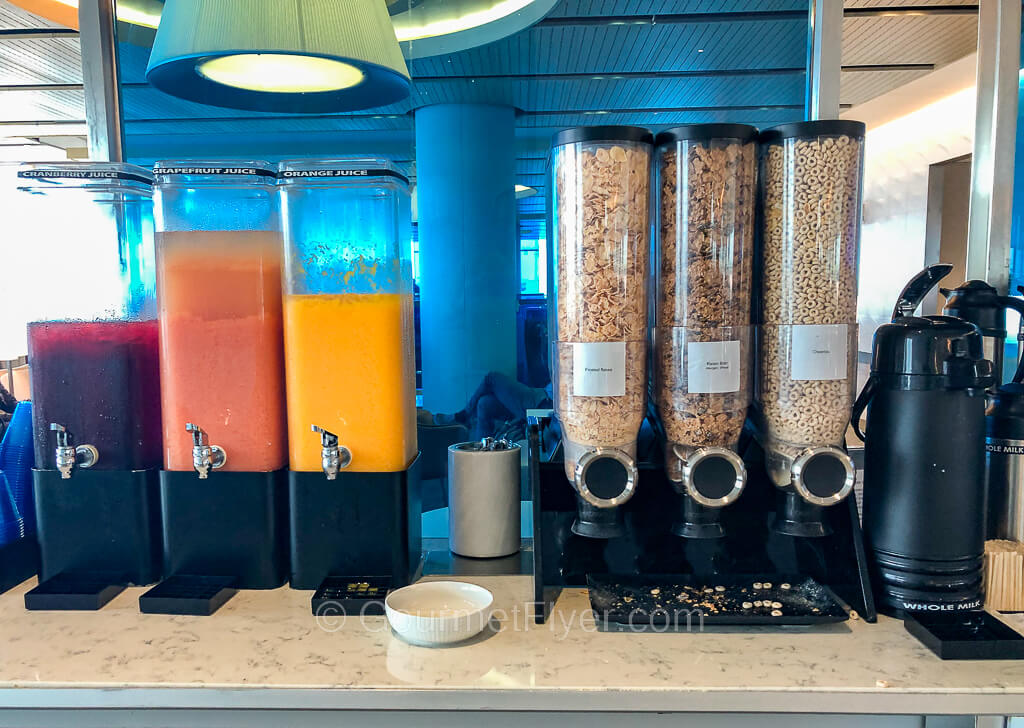 The juice and cereal stations are located to the right of the main buffet table, on a counter by a glass panel. The juices available on a typical day are orange, grapefruit, and cranberry.
Lunch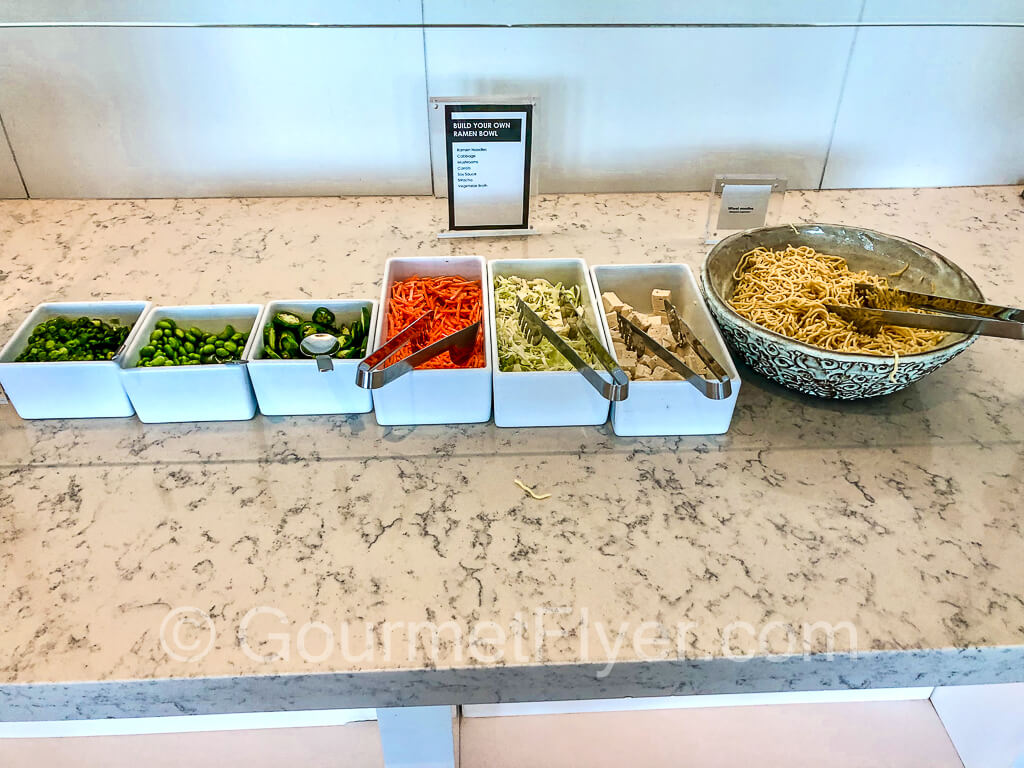 Lunch is usually served around 11am to about 5pm and consists mainly of the following:
A selection of two soups. One is a miso soup which doubles as the broth of the self-serve Asian noodle bar. The other is usually tomato, Italian wedding, or chicken poblano pepper (my favorite). However, lately I have only been seeing the tomato soup so I hope they will start their rotation again soon.
The Asian noodle bar is stocked with pre-cooked ramen, tofu, shredded carrots, cabbage, mushrooms, beans, and jalapeños. You place your selected ingredients inside a bowl and then pour the hot miso soup over them.
A salad bar with a nice blend of greens, cherry tomatoes, shredded carrots, cucumbers, etc. Pre-packaged salads are now history, and the salad bar is back to self-serve.
Turkey sub sandwiches cut into approximately 3-inch pieces and cold tortilla wraps. Sometimes there are turkey wraps but most of the time they are Mexican vegetarian wraps which are actually quite good.
Updated October 2022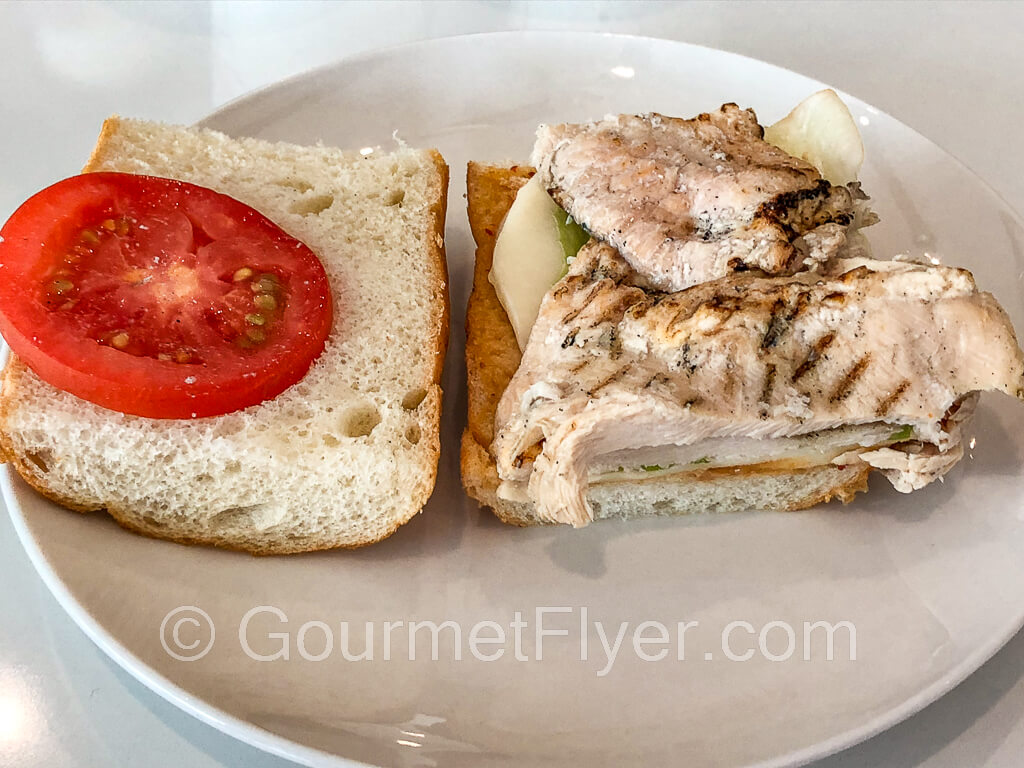 The grilled chicken baguette with Chipotle avocado mayo. pepperjack cheese, lettuce, and tomato is much better sandwich than the previous rendition of turkey sub sandwiches. It is a very tasty sandwich and is a much-welcomed addition.
Updated March 29, 2023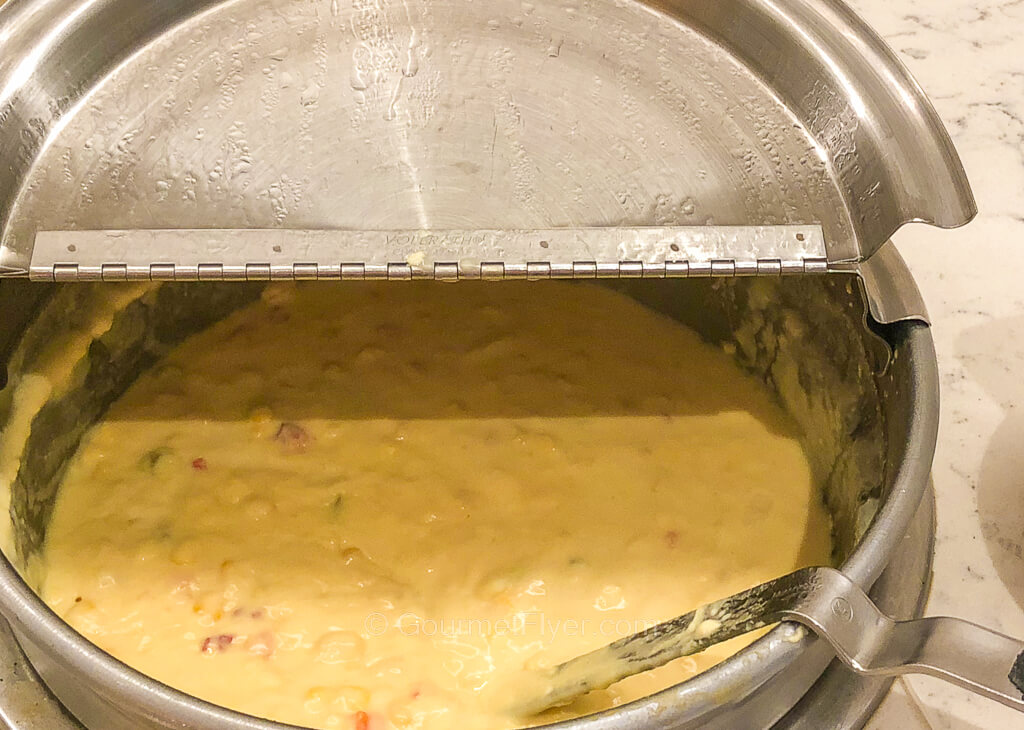 The corn chowder is rich and delicious and is a much-welcomed addition to the soup rotation. The picture above right shows another relatively new addition to the lunch and all-day snacks offerings. These mozzarella caprese wraps are made with mixed greens, tomato slices and pesto aioli.
Updated August 21, 2023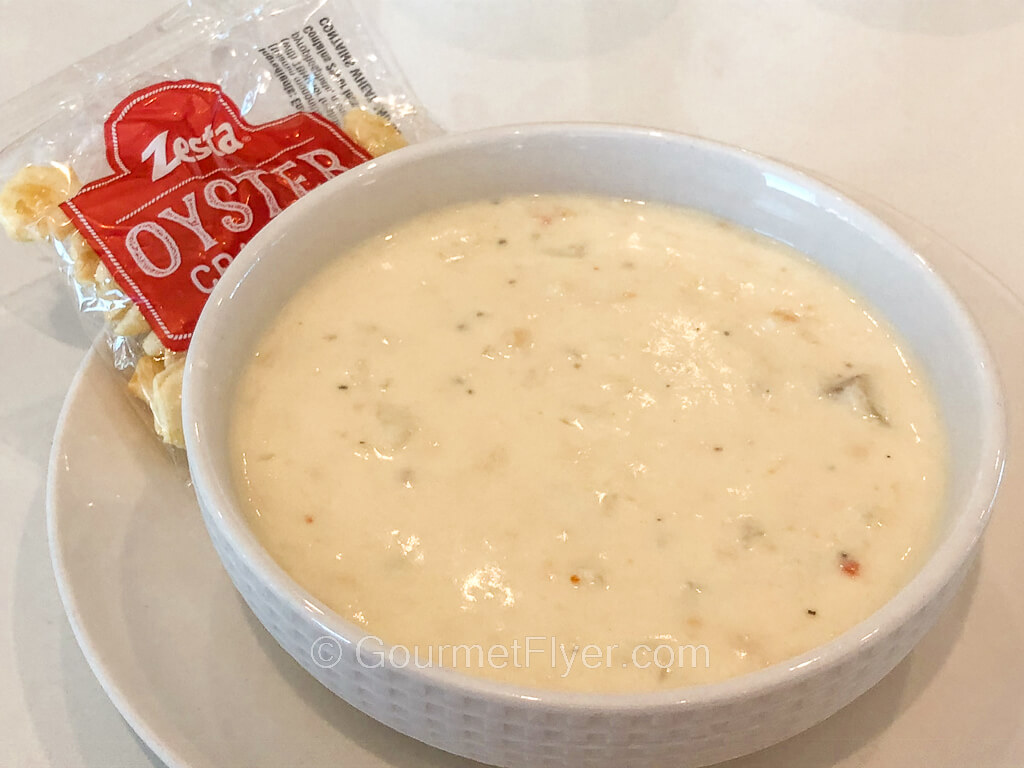 Clam Chowder has been added to the current soup rotations.
All Day Snacks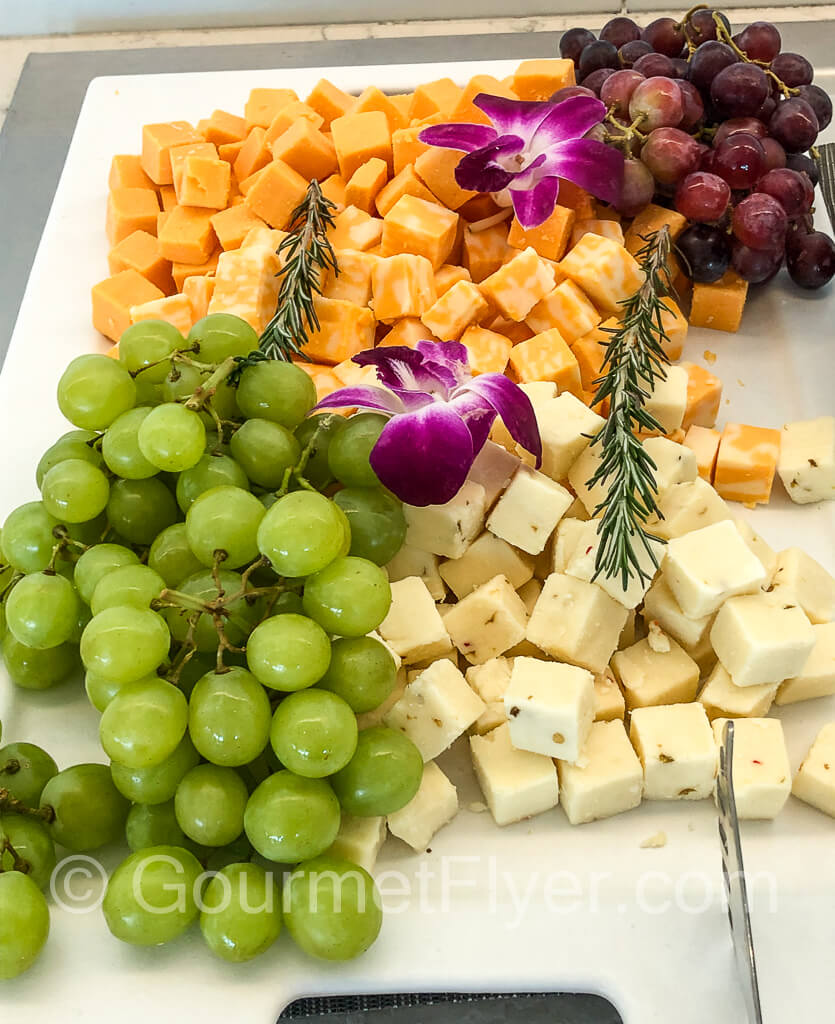 A wide variety of snacks are available throughout the day, typically from 11am until closing. The selections are often different depending on the days that you are there, and sometimes, it depends on the time of the day as well. They do rotate quite a large menu of items, so you may not see everything listed below or you might see more. The main staples are:
A selection of fruits including oranges, bananas, and grapes. Occasionally, cut melons are also available.
A large cheese platter with grapes and crackers.
A variety of bags of chips, popcorns, and snacks are rotated throughout the day. My favorite is the white cheddar popcorn. If you see them available, be sure to grab one!
The above are now replaced by a snack station. Please see the picture and description below.
Cookies, muffins, and other snack foods. If you are lucky, sometimes there are chocolate cakes.
Usually sandwiches and wraps from lunch are served until late in the evening.
The salad bar and soups are also left there until late in the evening.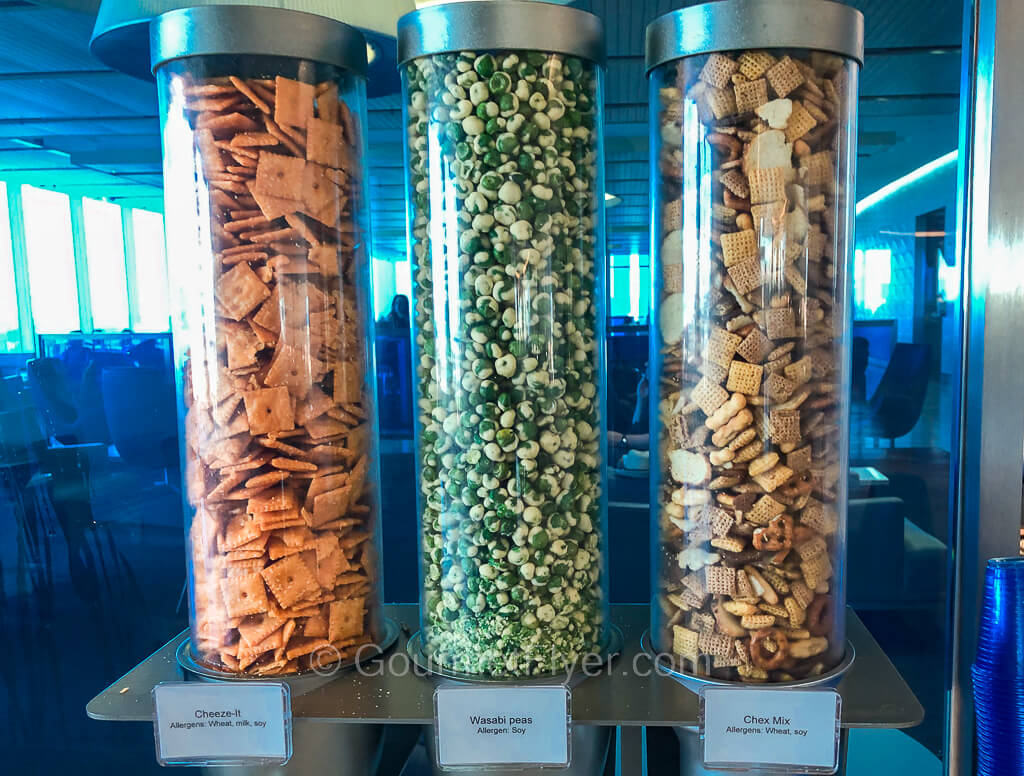 The cereal station shown above in the breakfast section becomes a snack station usually around 11am through the rest of the day. Snacks offered on a typical day include Cheeze-It, wasabi peas, and Chex Mix.
Updated October 2022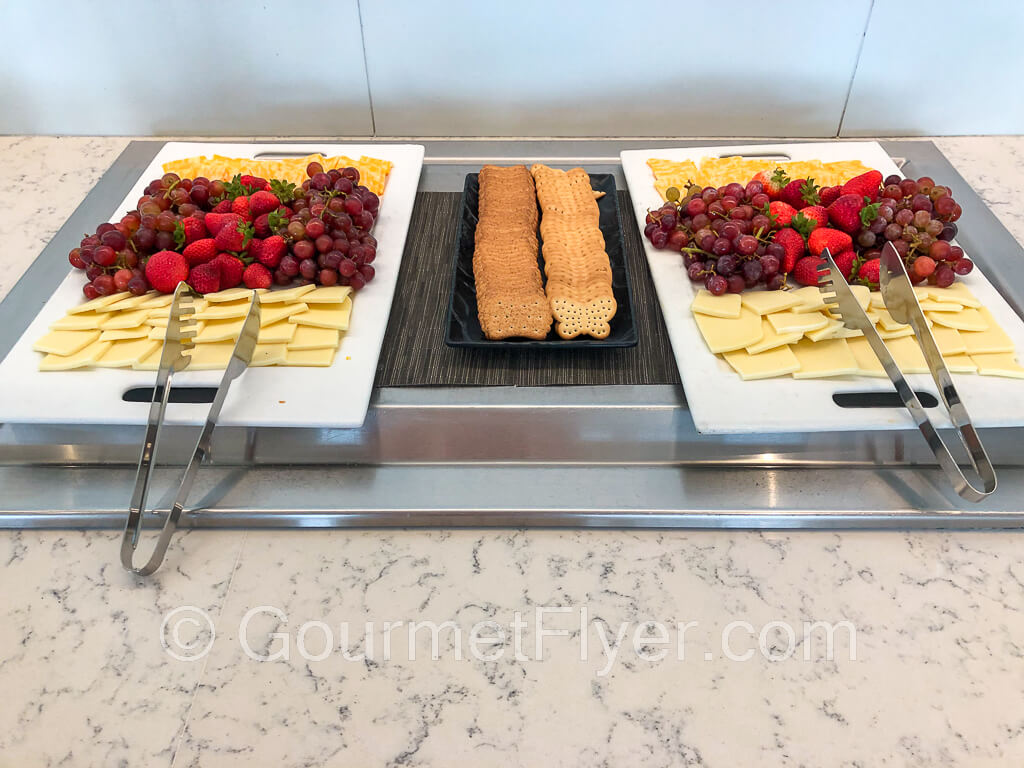 Above is an updated version of the cheese and cracker plate, garnished with fresh strawberries and grapes. Nice presentation!
Updated March 29, 2023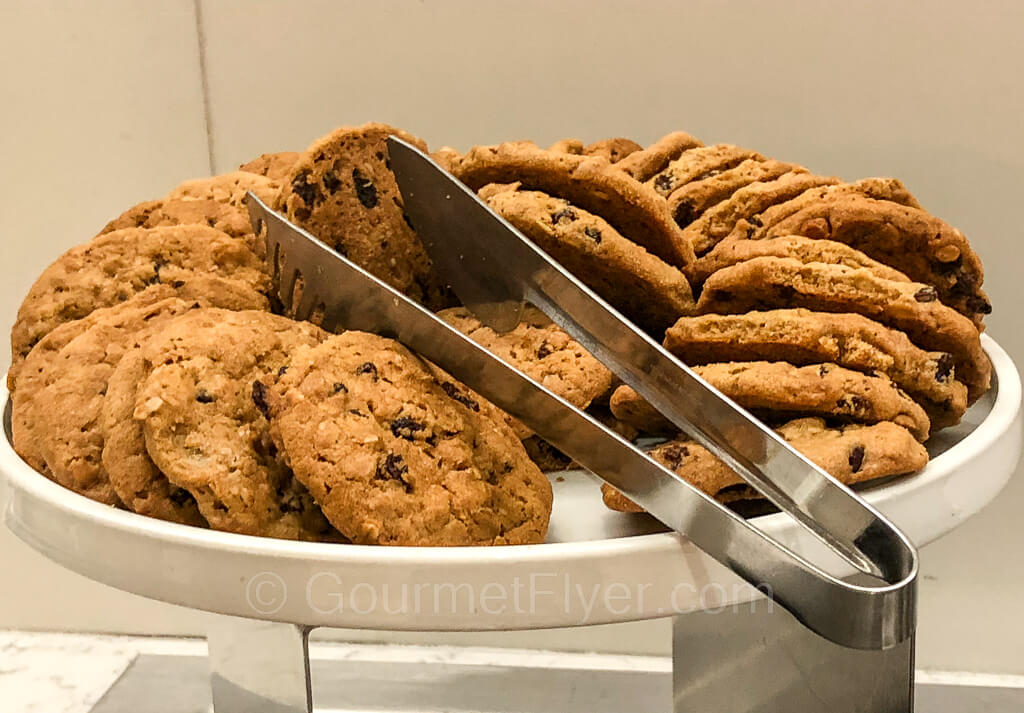 I really enjoyed the latest rotation of sweets at the LAX United Club, especially the oatmeal raisin cookies shown above left. Chocolate mousse is another popular new addition which seems to disappear rather quickly every time a new tray is brought out.
Late Afternoon and Evening Snacks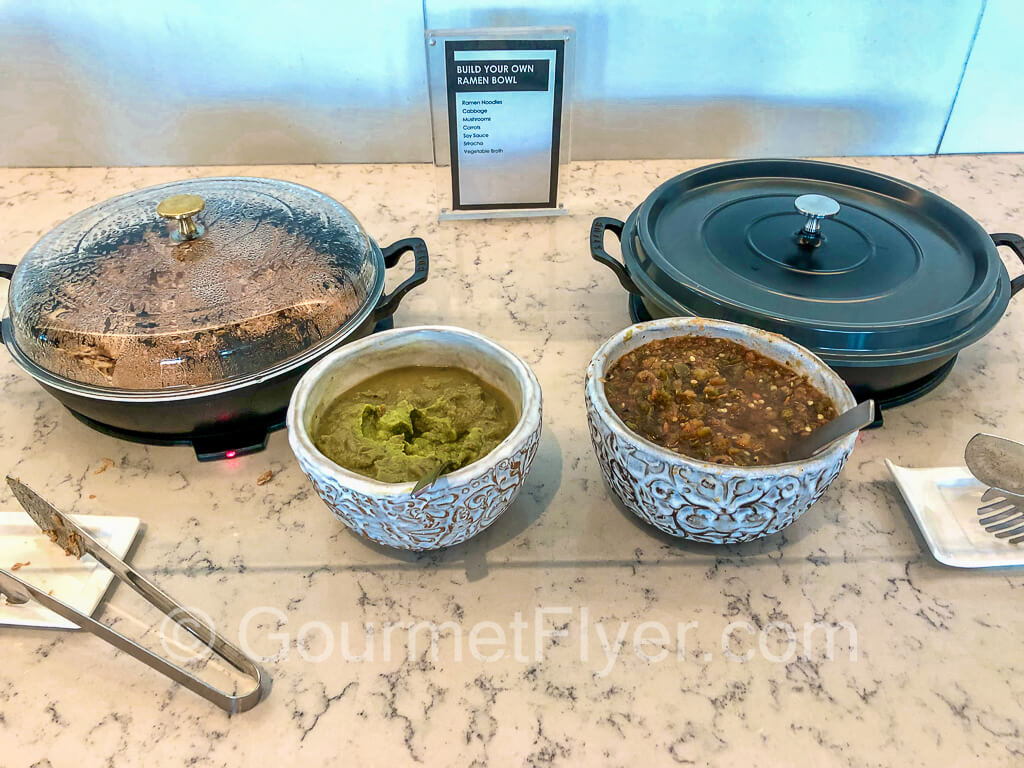 As of this writing, around 5pm the Asian noodle bar is replaced with Mexican food – either a self-served chicken taco station or empanadas. Personally, I like the tacos a lot better. Occasionally there are cheesecakes and hot dogs, but I have not seen them in a while.
Beverage Service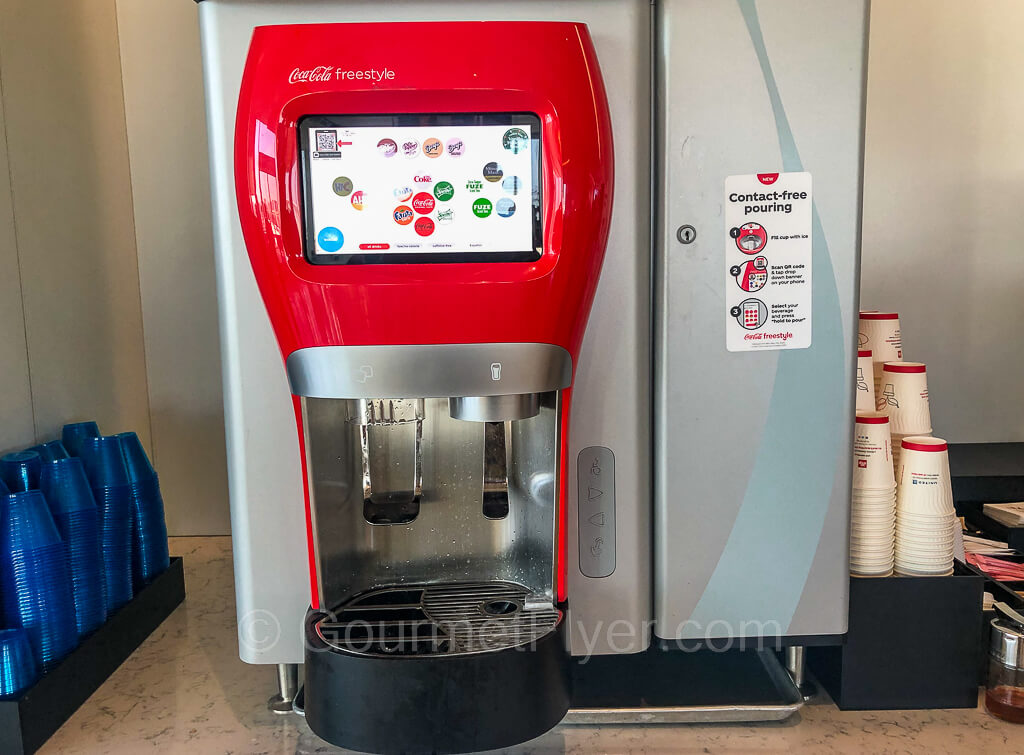 Non-alcoholic drinks are self-served by operating a soda fountain or an espresso machine. Hot water with a large selection of teabags, as well as large tubs of citrus infused iced water are also available.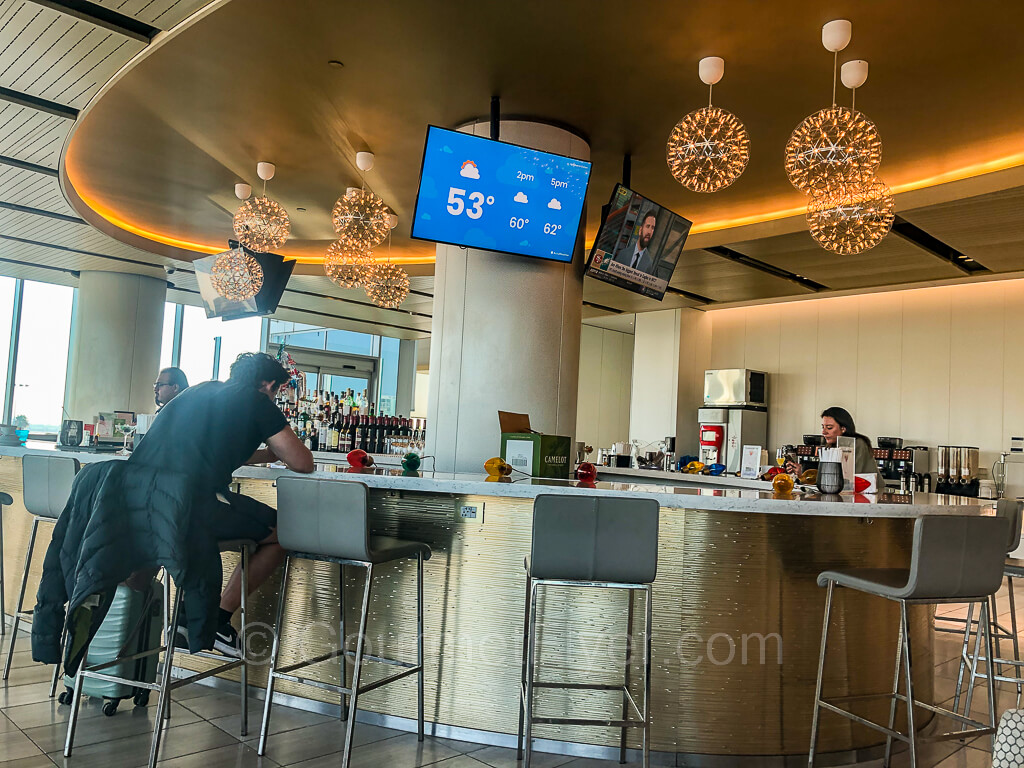 A full-service bar with bar stools is at the far end of the lounge and is usually staffed with one to two bartenders. Depending on the time of the day, you could find the bar relatively empty, or you could run into a long line waiting for drinks.
Complimentary alcoholic beverages include:
A selection of two domestic draft beers, typically something like a Budweiser or Coors Light. They rotate their beers quite often so you might see something different.
House wines, which include red, white, or sparkling.
House brand liquors and cocktails. The last time I had a bloody Mary, I think they made it with Smirnoff vodka. And I remember that Jack Daniel's and Gordon's Gin were free too.
Premium beers such as Stella Artois will cost you $5. Premium wines by the glass will set you back anywhere from $8 – 15 depending on what you order. Cocktails made with premium brands such as Grey Goose or Bombay Sapphire have surcharges between $7 – 12.
United Ticketing Agents
Last but not the least, one of the biggest perks of United Club is the availability of experienced United ticketing agents. They can handle a cancellation or delay that involves complex rerouting or other complicated matters that a typical phone agent cannot easily handle. United assigns their best and most experienced agents to their United Club locations so take advantage of their services there if you have the need. I have to say that every time I used their services, I find the agents top-notch and extremely competent.
Conclusion
I find the facilities and amenities offered at the LAX United Club more than enough to justify my annual paid membership. If you are getting access as a Business Class passenger or a UA Mileage Plus Gold or higher member on an international flight, you'll most likely find it a great perk that will enhance your travel experience.
While the food service might not be up to par to its rivals – such as the Star Alliance Club in Tom Bradley's International Terminal or an American Express Centurion Club – which typically offer a hot food buffet, I find the food options at the LAX United Club adequate for the purpose of an airport lounge. It is in fact getting better with its recent additions of Asian soup noodles and hot Mexican snacks.
On the other hand, the LAX UC is more spacious than most, if not all, of its rivals. You will likely find it more comfortable and spacious than the mostly overcrowded Delta Sky Club and American Admirals Club in the nearby terminals.
While this lounge pales in comparison to United's operations overseas, such as London Heathrow (LHR), Hong Kong (HKG), or Tokyo Narita (NRT), it certainly ranks as one of the best in its domestic airports.
Overall, I find the United Club at Los Angeles LAX Airport a haven away from the crowded and sometimes chaotic terminal. It is the perfect solution away from the crowd if you need a workstation to get some work done, a place to grab a quick snack or a couple of drinks, or just a relaxing place to enjoy your pre-flight experience.