August 20, 2019
Today I am flying on United Airlines Polaris International Business Class from Osaka to San Francisco, and I am happy to share my experience with you in this review.
Table of Contents
Pre-Flight
A United Polaris business class ticket holder has several pre-flight benefits which include priority check-in, baggage, and security. It also gives the traveler access to a Star Alliance Lounge, which in the case of Osaka, is the ANA Lounge. Since I am a United Mileage Plus Platinum Member, I enjoy all of the above benefits even when flying economy class, so there is no added bonus for me. But if you do not have gold or higher status with United, these perks are rather nice, especially in Japan, as the food in Japanese airline lounges are really good!
If you do not have status with United, you should take all these perks into consideration when deciding whether a Polaris business class ticket is worth it for you.
The Seat
As my luck will have it, this is one of the few 787's that still has the old configuration. But I actually like it better than the new cubicle-like seats when I am flying with my wife. Some of you who have flown in the new United Polaris seats will probably know that they are not couple friendly and are designed primarily for solo business travelers who want maximum privacy.
The seat has easy to use buttons that you can control the sliding of the back of the seat and the tilting of the leg rest. What I like most are the single "bed" button that turns the seat into a lie-flat bed and the "seat up" button that you can easily bring your seat to the completely upright position (for landing, for example.)
Since it is the old 2-2-2 configuration, my wife and I pre-selected two seats in the middle section so that we both have an aisle seat. (On the new United Polaris configuration, every window seat is also an aisle seat.)
While the seat reviewed here is the old configuration, go here for a comprehensive review of the newly retrofitted Polaris pod seat.
Pre-Departure
The flight attendant that is serving my section is friendly and professional, and she has an upbeat attitude with a welcoming smile. Among my numerous flights on United, she is definitely one of the best that I have encountered. For our pre-departure beverage we could select pretty much anything. I am getting a beer and my wife wants a glass of red wine. Shortly after takeoff and before dinner, she offers another round of drinks with warm nuts.
Dinner
United's Polaris Business Class offers an elevated dining experience. The first two courses of our dinner are served together in the same tray. The salad is a medley of greens, cucumbers, daikon, and tomatoes. The appetizer is cold grilled shrimps served with caramelized pineapple.
Choices for the entrée are beef cheek, chicken thigh, or grilled salmon. There is also an option for a traditional Japanese dinner set which consists of zensai, sakizuke, and kobachi, served with grilled red sea bream with yuzu sauce.
We are getting the beer-braised beef cheek which is delicious and melt-in-your-mouth tender. The beef comes with a rich red wine braising sauce, mashed potato, and honey roasted carrots. The ice cream sundae cart is absolutely tempting and makes me look like a kid in a candy store. But the red wine that I am having is so good that I would rather have a cheese plate to accompany the wine instead.
Mid-Flight
The United Polaris entertainment screen is much larger than those in economy (16" vs 9") and it also comes with a nice remote control. We also get upgraded noise-reduction headsets. The amenity kit is adequate and comes with a dental kit with toothpaste, moisturizer, creams, Kleenex, comb, etc. I am rather impressed that it includes a pen which is always handy when you need one to fill out the customs forms. The slippers are thick, sturdy, soft, and comfortable.
More wine and cheese and a couple of movies later, I am ready to hit the sack. The Saks Fifth Avenue beddings are nice and soft, and the lie-flat bed is exactly what I need right now. Pajamas are available on request, but I am not going to bother. I sleep so well that I completely sleep through the mid-flight snack service of a hot curry chicken rice bowl.
Pre-Arrival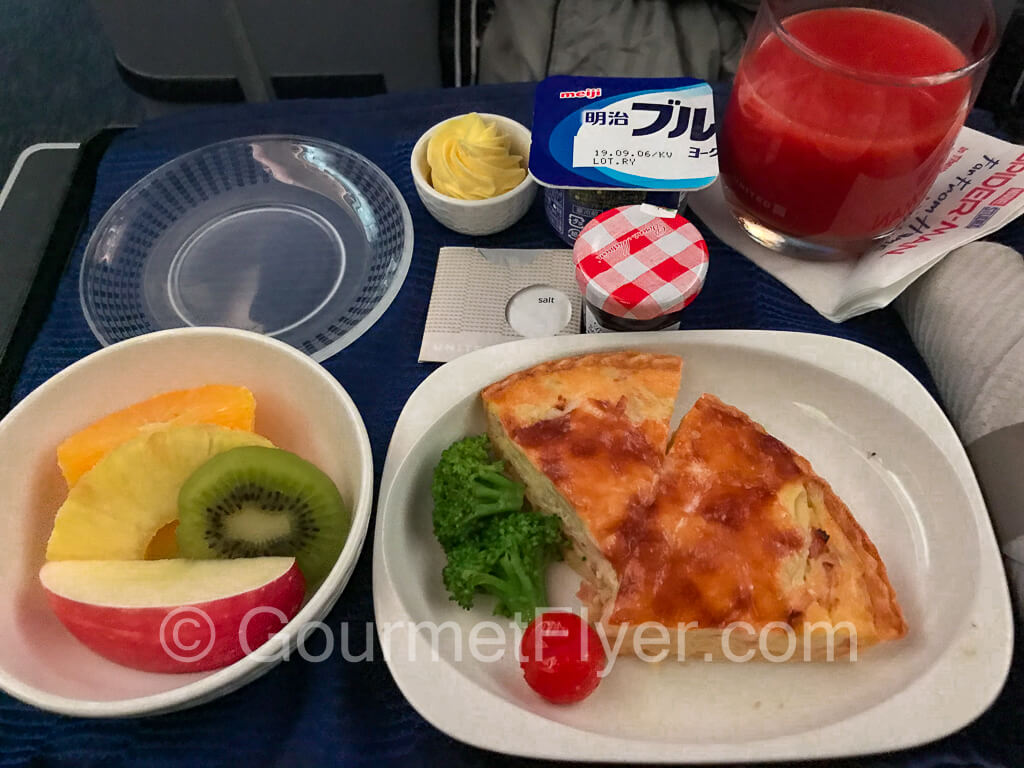 The pre-arrival breakfast is a Quiche Lorraine served with broccoli, fresh fruits, and Japanese yogurt. The quiche is surprisingly good. The Japanese breakfast option is Salmon Saikyo with Tawara rice, which is a popular Japanese breakfast favorite. A tea and coffee service follows, and we are just about an hour away from SFO.
Conclusion
The centerpiece of Polaris Business Class is the lie-flat bed. Having slept for 5 – 6 hours on the bed undisturbed, I wake up feeling refreshed and revitalized. A good night's sleep really makes a big difference. Overall, it is a great flight, and I really enjoy my experience on United's International Polaris Business Class.
It took United several years to retrofit its Polaris seats. While my luck had it that I was stuck in the old configuration on this trip, you can go here for the ultimate review of the new Polaris pod seats.