Updated September 26, 2023 to reflect the latest meal offerings and the slightly upgraded amenity kits on United's Premium Plus flights.
Updated December 26, 2022, to include the most recent dinner menu choices.
Updated August 20, 2022, to more accurately reflect the current beverage and dinner service offered in United's international Premium Economy flights. In particular, I am confirming that hard liquors are indeed complimentary despite the confusion and inconsistencies posted in various travel forums.
Table of Contents
I have always been a fan of flying premium economy class, that is, Premium Plus on United Airlines. Today, I am on an 11-hour international flight from London back to Los Angeles, so this upgrade from regular economy class means a lot of extra comfort and perks.
Prices for United Premium Plus tickets are a lot more reasonable and affordable than business class tickets for a transatlantic or transpacific flight. The difference in costs is typically in the thousands.
Even for an 11-hour flight, if the flight leaves in the morning, I can't sleep anyway, so I don't need a lie-flat seat. I am seeking a middle ground, somewhere between business class and regular economy that provides good value, and the best bang for the buck.
With United, Premium Plus passengers also enjoy some of the perks that are usually reserved for elite frequent flyers or business class customers, such as Premium Access, which provides priority check-in, security line, and luggage handling. So, there are very nice perks, especially for the non-frequent flyers who don't have elite status with the airline.
However, you will not have lounge access to the United Club or any Star Alliance Clubs on an international itinerary unless you have Gold or higher status with United or Gold status with Star Alliance.
Seats and Amenities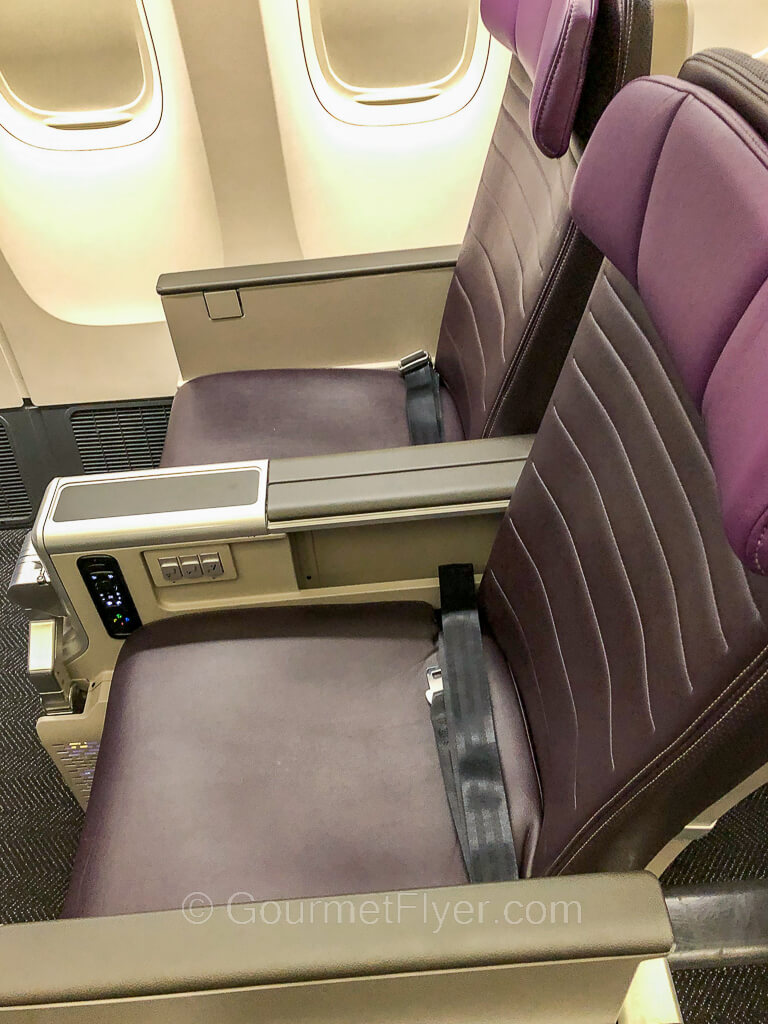 Depending on the aircraft, the seat map of Premium Plus is either 2-3-2 or 2-4-2. If you are traveling as a couple and you book early enough to secure the two-seater in either of the window sides, you enjoy a lot more comfort and privacy with your partner.
(Update: As of 2021, Premium Plus is also available on United's Boeing 767 aircrafts with a 2-2-2 configuration.)
The seats are wider (approximately 19" vs 17") and they come with a wider armrest as well. Even if you are seated next to a stranger, you won't be rubbing elbows. The first row comes with a leg rest while the rows behind it come with a footrest.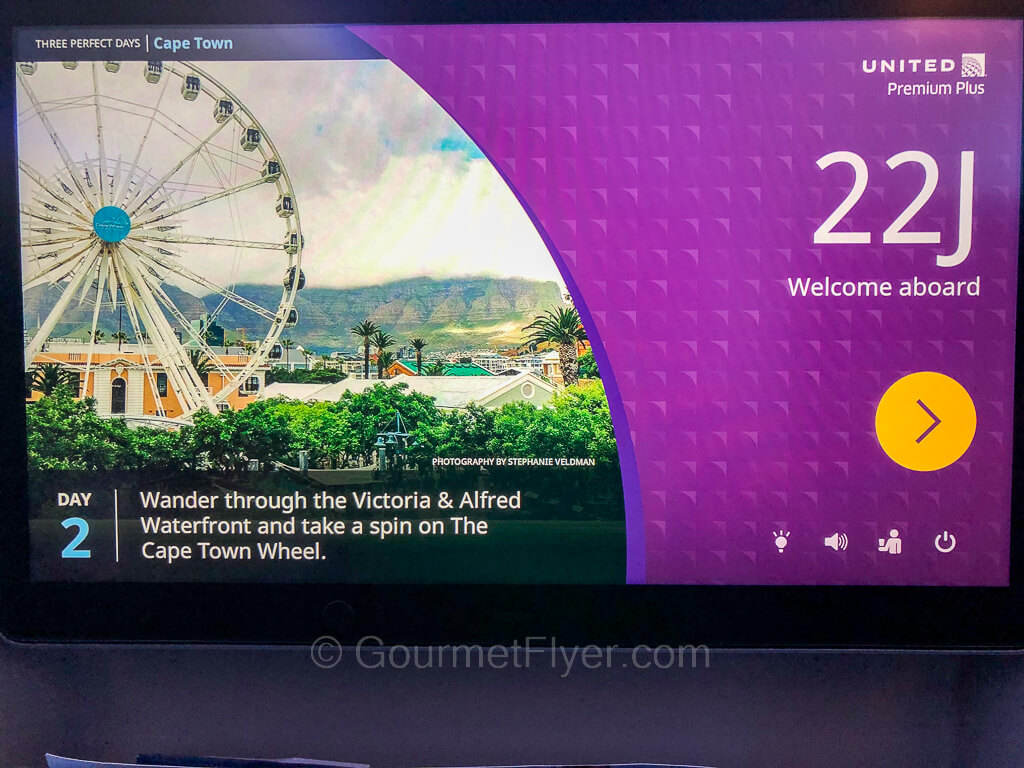 There is a lot more space in front of you as well (seat pitch approximately = 38" vs 31"). Your seat also reclines further (approximately 6" vs 3"). You enjoy a larger seatback entertainment screen (13" vs 9") as well as upgraded noise-reduction headphones.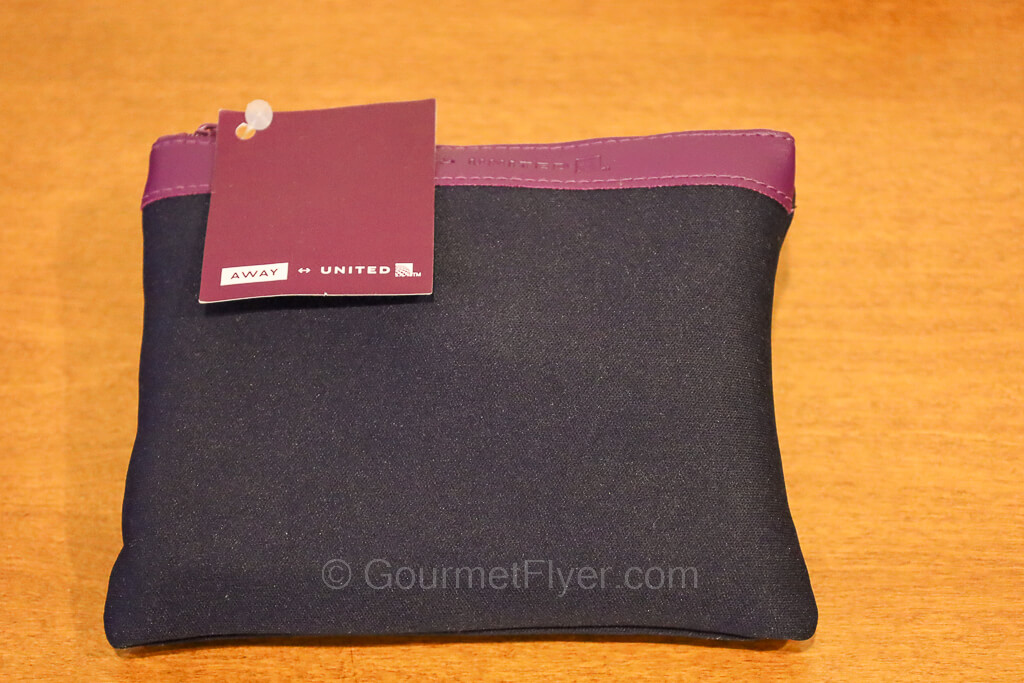 The amenity kit is minimal, if compared to that from Polaris. But you have all the basics that you'll need, such as a dental kit, lotions, eye shades, socks, etc.
Updated September 26, 2023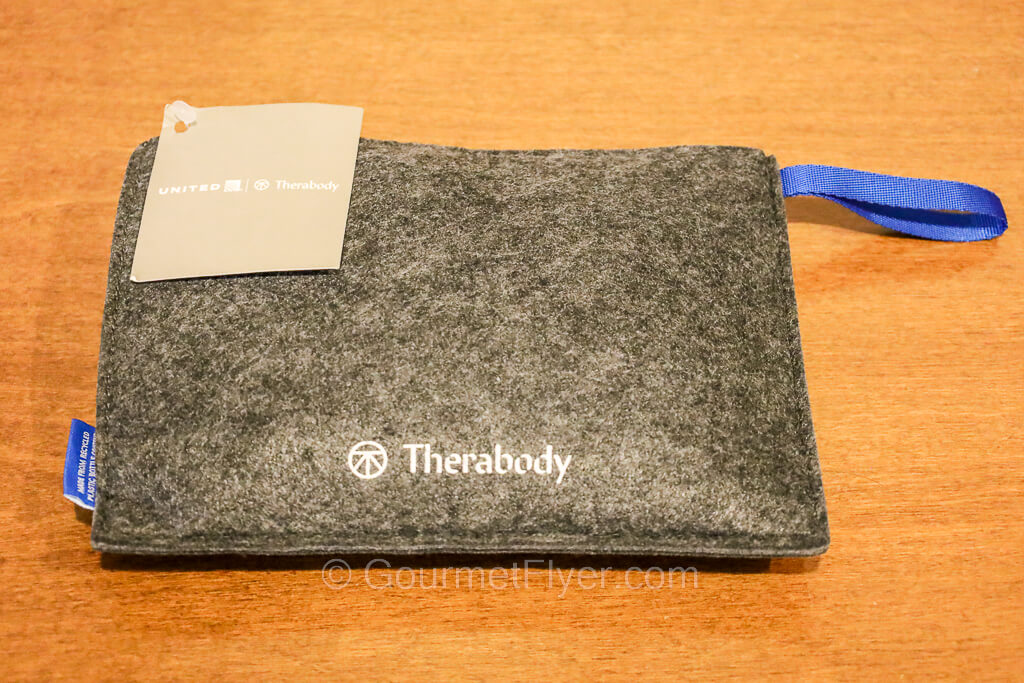 The slightly upgraded amenity kit includes a larger and better quality pouch but most of the contents are similar. The most significant addition is a packet of Therabody cleaning towelette. The eye shades appear to be better quality and feel softer.
Go here for a comprehensive review of all the features of the seat itself.
Beverage Service
Updated August 20, 2022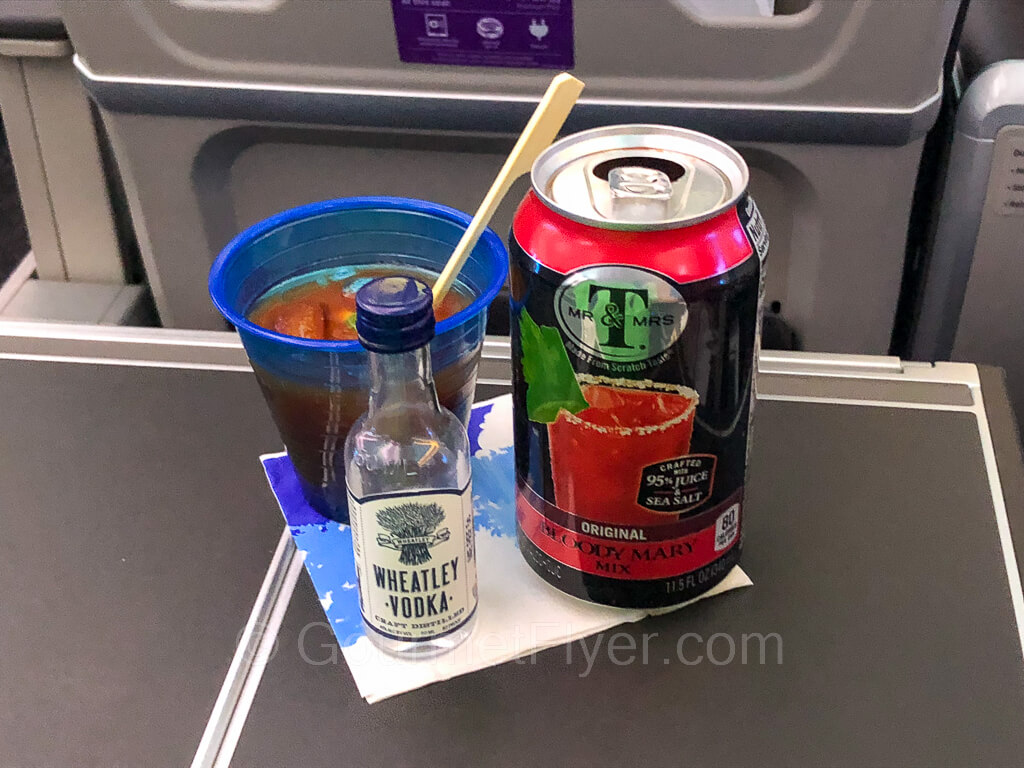 Premium Plus offers the same beverage service as in regular economy class, but alcoholic beverages are complimentary. For transatlantic and transpacific routes, beer and wine are always free even in regular economy and so is in Premium Plus. However, the type and quality of wines served varies by the route, and sometimes by the crew, so there are some inconsistencies there.
Sometimes I was served the small bottle of premium wines that they sell, and other times I was served the same wine from the big bottles that they pour in the back of the plane. I don't know whether this is route specific or just random inconsistencies.
In the spring and early summer months of 2022, there were more inconsistencies in the beverage service. Many flyers posted in various travel forums that only beer and wine were complimentary in PP and liquors were not available (despite the fact that they were available for sale in the back of the plane). However, some passengers also reported that hard liquors were available.
I checked United's website, and it does say "free alcoholic beverages" without limitations to beer and wine only. I ordered a bloody Mary (pictured above) on two different international Premium Plus flights this month (August 2022) to verify it personally that hard liquors are indeed available.
Dinner Service
The biggest perk for me is the upgraded dining. As of this writing, UA's Premium Plus serves the same meals as their Polaris business class (for transatlantic or transpacific flights). Service in proper silverware and glassware is an added bonus. The feature picture of this article shows a mushroom-stuffed chicken breast with Bordelaise sauce, roasted potatoes, carrots, and parsnips. The small black box that you see on the top of the tray is a delightful chocolate truffle.
It is typical that United offers a vegetarian pasta option for their dinner service.
Midflight snacks are cheddar baguettes, which I think are the same packages as those served in regular class.
Updated August 20, 2022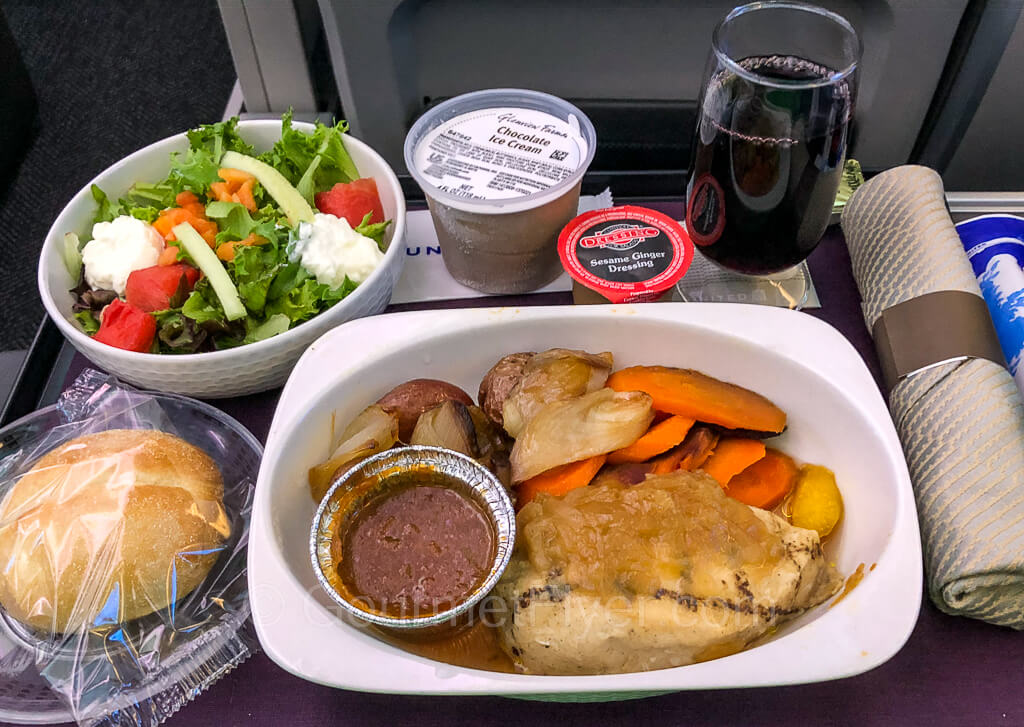 The picture above shows one of the dinner options in the summer months of 2022. This was served on my flight from San Francisco (SFO) to Amsterdam (AMS). A grilled chicken breast was served with Bordelaise sauce, onions, carrots, and a medley of potatoes. The dish was accompanied by a green salad garnished with fruits and cottage cheese. It was served with my favorite sesame ginger dressing which was delicious. Dessert was a rich and creamy chocolate ice cream. It was served on the same tray in the beginning of the meal. It held up surprisingly well and was still mostly frozen by the time I enjoyed it.
As usual, a pasta dish was available as a vegetarian option.
Updated December 26, 2022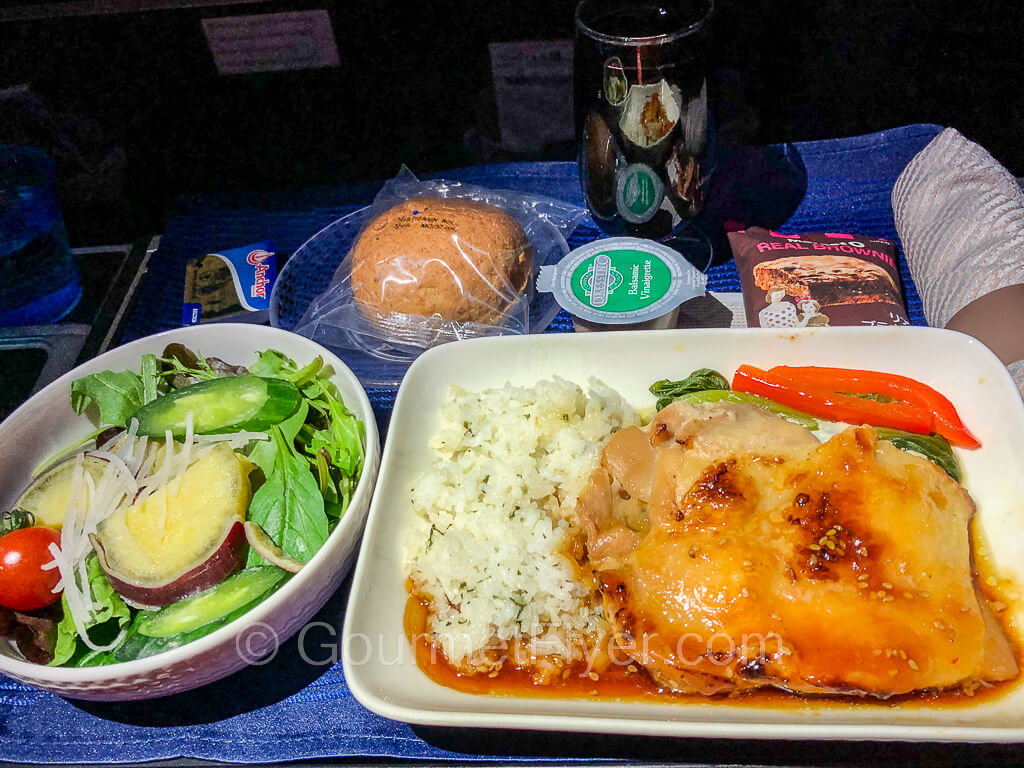 These are the most recent dinner choices on United's PP flight from Tokyo (NRT) to Los Angeles (LAX). The picture above shows a grilled teriyaki chicken thigh with the skin on. This is typical for Asian routes as most Asians prefer thighs and legs rather than chicken breasts. Although I was hoping to get a breast filet, the thigh was actually fine as it was moist and tender. The chicken was served with steamed white rice and there was plenty of sauce to accompany the rice.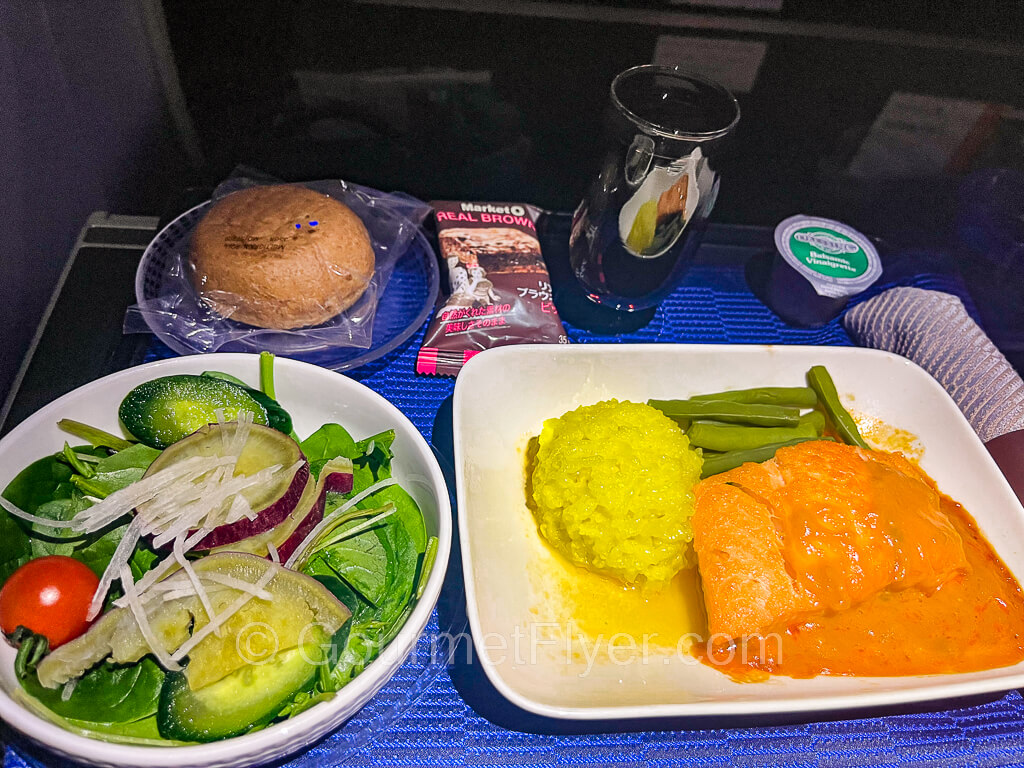 The other menu option was a grilled salmon filet with risotto and green beans. My wife ordered this, and she said the fish was very tasty. I sampled a bite of her entree and I absolutely agreed. The gravy appeared to be curry or a tikka marsala sauce, but it didn't taste like either. It was like a tomato-based brown gravy, and without a menu (yes, premium plus menus have disappeared!) I cannot be more specific.
Both entrees were served with a dinner roll with butter, a green salad with balsamic vinaigrette dressing, and a chocolate brownie.
Updated September 26, 2023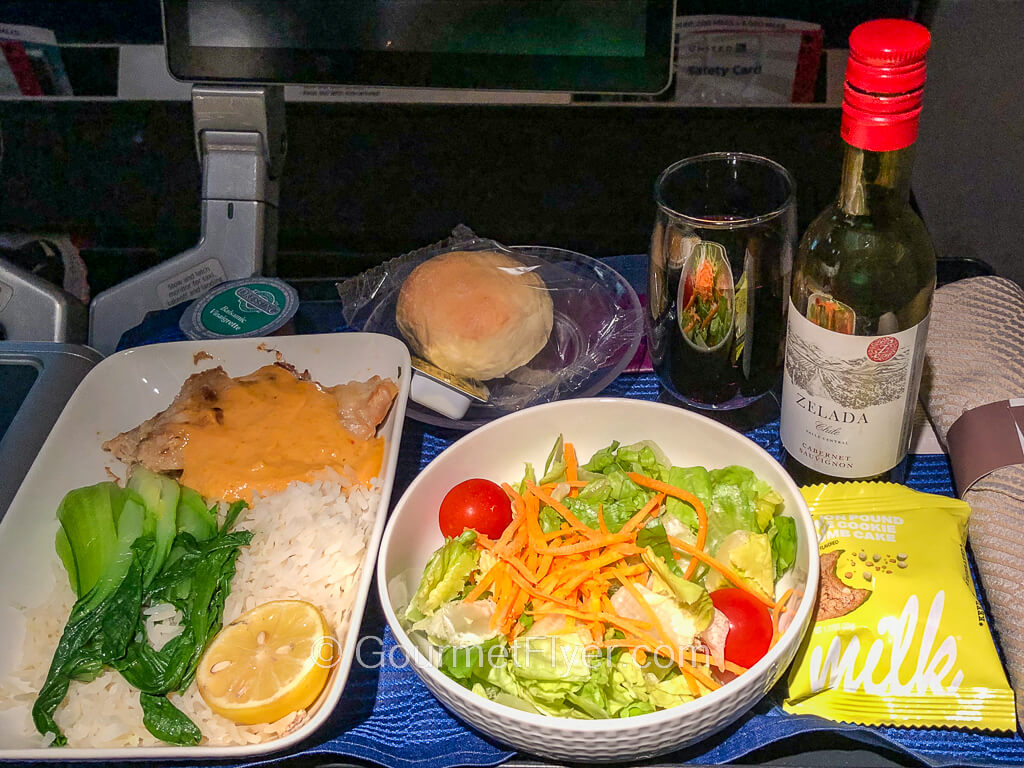 One of the current entrées served on most transpacific flights is Thai chicken with steamed rice and Chinese vegetables. It was served with a green salad and a dinner roll.
Pre-Arrival Meal
The pre-arrival meal service offers a choice of Margherita pizza or a cold-cut meat and cheese plate. I am getting the pizza. The meal is served with fresh fruits and yogurt. A tea and coffee service follows shortly afterwards, and we are about an hour away from LAX.
Updated August 20, 2022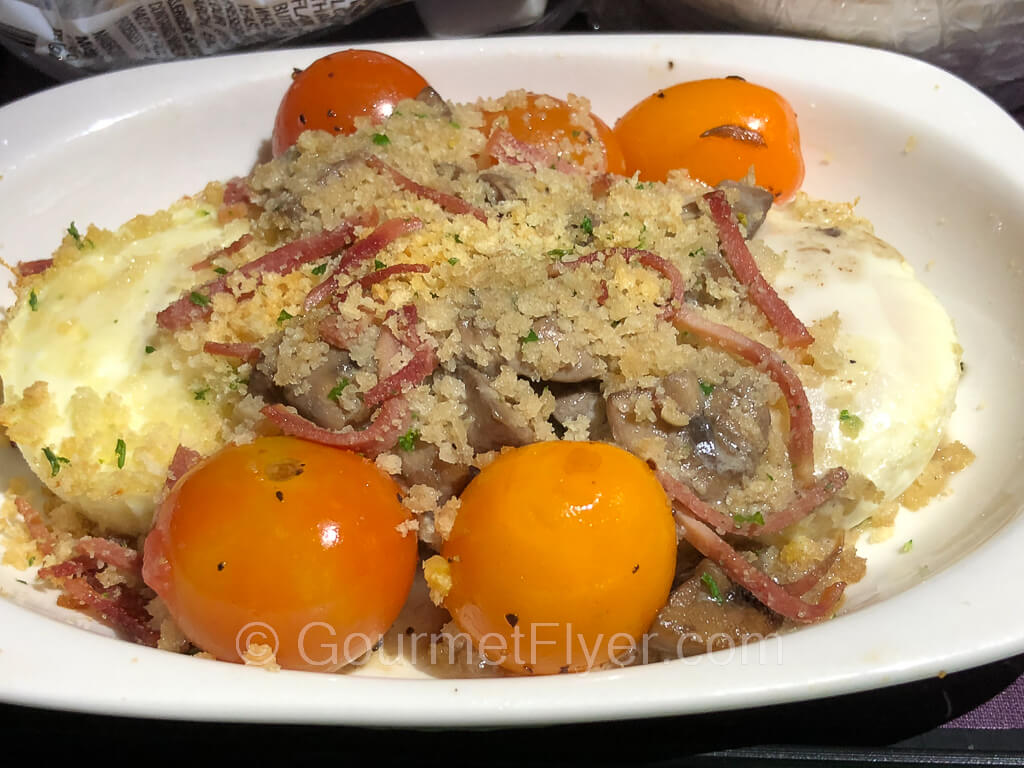 Breakfast was a serving of French baked eggs topped with cheese, mushroom, and bacon, and garnished with grape tomatoes. A fruit plate and a pastry accompanied the main dish. This was really good, and I really enjoyed it.
Updated December 26, 2022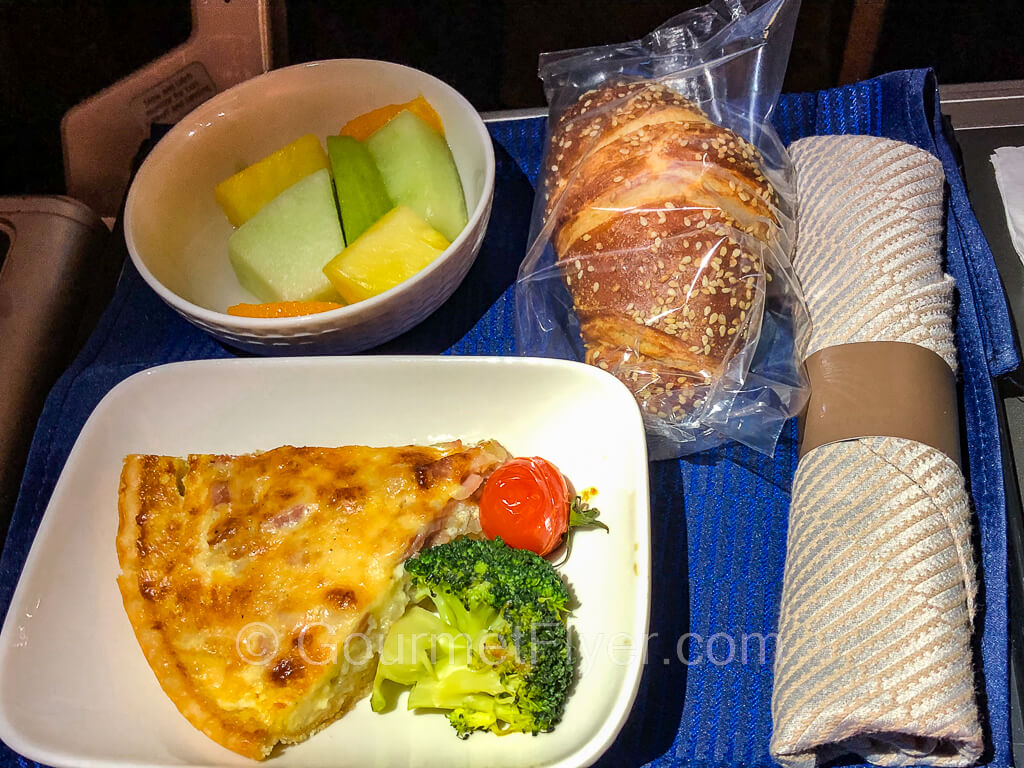 On my most recent flight from Tokyo Narita to Los Angeles LAX, the pre-arrival breakfast was a ham and cheese quiche garnished with a broccoli floret and a cherry tomato. It was accompanied by a sesame roll and a fruit plate of cut melons and pineapples.
Updated September 26, 2023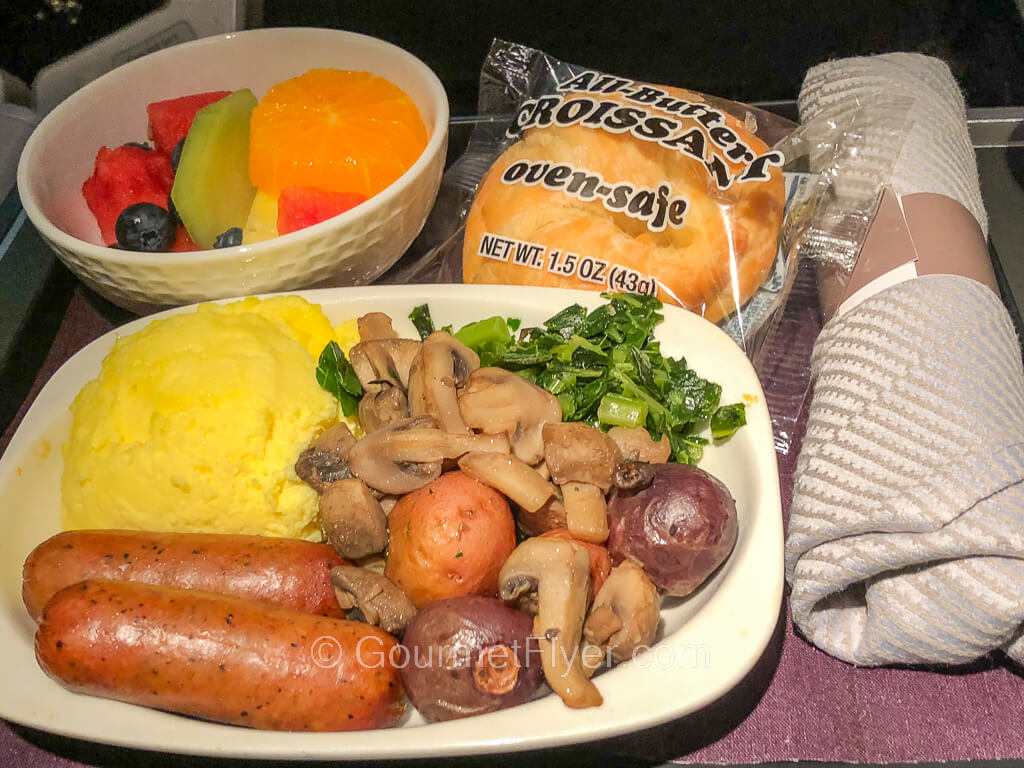 I enjoyed one of the best pre-arrival meals on United's Premium Plus on a recent flight from San Francisco (SFO) to Hong Kong (HKG). Scrambled eggs and very tasty sausages were accompanied by roasted potatoes and sauteed mushrooms.
As usual, after the pre-arrival service, we were about an hour away from touch down.
Conclusion
My overall impression with United's Premium Plus product is that it is a good fit for travelers who want more comfort, better meals and drinks, as well as a few other perks and are willing to pay the several hundred dollars in price difference. It is particularly worthwhile for a long-haul transatlantic or transpacific flight.
The bottom line is the price difference. Personally, I am willing to spend 20 – 25% over the price of a regular economy class ticket to sit in Premium Plus. If you are using miles to upgrade, the miles are the same as the upgrade to Polaris but there is no copay, which can save you anywhere from $500 – 600 or more.
Read my review on the PP seat itself below: