March 22, 2022
Tonight, I am flying in the First Class cabin of a United Airlines flight from Los Angeles to Hilo, Hawaii, and I am going to share my entire experience with you in this comprehensive review.
As of this writing, United Airlines' flight UA 1004 is the only non-stop flight from the mainland to Hilo, Hawaii. If you fly with any other airlines, you'll have to connect in Honolulu or fly into Kona. So, if LAX is your home, you can't beat the convenience of this flight if your desired destination is indeed Hilo and not Kona.
Although this flight is from LAX to Hilo, the overall on board experience is very similar to most flights between the West Coast and Honolulu on any Boeing 737 or Airbus A319/320 aircrafts.
Table of Contents
Pre-Flight
United First customers on domestic flights enjoy Premier Access which provides priority check-in and security lines at the "United Premier" area at LAX, which is completely separate from where economy passengers check in. United First customers also enjoy priority luggage handling. Your checked bags will have a "priority" tag on them, and they will be among the first to arrive at the luggage carousel at your destination.
United Mileage Plus Premier members enjoy all of the above benefits even when flying economy. But passengers without status should take the above perks into consideration when pricing a first-class ticket.
A mainland to Hawaii flight is a domestic flight so first-class passengers do not have United Club access. The same applies to Mileage Plus Premier members with Gold or higher status. (As of this writing, the only domestic flights where first/business class passengers have club access are United's Premier Transcontinental flights.)
Pre-Departure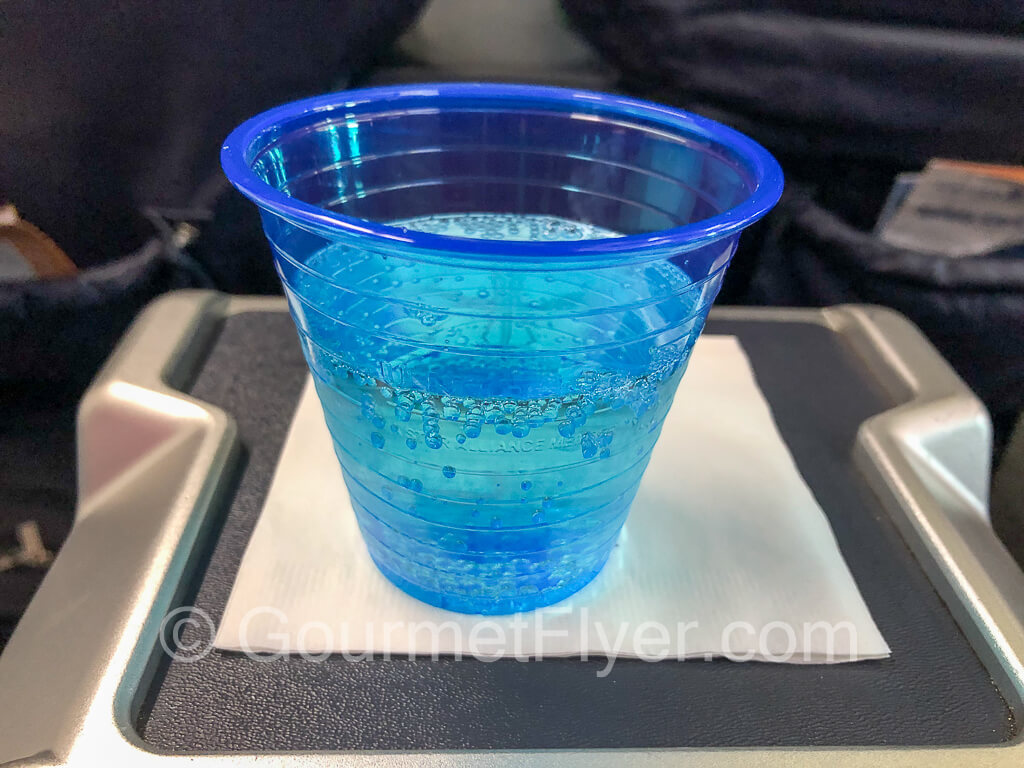 Boarding in group one is rather uneventful. We are the first ones to board after those who qualify for pre-boarding as well as United's two highest tiers of elite members – Global Services and 1K. Since my wife and I both have Platinum status, we would be boarding in group one anyway. But it is good to know for folks who do not have UA status.
Shortly after we are seated, the flight attendant offers us a pre-departure beverage (which frequent flyers refer to as PDB). The choices are water and sparkling wine, and they are both served in blue plastic cups. My wife and I are both getting the sparkling wine and we both think it is reasonably good.
The Seat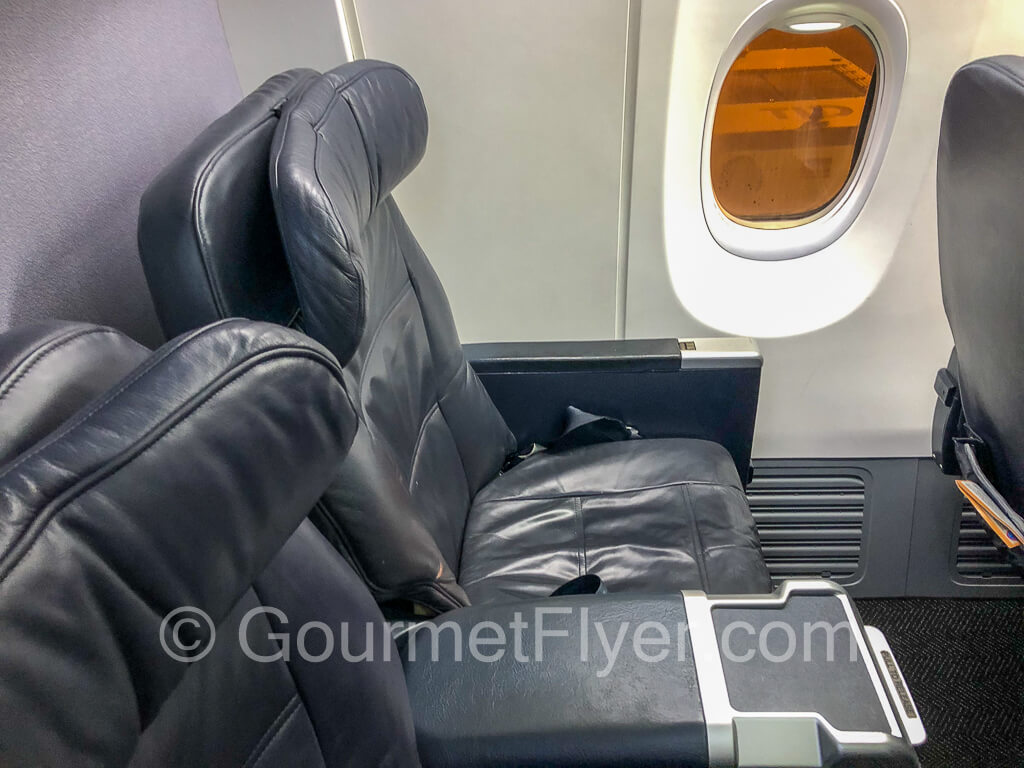 United's Boeing 737-900 aircrafts have 5 rows of first-class seats in a 2 – 2 configuration, with a total of 20 seats. They are really nothing to write home about – they are just the typical domestic first-class seats on any Boeing 737 or Airbus A319/320 aircrafts. Their width/pitch/recline = 20"/37'/5". To put those numbers in perspective, the standard economy seat has width/pitch/recline = 16"/30"/2".
My wife and I are seated in 5A and 5B. I selected 5A/B only because they were the only two seats together when we booked our flight. It is not a big deal to me, but 5A/B share the same wall as the lavatory immediately behind them. I also want to point out that for some reasons 5A is missing a window, so you'll need to lean forward if you want to look out.
Amenities
Since this is an evening flight, blankets and pillows wrapped in plastic bags are already on our seats when we board. These are just the regular flimsy blue blankets, almost similar to those in economy on international flights. So, please don't expect the Saks Fifth Avenue beddings found on Premium Transcontinental flights.
The amenity kit is a Ziploc type of pouch. You tear off the top to open it and it is resealable. Inside the pouch are an eye shade, ear plugs, and a dental kit. The contents are minimal, but adequate for an evening flight that spends about only 5 hours in the air.
As far as entertainment is concerned, the 737-900 does not have seatback screens and only personal device entertainment is available. To enjoy these free movies and TV shows, be sure to have the most up-to-date United App installed in your device.
Dinner Service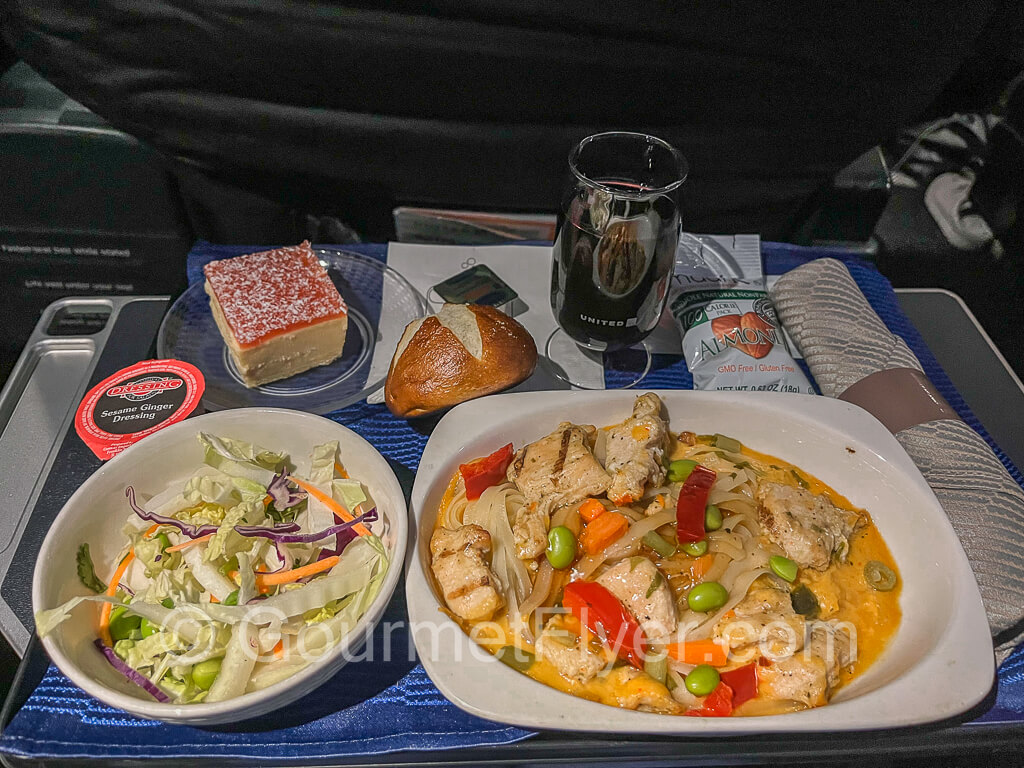 Shortly after we reach the appropriate altitude, the flight attendant serves a round of drinks before dinner. Drinks are served in glassware, however, the warmed nuts from pre-pandemic times are missing.
Dinner choices for the night are beef short ribs, Thai chicken, or a vegetarian pasta. I am getting the beef and my wife likes to try the chicken.
The beef short rib is served in a sweet Asian Hoisin sauce with a touch of bbq flavor. The beef is rather tender and is accompanied by white rice, carrots, and broccolini.
My wife lets me have a bite of her Thai chicken and I find it rather tasty and only mildly spicy. However, the noodles are overcooked and are somewhat mushy. This dish does come with a lot of chicken, so it is quite filling. But I think my wife definitely likes my beef entree more than her Thai chicken.
The dinner tray also carries a warm roll, a green salad with sesame ginger dressing (nice touch of Hawaiian flavor), and a serving of lemon cheesecake for dessert. The cheesecake is really good! Halfway through dinner, I also notice a bag of nuts on the tray, which probably replaces the warmed nuts from the oven that used to be the norm pre-pandemic.
Mid-Flight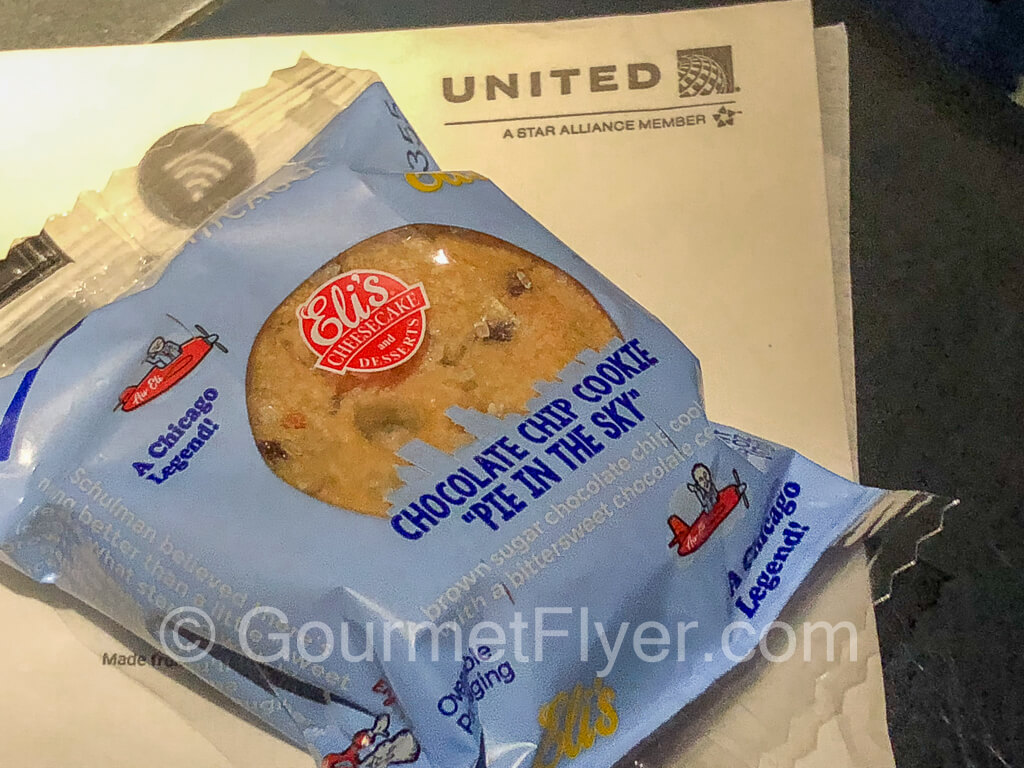 The flight attendants in the first class cabin are absolutely amazing throughout the flight and our wine glasses are proactively refilled. A pleasant surprise mid-flight is a warmed "Pie in the Sky" – a chocolate chip cookie with a cheesecake like texture that United introduced in the summer of 2021. This has since been my most favorite dessert whenever I'm up in the air. It has received raving reviews from many frequent flyers and bloggers too.
Conclusion
Overall, I find the food and service on this flight in United First very typical of a West Coast to Hawaii flight. I always find the Hawaii-based crew more friendly and service-oriented. I am really enjoying every moment of this flight, and I am excited to share my positive review with you. I look forward to flying to/from Hawaii on a United flight again soon, and hopefully, in the United First cabin.