Updated September 4, 2023
This is a fun-filled and extensive 3-day itinerary to Vancouver with flexibilities to extend your journey to 4 days. Although the city has a very efficient public transportation system, it is logistically easier to get to the various attractions in this itinerary with a rental car. Moreover, having a car makes the routing more compact, allowing you to do more and see more during your trip. So, fasten your seatbelt and get ready, as I will introduce you to the most exciting things to do, places to see, as well as the best local and cultural dining experiences in Vancouver.
This exploration is designed mostly for the first-time visitor but return visitors will also find this guide very useful in exploring areas that they have missed. The program is arranged in a way that you will be traveling either in a single direction on a day (for example, north on the day to Stanley Park and beyond) or exploring one geographical region at a time. Therefore, the order of the days can be rearranged to fit your preference or weather conditions. There is also an option to extend this trip to four days and I will elaborate more on that near the end of the article.
So here it is – the best itinerary for 3 days in Vancouver filled with exciting adventures and yummy good eats.
Table of Contents
Day One
Arrival
The Rental Car Facilities at Vancouver International Airport (YVR) is located just a short walk across the street at the ground level from the terminals. This is where all the major car rental companies are located. Go here for a list of rental car companies located at the airport.
The activities below are recommended for your arrival day because you can do as much or as little of the following as you like, depending on your arrival time. If you are flying westbound or just up the coastline, there should be plenty of flight options that you can plan for an early afternoon arrival.
Canada Place and Waterfront Areas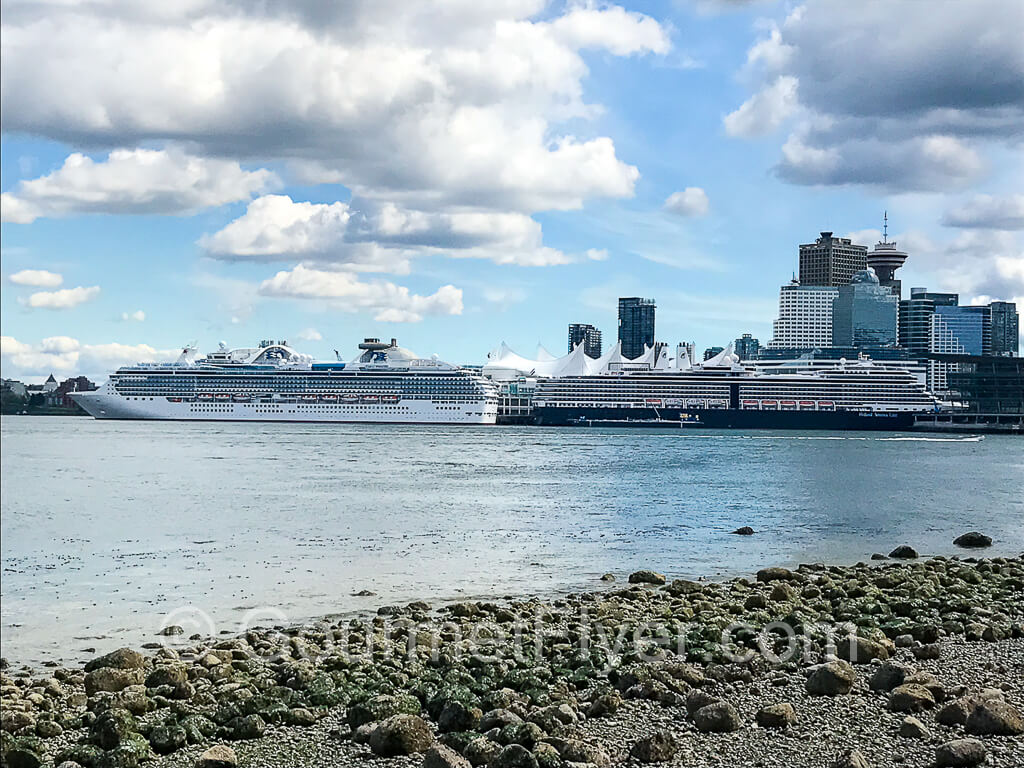 Canada Place is Vancouver's most iconic landmark at the Waterfront and is also the cruise ship terminal for Alaskan cruises. If you are arriving from a Southbound Alaska cruise, Canada Place is your natural starting point. If you are taking the SkyTrain from the airport, the Waterfront station is the last stop of the Canada Line, which takes you to Canada Place.
One of my favorite attractions located inside Canada Place is Flyover Canada. This is a breathtaking flight-simulation experience that takes you on an aerial exploration across the landscapes of this beautiful country. You will enjoy stunning sceneries, absorb the country's cultures, and bring home lots of fond memories. Prices are sort of steep – CAN$25 for an 8-minute ride. But if this is your first trip to Canada, I'll go for it!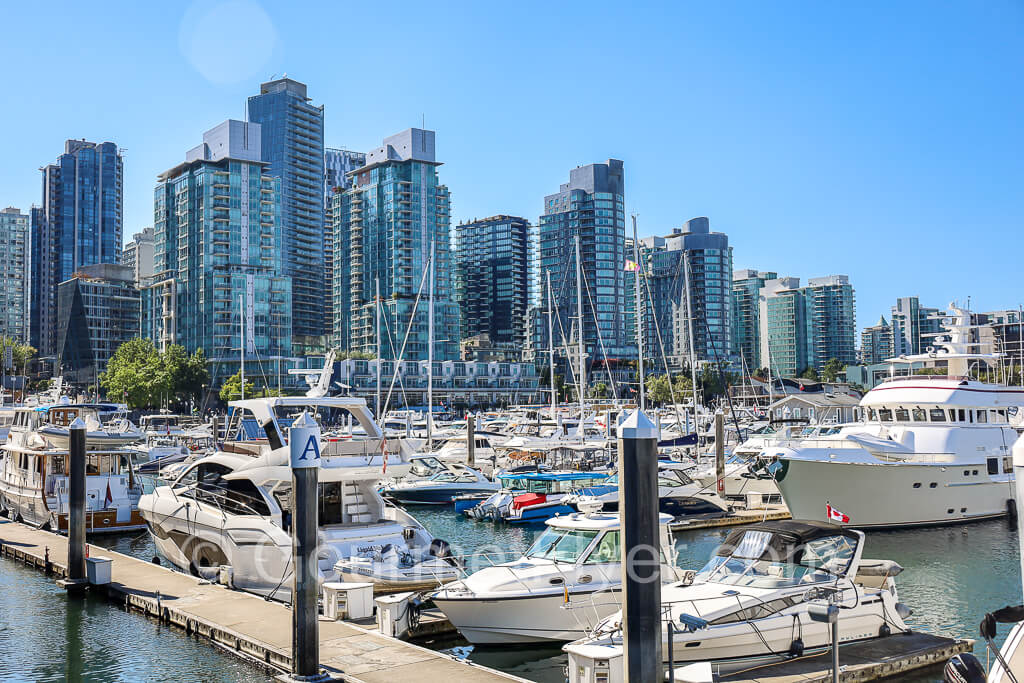 From Canada Place, you can explore the many drinking, dining, and shopping options in the Waterfront areas or just enjoy the sea breeze and soak in the gorgeous scenery. You can also take a leisurely stroll along the waterfront of the Coal Harbour Seawall to the Coal Harbour Seaside Park, and then to the Marina. The entire walk is very pleasant, and if you are in the mood of renting a bike, go right ahead!
I am very impressed by the city's thoughtful design that the bike lanes and pedestrian walkways are completely separate, clearly marked, and sometimes partitioned. Besides bikers, those on scooters and roller skates also use the bike lanes. This is really great as pedestrians don't always have to watch out for bikes and bikers don't have to zigzag their way through pedestrian traffic.
If you keep going, you will eventually reach Stanley Park, but we will save Stanley Park for another day.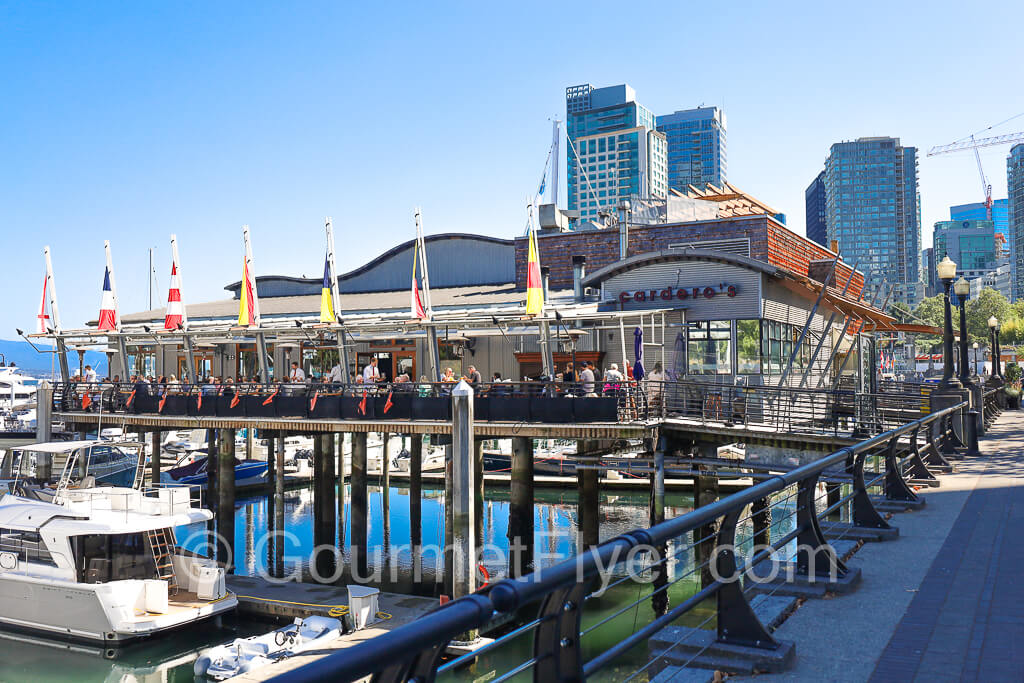 Cardero's Restaurant (menu) sits right at the Coal Harbor Marina and is a perfect place to grab some food and drinks and rest your feet. The restaurant has indoor and outdoor seating, both of which offer spectacular views. Cardero's cooks up the best fish and chips. The batter is light and crispy, the fish is moist and soft, and it always tastes fresh.
I had a Coal Harbor burger on my most recent trip there and it was great. Cardero's specializes in a wide variety of fish, seafood, chops, and steaks that is enough to please everyone's palate and appetite. Prices are reasonable and moderate, especially taking its prime location into consideration.
Vancouver Lookout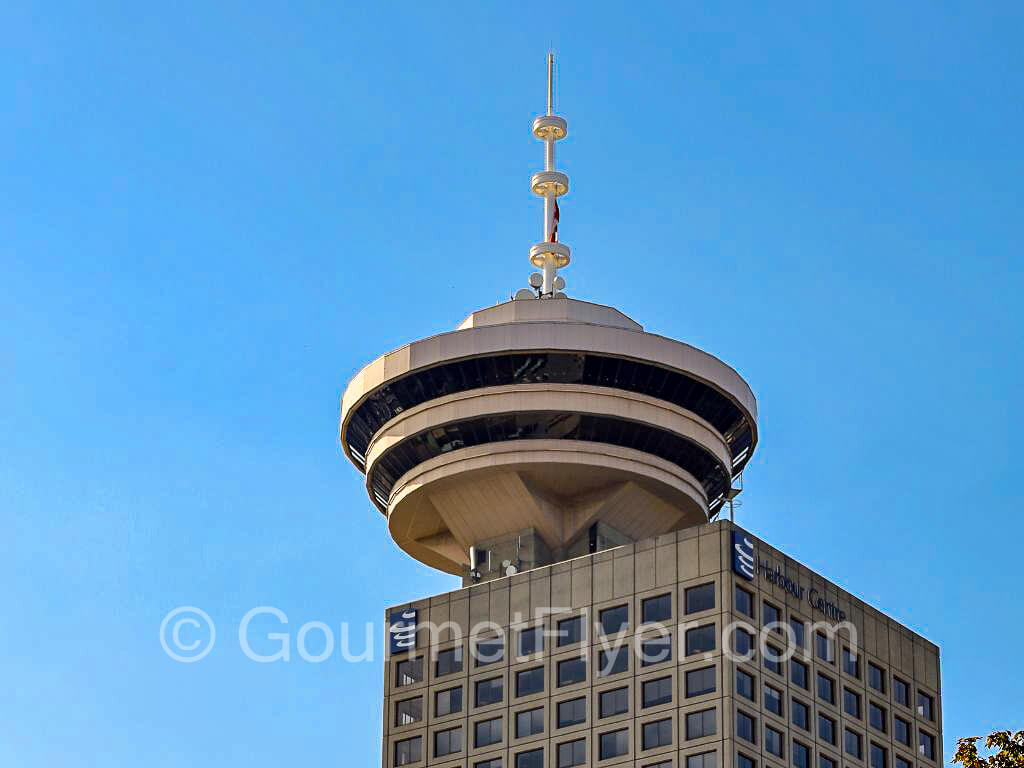 The iconic Vancouver Lookout has reopened since June 1, 2022 and will remain open until September 30, the end of the season this year. Hours are 11am – 6pm daily.
This is where you can take a 40-second glass elevator to an observation deck over 500 feet above the ground and soak in the panoramic view of the city and its neighboring areas. Going there on day one of your trip will give you a clear orientation of the city and its attractions, and help you better understand the itinerary planned ahead.
Gastown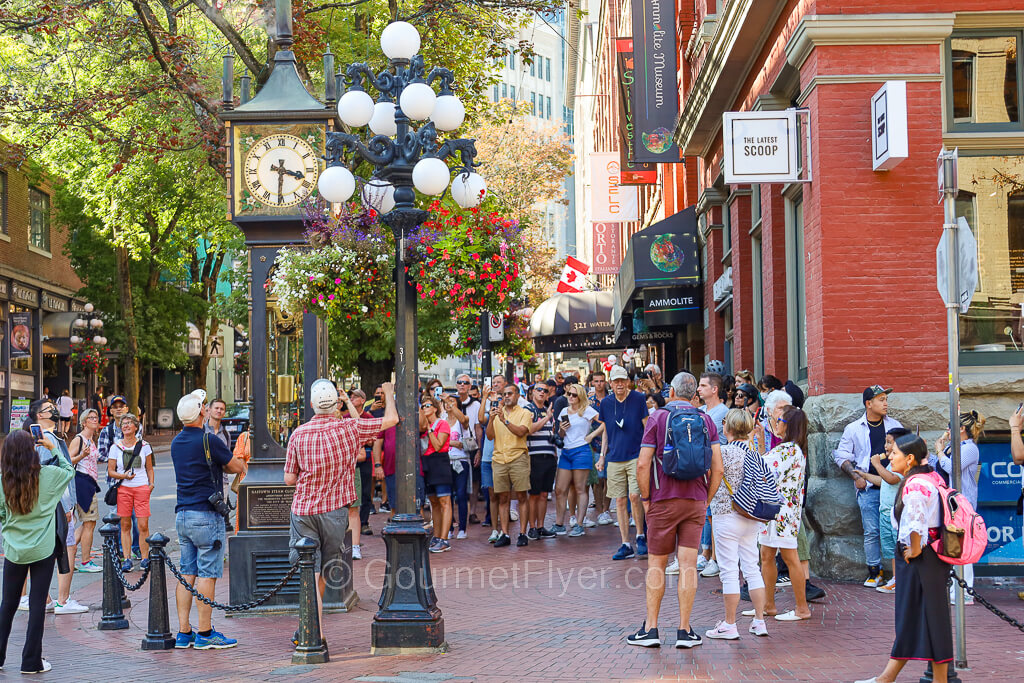 From the Waterfront go in the southeast direction until you reach the corner of Cambie and Water, where you'll find the iconic whistling Steam Clock, which marks the northwest corner of Gastown. It is bordered to the south by Hasting Street, and to the east, by Main Street.
Gastown is surrounded by the historical charm of Victorian architecture and punctuated by stylish boutiques and contemporary art galleries. It is also home to a lively and trendy restaurant and bar scene. Gastown is the perfect place to enjoy some fine dining as well as to explore the city's vibrant night life.
Dinner in Gastown
There are many good options for dinner in the area. Just opposite the Steam Clock is Water Street Café (menu), a vibrant and lively hot spot for Canadian local favorites and seafood. As of this writing, there is live entertainment nightly.
Their food is always top-notch. I particularly love their crab cakes served with saffron aioli (above left) which is delicious. You can taste that they are made with fresh crab meat — after all, this is Vancouver. I also like their rigatoni with Italian sausage (above right) served with red wine ragu with red chili flakes. The pasta is perfectly al dente, and the sauce has a moderate level of heat and just the right kick for me.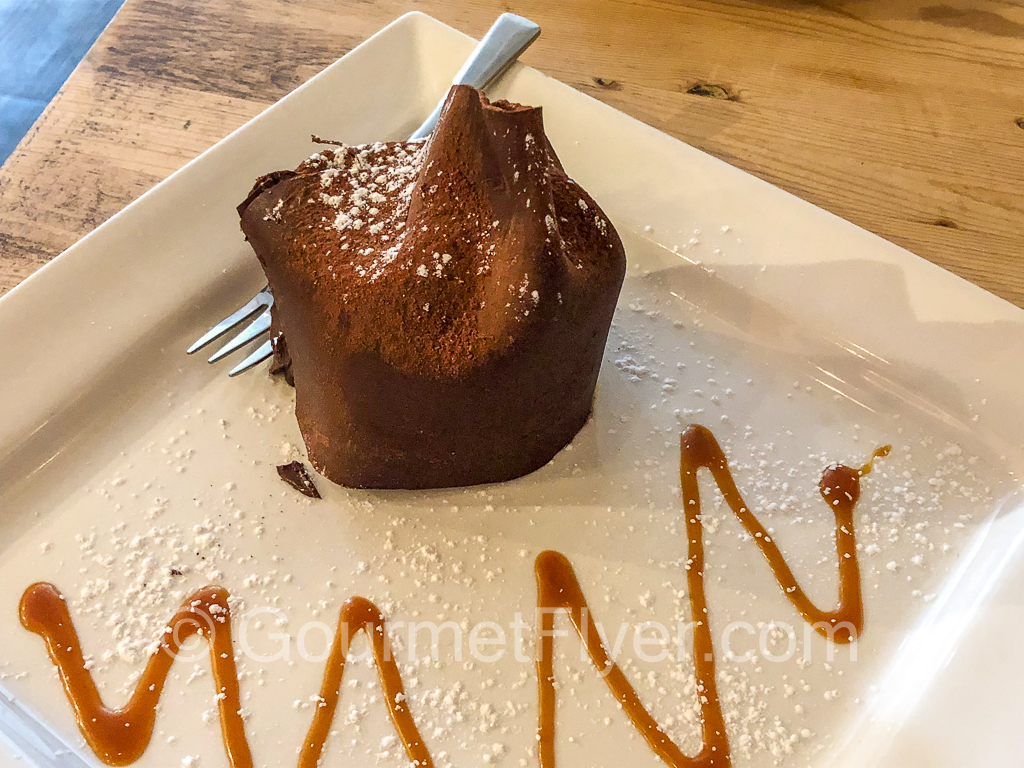 Brioche Ristorante & Cafe (menu) is an authentic Italian classic. It was founded by Eduardo Bilardello who discovered his passion in cooking at the young age of 14. Bilardello opened Brioche in 2003 with a focus in preparing traditional Sicilian cuisines with a West Coast twist. Its current Water Street location just steps away from the famous Steam Clock is now a favorite for both locals and tourists alike.
The restaurant offers an extensive menu full of Italian staples and fusion favorites. Sometimes it might be difficult to decide what to order. But for dessert, it is easy – get the tiramisu, which is creatively enclosed in a chocolate shell (pictures above)!
For the best burgers, steaks, and cocktails check out the Pourhouse Restaurant (menu) nearby. The Old Spaghetti Factory (menu) is a family restaurant chain serving casual Italian and pasta dishes at moderate and affordable prices. Tacofino (menu) cooks up everyone's Mexican favorites in bold flavors. Get the tortilla soup, ceviche, and choose among a dozen or so taco options.
Day Two
Stanley Park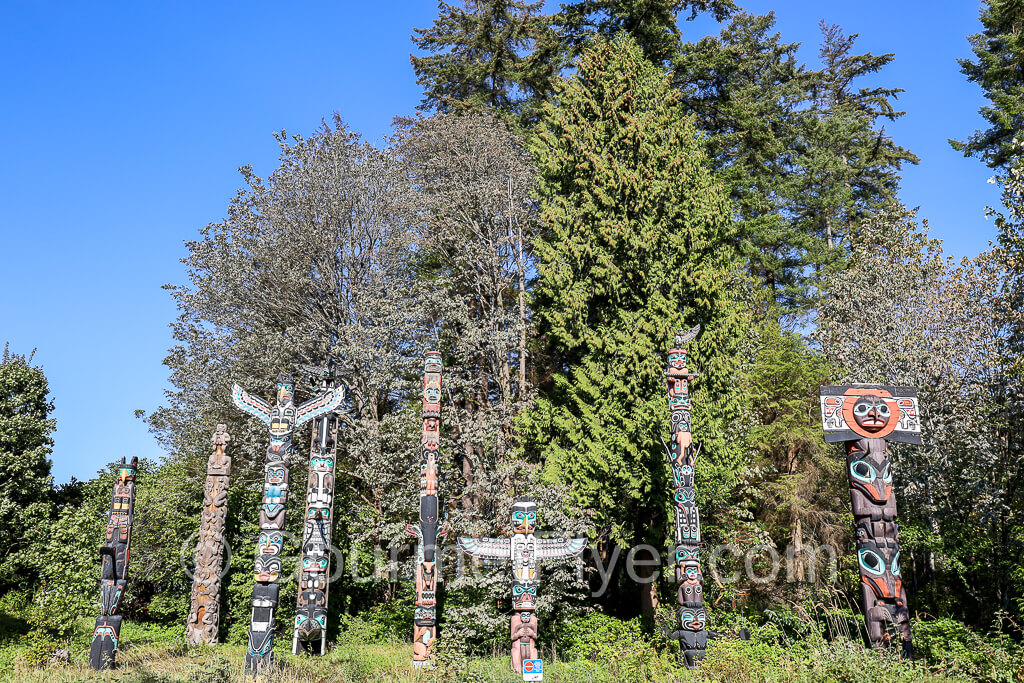 Stanley Park is a World-renowned urban park in the heart of Vancouver. This park is huge, and you can easily spend an entire day here. However, our compact itinerary recommends about 2 – 3 hours at the park. You can of course stay longer and adjust the itinerary accordingly.
A few of the major attractions that I will not miss are First Nation Arts and Totem Poles, the Lost Lagoon, Ted and Mary Greig Rhododendron Garden, and Prospect Point. If you want to grab an early lunch before heading to the next attraction, there are several dining options within Stanley Park – from grab and go, casual café, to full service fine dining. If you are visiting Prospect Point to enjoy a panoramic view of the Lions Gate Bridge and North Shore Mountains, the Prospect Point café will be a good place to grab a bite if you are hungry. You can find more information here.
Capilano Suspension Bridge Park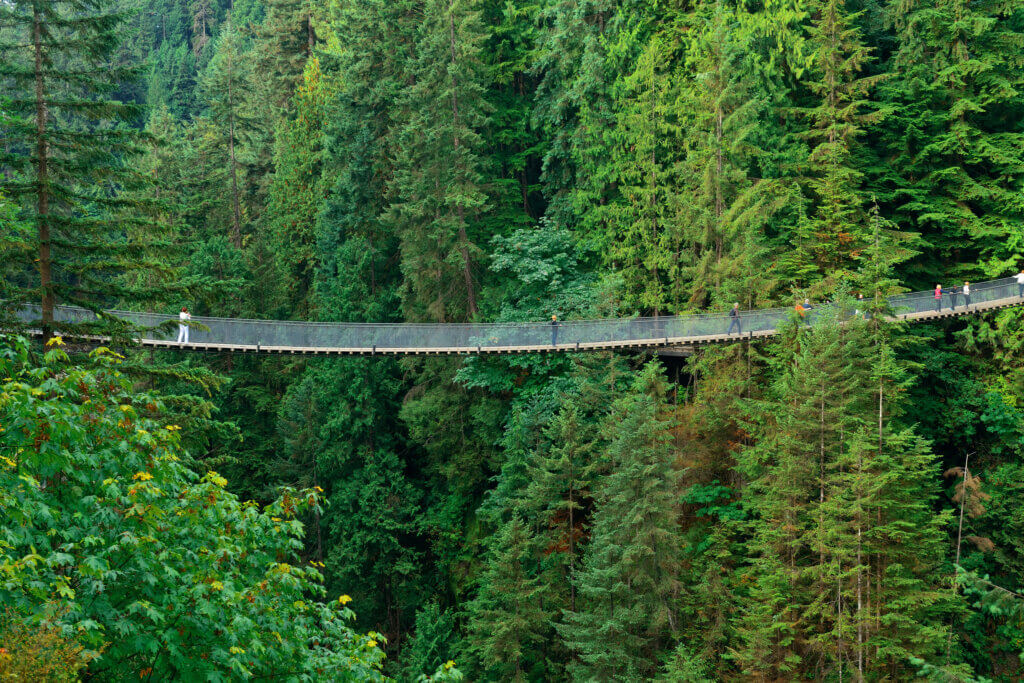 The Capilano Suspension Bridge is one of Vancouver's most iconic attractions and is a must-visit. Be warned that during the peak season in summer, the park can be quite crowded. And when there are a lot of people on the bridge, it does sway quite a bit. But don't be scared as you are perfectly safe on one of the best engineered suspension bridges in the World.
The park itself is gorgeous and you are actually in the midst of a rain forest. Other than a trip across the suspension bridge (or a few trips if you are up to it), there are a few other attractions as well. Check out the Cliffwalk, Treetops Adventure, and Story Center. If you didn't get a chance to have lunch yet, the Cliff House Restaurant (menu) is a great choice. But if you prefer something more casual, the Loggers' Grill serves great burgers!
Sea to Sky Gondola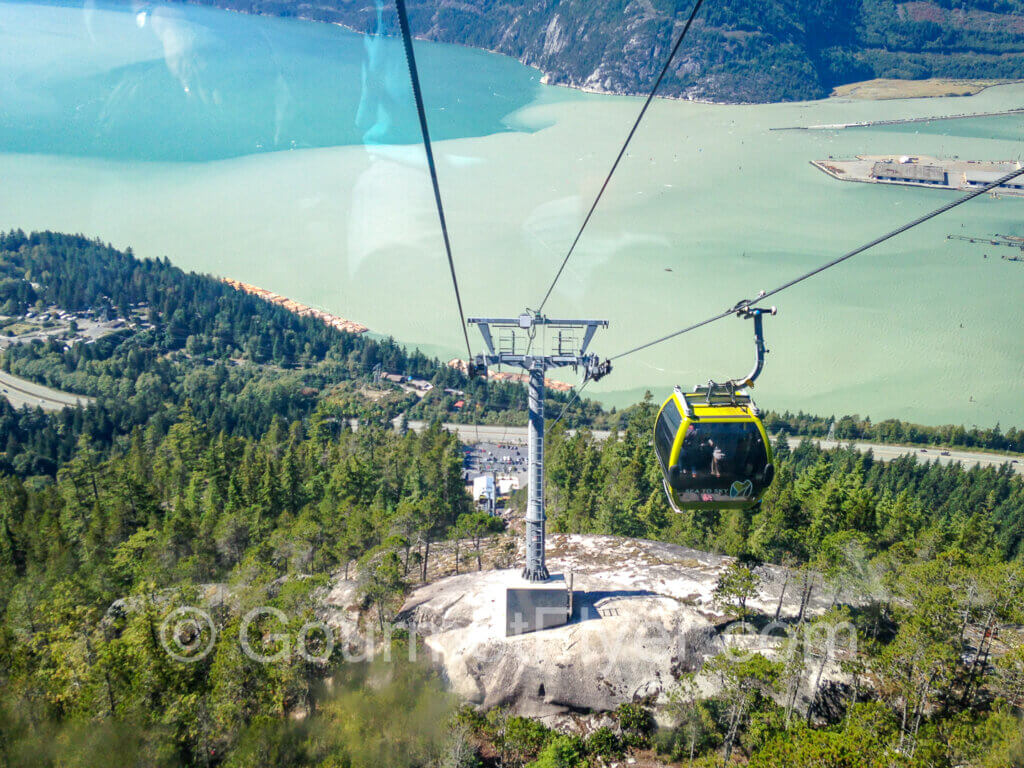 From the Capilano Suspension Bridge Park, it will be about a 40-minute drive on Highway 99 North to reach the Sea to Sky Gondola. The drive is one of the most scenic ever. In fact, that section of Highway 99 is also known as the Sea to Sky Highway. All passengers should have their cameras ready throughout the drive.
The experience is amazing. We went there on a bright and sunny day and the view was stunning. But don't worry if you are going on an overcast or even rainy day. I was told by many other travel enthusiasts that on cloudy days, you can be so high that you are above the clouds and the experience could be magical.
Other than the gondola ride and the spectacular views, there are also two relatively easy hiking trails. The Spirit Trail is just a short 20-minute stroll through the park. The Panoramic Trail is about a mile long and is more scenic. It will also take you to a viewing platform.
There is a small and short suspension bridge there as well, but it pales in comparison to the Capilano Bridge.
Day Three
Granville Island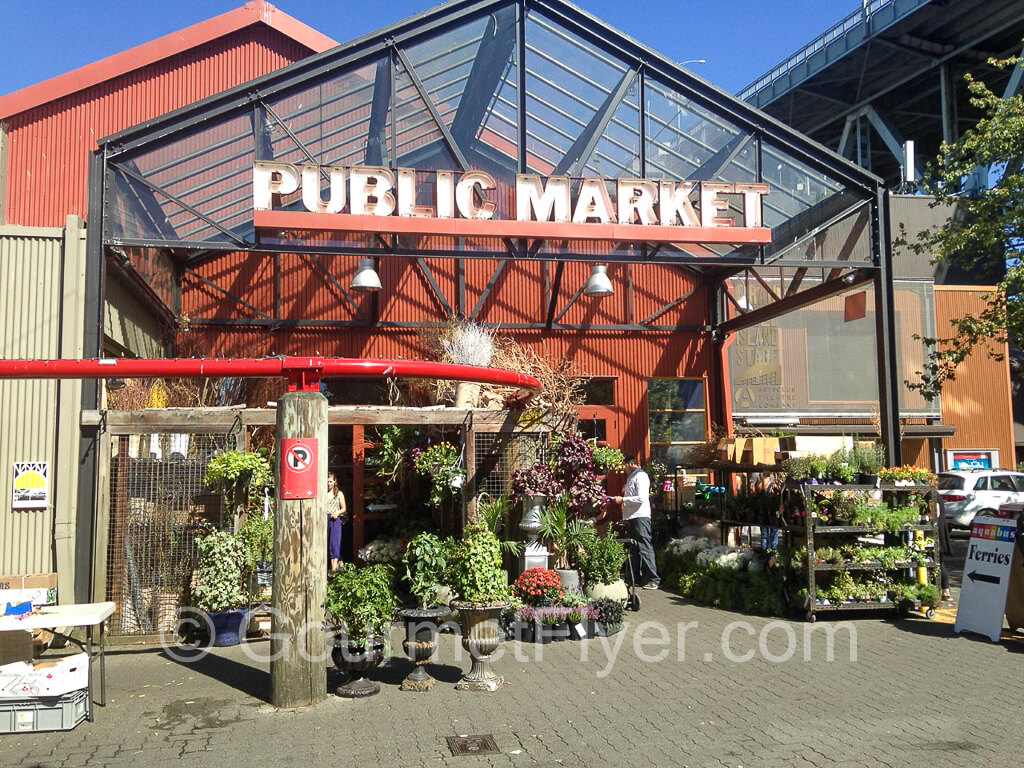 The island is both charming and quaint and is dotted with small cafes. fashionable boutiques, and contemporary art galleries. The centerpiece of the island is the Granville Island Public Market, which is somewhat like the Seattle Pike Place Market, but I find this place much cleaner, tidier, and better organized.
Inside the market you can find butchers selling the best cuts of meats, fresh produce, bakeries and patisseries, delicatessens, as well as chocolates and confection stores. There are no shortages of vendors selling arts and crafts, boutiques, apparels, and souvenirs.
There are many small bistro-like restaurants as well as food stalls selling a diverse spectrum of foods that satisfies every budget and appetite. This is a foodie's dream come true and a paradise for gastronomic adventures. For my last half-dozen visits to Vancouver, I stopped by the market every single trip, sometimes more than once.
If this is your first stop in the morning, the Market Grill serves a delicious and hearty breakfast. Another popular breakfast option is Siegel's Bagels. The Stock Exchange serves a great variety of homemade soups. You have to try their clam chowder. Check out Celine's Fish and Chips for fresh fish and seafood straight from the ocean. Or grab a slice of rustic freshly baked Italian style pizza from Pizza Pzazz. Your dining options are almost endless. Go there hungry!
False Creek Ferries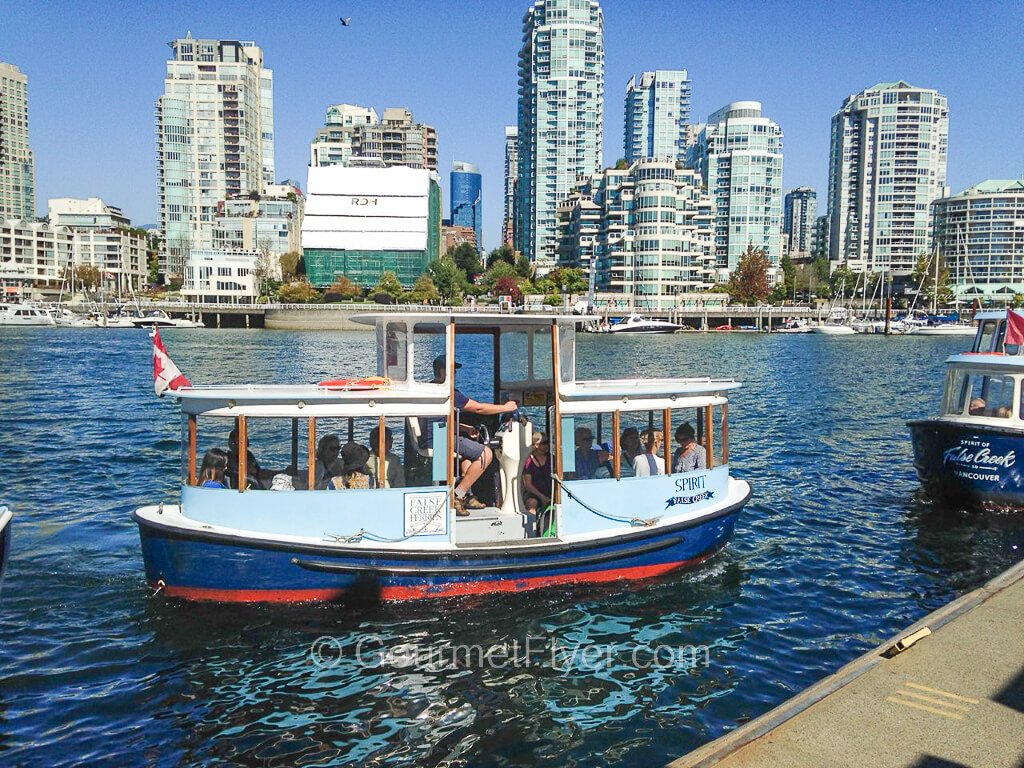 Granville Island is one of the 9 stops of these cute and convenient False Creek Ferries, and you can board one of them just a short walk from the Public Market. You can buy single or multiple tickets, but for the best value, get the day pass.
From here, you can take optional side trips accordingly to your preference and skip parts of the suggested itinerary below. A couple of tourist favorites are Science World (especially if you have children) and Maritime Museum. Visit Yaletown for a hip and trendy dining scene.
You also have the option of taking a 20-minute or 40-minute sightseeing cruise (recommended) and continue on with the rest of the suggested itinerary.
Queen Elizabeth Park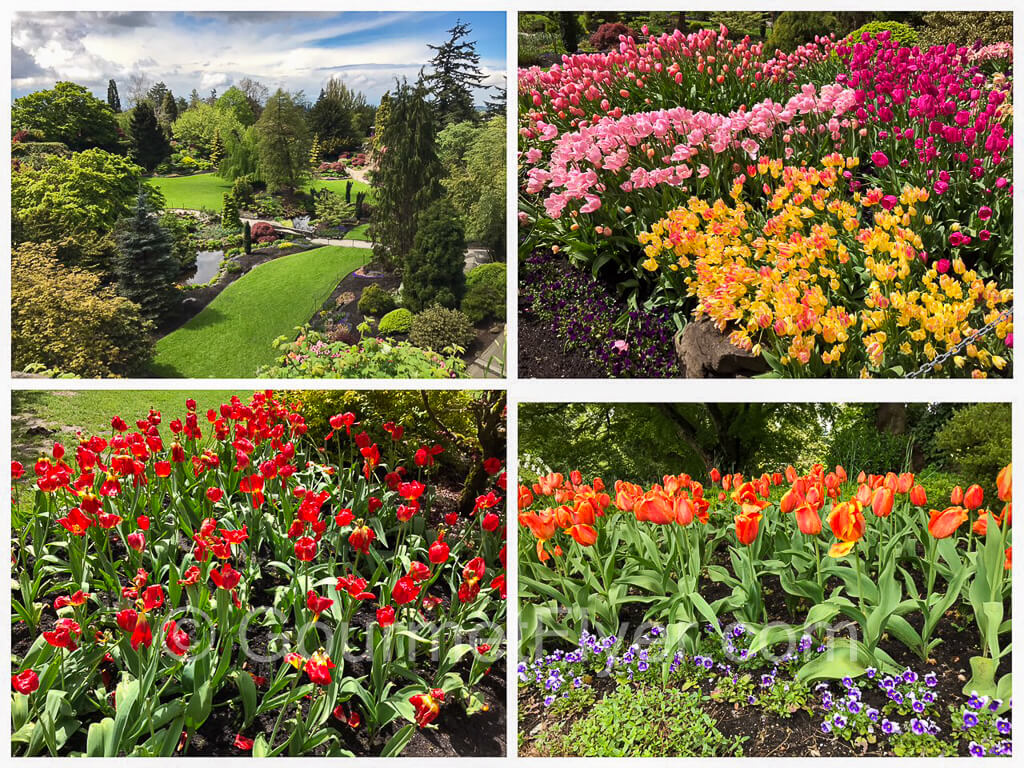 Queen Elizabeth Park is just a 10-minute drive to the south of Granville Island and is the prefect stop before we continue southward to Richmond.
QE Park is a World renowned horticulture center and is also home to the Bloedel Conservatory – a domed and temperature-controlled environment of exotic plants, flowers, and birds. The entire garden is gorgeous throughout the year, but during the spring and summer months, there are always seasonal displays of colorful and spectacular flowers.
Seasons in the Park (menu) is a great option for lunch. The restaurant is strategically located so that you'll have a gorgeous of the Vancouver downtown skyline as well as the lush beauty of the garden. Prices are a little steep, but I promise you that both the quality of the food and service are top-notch.
Explore Asian Culture and Cuisines in Richmond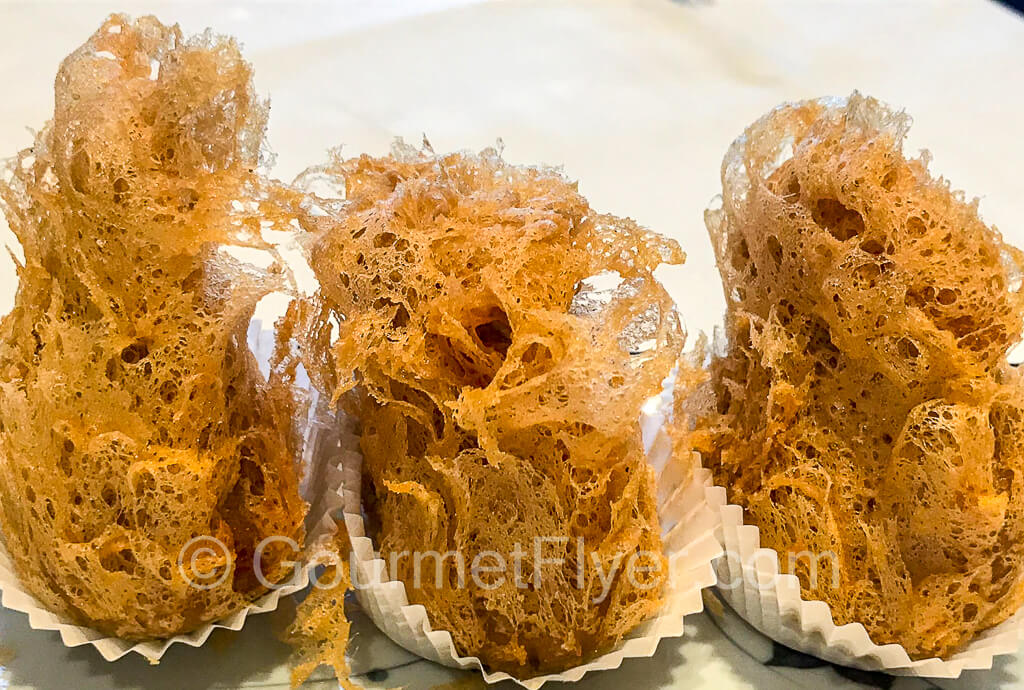 To the south of Vancouver and near Vancouver International Airport is the city of Richmond, which is rich in Asian culture and cuisines. It is also where you will find the best Chinese food on the entire West Coast of North America. Check out my favorite restaurant Kirin (menu) or Fisherman's Terrace (menu) for the best dim sum.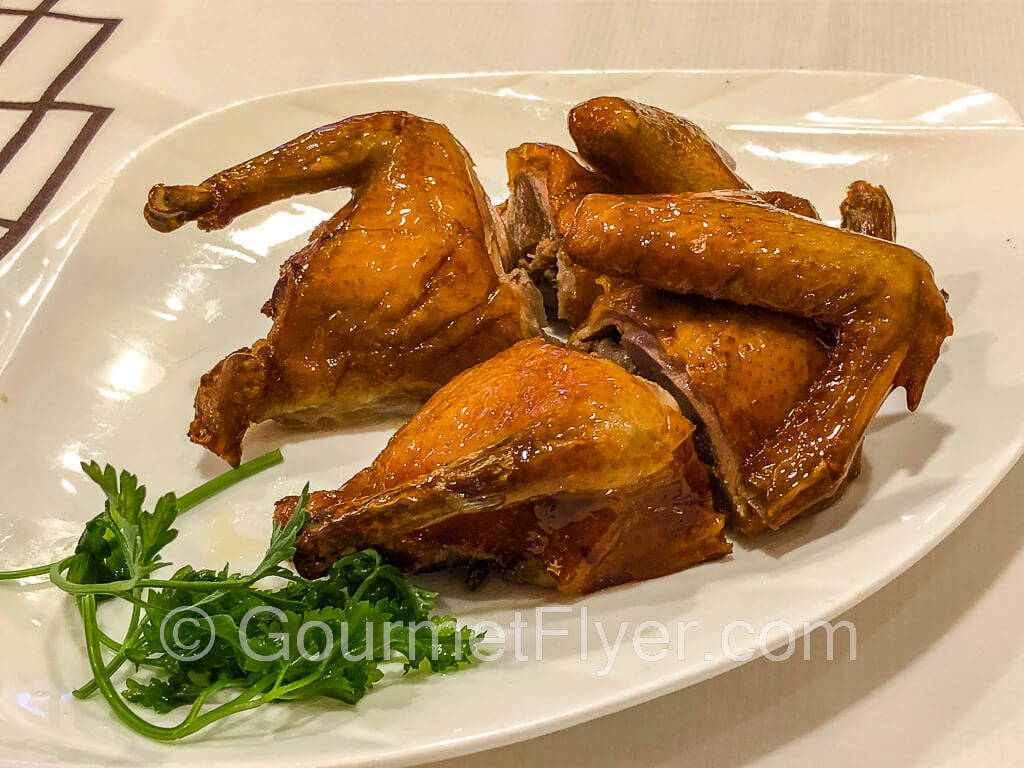 Visit Sun Sui Wah (menu) for their renowned roasted squab, or experience traditional Hong Kong style café food 24/7 at Number 9 Restaurant (menu). Take time to explore Alexandra Road, aka Food Street, and enjoy everything from classic wonton noodle soup to fancy and trendy seafoods; from traditional bakeries to the most fashionable desserts and boba drinks.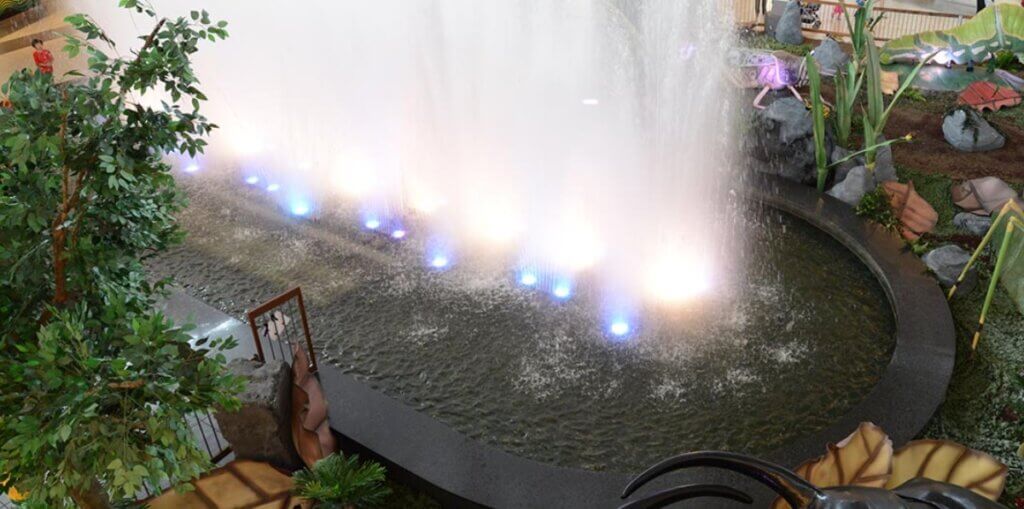 Aberdeen Center is the largest Asian Mall on the West Coast of North America with about 150 stores and eateries. Its main feature is a gorgeous central atrium and a fountain with dancing waters. The Food Court on the third floor is another foodie paradise where you can explore traditional cuisines from over a dozen countries in Asia. Be sure to grab a bubble waffle, one of the most popular street foods and dessert in Hong Kong.
Richmond Night Market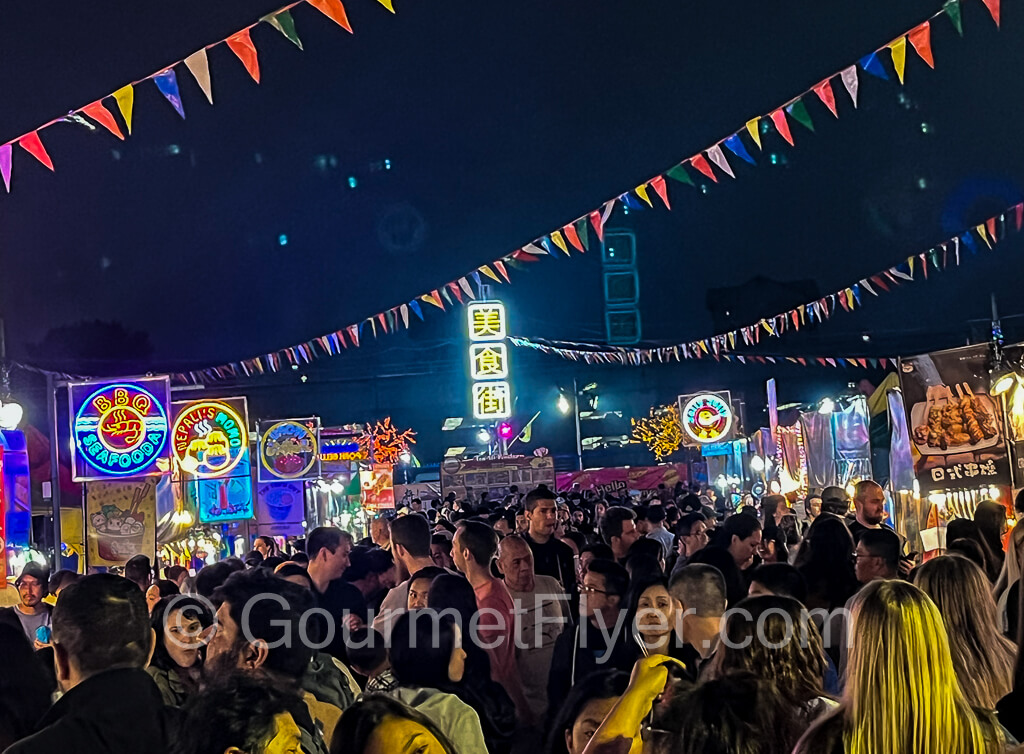 Visiting the Richmond Night Market is your ultimate Asian food and culture exploration so be sure to go there hungry. There are representations from almost every country in Asia as well as trendy fusion combinations such as the ramen burger or sushi taco. Don't forget to grab a stick of my favorite hurricane fries.
Don't want anything too fancy? Plenty of traditional offerings like dim sum dumplings, ramens, bbq skewers, Korean fried chicken, etc. are available. Thirsty? Numerous drink booths selling anything from simple juices to elaborate boba drinks are ready to serve you.
Other than food, there are also plenty of booths selling apparels, smart phone accessories, and gadgets. There is a stage where live performances take place throughout the night. Play areas and games are available for kids. Parking is free but very limited so go there early. Alternatively, you can leave your car behind and take the SkyTrain there.
The Richmond Night Market is open every Friday, Saturday, and Sunday. The 2023 season runs from April 28 to October 9.
McArthurGlen Designer Outlet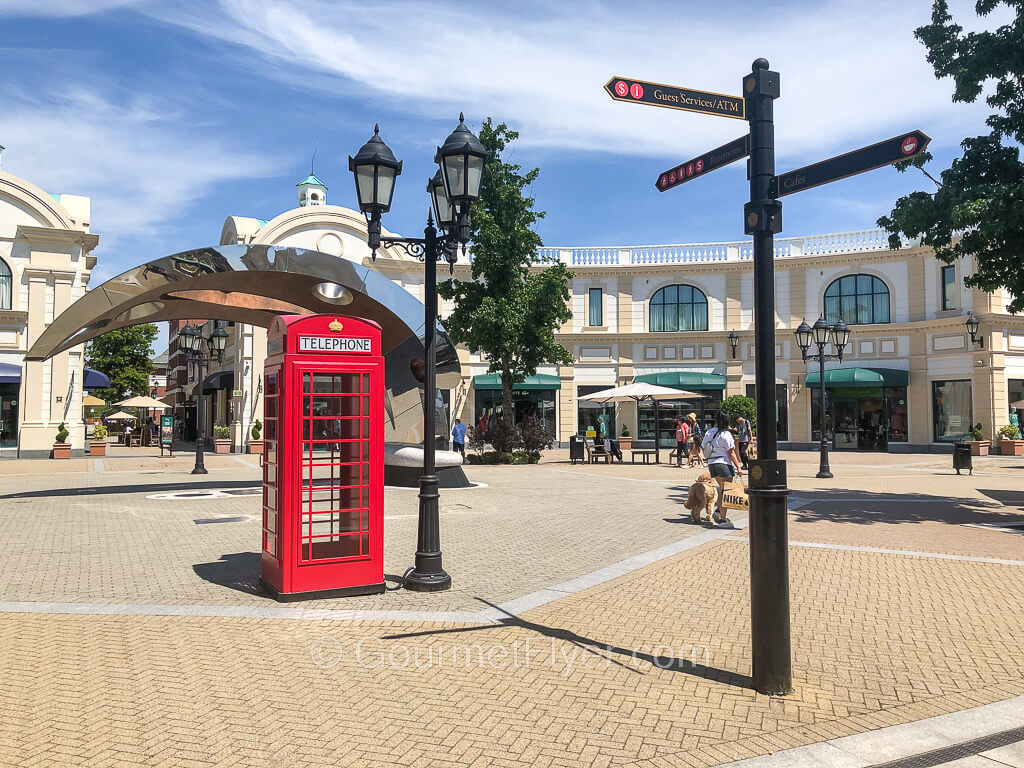 Another attraction near the airport is the Vancouver Designer Outlet which is an upscale outdoor mall with many major designer brands such as Coach, Ralph Lauren, The North Face, Versace, etc. This entire complex is beautifully designed with charming buildings, some with Alpine architecture. Even if you don't like shopping, it is a great place to take a relaxing stroll on a beautiful day. There is also a food court with several restaurants serving international cuisines.
The outlet is only a short 5-minute drive from the airport and is an ideal stopover if you have a few extra hours before your flight. If you are taking the SkyTrain, the outlet is just a short walk from Canada Line's Templeton station, which is only two stops away from the airport.
4-Day Itinerary Options
This is a fast-paced itinerary designed for first-time visitors who want to capture the highlights of Vancouver and its surrounding areas in 3 days. You can certainly modify this itinerary to suit your personal taste and pace, and to make it a 4-day trip.
For a slower pace, you can add a day and split the third day's activities into two days. After your visit to the Granville Market, hop on the False Creek ferries and visit Science World, Maritime Museum, and Yaletown. If you plan on having dinner in Yaletown, you should go back to Granville Island to pick up your car first and drive there, as the ferries stop running early in the evening.
Start the fourth day with Queen Elizabeth Park and lunch at Seasons in the Park. Then explore Asian cultures and amazing, good eats in Richmond. Another add-on is to try your luck at River Rock Casino before heading to the Richmond Night Market, which is just a short walk away.
You can also modify the last day's plan if you have a late-afternoon or evening departure. Since Richmond is very close to the airport, I still recommend that you go that direction and explore the Asian culture there. However, you can skip the night market and go straight to the airport. Another option is to have a date with Lady Luck at the casino before heading to the airport. The Designer Outlet near the airport mentioned above is certainly another good alternative.
Optional Day Trip to Whistler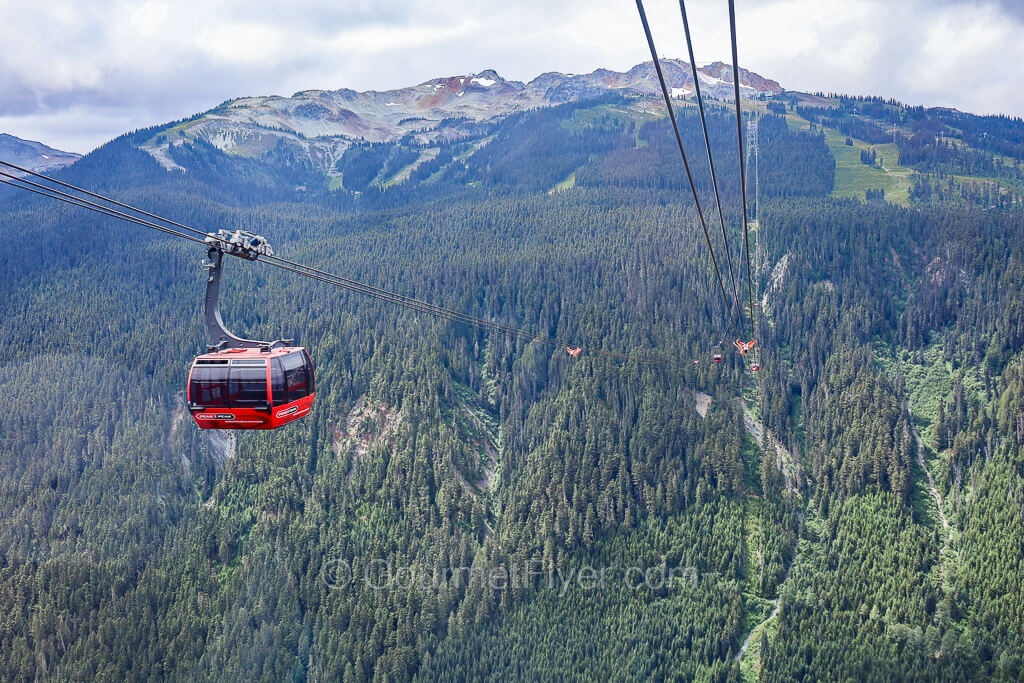 If you are visiting during the spring to early fall season and have an extra day, consider a trip to Whistler. The majestic Whistler and Blackcomb Mountains – still slightly covered with snow during summer – is a breathtaking scene that you cannot find in too many places around the world. Your highlight of the day will be a trio of gondola rides, especially the iconic Peak 2 Peak. The ultimate thrill of your journey is to walk across the Cloudraker suspension bridge.
If you have a rental car, it is about a two-hour drive. If you don't have a car, no worries, there are other options to get there. For a complete guide. Please see:
Whistler Day Trip with Guide to Peak 2 Peak Gondola and Cloudraker Skybridge
Conclusion
There are many possibilities, and my goal is not to prepare the perfect itinerary for you, but to show you the diverse culture, yummy good eats, and fun-filled adventures that Vancouver has to offer. Most importantly, if you have never been to the city of the Canucks, I hope this guide will inspire you to book your trip and help you plan the most enjoyable and memorable three days in Vancouver.