This United Club in Honolulu International Airport (HNL) is actually one of my favorite UCs in the system and I am happy to share my comprehensive review with you. It is my favorite lounge because it is not in a major hub city and it doesn't have the hustles and bustles or the chaos in places such as San Francisco, Chicago, or Newark. However, there could be morning rushes sometimes right when there are several morning arrivals/departures coupled with connections to Japan and the rest of Asia. But once those flights take off, calm and peace return promptly.
Table of Contents
Location
This United Club is located in the Diamond Head Concourse of Terminal Two at the Honolulu Daniel K. Inouye International Airport. After going past the TSA checkpoint, follow signs to the G Gates. It is above gates G2 and G3. From the gate area, take the long escalator up to level 3.
As of this writing, hours are 6:00am – 10:45pm daily.
Access
The airline's access rules and policies are long and complicated so please refer to their website here for details. But in a nutshell, the following passengers have complimentary access to the lounge:
United Club members.
United Gold or Star Alliance Gold members traveling on a Star Alliance international flight.
Non-United Star Alliance Gold members traveling on a United domestic flight.
Chase Explorer Card one-time pass holders.
If you do not qualify for complimentary access, entry can also be purchased when you are offered the bundle when buying your ticket online, when offered at check-in, or at the door.
Seating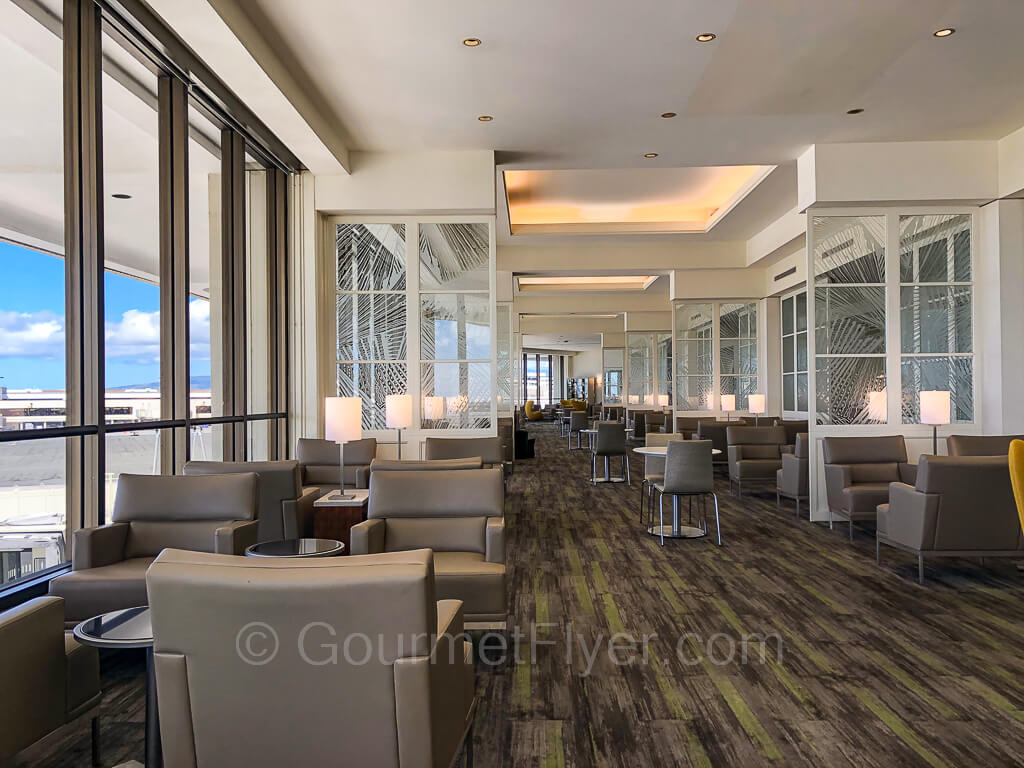 Two rows of large and comfy lounge chairs line the main lobby area. One set of chairs lie along the floor-to-ceiling windows, offering a panoramic view of the tarmac. The other set of chairs line the interior of the lobby, adjacent to the buffet counter. Between the two sets of sofas are several round dining tables for two. There are also several dining tables near the buffet area.
Breakfast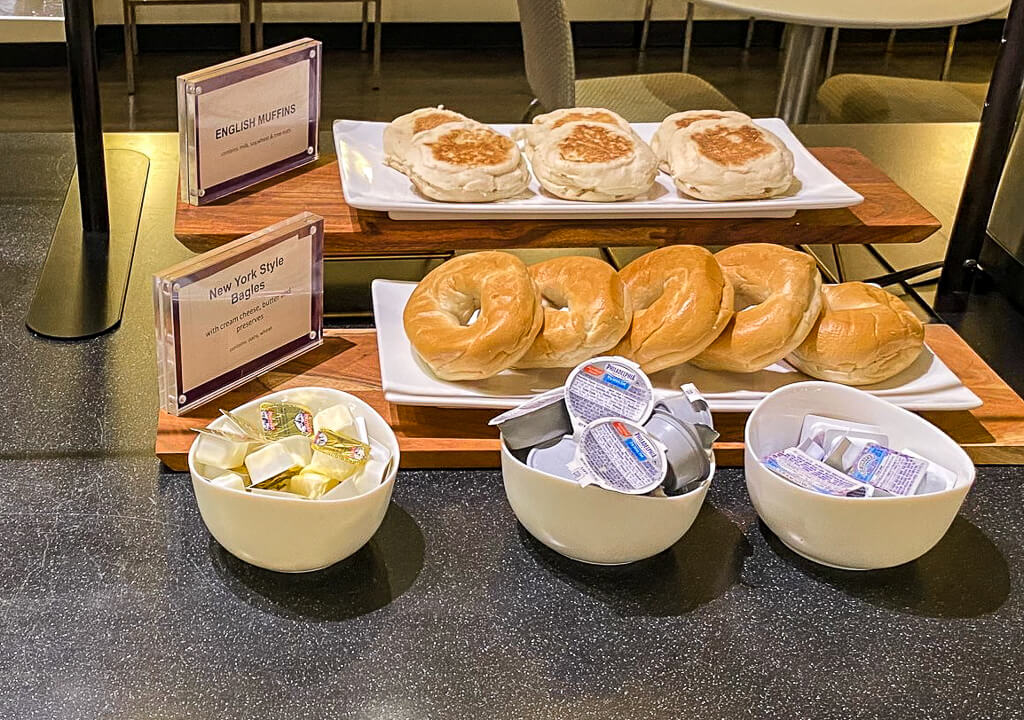 Breakfast offerings are adequate although there are no hot foods like the sausage and egg muffins or breakfast burritos in other UCs. Instead, the somewhat underwhelming spread includes hard boiled eggs, Chobani Greek Yogurt, oatmeal, English muffins, and New York style bagels with cream cheese.
The one item that stands out and provides a sense that you are in Hawaii is the Spam Musubi. Kudos to United for that!
All Day Snacks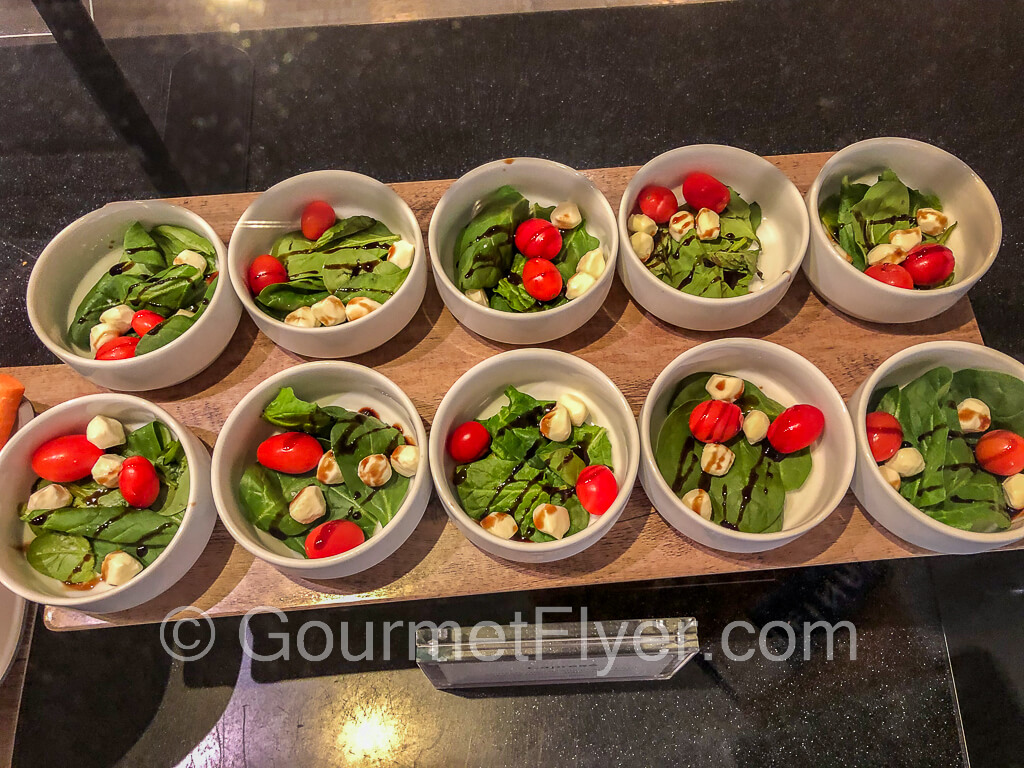 The lunch and all day spread looks a bit more refined than the early morning offerings. There are some plated salads such as the caprese (an Italian salad with fresh mozzarella, tomatoes, and fresh basil) and a sesame chicken and tofu slaw. Macaroni salad, a local favorite that accompanies many Hawaiian entrees are available in a large bowl for self-service.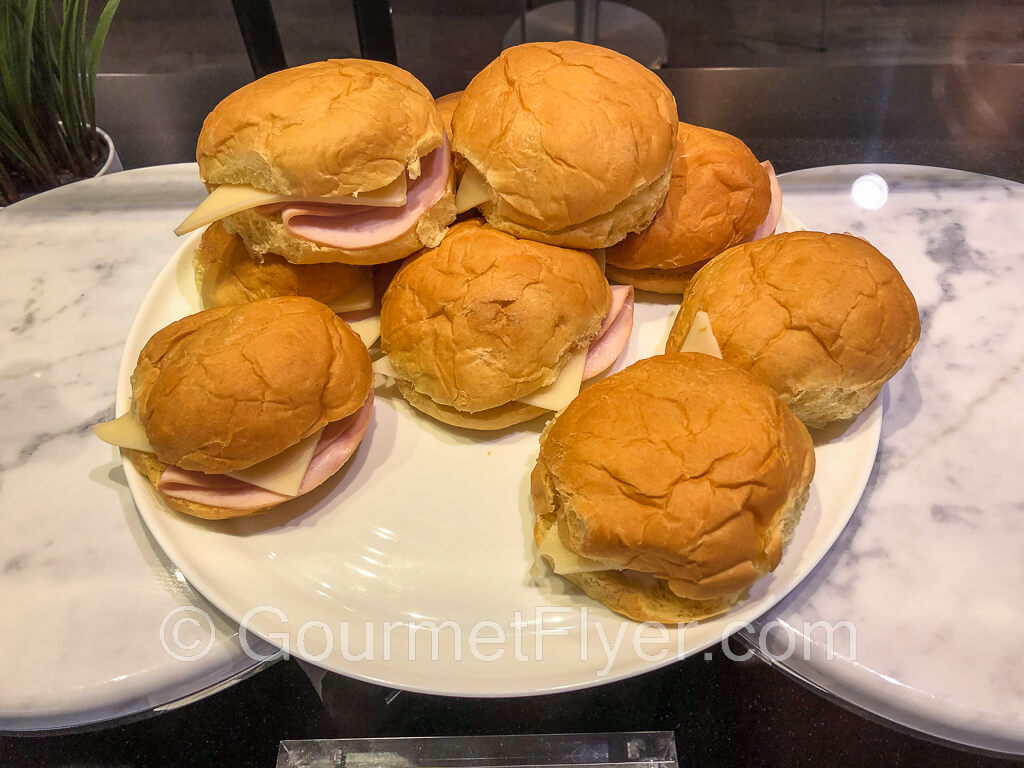 There are usually one or two different sandwiches, but the last time I was there only the smoked turkey in Hawaiian sweet roll was available. They used to serve a very tasty curry chicken sandwich, but I have not seen that in about a year. I hope it will be back.
Hot soup is served throughout the day and is usually either Clam chowder or Thai chicken curry soup. The last couple of times I was there, only the Thai curry was available.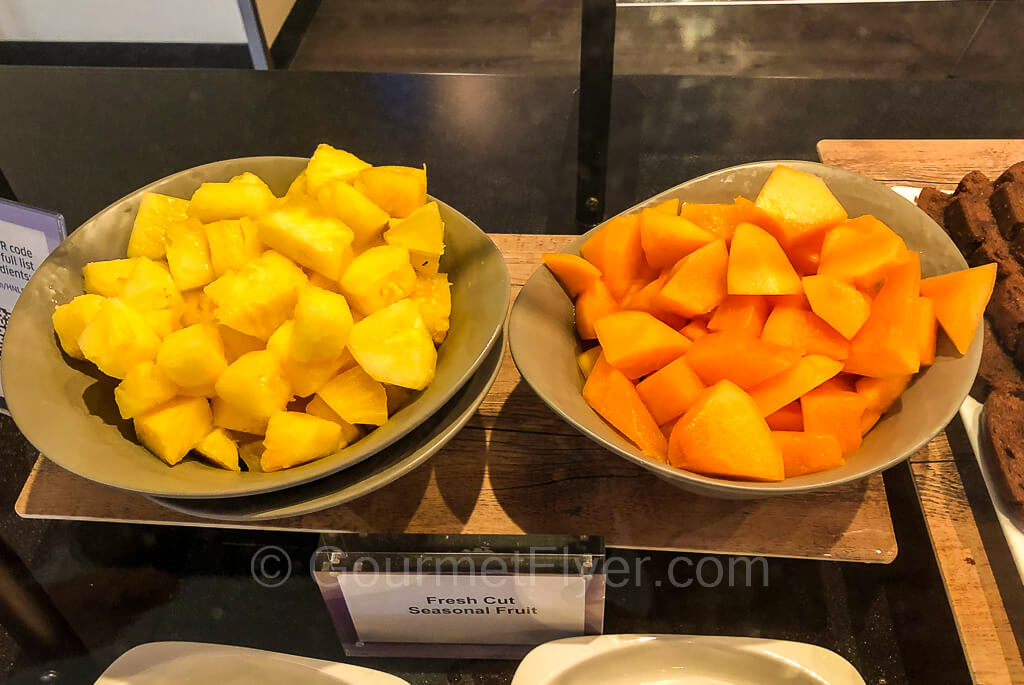 Fresh fruits are usually cut melon and pineapple. Other snack items include mini pretzels and nuts. All bagged chips and snacks were no longer available the couple of times I was there, when COVID restrictions were completely relaxed.
Desserts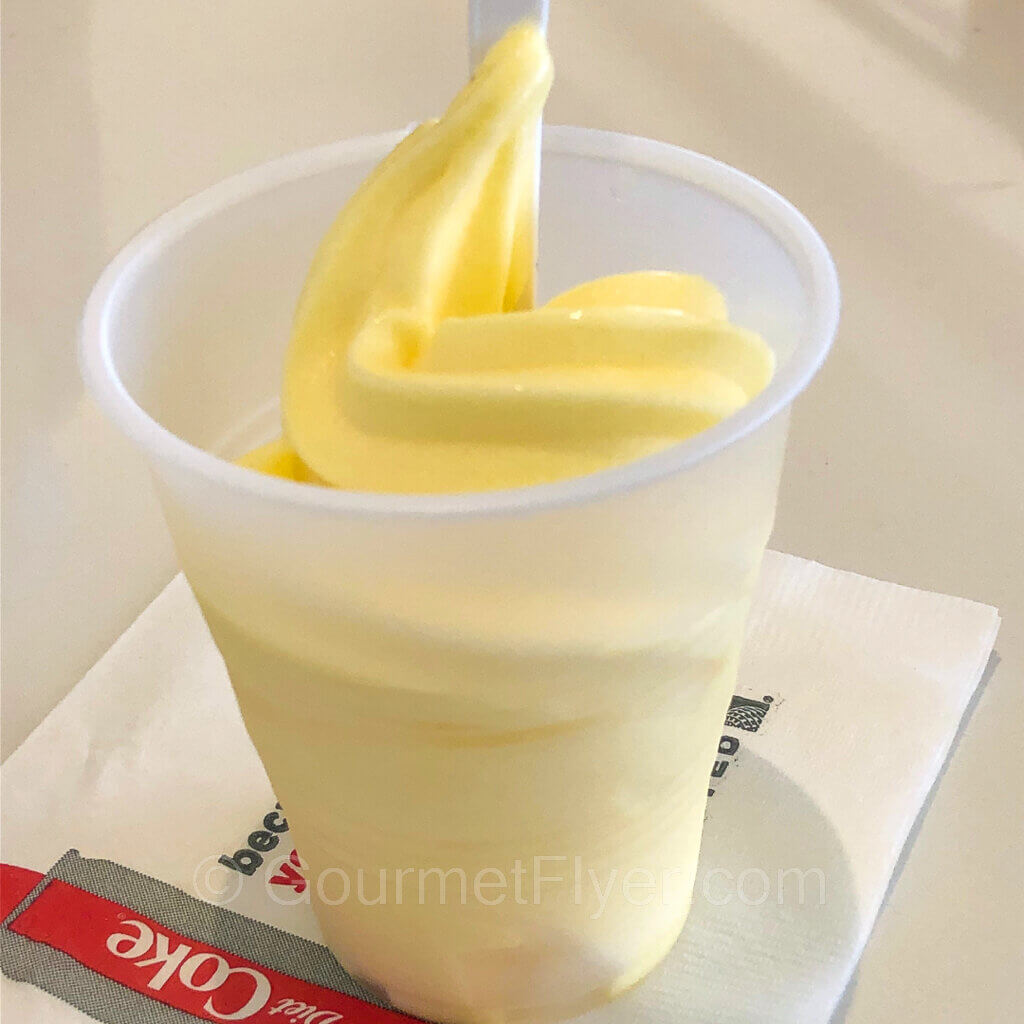 A good variety of sweets are always served which include cookies, loaf cakes, and coconut cakes. But for the full Hawaiian experience, get the Dole whip. It used to be behind the bar and had to be served by the bartender. But recently the Dole whip machine is placed on the counter and is now self-serve. I am sure the bartenders are happy that they don't have to deal with this anymore. I am happy too because I don't have to wait in the long alcohol line to get my dessert.
Bar and Beverages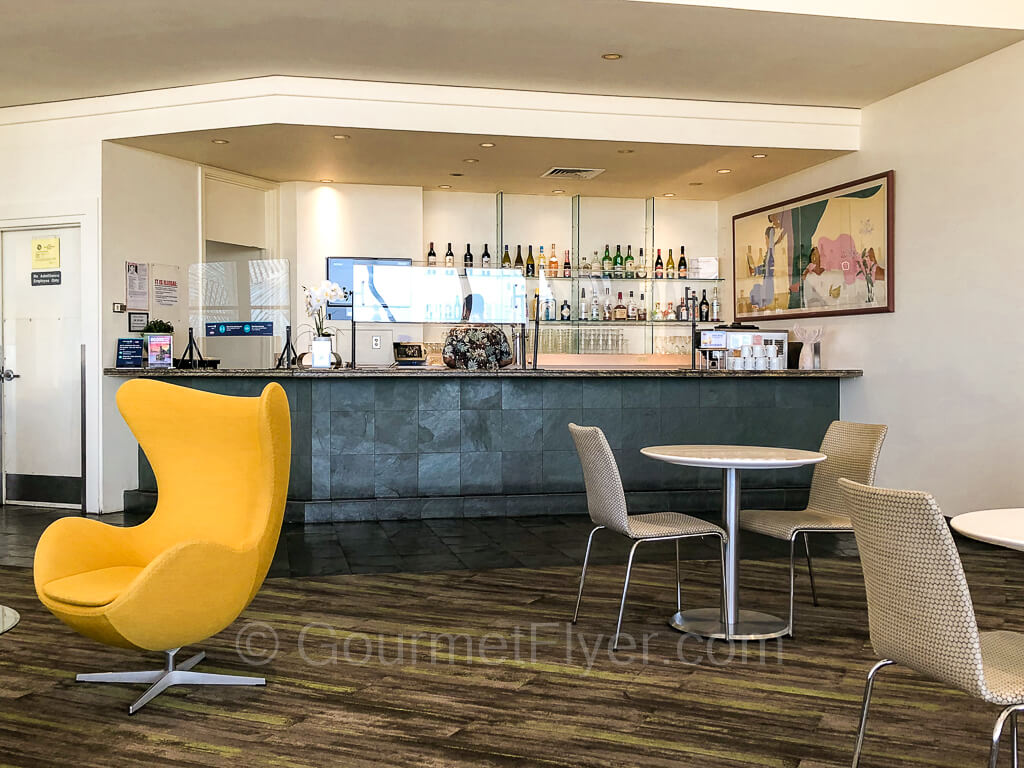 There is a full bar staffed with a bartender. Bar stool seating was removed when COVID restrictions were in place but has been reinstated in April 2022. Near the bar area are also a few round dining tables for two and a few sofas.
Just like in all other UC's, house beers on tap, house wines, and well liquors are complimentary. Premium beers, wine, and call liquors run anywhere from $5 to $15. If you want to indulge in an iconic Hawaiian drink, a Mai Tai will set you back $10.
Soft drinks are self-served at a machine. Like in most UC's there is a tub of citrus infused iced water. There is an espresso machine for your fancy coffee drinks with a separate hot water dispenser for hot tea and instant cup noodles.
Conclusion
This is a moderate size and cozy United Club in Honolulu International Airport (HNL) filled with Hawaiian flavors. Where else can you get Spam Musubi for breakfast? Sandwiches are always made with the local Hawaiian sweet rolls. Pineapples are always fresh. The Dole whip is sweet!
This lounge is usually not crowded and there is usually plenty of space, except during the occasional morning rushes in Honolulu Airport. I find it very comfortable just to relax and get a drink or to get some serious work done. Overall, my review for this United Club is very positive, but with some constructive feedback, such as the need for hot breakfast items and more soup varieties.