Updated August 1, 2023, with the current food offerings and more pictures.
November 15, 2022
Air Canada operates three Maple Leaf Lounges in Vancouver International Airport (YVR) – international, domestic, and transborder. This review is on the Maple Leaf Lounge in the Transborder Terminal which serves passengers on flights to the United States.
Table of Contents
Location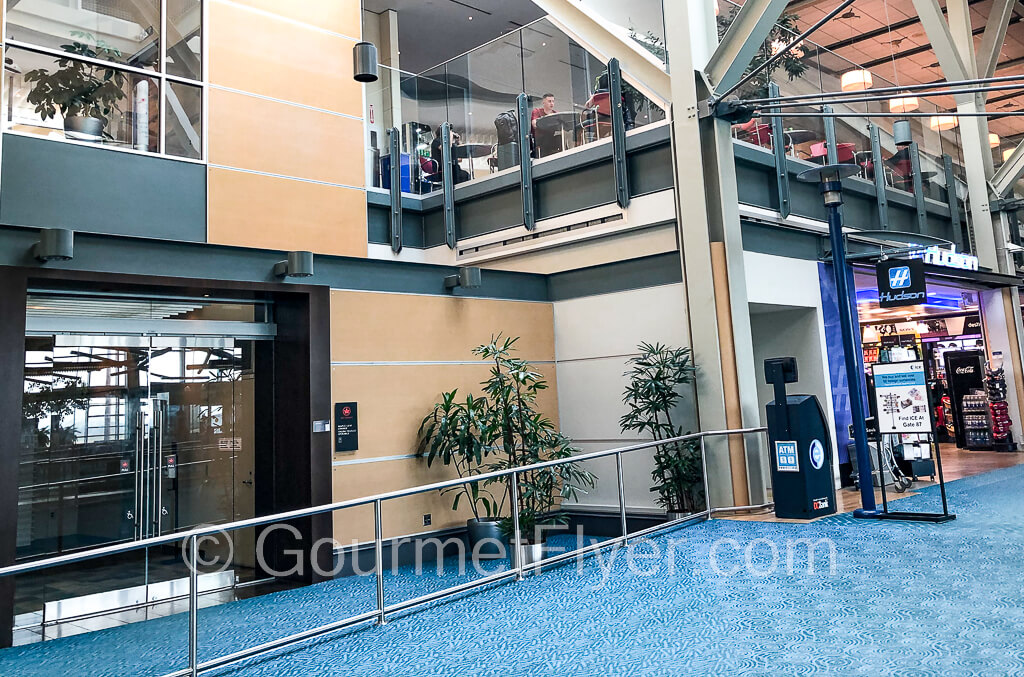 This Maple Leaf Lounge is located near gate 85 in the Vancouver Transborder Terminal, a short walk from the Duty-Free Shop after you exit from US pre-clearance with the Customs and Border Protection. The small entrance is sort of subtle and the sign is rather small as well, so you can easily miss it. I have walked pass it several times myself. The entrance is located immediately next to a Hudson store, so it is easier to spot if you keep an eye out for the store instead. At the entrance, you will take the elevator upstairs to access the club.
Hours as of this writing are 6:30am – 8:00pm.
Access
In a nutshell, access to the Maple Leaf Lounge is complimentary to:
Passengers flying in Air Canada's Business Class, Signature Class, and Premier Rouge.
Elite members of Air Canada's Aeroplan frequent flyer program.
Star Alliance Gold members with a same day boarding pass on a Star Alliance flight (such as Air Canada or United).
Air Canada Maple Leaf Club members.
There are other ways to access the club, such as purchasing access along with the air ticket, being a cardholder of certain Aeroplan credit cards, or purchasing a day pass at the door. Please refer to the airline's website here for complete information.
Seating Areas
The size of the club is moderate and although it is not large, the chairs and tables are spaced out enough that you do not feel crowded. I think the size of the place is good enough as it is in the Transborder Terminal and only serves passengers enroute to the United States. I have been there many times and I never saw the club packed.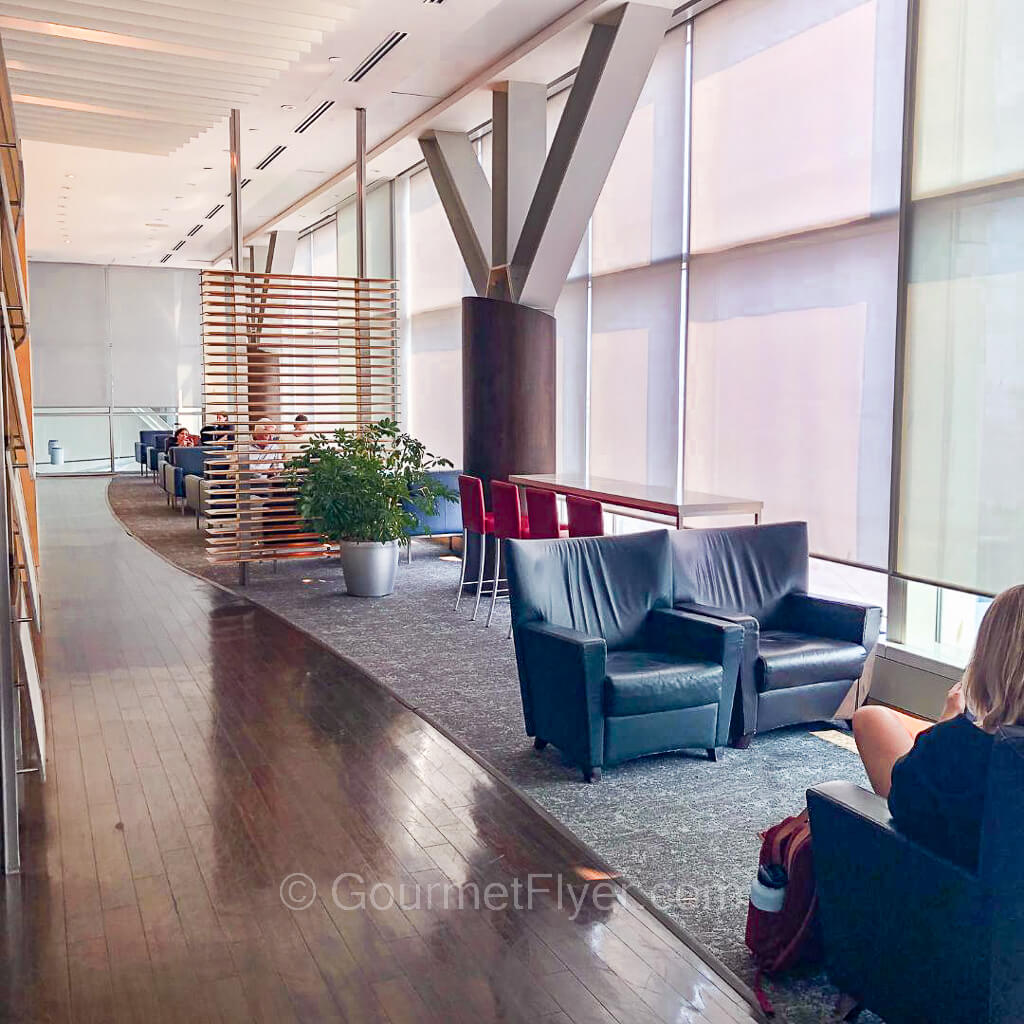 There are primarily two seating areas. One area is where wide and comfortable lounge chairs line the tall floor-to-ceiling windows. The window seats offer spectacular views of the tarmac. However, at times, especially late in the afternoon, the glaring sun will require the blinds to be lowered. The far end of the area has several very large and tall high back comfy chairs facing a TV.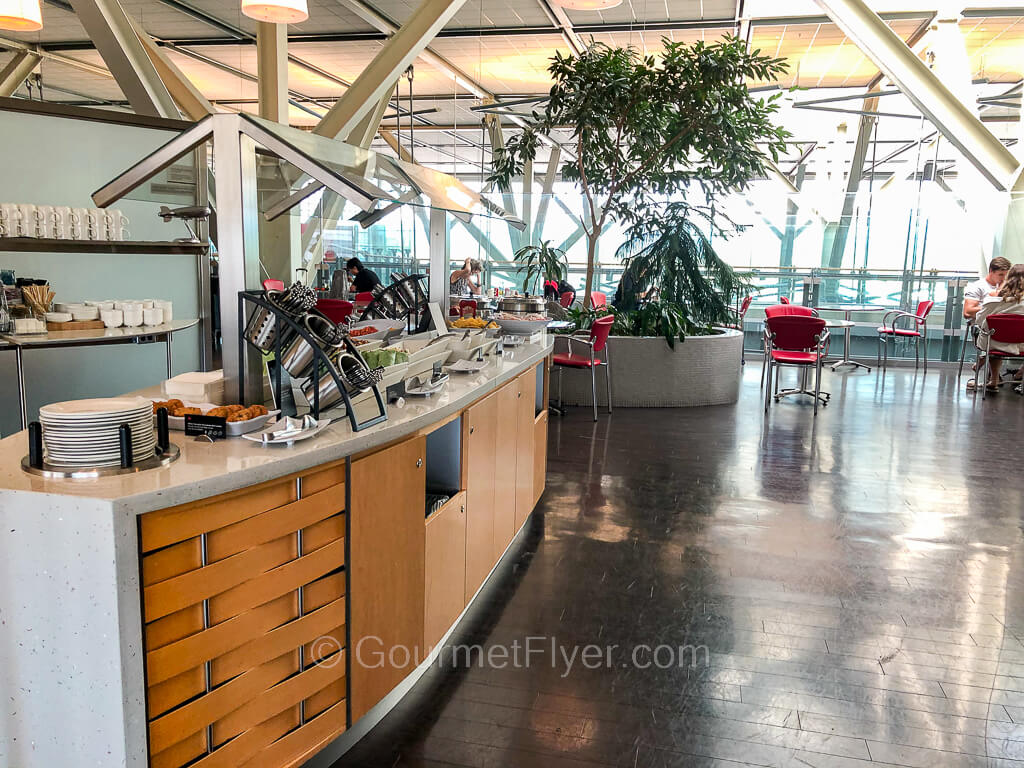 The other area has a diner's feel with cute glass dining tables and comfy red chairs surrounding the large buffet counter. Most tables seat 2 – 6 people. This is the perfect place to sit if you want to grab a bite. The window seats of this area offer view of the terminal downstairs – the same path that you took to get to the club.
All Day Snacks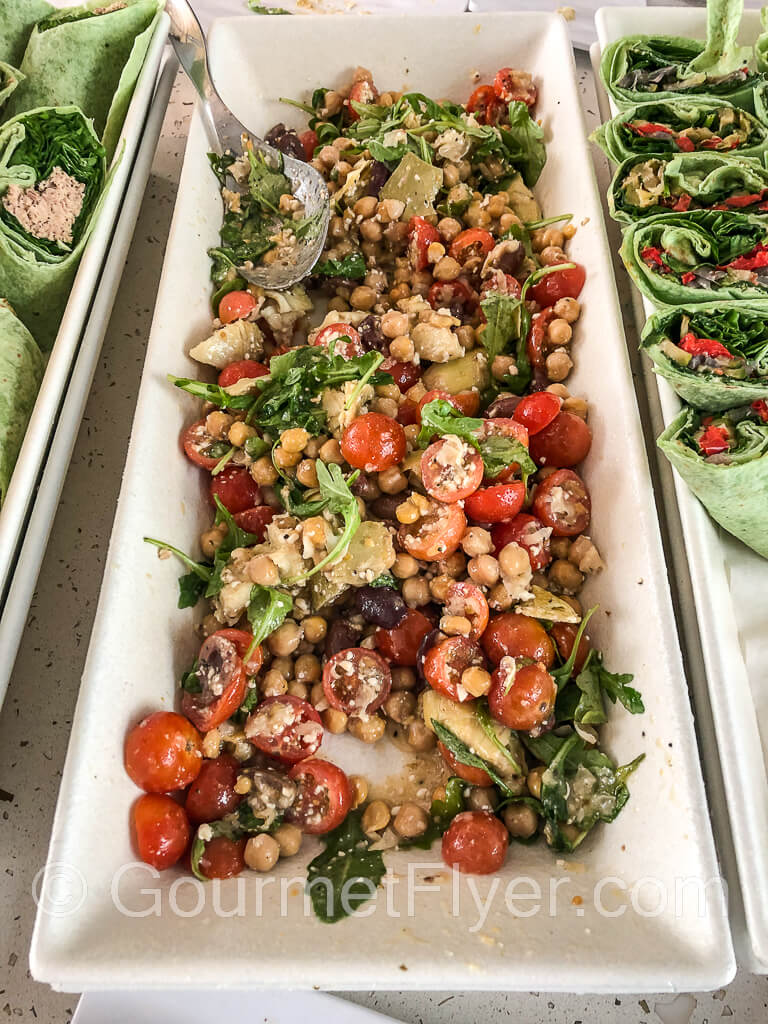 I have been to Air Canada's Maple Leaf Lounge during various times in the afternoon to early evening and I observed that the food offerings were pretty the same throughout the day. So, I believe they serve all day snacks throughout the day without any specific lunch offerings. They offer a good selection of salads, wraps, mini sandwiches, chips, and other snack foods. It is a great place to have a small snack or to grab a bite before your flight. However, don't expect to find a full lunch with hot entrées or a filling meal.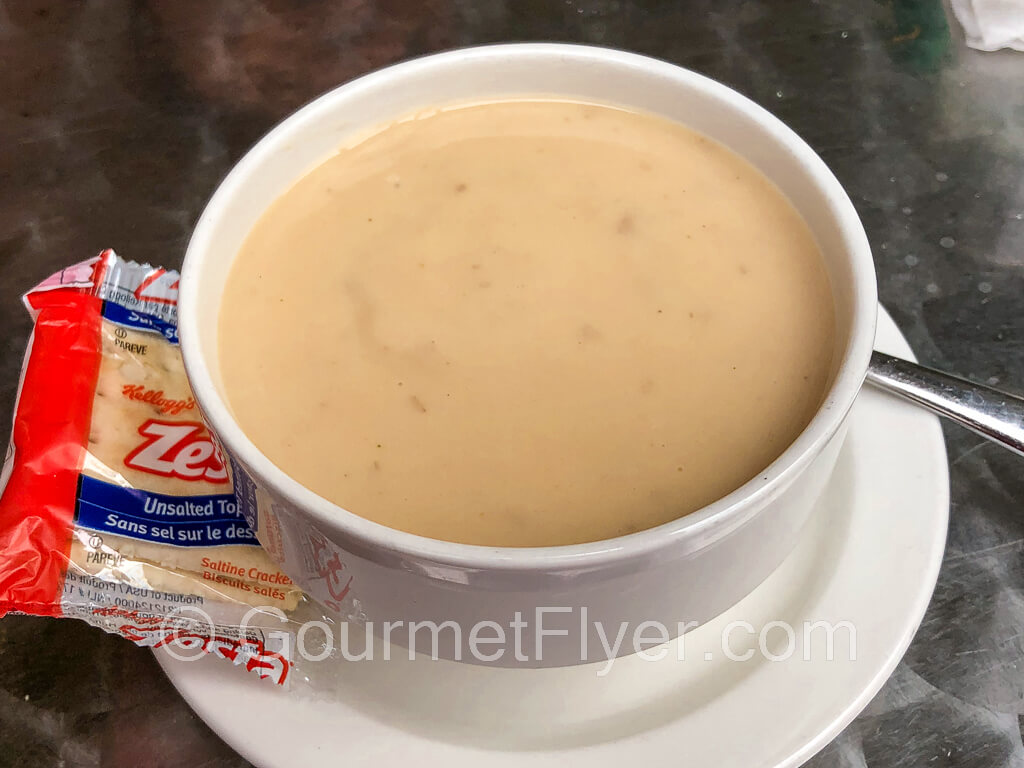 However, they do have soups and they are good! They always offer a choice of two soups and of all the time that I have been there, one is vegetarian. The last few times I was there, they serve one of the best cream of mushrooms soups that I've had. It was rich, smooth, and creamy and it had a strong hint of wine flavor, which I believed was sherry. I also liked the chili which was available the last couple of times that I visited the club. It was flavorful and loaded with plenty of ground beef and beans. I am definitely a fan!
Updated August 1, 2023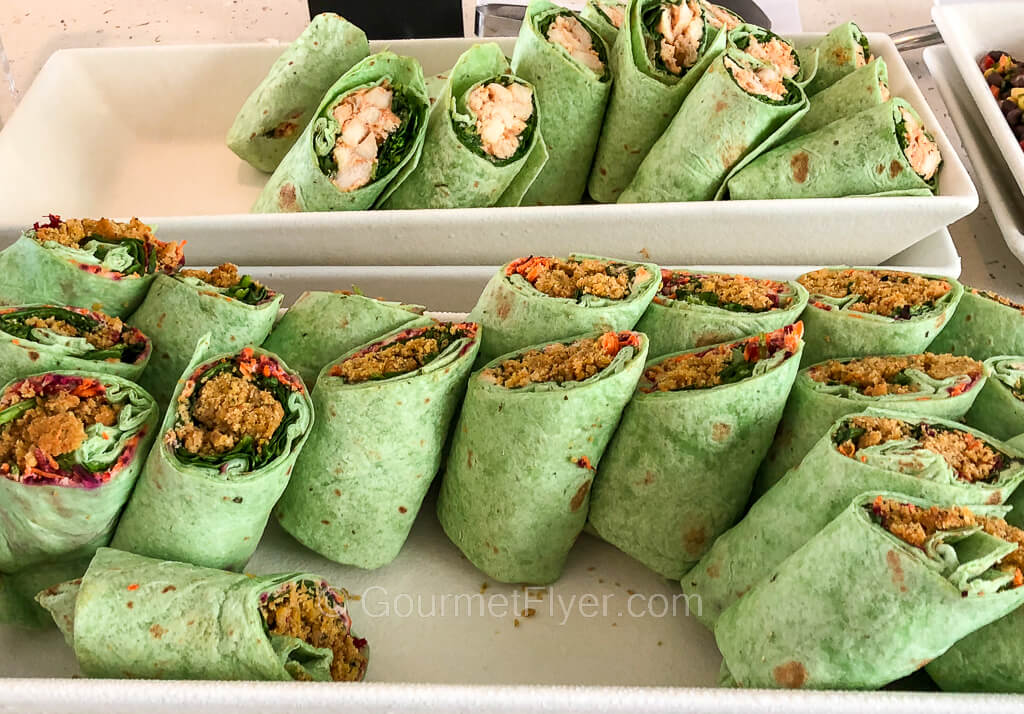 The current snacks that are offered include:
Falafel wraps
Chicken wraps
Mediterranean pasta salad
Black beans and corn salad with cherry tomatoes
Tortilla chips with pico de gallo
Chocolate chip cookies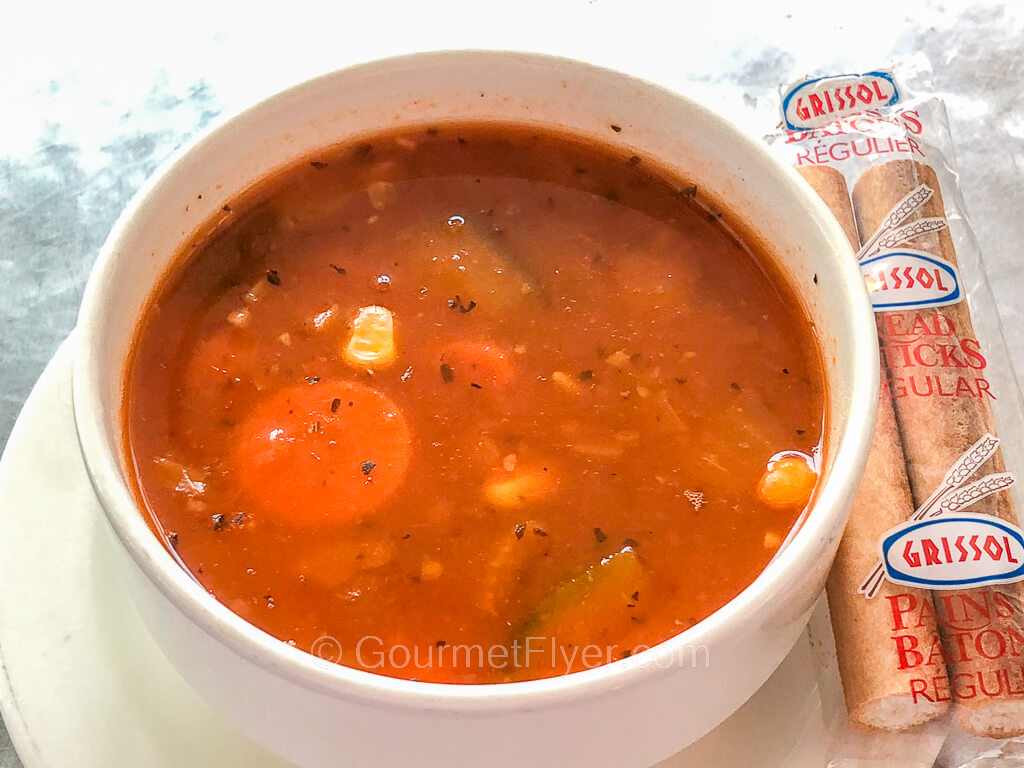 Minestrone is added to the current soup rotations.
Beverage Service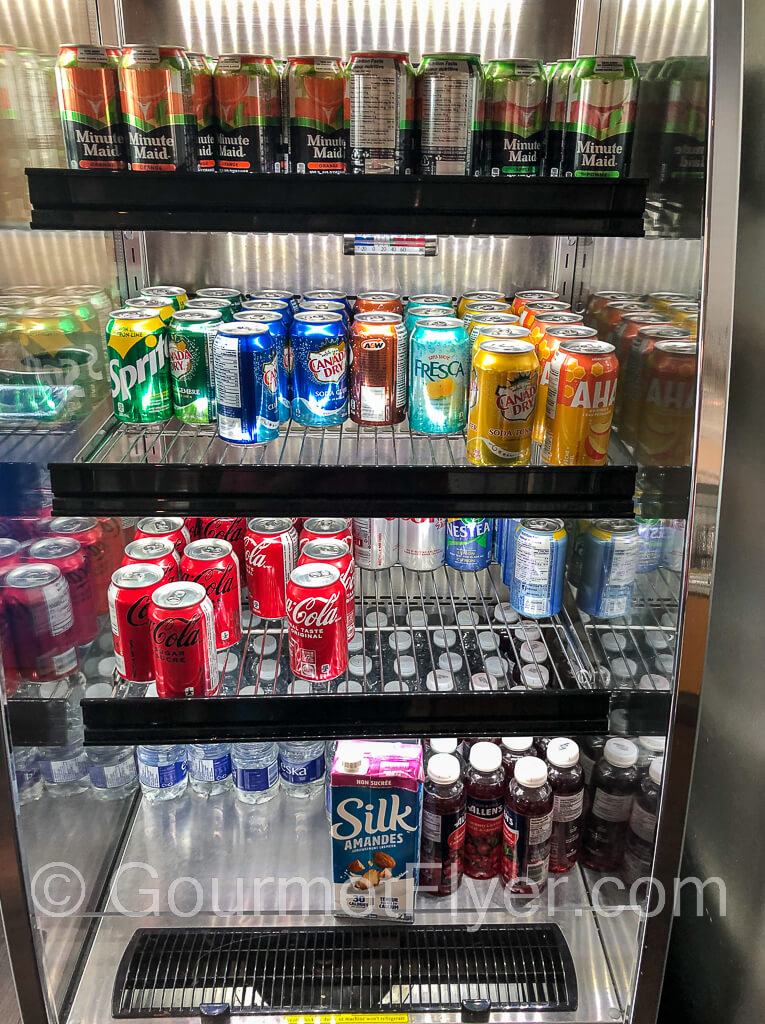 There is a fridge with a variety of canned or bottle soft drinks available. While the selections were plentiful, the temperature of the drinks was not cold enough the last few times I was there. Maybe they need to set the fridge to a lower temperature. But there were plenty of ice available, so all was good!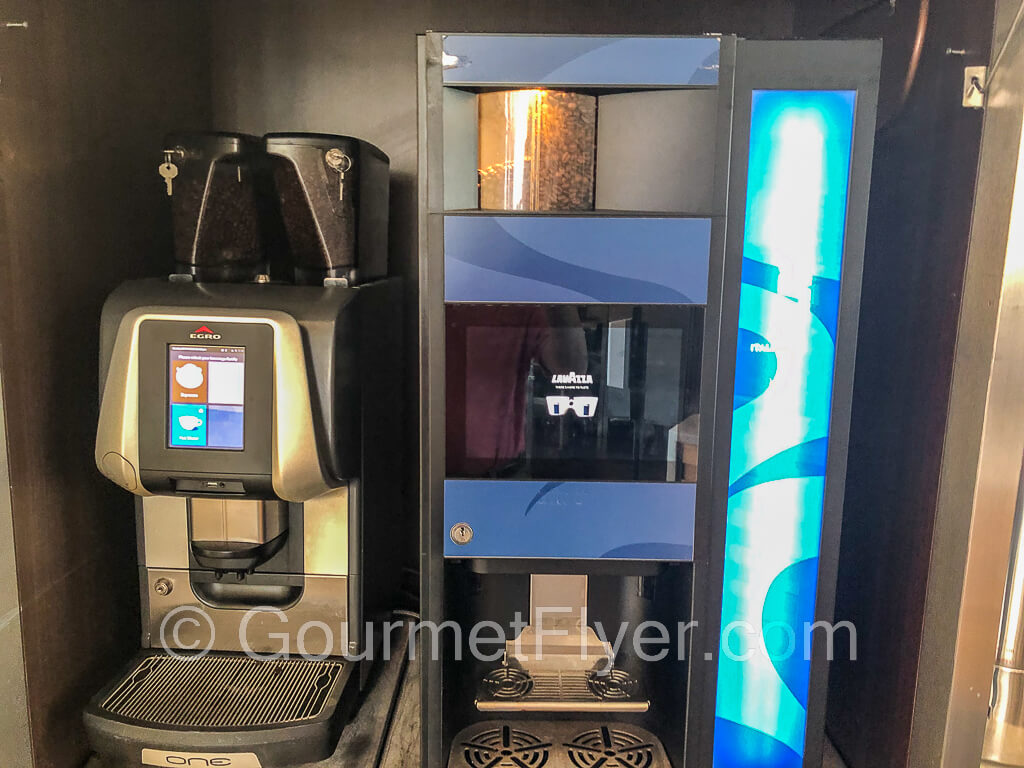 Across from the buffet is the hot beverage counter where you get your hot teas and coffees. The espresso machine is also self-served, and the operation is rather simple and intuitive. The area is always well-organized, clean, and complete with plenty of cups and supplies.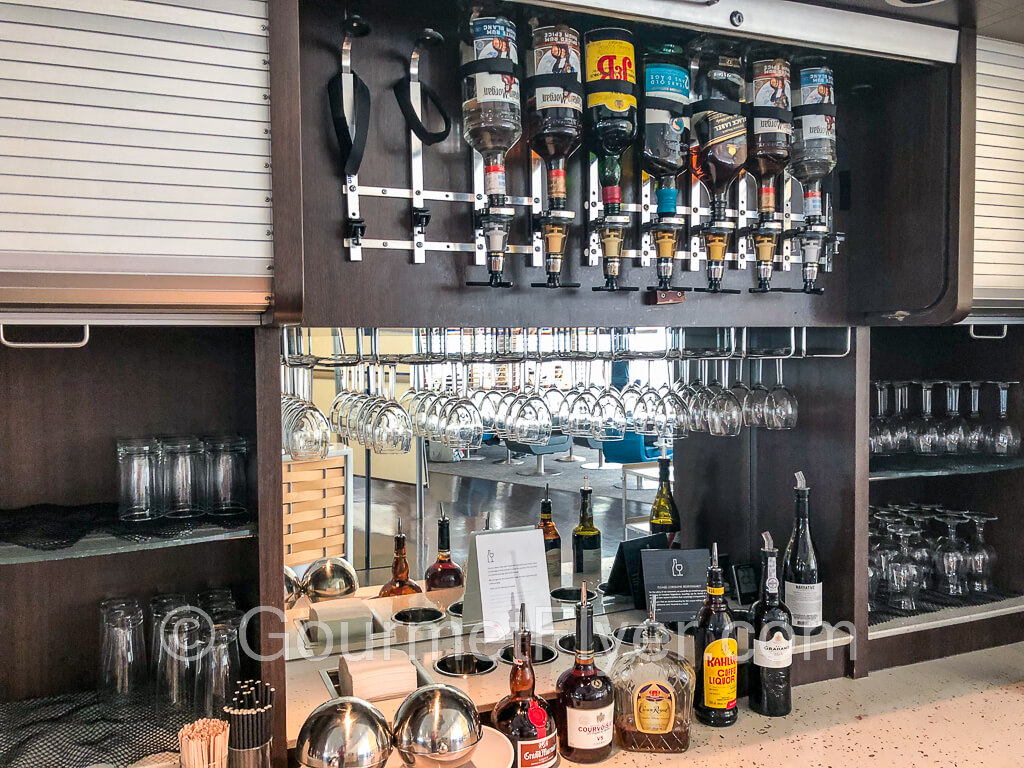 Alcoholic beverages are also self-served. There are usually one to two beers on tap. Most of the times, one is a Canadian beer and the other one is like a Coors Lite or something similar. Wines are in regular bottles and self-pour. A large selection of liquors is also available as you can see from the picture above. Some mixers are in the fridge where you find the soft drinks, some are on the counter where the bottles are. Since I am a bloody Mary fan, I have to tell you that they do not have bloody Mary mixes, but you can make your own with tomato juice and the condiments provided.
Conclusion
This is a comfortable and cozy club that is a great escape from the sometime chaotic Transborder Terminal in Vancouver International Airport, especially during the summer cruise season. Food offerings are modest but adequate and tasty, but just don't expect a feast. As I've told you earlier, I am a fan of their cream of mushroom soup and chili.
My overall review of this Air Canada Maple Leaf Lounge is very positive, and this is always my haven to have a drink, grab some snack, and work on my travel blog on my laptop while I'm in this terminal, waiting for my flight home. I hope you find this review helpful and informative, and you'll enjoy your visit as much as I always do!