Updated August 20, 2023, to include more pictures and descriptions of menu items, and to update the newest dessert offerings. Goodbye, Pie in the Sky…
Updated May 28, 2023, to include more pictures. Green salad, welcome back!
Table of Contents
Overview
In 2023, United Airlines has expanded its domestic first-class menu and hot meal service to most flights over 800 miles, with the exception of those operated by United Express. The airline is presently offering a lot more choices of entrees than before, sometimes up to six options or more. A typical hot meal is accompanied by a roll with butter, salad, and dessert.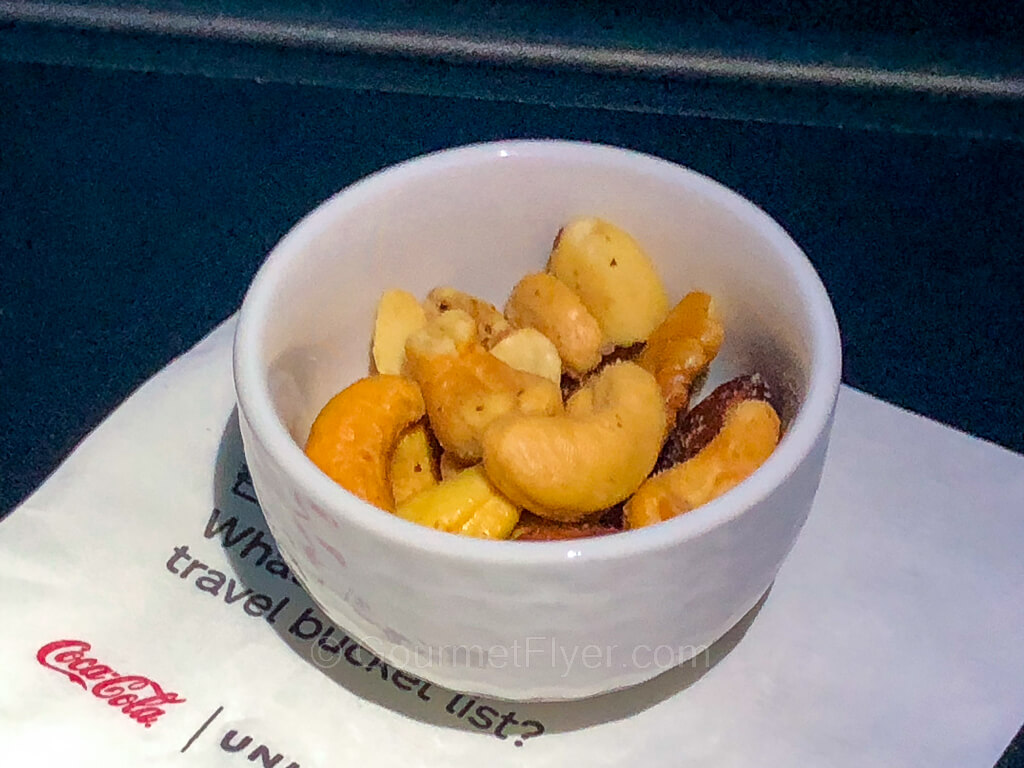 On some routes, warm nuts are also served. It's a blend of cashews, peanuts, walnuts, and pecans, warmed in the oven, lightly salted, and served in a small, white ceramic bowl. They are good and I always enjoy them. Their service, however, is somewhat inconsistent. The warmed nuts could be served either before the meal service, or they could come together with the dinner tray. There are times, just like my most recent flight, they were not served at all.
Pre-Order Inflight Meals
United piloted a first-class meals pre-order service on a very limited basis back in August 2021. It has now expanded to most routes to and from its major hubs: Los Angeles (LAX), San Francisco (SFO), Denver (DEN), Chicago (ORD), Houston (IAH), Washington Dulles (IAD), and Newark (EWR).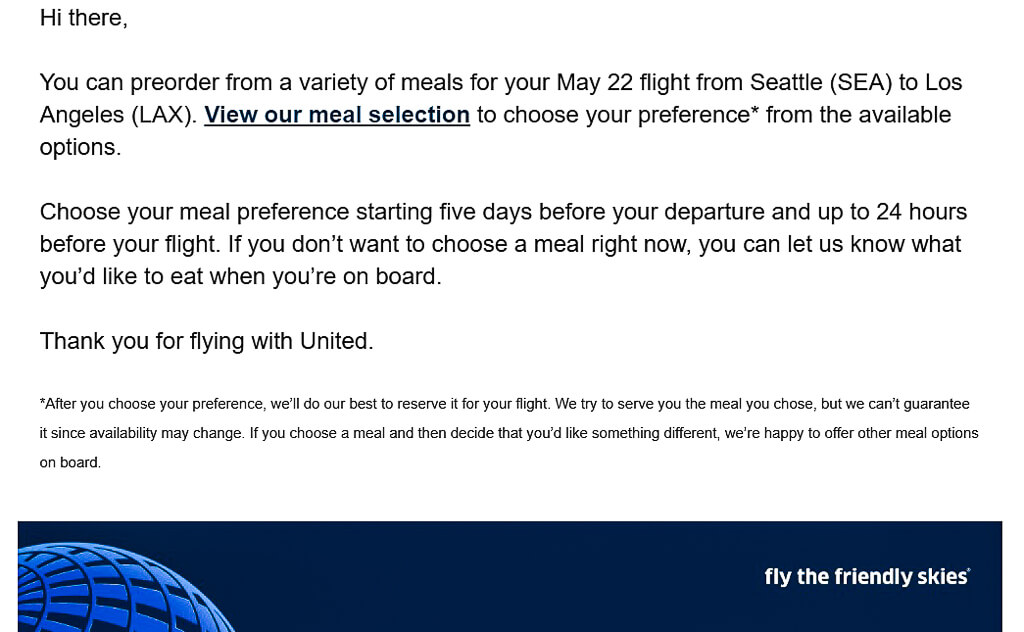 If your flight is eligible for pre-order, you will receive an email 5 days in advance with a link to choose your entrée option. You can place your order up to 24 hours before departure. However, note that catering situations can be fluid and availability can change, so your choice is not guaranteed. If your pre-ordered entrée is not available, or if you did not make a selection, you will just choose your meal on board with the flight attendant – the old-fashioned way.
Note: As of this writing, pre-order meals are not available on hub-to-hub flights operated by widebody aircraft.
United's Domestic First Class Menus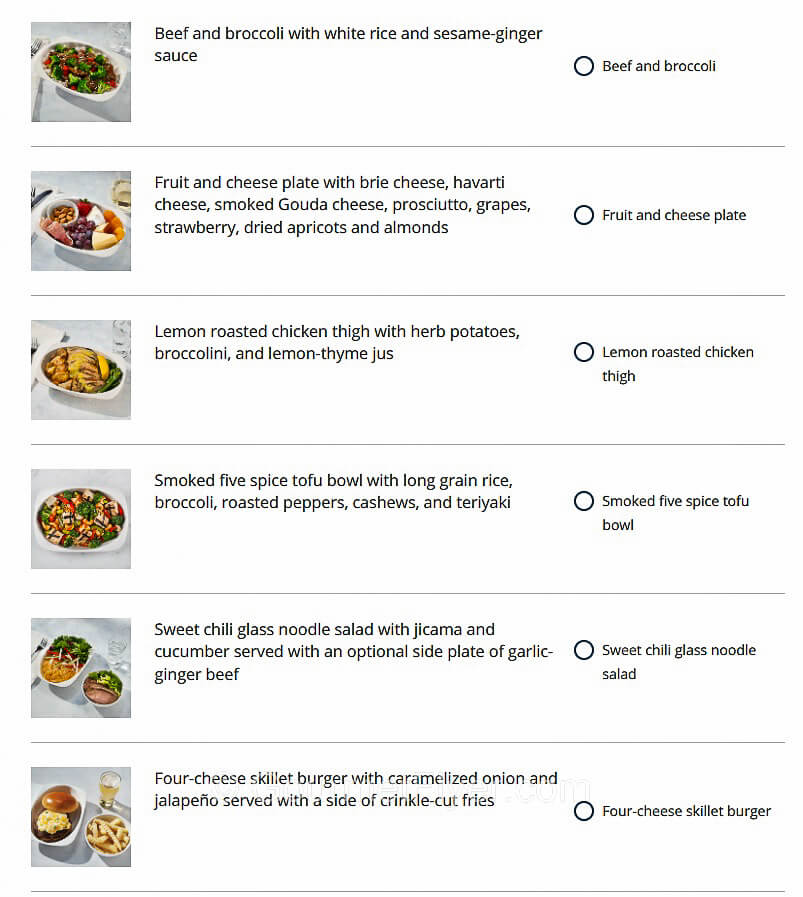 Updated August 19, 2023, with another version United's Domestic First-Class lunch and dinner menu.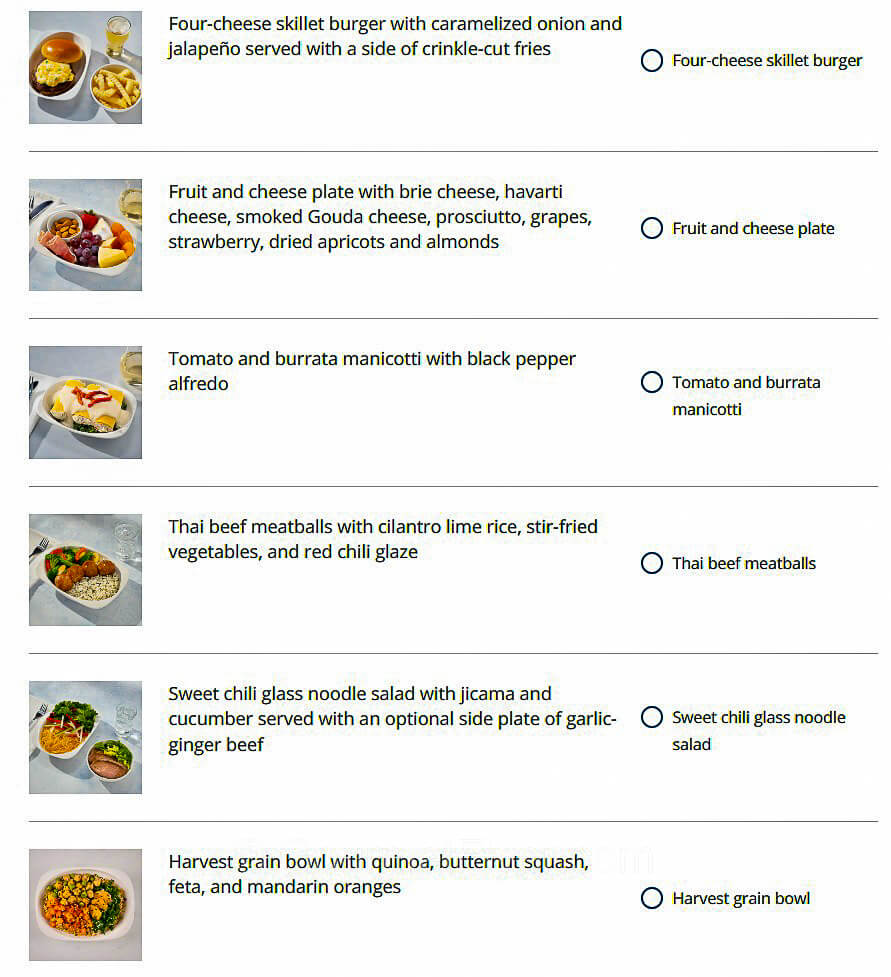 The pictures above are samples of UA's online pre-order menu. There are many variations of it, but it still comes down to a rotation of about ten main dishes. Which items appear on your flight is largely dependent on the route, caterer, and availability of various entrees.
This is really good as most frequent premium cabin passengers will tell you that the vast majority of flight attendants are not knowledgeable about the meal offerings and cannot describe the food. Does the question "Would you like chicken or pasta?" sound familiar? Most of the time, the FAs are unable to offer more information or descriptions.
Glass Noodle Salad with Beef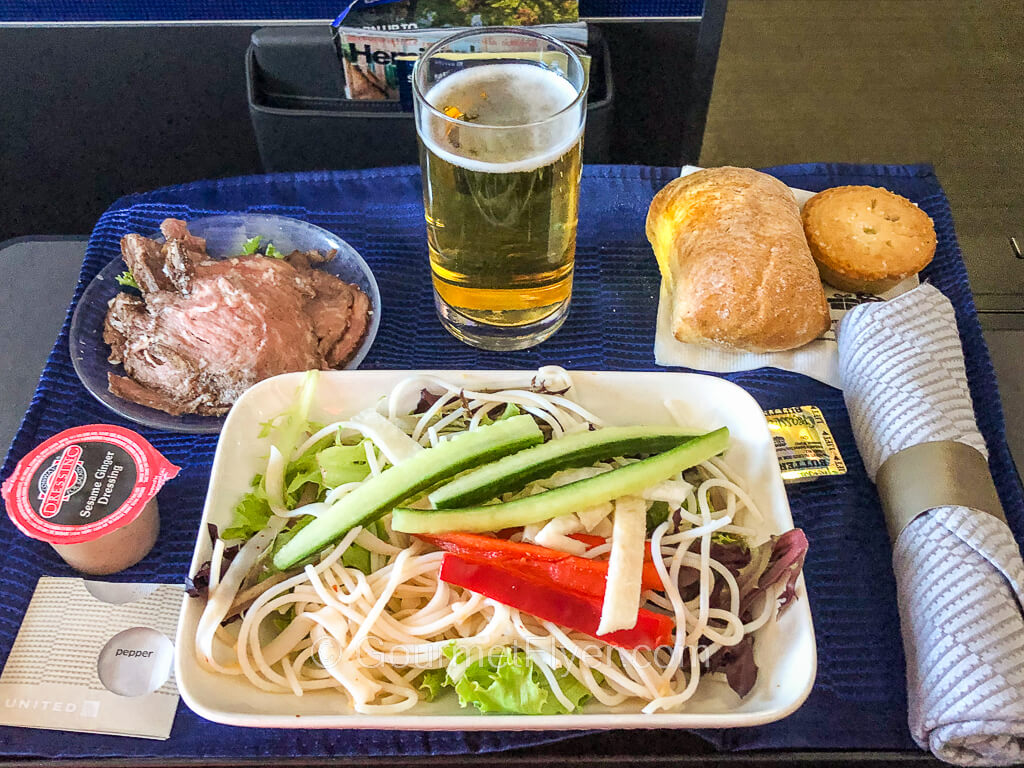 On the first menu posted above, my selection is a Thai and Vietnamese fusion dish of glass noodles salad topped with fresh and crispy cucumber, jicama, and red peppers. Thin slices of garlic ginger beef are served on the side.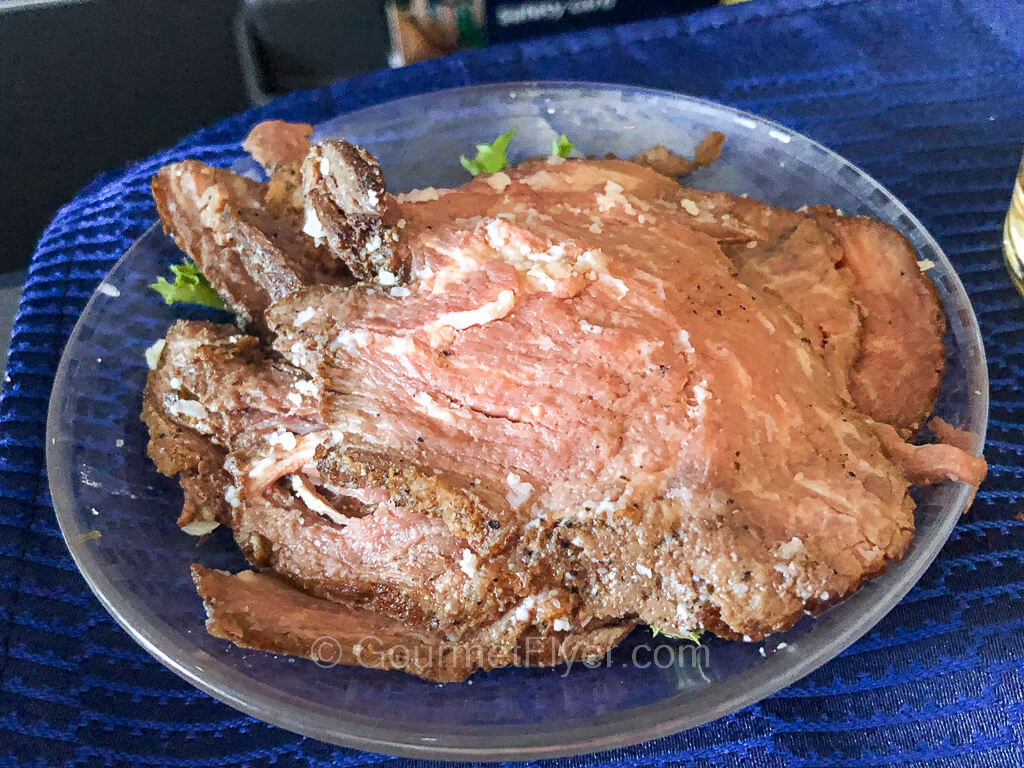 The beef is served medium to medium well and slightly pink in the center. The texture is good and is quite tender, albeit a bit bland. Sprinkle a bit of salt and pepper and all is good!
Five Spice Tofu Bowl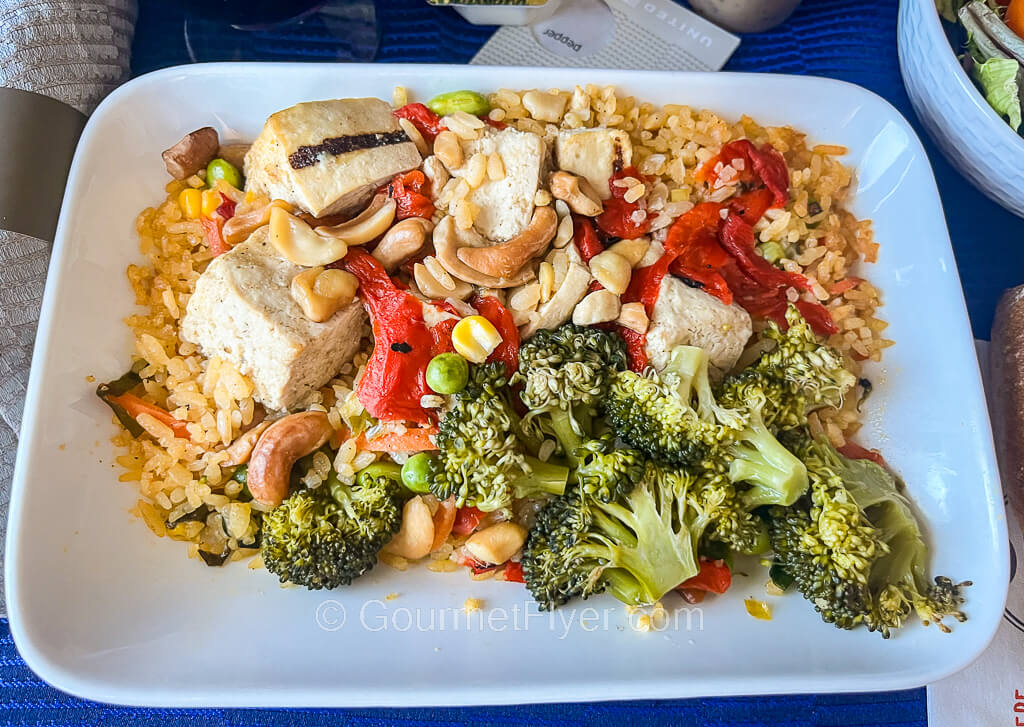 My wife is not a vegetarian, but she enjoys a meatless meal every now and then. The vegetarian option on one of our recent flights is smoked tofu bowl served with long-grain rice that is slightly spicy and dressed with a touch of teriyaki sauce. It's topped with red peppers, cashews, and broccoli. The entire dish is a bit dry, but the veggies are fresh and tasty.
Thai Beef Meatballs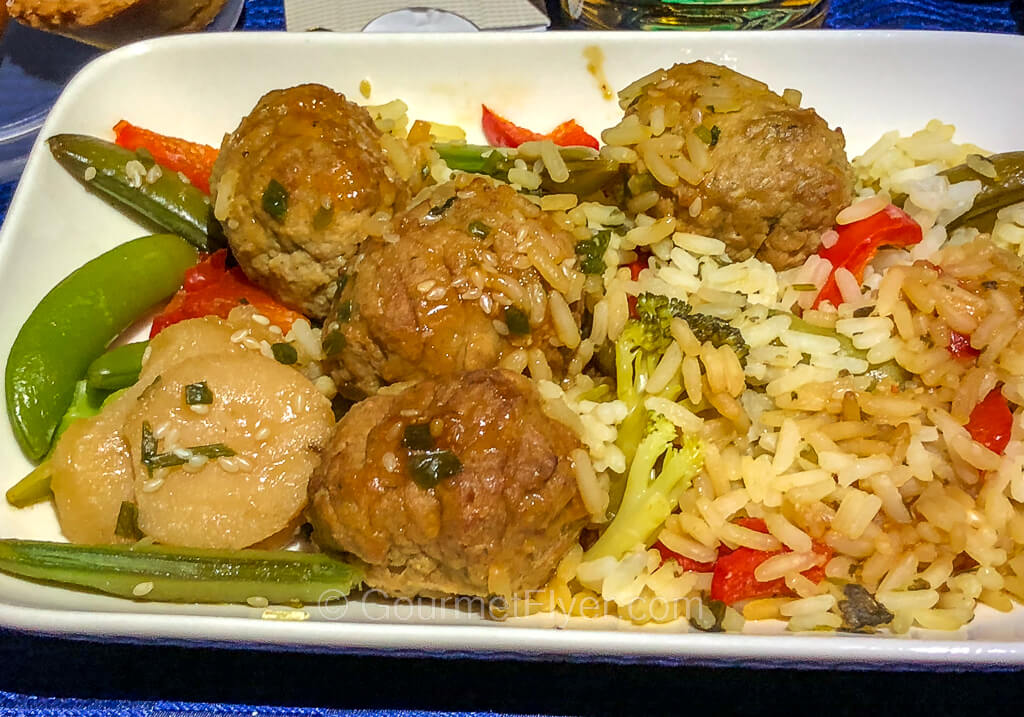 My top favorite of United's current lunch and dinner menu is also a popular choice among the airlines' frequent flyers — Thai beef meatballs. They are served with a slightly spicy sweet chili glaze that is delicious. The texture is great – somewhat firm and bouncy but soft enough that you can cut through with a fork. This dish is paired with cilantro lime rice with a Southeast Asian twist and sauteed vegetables.
Cheese Enchilada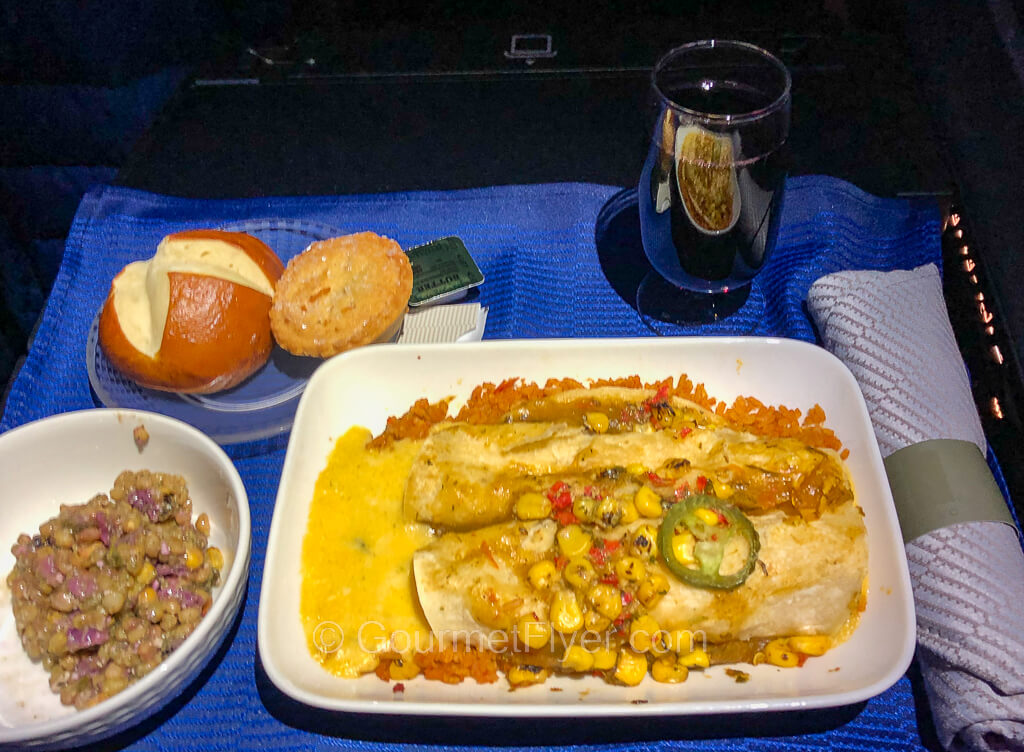 Another very popular item which is also my wife's favorite is cheese enchilada seasoned with a mildly spicy green chili sauce. The dish is accompanied by Spanish rice and a sprinkle of fresh cut kernels of corn. It is a nice cheesy dish with Latin flavor. The enchiladas are meatless, and this is a good vegetarian choice.
Between the two vegetarian options offered in our recent flights, my wife said she will definitely go with the enchiladas next time.
Updated August 20, 2023
Four-Cheese Skillet Burger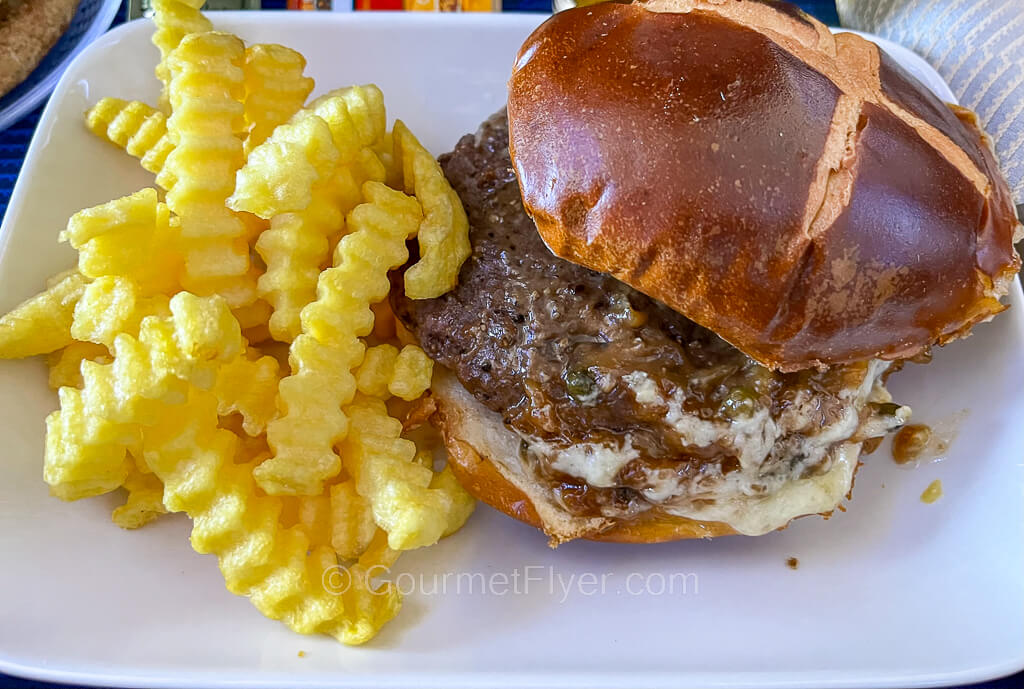 I have always been a fan of UA's burgers – from the Bistro on Board that they sell in domestic economy cabins to the one served in the pre-arrival meals in some Polaris Business Class routes – they are always good. This particular burger that United offers in its domestic first-class menu is no different.
As the name "four-cheese skillet burger" suggests, this burger is supposed to be very cheesy, and it has been. But a most recent version of it has a lot less cheese, which is actually better for my taste. The patty still carries a gentle kick of jalapeño flavor and caramelized onions. Lettuce and tomatoes are served on the side, as well as packets of ketchup and mustard. French fries are soft, but not soggy, and is probably as good as any fries reheated in an oven at thirty thousand feet up in the air can get.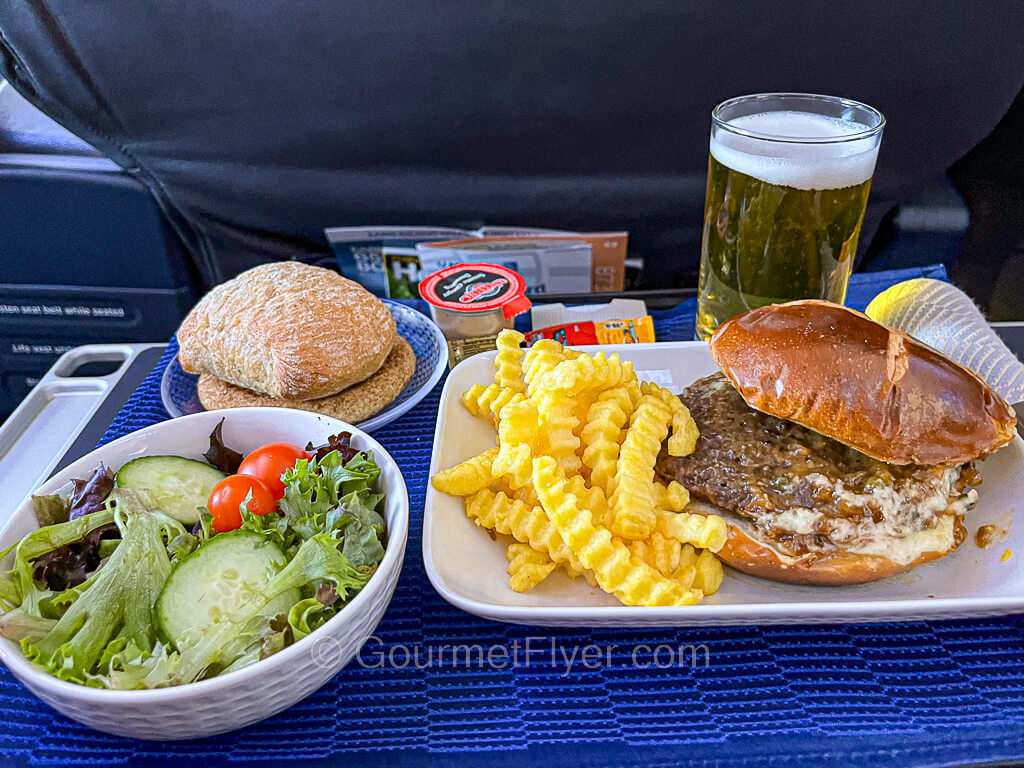 A more recent variation of the burger has the fries served on the same plate as the burger. Instead of lettuce and tomatoes, the tray comes with a side salad.
Tomato and Burrata Manicotti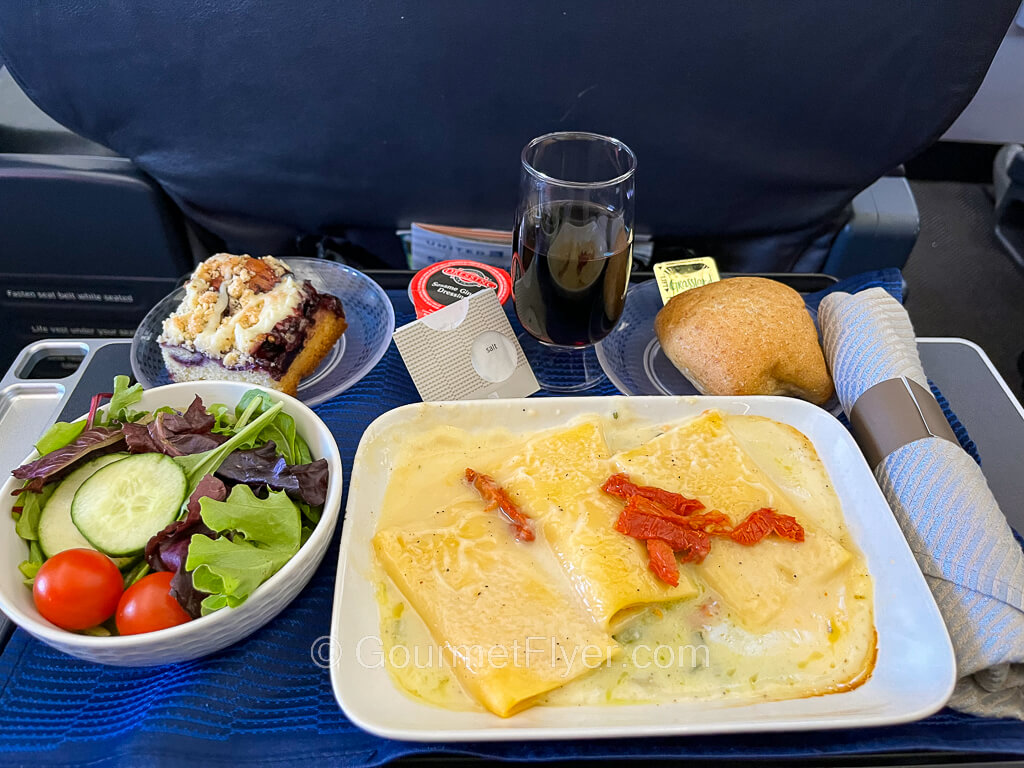 As I had mentioned earlier, the Thai beef meatball is my top favorite of UA's lunch and dinner selections this season, but the manicotti is a very close second place. You can't really expect al dente pasta at 35,000 feet up in the air, but the slightly chewy manicotti here comes pretty close.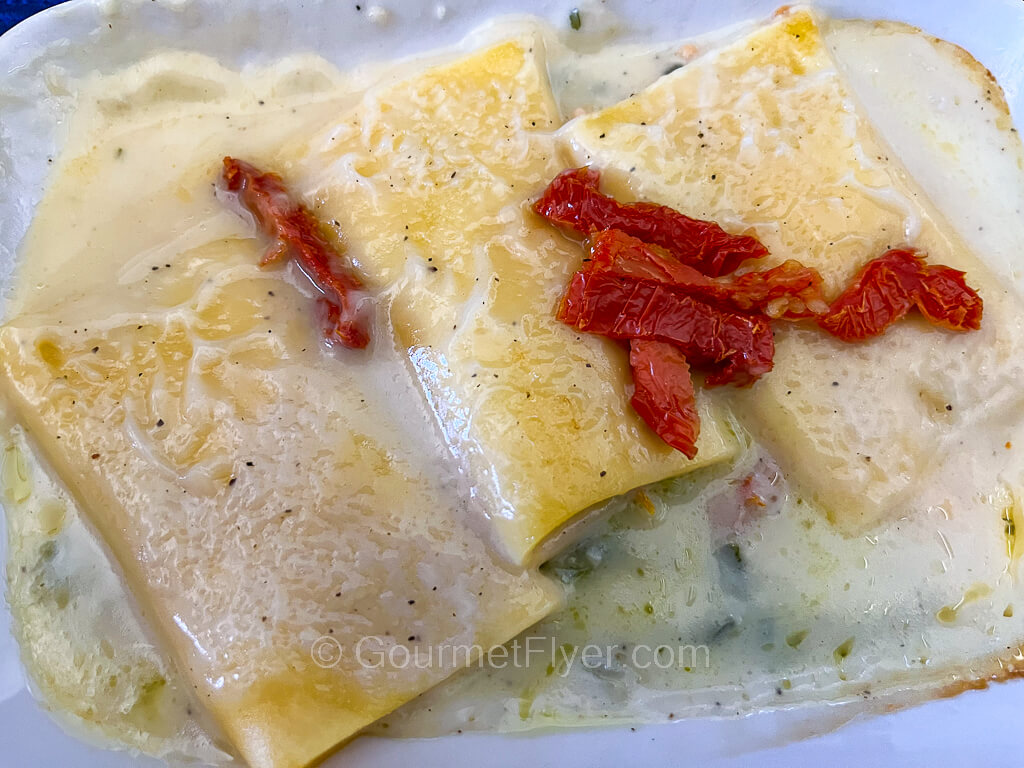 I also like the texture of the stuffing and a touch of spinach in the mix gives it a refreshing taste. The sauce is rich, tasty, and slightly peppery. It goes perfectly well with the stuffed pasta.
Fruit and Cheese Plate
This is a great option if you prefer something light to go with your drink. I pre-ordered the cheese plate for a 2:30pm departure and I knew I would have had a full lunch by then. The plate went very well with a glass of red wine for me, and I suppose it will be a good companion for any drink.
However, it appears that there are many variations of the cheese plate and what you get largely depends on the caterer at your departure airport as well as the availability of its ingredients. For example, my plate on this particular flight has no prosciutto, strawberry, dried apricots, and almonds. However, I got "upgraded" with a packet of very nice olive oil and sea salt crackers, fig preserves, and a mint. Anyway, this is a delicious and appropriate light snack that I will order again for a mid-afternoon or late night flight, but I won't expect to receive every item as described in the online menu.
Harvest Grain Bowl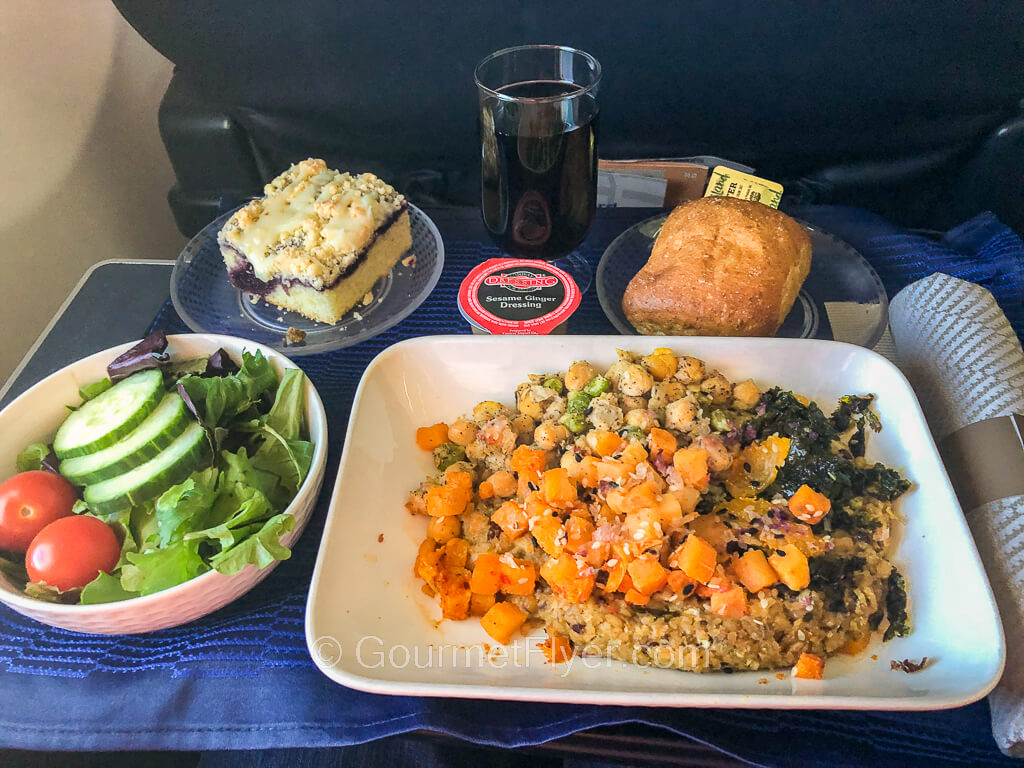 With a bed of quinoa and other grains and veggies topped with butternut squash and mandarin oranges, this must be the healthiest selection among all the choices available. At first, I thought this might be a cold salad, and was pleasantly surprised that it was a hot entrée. The dish has a spicy flavor which I cannot identify but it just wasn't agreeable to my palate. However, I want to stress that this is just my personal preference, and you might love the flavor of this dish.
Side Salad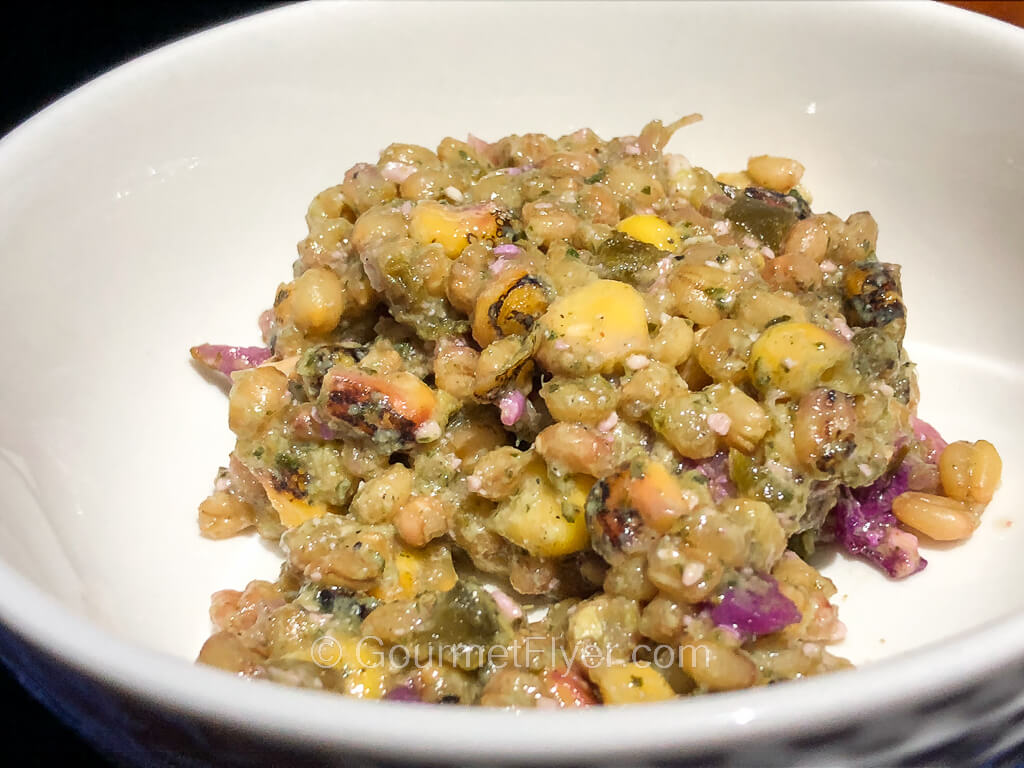 Since the early part of 2023, the typical green salad has been replaced by a southwestern style wheat berry salad on United's first-class lunch and dinner service. It's a bowl of wheat berries tossed with roasted corn, red cabbage, peppers, cilantro, green onions, among other ingredients. My first impression was that it did not look appetizing at all. But as I tried it, it was not too bad. This salad is full of grains and fiber and is actually very healthy. But I really prefer the green salad.
Updated May 28, 2023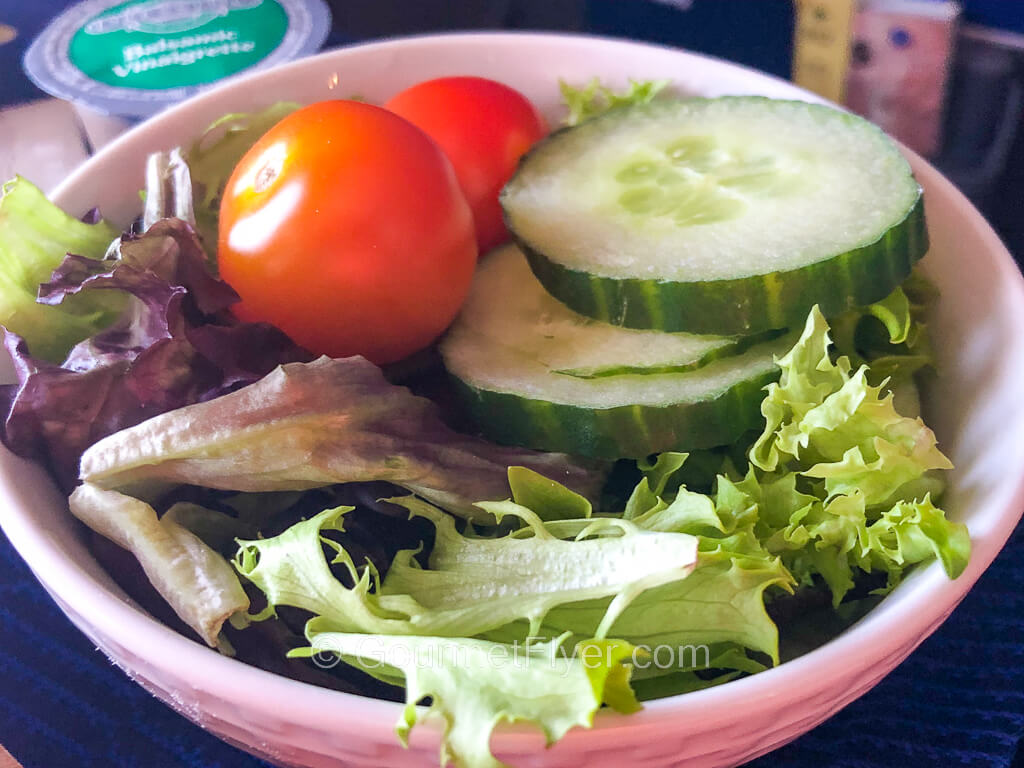 Thank goodness! The wheat berry salad is gone, and the green salad is back (on most flights). Sometimes simple is better!
The latest accompaniment to the green salad is a delicious and slightly tangy sesame ginger dressing with a twist in East Asian flavor.
Dessert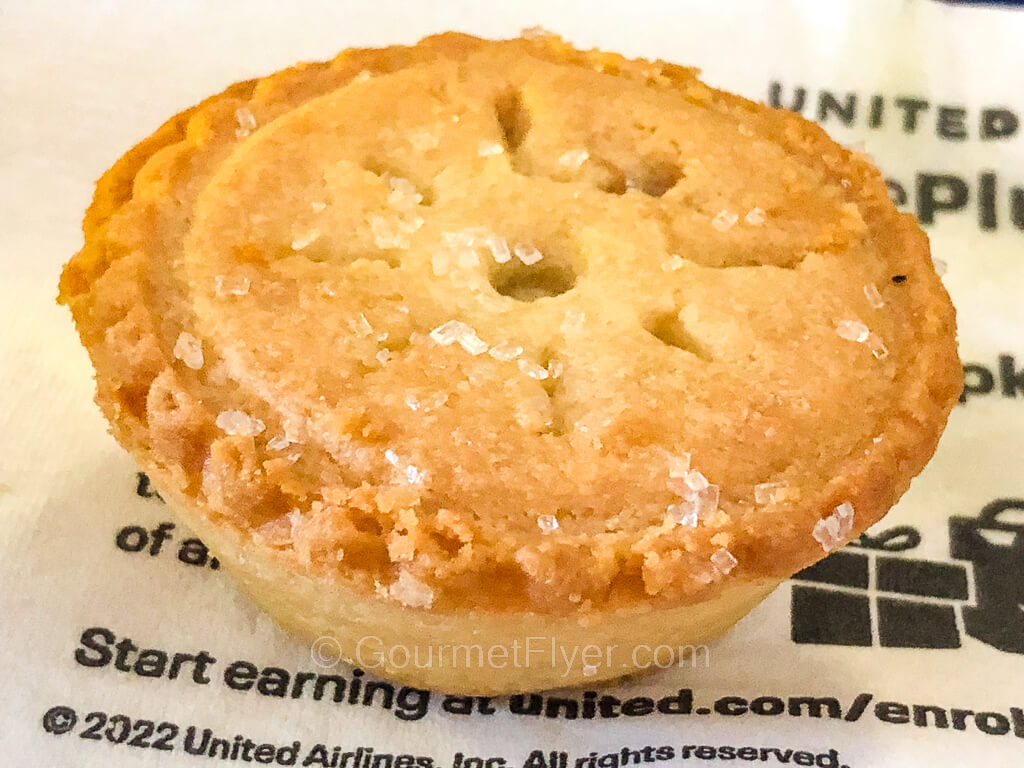 Dessert has been consistently a new rendition of UA's signature pie in the sky – a pie-like chocolate chip cookie with cheesecake texture. These new versions now have different flavors and fillings. The last one I had was filled with peanut butter.
Updated August 20, 2023
Goodbye, Pie in the Sky!
I am all for rotation. Afterall, one of the major components of a solid airline meal service is a good variety and rotation of its food selections. But I will miss the pie in the sky, and I hope it will make its way back to my dinner trays sometime in the future.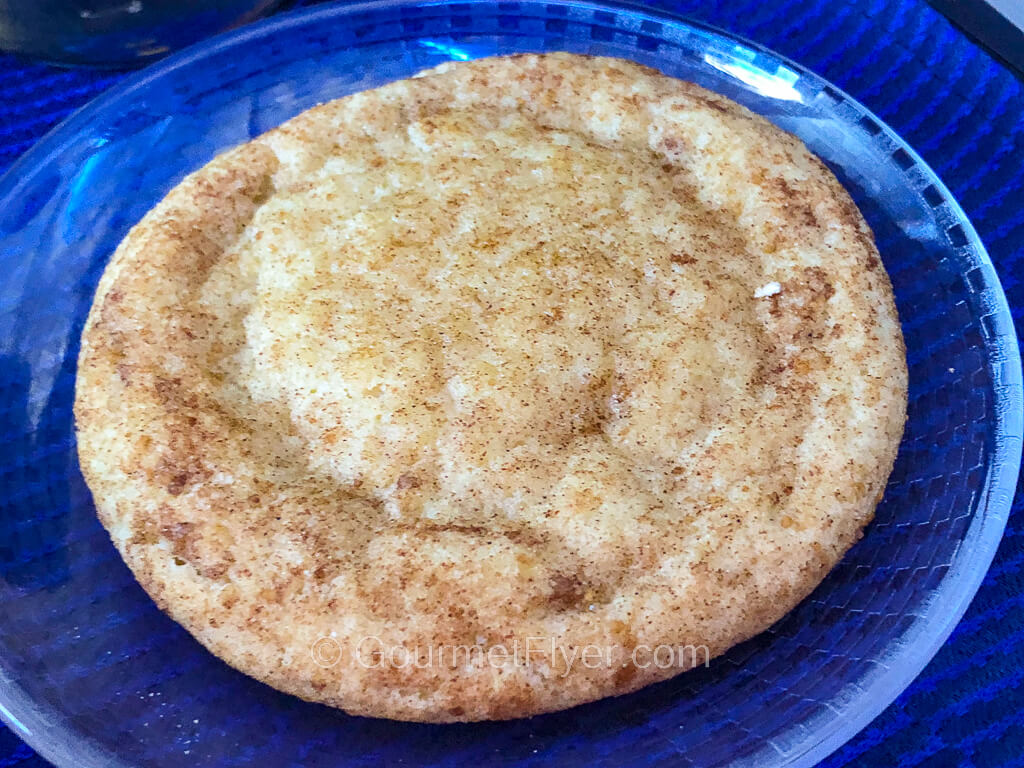 One of the newest desserts to appear in United's lineup this summer is a cookie and there are several variations of it. There are reports on some frequent flyer forums that a chocolate chip version from Christie's Cookies is replacing the pie in the sky. However, I have yet to see this on one of my UA flights this summer. The latest cookie that I most recently encountered was a soft snickerdoodle with a rich cinnamon flavor and aroma. I actually liked it so much that it made me miss the PITS less…
Another dessert that has recently made its debut is a blueberry crumb cake with lemon frosting which I also like. The cake is delicious, and I like the strong hint of lemon in its sugary frosting which complements the blueberry flavor well. The serving size is large, and I find it more filling than a cookie.
Conclusion
Food has always been one of United's weakest links in their first-class cabins on domestic flights. The menu and dining experience, for a long time, has been far from exciting. The recent change is much welcomed, especially in the expansion in the variety of dinner choices. On my most recent flights, six different entrées were available for pre-order online.
Another recent enhancement is the quality and taste of the food. While taste is a very subjective thing, the overall quality of the food has improved. I really enjoyed the Thai meatballs and skillet burger. My wife loves their enchiladas and manicotti, which I know are also popular favorites in many frequent flyer communities. While there is still room for improvement, UA has certainly taken a huge step in the right direction.