Updated January 10, 2023
If you want to experience a fusion of Chinese and Japanese cultures, Yokohama is the perfect day trip from Tokyo. You will be visiting the second largest city in Japan also and one of the largest and busiest seaports in the country. It is also the port of call for cruise ships heading to Tokyo.
Table of Contents
Getting to Yokohama from Tokyo
Depending on where you are in Tokyo, your train ride could take anywhere from 30 minutes to slightly over an hour. Since I am staying at the Shinagawa Hotel, which is just steps away from the train station, I am taking the JR Tokaido Line.
From Tokyo Station, you will also be taking the JR Tokaido Line, which passes through Shinagawa on its way to this vibrant city. From Shinjuku, take the Shonan Shinjuku Line. From Shibuya Station, take the Tokyu Toyoko Line. If you are in other areas of Tokyo, the goal is to firstly get to one of the major train stations mentioned above, then connect from there to Yokohama for your day trip.
Chinatown
Yokohama has one of the largest Chinatowns in the World. It is the cleanest, most well-organized, and best designed Chinatowns around the World that I have been to. Here, you will enjoy some of the best Chinese foods outside of China and Hong Kong. Upon arrival at the JR train Station, I immediately take the Minato Mirai Line to the Motomachi-Chukagai Station. (Chukagai is Japanese for Chinatown.)
My day trip is going to start with a sampling of various tasty snack foods or dumplings. Long lines snake out the door and around the block sometimes for popular street food eateries. There are various renditions of dumplings and who could resist their sight and sweet aroma.
First of all, I am going to the legendary Shanghai Xiao Long Bao (XLB) restaurant to grab a takeout order of their famous soup-filled pork dumplings. This will be the first of my many yummy good eats during this day trip to Yokohama. The line is always long, even in subzero weather, but I assure you that it is so good that it is worth the wait.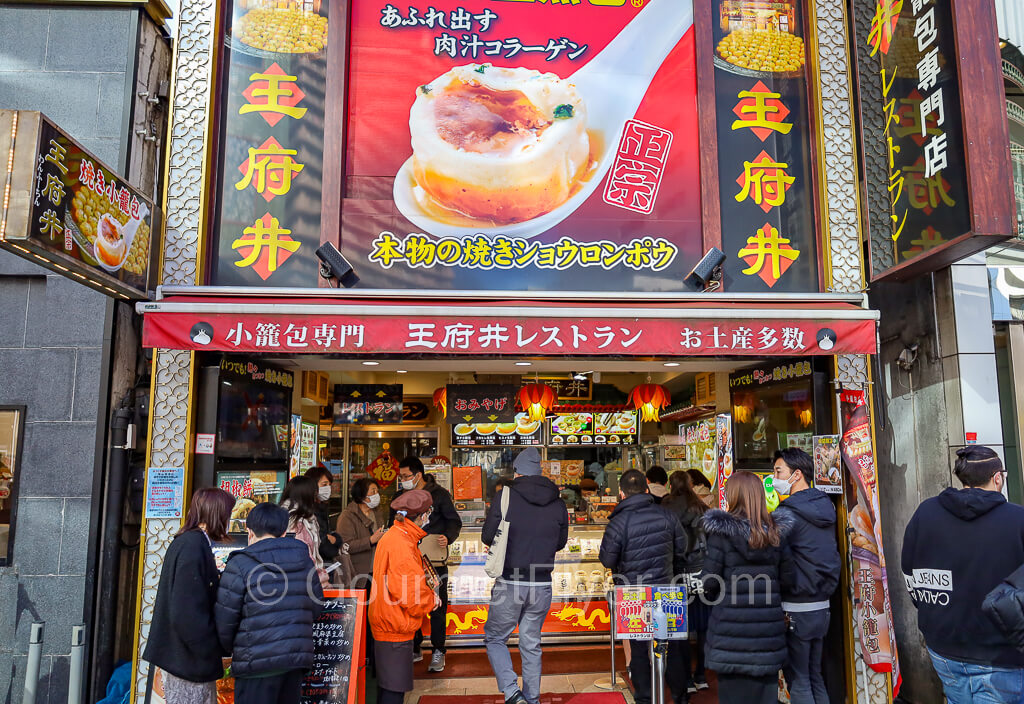 My next adventure is to get a serving of Yaki Shoronpo, a pan-fried soup dumpling, which is a Chinese Japanese fusion version of the XLB that I just had. I promise you that this is really good, and you must try this. If you only have appetite for just one serving of street food, get this! And seriously, you have to get this to go and eat with the crowd on the street in order to truly enjoy and absorb the local street food cultural experience.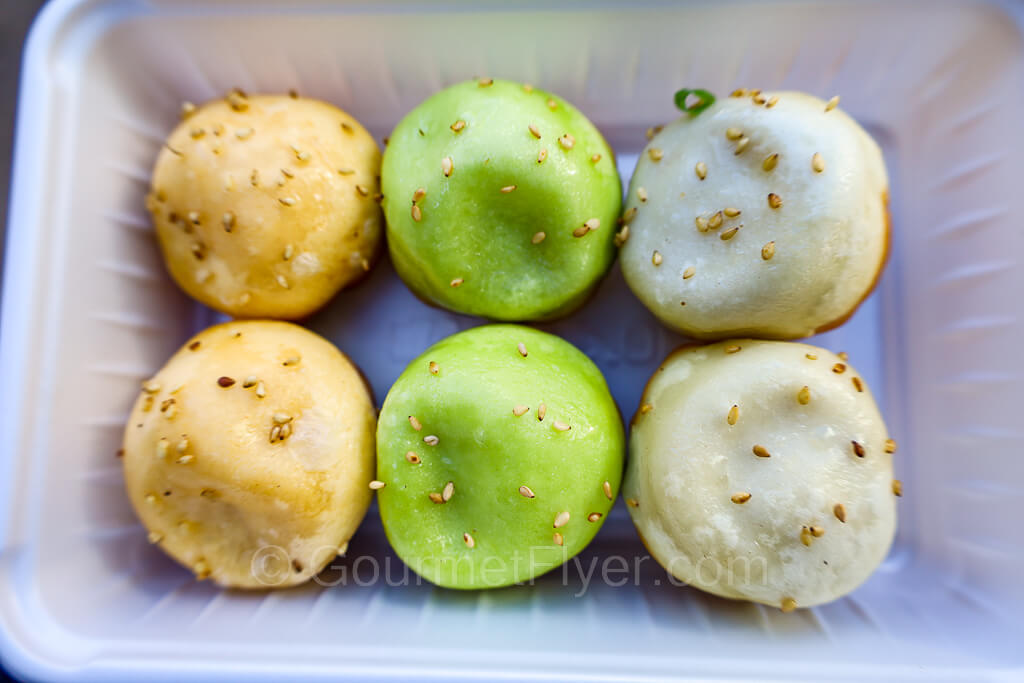 They sell various flavors of the dumplings and offer different sizes. What I got (pictured above) was a combo of 6 dumplings in 3 different flavors, from left to right — seafood, veggie, and pork (original). This is a good size for two people to share so you don't fill up your stomach after just one stop.
I am not planning on eating dessert first (before lunch) but I just cannot resist getting a Hong Kong style egg tart. Crispy, slightly flaky, and buttery on the outside and rich in egg flavors and somewhat sweet on the inside, these egg tarts are amazing.
While you are there, don't forget to visit Daisekai (directions), which is a huge shopping complex that houses the largest souvenir store in Chinatown as well as a chocolate factory. In the souvenir store, you can find every imaginable yummy local sweet, snacks, desserts, nuts, biscuits, cookies, etc. all well packaged to fit nicely in your luggage.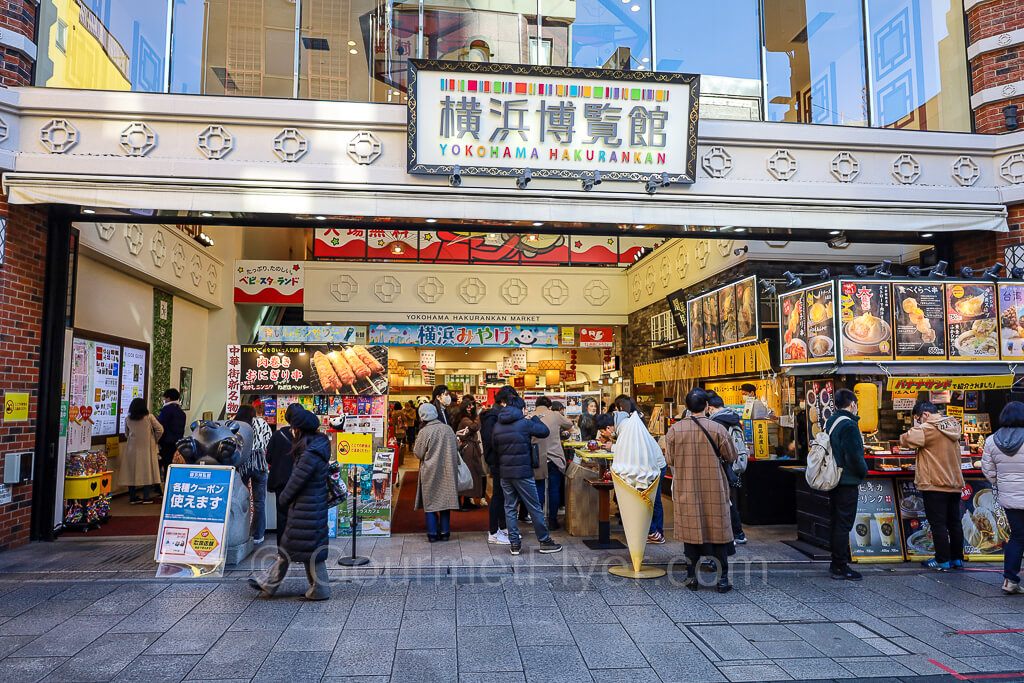 Another great food and souvenir store is Yokohama Hakurankan, pictured above, (directions) which is also huge and packed with all sorts of goodies. Most vendors offer free samples, so you can circle around like what I am doing now, tasting samples of good eats and hunting for the most delicious treats to take home.
Dim Sum Lunch at Chinatown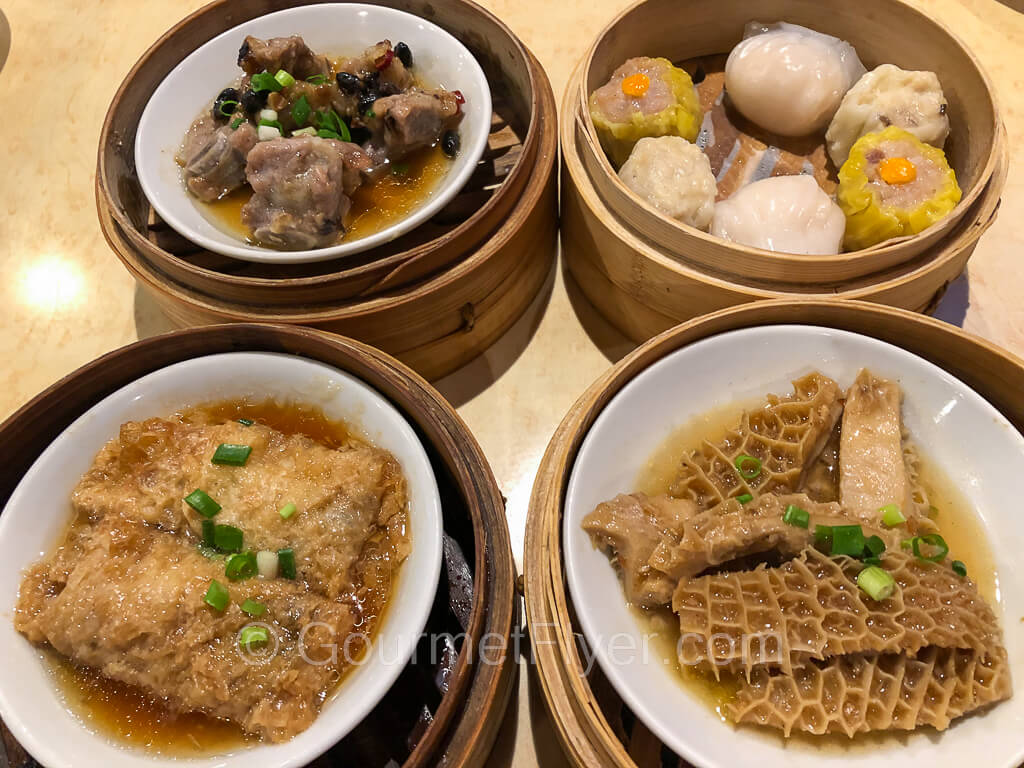 Your day trip to Yokohama will be incomplete without a feast of dim sum in Chinatown. There are many options there and the most popular ones are "all-you-can-eat" (tabehodai) restaurants. Most have a 2-hour time limit while some have no time limits. Price and quality vary quite a bit, but most of the better ones will cost you about ¥3,000 per person.
You order from a menu, and you can only order limited quantities at a time, but you can order as often as you like. The tabehodai place that we just went to and really enjoyed was Hong Kong Restaurant (¥3,280 per person, no time limit, directions).
Our first order (pictured above) consisted of pork spareribs, a selection of dumplings, beef tripes, and bean curd rolls. As you can see from the picture, they don't give you a lot of food each time you order, but again, you can order as often as you like, which we did!
For a higher-quality and more authentic dim sum lunch (not all-you-can-eat), I highly recommend Saiko Shinkan (directions menu). This restaurant is very busy, and a reservation is highly recommended. They don't speak much English, so I suggest you have your hotel's concierge make the call for you. If you don't have a reservation, you'll pick up a number at a machine at the entrance. Note that they only call out the numbers in Japanese.
The food is delicious, and they have some creative dumplings as well. I particularly like the black mushroom dumplings (above left). The har gows (shrimp dumplings, above right) have a perfectly thin, slightly chewy, and translucent skin, and the filling is delicious. The dim sums all taste fresh, and the ingredients are top quality. Prices are somewhat expensive, and portions are small. But the quality and yumminess more than make up for the premium in the price tag.
Minato Mirai 21 and Nearby Areas
After lunch, I am taking the subway to Minato Mirai 21 to explore the waterfront area. You don't really need a map. On a busy day (which is almost every day) you just follow the crowd to the waterfront. A leisurely stroll there is scenic and relaxing. Although it is a hot summer day, I can still feel a comfortable cool breeze that makes the walk even more enjoyable. There are also numerous excellent photo spots. There is a small amusement park called Cosmo World and its Ferris wheel is called the Cosmo Clock 21 (it is indeed a clock).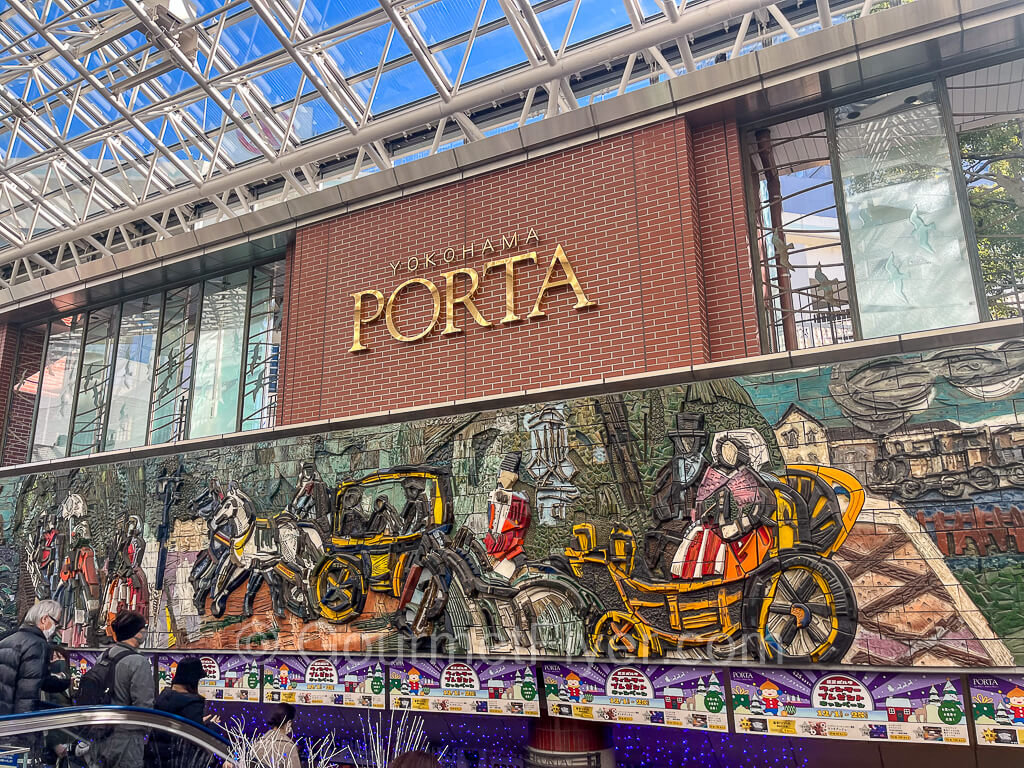 I continue my walk to the huge shopping and dining complex called Yokohama World Porters. There are hundreds of shops selling mostly apparels, fashions, accessories, souvenirs, etc. There are several good bakeries if you want to grab a snack, as well as stalls selling fancy drinks and boba teas. The most eye-catching eatery is a large Hawaiian theme restaurant. I am munching on some pastries from a Japanese French bakery as I browse around the stores hunting for some good bargains.
Red Brick Warehouse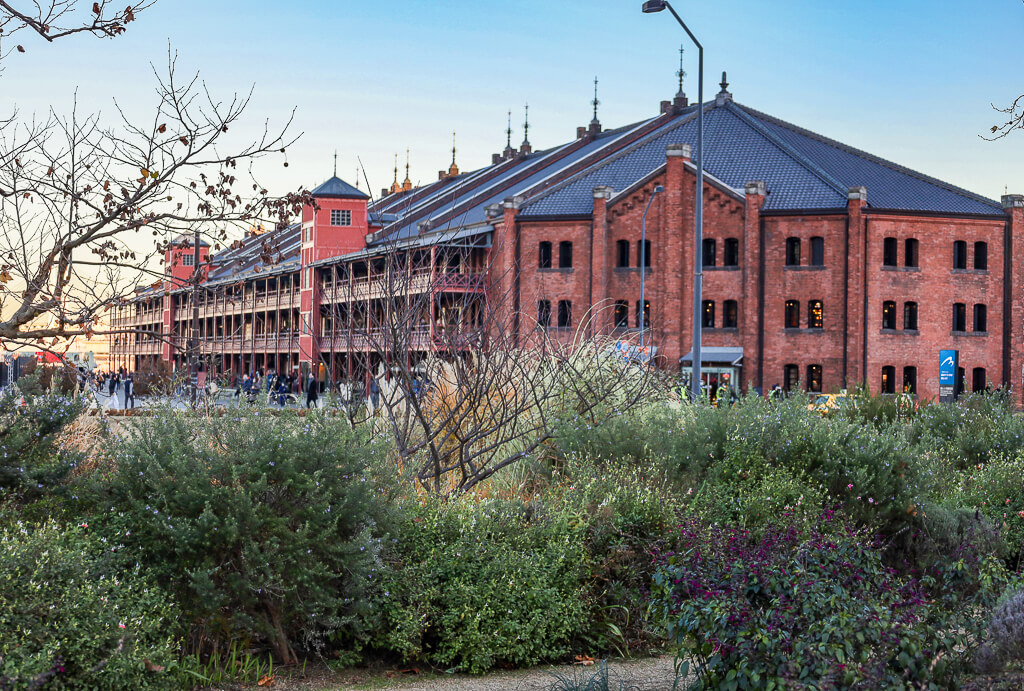 My next stop is Yokohama's iconic Red Brick Warehouse which is a restored historical building that functioned as Yokohama Port's custom house in the early 19th century. It is now the city's major shopping, dining, and entertainment hub, and it is also the site of many events and festivals.
It was closed for most of the year in 2022 for renovations and reopened on December 6, just in time for holiday celebrations and the vibrant Christmas Market. The huge interior was completely renovated and from what I saw, many more eateries were added, and the multiple dining areas were also refreshed and expanded.
After visiting some trendy and artsy stores as well as some fusion eateries, I will move on to my next destination of this day trip to Yokohama – the Cup Noodle Museum.
Cup Noodle Museum
At the Cup Noodle Museum, you can explore the invention of instant ramen in 1958 and the subsequent development of cup noodles in 1971. There are some hands-on interactions where you can make your own chicken ramen. You also have the opportunity to create your own cup noodle package. My last attraction at the museum is the Noodles Bazaar where I am going to sample a variety of noodles from around the World.
Ramen Museum
My final destination of this daytrip is the Shin-Yokohama Ramen Museum. It is a 15-minute ride on the subway's Blue Line to Shin-Yokohama Station, where the museum is just a short walk away.
From the galleries and exhibits, you will learn that the origin of Ramen is actually Chinese soup noodles. You will also learn about its subsequent developments through the years. The exhibits are both entertaining and educational. After visiting the galleries, you can pick up every ramen-related souvenir from the Museum Shop.
Finally, I am going to enjoy an early dinner at the food court where it hosts half a dozen ramen restaurants, each with its own distinct flavors and specialties. After browsing around my options for a while, I am going to head to Komurasaki, which specializes in a thin noodle in a mildly rich Tonkotsu pork bone broth with spicy sesame oils. The ramen is so delicious!
From there, the easiest way to get back to Tokyo is to take the Tokaido-Sanyo Shinkansen from the nearby Shin-Yokohama Station.
Special Events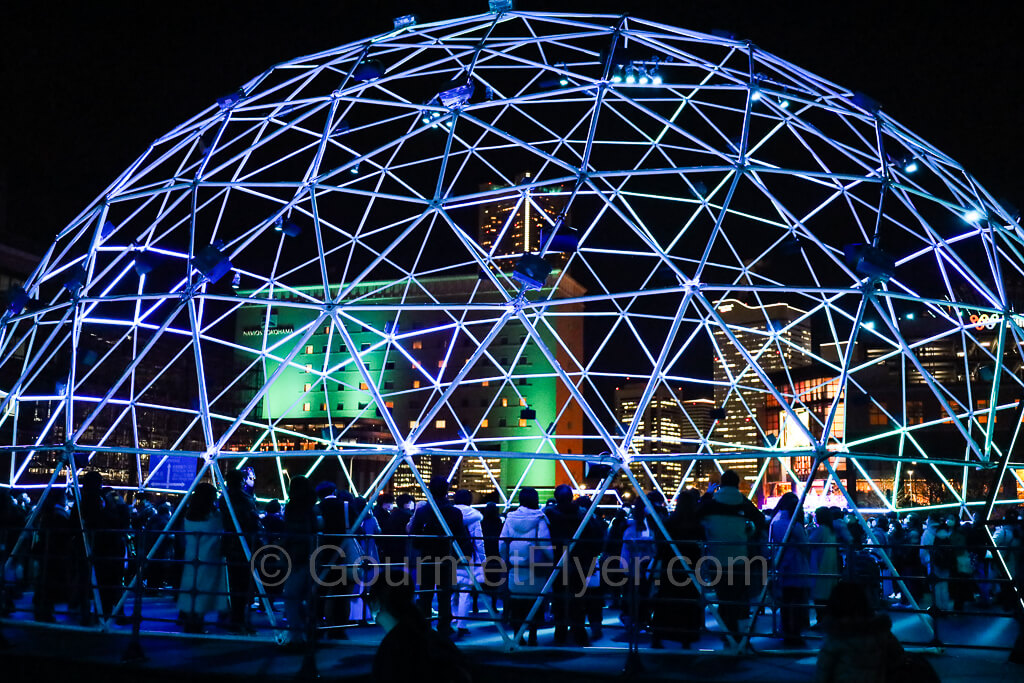 Updated December 22, 2022 (Optional itinerary)
The area surrounding the Red Brick Warehouse (Shinko Central Square) is also home to many special events. In the Christmas season of 2022, it was the Yorunoyo Cross Light Illuminations. It's a dynamic light show where illuminations and lasers in various forms in surrounding buildings, trees, and domes were synchronized with music. There were also many structures that were built specially for this event — in particular a huge dome built with dynamic light tubes that was a complete blast of fun.
Conclusion
It is an exciting day filled with lots of fun, sightseeing, and yummy good eats. I highly recommend Tokyo visitors to take a day trip to Yokohama if their schedule permits. However, I feel that the itinerary for the day trip is a bit rushed, and there are many places that I have not visited. If I am going to visit Yokohama again, I will probably include an overnight stay, which will give me more time and also allow me to explore this vibrant and exciting city at a more leisurely pace.