This is a summary review of my experiences on various Aegean Airlines flights in the economy cabin throughout a span of about two years. Aegean is a Greek regional airline providing short-haul and medium-haul services between Athens and major European cities as well as between Athens and the Greek islands. It has consistently been voted Europe's best regional airline for over a decade and it has earned its reputation for premium services and strong customer satisfactions.
Table of Contents
Seats and Seat Selections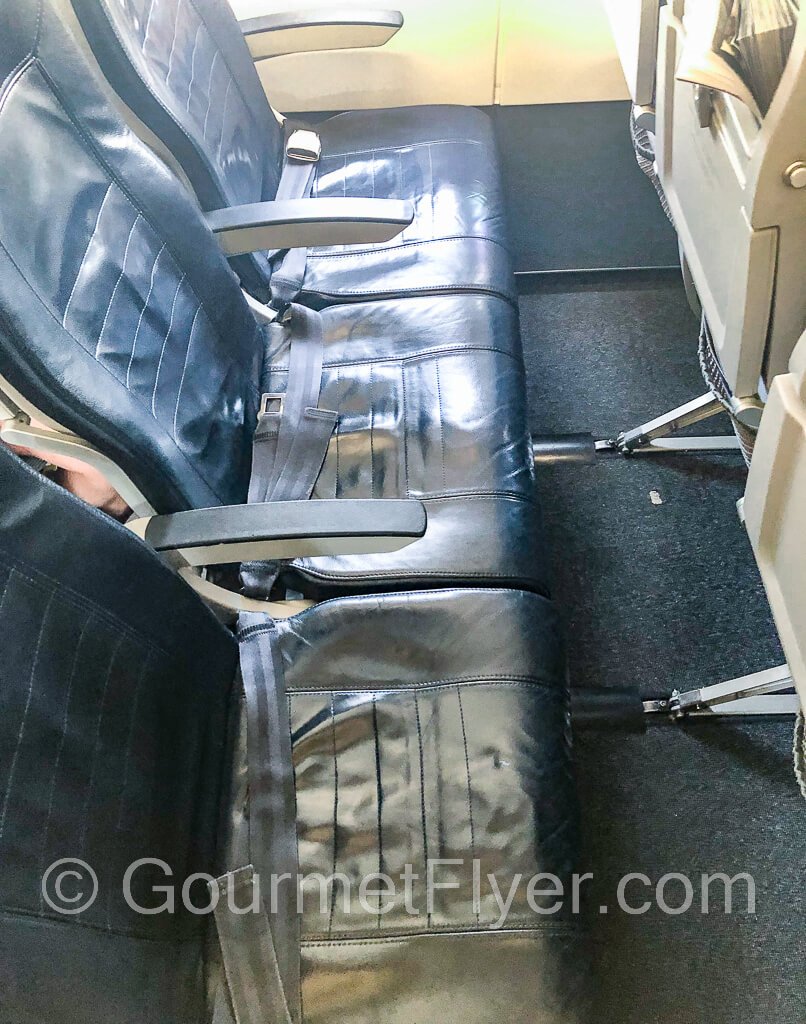 Aegean Airlines employs a fleet of mostly Airbus A319, A320, and A321. Standard seat width is 18" and pitch is 30", which is very similar to most of its competitors across the Globe with the same aircrafts. Standard configuration is 3-3 with the exception of some exit rows.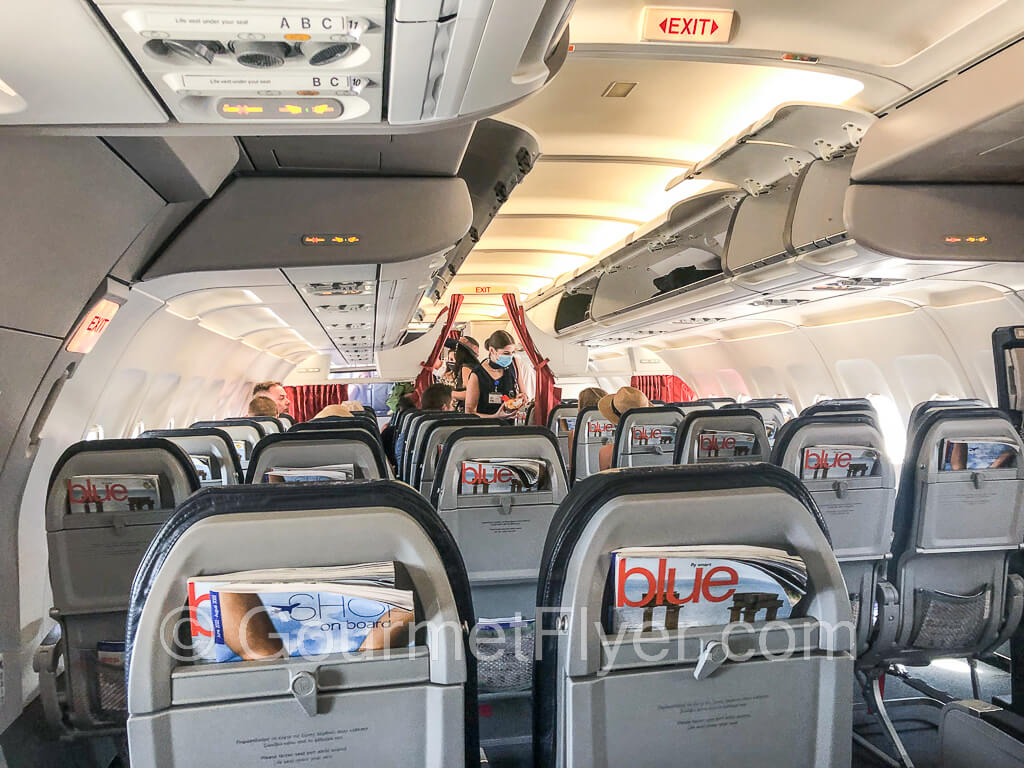 On some of the A321's rows 9 or 10 have only two seats on each side as shown in the picture above. These are the best seats in the house, especially if you are travelling as a couple. These are classified as Extra Legroom Seats and they come with an additional cost which we will discuss shortly.
Standard seat selections at booking are free of charge if you purchase a Flex or Comfort Flex fare. If you purchase the cheapest Light fare, you will have to pay for advanced selections. Depending on the route, this could cost you anywhere from €1 – 9. If you do not pay for this, you will be randomly assigned seats upon check-in. There is no guarantee that families or couples will be seated together.
The first few rows immediately behind business class are called Upfront Seats and are free of charge if you purchase a Comfort Flex ticket. For other fare classes, these seats cost anywhere from €5 – 22, depending on the flight.
The most expensive seats are the Extra Legroom seats such as the exit row seats shown above and some bulkhead seats. These seats will set you back €8 – 28 and the fees are applicable to all fare classes.
For more detailed information on seat selections, please visit Aegean Airlines' website here.
Intra-Europe Flights
Aegean is one of the few European airlines that serves a complimentary light meal on a short two-to-three-hour flight even in economy class. This is somewhat similar to the service of most major Asian airlines. Many of us know that if you are seated in the back of the plane in a US-based airline, you will be lucky to get a small bag of peanuts or pretzels on such a short flight.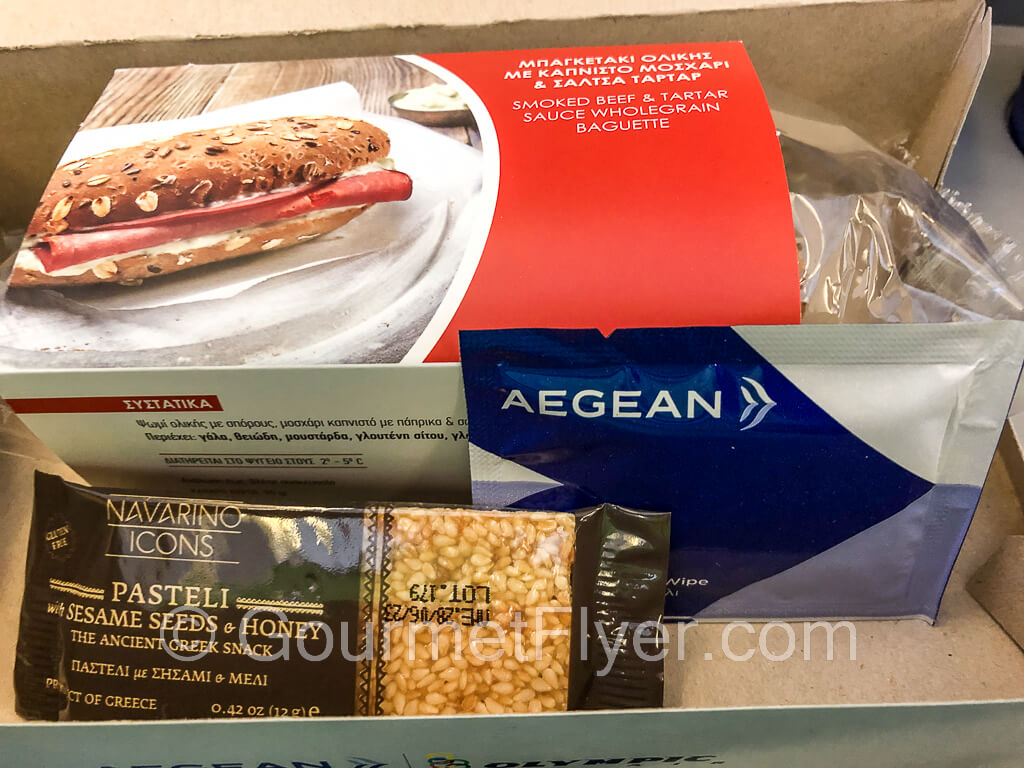 On one of my flights from Amsterdam to Athens, we were served a smoked beef baguette sandwich which was quite delicious. Since I had a tight connection and did not have time to grab food between flights, this sandwich hit the spot and was a delightful surprise. The lunchbox came with a sanitary wipe for us to clean our hands and a pasteli – a Greek honey and sesame bar which is a refreshing and healthy dessert.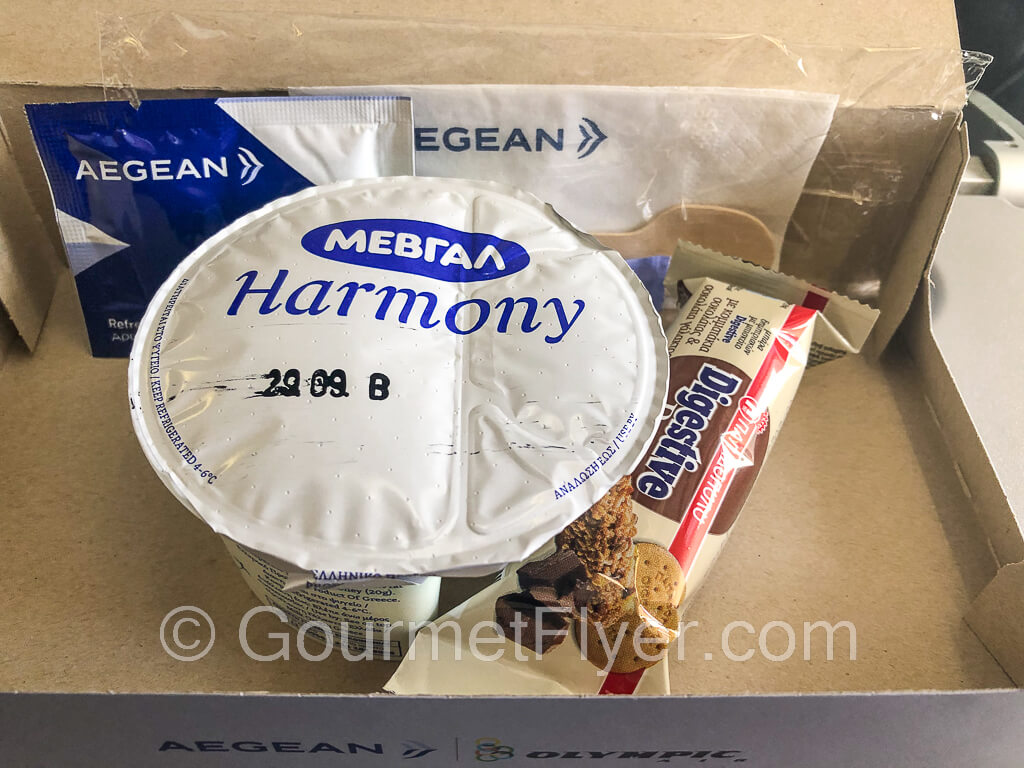 On my early morning flight from Athens to Munich we were offered a choice of a breakfast sandwich or yogurt. I opted for the Greek yogurt because it's one of my favorite breakfast options. The Greek yogurt was very rich and creamy and was served with a side of honey. The snack box also came with a sanitizing wipe and a "digestive bar" which is somewhat like a cereal bar and is healthy and tasty.
Beverage services on these relatively short flights are efficient as they offer only very few soft drink options and they do not sell alcoholic beverages. So, most of the time, a passenger will get either water or cola and the cart will move on quickly.
Flights to/from Greek Islands
Boarding for flights to the Greek islands at Athens (ATH) are usually at the lower level gates where you will board a bus which takes you to the plane that is parked on the tarmac. Boarding is generally chaotic. While passengers are supposed to line up and board by groups, this is rarely enforced. At the end, it doesn't really matter as everyone gets on to the same bus that takes them to the plane. Once at the plane, boarding is fast as both the front and rear doors are open for boarding.
Most island airports don't have gates with jet bridges so you will most likely be bused to the terminal when you arrive and bused to the plane from the gate when you depart. The boarding process is pretty much the same as in Athens.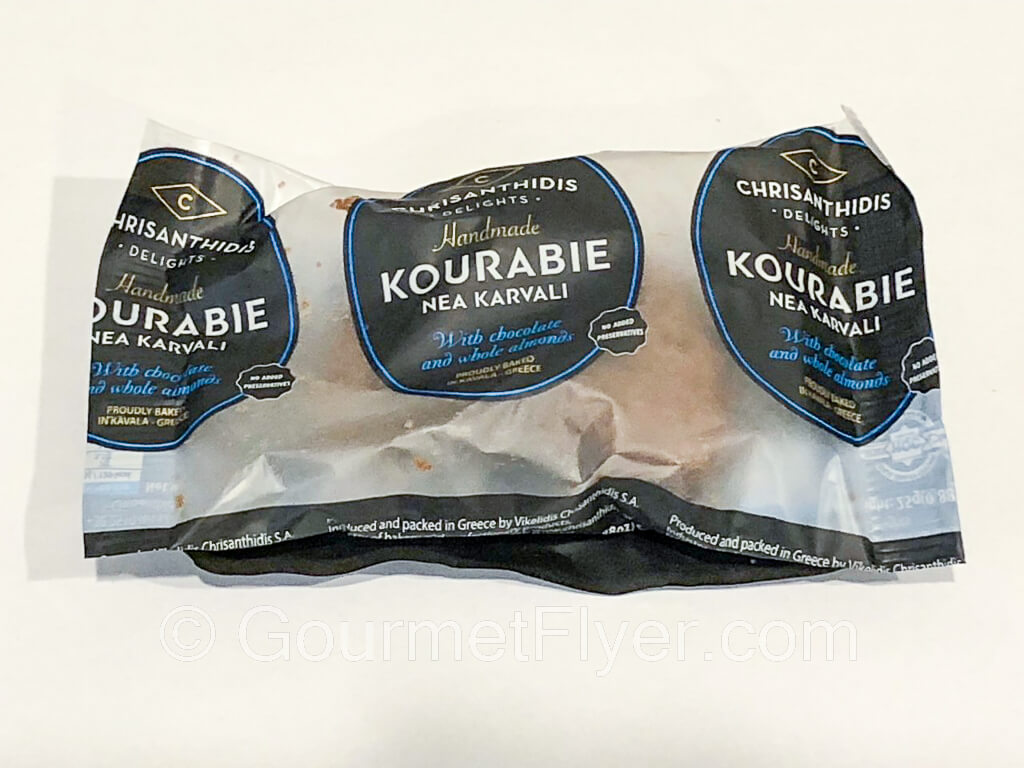 Kudos to Aegean for serving a snack in economy class even on a flight that spends maybe 40 minutes in the air. Service is efficient as there is no drink cart service – everyone gets a small bottle of water handed to them along with a snack. They rotate a wide selection of snacks and on my last few flights, I was served either a kourabie (a Greek almond and butter cookie) or mini breadsticks with cheese. Not a whole lot of food of course, but I appreciate the thoughtfulness on such a short flight.
Conclusion
Overall, I find Aegean Airlines economy class one of the best in Europe. While the Airbus hardware is quite standard throughout Europe, Aegean excels in their soft products. Their flight attendants are professional, but also enthusiastic and cheerful in their work. Service has always been efficient and friendly. I am often amazed by the team of flight attendants that work like a well-oiled machine on those very short island flights. Moreover, a complimentary breakfast or snack service on a short flight between just two to three hours is much appreciated. I am happy to give Aegean Airlines economy class service a highly positive review and I look forward to flying with them again soon.