Updated June 30, 2023
Table of Contents
Iconic Places to Eat in Osaka
Dotonbori
Dotonbori is the ultimate foodie paradise and is the most lively, vibrant, and diverse place to eat in Osaka. When night falls, bright lights and colorful neon signs set the mood for an adventurous dining exploration. There are literally numerous options so chances are that you will have a hard time making up your mind.
There are eateries of every type, from the small street food stalls to fine dining restaurants specializing in expensive cuts of Wagyu and Kobe beef. Takoyaki (octopus balls) seem to be a very popular food everywhere in the city and you will certainly find many variations of it here at Dotonbori.
If your schedule permits, plan on dining here every night and try something different each night.
Kani Doraku
Hours: Daily 11am – 10pm
This particular location is more commonly known as Dotonbori Honten, which is the "original restaurant" and is the birthplace of the Kani Doraku chain.
You can't miss the iconic crab sign of the restaurant and you can't miss the long line and the crowds of people waiting for their tables either. They don't take reservations and a one to two-hour wait is typical during peak season.
Prices are on the higher end and expect to spend over USD100 for two people. But the crabs are huge, fresh, sweet, and perfectly prepared. You will enjoy a course of crab cooked half a dozen ways or more, including crab sashimi. If you don't want raw crab, be sure to inform the staff.
Takoya Dotonbori Kukuru
Hours vary by location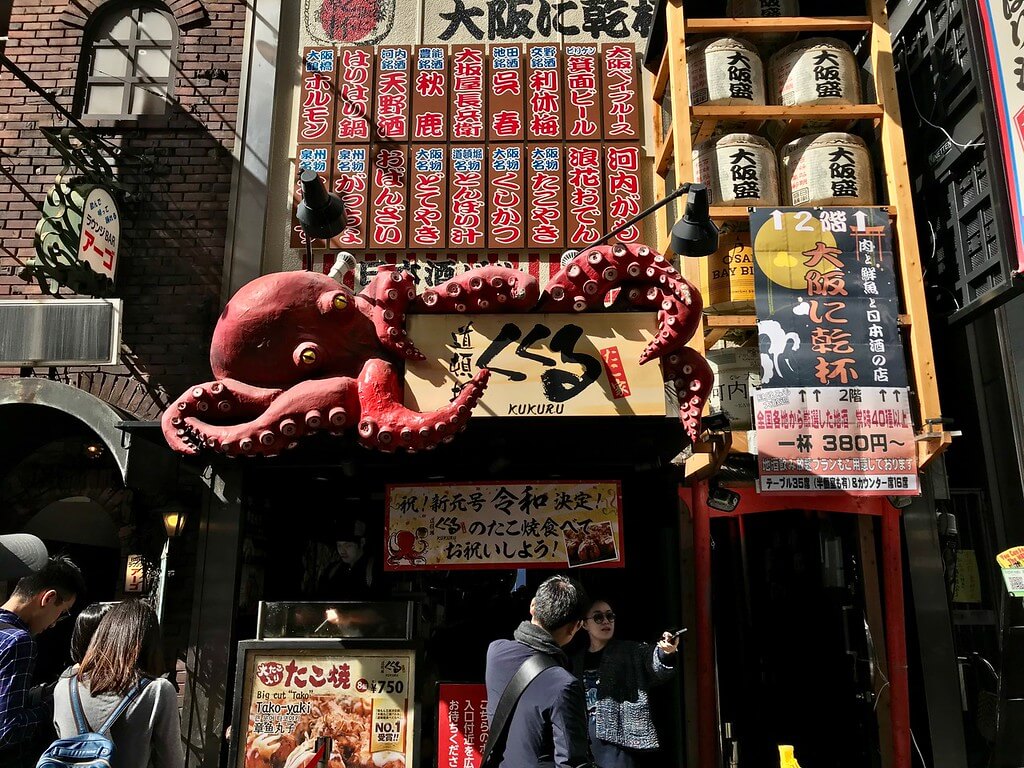 Takoyaki is the signature street food of Osaka, and they are available almost everywhere – from food stalls on the streets, to food courts inside malls and trains stations, to full-service restaurants scattered across the city.
Takoyaki is an octopus dumpling made with a batter that is poured into a sizzling hot molded griddle. The batter is then filled with minced octopus meat and seasonings and is cooked on the griddle, with the chef rapidly flipping and poking the ball-like dumplings. The final product is topped with a savory and slightly sweet takoyaki sauce and mayonnaise.
Takoya Dotonbori Kukuru is one of the most popular takoyaki spots in Dotonbori as evidenced by the long lines at almost any time of the day. Their takoyaki is famous for a more eggy and spongy batter as well as huge pieces of octopus protruding from the shells of the dumplings. This store is easy to spot as you can easily see their iconic octopus sign from a distance.
Ohsho Dotonbori
Hours: Daily 11am – 10:30pm
This is one of the best places to get cheap and good eats in Dotonbori, Osaka. They specialize in gyoza (potstickers) and there are many varieties. You can easily recognize this restaurant by its iconic sign (pictured above). If you see a very long line, that's most likely the to-go line. The wait for dine-in isn't usually too bad.
The gyozas are delicious, some of the best I've had. Prices are very cheap, taking into account that you are in Osaka. They have other items on their menu such as ramen, rice dishes, and chicken karaage. But personally, I'll focus on the gyoza, as it is their signature.
Kushikatsu Daruma
Hours: Daily 11am – 10:30pm
Among all the lively signs in Dotonbori, you'll probably notice the angry man shown in the picture above. Who is he and why is he so angry? He is the CEO of the restaurant and I believe he is angry at people double dipping, which is not allowed.
The dipping sauce for the skewers is served in a communal tub for everyone to use. They did not change it after the guests before you left, and they are not going to change it after you leave. So, no double dipping!
This restaurant specializes in kushikatsu, which are deep fried skewers of meat and vegetables. many varieties are available and there are also many combo options. Note that substitutions are not allowed for combos. They offer many other selections on their menu as well, but my recommendation is to stick with what they are good at – that is, the kushikatsu.
Kobe Beef in Osaka
Kobegyu Wanomiya Dotonbori Honten
Hours: Daily 12pm – 3pm; 5pm – 10pm
Kobegyu Wanomiya Dotonbori Honten is the restaurant for an amazing and authentic Kobe beef experience – outside of the city of Kobe itself. This is also a great place to splurge and spoil yourself. The menu includes a very large selection of beef of different grades – from the most premium A5 to top sirloin, and everything in between. Personally, I find the mid-priced range of beef offers the best value.
The restaurant is beautiful, the service is close to impeccable, and the beef is among the best that you can find in Japan. Prices are on the higher end, but you can expect a top-notch fine dining experience.
Gyukatsu Motomura Namba
Hours: Daily 11am – 11pm
Osaka is almost the ultimate place for the best beef eats, especially if you are not going to visit Kobe this trip. One of the best restaurants for a unique experience is Gyukatsu Motomura. In short, gyukatsu is the beef rendition of tonkatsu (pork). The beef is deep-fried in very high heat so that the breading is crispy, and the beef is seared on the outside. The inside is rare, and you'll cook it yourself to the doneness that you prefer on a hot stone.
This is an amazing experience, especially for beef lovers. The only downside is that they are very popular, and the restaurant is rather small, so the long wait could be discouraging. However, they have quite a few locations in the Osaka and Tokyo areas, so hopefully you'll be able to get into one near you.
Iroriya Dotonbori
Hours: Daily 24 hours
Iroriya is where you go for yakiniku – that is, Japanese barbeque. It is somewhat similar to Korean barbeque but with one major difference: The meat in Korea barbecue is marinated while the meat in yakiniku is not. The cooked meat in yakiniku is dipped into a sauce for seasoning before eating.
The focus on Japanese barbecue is on the flavor and quality of the meat, especially beef. A large selection of different cuts and grades of beef are available on the menu here at Iroriya. If you won't be making a trip to Kobe, then this might be one of the best places to taste the World-famous Kobe beef and splurge a little. However, my experience is that moderately priced middle of the road cuts of beef usually have the best value.
Iroriya is a small chain of 5 restaurants in Osaka and their Dotonbori location is large and has multiple floors. This bbq place caters to mostly locals and is one of the least touristy eateries in the area. They are open 24/7/365 so you can have Japanese barbeque for breakfast, lunch, and dinner.
Sushi in Osaka
Endo Sushi
Hours vary by location
There is no shortage of amazing sushi restaurants in Osaka, so my recommendation is based on what I believe is the best value – the most bang for your buck.
Endo Sushi has been in business over 100 years and is a local gem. They have two locations: one is right next to the fish market, and the other one is on the 5th floor of Keihan Mall, just above JR Kyobashi Station.
Their specialty is "The Maze" which is the chef's selection of five seasonal sushi items of the day. Another specialty is the red miso soup, which I was told was made with clams. The sushi rice has a hint of vinegar, which I find refreshing. The slightly acidic rice also goes well with the fish.
They do not accept reservations and the only way to get in is the traditional way – stand in line. The typical wait during peak times can be 1 – 2 hours or even longer.
Sushizanmai Dotonbori-ten
Hours: Daily 11am – 10pm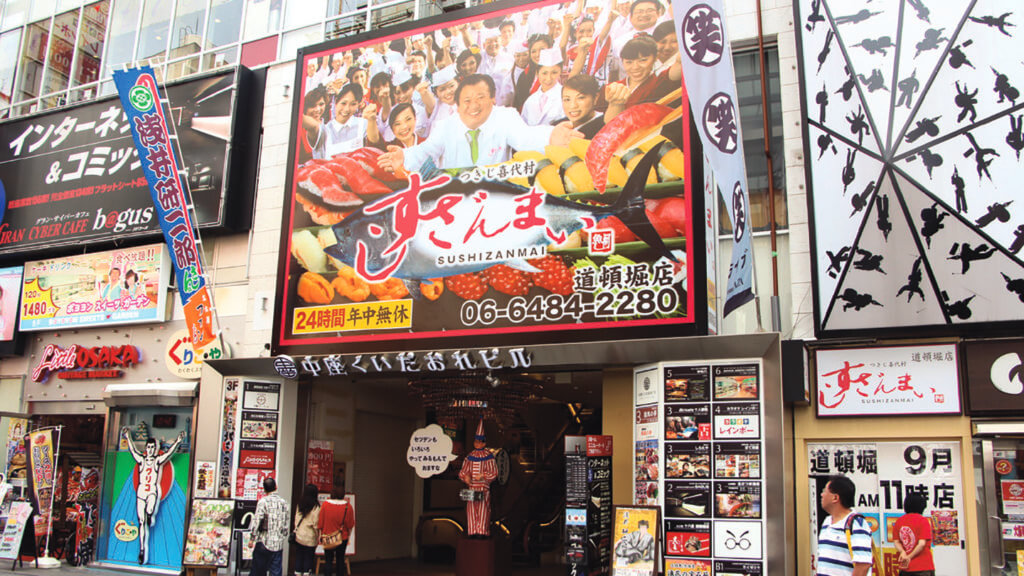 Although Sushizanmai is a large sushi chain in Japan, it still appeals to both local and tourists at its popular Dotonbori location. The restaurant is easy to spot as you can see its iconic poster sign welcoming you with open arms.
Sushizanmai serves high quality sushi at very reasonable prices, and that is why this place is always packed during peak hours. Nigiri sushi can be ordered by the piece and prices start from just over 100 yen. Top grade tuna starts from about 300 yen. You can't find these prices anywhere in the US that even remotely matches the quality of the fish here.
They are well known for their tuna, especially blue fin tuna. If you are a fan, get their blue fin assortment sashimi where you can enjoy three different cuts of blue fins with varying fattiness. If you like more variety, sushi sets run from under 1,000 yen to about 4,000 yen for their premium selections.
Gankozushi Dotonbori
Hours: Daily 11:30am – 10pm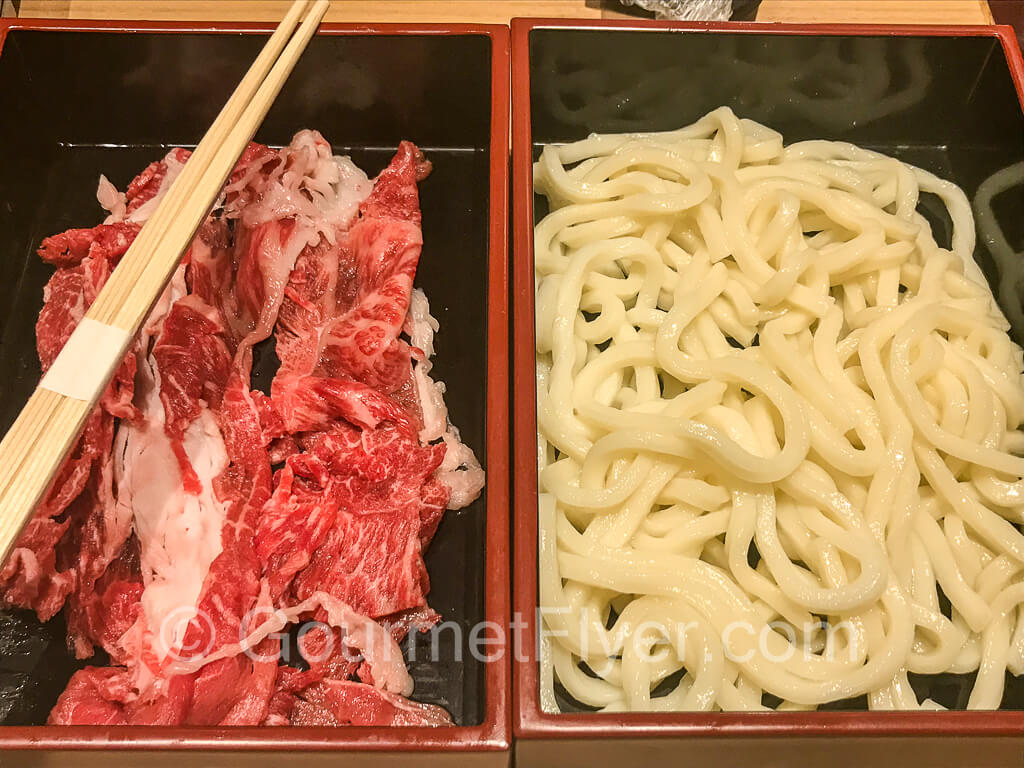 Gankozushi is located in the heart of bustling Dotonbori, and it is a sizable restaurant with 5 stories of dining spaces including private banquet rooms. Due to its size, the wait here is usually not as bad as the surrounding smaller eateries during peak hours.
They are well known for their moderately priced sushi and sashimi which are always great bargains. However, don't expect top-notch quality though. But for their very affordable prices, I have to say that the quality is reasonably good.
Besides sushi and sashimi, their extensive menu offers plenty of other options. A wide variety of hot pots, shabu-shabu, and sukiyaki are available. Pictured above left is a serving of Kobe beef with soba. It comes with a hot sukiyaki pot containing a delicious broth and vegetables on a standalone stove.
There are also many combination dinner sets to choose from. Most of them offer great values. Pictured above right is one of my favorites – a tuna sashimi and tempura combo for about 2,000 yen.
Kantaro
Hours: Daily 11:00am – 11:00pm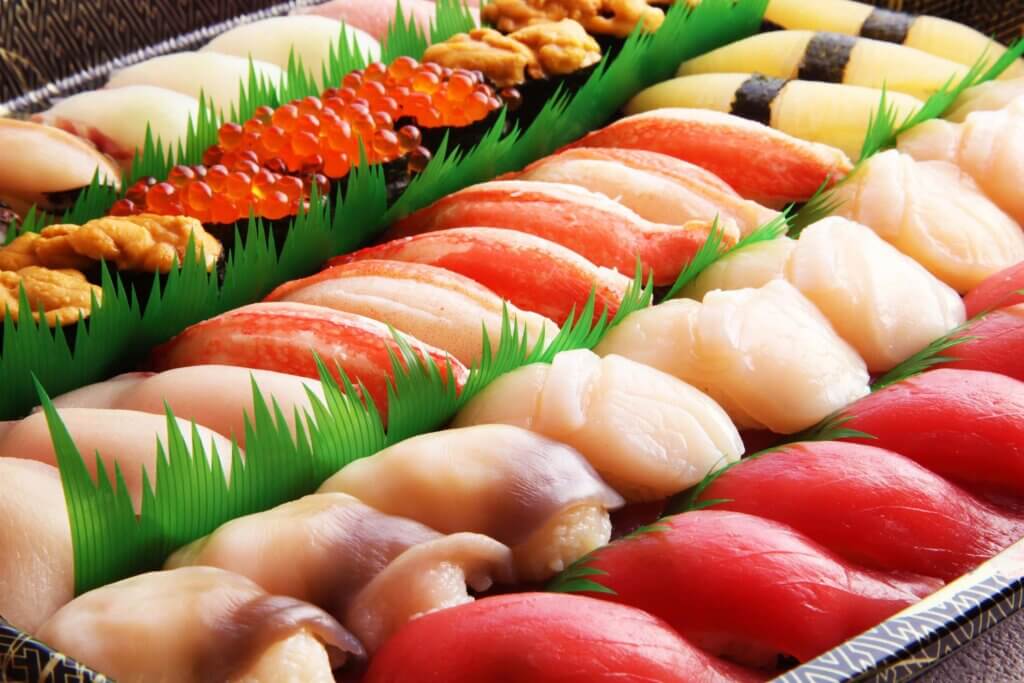 Kantaro is a very popular conveyer belt sushi restaurant which they term "sushi-go-round". They are tourist friendly with English speaking staff as well as English instructions for customers who have never been to a conveyer belt sushi restaurant. They also provide a tablet in English in case you want to order any items not found on the belt (or you just don't want to deal with the belt at all.)
Prices are a bit on the higher end for conveyer belt sushi but are justified by the good quality and freshness of the fish. As the restaurant is always very busy, you can count on a large selection of freshly made sushi dishes going around for you to select.
Kantaro is located at the city center of Umeda on the 7th floor of the Grand Front complex and is very convenient to access either on foot or by train within Central Osaka.
Ramen in Osaka
Ichiran
Hours vary by location
Ichiran is an iconic ramen chain in Japan with locations in Umeda, Dotonbori, Shinsaibashi, among other places in the Osaka area. Their ramen is easily recognizable by their signature blob of Spicy Red Sauce in the center of the bowl.
Their menu is small and focused, so I recommend that you stay with their house specialty, which is the Classic Tonkotsu Ramen. Some locations are 24 hours, but many are not. Check their website for details. Most locations do not offer takeout.
Ippudo
Hours vary by location
Ippudo is one of the most popular ramen restaurants with over 100 locations throughout Japan. There should be one near you somewhere in Osaka. I highly recommend the Shiromaru Classic which features their specialty handmade thin Hakata noodles. The broth is somewhat different from the typical Tonkotsu broth. It is slightly thicker milky broth which is just as rich in flavor compared to the clear broth.
English menus are available. Most locations are cash only and credit cards are not accepted.
Moeyo Mensuke
Hours: Sun 11:30am – 4pm; Tue – Sat 11:30am – 3pm and 6pm – 9pm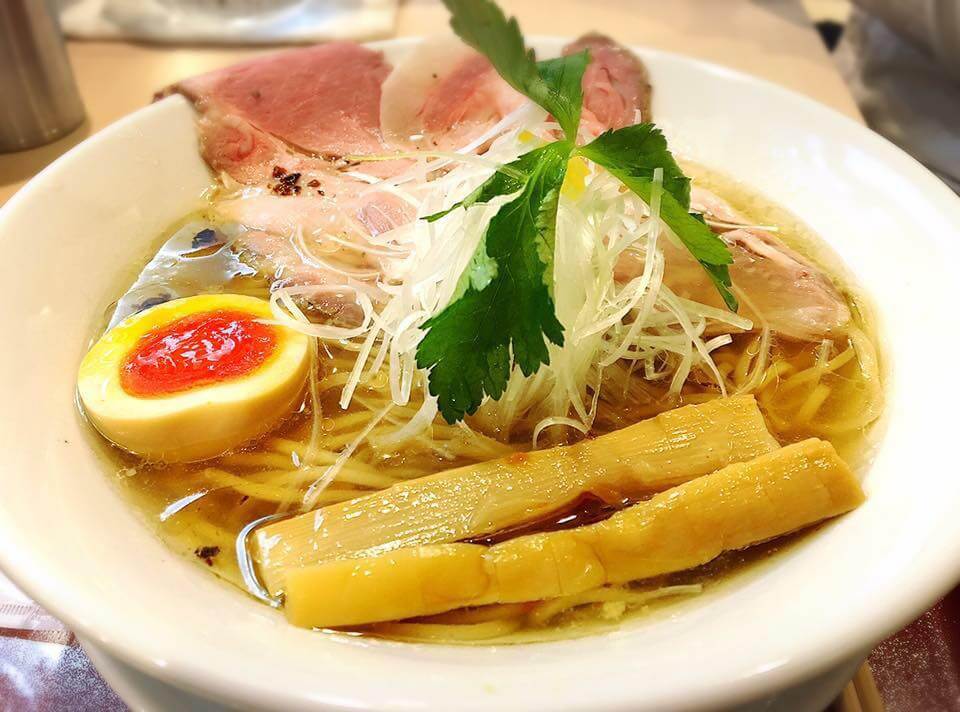 Just steps away from JR Fukushima Station on a nondescript alley is this very popular local ramen gem called Moeyo Mensuke. It is a small ramen shop that seats maybe 15 customers at a time and the line is always long around peak times. A 30-minute to one hour wait is typical.
The signature bowl that they are famous for is the duck ramen. Springy noodles are served in a duck broth and topped with slices of dick breast. The broth is rich in flavor but not greasy. This is a must-try for all the slurping foodies who happen to find yourselves in the streets of Osaka.
There is no English menu and just like most ramen places in Japan, you place your order and pay for it at a machine. If you can't understand what to do, just hit button #1, which is their special duck ramen with an egg.
Mankai Temmabashi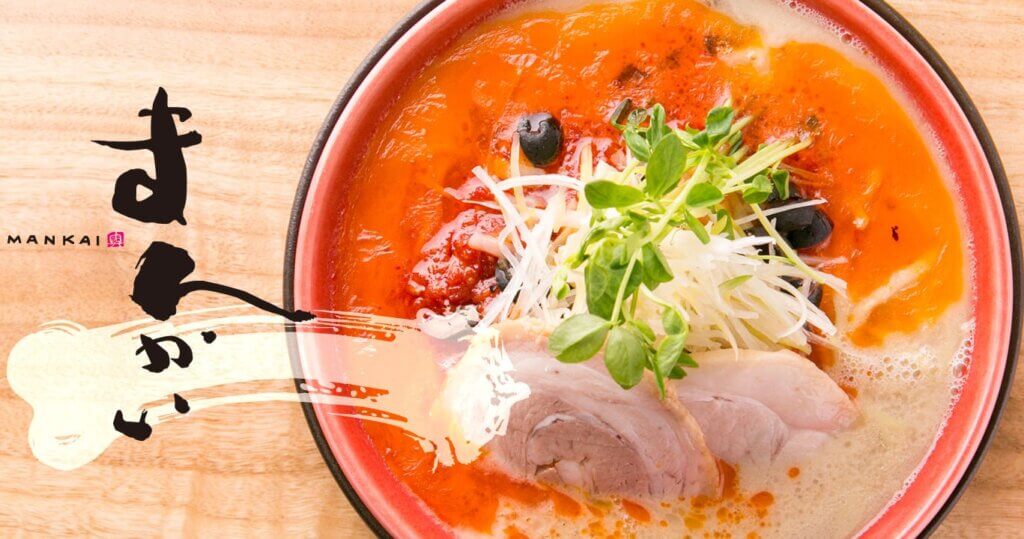 Mankai is the house of classic tonkotsu ramen in Osaka. Customers line up for their famous Junton – house made fresh Hakata ramen drenched in a thick and rich pork bone broth which is slowed cooked for over 16 hours and seasoned with Hakata's traditional Kamiku soy sauce.
Tomaton (pictured above) is Mankai's other signature ramen which is served in a blend of their flagship pork bone broth and spicy tomato soup. The noodles have a fusion touch and have a texture that is somewhat like fresh pasta.
It is just a short walk away from Temmabashi Station and is easily accessible from all areas of Osaka. English menus are available.
Western and Fusion Food in Osaka
Critters Burger
Hours: Daily 11am – 9pm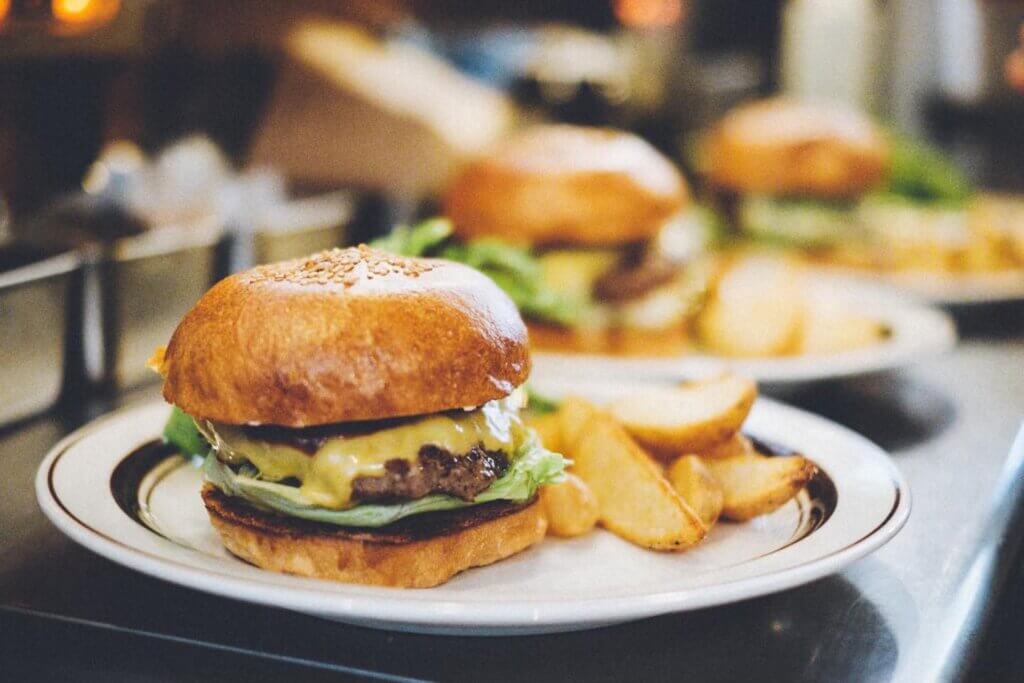 This is an American inspired hip burger place with a trendy décor and cool vibes that almost make you feel like you are in San Francisco or Chicago. Their burgers are top-notch American quality and can rival any one of the big boys in the States.
The menu is huge and there are almost 30 selections of different burgers. If you can't make up your mind, I'll recommend the Critters Burger which is topped with avocado, pineapple, and a sunny side up egg. Or get the teriyaki burger for a twist in local flavors.
And to make it a truly American experience, they serve Budweiser beer on draft!
Yomenya Goemon
Hours vary by location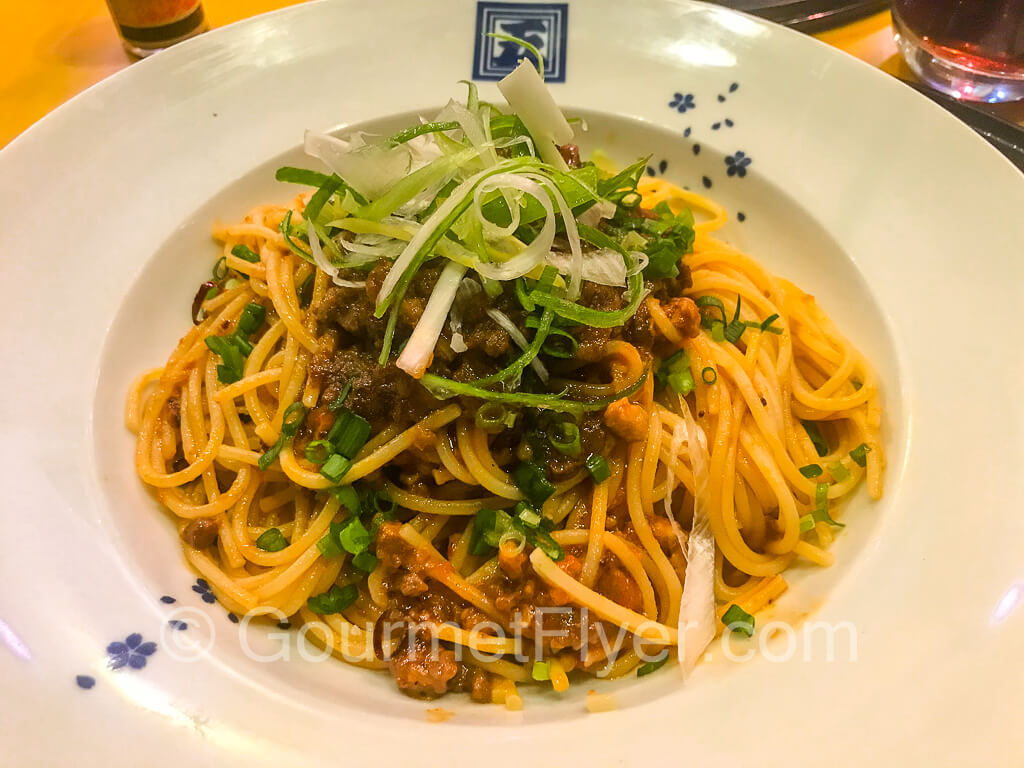 Yomenya Goemon is a large chain of "spaghetti house" in Japan with over 200 locations. Their menu consists of two main categories. Their original "Wafu" spaghetti dishes are made with mostly Japanese ingredients such as fish roe, salmon, sea urchins, and Shabu-Shabu style meat. The "Western Style Spaghetti" are mostly fusion pasta dishes that retain most of the Italian authenticity and flavors.
My top favorite is their spaghetti with beef tendon in meat sauce, which is the equivalence of spaghetti Bolognese. Perfectly al dente spaghetti is served in a very rich meat sauce with a kick of spiciness and garnished with a huge portion of green onions. If you want to try something Japanese style and somewhat different, get the cream soup spaghetti with crab meat and shrimp.
They have many restaurants in Osaka so there should be one near you. Refer to their website for store locations.
Fujiya
Hours vary by location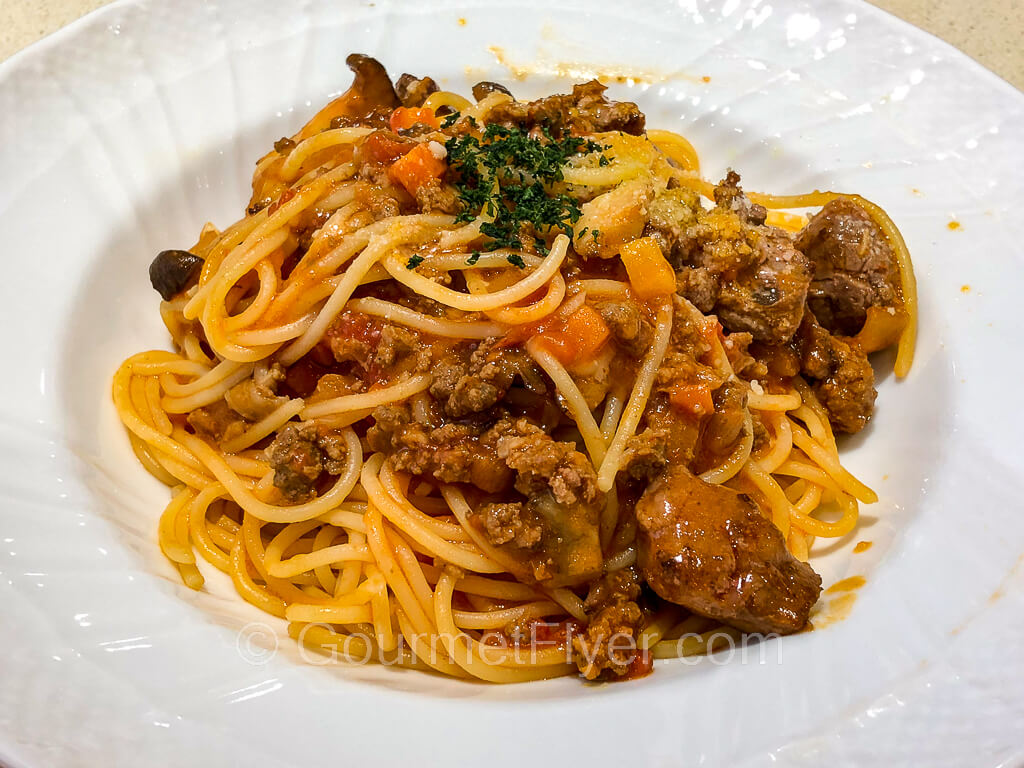 Fujiya is a national chain serving mostly Western food in Japan. Please don't confuse it with the Michelin starred Fujiya 1935 in Osaka! This Fujiya chain of restaurants is family oriented and moderately priced. They are best known for their western and fusion cuisines with a twist of Japanese flavor. Fujiya also serves traditional Japanese favorites such as tonkatsu and curry. A very popular Japanese style Western dish is the Hamburg steak, and it also comes in various combo sets as well.
Japanese style pasta is generally a bit on the sweeter side and is milder in flavor — herbs like rosemary or oregano are used sparingly. I love their spaghetti Bolognese, which is rich in fresh tomato flavors and is topped with chunks of beef tendons. For a cheesy and creamy pasta, try their baked macaroni gratin with chicken and shrimp.
Denny's
Hours vary by location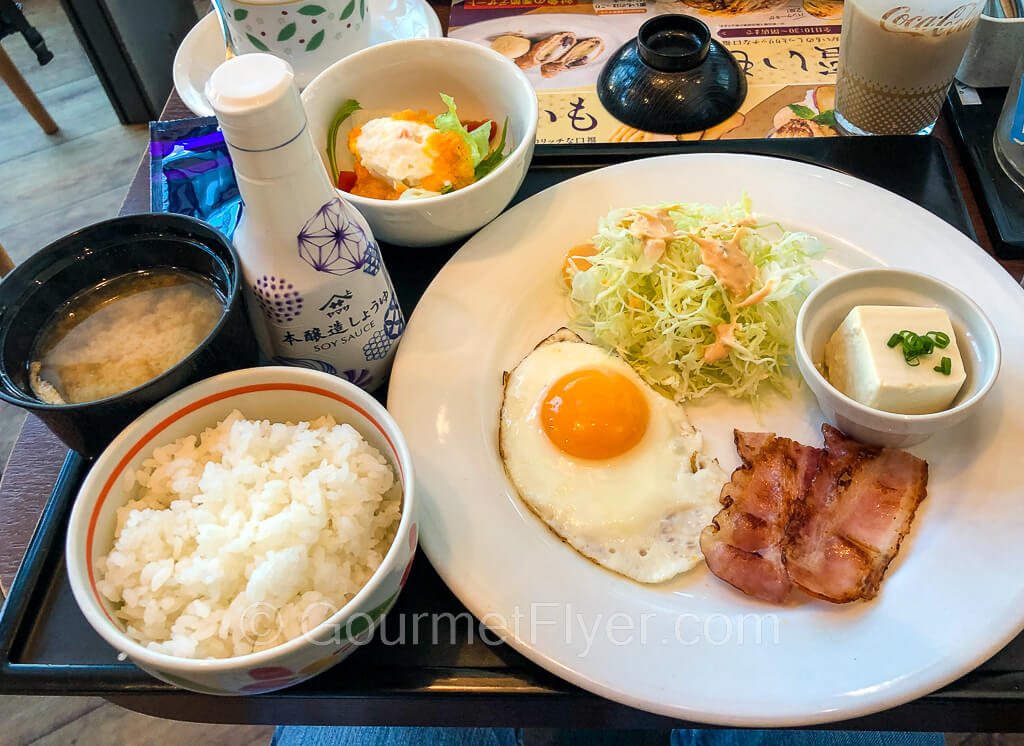 Denny's in Japan is so much better and different from those in the States. They serve some of the best Western style breakfasts in the Osaka area with a Japanese twist. Bacon and eggs dishes come complete with miso soup and rice. Traditional Choushoku (朝食) combos typically consist of grilled salmon, tofu, natto, miso soup, and rice. Portions are sort of small, but prices are low too. I always add either an order of French toast or pancakes, which are very good.
For lunch or dinner, a local favorite is hamburger steak (aka Hamburg steak) served on a sizzling platter with demi-glace. A rice casserole with hamburger steak in curry sauce is another delicious option. Japanese style fusion pasta dishes are also very good. My favorites are carbonara and Bolognese.
Yebisu Bar Namba City
Hours: Mon – Fri 11am – 3pm and 5pm – 11pm;
Sat 11am – 11pm; Sun 11am – 10pm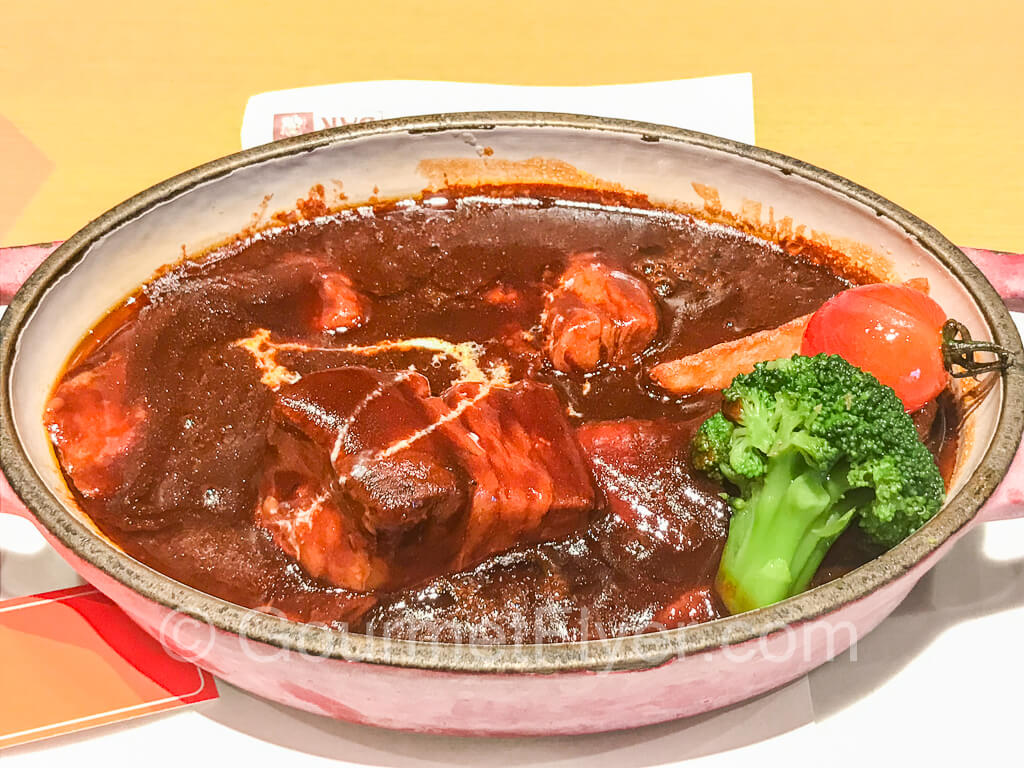 Yebisu is part of the Ginza Lion Group and is popular for their German beer hall atmosphere and a wide selection of fusion style Western food. This store is located in the heart of Namba City Mall and is easily accessible via subway or trains. Another store is located in the Umeda Underground Shopping Center.
One of their specialties is the stone-grilled beef stew served in a very hot stone dish. Melt-in-your-mouth tender beef cubes are served in a rich and delicious tomato beef sauce that is almost heavenly. My other favorite is the Hamburg steak, which is a Japanese rendition of the hamburger steak, served on a sizzling hot place and topped with a tasty brown gravy.
If you've had too many meals of ramen and sushi, this is a great change of scenery to enjoy an iced cold beer and explore a Western menu.
Ikinari Steak
Hours vary by location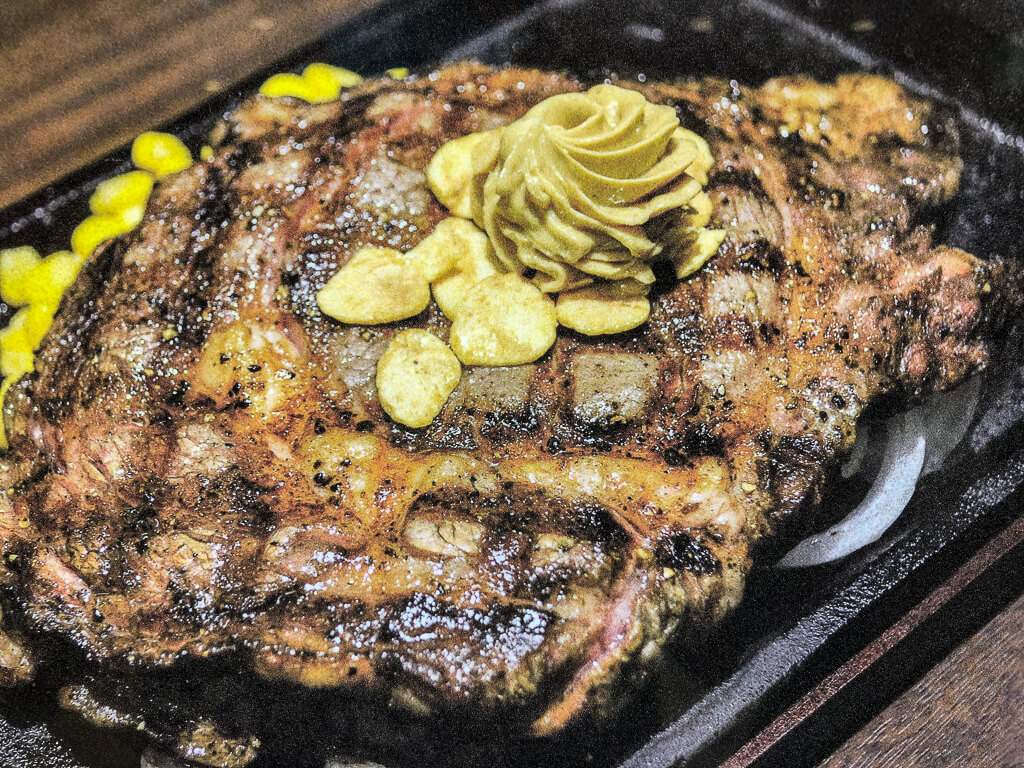 This is a chain of low-cost steakhouses that serves succulent steaks at bargain prices. Ikinari is known as the "standing steakhouse" and some of the older and more traditional branches have no chairs and you stand as you eat at a counter. Due to popular demand, some restaurants have now added tables with chairs.
Most locations offer a choice of US or Japanese beef, and popular cuts include ribeye, sirloin or filet. Quality of the steak is good for the price that you pay. It is both family and budget friendly, and is one of my favorite recommendations.