Updated January 1, 2023, to include pictures and contents of the current amenities kit.
Today, I am flying on United Airlines Premium Plus on an international flight from Athens (ATH) to Washington Dulles (IAD) and I am going to share my entire flight experience with you in this review.
Table of Contents
Pre-Flight
Premium Plus is the United's version of premium economy class. It is still considered an economy cabin and it does not include most of the perks that Polaris Business Class offers. However, on most long-haul international flights, Premium Plus ticket holders can check two bags for free, and also have Premier Access for priority check-in, security line, and luggage handling. United Club access is available at a discounted price.
Travelers with United Mileage Plus Gold or higher status enjoy all of the above benefits regardless of the class of service, including free access to United Club on international flights.
For travelers without Gold or higher status, the above benefits are certainly welcomed. Just the premier access security line could save you a lot of time, especially during peak seasons. These are benefits that you should factor into your consideration whether Premium Plus is worth the price tag for you.
Amenities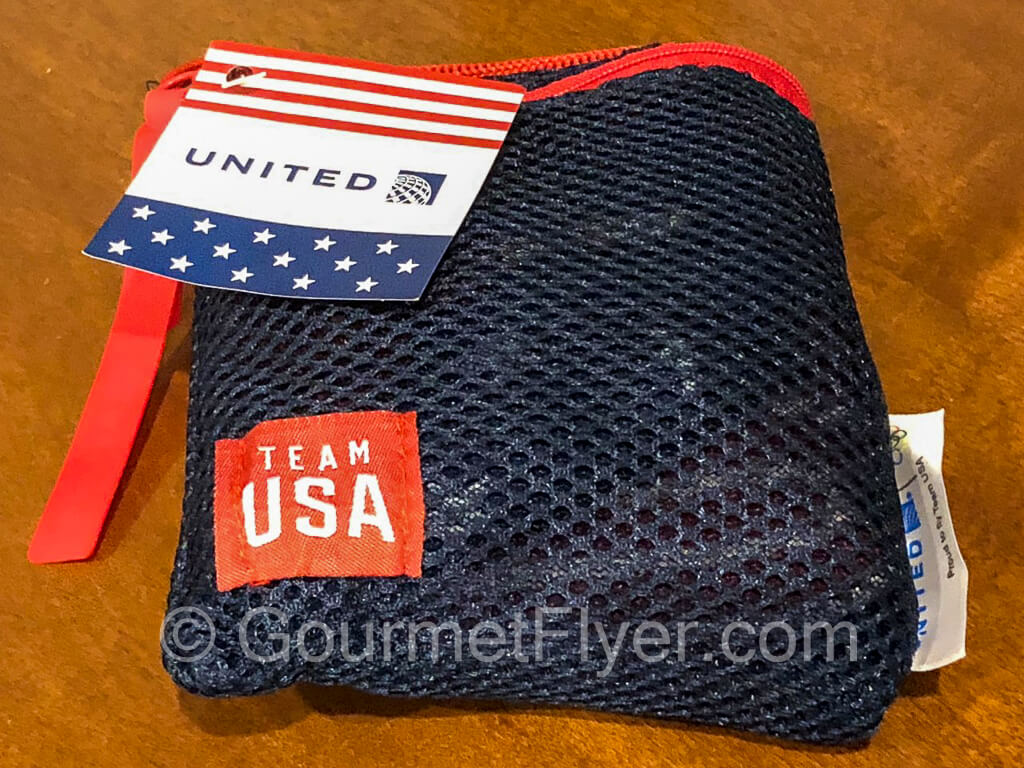 On this flight, United offers an Olympics themed amenity kit (Summer Olympics was 7/23/2021 – 8/8/2021 and Winter Olympics will be held from 2/4/2022 to 2/20/2022) which is appropriate for the occasion. The kit is a small pouch bag with a strap which is very handy, and I will save this as an Olympics souvenir item and maybe as a toiletries bag for future use.
The kit contains essentials like lip balm, moisturizers, a dental kit, socks, ear plugs, eye shades, etc. Blankets and pillows are already on the seats when we board, and I find the blanket larger and slightly thicker than the ones in economy.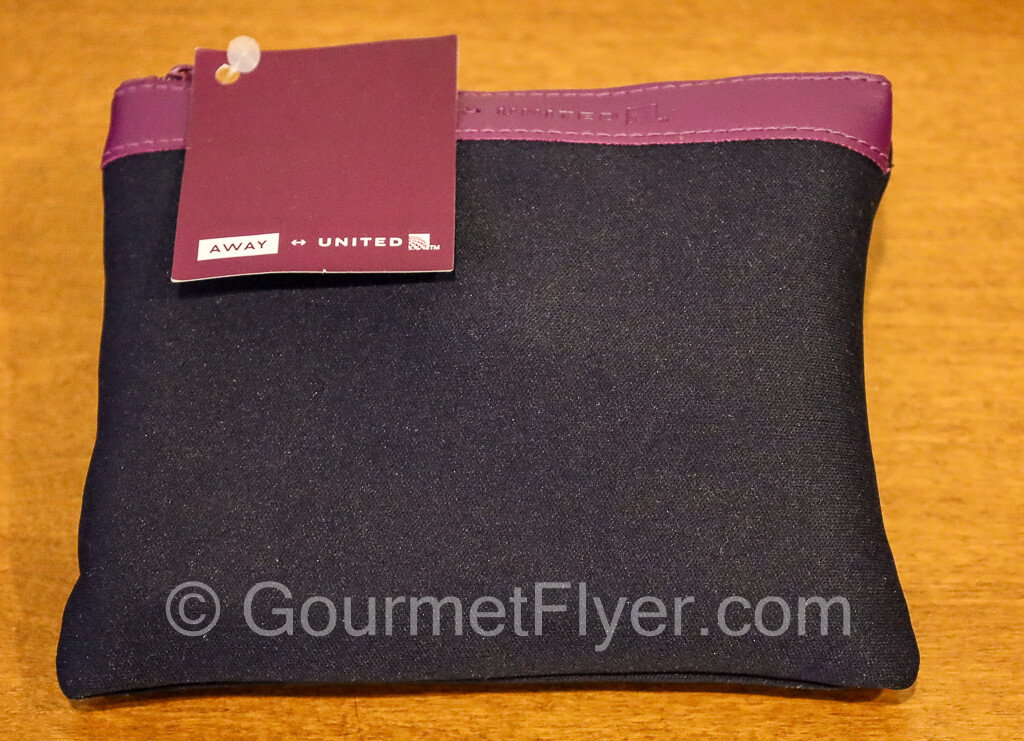 Updated January 1, 2023
The pictures above reflect the current amenities kit. Contents include a dental kit, ear plugs, eye shades, hand cream, lip balm, and a pair of socks.
The Seat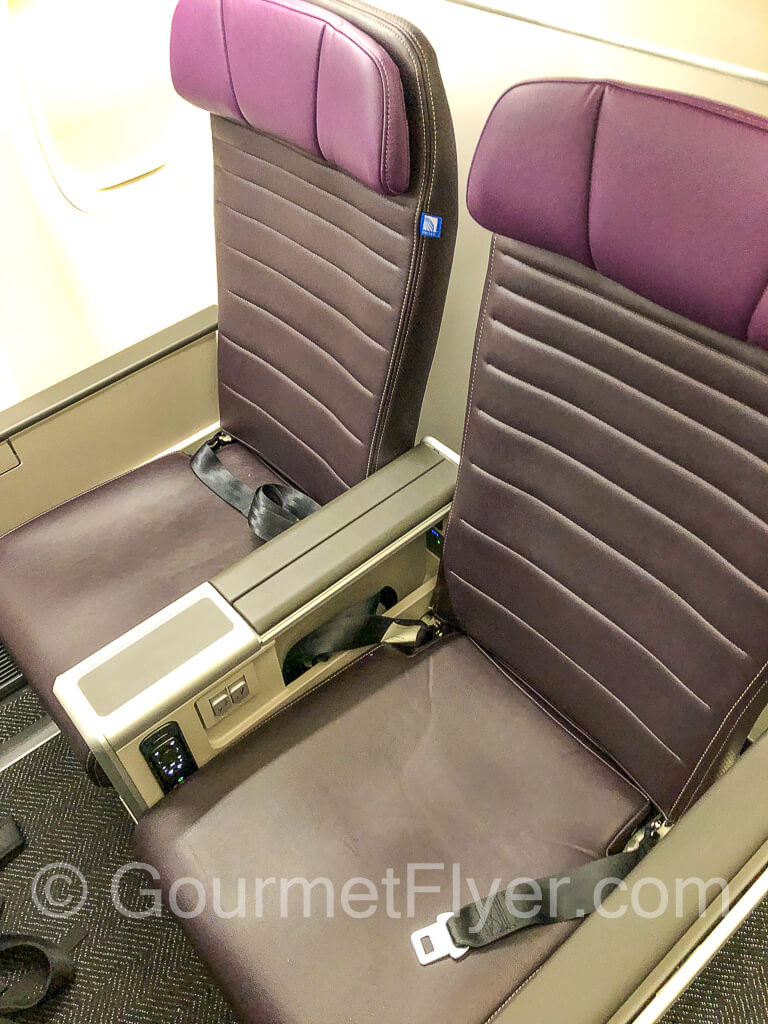 These purple seats are located between the Polaris and Economy Plus cabins and I think United does a good job in the partitioning of Premium Plus to make it look and feel like a separate cabin. There is a partition between the last row of Premium Plus and the first row of Economy Plus, but there is no curtain.
The configurations are 2-3-2 in 787's, 2-4-2 in 777's and 2-2-2 in 767's. Couples traveling together will definitely enjoy the added intimate space and privacy if you manage to grab one of those two-seaters early.
For solo travelers, the seats are wider than those in economy (19" vs 17") and they come with a much wider arm rest that you will not be rubbing elbows with your stranger seatmate. Legroom in the bulkhead row is almost infinite, and the other rows offer 38" of pitch (vs approximately 31" in economy and 34" in Economy Plus).
The first row comes with a leg rest and the rows behind it have an adjustable footrest. These Premium Plus seats recline further than those in economy (6" vs 3").
For a comprehensive review of the seat itself, please go here.
Dinner Service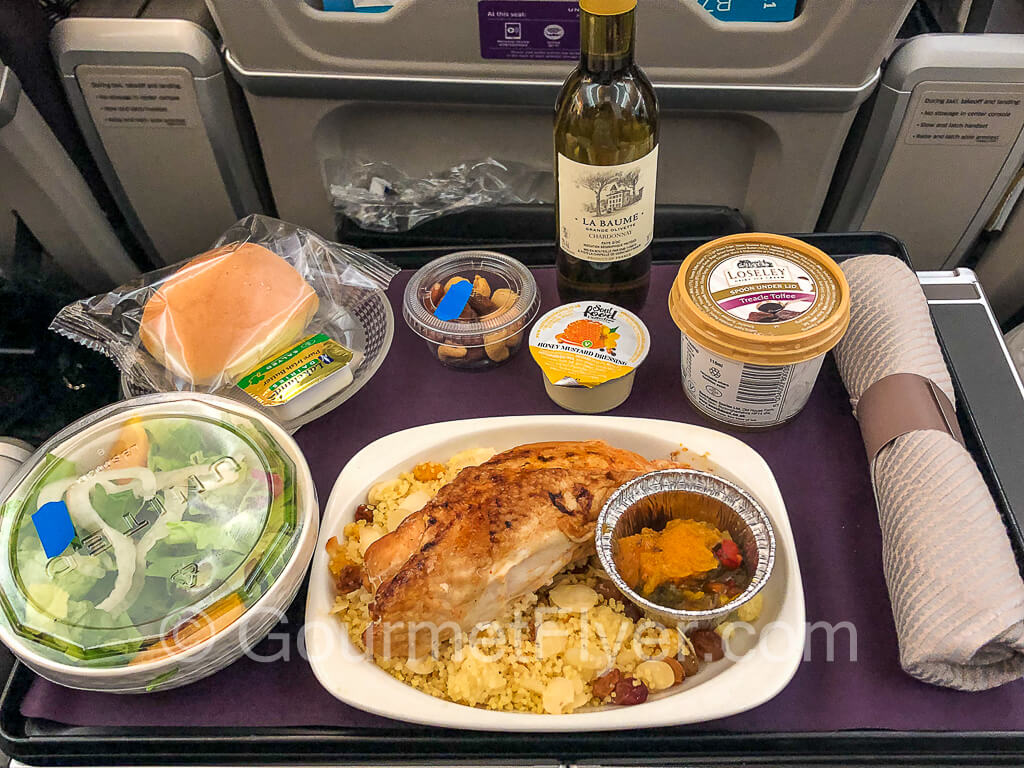 I think other than the seat itself, dinner service is the biggest perk that comes with these purple seats. Presently, United is serving mostly the same food from Polaris Business Class to its Premium Plus customers with some minor differences. First off, there are fewer choice, and secondly, the portions are slightly smaller. Moreover, there is no dessert and sundae cart service. But to me, United Premium Plus food is a substantial upgrade from those in regular economy.
Tonight the choices are roasted chicken breast or cheese ravioli in a cream sauce. I am getting the chicken.
As you can see from the picture above, during Covid times, all the dinner items are served all at once on the same tray. Warmed nuts are served in a covered plastic container. The roll is packaged but cold. Salad is a mix of greens and peppers and comes with a tangy honey mustard dressing. The roasted chicken breast is quite good, and it has a hint of Mediterranean flavor. For dessert, we have a treacle toffee ice cream that is rich and delicious. Dinner is good and it hits the spot.
Mid-Flight
Although the seat is not a lie-flat, I have no problem relaxing by watching a couple of movies and even taking a short nap. The better recline as well as the footrest help put me in a comfortable position. The seat back entertainment screen is larger than economy (13" vs 9") and the upgraded noise-reduction headphones really helps when I want to use some soft music to filter out the noise and take a nap.
Pre-Arrival
The pre-arrival meal is a complete disappointment though. While dinner is the same food from Polaris Business Class, the pre-arrival "breakfast" is exactly the same as those in economy, which is a messy cheese sandwich served in a plastic bag without a tray. This is in stark contrast to a well-presented and tasty breakfast that I had the last time I flew international Premium Plus with United.
The beverage cart comes around one final time, and we are about an hour away from touchdown.
Conclusion
I really enjoy every moment of this flight up until the pre-arrival food service, which I will politely say, is disappointing. United really needs to look into this and greatly improve its pre-arrival service and bring it back to par in pre-Covid times. Other than that, I continue to find United's international Premium Plus (premium economy class) a good value if one is willing to spend 20 – 30% more than a regular economy fare. On any flight that is 10 hours or longer, you will enjoy a substantial and noticeable difference in comfort that I believe is worth paying for.
For another more up-to-date review, visit:
In Depth Review of United's Premium Plus Service SFO – AMS 787-900