Updated December 20, 2022, to reflect the opening of the PHX Sky Train which replaces the rental car shuttle services.
This is a comprehensive guide to visiting Phoenix and Scottsdale on a 4-day or 3-day itinerary. This itinerary can be modified according to your preference of things to do in Phoenix and Scottsdale as well as your interest. For example, a musician or music lover could easily spend an entire day at the Musical Instrument Museum versus the half day that is recommended. Some people might spend more time shopping while others might place more emphasis on arts and museums.
This 4-day itinerary is based on our early afternoon arrival and late afternoon departure to maximize our time in Phoenix. You will need to adjust the itinerary based on your arrival and departure times. If you have a morning or early afternoon arrival, there is an option to compress this into a 3-day itinerary as well.
Moreover, it is assumed that you have a rental car. You will need one as there is very limited public transportation in the Greater Phoenix area.
Other than things to do and places to visit, this itinerary also have suggestions for some of the best dining options along the way. You can certainly adjust the recommendations according to your tastes and preference.
Table of Contents
Breakfast at OEB in North Scottsdale
DAY ONE
Arrival
Updated December 20, 2022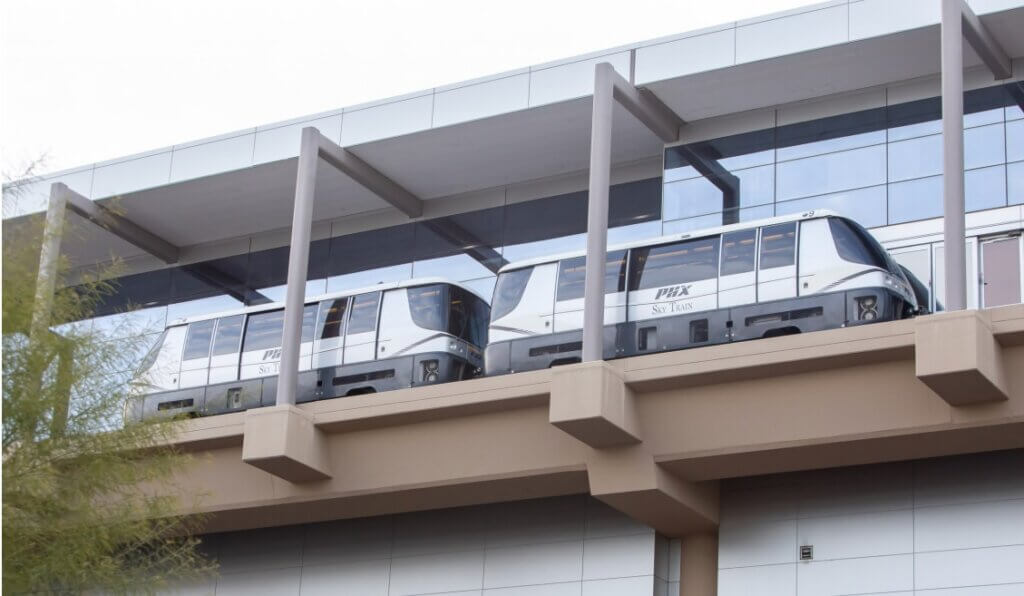 As of December 20, 2022, the PHX Sky Train Phase Two is open for service between Phoenix Sky Harbor Airport and the Rental Car Center. The PHX Sky Train connects passengers between Terminals 3 and 4 with the Rental Car Center 24 hours a day, 7 days a week. It departs every 3 – 5 minutes and is free to ride. Please go here for more information.
The Rental Car Center shuttle buses are no longer running to alleviate traffic congestion at the airport.
3-Day Itinerary Option
If you have an early arrival, an option to compress this into a 3-day itinerary is to first visit the Desert Botanical Garden upon your arrival, as it is very close to the airport. Plan on spending 2 – 3 hours there (and perhaps have lunch at Gertrude's) before continuing your itinerary to the Old Town as outlined below. That is, you do the Day Four activities immediately upon your arrival, followed with the rest of Day One.
Old Town Scottsdale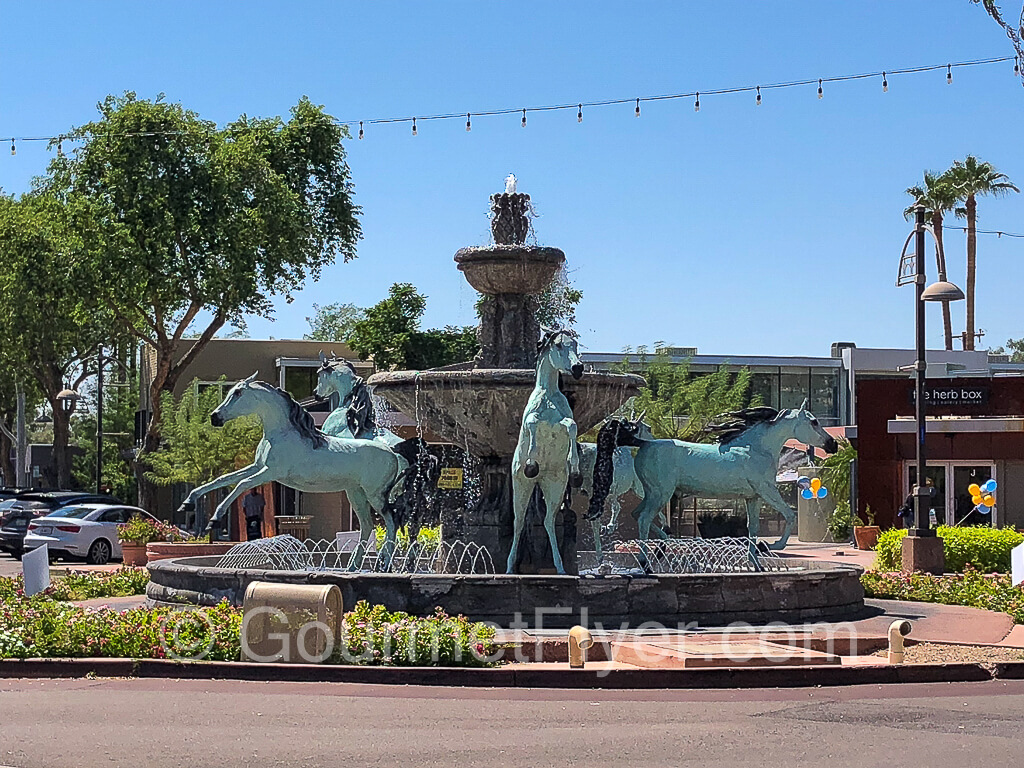 Since we were staying in Scottsdale, it was more efficient for us to first check in to the hotel, drop off our luggage, freshen up, and then head to Old Town. But even if you are staying in Phoenix, Old Town is not that far away.
Scottsdale's Old Town was actually larger than we thought as it was composed of several regions. In the main area of Old Town, which is the area surrounding the fountain and roundabout pictured above, the stores sell mostly merchandise with a Southwestern or desert theme. My wife really enjoyed browsing around the stores and she bought some Arizona stone jewelries. I bought a couple of T-shirts with desert themes.
Depending on the time of the day, there are many cafes, restaurants, and bars to satisfy your thirst and hunger. There are also plenty of happy hours if you happen to be there at the right time.
Dinner at EVO
There is certainly no shortage of amazing restaurants in the Old Town areas, and I had done my research and talked to my foodie buddies prior to the trip. We decided to have dinner at EVO (menu), which was a trendy and vibrant Italian restaurant serving great pizzas, tapas, and entrees at moderate prices. The atmosphere of the place was lively, and the vibes were absolutely chill.
We ordered drinks, apps, pastas, and most importantly, the funghi pizza which was almost out of this World. It was made with leek crema base and topped with a blend of mushrooms that gave the pizza a rich and sweet aroma.
Just a tip for those who have a late-night arrival and are seeking an awesome place for drinks and food – EVO is open till 2am every day!
DAY TWO
Breakfast at OEB in North Scottsdale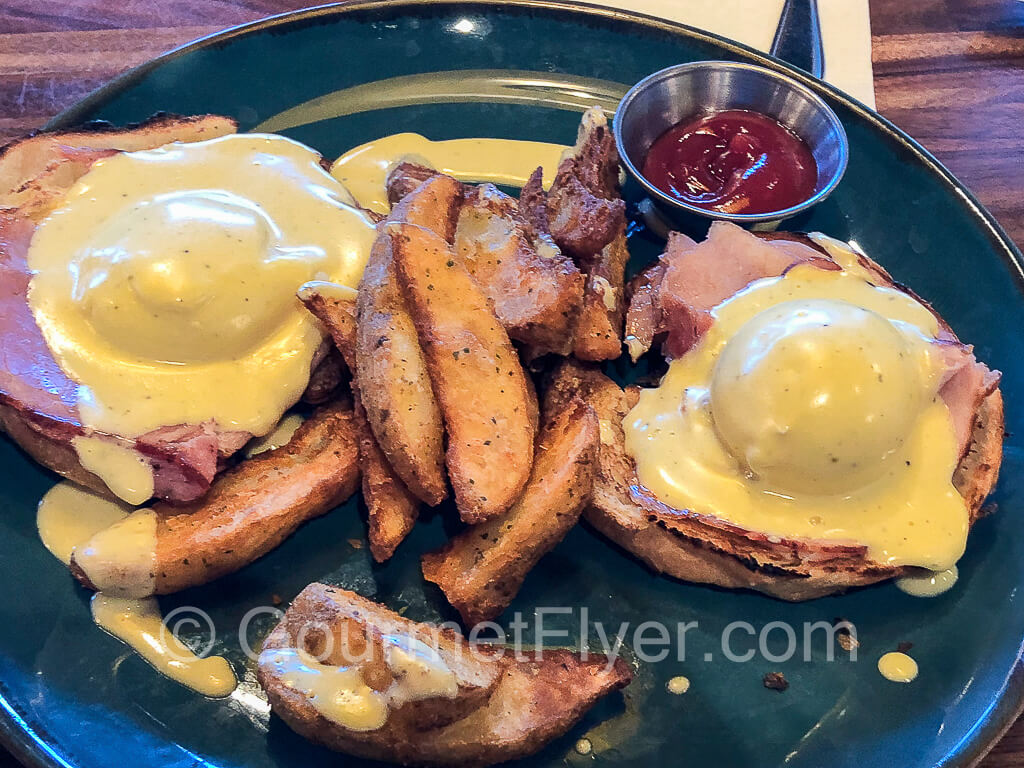 Since we were staying in Scottsdale, OEB (menu) was on our way to the Musical Instrument Museum (MIM), and it was without a doubt the best choice for breakfast. However, as long as your destination is the MIM, OEB should not be too far away, and I highly recommend that you take a small detour to eat there.
OEB is actually from Canada and as of this writing, the Scottsdale restaurant is the only location in the United States. OEB specializes in farm-to-table cuisine with a highly creative and innovative menu. Their duck fat fries were truly as amazing as advertised.
I ordered the traditional Benedicts, and my wife had a breakfast crepe. They were both excellent and made with fresh and high-quality ingredients. The Benny was made with a French croissant, and I found that pretty creative. Their menu is full of adventures and surprises, and I am quite sure that you'll find something that you'll like.
Musical Instrument Museum (MIM)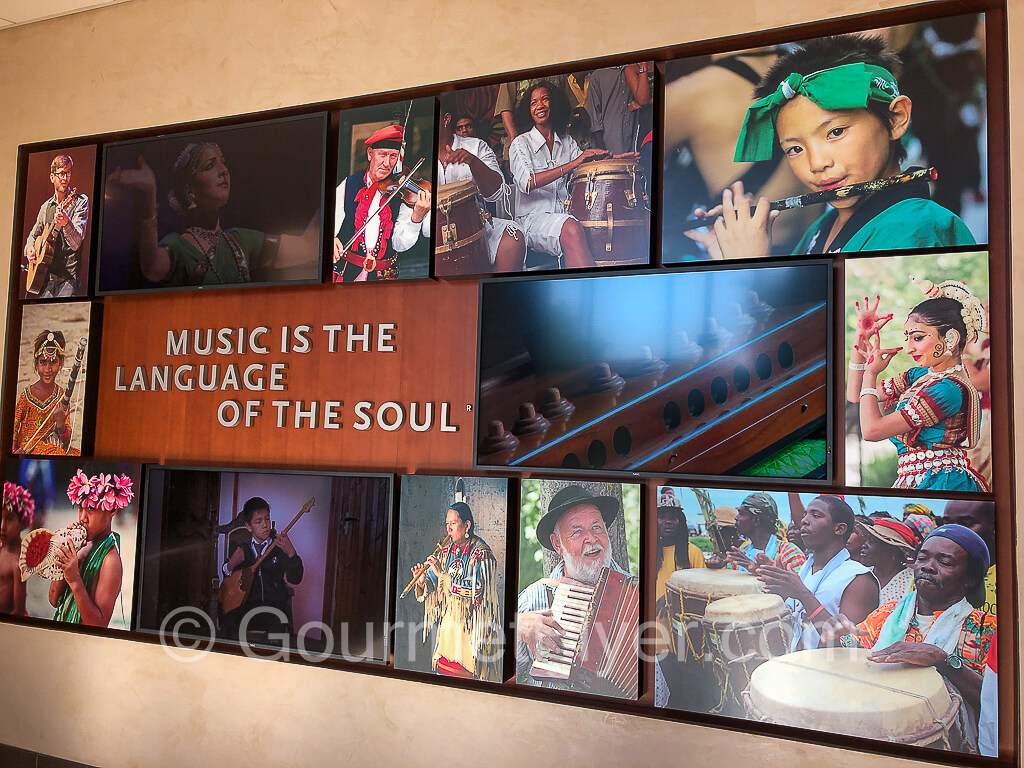 My recommended time is to spend half a day at the Musical Instrument Museum, but I am sure that musicians, music lovers, and many other museum lovers can easily spend an entire day here. So, adjust the itinerary according to your preference.
The MIM literally has every musical instrument around the World on display, and I bet that you have never seen or heard of a lot of them. The coolest thing is that they give you a headset that is activated automatically when you are near any exhibits that have videos and sound. There is no need to adjust anything other than the volume control.
The museum is organized by geographical regions of the World and within each region the exhibits are sorted mostly by countries. Unless you spend an entire day there, you probably won't have time to look at every instrument and watch every video, so you just need to be selective in where you spend your time.
Kierland Commons and Lunch
Kierland Commons is an outdoor shopping and dining complex in Scottsdale that houses mostly high-end boutiques and stores selling name brand merchandise. If shopping is not a priority for you, you can go there for a decent lunch (or dinner if that fits your schedule).
We went to The Mission (menu) that serves amazing Southwestern and Latin food. We had their best-known specialty which was the smoked and slow braised pork shoulder. It was very rich in flavor and was melt-in-your-mouth tender. It was served with pineapple habanero glaze which was sweet and had a slight kick of spiciness. The dish came with tortillas and was large enough to serve two people. We actually had leftovers.
For a Parisian style bistro, check out Zinc Bistro (menu) for authentic French cuisines like croque Monsieur, bouillabaisse, duck confit, or steak frites. For traditional Italian cuisines with a contemporary twist, give North Italia (menu) a try. They are well-known for their pasta that are made freshly in house and their hand-crafted pizzas.
If you just want something quick and simple, grab an awesome burger from the legendary Shake Shack from New York.
Go here for a full list of their restaurants.
Scottsdale Fashion Square
My dear wife wanted to do some shopping and I thought it was a good idea to explore Scottsdale Fashion Square, which was a literally huge complex with numerous stores that appeal to every budget – from H&M or Forever 21 to Cartier or Gucci and everything in between.
It has a large food court with great selections of fast food, and there are also many moderately priced casual dining options. But if you want to splurge a little and spoil yourself, there are a few upscale restaurants as well.
Dinner at Francine
Francine (menu) is located in the Crystal Court of the Fashion Square, which is the area where all the high-end stores are located. The restaurant is right next to the exit near Christian Dior and Coach.
Francine was the product of French chef Laurent Halasz who was best known for his creation of Fig and Olive. Francine had a bright and cheerful interior with a contemporary ambiance and lively vibes. They served mostly French cuisines with a Mediterranean twist.
Prices were moderately high, but the top-notch quality of the food and attentive service certainly justified the premium. A dinner for two cost around $100 – 200, depending on what you order, and how many drinks you have.
Steak frites was their most popular dish but we wanted to try something different. My wife ordered the crab ravioli, and I had the duck. They were both amazing!
For more dining options, please visit:
20 Best Moderately Priced and Fine Dining Places to Eat in Phoenix and Scottsdale
DAY THREE
Heard Museum
The Heard Museum is the place to go to appreciate and to learn about American Indian art as well their culture and heritage. The museum showcases both traditional and contemporary Indian arts, both of which reflect the lives of the tribal communities, as well as the Southwestern flavor of Arizona.
Lunch at Tru Burger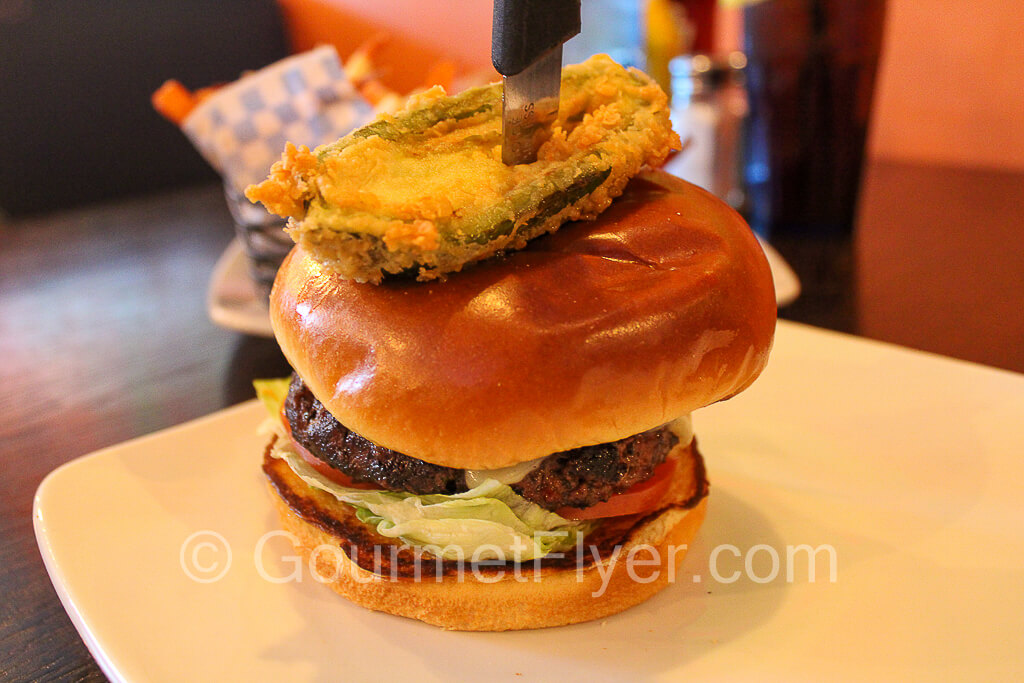 Just a 5-minute drive from the Heard Museum is one of my most favorite burger restaurant in the area. If you are a burger lover, take my word for it and just go to Tru Burger (menu) and thank me later!
I ordered a Whiskey BBQ burger, and my dear wife had the jalapeño burger (pictured above). They were both very good. I had a taste of my wife's burger and I absolutely loved it. The jalapeño gave a perfect kick of heat and spiciness to the burger that we both really enjoyed.
Phoenix Art Museum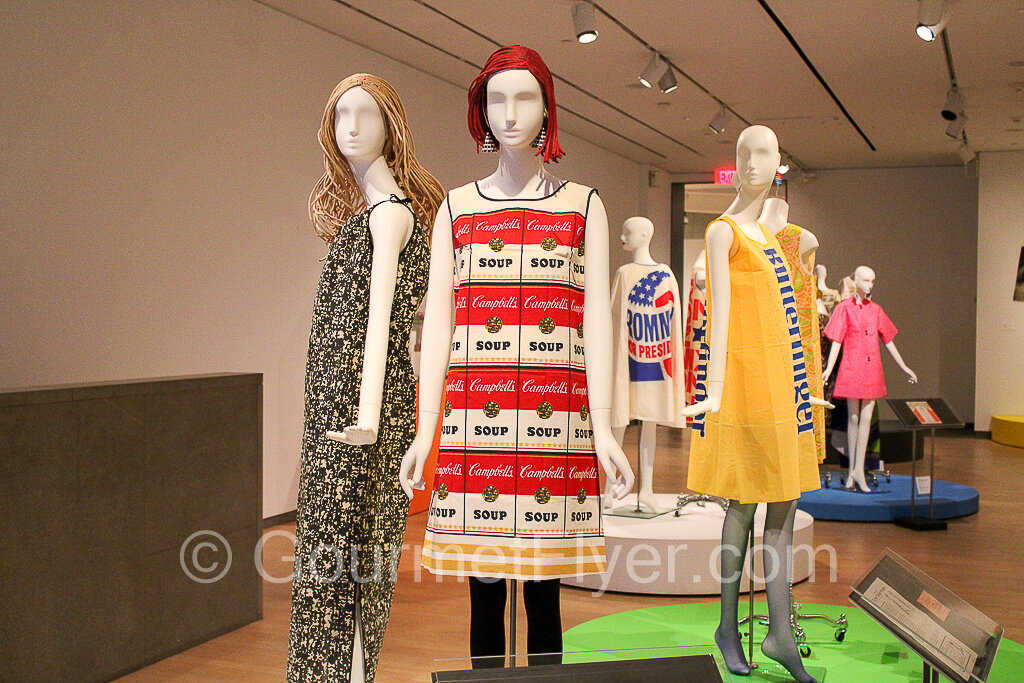 A short 5 to 10-minute drive on North Central Avenue was the Phoenix Art Museum, and logistically, this was the most efficient way to see both of the major museums in Phoenix.
The museum had a large collection of European, American, and Asian arts and I particularly enjoyed the Western region which showcased paintings with a Southwestern flavor. I also liked the fashion galleries.
The museum has two wings, and the navigation could be somewhat confusing. Be sure to check out Yayoi Kusama's infinity mirror room titled Fireflies, which is located on the third floor of the Katz (contemporary) Wing.
Roosevelt Row and Dinner at Trapp Haus BBQ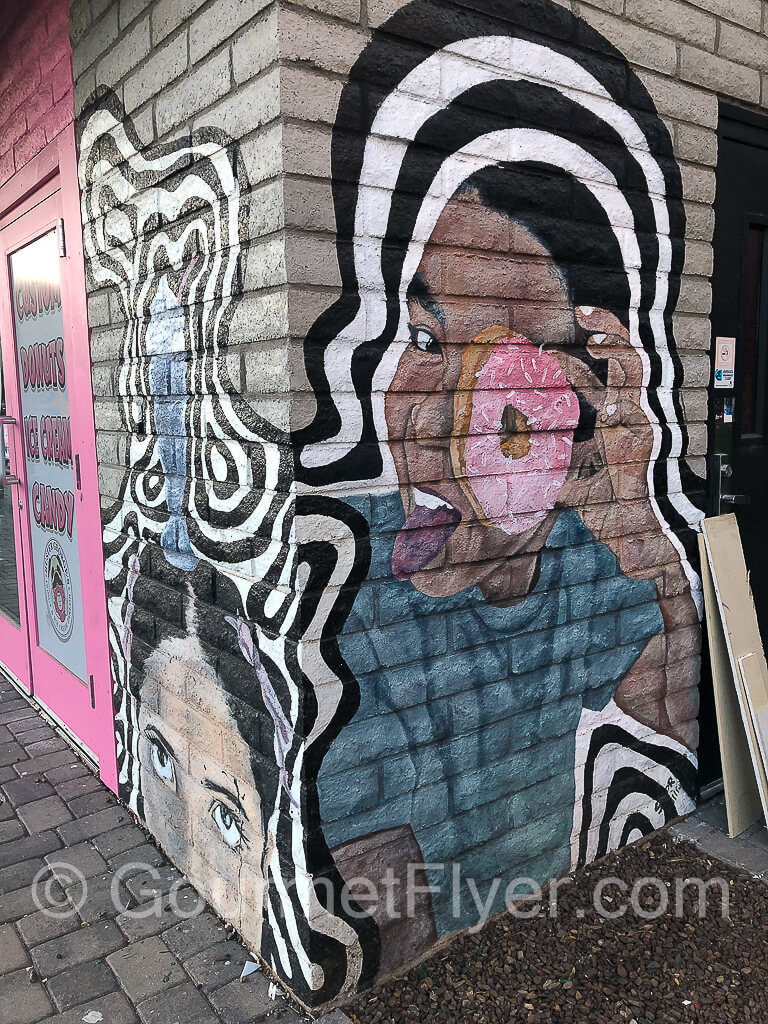 Roosevelt Row was just a short 10-minute drive from the museum and was the perfect place to have a drink after a full day of museum touring. Roosevelt Row is a vibrant area full of street arts, boutiques, bars, and restaurants. It wasn't too busy when we first got there early in the evening, but the place got more and more lively as the night progressed.
There are plenty of dining options there but if you want to get some of the best BBQ meats ever, go to Trapp Haus BBQ (menu). We ordered a rack of ribs and half a pound of brisket, and it was just enough food for us. The meats were so flavorful and delicious that it was one of my most memorable BBQ experiences. The meat from the ribs fell off the bones and the brisket were melt-in-your-mouth tender.
DAY FOUR
Desert Botanical Garden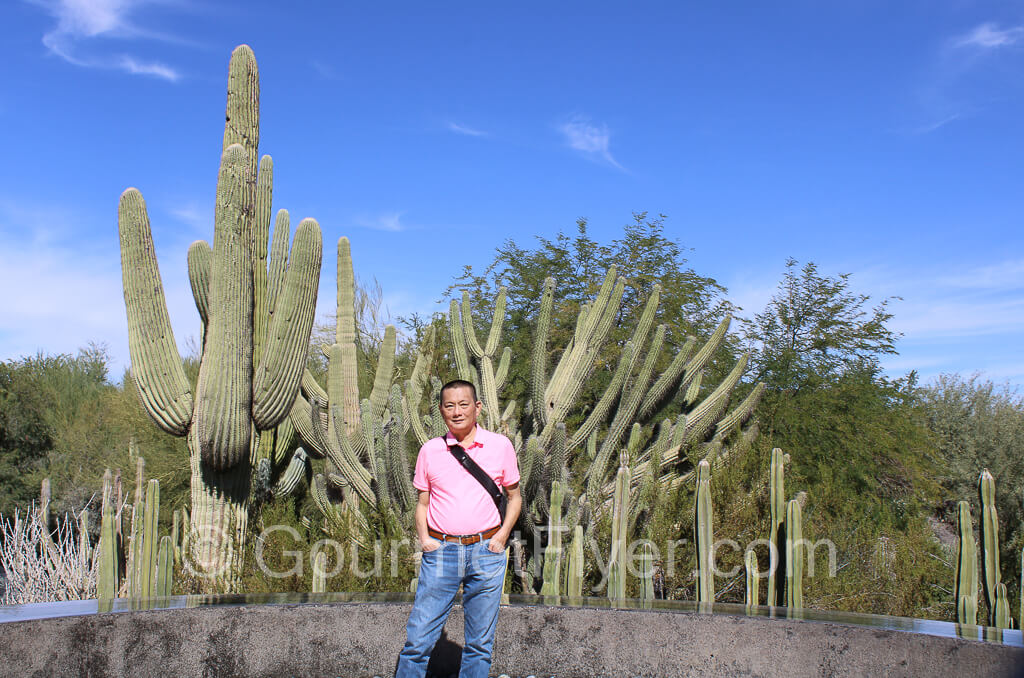 I saved the botanical garden until the day of departure due to its proximity to the airport. It is literally a 15-minute drive from the Rental Car Center. We had a late afternoon flight, so it was the perfect choice for us to explore the garden for half a day, have lunch there, then go to the airport.
The Desert Botanical Garden was not only the best place to explore the Sonoran Desert and its hundreds of cactus species, but it was also a conservatory of wildlife habitats. While you are there, be sure to check out the Butterfly Pavilion.
For a limited time only, from December 3, 2021, through June 19, 2022, you get an extra bonus – Chihuly in the Desert. The World famous Chihuly glass sculptures will be on display alongside the garden's iconic plants, making the landscapes most inspiring, stunning, and memorable ever.
Lunch at Gertrude's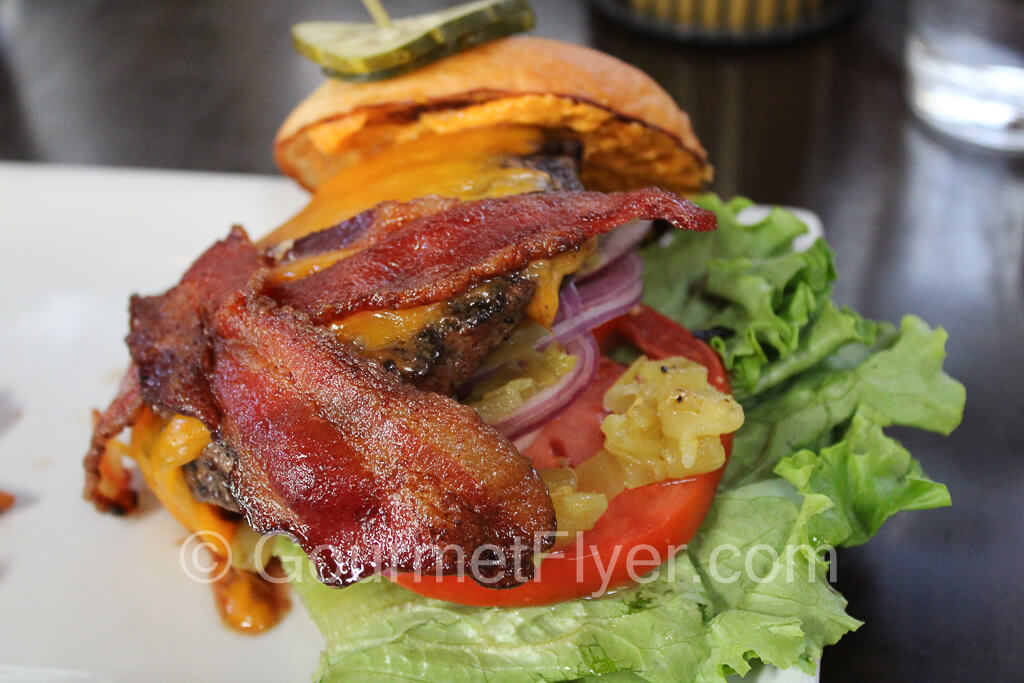 We chose to have lunch at Gertrude's (menu) inside the botanical garden not because of convenience, but because it served the most awesome burger. If you are a burger lover, ordering is simple – get the green chili bacon cheeseburger with everything on it. The green chili added a Southwestern dimension to the flavor and made it the perfect burger.
Another variation of the itinerary is to have breakfast or brunch at Gertrude's first before exploring the garden.
As mentioned in Day One above, if you have an early arrival, you can compress this into a 3-day itinerary by visiting the Desert Botanical Garden (and perhaps dining at Gertrude's) first upon your arrival. This will cut your trip short by a day, or perhaps save you an extra day for a daytrip to Sedona or other nearby attractions.
CONCLUSION
There were a lot more things to do in Phoenix and Scottsdale than we had originally expected, and a 4-day itinerary could not really cover everything. But 4 days were good enough for us to see the major highlights. I recommend that you organize the things to do based on your interest and priorities and be selective in the process.
Nobody could write the perfect 3-day or 4-day Phoenix and Scottsdale itinerary for you, but I hope that my itinerary here can serve as a guide and a template to customize your personal plan and make your upcoming trip the most enjoyable and memorable ever.
For more dining options, please visit:
20 Best Moderately Priced and Fine Dining Places to Eat in Phoenix and Scottsdale