Updated May 2, 2023
Chania is such a quaint, picturesque, and charming town that it is difficult to place an ideal number of days to spend there. My wife and I were there recently for four days, and we felt that we could easily have spent another week there by the time we left. For those who love cultural explorations, you will discover a city that is rich in history and architecture between its Venetian and Turkish eras.
For those who love to spend time on beaches and sand, the crystal-clear water of the Aegean Sea surrounding Crete makes it a popular site for swimming and snorkeling. There are so many things to do in Chania that my recommendation is to spend a minimum of two days there.
As far as food is concerned, this charming town is not only a seafood lover's dream come true but is indeed any foodie's paradise. This is true especially if one has an adventurous appetite or a taste for Mediterranean or traditional Greek cuisines. I will help you explore some of the best places to eat as well as some exciting local cuisines as we move along this Chania itinerary.
Table of Contents
DAY ONE
Explore Old Town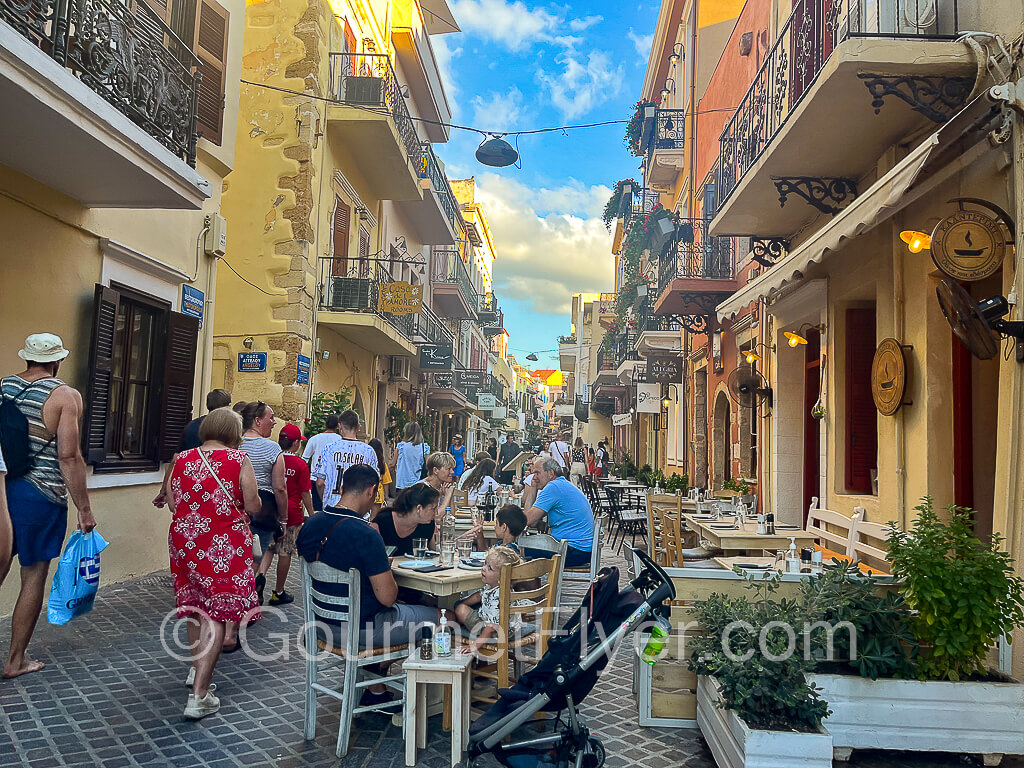 Most visitors to Chania stay near either the Venetian Harbor or Old Town, both of which are within walking distance to each other, as well as many major attractions. Personally, I enjoy staying near the Venetian Harbor and with a waterfront view. If you are staying in Old Town or near the Harbor, note that many streets are pedestrians only and are closed to vehicular traffic. If you are taking a taxi, the driver will drop you off at a nearby location such as Talo Square on the west end of the waterfront, or Chania Port parking on the east end.
Old Town consists of a maze of intertwining alleys, many of which are lined with dining tables from cafes or tavernas. The architecture of the buildings reflects a blend of rich Venetian and Turkish culture and history. Stores along the alley sells a wide variety of merchandise, from souvenirs to boutiques, from apparels to jewelry.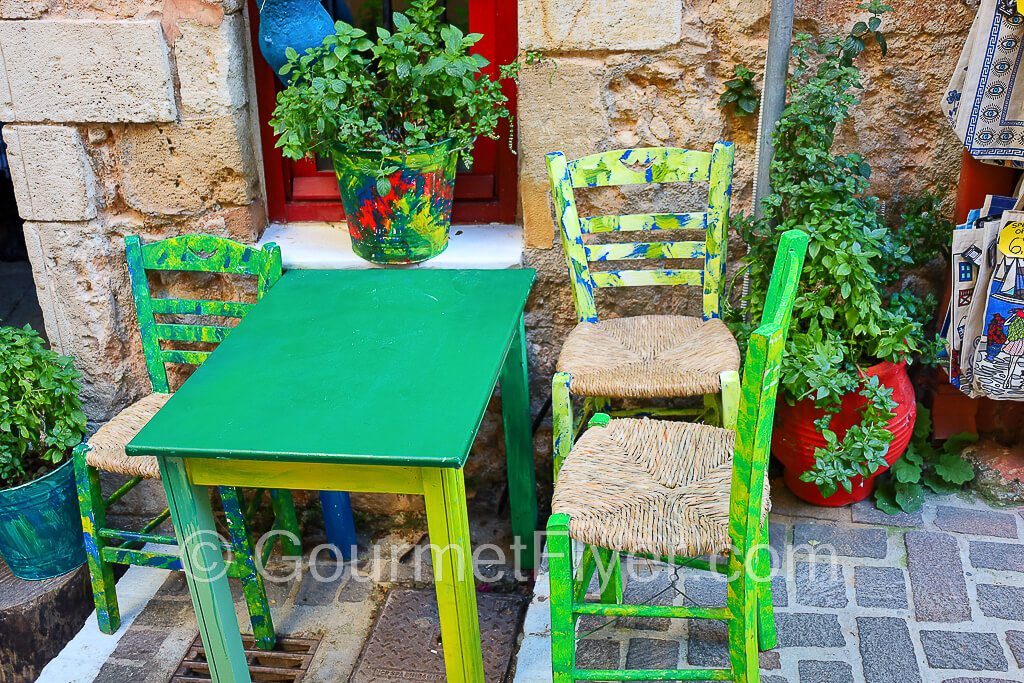 The busy and vibrant alleys are also punctuated with art stores and galleries. There are also many artsy displays along the way – some are more prominent while some are quite subtle – so be sure to keep an eye out for them.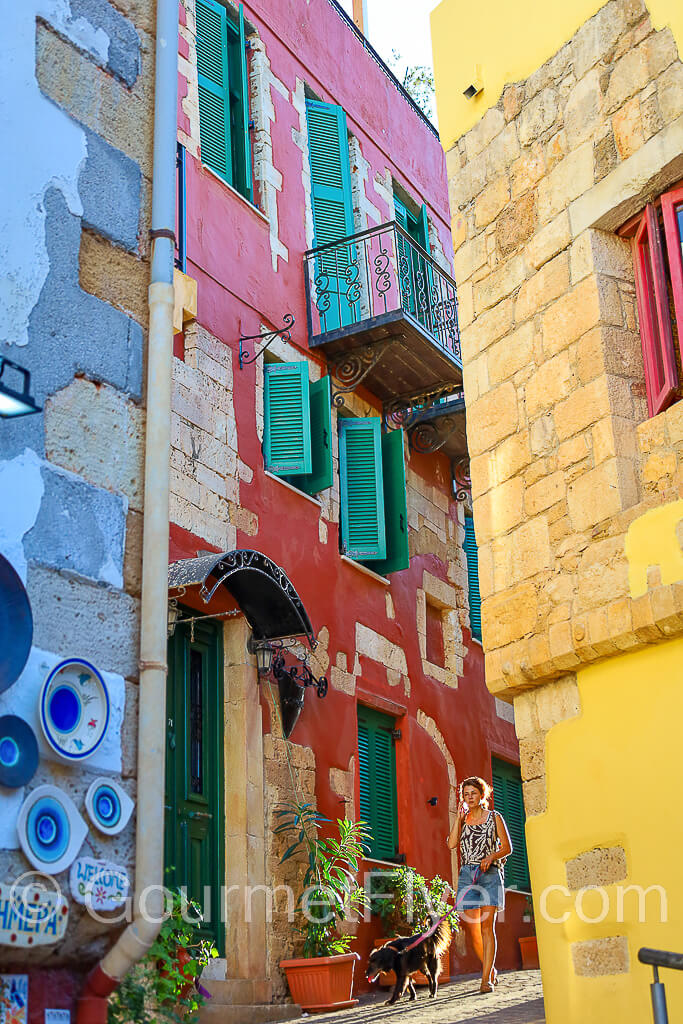 The quaint and colorful buildings of the Old Town is a photographer's dream come true. There are numerous Instagram-worthy photo ops in every alley and every corner along the way. Sometimes you just need to have an eye for that special moment or perspective.
Byzantine Walls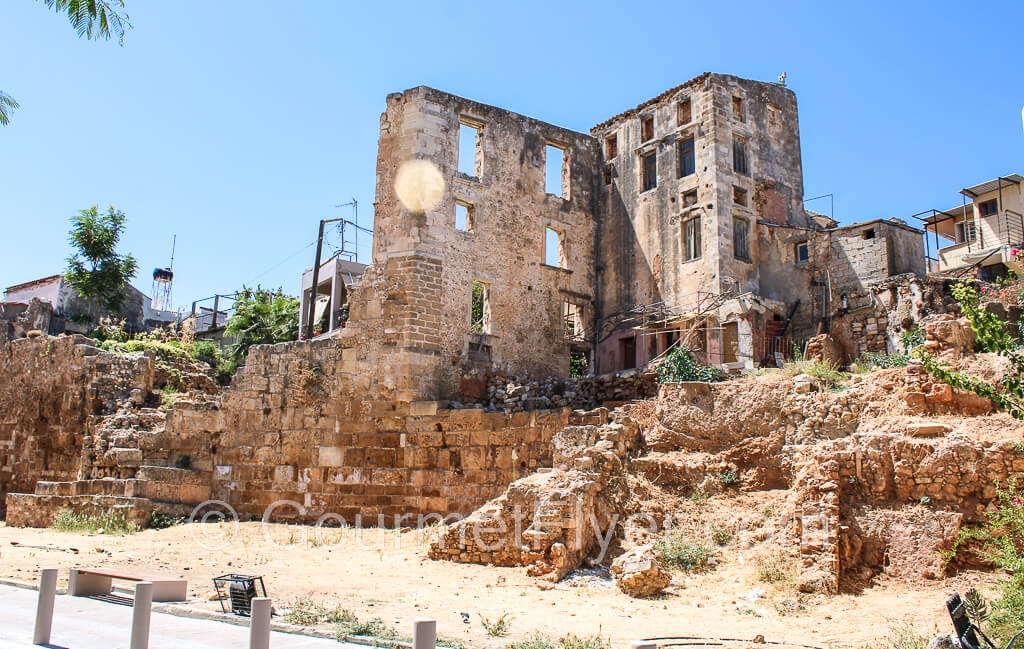 The direction of our path today depends on where you are staying. The path shown here assumes that you are staying near Talo Square, the west end of the harbor. If you are staying near the east side, just reverse the direction of the route.
Our next destination is the Byzantine Walls, which extends along the main road called Karaoli Ke Dimitriou. There are plenty of side streets along the way and on this main road as well, so feel free to take a detour to do some shopping, snacking, or drinking.
If you have time, you also have the option to spend half an hour in the Folklore Museum of Chania. It is a small place, but it is rich in Greek history and traditional arts. Admission as of this writing is 3 Euros per person.
From the museum, follow the map above and head to Karaoli Ke Dimitriou where you will see the remains of the fortification. The Byzantine Walls, also known as the Inner-City Walls, were the first fortifications of the city built during the Byzantine Empire. When the Venetians took control of the city and built stronger and better walls in the 16th century, these walls became obsolete. The majority of the walls have been replaced by the buildings that you now see in Old Town. What is left are the remnants of the wall scattered along various segments of the main roads.
Venetian Harbor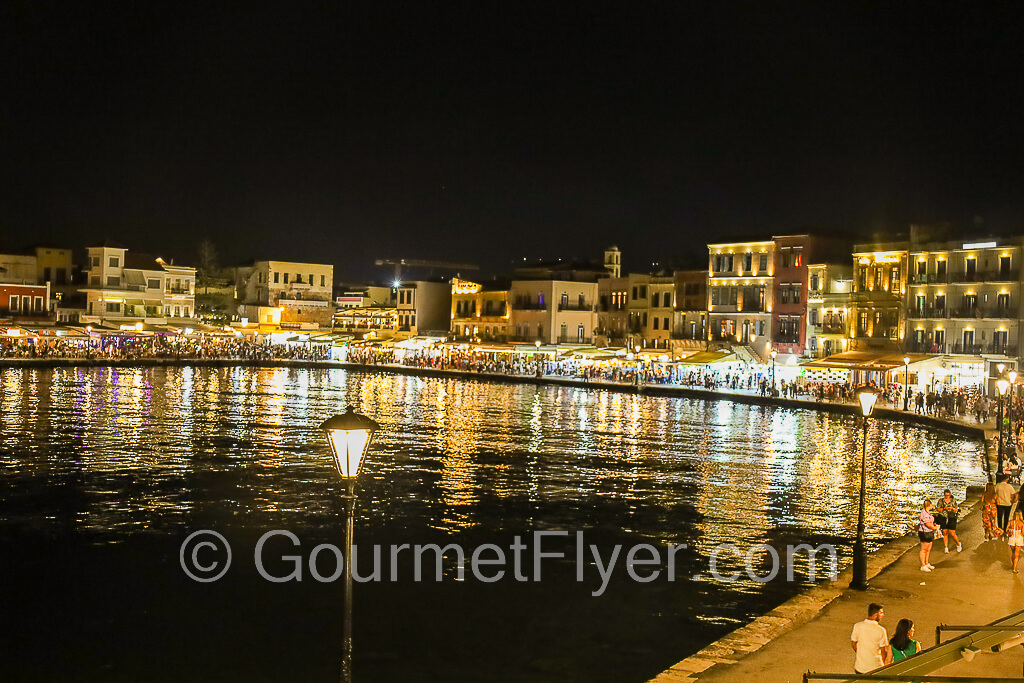 The Venetian Harbor Waterfront is my most favorite part of this charming town. To me, the waterfront is vibrant yet romantic, lively yet relaxing. The harbor is huge – much larger than the one in Rethymno – and it does not feel crowded even with a few thousand people scattered all over the place.
There are numerous photo-ops from every angle and every location, and you have a different perspective of the lighthouse from the east side versus the west side of the harbor. If you still have time before dinner, feel free to venture out to the lighthouse, but be warned that the breakwater is completely pitch black at night so time your walk safely. For this itinerary, we'll save the hike for the next day.
Boat Tour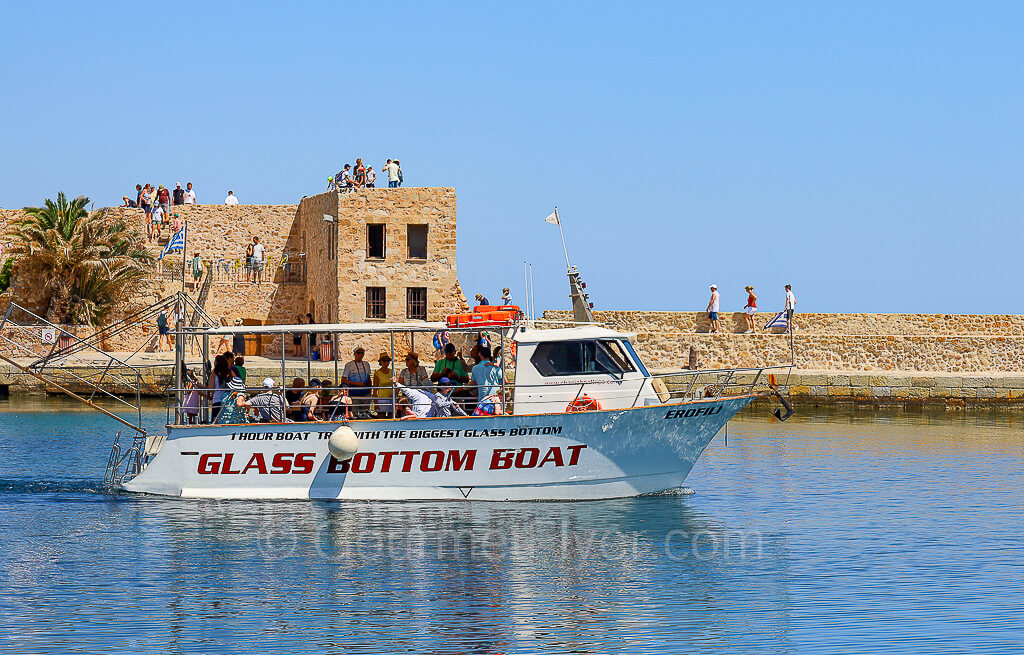 While you are at the harbor, check out one of the several boat tours that are available. A one-hour glass-bottom boat tour lets you explore the island's sea creatures such as fishes, shells, and octopus. You will also get to see the wreckage of a fighter plane from the German Air Force that was shot down during World War Two. There are also a couple of stops along the way which gives you the opportunity for a quick swim.
A two-hour sunset cruise stops at Lazaretta Island and gives you about 90 minutes to swim, snorkel, and explore the sea life under the pristine waters. On your way back, enjoy a glorious sunset and marvel at the beauty of the shoreline as dusk falls.
Those who want to spend more time at sea can join a 3 or 4-hour catamaran tour which offers two decks of seats and plenty of time in the water. All tours are guided by an English-speaking guide. Most operators offer free snorkeling equipment. Some also offer picnics, fresh fruits, and beverages.
Dinner
Dinner by the waterfront of a Greek Island always has its own magical atmosphere and charm that is hard to duplicate anywhere else. From Fira to Oia in Santorini and from Rethymno to Chania in Crete, these are places where some of our most memorable dinners were savored.
A memorable Cretan dining experience is an important highlight of this Chania itinerary. As you scroll along the waterfront, you'll see literally dozens of restaurants offering a wide spectrum of cuisines at various budgets. Sometimes it could be a daunting task just to figure out where to have dinner! Let me help you narrow down your choices by sharing some of my personal dining experiences with you.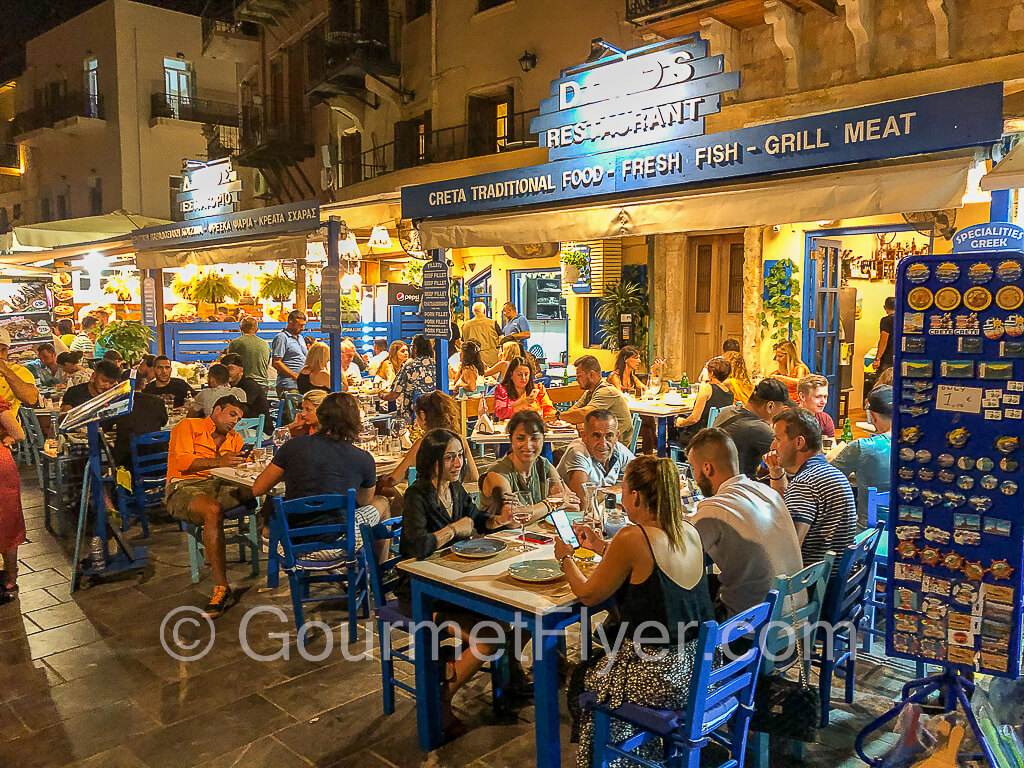 Dimos Restaurant (directions) is a casual family restaurant serving mostly traditional Greek and Cretan cuisines at moderate prices. Many Continental dishes such as pizzas, pasta, steaks, and chops are also available. They also have one of the best fish soups in the city. For appetizer, I highly recommend the Greek favorite shrimp Saganaki. The shrimps are cooked in a rich tomato sauce with their heads on, which brings out the intensely rich flavor. I had a steak with black pepper sauce the night we were there, and it was great too.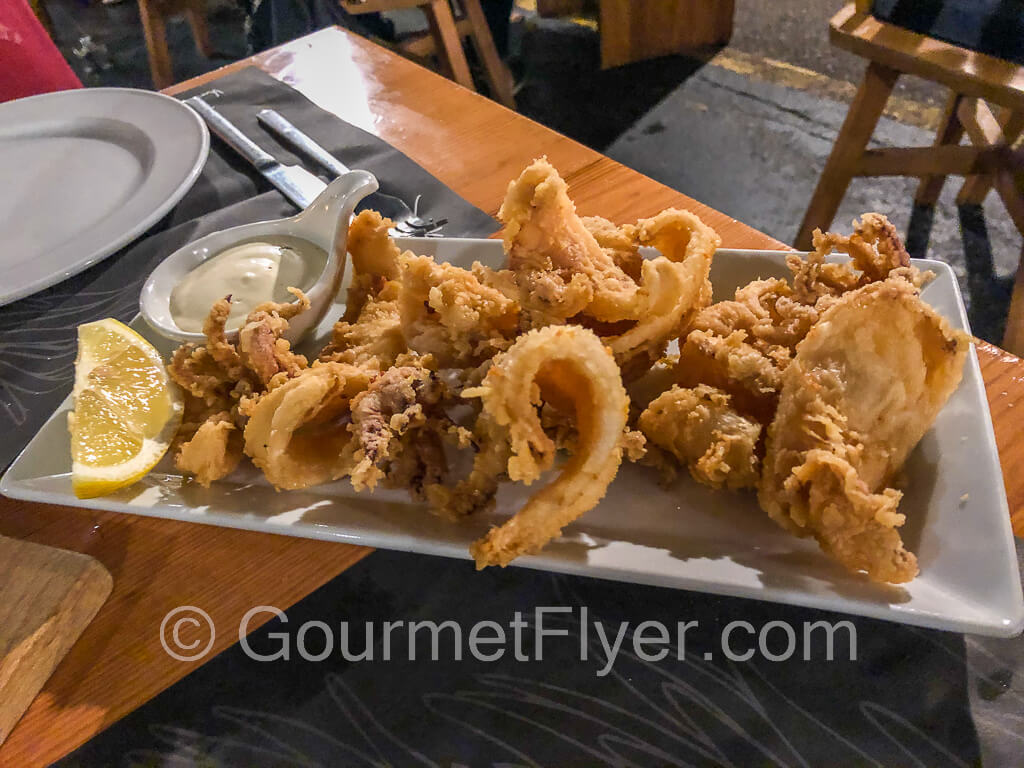 Arismari (directions menu) offers a fusion of traditional and creative Cretan cuisines. Its menu is on the trendy side and focuses on fresh local ingredients and flavors. The servers will also inform you of any chef's specials, which change daily. For apps the calamari are really good. The night that we were there we also had a skewer which was the special app of the day. For meat entrees I had the kebabs (lamb and pork) and they were good. Another local favorite is the slow cooked lamb. For seafood, try their grilled octopus which is a Greek Island's specialty.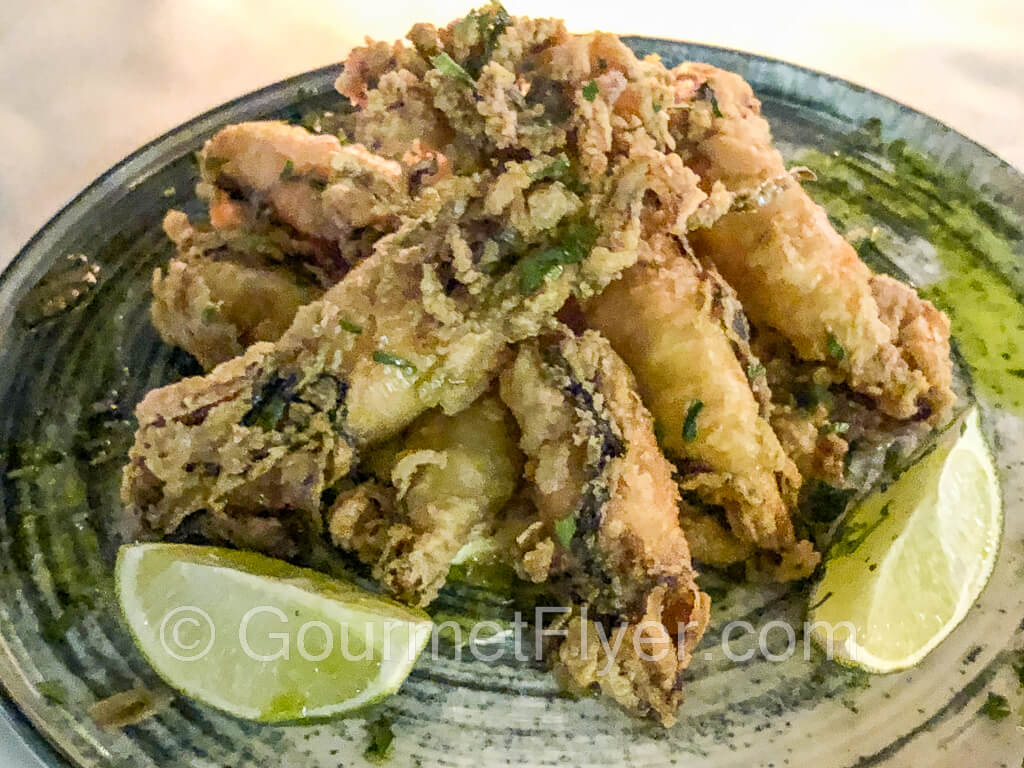 Remezzo (directions menu) is a lively bar and restaurant that offers a large selection of cocktails. They offer mixed grill platters and seafood platters that are great for a family or group to share. Their calamari app is somewhat unique that they are fired with leek straws and served with a garlic lemon olive oil sauce. I also tried their beef stew, and the meat was tender and flavorful. Other traditional favorites include moussaka baked in clay pot and pan-fried tagania. A large selection of pizza and pasta are also available.
DAY TWO
The order of day two's Chania itinerary depends on where you are staying and your starting point. This particular itinerary assumes that your starting point is on the east side of the harbor and in which case, we'll start with the lighthouse and end with the Firka Venetian Fortress. If you happen to start from the west end of the harbor near Talo Square, simply reverse the direction of the route.
Chania Lighthouse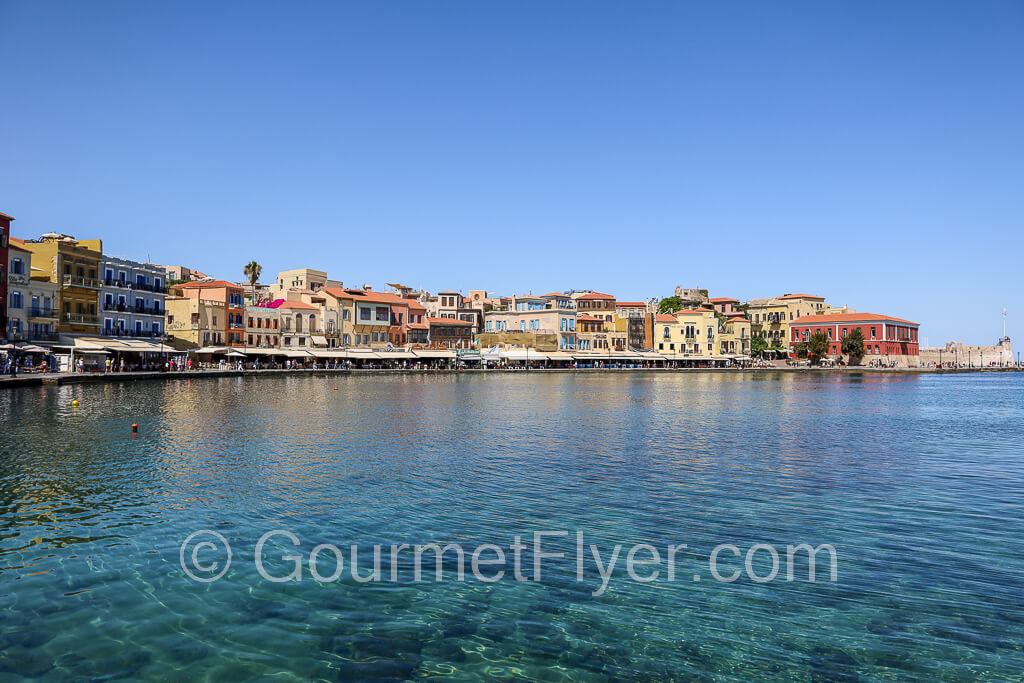 Your hike to the lighthouse is pretty much a walk on the breakwater but at different levels along the way. Some paths are very narrow, and some stairs are very steep so wear sturdy hiking/walking shoes and watch your steps. The entire walk is very scenic and offers you a different and panoramic perspective of the harbor from the water looking in. You will also walk through many great photo-ops as well as remnants of ancient fortifications.
This is a very relaxing and refreshing walk and you can feel the cool ocean breeze even in the hot summer months. You can walk as much or as little as you like. There are plenty of spots throughout where you can just sit and relax and soak in every magical moment that the Venetian harbor has to offer.
Lunch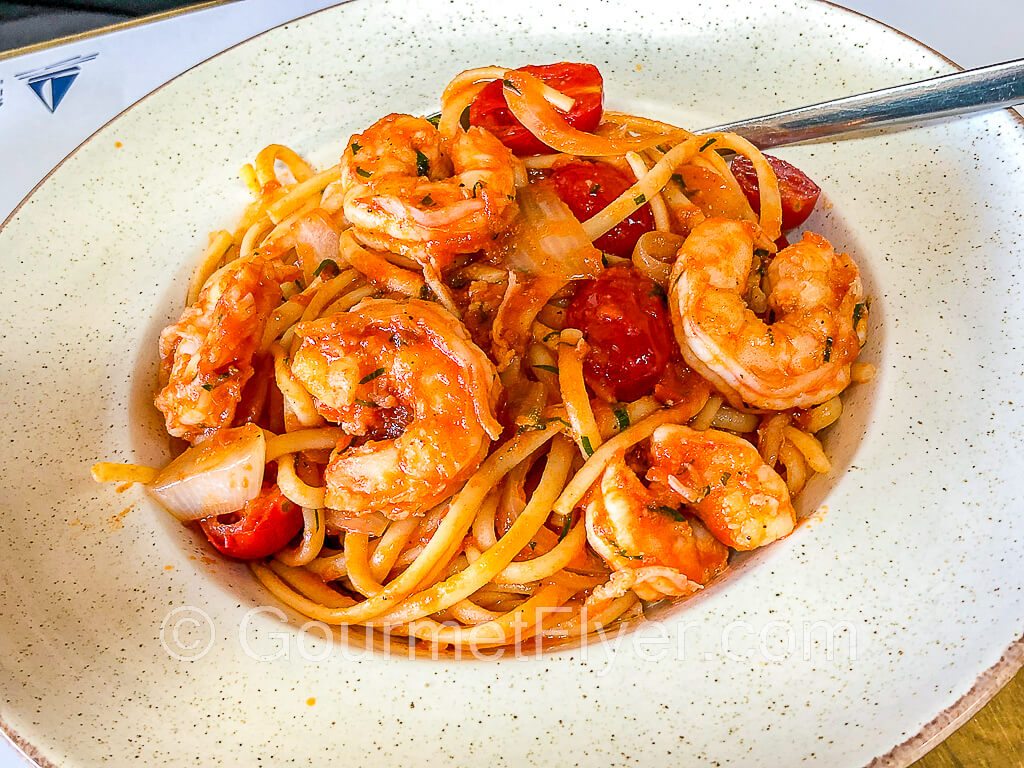 If you are having lunch after your hike to the lighthouse, the Sailing Club Sea Lounge (directions) is a perfect location to take a break, rest your feet, and recharge your battery with a hearty meal. You can sit outside by the waterfront or inside the warehouse-like interior which is very spacious. Although there is no air-conditioning, the high ceiling and the fans make the temperature much cooler than the outside during the hot summer months.
They have a huge selection of coffees and espressos, so it is also a great coffee spot any time of the day. Typical lunch menu items include burgers, club sandwiches, pizzas, and pastas. I particularly like the shrimp with linguini. The shrimps are very fresh as one would expect from a Greek island in the Cretan Sea. The vodka tomato sauce is rich in flavor and delicious.
TIP: They also have a large selection of beers and cocktails, so this is also a great spot to have a drink before or after your hike to the lighthouse if you are going from west to east and the lighthouse is your final destination of the day.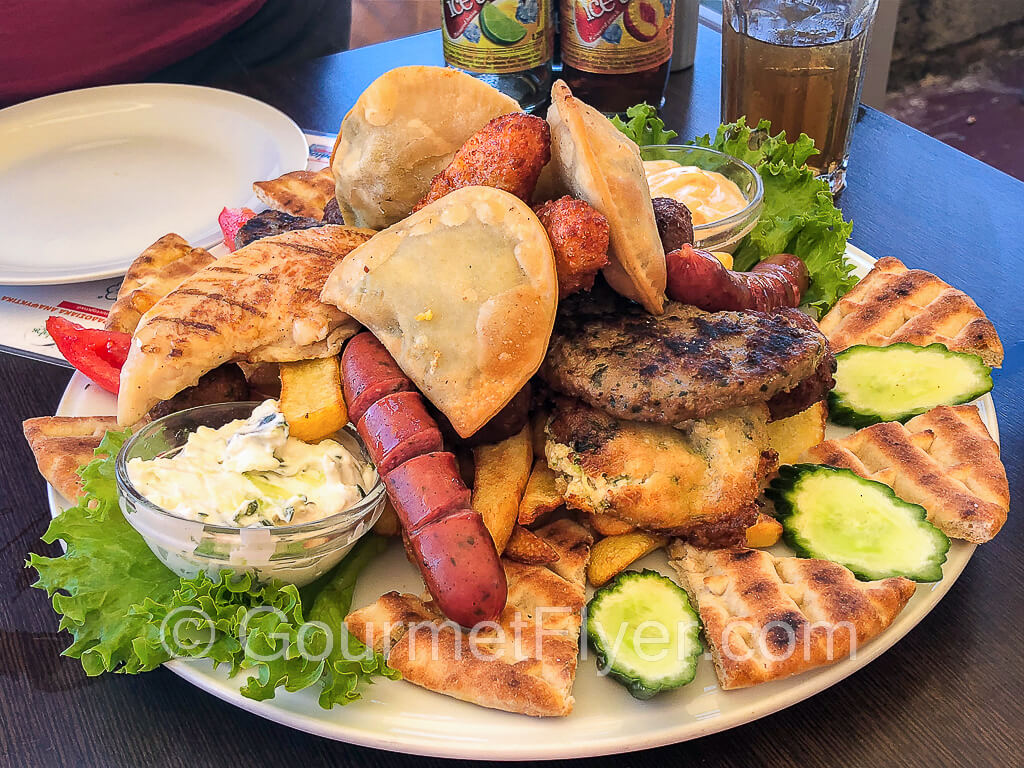 If you want to have lunch on the west side of the harbor, either before or after the Red Bus tour, then Pentagono (directions) offer both excellent food and a perfect location – right across from the Red Bus terminal. Other than the usual lunch favorites of burger, sandwiches, and salads, they also have a nice selection of traditional Greek entrees. Try their moussaka, gyros, and kebabs.
My wife and I shared a mixed plate (pictured above) which consists of sausages, meatballs, burger patties, chicken, cheese croquettes, zucchini balls, kalitsounia (a Cretan cheese pastry), tzatziki, and French fries. We finished maybe a little over half of the platter so this can easily feed 2 – 4 people. All these foods for only about 18 Euros which is a good deal. And most importantly, they are good!
Red Bus Tour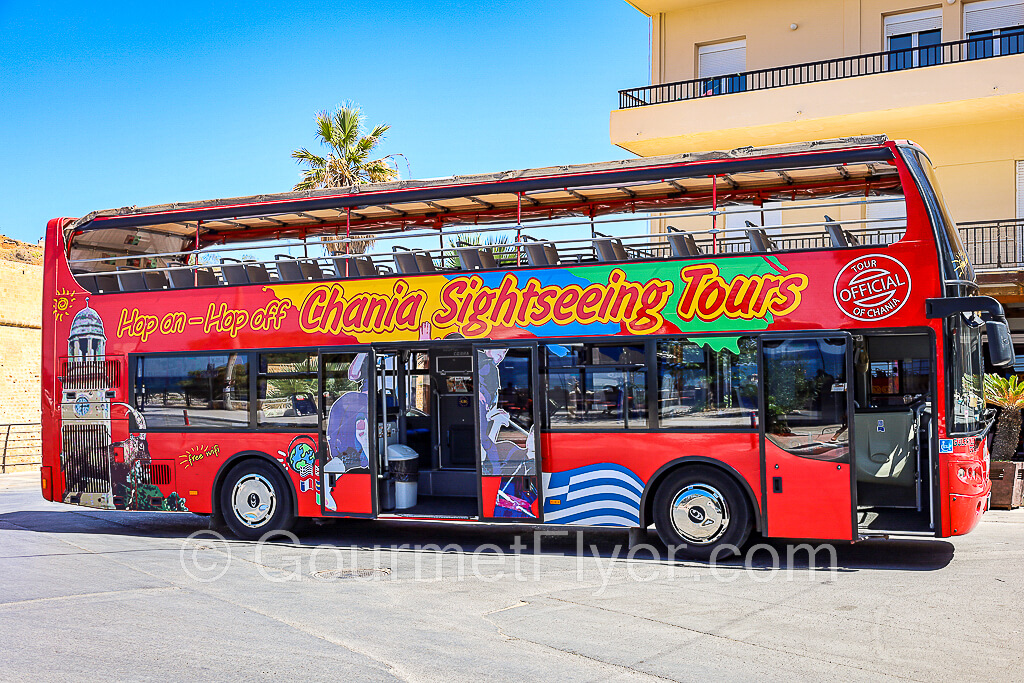 The red bus is officially called the Chania Sightseeing Tour and is a hop-on hop-off bus tour. The main terminal is just a short walk from Talo Square and directly across from the Pentagono Restaurant mentioned above. As of this writing, the entire tour takes about 90 minutes and there is a bus every 40 minutes. Cost is 15 Euros per person. This is the best and most economical way to see the entire city without a car.
There are several stops along the way that is worth getting off the bus for. Each attraction can be completed within 40 minutes to let you catch the next bus. Some of my suggestions are Splantzia (Old Turkish neighborhood), The Holy Temple of St. Magdalene, and the War Cemetery. If you would like to complete the rest of this Chania itinerary, you will return to the main terminal and walk toward the Firka Venetian Fortress.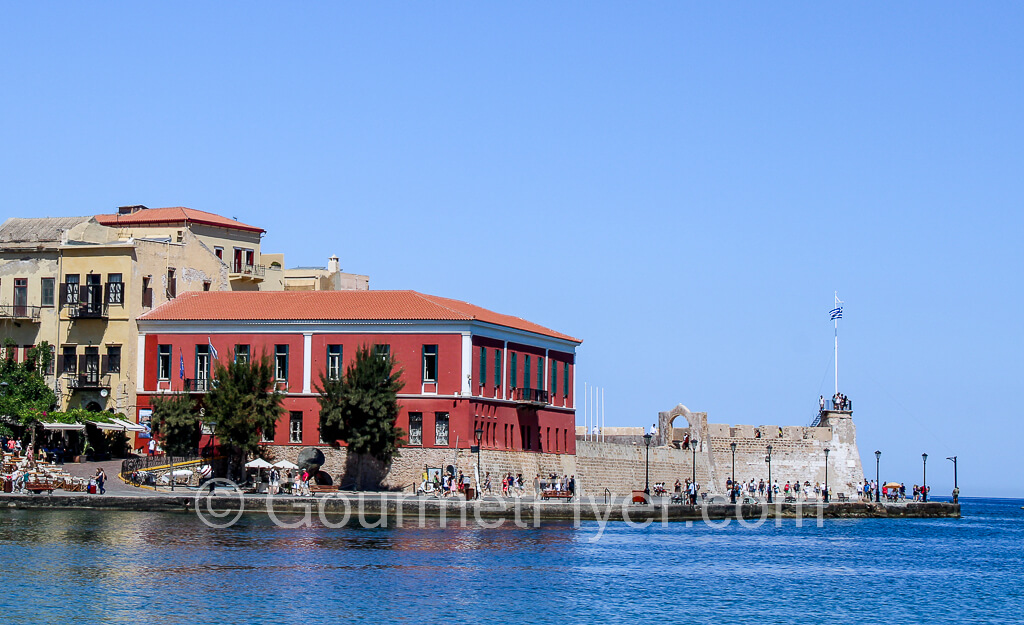 Firka Venetian Fortress
Enjoy the breathtaking view of the harbor from a different perspective while exploring the history of Chania. Here you will see the ruins of the original Firka Fortress built by the Venetian in the 1600's to protect the harbor. From the picture here (above right) you can see why it is in the perfect position to protect the entrance to the harbor. This is one of various fortifications located throughout the city.
Maritime Museum of Crete
The Maritime Museum of Crete is the brick red building immediately next to the Firka Fortress. It is a small museum and as of this writing, admission is only 4 Euros per person. However, don't underestimate the museum by its size. It is filled with nautical memorabilia as well as maritime history from the BC era through World War II. There are also plenty of exhibits and documentations of the Greek Navy. History lovers can easily spend one to two hours here.
Dinner
For authentic Cretan cuisines and the best Mediterranean barbeque off the beaten path, To Antikristo (directions) is always a top choice. The only downside is that you need a car to get there. The roasted pork and lamb seem to be everybody's favorite. This is a hidden gem that serves the best food with the freshest ingredients and extend the warmest Greek hospitality. Reservation is a must during the summer months and can be made online through their website.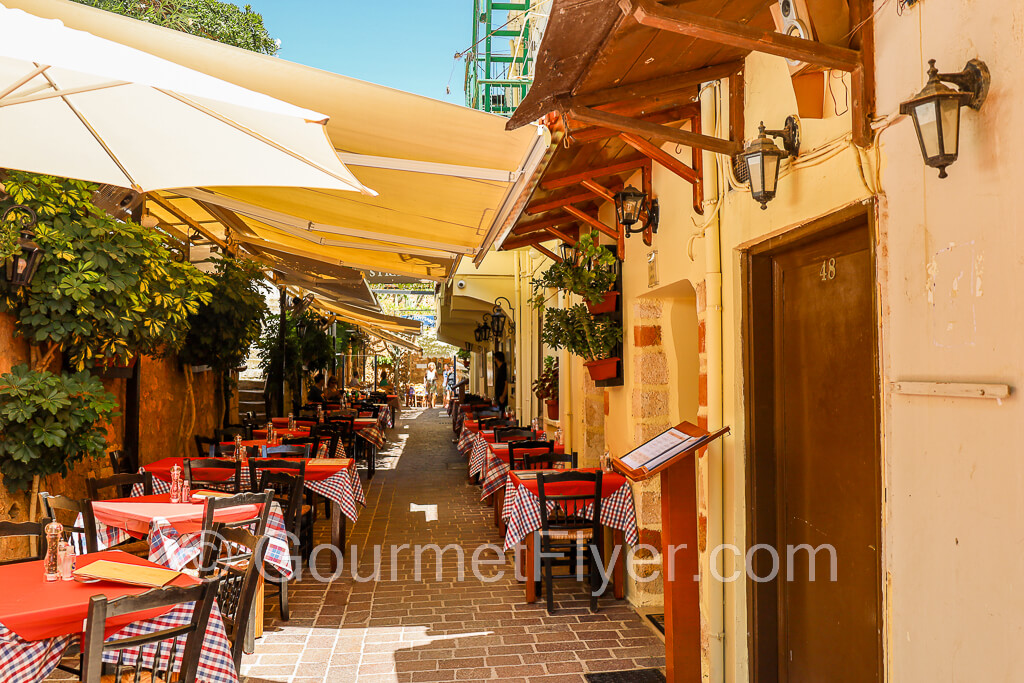 Have had enough of the waterfront and would like a change in scenery? Tavern Strata (directions) is one of the best places to eat a casual but romantic dinner while exploring the back streets of Chania's Old Town. The restaurant is a hidden gem away from the hustle and bustle of the harbor. It exudes an intimate atmosphere while dining in the narrow alleys of Old Town. It is best known for traditional Greek favorites such as moussaka, shrimp saganaki, souvlaki, and grilled octopus. Portions are large. Prices are moderate.
Moutoupaki (directions) is another great restaurant hidden in a quaint area of Old Town. It is a cozy and friendly taverna perfect for casual family dinners at moderate prices. They offer pretty standard traditional Greek fares but also has a mixed Greek platter if you want to try different things. Their best-known meat dish is the slow-cooked lamb kleftiko served in a traditional clay pot, and the very tender beef stifado cooked with tomatoes in a rich wine sauce.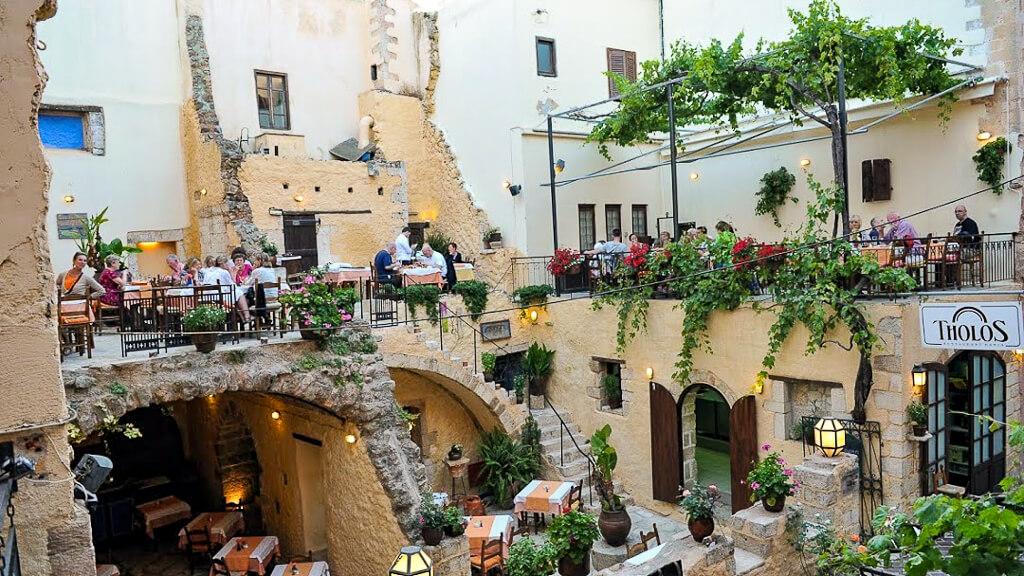 Tholos (directions) is built on the remains of a Venetian building and its historical settings reflect a unique and somewhat magical ambience. With multiple levels of seating areas scattered across the backdrop of an ancient ruins, this is the perfect spot for a romantic date night or special occasion. They specialize in Cretan cuisines with a Mediterranean twist. Cretan salad, saganaki, beef stifado, and lamb shank are some of the popular local favorites. They also have an extensive wine list. Open for dinner only. Reservations are highly recommended, especially if you want to have a table in the upper levels.
CONCLUSION
This two-day Chania itinerary is packed with so much non-stop activities and fun that some people might find it too compressed. If you have another day to spare, an alternative to this journey is to slow down the pace, spend more time on boat tours and water activities, and extend this trip to three days. You might find the slower pace more relaxing, and it will also give you more time to soak in the rich culture of Chania and well as the magical beauty of this charming city.