March 15, 2023
Luggage tags for United Airlines' MileagePlus Premier Elite Silver, Gold, Platinum, and 1K members began arriving in the mail on Monday, March 13, 2023. It could take up to a few weeks for the initial batch to be delivered. It appears to me that when you will receive it depends more on your geographical location rather than your status. My wife and I are Gold and Platinum and we both got ours today (March 15), while there are reports on some travel forums that some 1K's (higher than platinum) have not received theirs.
Table of Contents
The Package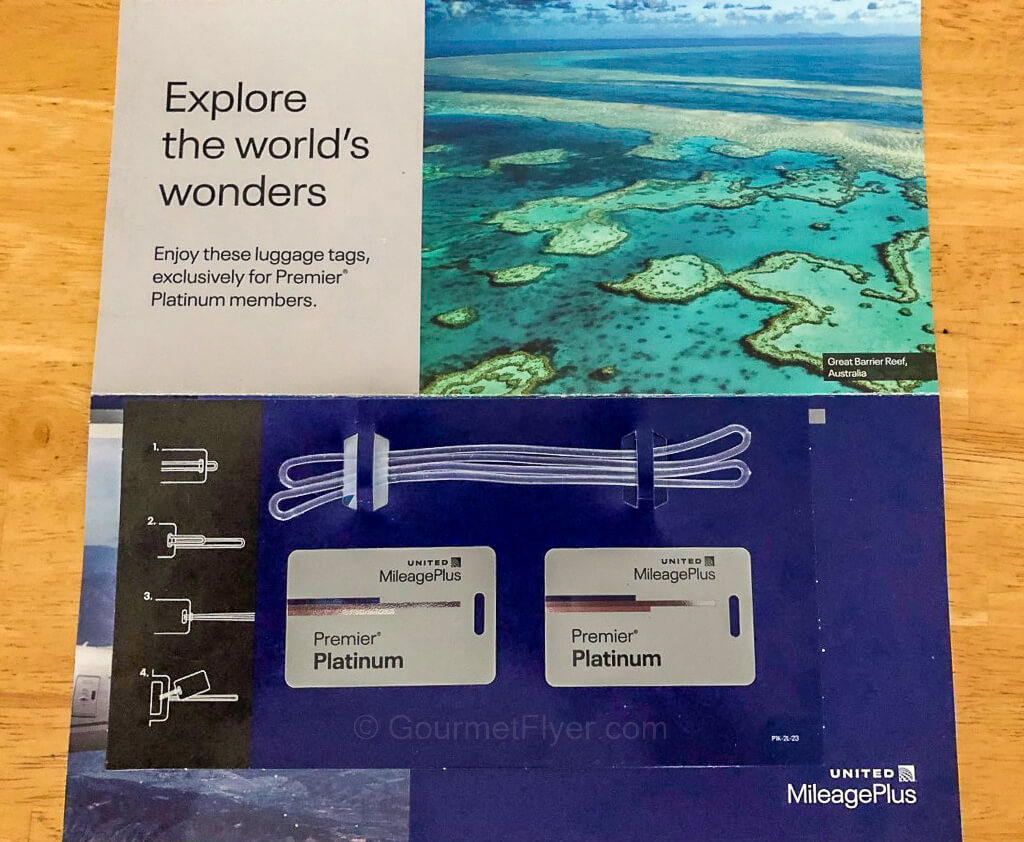 The package arrives in a long envelop with a cardboard folder displaying pictures of the airlines' worldwide destinations. This year's featured destinations are:
Silver: Machu Picchu, Peru
Gold: Grand Canyon, AZ, USA
Platinum: Great Barrier Reef, Australia
1K: Athens, Greece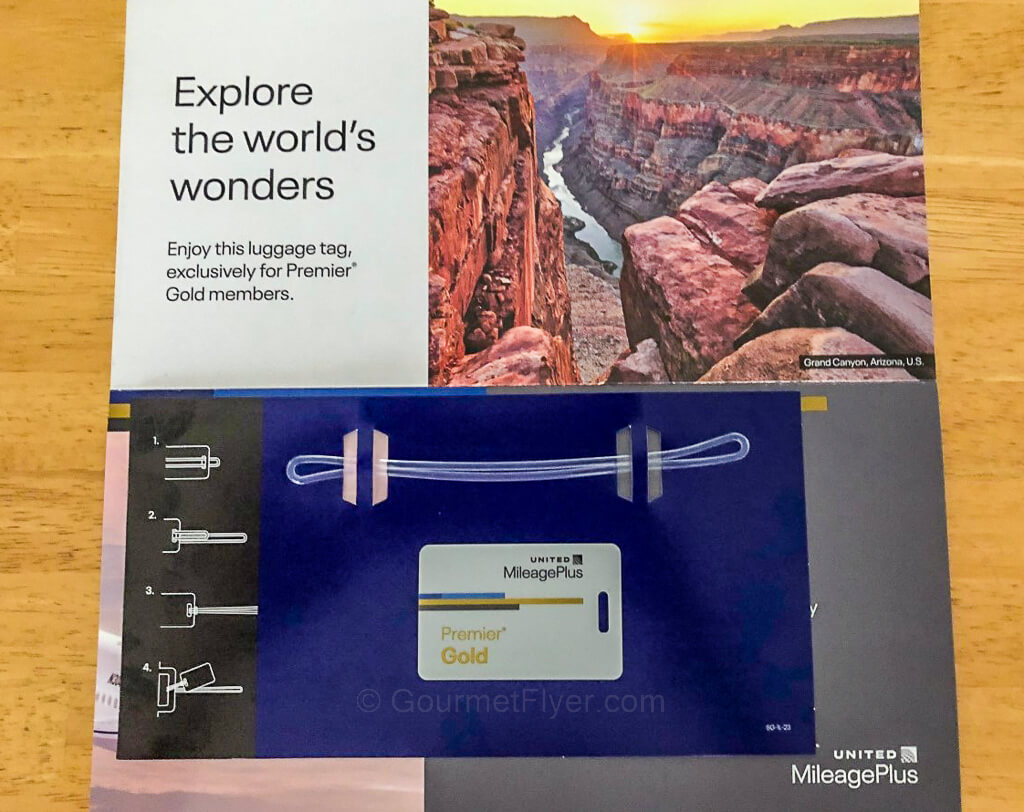 MileagePlus 1K and Platinum members receive two luggage tags inside the package while Gold and Silver only get one. I think they should just give every elite two of them as they break easily. The slot where the plastic loop strap is tied to is very thin and I lose an average of maybe one a year.
These are the small size tags measuring approximately 1.5" by 2.5" and is exactly the same size as those in previous years. The last time United sent out luggage tags to their elite members was in 2019. For many years leading up to that time, the size has remained the same.
Some of you who have been premier members with UA for a long time might remember the larger 2" by 3.5" personalized badges with your name printed on them. These were very nice, and I really miss them. Unfortunately, they have been residing in the history books for maybe a decade. I hope one day UA will bring them back!
New Branding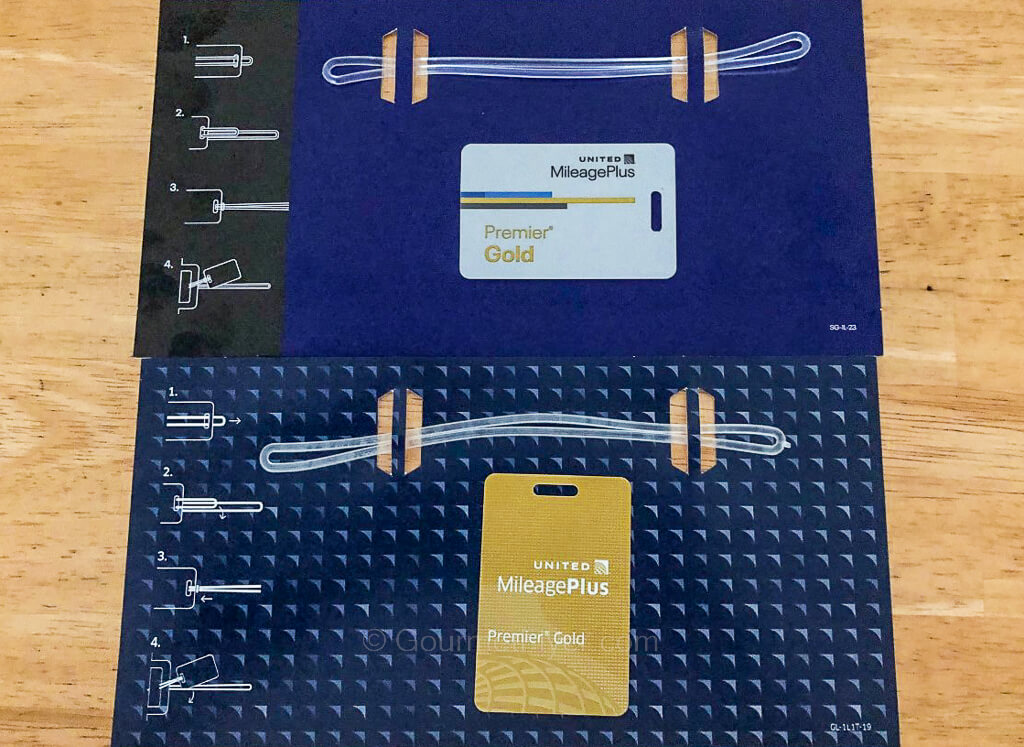 The picture above shows the two different brandings, with the current one on top, and the old one on the bottom.
For many years, the design looked almost the same year after year, with maybe only subtle changes in the patterns. However, these new ones have a completely redesigned branding. The old design has a vertical orientation and places more focus on the background color reflecting the status of the badge.
This new branding has a horizontal orientation with a very plain background but with the status printed in larger and bold text. I guess this new design is more subtle and humble and does not exude the sense of someone flaunting a gold badge tied around their carryon bag.
How to Order Yours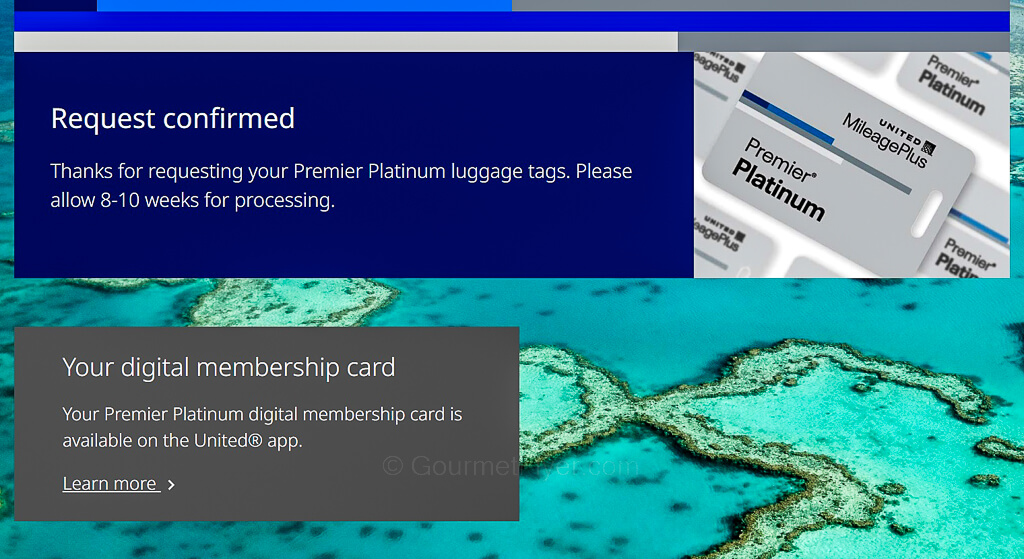 This is the first time since 2019 that United is sending out luggage tags to their elites, but it is not automatic. You have to order it. To order yours, log in to your UA MileagePlus account and go to MY United and then Premier Status Tracker. Alternatively, a shortcut is to log in from the link below:
On the page there is a button where you can click on to order yours. Once your order is accepted, you will see a confirmation screen just like the picture above.
Conclusion
It has been several years since United sent out luggage tags to their premier members and back in those days they were sent out automatically. There have been many debates on various travel forums whether these are appreciated by the elites and are actually used or if they are just a waste of resources. My non-scientific statistical data show that it is almost a 50-50 split between the two sides.
I think this is a very welcomed change – not just that UA is resuming the practice of sending out luggage tags, but those who want one can order it and those who think this is a waste of resources won't be receiving theirs. And my wife and I are both happy that we got ours!