Updated July 13, 2023
Places to eat in Athens are known for their souvlakis, gyros, moussaka, among many other local favorites. Compared to other major European cities, price here are relatively cheaper for the same level of service. My dining guide below focuses on local flavors at moderately priced restaurants, but there are also a few fine dining options if you like to splurge a little for a special occasion.
Typically, tavernas and cafes line the streets close to major attractions, so it is always easy to find great places to eat in Athens. Most eateries offer both indoor and outdoor seating in summer. Greeks are used to eating late dinners, so you'll find many restaurants open late into the night. If you like to rub elbows with the locals, eat dinner around 9 – 11pm.
Besides traditional Greek cuisines, you can also find a vibrant international food scene that offers you a diverse cultural dining experience. The list below takes you to many exciting eateries — from a glamorous roof top restaurant to a trendy Greek cafe, from a romantic bistro to a lively tavern, from fusion to Asian, from gyros to sushi — this is one gastronomic adventure that you do not want to miss!
Table of Contents
Traditional Greek Taverna in Athens
Bairaktaris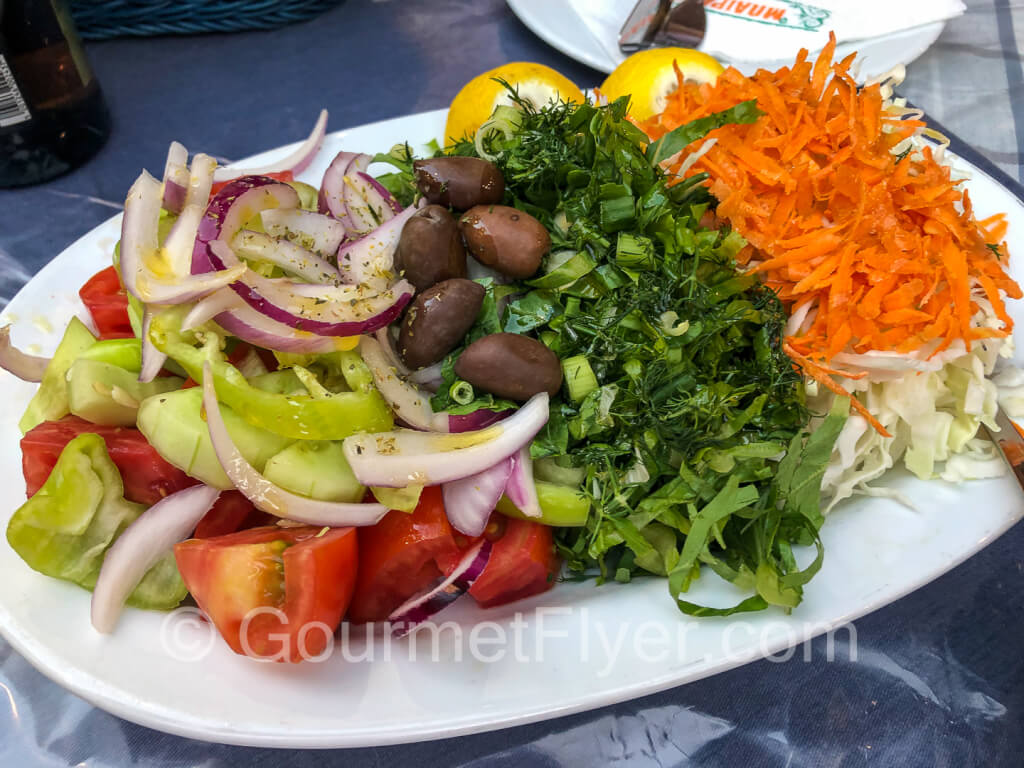 Bairaktaris is one of the best places to eat in Athens, Greece, where you can get the most authentic Greek dining experiences while rubbing elbows with the locals. To get there, take the metro to the Monastiraki Station. Just right next to the exit of the station, go down one of the "shopping lanes" near the station that is NOT the flea market. About halfway down the street, you will see bright lights and hear live music. Take a left and follow the short alley to an open-air restaurant courtyard and you will find Bairaktaris.
Bairaktaris is one of the most well-known souvlaki eateries and is a local favorite. I am teaming up with a few local foodies and sampling several large plates of mixed salad, fried zucchini, chicken souvlaki, pork, gyros, and pitas.
Everything is so delicious: The salads and vegetables are fresh, the meats are all flavorful, tender and moist, all the various types of breads are very warm and soft… It is such a delightful dinner and at a great price too!
The atmosphere in the entire outdoor courtyard is lively, friendly, and vibrant. It's relaxing and completely unpretentious. It is a great place to enjoy authentic Greek cuisine while feeling like a local and soaking in all the cultural experiences.
Bairaktaris has several other locations, so if you happen not to be near this area, you can find a location near you from the link here.
Yard All Day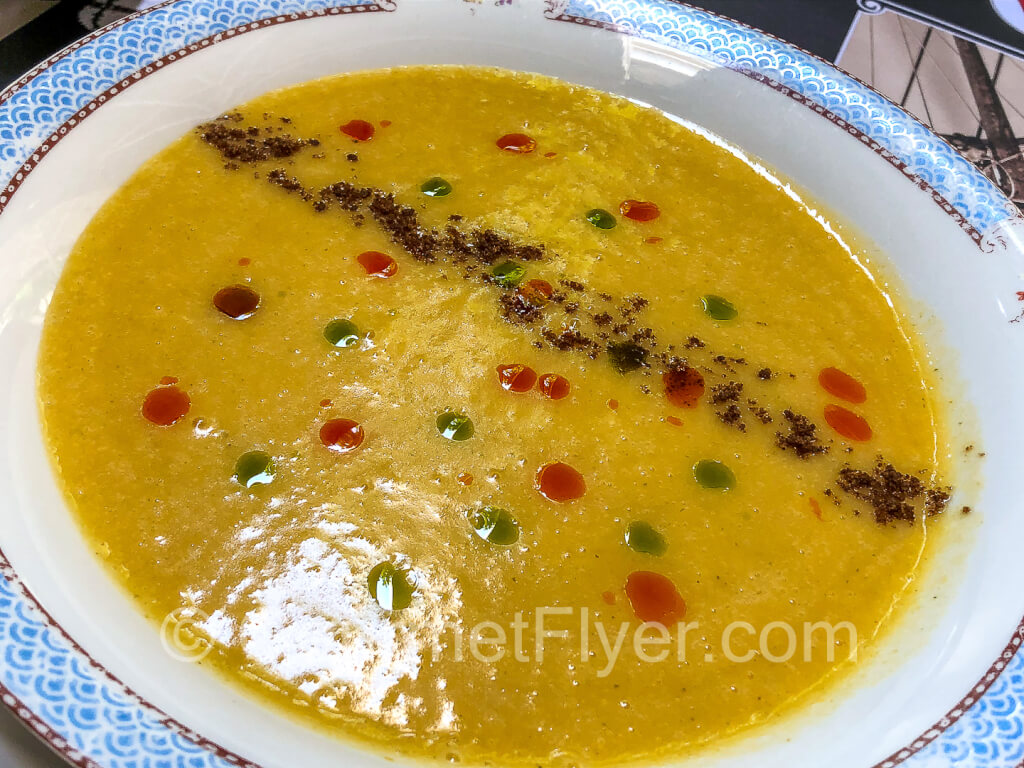 There are many great restaurants near the Acropolis Museum. While they are all located in a touristy area, some of them are actually very good and are local favorites as well. Yard All Day is located at Makrygianni street, right in front of the museum's side entrance. Its menu is quite extensive. It serves mostly traditional Greek cuisine, but you can still grab a pretty good burger over here if this is what you are craving for. Prices are moderate.
I absolutely love their rich and creamy fish soup with a touch of French Velouté flavor. It is garnished with touches of spices and different chili oils. It's perfect for a light lunch or as an app.
Pastitsio is an amazing dish that I'll highly recommend. Calamarata – which is an Italian, thick, ring-shaped pasta – is stuffed with delicious ground beef in a slightly spicy tomato sauce. A rich Béchamel sauce which has a hint of white wine makes the pasta so delicious that I'll love to come back for more.
After a week in Greece, I am craving for my comfort food, which is a bacon cheeseburger! This is like my dream come true. Not only is the burger nice and juicy, but it is also loaded with bacon, cheese, lettuce, tomatoes, caramelized onions, mushrooms, and a fried egg.
Pantheon
Locals flock to Pantheon for its traditional moussaka that is baked and served in a bowl and is one of their signature dishes. Moussaka is a Greek foodie's favorite. It is a lasagna-like dish made with eggplant and potato in the bottom, layered with ground beef with tomato sauce, and topped with cheese and baked until golden brown.
In a way it is like a lasagna, but it really is not, in the sense that there are no pastas in the layers. It is one of the several unique and traditional Greek dishes that I would highly recommend that you try.
For those who prefer food that they are more familiar with, they also have pizza, burgers, and club sandwiches on their lunch and dinner menu.
Liondi
Liondi is one of my favorite restaurants in Athens. It is located right across the street from the Acropolis Museum. It serves absolutely amazing and authentic traditional Greek food and is a local favorite. During a typical day, tourists rub elbows with local families and the atmosphere is friendly and vibrant.
Here, we are sharing a Greek platter for two, which includes a lot of food, probably more than enough for two people.
On the left is a stuffed green pepper and a slice of moussaka (a lasagna like pie made with eggplant, potato, ground beef, tomato sauce, topped with cheese and baked to golden brown). A fresh garden salad is right at the center of the dish. Two pieces of dolma (stuffed grapes leaves served with yogurt) rest at the top and bottom of the plate. On the right is a generous portion of melt-in-your-mouth tender beef stew. The rice pilaf that comes along with it has a distinct Mediterranean flavor and is delicious.
Mesoghaia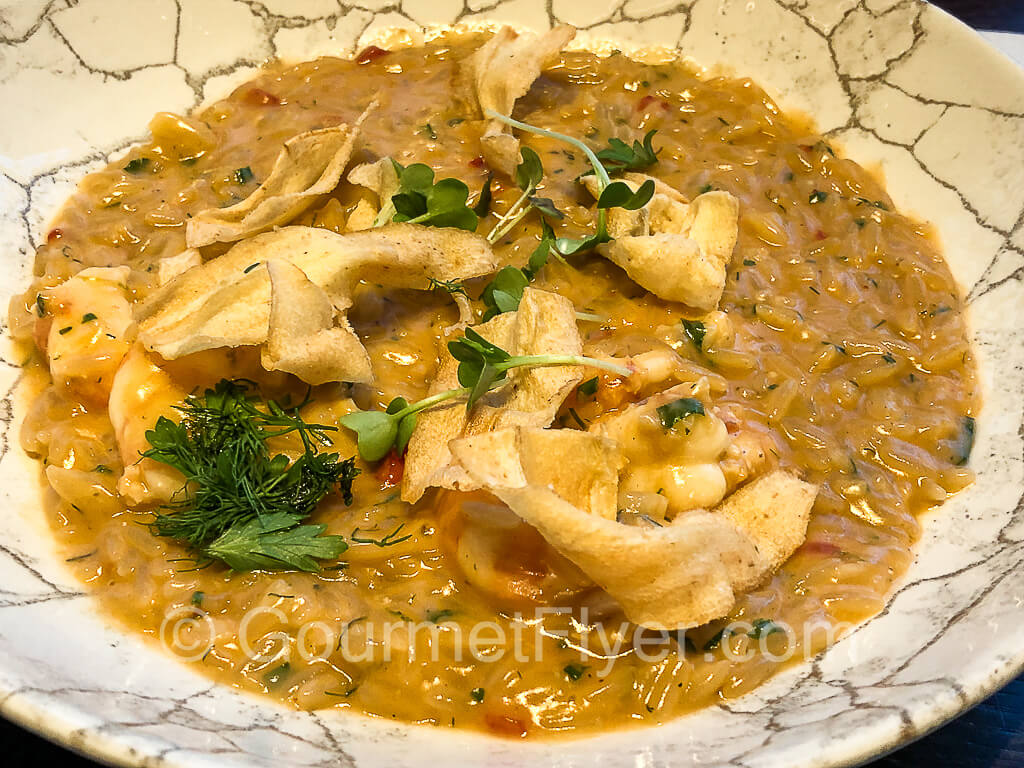 Mesoghaia is located in the Sofitel Hotel literally across the street from Athens International Airport. I rarely recommend hotel restaurants because they are usually overpriced and serve mediocre food, but Mesoghaia is an exception.
If you want a decent meal before or after your flight or if you happen to be staying at the hotel, Mesoghaia is among one of the best options.
My top favorite is the traditional Greek kritharoto – a orzo pasta that is somewhat like a risotto – with shrimps and a strong hint of lemon zest. Another great traditional Greek favorite is the moussaka. Slices of potatoes and eggplants are meticulously layered with ground beef and a rich tomato sauce and baked to perfection.
The braised beef cheeks are delicious and melt-in-your-mouth tender. Chicken skewers are grilled in traditional Greek flavors and served with yogurt sauce, pita bread, and fries. Prices are moderate to moderately high. But given the prime location and the good quality of the food, prices are reasonable.
O Thanasis
O Thanasis is well-known for their kebabs, not just among the local, but tourists around the World as well.
Their signature dish is the YogourtLou Kebab Thanasis, which is their famous kebabs topped with a delicious yogurt tomato sauce (pictured above). Believe me, get it!
Their souvlaki is also excellent, as well as the gyros. These three items are pretty much the highlight of their menu. You can't go wrong with any of them.
Their food is good, and the price is right. O Thanasis is a very popular restaurant in Athens and could be very crowded at times. But there are few better places to experience genuine local good eats in a casual and lively atmosphere. Takeout and delivery menus are available.
Join a Food Tour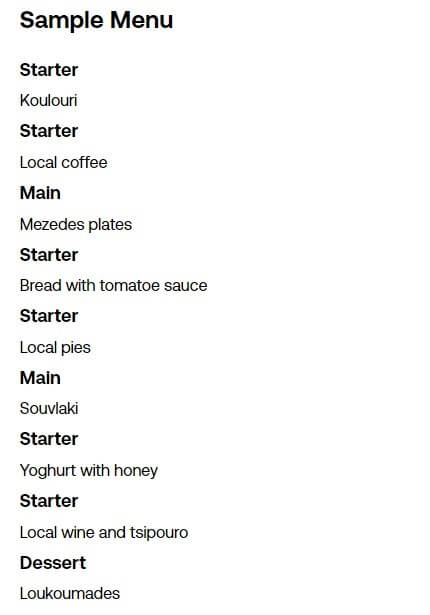 Whether you are not familiar with Greek food or you want to sample many different varieties without overeating or spending a lot of money, a walking food tour is a good alternative to visiting many restaurants. An added bonus is that you will be exploring the city with a guide, learning about its history and culture.
The Greek Food Walking Tour is a 4-hour foodie's adventure through the vibrant streets of Athens, exploring cafes, markets, specialty food stores, and discovering the city's culinary history. This small group tour of no more than 12 people ensures that you will get a personalized experience as well as attentive service from your guide. You will be tasting a variety of street food, appetizers, entrees, and desserts. The tour covers 7 stops and 12 tastings. The picture above shows a sample menu.
Roof Top Restaurants in Athens
A for Athens Rooftop Bar and Restaurant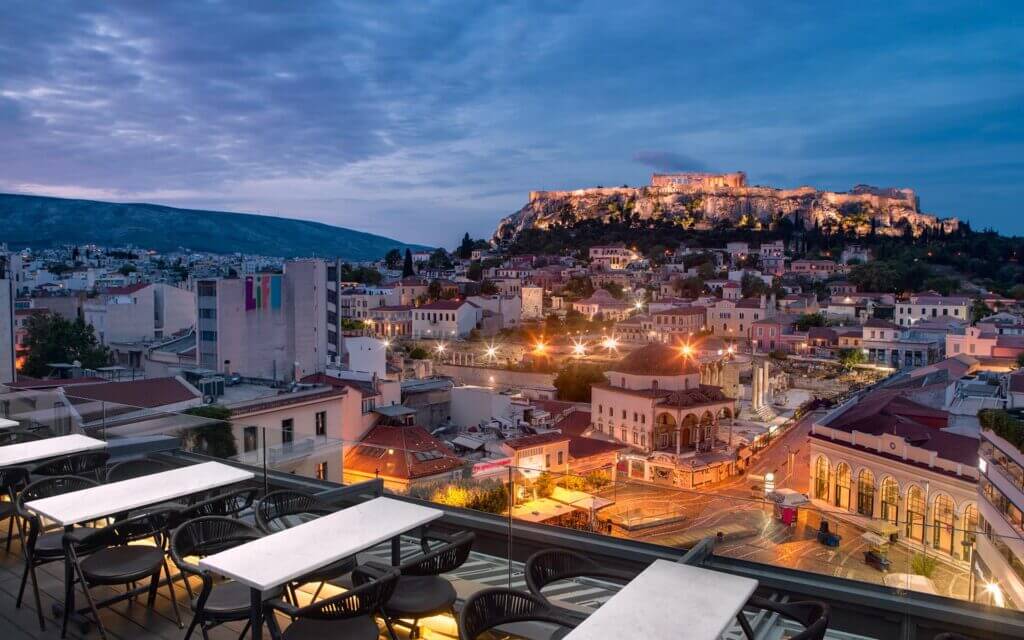 A for Athens is a small boutique hotel with a rooftop bar and restaurant which has one of the best views of the Acropolis, especially at night. The view here rivals any other rooftops that you can find and is an ideal location for a romantic dinner. I consider this one of the best restaurants in this area in the moderate price range with a stunning view.
The Black Angus steak is good quality beef – tender, flavorful, and perfectly medium rare. A buttery barley pilaf, which is a unique regional side dish, accompanies the steak. A sprinkle of Greek sea salt adds a final enhancing touch to the meat.
The sea bream meatballs are like "fish balls" and they are made with fresh fish and tasted not one bit processed. Al dente linguine, melted butter, and lemon thyme sauce completes the dish. A nice seafood pasta dish.
Kuzina
Kuzina is one of the trendier restaurants in Athens. It sits on the picturesque Adrianou Street with a cozy and modern ambience. The menu is sort of a hybrid between traditional and contemporary Greek cuisines. You will not find gyros or souvlaki on the menu. Instead, you will discover elegant dishes of unique and innovative creations by the chef.
For cuisines near the traditional side, I recommend their extravagant Greek salad, slow-roasted pork, and lamb shank.
On its creative and somewhat fusion side, the menu exhibits an Asian influence in dishes like tuna tartar with wasabi and yuzu sauce, or the spicy tuna with ginger and wasabi sauce.
The main dining room is on the ground floor with both indoor and patio seating. It also has a rooftop terrace with spectacular views of the Acropolis and Hephaestus Temple. Kuzina is upscale, and prices are on the higher end. If you want a table on the rooftop, make your reservation weeks in advance, especially during the busy summer season.
GB Roof Garden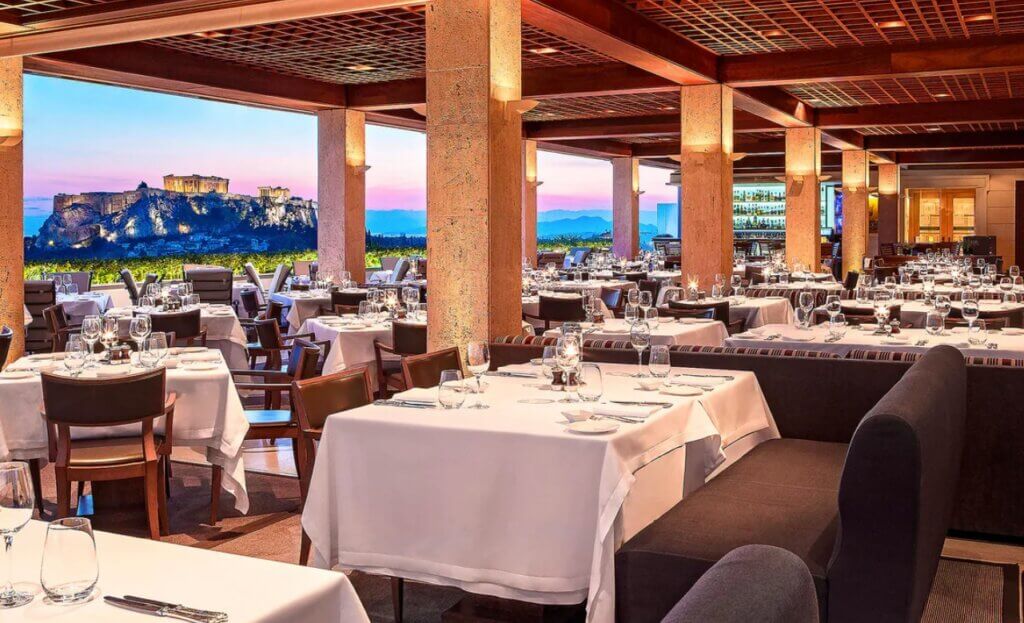 GB Roof Garden is located on the 8th floor of Hotel Grande Bretagne – the most luxurious and glamourous hotel in town. It offers open air dining with panoramic view of the Acropolis, Lycabettus Hill and the Parliament. The menu is mostly traditional Mediterranean cuisines enhanced with a touch of contemporary influence. The best dish of the house is their fresh fish of the day grilled on charcoal. Calamari appetizer is also a popular favorite.
They are open for breakfast, lunch, and dinner. A smart casual dress code is enforced after 6pm daily. Reservations are required for dinner. Prices are expensive, but the service is impeccable, the ambience is romantic, and the view is stunning.
V1935 Roof Garden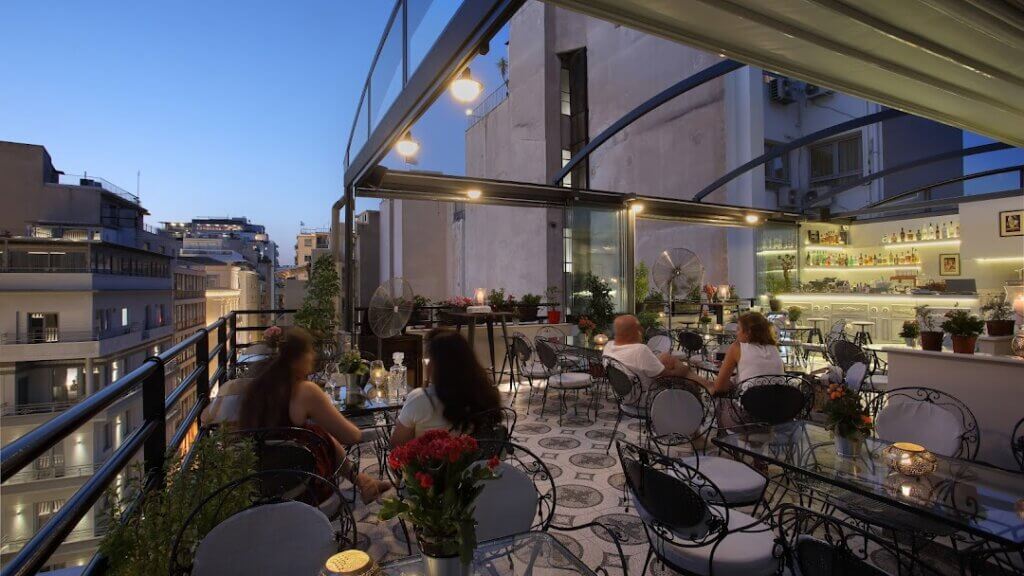 This Athens restaurant serves authentic and delicious Italian cuisines in a rooftop environment with a great atmosphere and cool vibes. They have arguably the best Italian pizzas in town. The "Gourmet Pizza" made with spicy hot Calabrese sausage and a combination of various vegetable toppings is among one of the local's favorites. Another top choice is their house mushroom pizza made with five different kinds of mushrooms, tomatoes, and truffle oil.
Their pastas are also some of the best that you can find in the city. They are best-known for their spaghetti carbonara and pappardelle ragout. Greek salad is a good choice to blend in some local flavors. For dessert, without a doubt, get the tiramisu!
Prices are moderate and is probably one of the most budget friendly rooftop eateries in the area. It is open until 1am and is a great place for late night dining. Also, a prefect date night spot without splurging on a meal.
Fusion or Trendy Eateries in Athens
Pame Tsipouro Pame Kafeneio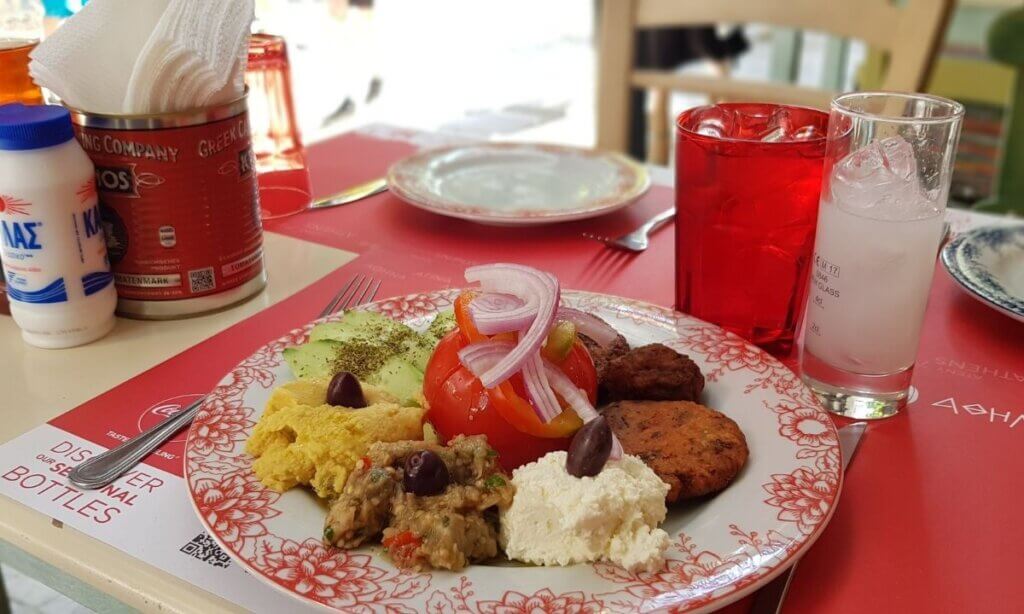 Tsipouro is a strong Greek spirit typically served in a small shot glass and accompanied by small plates called meze, somewhat similar to Spanish tapas. Kafeneio is a trendy Greek café originated back in the days of Old Greece in the 1600's.
Together, Pame Tsipouro Pame Kafeneio means let's go get a drink and mingle with the local communities in the café or marketplace and hangout – which is the theme of this vibrant and authentic Greek restaurant. The atmosphere is casual and inviting, the vibes are super chill.
Traditional dishes like moussaka and souvlaki are always freshly made and delicious. Grilled octopus is a local favorite, as well as sardines and anchovy. A large selection of pastas is also available. For dessert, you have to try their classic walnut cake with ice cream.
Acropolis Museum Restaurant
Located on the second floor of Athen's Acropolis Museum, the Acropolis Museum Restaurant offers full table-service for breakfast, lunch, and dinner (seasonal hours) with an extensive menu. It has both indoors and outdoors seating, both of which offer a spectacular view of the Acropolis.
One of my favorites is the kataifi phyllo pastry, which is a perfect dessert after a meal, or just for an afternoon tea break.
Kataifi, a Turkish and Greek favorite, is somewhat intensely sweet and similar in flavor to baklava except that the shell is made with a vermicelli-style shredded phyllo. It is filled with coarsely chopped nuts mixed with honey and vanilla cream. More pistachios and nuts garnish the dish while a scoop of French vanilla ice cream make the dessert complete with sweetness and richness.
Enjoy it with a cup of strong coffee or tea.
Geros tou Moria
Is a vibrant tavern style restaurant with live music and traditional cuisine what you are looking for? If it is, then waste no time and head straight to Geros tou Moria in the Plaka district. On weekends and especially in summer, this is one of the liveliest restaurants in the area.
Geros tou Moria is an old-timer in Athen's Plaka District. It has been around since 1926 and has been a local favorite for decades. Some of their specialties include fresh fish of the day, lamb with courgettes (a zucchini-like squash), and veal. A large variety of souvlaki is also available.
The wine list is extensive, and you have a lot of options to choose the best wine to complement your dining experience.
Aleria
Aleria specializes in contemporary Greek cuisine with emphasis on creativity and gastronomical culture. Their foods are clearly geared toward the trendy gastropub direction with a fusion twist. The is a great choice for a nice evening if you are looking for an upscale and sophisticated fine dining experience.
Prices are on the higher end. Aleria offers tasting menus from 4 – 6 courses with a price range of 45 – 65 Euros per person. Wine pairing costs an additional 25 – 35 Euros per person.
You can make reservations online or by phone.
Asian Cuisines in Athens
GAKU Sushi Izakaya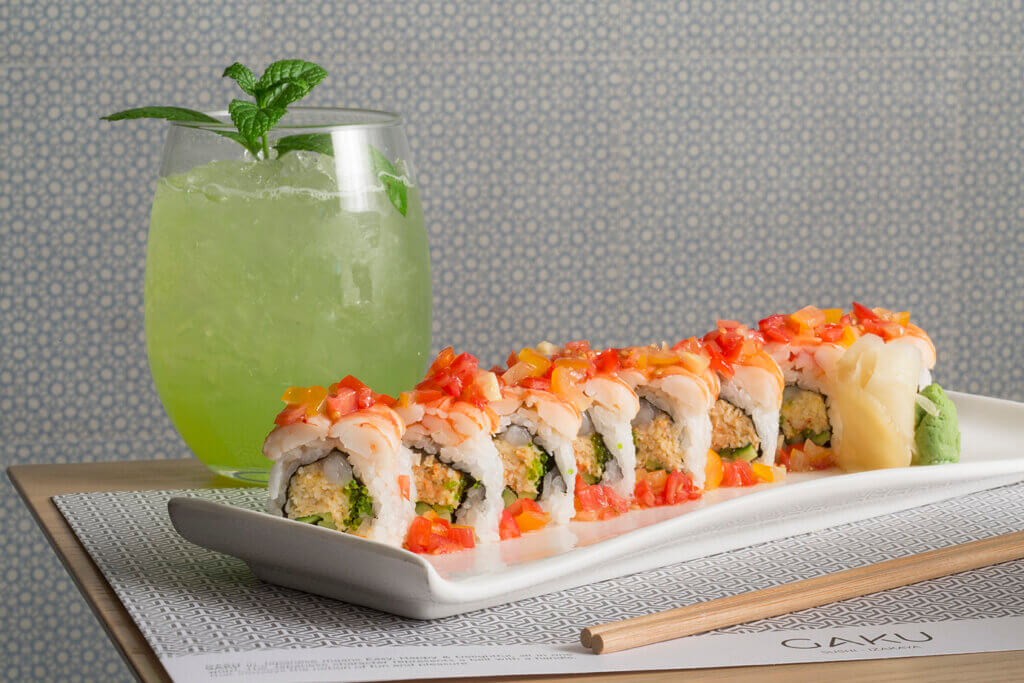 If you want to take a break from gyros and souvlaki and are looking for a change in scenery, why not go for sushi? GAKU is a local gem known for their fresh and tasty sushi as well as a large variety of seafood dishes. They serve traditional Japanese cuisines with a trendy twist and an izakaya influence.
The house specialty is hamachi lemon and jalapeño, made with local hamachi seasoned with pickled lemon sauce and enhanced with a kick of jalapeño to spice up the flavors. Their crab tartare is a Japanese favorite with a contemporary presentation. In addition to sushi, they also have a strong presence of hot dishes and entrees. Sample an assorted tempura plate or a traditional teriyaki chicken dish. Or get their famous local Greek seabass with yuzu miso sauce. For dessert, their house-made mochi – a soft and chewy ball of rice cake filled with ice cream – is a must-try.
Noodle Bar Syntagma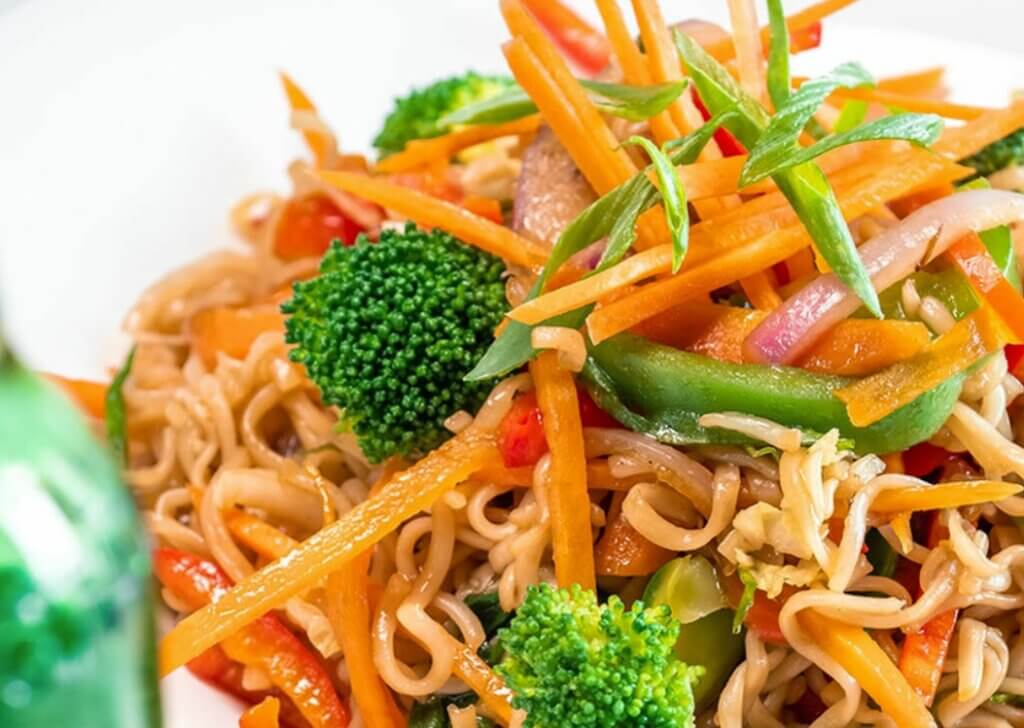 Just like the name implies this restaurant in Athens specializes in Asian noodles. This is most likely not what you come to Greece for, but if you are looking for a change in taste and scenery and would like to have a slice of Asian flavor in your trip, this is certainly a great option.
Their menu is surprisingly extensive. For soup noodles, they have the traditional Chinese wonton noodles, Malay laksa, Thai tom yum, as well as Japanese ramen. For pan-fried noodles, try their Thai pad thai rice noodles, Singapore noodles with a touch of curry flavors, Japanese style teriyaki noodles, or traditional Chinese chow mein.
A good selections of fried rice dishes, appetizers, wings, sushi, and baos (steamed buns stuffed with meat fillings) are also part of the menu offerings. Online ordering as well as takeout orders are also available.
Indian Palace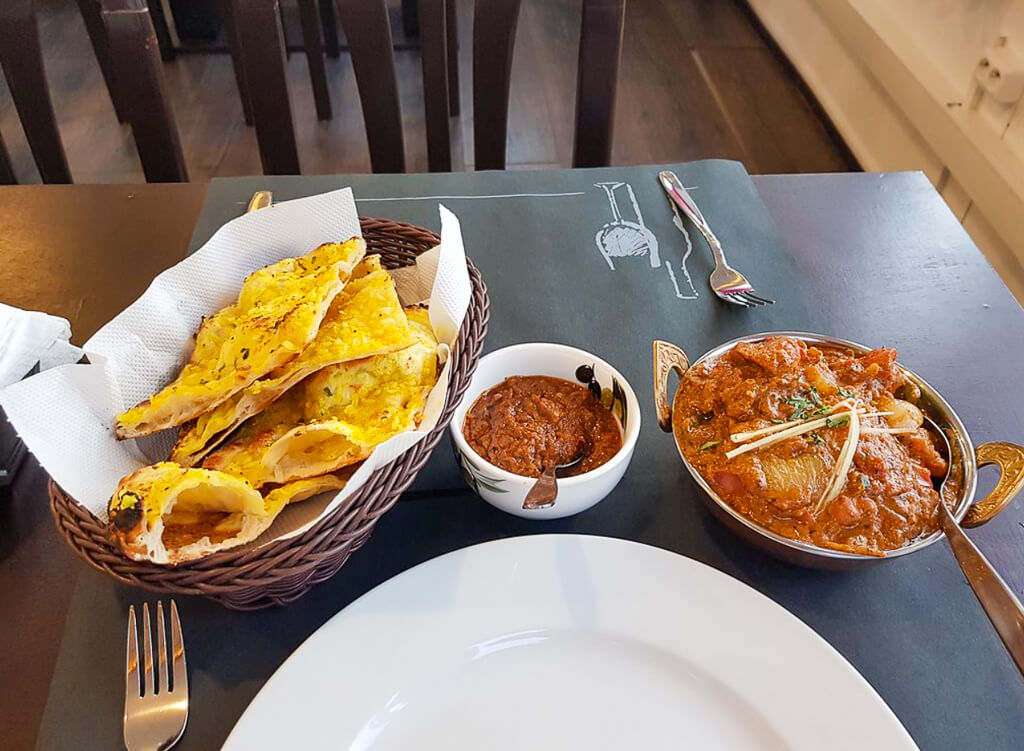 Again, this is probably not what you come to Greece for, but if you want to spice it up a little and go for some bold flavors with some heat for your palate, Indian Palace is the place to go to. Run by a Punjabi family, service is warm, friendly, and accommodating. They serve surprisingly authentic Indian cuisines at moderate prices and is a local gem for lunch and dinner.
Chicken curry and garlic naan are always household favorites. The naan is fresh from the oven and piping hot. Their best chicken curry dish is tikka masala, which is a yogurt and tomato-based curry that is mildly spicy. Classic Indian dishes like tandoori chicken and traditional appetizers like samosa are very popular as well. Not only is their food delicious, but Indian Palace is also family friendly, budget friendly, as well as vegetarian friendly.