Updated: April 9, 2022
New York's restaurant scene ranges from the most expensive Michelin starred fine dining establishments to iconic pizza stands, and everything in between. My goal here is to provide my readers with a good selection of great places to eat in New York that represent unique local flavor as well as the culinary specialties of the Big Apple. Most of the restaurant on my list are moderately priced places that offer great food and good values.
From a classical pastrami sandwich place to a fancy Parisian patisserie, my list provides you with a good starting point to get a glimpse of the fascinating culinary scene of NYC. To truly reflect the cultural diversity of the city, my list of recommended eateries in New York is divided into the following categories:
Table of Contents
American Places to Eat in New York
Hudson Garden Grill
Hours: Tue – Fri 11:30am – 3pm; Sat – Sun 11:30am –6pm
There are literally numerous places to eat amazing foods in New York City (NYC). It is almost impossible to recommend a top choice.
But, if you are visiting the New York Botanical Garden and want to take a break and indulge in a nice lunch, Hudson Garden Grill is the place to go. Be warned that this restaurant is always full and reservations in advance are required.
The roasted chicken breast is tender and moist. It is served with sauteed kale, fingerling potatoes, and sweet potato puree. A rich and delicious Dijon chicken jus is served on the size. Drizzle of honey thyme glaze adds the decorating touches to the plate.
The grilled salmon filet is presented with an assortment of Romanesco broccoli, cauliflower, wild mushrooms, and a creamy cauliflower puree. Beurre Blanc – French white butter wine sauce – is served on the side.
Emily West Village
Hours: Sun – Thu 12pm – 10pm; Fri – Sat 12pm – 11pm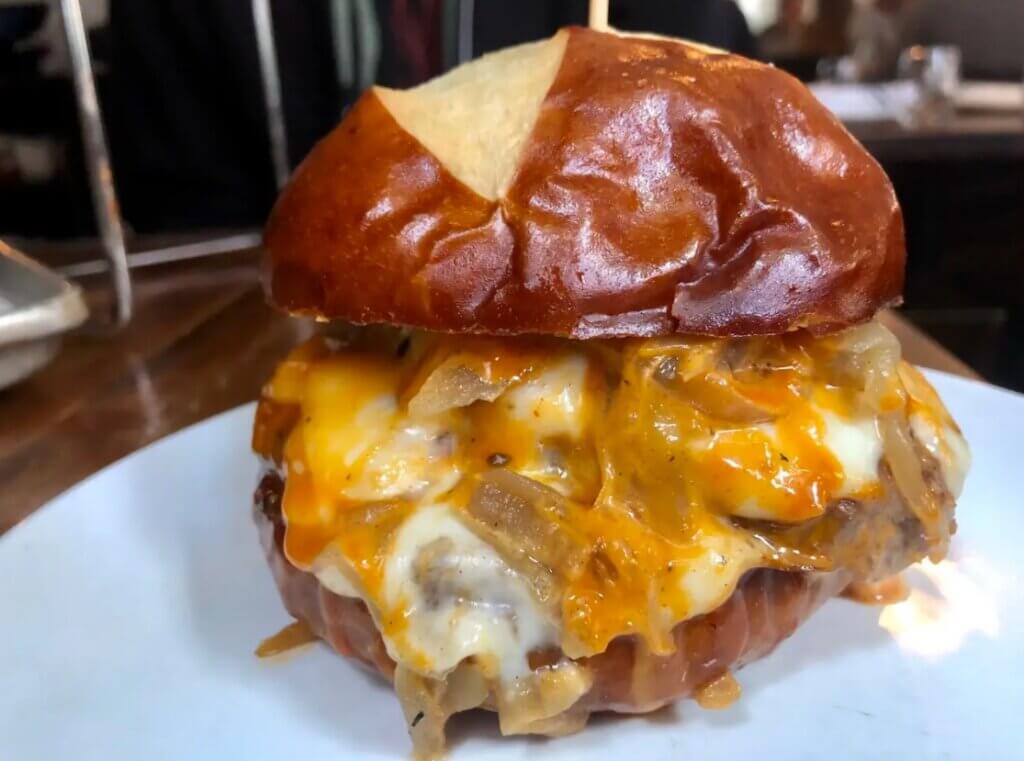 What's more American than a big, thick, juicy, messy, and absolutely yummy burger? Welcome to Emily, home of the Emmy Double Stack Burger. Two patties made with top-quality grass fed beef are topped with caramelized onions, cheese, and pickles, seasoned with Emily's own secret sauce, and sandwiched between a pretzel bun. If there is such a thing as a burger heaven, this might be it!
Although Emily is now probably more well-known for her signature burger, the roots of her restaurant were founded in her amazing wood-fired pizzas. The restaurant serves a wide variety of pizzas from red, pink to white sauces. My favorite red is the tangy, spicy, and slightly sweet Colony, made with pepperoni, pickled chili, and honey. If you really want some heat, get the hot chicken pizza made with Alabama white sauce and topped with Nashville hot chicken.
Suspenders Restaurant and Bar
Hours: Daily 11am – 1am
This is one of those local gems where you can grab a beer, rub elbows with the locals and soak in the culture of the neighborhood. On a weekday evening this place is packed with workers from NYC's financial district. The place is lively, and the atmosphere is friendly and unpretentious.
Their specialty is the Suspender Burger which is a local favorite. The meat is top-notch quality and flavorful. Pictured above is the burger with added mushrooms and subbed green beans for fries.
I also like the buffalo chicken fingers here. The batter is light and crispy, the hot sauce is moderately spicy and give my palate a nice kick.
Suspenders is located just a short walk away from the World Trade Center and is close to many local attractions. Prices are moderate.
European Places to Eat in New York
Boucherie West Village
Hours: Mon – Fri 11am – 12am; Sat – Sun 10am – 12am
Boucherie is a small chain of four French bistros, and this particular one is in West Village, near Christopher Park on Seventh Avenue. The décor of the restaurant has a nice touch of Parisian elegance. The place feels intimate, and the atmosphere is good for a date night. Prices are moderately high-end.
They are better known for their steaks, especially their steak frites. The menu also offer a sumptuous 24-ounce Chateaubriand served with bone marrow. If you want to stay away from red meat, get the duck confit. I had it once it was perfectly cooked and delicious. But whatever you order, don't forget that onion soup. It is so rich and flavorful!
Burger and Lobster
Hours: Sun – Thu 11:30am – 10pm; Fri – Sat 11:30am – 11pm
Who would have thought that a burger and a lobster can go together so well in a meal? This London obsession had now spread to New York, so while I am in town, I have to go check it out. Burger and Lobster has two locations in NYC – The Flatiron District and Bryant Park.
I have already been to the London location, so I am very familiar with the menu. I find the menu here at the Flatiron location somewhat similar. There are really only three major entrees: Burger, lobster, and lobster roll. There are also burger and lobster combos.
An extensive selection of cocktails, beers, and wines are available to complement your feast of surf and turf.
L'Adresse
Hours: Mon – Sat 9am – 9pm; Sun 9am – 3pm
L'Adresse is an American Bistro with a European flavor and a Mediterranean twist. It is located in the Bryant Park area on 6th Avenue. They are open for breakfast, lunch, and dinner.
My favorite there is the steak frites – a New York strip steak with a Parisian touch. It is topped with a small slab of butter the French way, but the herbal butter also had a Mediterranean twist that brings out a distinct aroma and flavor.
Remember to get their Borscht soup, a European favorite which is hard to find in the US. The crispy calamari served with a lime vinaigrette is the perfect app. The place is cozy, with a touch of casual elegance. Prices are moderate to moderately high.
Carmine's
Hours: Sun – Thu 11:30am – 10:30pm; Fri – Sat 11:30am – 12am
There are plenty of great Italian places for good eats in New York City, but Carmine's stands out as a family-oriented restaurant with huge portions and reasonable prices. This is a great place for families to share a few plates together. But before you order, let me remind you that at Carmine's every dish is enough for 2 – 3 people.
Their spicy Scarpariello wings are the locals' favorite app. I like the stuffed mushroom as well. The veal scaloppine marsala (pictured above) is another local favorite. The marsala wine sauce is so rich and flavorful. There are many pasta options. If you are sharing a few plates already, I recommend ordering one pasta dish for every four people in your party. For dessert, Titanic is the way to go!
Asian Places to Eat in New York
Izakaya MEW
Hours: Lunch daily 12pm – 2:30pm
Dinner Sun – Thu 5pm – 9:30pm; Fri – Sat 5pm – 10:30pm
Izakaya MEW used to be a hidden gem in the basement of a nondescript building on West 35th Street between 5th and 6th Avenues. Now that they are well-known and have even become a tourist favorite, lines start forming before the restaurant opens for dinner.
They don't take reservations and a one to two-hour wait is typical.
They serve mostly traditional Japanese izakaya in a casual and friendly pub-like atmosphere. My favorite skewers are all grilled perfectly and delicious. Sashimi dishes are always fresh. Tempuras are lightly battered and crispy. In short, everything is good!
If you are craving for a bowl of ramen on a chilly day, I highly recommend the tantan men, which is ramen served in a chili flavored broth and topped with minced pork and soft-boiled egg. Hits the spot!
Love Mama
Hours: Daily 11:30am – 11pm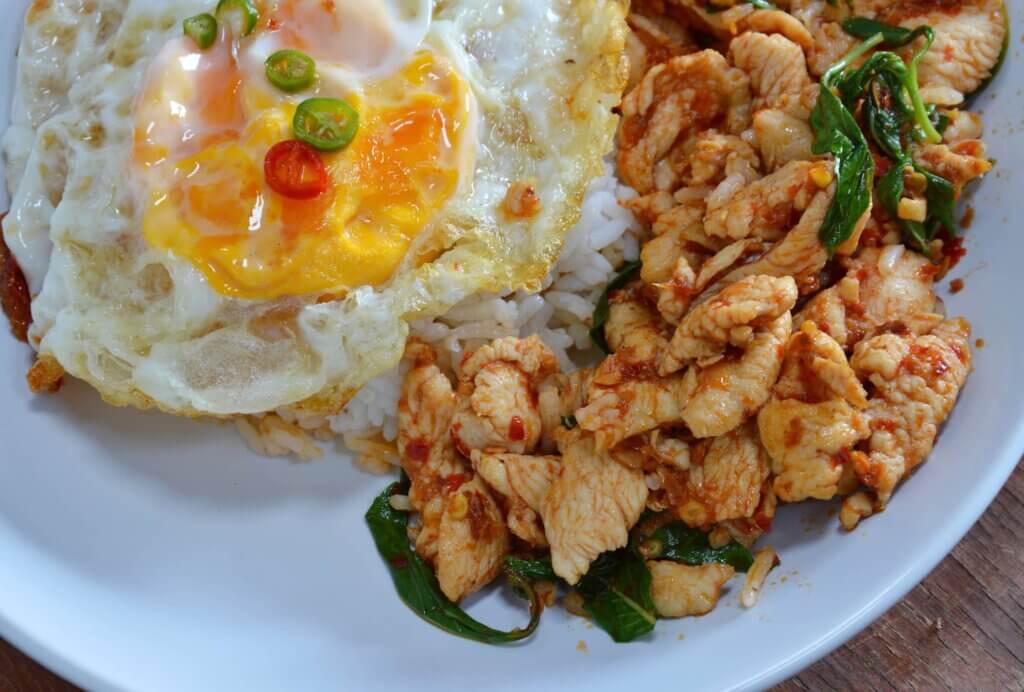 What started originally as a food cart selling Malaysian street foods, Love Mama has become the ultimate melting pot of Southeast Asia, specializing in Malaysian, Vietnamese, and Thai cuisines.
Be sure to get their famous buttery and flaky roti canai, which is out of this World. Thai fried chicken wings are almost the perfect apps. The wings have a strong Shaoxing wine flavor, garlic, and a slightly sweet and spicy glaze.
A rich mixed seafood curry laksa is one of their signature dishes, as well as the famous Thai drunken noodles. Rendang Nasi Lemak is another crowd pleaser. Vietnamese staples like pho and Thai favorite like Pad Thai are very popular as well. The food is so good and so authentic you'll almost feel like you are in the streets of Kuala Lumper.
Tim Ho Wan
Hours: Mon – Thu 11:30am – 8pm; Fri 11:30am – 9pm;
Sat 11am – 9pm; Sun 11am – 8pm
One of the best places in New York City for authentic dim sum eats is definitely Tim Ho Wan of Hong Kong Michelin Star fame. The East Village restaurant is the very first THW location in the US while the Hell's Kitchen restaurant is the latest addition.
Their baked barbeque pork bun is their signature dish and is a must-order. Other popular items on their menu are siu mai (pork dumpling) and har gow (shrimp dumpling), and cheung fun (rice noodles). I always order the pork spareribs in black bean sauce, which is one of my favorites.
Shown above from top left going clockwise: Siu mai, har gow, bean curd roll in oyster sauce, and pan-fried turnip cake.
Latin Places to Eat in New York
Guantanamera
Hours: Sun – Thu 12pm – 12am; Fri – Sat 12pm – 1am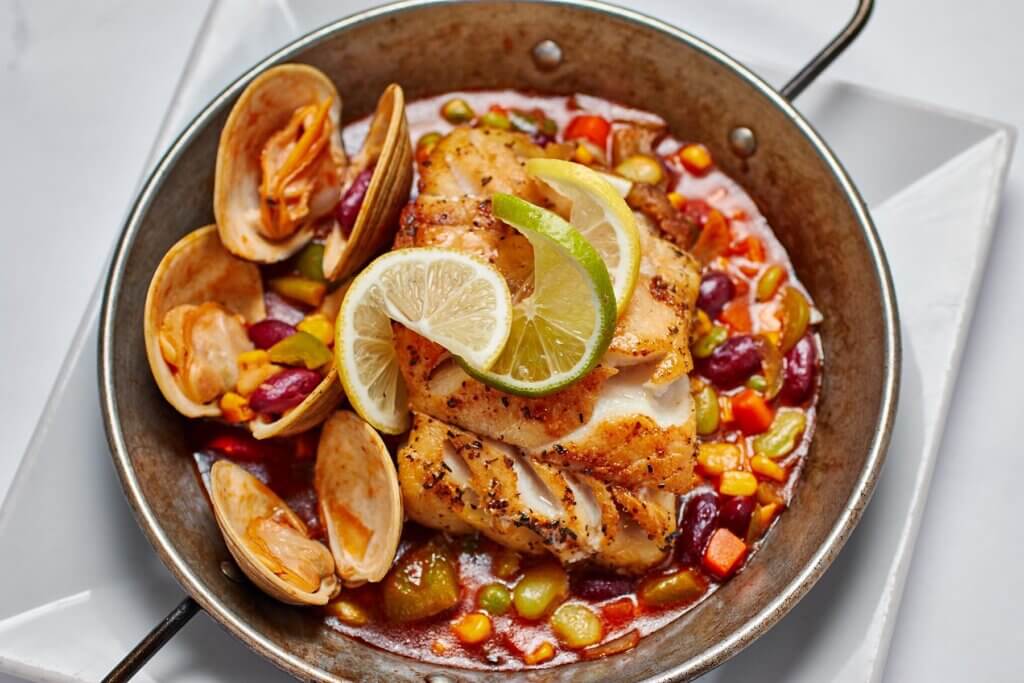 Guantanamera is a fun Cuban restaurant and bar with live music and an energetic atmosphere that capture the vibes of Old Havana. They serve traditional Cuban cuisine and are famous for their creation of sophisticated and strong mojitos.
For apps, I highly recommend their Yuca Rellena (fried mashed yuca balls) which are light and not greasy. Chicken croquettes Empanadas is another good choice.
A highly rated entrée is Ropa Vieja, which is a dish of shredded skirt steak braised in tomato sauce. Corvina Al Hemingway (pan-seared white sea bass with peppers and clams in a light tomato sauce) is another local favorite. The choice for dessert is easy. Get the Flan de leche, a traditional Cuban custard.
Via Brasil
Hours: Sun – Thu 12pm – 8pm; Fri – Sat 12pm – 8:45pm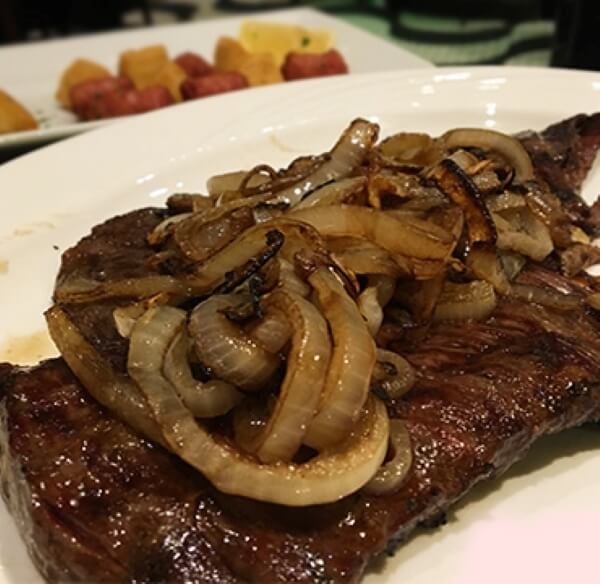 Via Brasil is located in Little Brazil Street and is just a short walk from Times Square. It is one of NYC's oldest and most authentic Brazilian restaurants. For cocktails, I highly recommend that you get their caipirinha, which is Brazil's national cocktail. It is made with Cachaça, sugar, and lime, and they make it nice and strong here.
You can't go wrong with their famous Churrasco fired-roasted meat. You have a choice of various cuts of beef and pork which are topped with grilled onions and served with rice, beans, and farofa (toasted yuca flour). Another one of their signature dishes is Moquecas, a traditional seafood stew made with onions, tomatoes, and coconut milk.
Mexicue
Hours: Mon – Thu 12pm – 10pm; Fri 12pm – 11pm;
Sat 11am – 11pm; Sun 11am – 9pm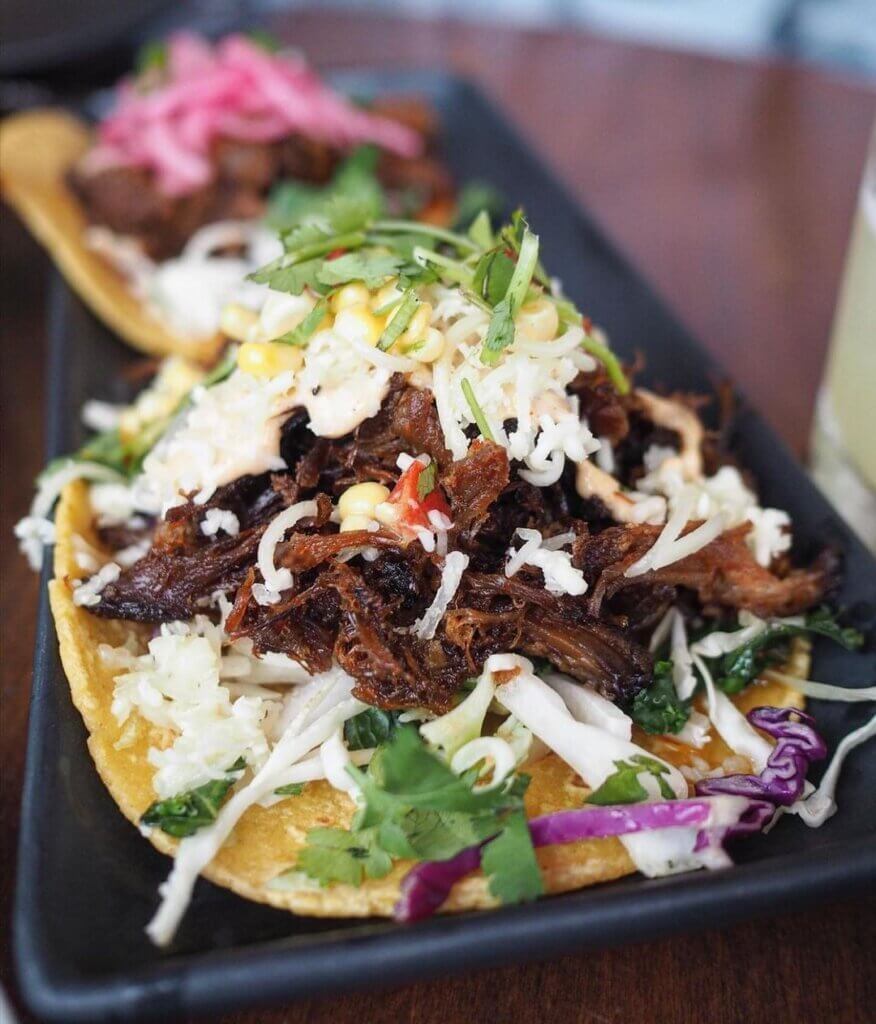 Mexicue was founded by chef Thomas Kelly who started his passion for Latin street food with a food truck. Now it is a small chain of several restaurants. Their Nomad location is just across the street from Madison Square Park and their Chelsea location is at 8th Avenue and 18th Street.
Mexicue is known for their traditional Mexican cuisine enhanced with a twist of American fusion and a touch of bold flavors. For appetizer, I recommend their Mexican Street corn "ribs" which are easy to eat and share.
Their most popular entrée is the DIY Taco Platter (serves 4). The platter comes with chicken, brisket, barbeque pulled pork, salsa verde, black beans, and rice corn tortillas. Their menu also has large selections of tacos and burritos. The local Latin communities love their pulled pork taco and burnt ends brisket burrito. You can't go wrong with either of them.
Iconic Places to Eat in New York
Shake Shack
Hours vary by locations
Shake Shack is among the best places to eat burgers in New York City. Shake Shack here is like In N Out in California. They are fast food burgers at their very best. While Shake Shack has expanded quite a bit outside the Big Apple recently, most cities still don't have one near them. Moreover, there is nothing like eating at the original Shake Shack in the Big Apple.
The menu is focused, and ordering is simple. Get the ShackBurger with their secret ShackSauce, crispy crinkle cut fries, and a freshly spun shake made with real ice cream.
Katz's Deli
Hours: Mon – Thu 8am – 11pm; Fri 8am – 12am;
Sat open 24 hours; Sun 12am – 11pm
Katz's is a kosher Jewish deli in the lower east side of Manhattan with over 130 years of history. This deli is also where the restaurant in "When Harry Met Sally" was filmed over 30 years ago.
This delicatessen is completely no-thrills and unpretentious – just the best pastrami sandwich ever! Ordering is simple – get their legendary pastrami sandwich on rye with mustard. Please, no mayo! Portions are huge and you might end up only eating half of it and taking the other half home. (Or two people can share one sandwich).
The pastrami doesn't taste too salty and is melt-in-your-mouth tender. You can tell it's made from top quality meat. But it is a somewhat greasy sandwich though. Lean cuts and extra lean cuts of meats are available for additional charge. Takeout and delivery are also available.
Joe's Pizza
Hours vary by location
Your visit to NYC is probably incomplete without a slice of New York pizza. While there are many places to eat pizzas in New York City, few places can match Joe's Pizza in terms of quality and its authentic Italian roots.
You can order a whole pie or by the slice. The menu is simple and there are usually only 3 options: Plain cheese plus any topping, fresh mozzarella, or Sicilian square. Small menu, perfect execution. Nothing fancy. Nothing pretentious. Just simple old-school style of fresh and good quality ingredients and the perfect recipe.
Baz Bagel and Restaurant
Hours: Mon – Fri 7:30am – 2pm; Sat – Sun 7:30am – 3pm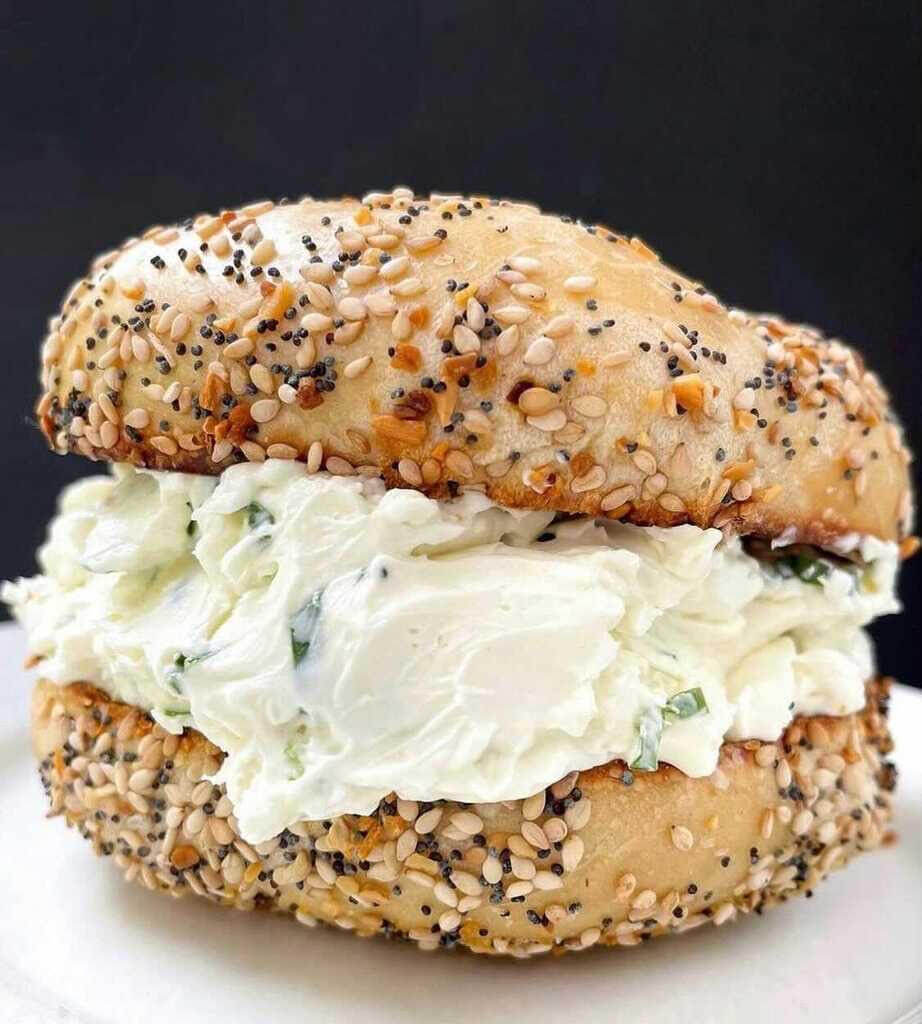 There is certainly no shortage of amazing bagel stores in the Big Apple. My recommendation Baz Bagel and Restaurant is a local favorite in the Little Italy neighborhood, which embraces strong Jewish and Italian heritage. Their bagels are 100% hand rolled, kettle boiled, and baked in house using traditional and authentic methods. Their creative and colorful Tie-Dye bagels are great for events and special occasions.
The cream cheese bagel is my favorite breakfast sandwich, and the chicken schnitzel sandwich is great for lunch. Remember to try a pizza bagel which is one of their specialties. Jewish favorites like potato latkes are available all day. While most bagel stores are takeout only storefronts, dine in is available at Baz, and I love to be able to sit down at a table or at the counter to enjoy a delicious breakfast here.
Patisseries in New York
Angelina
Hours: Mon – Fri 8am – 8pm; Sat – Sun 9am – 7pm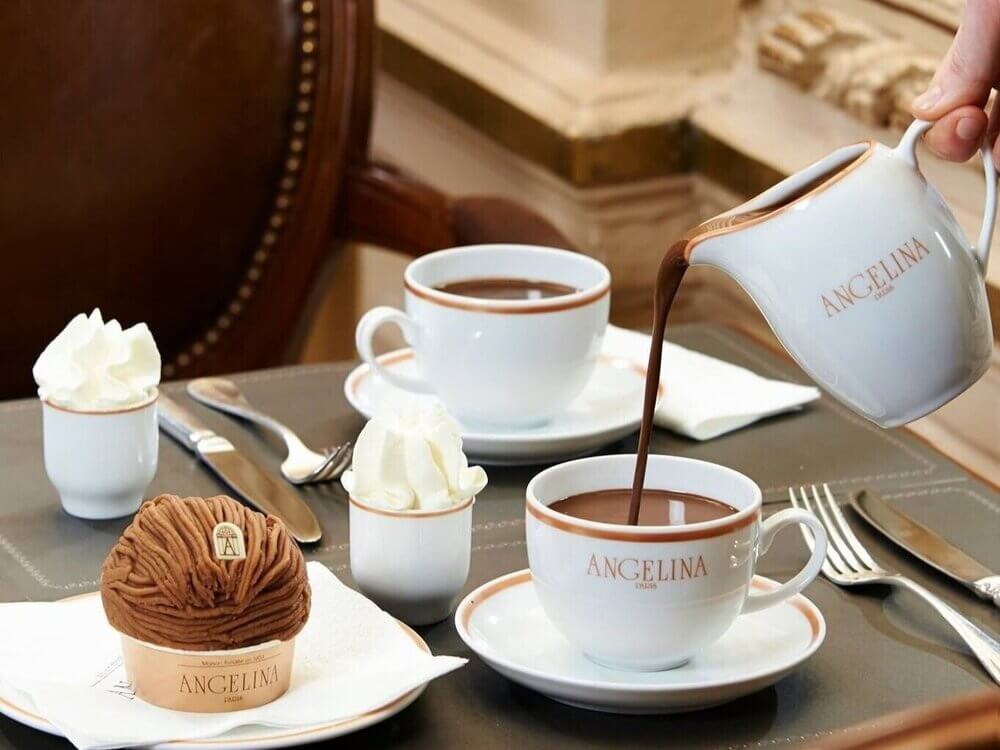 The iconic Parisian patisserie Angelina opened its first US location in November 2020, in the Bryant Park area in Midtown Manhattan. Angelina is well known for its ultra-rich hot chocolate made from African cocoa and the legendary Mont-Blanc which is a delightful blend of meringue, light cream, and chestnut paste. They are also famous for many of their pastries like the Millefeuille and éclair.
My favorite breakfast items are the Croque Monsieur and Croque Madame. For lunch, get their onion soup, Niçoise Salad, and club sandwich. Afternoon tea sets are also available. Walk-ins only. Reservations are not accepted. Takeout and delivery are available.
Lady M
Hours vary by location
Lady M is a high-end gourmet bakery, and their signature is the Mille Crepe cake. The cake is made with a stack of literally paper-thin crepes sandwiched between layers of light cream. The flavor is rich, but the sweetness is moderate and subtle. The cake is so delicate that it melts in your mouth.
Besides the original, there are other flavors such as green tea (my favorite), pistachio, tiramisu, etc. At about $10 a slice, the price is high, but I assure you that it is definitely worth it. They are only available in a few other cities in the entire US (Los Angeles, San Francisco, Chicago, and Boston), so while you are in New York, splurge a little and spoil yourself a little.