October 1, 2022
Many people visit Rethymno on a day trip when they are staying in either Heraklion or Chania. Some visit Rethymno as a stopover when they drive between Heraklion and Chania. But Rethymno is such a charming place with rich cultures and breathtaking sceneries that it really deserves at least an overnight stay. Personally, I think two days in Rethymno is really the minimum amount of time one should spend there.
Moreover, Rethymno is full of exciting restaurants offering the freshest seafood as well as traditional local cuisines. There are literally numerous great places to eat in Rethymno that will amaze you. This article helps you design the perfect touring and dining itinerary that will fit perfectly into your schedule, whether your plan is to visit Rethymno for one or two days.
Table of Contents
DAY ONE
Explore Old Town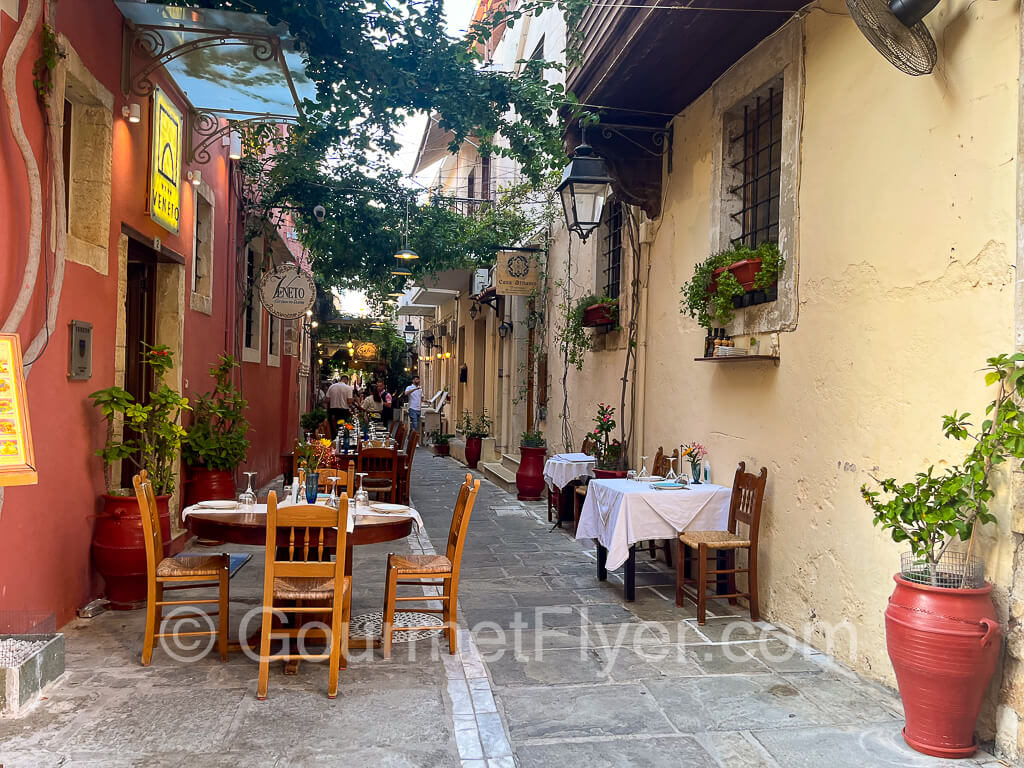 Depending on your time of arrival, Old Town is probably the most convenient first stop especially if you are staying in the area, or are looking to grab some lunch, snacks, or drinks.
Rethymno's Old Town is rich in history and cultures as reflected in its blend of Venetian and Turkish architectures. Trendy tavernas as well as traditional restaurants line the sides of a maze of cobblestone alleys, punctuated with boutiques and souvenir stores.
Depending on the amount of time that you have and your personal preference, some major landmarks and points of interest include Archeological Museum of Rethymno, Rimondi Venetian Fountain, and the Museum of Contemporary Art.
Venetian Harbor and Lighthouse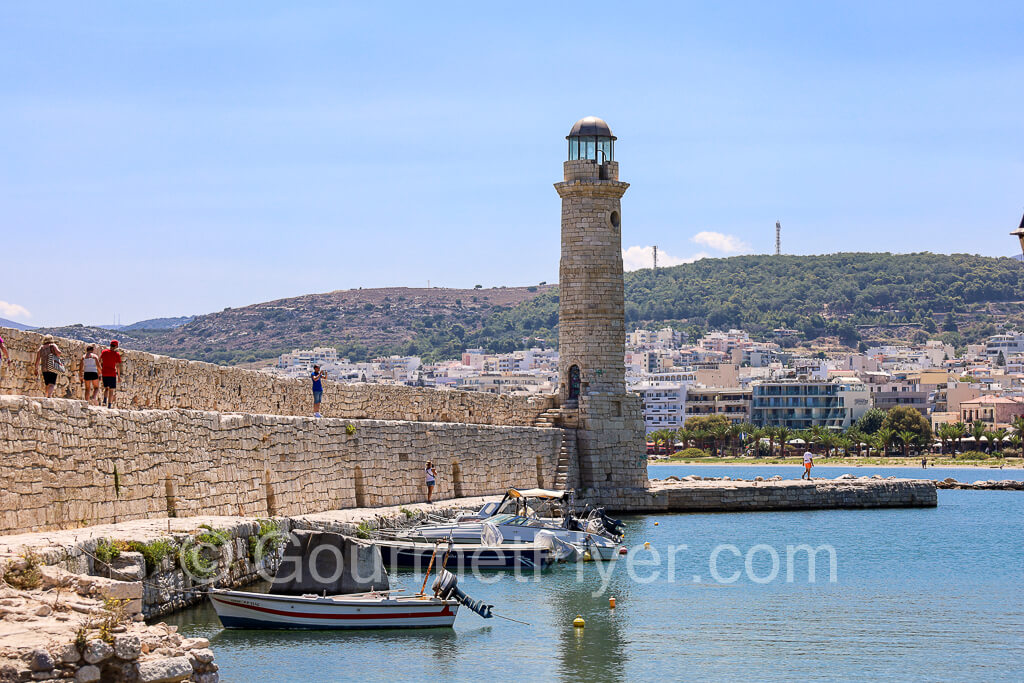 The Old Venetian Harbor is just a short walk from Old Town and is logistically the best next stop on the Rethymno itinerary. The harbor is quaint and charming, and it takes my breath away! The colorful architecture reflects a blend of Venetian and Turkish flavors. The atmosphere is nostalgic, and one can still see and feel some of the remnants of the days when this was a major trade port used by Venetian and Turkish merchants.
The bustling waterfront is packed with tavernas and restaurants offering the freshest seafood from the Cretan Sea – but we'll visit them later. Instead, we'll first take a short walk to the lighthouse – which was not built by the Venetians, but by the Egyptians in the 1830's.
Looking back at the waterfront from the lighthouse gives you a different yet panoramic perspective of the harbor. It is also an Instagram-worthy photo spot of the harbor and its vibrant waterfront. An additional bonus for this short hike is that the breakwater offers a spectacular sunset, and it is usually not very crowded.
Dinner at the Venetian Harbor
If you are spending only one night here at Rethymno, then my recommendation is to have dinner here. If you are here more than one night, I recommend that your itinerary should include a dinner here at least once. Some may find it touristy, but I have to say that this is a dining experience that is both delightful and romantic. It is great for a large family or friends gathering as well as a cozy date night for two.
Zefyros (directions) is a family style fish taverna and is a well-loved local favorite. They have some of the best grilled fish and fried calamari in town.
Achinos (directions menu) is popular for their rooftop and balcony dining. They serve a good variety of pastas and great steaks in addition to their seafood selections.
Remezzo (directions) has a great view directly across from the lighthouse and their specialties are fresh seafood combination platters. They also serve the most delicious fish soup. It's a blended soup with pieces of fish filets and a strong hint of lemon.
TIP: There are "hosts" or salespersons outside some restaurants who will try to lure you in, and they can sometimes get aggressive. Don't commit to one restaurant without checking out the entire harbor. Just politely say "no, thank you" and move on.
However, some restaurants like Achinos are almost always full and reservations are actually required during peak hours.
Nightlife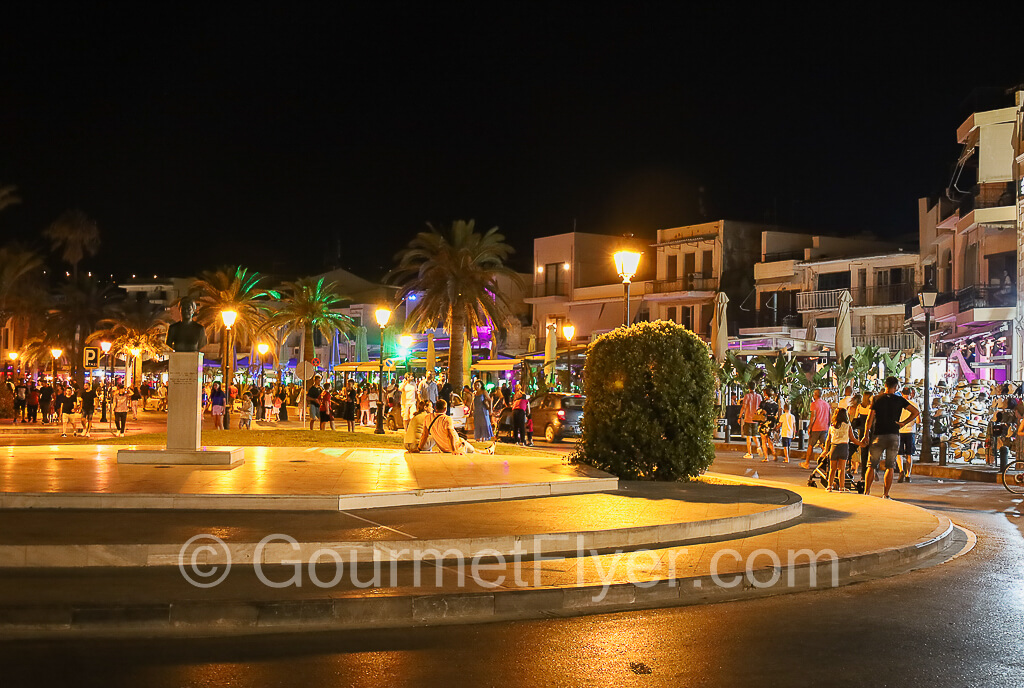 There is no shortage of nightlife in Rethymno, and it appears to me that the later into the night, the livelier is the place. If you like to stay close to the Venetian Harbor, Metropolis Society Bar (directions) is a vibrant and elegant hangout. It offers various themes on different nights such as classic rocks and karaoke.
If you like to venture elsewhere, from the Venetian Harbor area walk toward a square with a sculpture (pictured above left) and you will see a vibrant scene. From there, continue your walk in the direction of the marina and you will find many tavernas, bars, and clubs along the way. Rock 'N Roll lovers will enjoy Chaplin's (directions), a lively rock pub popular with both local and tourists.
Bricks Beers and Tales (directions menu) is a beer lover's dream come true. This beer pub serves a large selection of craft beers, local drafts, ales, and flights. Not only will you love all the beers, but you'll also love the amazing staff and its super chill vibes.
DAY TWO
The Fortezza Fortress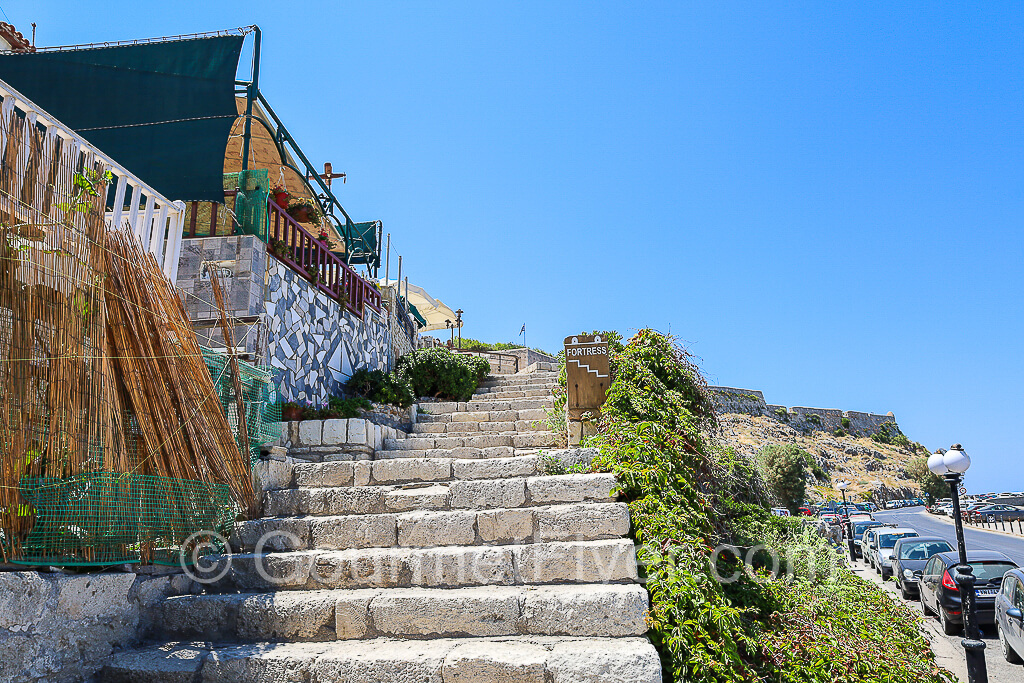 If you are walking from the direction of Old Town or the Venetian Harbor, the shortcut is to take the stairs up to the fortress and bypass the long and steep road for cars (pictured upper left).
The construction of the Fortezza Fortress began in 1573 when Crete was under the occupation of the Venetians. The fortification took over a decade and the fortress was finally completed in the 1580's. The original plan was to move the entire city inside the fortress, but ultimately only the Venetian Guards settled there.
Navigating through the fortress is quite simple, as there is one main almost circular path that you can follow. There are detour along the way where you can go and visit individual buildings or attractions, but you can always easily get back on the main trail. Not only will you experience the rich Cretan history and culture there, but you will also be able to see some of the best views of the city as well as the Venetian Harbor from high above.
Lunch at Vasiliki Kouzina (Βασιλική Κουζίνα)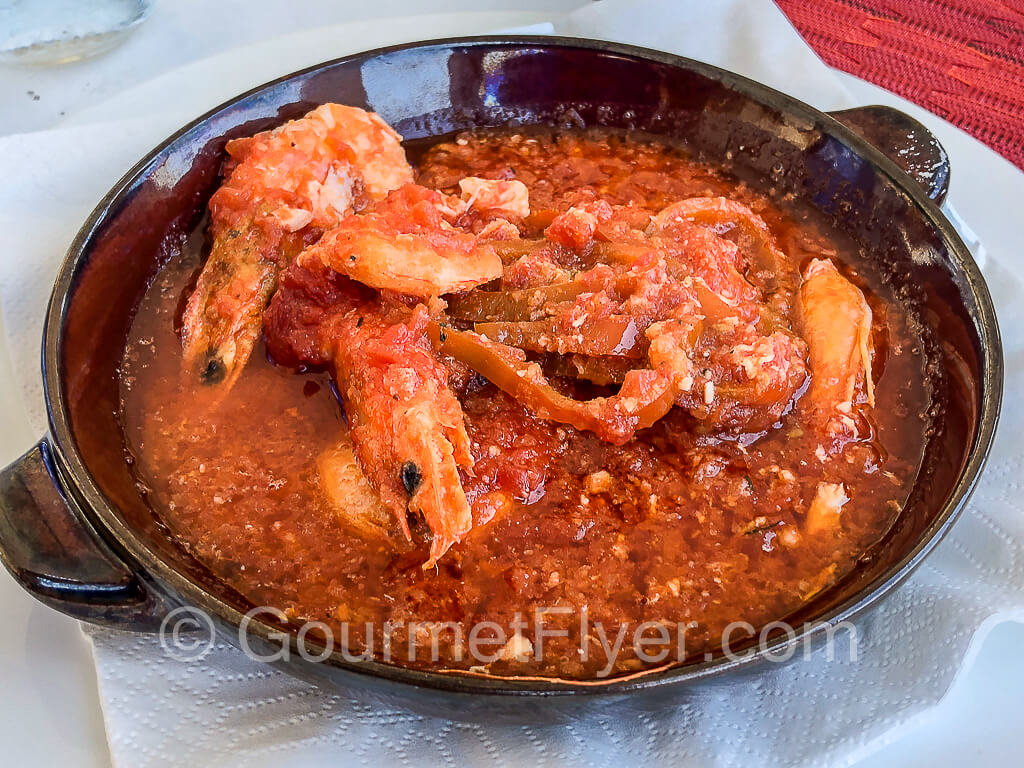 As you descend the stairs from the fortress back to the main road, you can see about a half dozen restaurants across the street with tables set up under tents and with spectacular ocean views. I highly recommend Vasiliki Kouzina (Βασιλική Κουζίνα) (directions) which serves family style traditional Greek cuisines the way grandma cooks them.
Prawns Saganaki is a traditional Greek dish where prawns are cooked in a rich tomato sauce with feta cheese and ouzo. The prawns are so fresh, and they cook them with their heads on which makes the sauce so sweet and delicious. The gyro is so good too! I particularly love the fries which are made with a fresh potato cut into thick wedges.
TIP: The Red Bus mentioned below stops right at the fortress near where the restaurants are. So if you are not hungry after visiting the fortress, you can take the bus tour first then come back for lunch later.
Rethymno City Red Bus Tour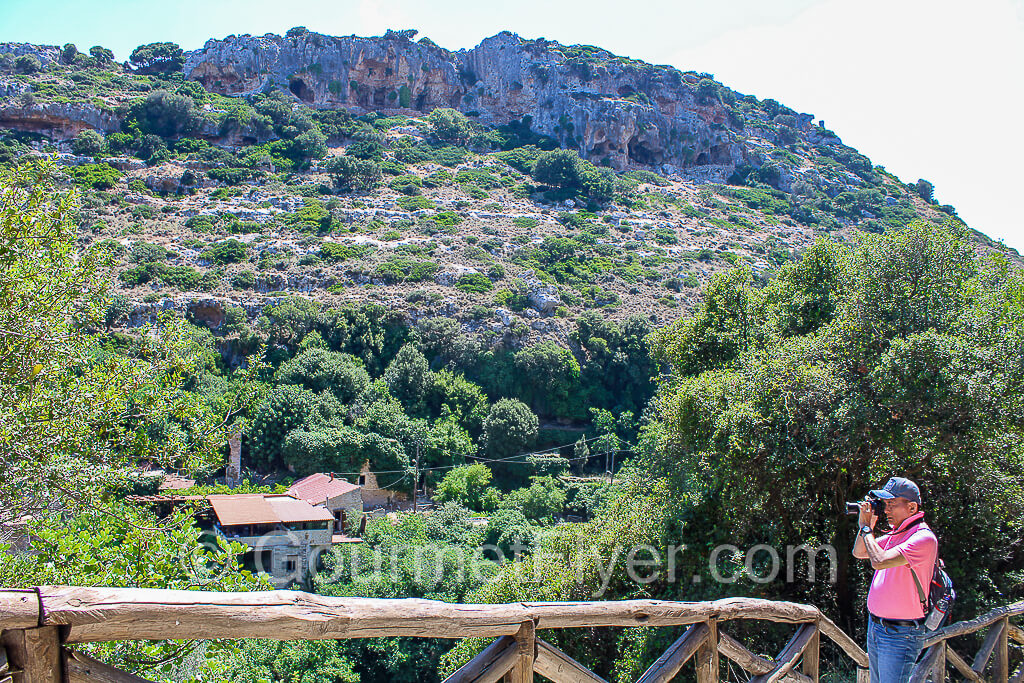 As of this writing, the cost is 15 Euros with unlimited hop-ons and hop-offs in a day. Earphones and audio guide in multiple languages are included.
You can take the Rethymno City Bus Tour immediately after your visit to the fortress/lunch or at one of the Old Town locations. Its main terminal is located at Rethymno Port, near the Marina/Rethymno Beach area. If you take the bus from the main terminal, you can stop at the fortress and get back on after your tour/lunch.
A popular stop along the way is Myli Gorge where you can enjoy a comfortable and refreshing hike for anywhere from 30 minutes to 2 hours. Just be aware of the bus schedule and time your hike to catch the bus on time.
TIP: If you plan to hike the gorge, be sure to bring enough water as there is absolutely nothing for sale anywhere near the area!
Another popular stop is the Military Museum. It is rather small, and you can easily finish within 30 minutes to catch the next bus.
You can hop on and off as many times as you want, and you can also choose your final stop – whether near your hotel or your next attraction. If you follow this Rethymno itinerary, I recommend that you get off at the main terminal. From there, it is literally just steps away from the beach or onward to our next attraction to take the sunset cruise.
Sunset Cruise on a Wooden Pirate Boat
Indeed, the Sunset Cruise on a Wooden Pirate Boat is just steps away from the Red Bus terminal. Go to the Rethymno Port and proceed to Dolphin Cruises (directions). During the summer and peak seasons, the sunset cruise is almost always sold out. Purchasing advanced tickets is highly recommended to avoid disappointment.
You will be sailing aboard the pirate boat Captain Hook, and you will enjoy a beautiful sunset over the Cretan Sea. You will sail past parts of the town center and the Fortezza Fortress and observe a different perspective of the city from the sea. The boat also enters the Venetian Harbor and lingers there for a while for you to soak up all the gorgeous sceneries and romantic moments.
As of this writing, prices are 22 Euros per person and the entire journey is approximately one hour.
Dinner in Old Town
There are so many restaurants and tavernas in Old Town that there must be one that appeals to you in terms of cuisines, atmospheres, and budget. In fact, the problem might be that there are so many restaurants that you could not make up your mind. So let me help you narrow it down to a few options.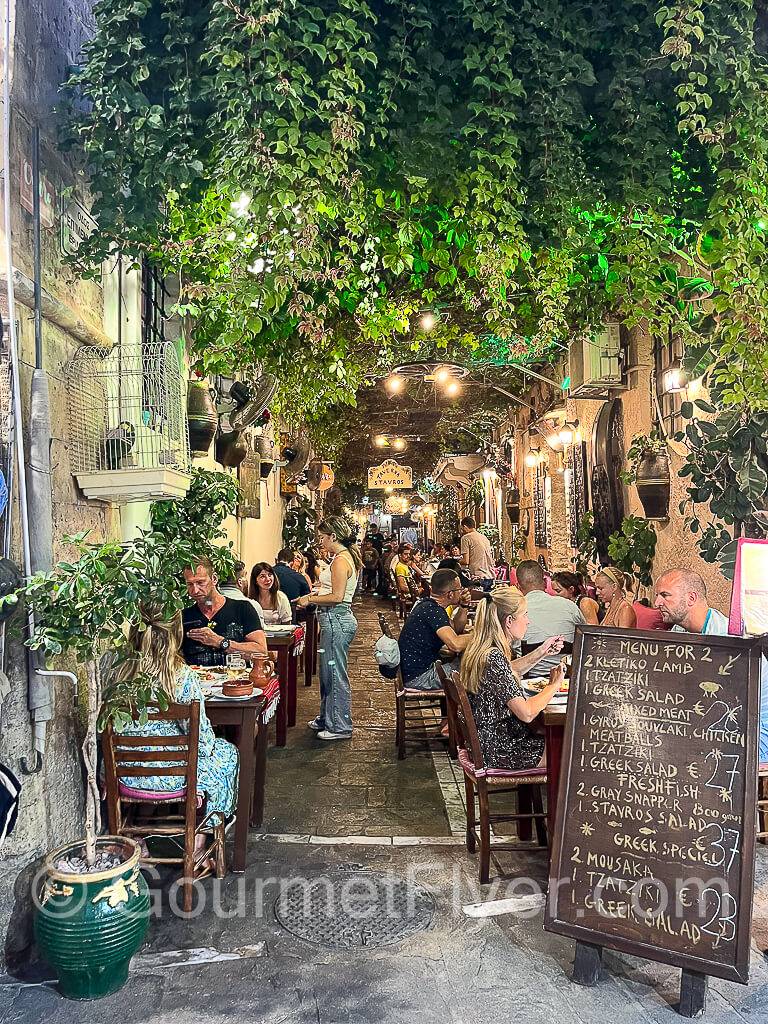 My top favorite place is Taverna Stavros (directions) which has a casual garden-like atmosphere that exudes a certain sense of romance in the air (see picture above). When my wife and I saw this restaurant, we immediately wanted to eat there only to see that there was a line of people waiting for tables. This was one of very few restaurants we saw that night that had a line.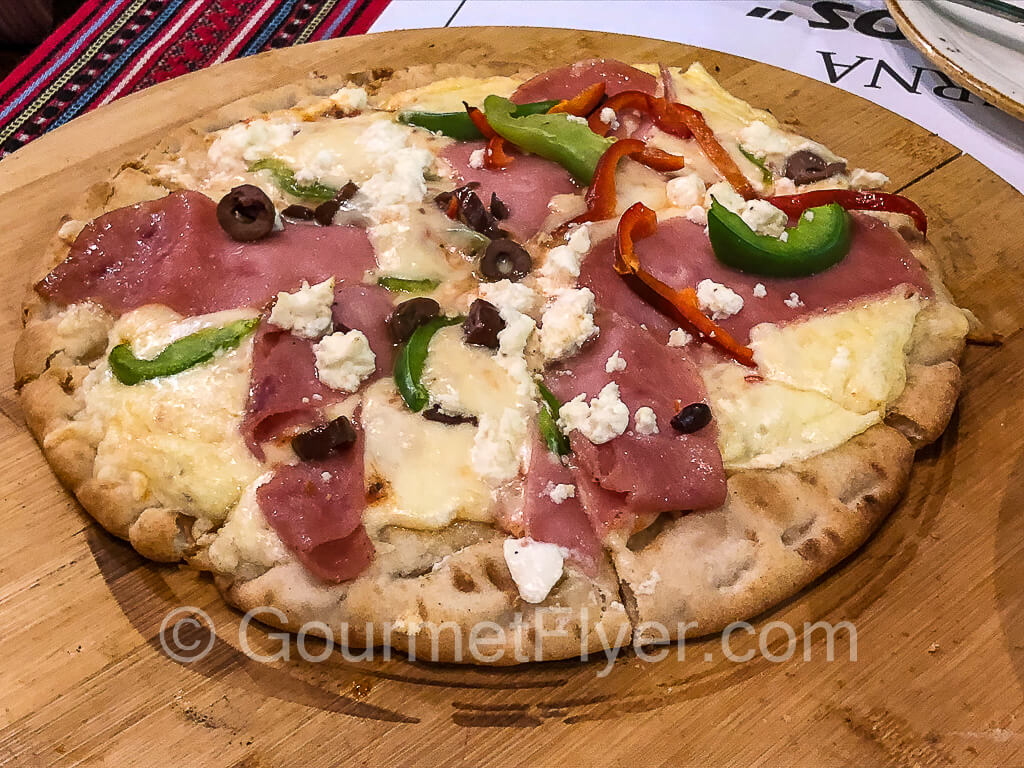 The menu is quite extensive and offers mostly casual dining varieties at moderate prices. They offer a large selection of local favorites, traditional Greek entrees, as well as basic Western continental cuisines. After almost a week of Greek food, we wanted a change of pace and have a pizza. But we wanted some local flavors, so we opted for their special Creta Pizza that was topped with smoked pork, feta, olives, fresh tomatoes, and peppers. The pizza was absolutely delicious. We also ordered a variety of apps and drinks and had one of the greatest meals on the island that night.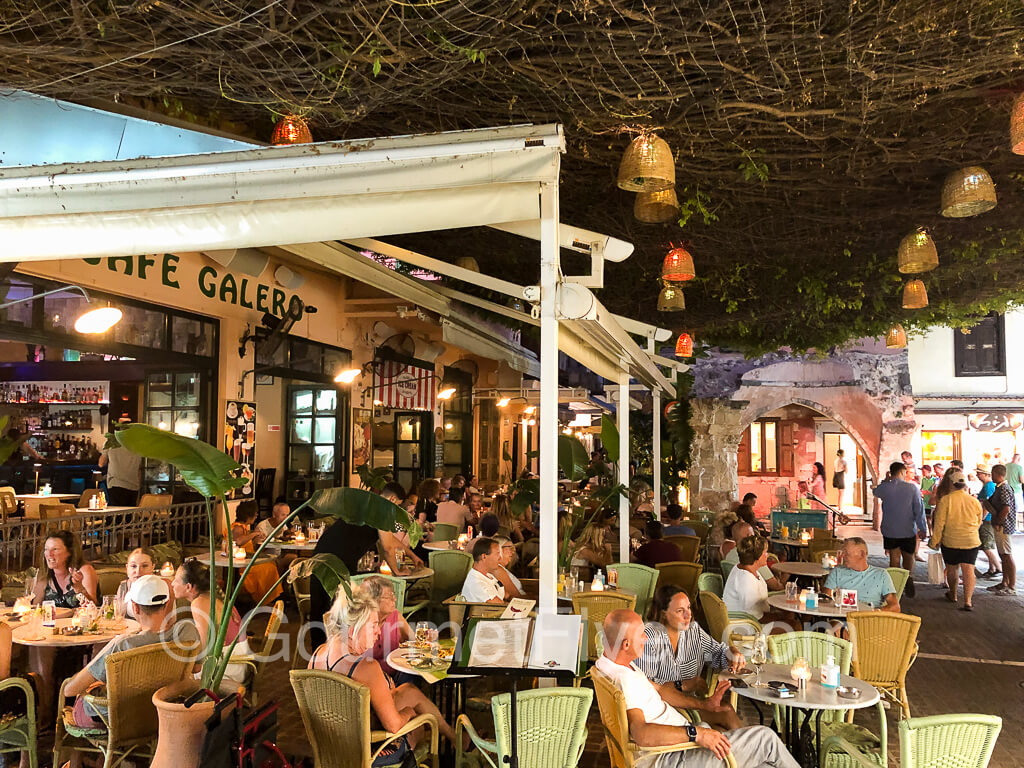 Café Galero (directions) sits right next to the famous Rimondi Fountain in the heart of Old Town and is a well-loved local favorite. It is a café, bar, and restaurant and is actually a great place for breakfast, brunch, lunch, or dinner. It is particularly vibrant at night with lively music and a chill crowd.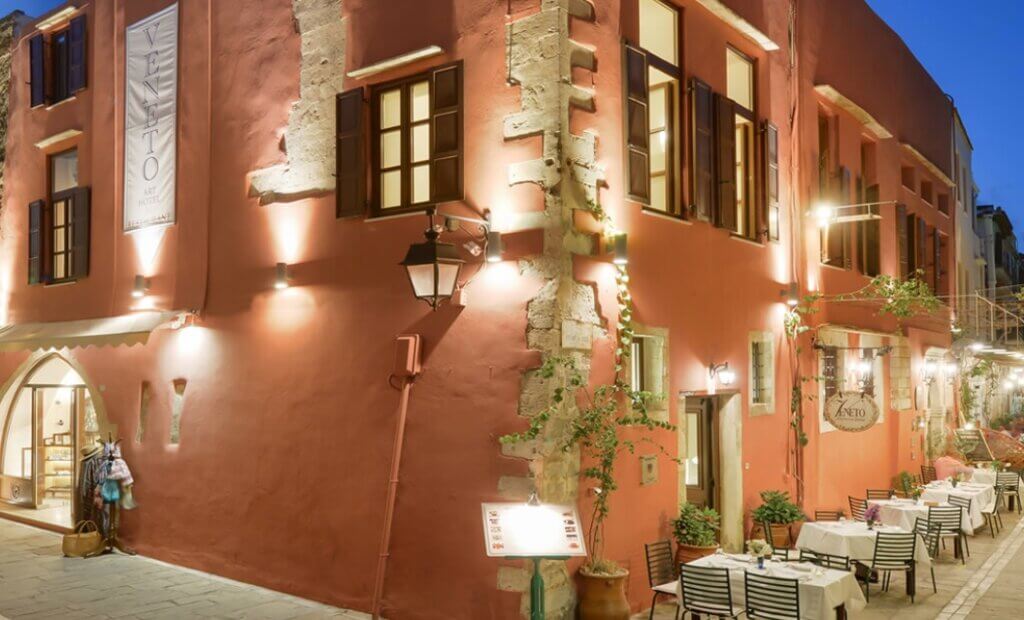 If you are looking for fine dining, Veneto (directions menu) is an elegant restaurant offering sophisticated Cretan cuisines. Some of their local specialties include apakia (smoked pork) appetizer, Saganaki cheese croquettes, and lobster filet with champagne sauce. They also serve some of the freshest seafood that you can find in Old Town.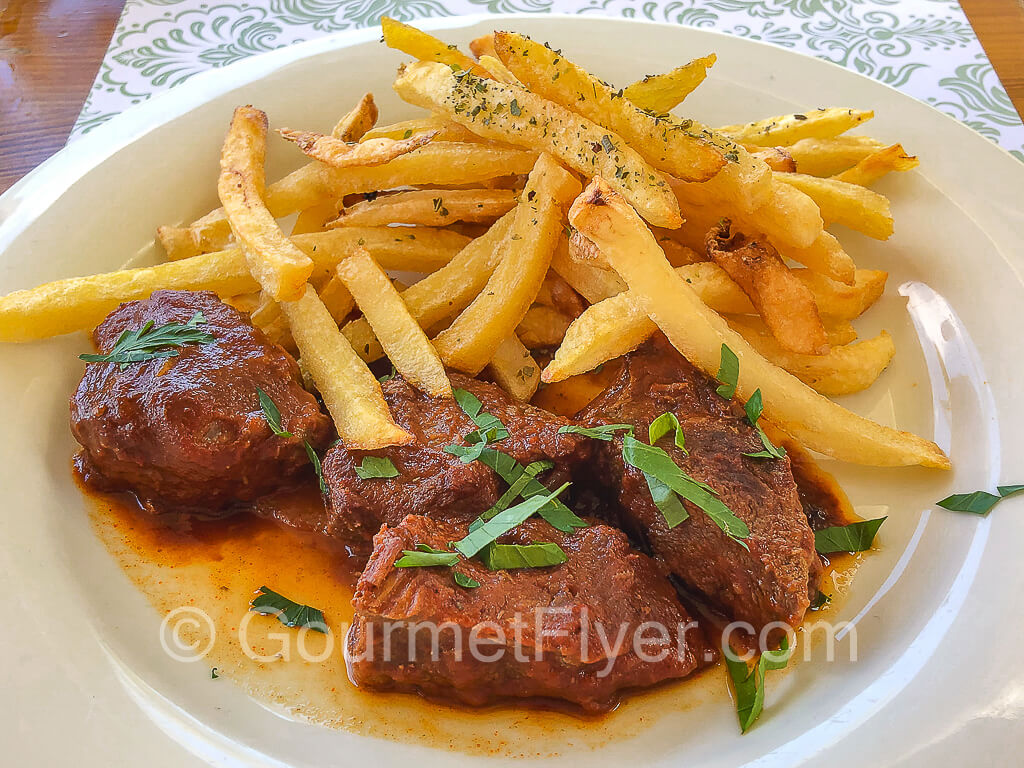 If you are staying near the Marina and beach side of Old Town, most of the ocean facing establishments are mostly bars, or bar and restaurant combos serving mostly bar foods. One exception and a local gem that my wife and I discovered was Civitas (directions) which was actually outside Old Town but is just a short walk away.
I highly recommend the local beef slow cooked with fresh tomatoes. Not only is this dish perfectly delicious, but it is also classic Mediterranean cooking, which is rich in fresh tomatoes and top-quality olive oil. The traditional moussaka is meticulously layered with eggplants, potatoes, ground beef and baked in an individual bowl with a rich tomato sauce. This is a great place for lunch and dinner anytime you are near the Marina and beach area.
Conclusion
I hope this Rethymno itinerary is helpful to the planning of your visit to this quaint and lovely town. By the time you've completed your trip, my guess is that you wish you had planned to stay longer. We actually stayed there for 3 nights and 4 days and still wished that we had spent more time there. It definitely offers a different flavor and charm than Heraklion or Chania. The fact that it is just about halfway between the two major cities somehow makes it more of a day trip destination or a stopover, and that is too bad.
I sincerely hope that my itinerary will inspire you to spend more time in Rethymno. I also hope that your trip will be just as enjoyable and memorable as ours. We will definitely be back. And I hope you will too!