Updated December 10, 2022
After a short closure from early October for renovations, a refreshed and renewed Aegean Intra-Schengen Business Lounge is now open again as of December 10, 2022.
Aegean Airlines operates two Business Lounges in Athens International Airport "Eleftherios Venizelos" (ATH) – Extra-Schengen and Intra-Schengen. This review is on the Business Lounge in the Intra-Schengen area that serve passengers flying between Schengen countries as well as many Greek domestic flights and flights from Athens to the Greek islands.
Table of Contents
Location
This Aegean Business Lounge is located in the B-Gates area serving Intra-Schengen flights. As soon as you go past security, you will enter a large Duty-Free Shop. As you exit the shop, follow the signs and go down the hall on the left side of the terminal. You will quickly reach an area where four airline lounges are located side by side.
Hours as of this writing is 4:00am – 11:00pm.
Access
In a nutshell, access to Aegean Airlines' Business Lounge is complimentary to:
Passengers flying in Aegean Airlines' Business Class.
Mile+Bonus Gold members.
Star Alliance Gold members (not available to Olympic Air passengers).
Please visit the airline's website here for more information.
Seating Areas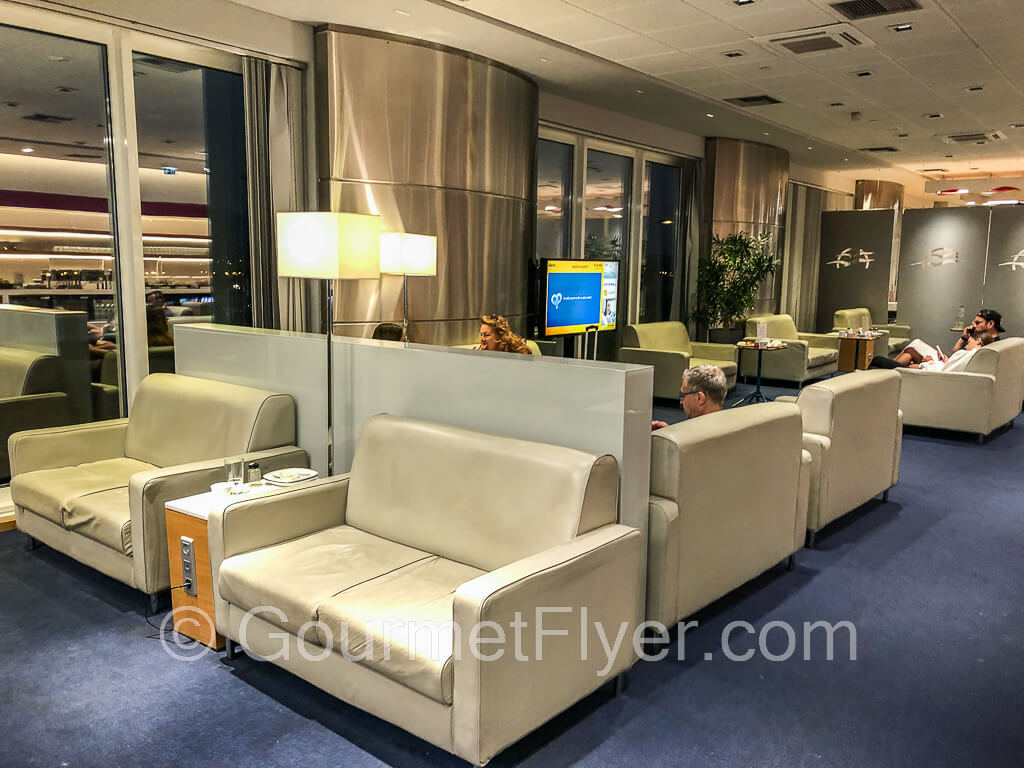 There are two main seating areas inside the club. In the main area immediately upon entry are large and comfy sofas separated by coffee tables equipped with power outlets. They are next to the tall floor to ceiling windows and provide spectacular view of the tarmac. Some of the sofas can seat two people so it is nice and cozy for couples.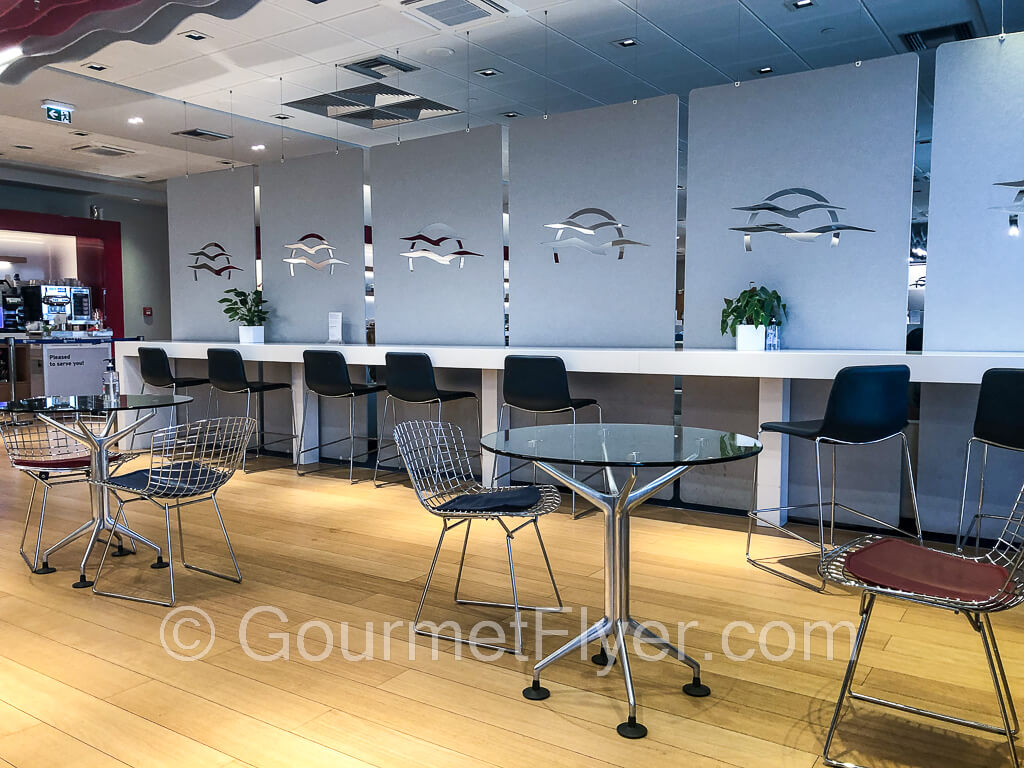 The other seating area almost feels like a diner, with small round dining tables and cute chairs with red cushions. In the same area are two long counters with highchairs which double as a dining counter as well as a workspace.
All Day Snacks
I have been to this Aegean Business Lounge early in the morning as well as late in the afternoon and did not notice any significant difference in the buffet offerings. This leads me to believe that they serve the same all-day snacks throughout the day. The spread is plentiful, featuring traditional Greek sweet treats and savory delicacies. The main difference that I noticed is that they serve hot soup but only during lunch hours, and pastries such as croissants or Danishes are only available in the morning.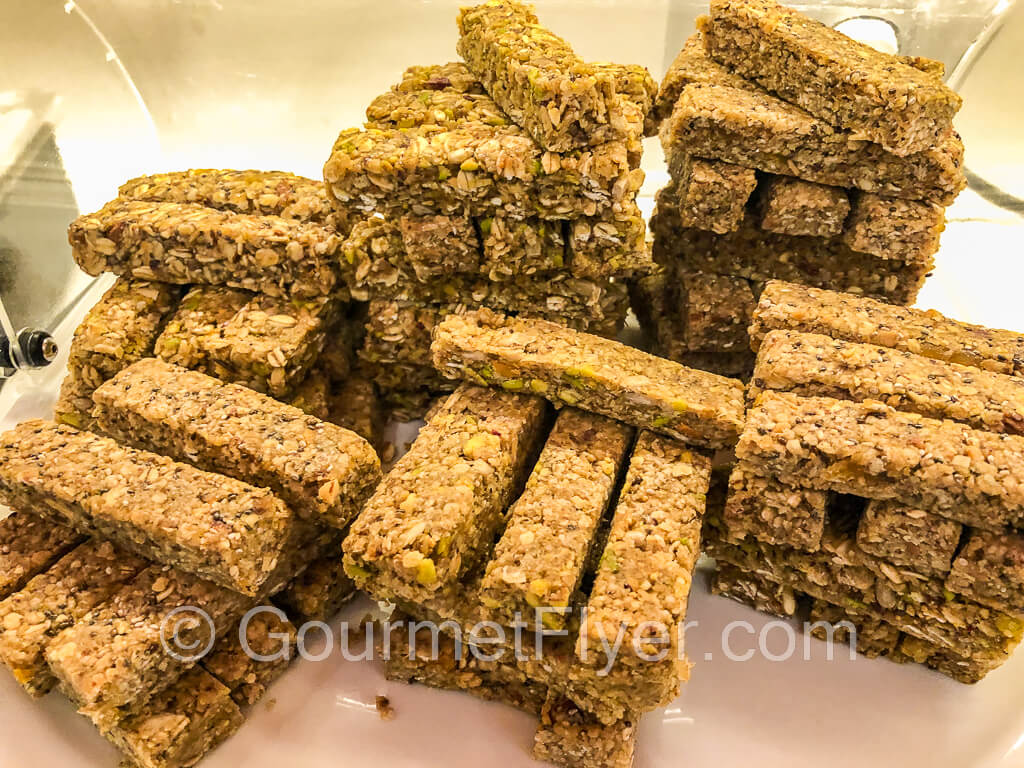 One of my personal sweet favorites is the pasteli, a Greek sesame and honey confection. Other dessert items include a large selection of cakes and cookies. A delicious Greek savory snack is the quiche Lorraine with cheese and tomato. They are so good! The buffet always includes a good variety of sandwiches, a cheese plate, and a deli meat platter filled with ham, turkey, chicken, and pastrami. Be sure to try the pastrami – they are rich in flavor and peppery just the way I like it.
On the healthier side, some of the spread include a large salad bar, fresh fruits, Greek yogurt, and nuts and cereal bars.
Beverage Service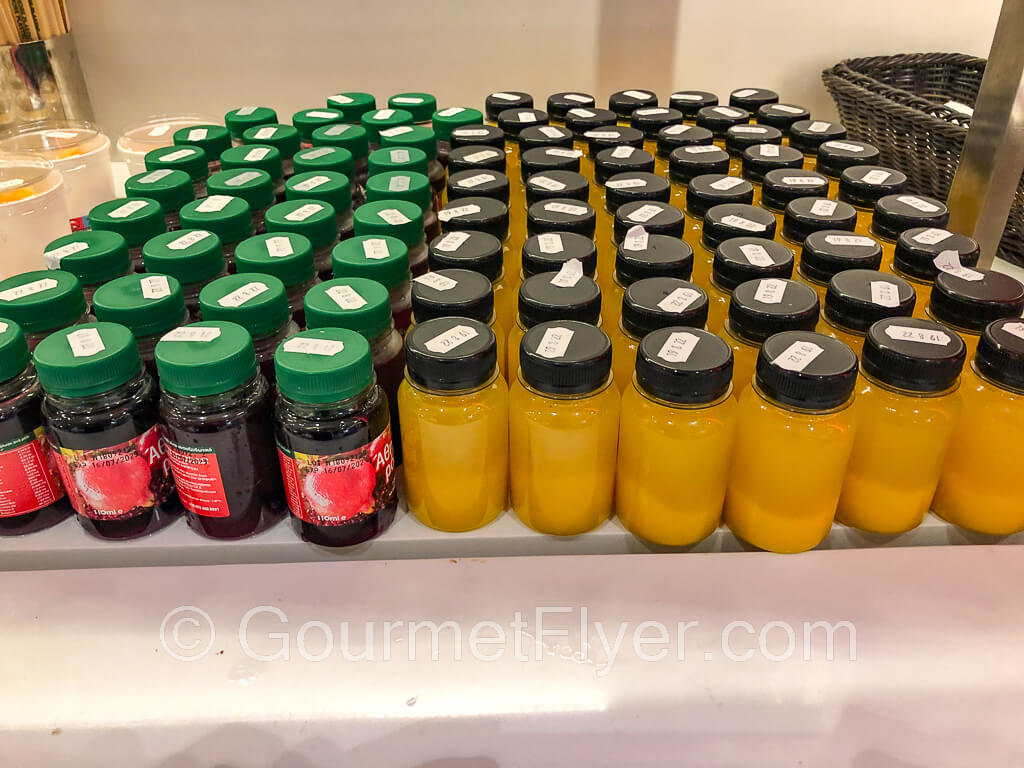 Soft drinks include a large variety of bottled or canned sodas stored in the refrigerator section under the buffet table. On the buffet counter there are small bottles of freshly squeezed juices that are really good. There is a bank of coffee and espresso machines, and that station is usually staffed, but I have seen times where it is self-served as well. Large bottles of still as well as sparkling water are also available.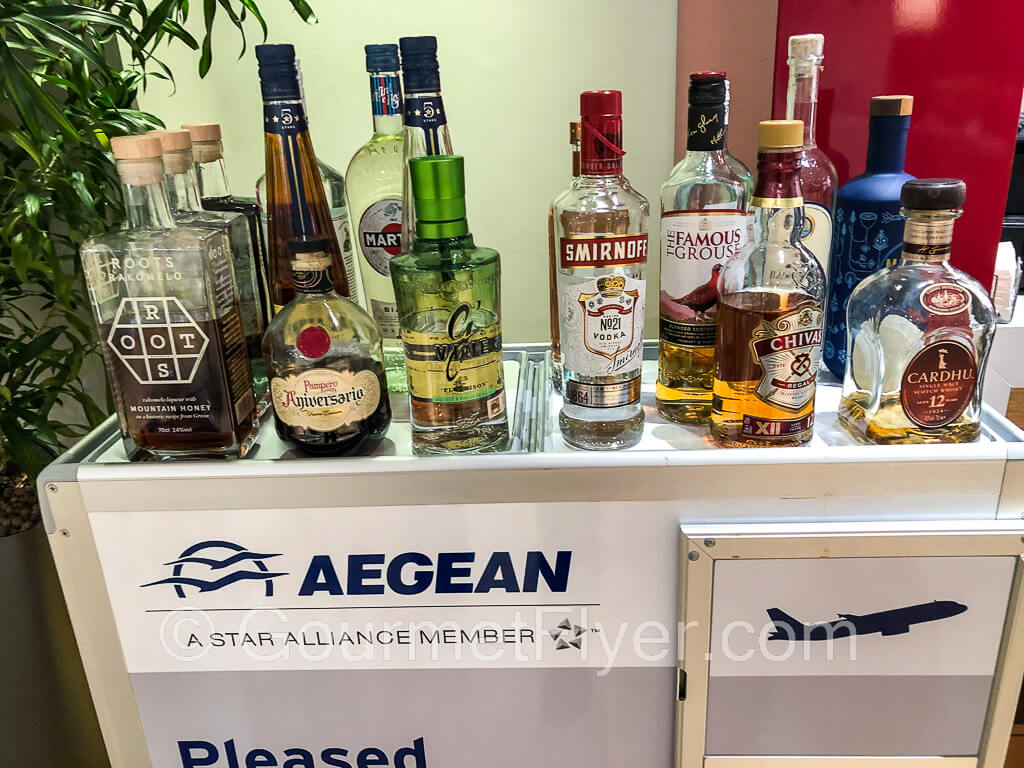 For alcoholic drinks, plenty of cold beers are stored in the same refrigerated section where you find your sodas. Mythos is a blonde lager and is also the most popular Greek beer. It is also my favorite. Alfa is a pale lager, lighter than Mythos, but is great if you prefer a lighter beer.
Bottles of red and white wines are kept on ice near the bottled water station and are self-pour. There isn't a bar area or any bartenders. A small beverage cart stocked with about a dozen bottle of liquors are available for self-service. Ice cubes can be found in a bucket with tongs. Mixers are in the same fridge as the sodas.
Conclusion
I have visited this Aegean Business Lounge many times as a Star Alliance Gold member and I always find this place comfortable and cozy. It is a great haven from the sometime chaotic Athens International Airport, especially during the summer peak tourist season. Food offerings are more than adequate, with at least one to two hot items accompanied by a variety of cheeses, snacks, deli meats, and desserts. The self-serve bar, though nothing fancy, is more than sufficient for a drink before or between flights.
My overall review for this Aegean Airlines Business Lounge is highly positive. If I must pick on something, it is that they seemed to be understaffed a lot of times when I was there. Sometimes it took a while before dishes are removed and tables cleaned before guests have departed. On the other hand, the kitchen seemed to be well-staffed and very efficient as the buffet items were always quickly replenished. Although it does not have the grandeur of some other airline clubs, I like this lounge for its casual atmosphere and subtle elegance.