Updated July 21, 2023
This is a comprehensive guide and a recap of my 3-day and 2-night itinerary in Santorini with a rental car. You can modify my recommendations to fit into your schedule as well as preferences over places to see and things to do in Santorini. You don't need to have a car for most places as they are easily accessible by bus, although buses are very crowded, and lines are long in summer. There are also some places that requires a car to get to, such as the Akrotiri Lighthouse, but you can modify the itinerary to skip over those places.
This 3-day Santorini itinerary will also take you to some the best places to eat on this majestic island. From savoring the best authentic gyros sitting on a bench in the street to a romantic dinner on the edge of the cliff with stunning caldera views, you will be enjoying some of your most memorable dining moments on this trip. From traditional local cuisines to continental fine dining, this guide will also recommend some of the best restaurants for a complete cultural dining experience.
Table of Contents
Three Days in Santorini
One of the most often asked questions is how many days a first-time visitor should stay in Santorini. I will first rule out a day trip. To me, that is almost pointless even with a very short 45-minute flight from Athens. This magical island is such a unique and majestic destination that commands at least an overnight stay. There are indeed enough places to see and things to do in town to justify a few nights' stay.
However, hotels are very expensive here and even the moderately priced ones could cost $300 – 500 a night in summer. So, staying longer than necessary to absorb all there is to the island could be costly. That's why I think a 3-day and 2-night itinerary is the best way to optimize both your time and budget for this trip.
Without further ado, here is the 3 days in Santorini itinerary.
DAY ONE
Morning Arrival from Athens
If you are coming to Santorini from Athens, there is no shortage of flights throughout the day and night. My preference is an early to mid-morning flight that will maximize your time on the island.
My wife and I flew in from Athens (ATH) on Aegean Airlines which is the national carrier of Greece. Fares are reasonably cheap even in summer if you book early. In fact, it is not that much more expensive than a ferry ticket. If you ask me, I'll rather spend my time on the island than spending 5 – 6 hours on a boat.
The flight was rather uneventful, and I think we spent more time in the airport than up in the air. Most inter-island flights do not get a gate with a jet bridge, so we had to be bused to the terminal. Santorini Airport is rather small, so we quickly made our way to the main exit where all the rental car companies are located. We picked up a car from Hertz and were on our way.
We booked a room at the Atlantis Hotel and knowing that an early check-in was not possible, we dropped off our car and luggage at the hotel and began our first adventure on foot.
Lunch and Early Afternoon in Fira
There are literally numerous dining options within a short walk from our hotel, but we opted for something quick and, more importantly, something local. Lucky Souvlakis (directions) was just a 5-minute walk away and was highly recommended by many of my local foodie buddies.
Both the line and the wait were long, but I assure you that their gyros were so good that it was absolutely worth the wait. Note that there are two lines, one is for the cashier where you place your order and pay for it, and another line is where you hand your ticket to the cook and wait for your order. The dine in area is small, but there are benches nearby where you can eat.
After lunch, we began our hike in the direction of Firostefani with the Three Bells of Fira being our ultimate destination for the day. The hike was straightforward, and you pretty much just follow everybody along the trail. You really cannot get lost. The walk was mostly uphill all the way to Firostefani, and it was a great way to burn all the calories from the huge gyro that we just ate.
It was such a gorgeous hike and there were numerous amazing Instagram-worthy photo spots along the way. This is a path which you'll have to walk to appreciate the beauty of this majestic island. You can actually walk all the way to Oia, and it is a 2-hour hike that many people enjoy and recommend. Since we had a rental car, we opted to drive to Oia the next day instead. (If you do not have a car, you can certainly hike to Oia and take the bus back to Fira.)
Three Bell of Fira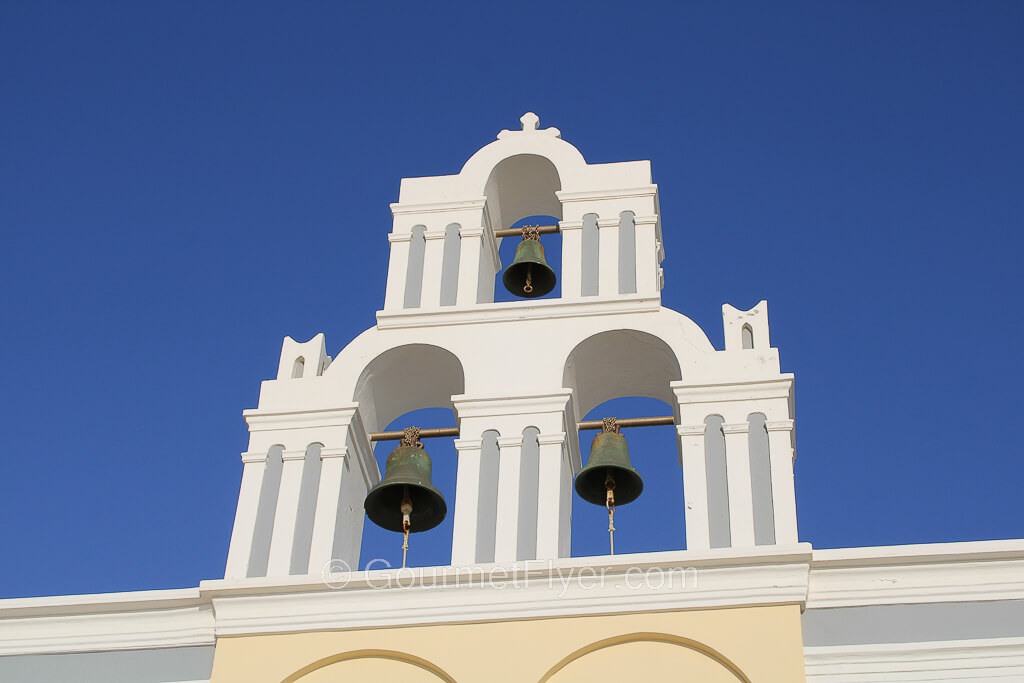 The Three Bells of Fira is probably the most iconic symbol of Santorini, and it is also the island's most popular and recognizable landmark. This is also one of the most photographed rooftops in the World.
It is a little bit tricky to get there though.
The Three Bells of Fira is the famed blue dome of The Catholic Church of the Dormition. You actually can't see the dome from the path that you are taking. If you see a blue dome, it's probably from another church in another direction. You should look for the three bells of the Catholic Church of the Dormition (pictured above left) where there is a sign that tells you where to go to see the blue dome and the bells. We followed the directions and walked up a very steep hill to reach one of the island's most sought after photo spots. Goal accomplished!
Atlantis Hotel and Sunset at the Caldera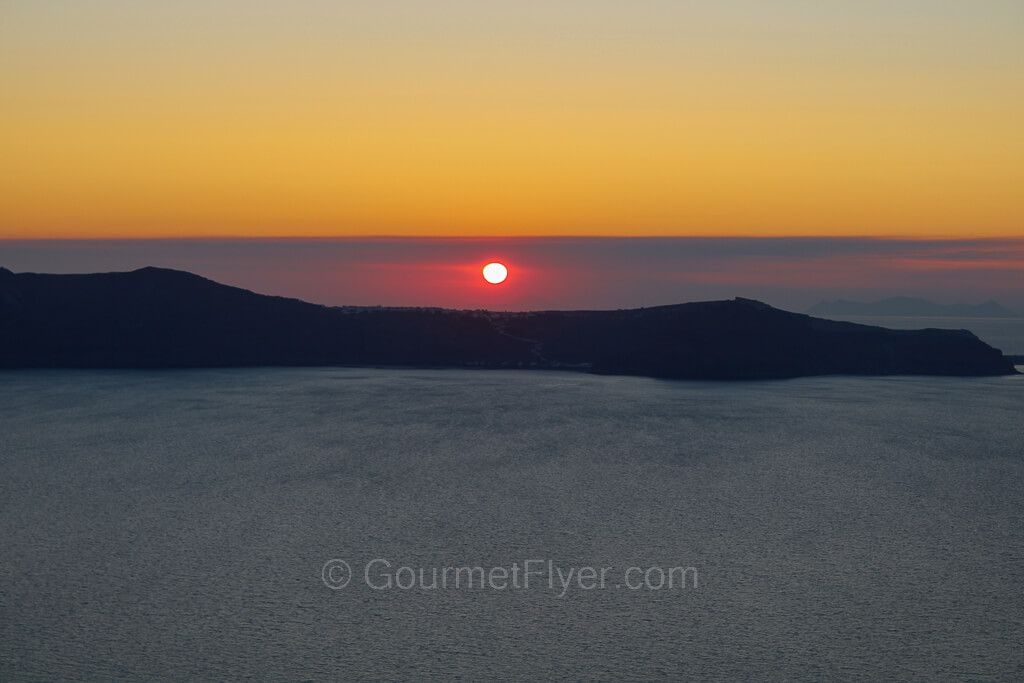 After the photo session we hiked back to the Atlantis Hotel and checked into our room. The room is kind of small, but it has a million-dollar view. Believe me, just the balcony alone is worth the price tag.
Even if you are not staying at the Atlantis Hotel, the outside terrace at the lobby bar offers one of the best sceneries in town, and it is not as crowded as many other places. So go there, grab a drink, and enjoy the sunset.
But nothing beats enjoying the sunset at our own balcony at the Atlantis Hotel. There were two chairs and a round table large enough for drinks and snacks. It was really large enough for us to have dinner there if we wanted to. I also setup a tripod on the table to shoot some videos. We opened a bottle of wine and absorbed every magical moment of the Caldera sunset. To be able to do this in the privacy of our own balcony makes every moment truly romantic. I highly recommend that you do this.
Shortly after sunset is what many photographers refer to as the golden hour. Taking pictures from our balcony during this golden hour turned out to be highly productive. Most photographers will appreciate the opportunity to capture these enchanting landscapes of Santorini with the lens of their cameras. I took some of my best pictures of the island that evening.
Hotels with Caldera View
There are only a handful of caldera view rooms at the Atlantis Hotel, and they get booked up early, sometimes months in advance. A few other moderately priced hotels in Fira that have rooms with great caldera and sunset sceneries are Caldera Butterfly Villas, Panorama Suites, and Anteliz Suites.
Bars and Restaurants with Sunset Views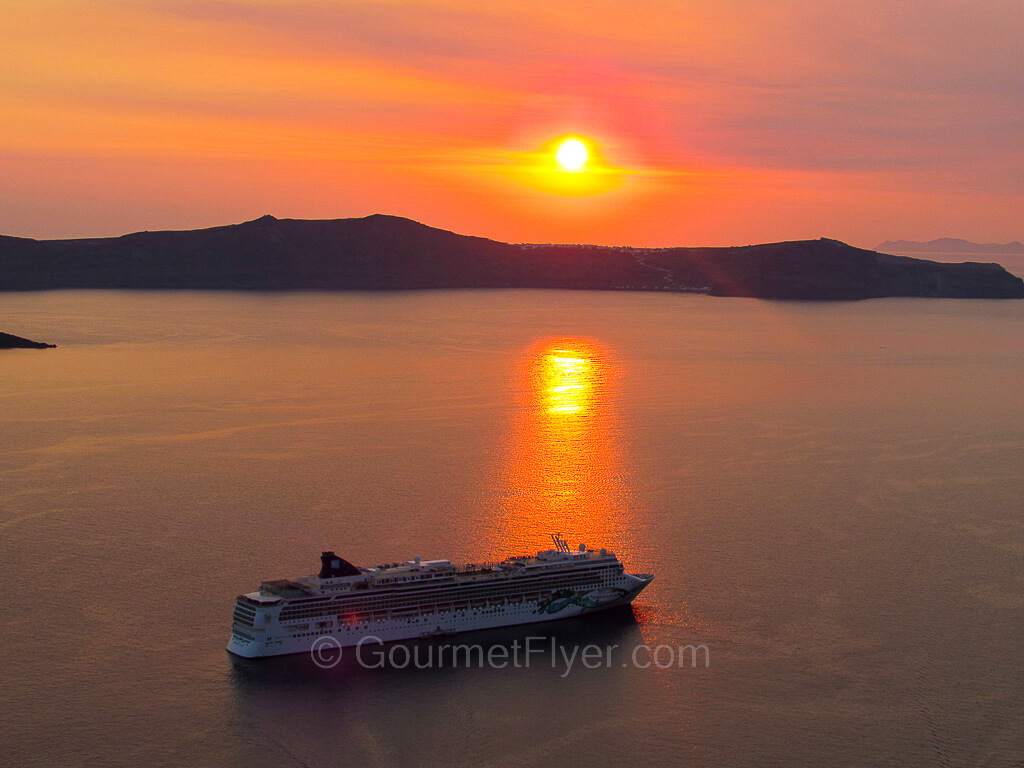 Watching the sunset at the Caldera is one of the major attractions on the island and crowds gather at popular spots with the best views early on to secure their highly sought-after spots. Bars with a view to the glorious setting sun are always packed during this prime time of the evening. This is certainly one of the highlights of our Santorini itinerary.
Just a short walk away from the Atlantis Hotel is Nektar Lounge (directions), a bar and taverna with live music, a vibrant atmosphere, and stunning caldera sights. V Lounge (menu directions) is an elegant cocktail bar that specializes in fresh fruit cocktails and sophisticated drinks. Located on the rooftop of the Panorama Boutique Hotel, V Lounge promises an unobstructed and most memorable sunset view. PK Cocktail Bar (menu directions) offers three levels of indoor and outdoor seating with spectacular volcano views. They have champagne sunset specials that you can book ahead to secure a perfect table.
If you like to stay away from the crowds, I highly recommend visiting the Firostefani area, just a short drive or hike away from Fira. The higher elevation there is also ideal for a more panoramic and unobstructed sight line. Mama Thira (directions) serves traditional Greek cuisines in its 3-level restaurant with a relaxing and family-friendly atmosphere. Some of its indoors and balcony seatings also offer breathtaking caldera and sunset views. Onar Restaurant and Bar (menu directions) is another great place to enjoy the magical Santorini sunset up the hill and away from the crowds. Onar serves delicious Greek food and some of the most popular local favorites include moussaka, grilled octopus, and seafood saganaki.
Romantic Dinner with Caldera View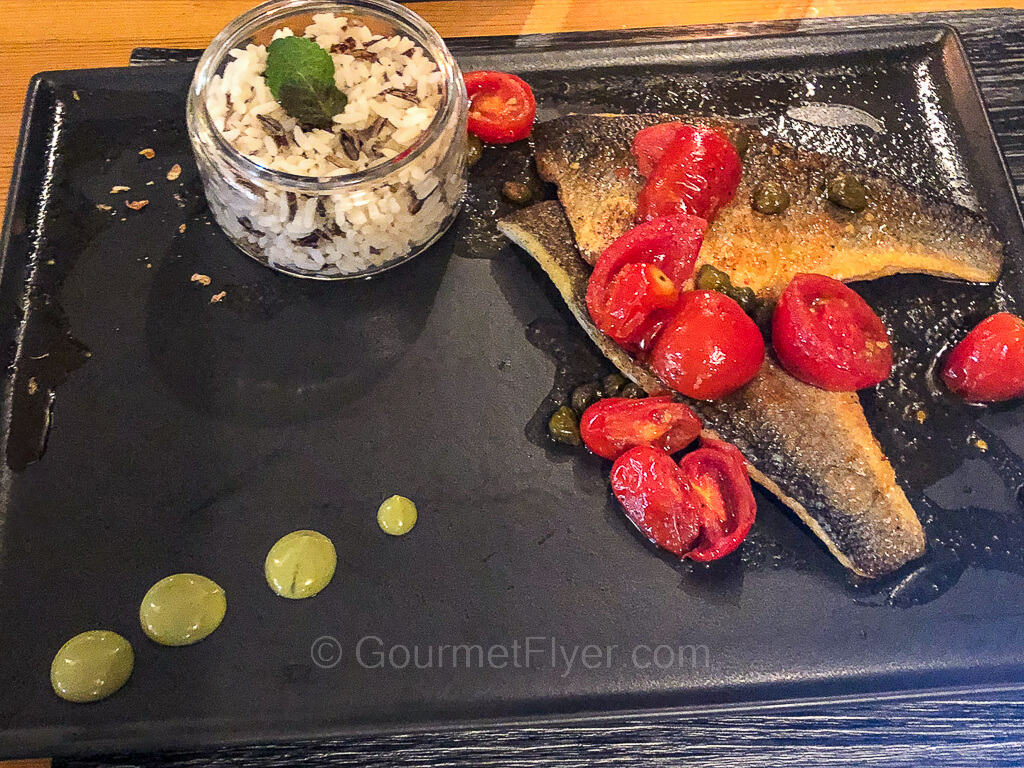 As we walked the main path from the hotel there were many restaurants that lined the rim of the Caldera and offered great views along with your dinner. We have researched the restaurants with a romantic landscape prior to the trip and we decided to go to Classico (directions menu), a restaurant serving modern Aegean and Mediterranean cuisines. We were led to a table with majestic views that set the stage for a romantic dinner.
My wife ordered a grilled fish which was very nicely presented. The fish was fresh and tasty, and it was served with rice pilaf. I had a farfalle with chicken, bacon, and mushroom in a cream sauce. The bow-tie pasta was perfectly al dente, and the sauce was rich and delicious. The bacon certainly added an extra dimension to the pasta dish.
A few other restaurants with stunning views and amazing food that I highly recommend are Esperisma Bar-Restaurant (directions menu) if you feel like splurging for upscale fine dining, Argo Restaurant (directions menu) for casual fine dining with an innovative and trendy menu, and Aris Restaurant Santorini (directions) for a relaxed, casual and family friendly dining experience at the edge of the Caldera.
There were literally numerous night life options on this vibrant island. We strolled around for a little just to soak in the vibes and the lively atmospheres but decided to hit the sack early to rest up for a full day of adventure tomorrow.
But if you are seeking a club with a lively party atmosphere, I'll recommend the Koo Club (directions).
DAY TWO
Drive to Oia
There are two main roads from Fira to Oia. One passes through Imerovigli and follows along the west coast of the island. This is the shorter way and is also the "recommended" way on Google Map by default. However, the road is narrower and full of nerve-wrecking hairpin curves and is a more difficult drive. It also has more traffic as this is the typical route that most people take.
The route that I prefer is along the east coast. It is a longer way but an easier drive. It also has less traffic and is just as scenic as the west coast drive. The drive took about 20 – 25 minutes.
There are many parking spaces around different parts of Oia, most of them are free. But in the peak summer seasons the free parking spaces are hard to come by. You might need to circle around quite a bit, but if you run out of patience there are plenty of paid lots that are more easily available.
Exploring Oia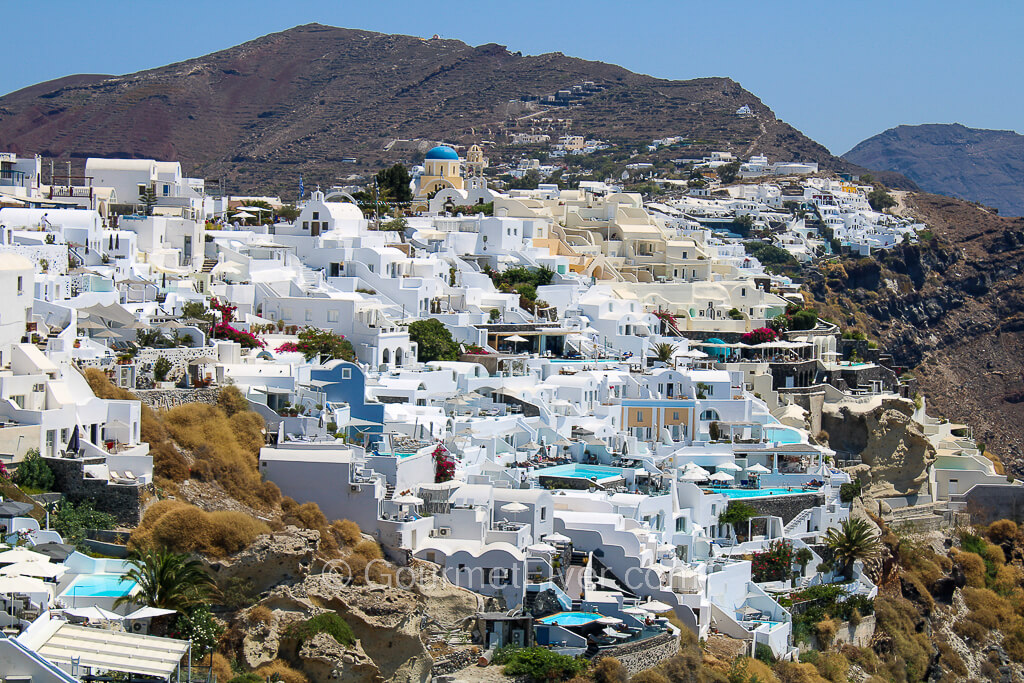 Exploring Oia is another highlight of this 3-day Santorini itinerary. The only way to explore the center of Oia is on foot as the entire area is closed to traffic. The main pedestrian path connects all the major areas of Oia, including restaurants, boutique shops, amazing photo spots, as well as many hotels. Most of the path is marbled, flat, and wide and is a lot more comfortable to walk on, versus the mostly cobblestone paths in most of Fira. Another difference from Fira that you will likely feel is that the stores in Oia sell higher end merchandise and most of the restaurants are more upscale.
If you are an avid photographer, then be sure to walk every narrow path, climb every stairway, and go down every alley that you come across. Many of the non-descript paths will unexpectedly lead you to some of the most stunning photo opportunities that will make your visit to Santorini more memorable than ever.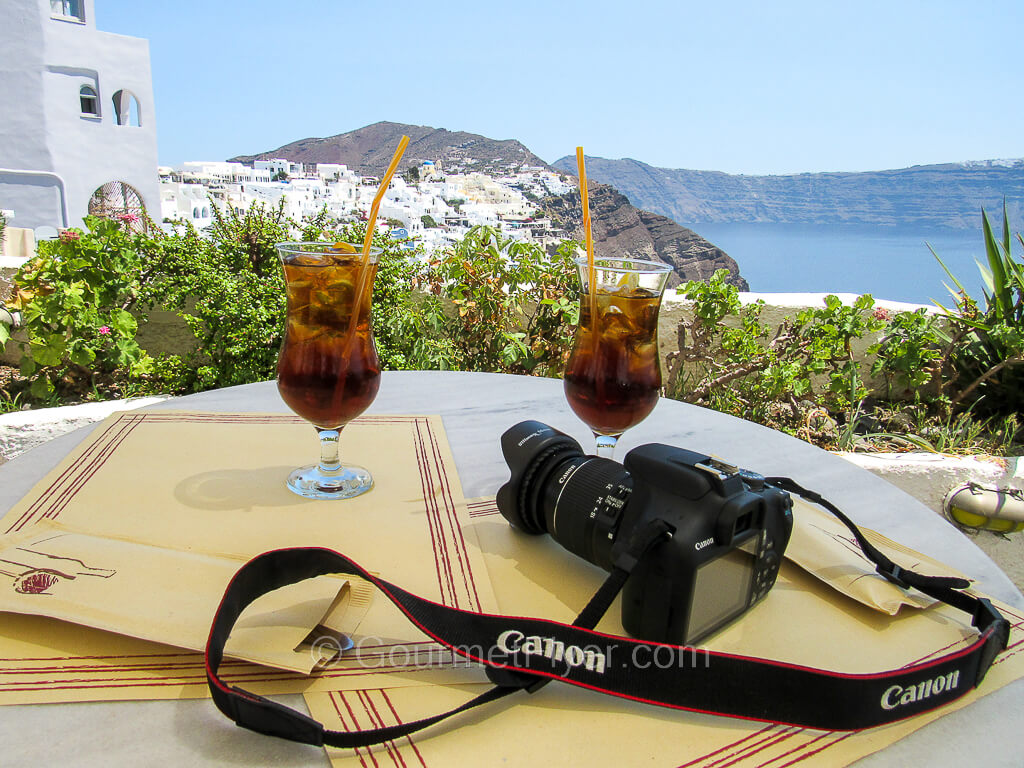 There are many restaurants that fits every budget along and near the main path of Oia. Those that offer spectacular views are literally sitting on the edge of the cliff and the view is stunning. As far as I am concerned, I am going to splurge a little on this lunch as you don't get to dine with this kind of view very often. (A variation of this itinerary is to come to Oia in the afternoon to enjoy the sunset and have a romantic dinner. But be warned that traffic and parking are close to impossible near sunset times, so I'll recommend that you plan to arrive earlier in the afternoon.)
A few favorite restaurants that I'll recommend are Pelekanos (directions menu) for casual outdoor dining with breathtaking caldera views, Thalami (directions menu), for traditional Greek cuisines and fresh seafood with stunning views, and Ambrosia (directions menu) for a most memorable, romantic fine dining experience.
Shopping and Dining in Fira
Around mid-afternoon we drove back to Fira, swinging by Ammoudi Bay and the Windmill of Oia for some sightseeing and photo ops. We parked the car at the hotel and explore Fira on foot.
As we walked north on the main path, we passed by the entry gateway of cruise ship passengers, who would come up the cliff either by taking a cable car or riding a donkey. If you want a serious workout, you could walk up as well. If we took that path down, we would reach Old Town (Old Harbor). We decided to bypass Old Town which was typically packed with cruise ship passengers.
We went down the other direction and found a maze of narrow alleys and stairways with numerous shops, bars, gelato stores, cafes, and restaurants. We bought a lot of souvenirs as well as some yummy treats to take home. This completed the shopping portion of our three days in Santorini.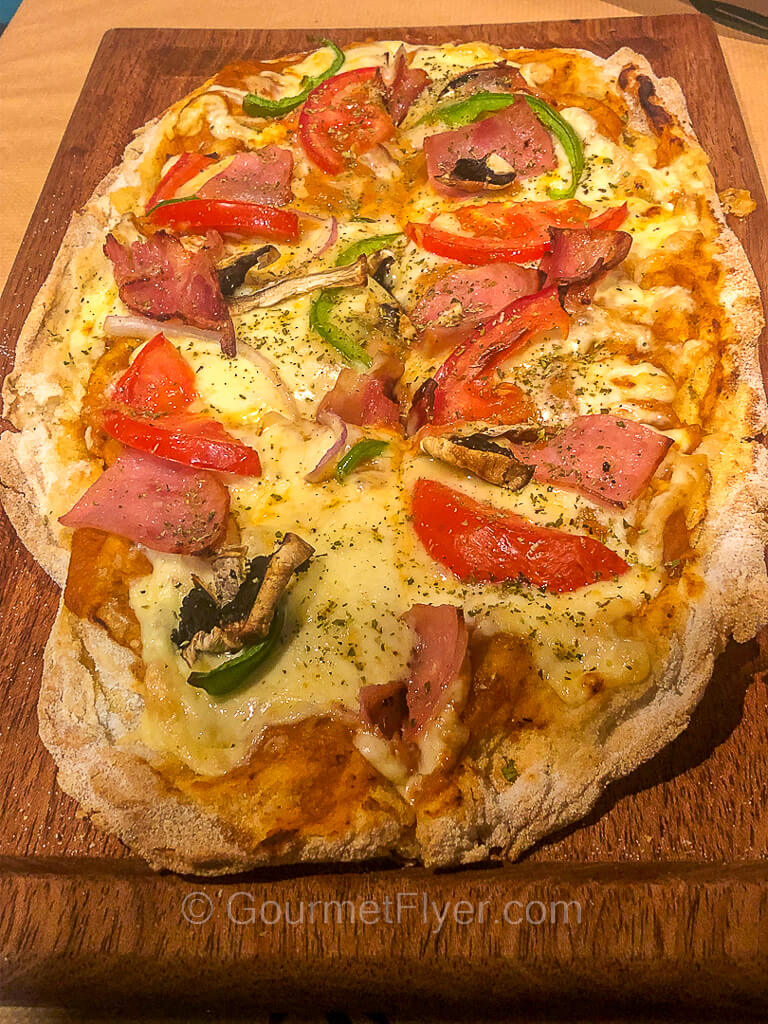 For dinner, we figured we already had dinner at Classico right on the edge of the Caldera the night before, so we were just going to grab something in this area where we were exploring. There were so many options we had a hard time deciding, but eventually settled on Elia Tavern (directions menu). It turned out to be a great decision as the restaurant served amazingly fresh fish and grilled octopus. The fish soup was outstanding, and so was the flatbread.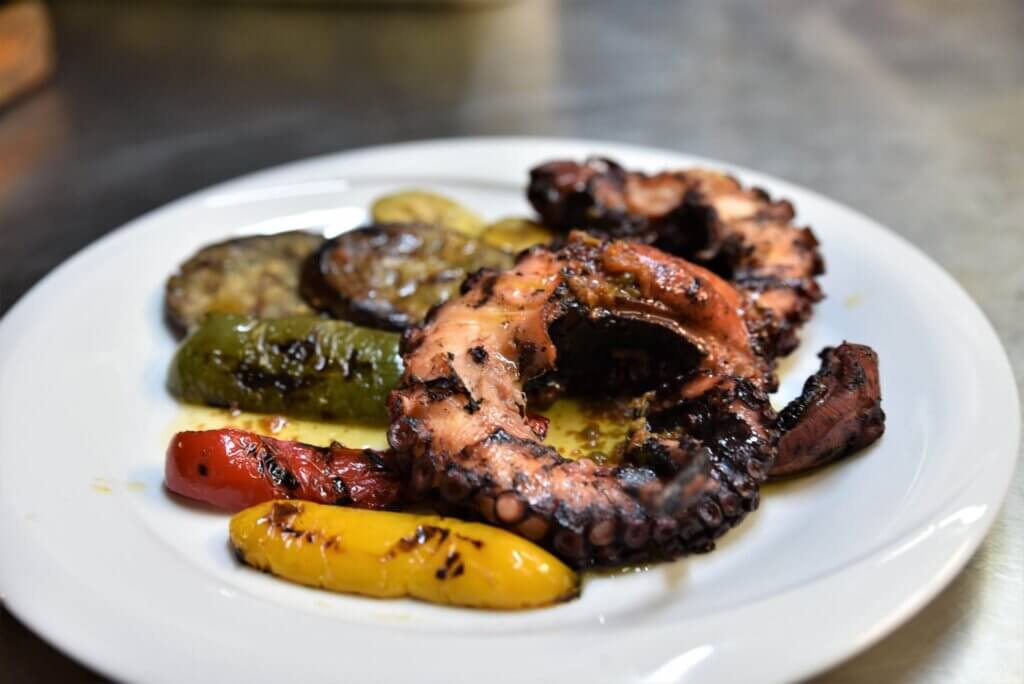 Just steps away from Elia and on the other side of the alley is another top-notch restaurant recommended to us by our local foodie buddies. Parea Tavern (directions menu) is well-known for their fine Mediterranean cuisines and seafood, especially grilled octopus (yes, this seems to be a wildly popular local entree.) Their upstairs seating also offers spectacular sea views to enhance your dining experience.
Another casual restaurant nearby serving some of the best traditional Greek food is Ouzeri (directions menu). But if you want a change of pace and scenery and are up for a treat in Italian fine dining, I highly recommend Cacio e Pepe (directions menu).
DAY THREE
Akrotiri Archaeological Site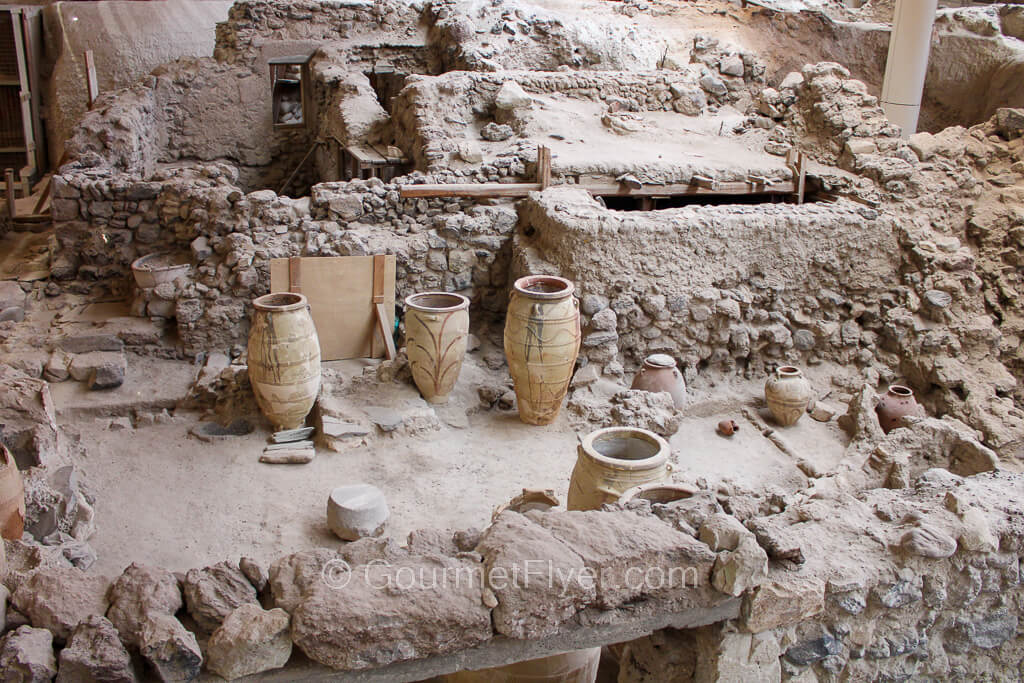 We packed our luggage, checked out of the hotel, and start the day early in the morning, heading to the Akrotiri, an active archaeological excavation site. (You can visit the site without a car by taking the bus from Fira to the Red Beach and from there it is just a short walk.) The site is of major significance because it brought to light pre-historic settlements of the Aegean.
The excavation discovered the remains of multi-story buildings which indicated a prosperous lifestyle as well as murals and vessels that evidenced the artistic and cultural developments of the time. Structures that resembled town halls indicated early community life and an organized society.
Even without an agenda, I highly recommend that you visit Akrotiri early in the morning before all the tour groups from the cruise ships arrive. I also suggest that you allocate one to two hours to fully appreciate the site.
Lunch at Taverna Glaros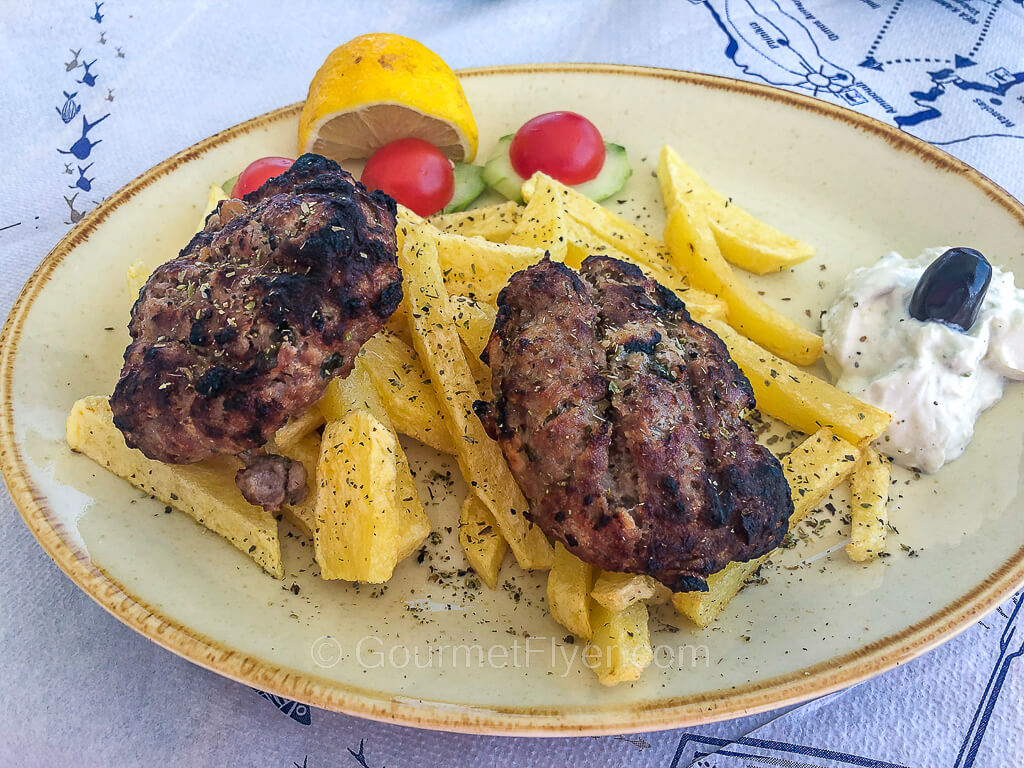 There are not too many restaurants near the area, and I highly recommend Taverna Glaros (directions menu), which is just a short drive up the hill toward the Red Beach direction. (If you don't have a car, it's about a 10 – 15-minute walk, but you'll be walking uphill.) The restaurant had its own private parking lot which made it very convenient. The food was great too! I was particularly impressed by their fried zucchini which was thinly sliced, lightly battered, well-seasoned, and fried to perfection. We had a hamburger steak with fries which was also very good.
Akrotiri Lighthouse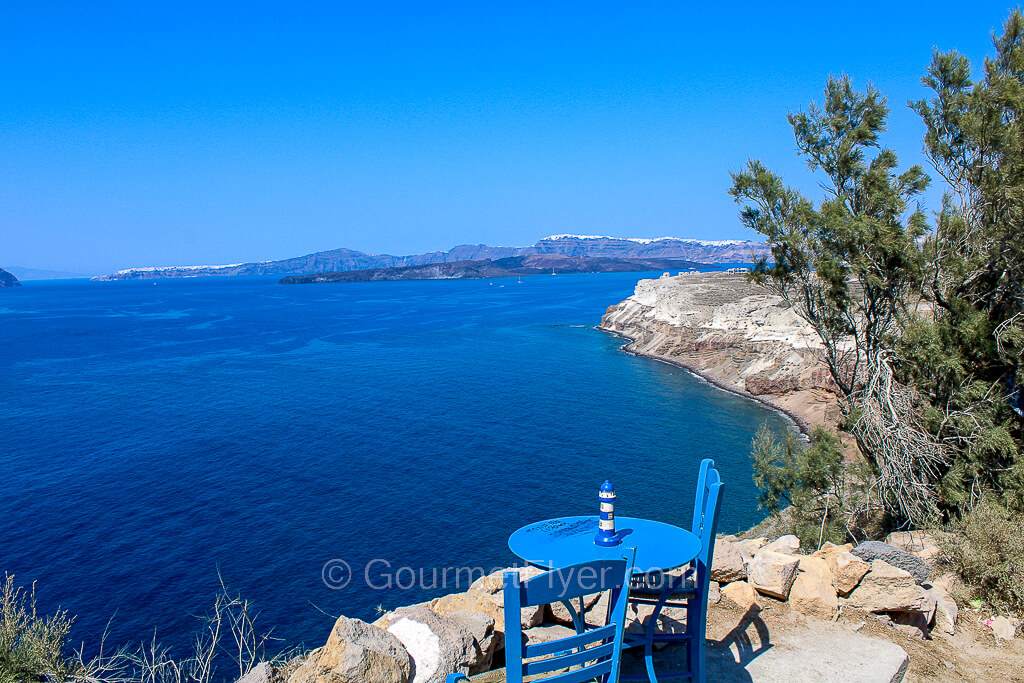 Our final destination for this Santorini itinerary was the Akrotiri Lighthouse. Having been driving on the island for two days, I am now used to driving in narrow, steep, and curvy two-way streets. Well, you'd better be prepared to do that if you are driving up to the lighthouse. You will also be rewarded with stunning views along the way.
If you are not pressed for time, feel free to pull over to any safe parking spots along the way to soak in the majestic beauty of Santorini. Another tips that I will give you is to park just below the lighthouse and walk up there, as finding a parking spot right at the lighthouse could be very difficult. This is one of the highest spots on the island that you can drive to and the view there will help you capture some of your fondest memories of this trip.
CONCLUSION
We booked a late afternoon flight back to Athens, so we had to embark on our 30-minute drive to the airport. I truly enjoyed our 3-day and 2-night itinerary to Santorini, and I think the pace was just about right. We purposely skipped a few places so that we wouldn't feel rushed. And more importantly, it gave us good reasons to return.
I hope this guide gives you a good idea on some of the best things to do, iconic places to see, as well as exciting local places to eat in Santorini. More importantly, I hope this article will inspire and encourage you to explore this majestic and enchanting island.