July 31, 2023
This is a comprehensive review of my Air Canada Business Class flight from Vancouver to Los Angeles on a Boeing 737 MAX 8 aircraft. While this is technically an international trip, the service and amenities between Canada and the US are typically more comparable to those of US domestic flights. On the airline's website, this cabin service falls under the category of "North America and Caribbean Business Class".
Table of Contents
Pre-Flight
Air Canada's Business Class passengers enjoy access to dedicated priority check in counters at Vancouver International Airport. This saves you a lot of time and stress especially during the city's peak travel seasons. Customers also receive expedited luggage handling, and their bags will be among the first to arrive at the carousel at the destination.
Another privilege that comes with a Business Class ticket is Zone One boarding, which is immediately after pre-boarding of passengers with disabilities. You will be boarding alongside the airline's Super Elite members. (Families with young children board after zone two and before zone three.)
However, there is no priority security lane at the transborder terminal in YVR. As a Star Alliance Gold member, I have access to priority security even when flying in economy, but I have always been directed to the regular line in this particular terminal. I checked with two different agents this trip and they both confirmed that premier cabin customers use the same lane as all other passengers.
Maple Leaf Lounge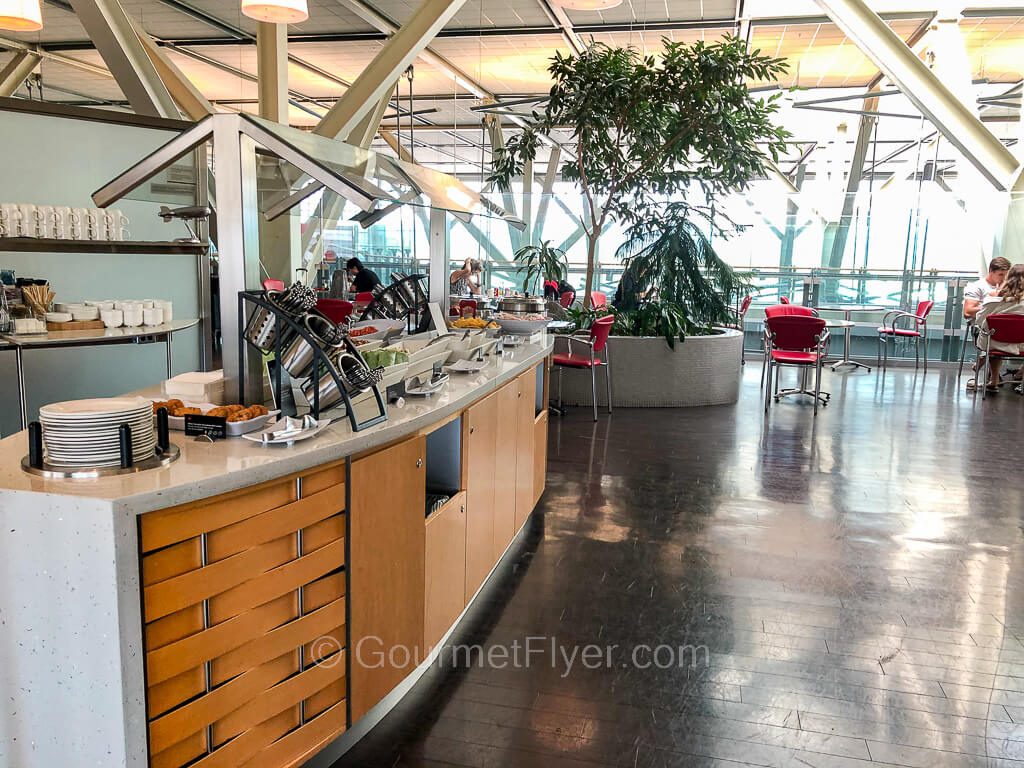 For passengers who are not Star Alliance Gold members (who have lounge access regardless of their ticketing class), access to the Maple Leaf Lounge is probably one of the most appreciated perks. The club has a buffet of snacks, sandwiches, soups, and salads as well as a wide variety of drinks. A self-served full bar includes draft beer on tap, a selection of wines, and over a dozen liquors and mixers.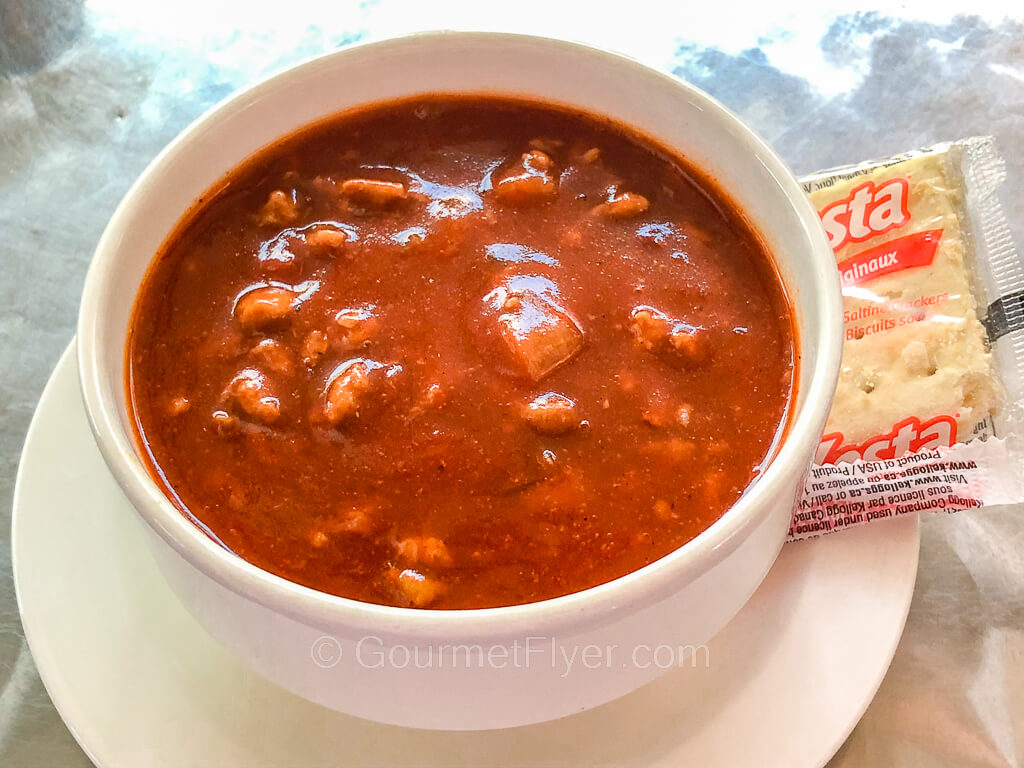 I enjoyed a bowl of chili which was delicious and loaded with lots of ground beef and beans, a chicken wrap, Mediterranean pasta salad, and a blend of corn and black beans.
For a complete review of the Maple Leaf Lounge at the Vancouver Transborder Terminal, please go here.
Pre-Departure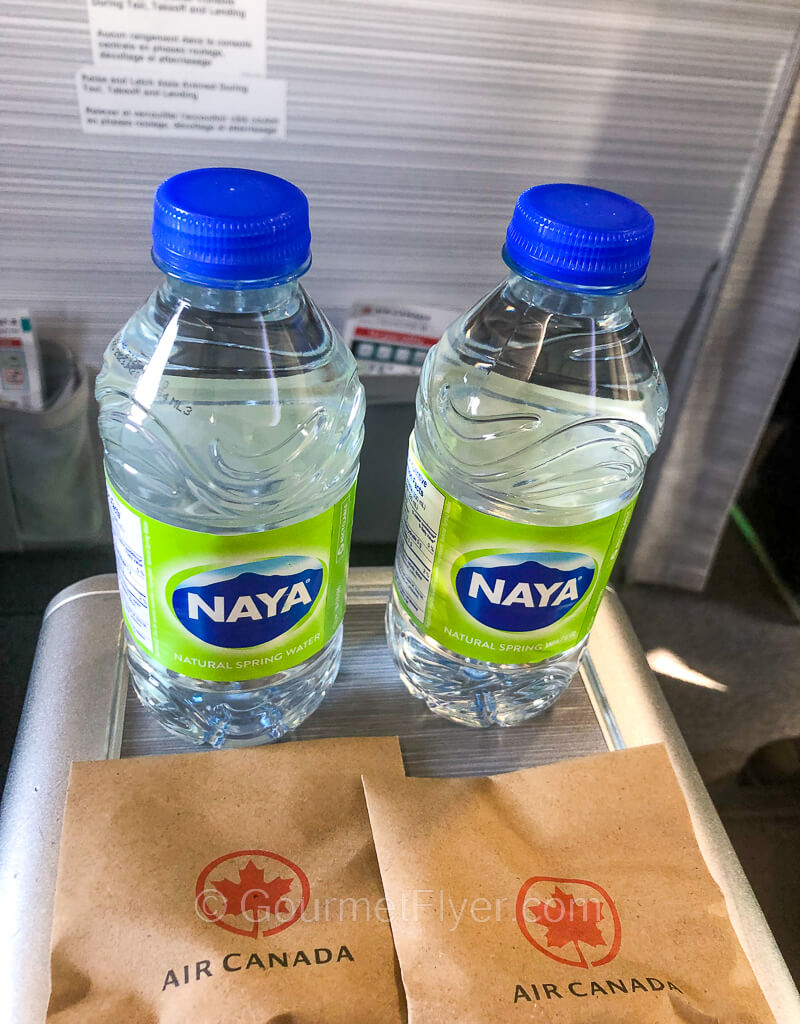 Bottled water and earphones packaged in a small envelope were already at our seats when we boarded. I think it was a rather thoughtful gesture; however, there was no pre-departure beverage service.
When boarding was completed, a flight attendant passed out menus and took our dinner order shortly thereafter.
The Seat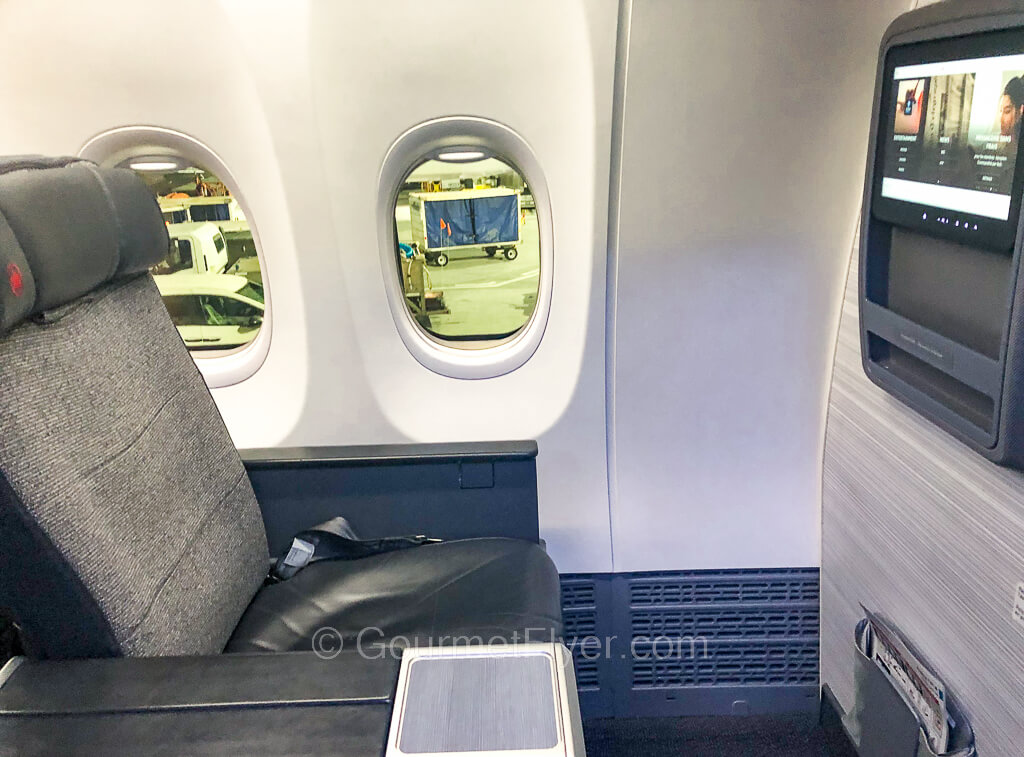 Air Canada's Boeing 737 MAX 8 aircraft have 4 rows of Business Class seats in a 2 – 2 configuration, with a total of 16 passengers. They are spacious and comfortable with a width of 21" (53 cm) and a pitch of 38" (97 cm). My wife and I were at the bulkhead which had probably another two inches of pitch. The seat reclines up to 6". For comparison purposes, the width, pitch, and recline of a regular economy seat are 18", 30", and 3" respectively.
One characteristic of the MAX 8 is that it provides wider armrests between seats and a larger area for drinks, as compared to other 737 versions.
Another feature is a small storage compartment under the armrest between seats that can fit a small purse or a tablet. But be careful if you use this storage area for any valuables as it is not visible and very easy to forget.
As you can see from the picture above, this is also where the power outlets and earphone jacks are located. It is very handy that you can charge your devices there and leave them in the compartment – as long as you don't forget to retrieve them when you deplane.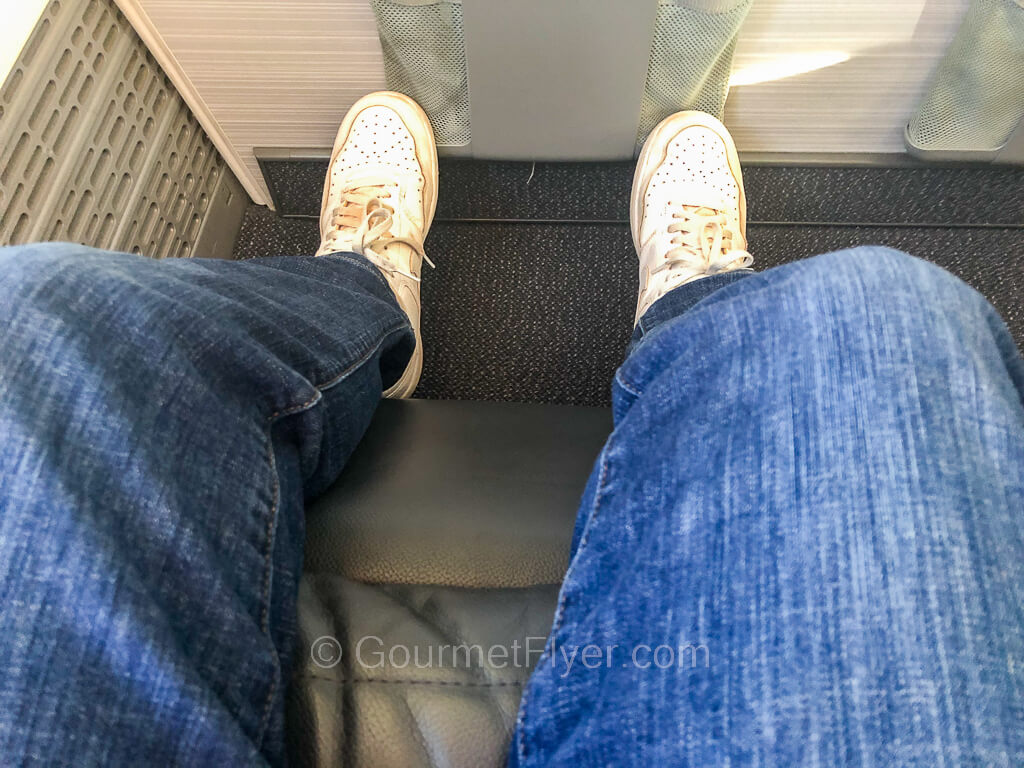 The bulkhead row seats also come with leg rests and the release button is on the side panel, right next to the recline button. I find this very similar to the leg rests installed in the premium economy cabins of many airlines flying long haul international routes. I know many people like this feature, but for me, there is no extra comfort because the leg rest does not extend high enough.
Entertainment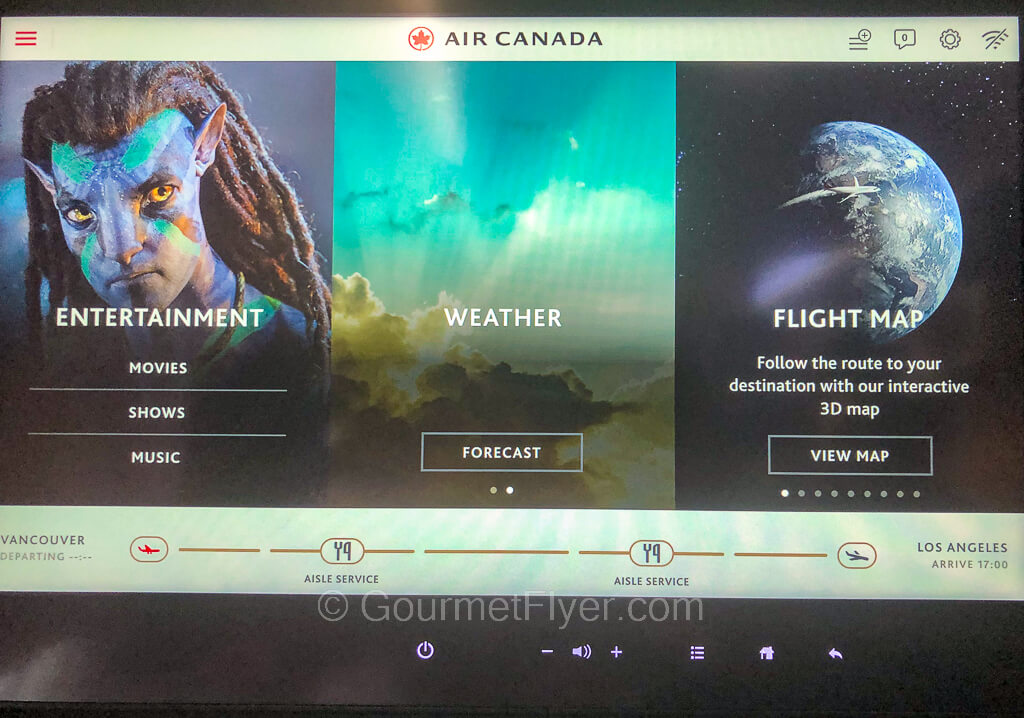 The MAX 8 has entertainment screens at every seat, and they are all touchscreens with no remote controls. One particular feature that I like is that at the bulkhead the screens are mounted on the partition ahead, instead of a panel between seats that you have to swing up and unfold. The downside is that at the bulkhead it's a long reach to get to the touchscreen so you might need to stretch a lot in the absence of a remote control.
There were a lot of movies available, and I counted over 360 of them. One great feature is that you can filter the movies by length to the extent that you'll be able to finish watching during the remainder of the flight.
Beverage Service
Beverages were preceded by a hot towel service which I really appreciated. Too many airlines have done away with this in their premier cabins.
The beverage menu is on the back of the dinner menu. Kudos to Air Canada for having a separate beverage service shortly after takeoff instead of combining the drink with the dinner tray. Drinks were served with a serving of nuts which were mostly almonds with maybe a couple of cashews.
Beverages were served out of a cart – just like economy class – and I think this is a lot more efficient than taking individual orders, assembling the drinks in the galley, and serving them one or two at a time (which many other airlines do in their premier cabins.)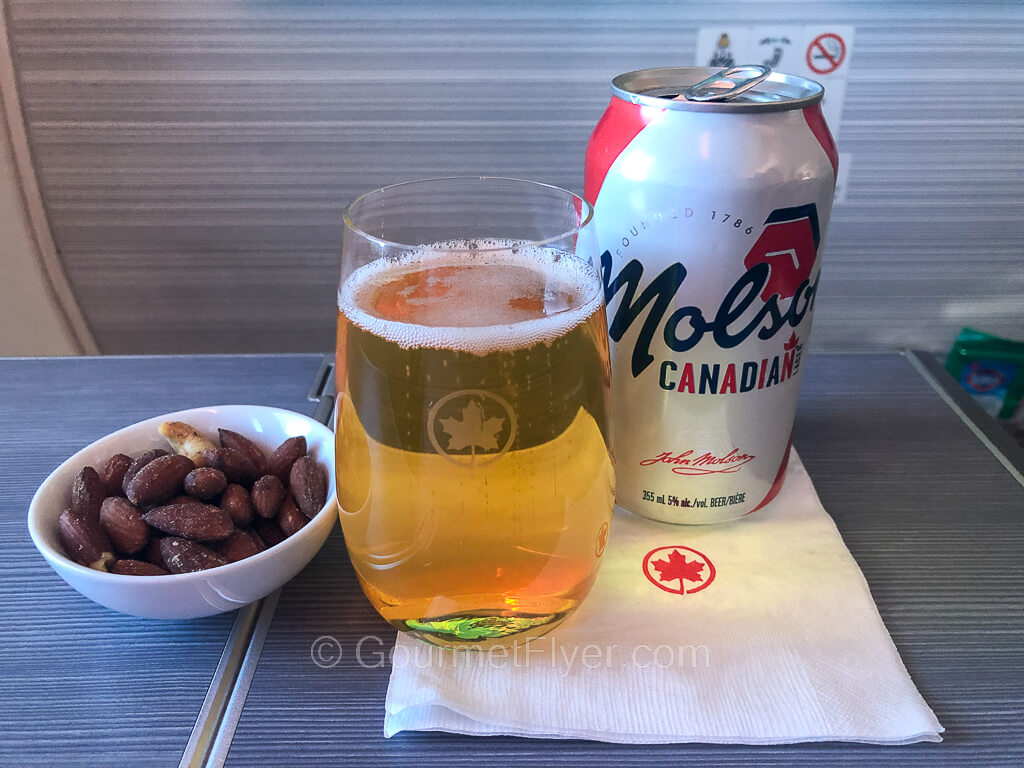 I was very glad that they served Molson, one of the best beers in the World and a well-loved gem in Canada.
I'd also like to give the FA kudos for letting passengers taste the wine before serving them – just like in a fine dining restaurant. They had three different red wines, and my wife did not like the first one which was an Italian red. The FA patiently let her taste a second and then a third until she finally liked the last one.
Dinner Service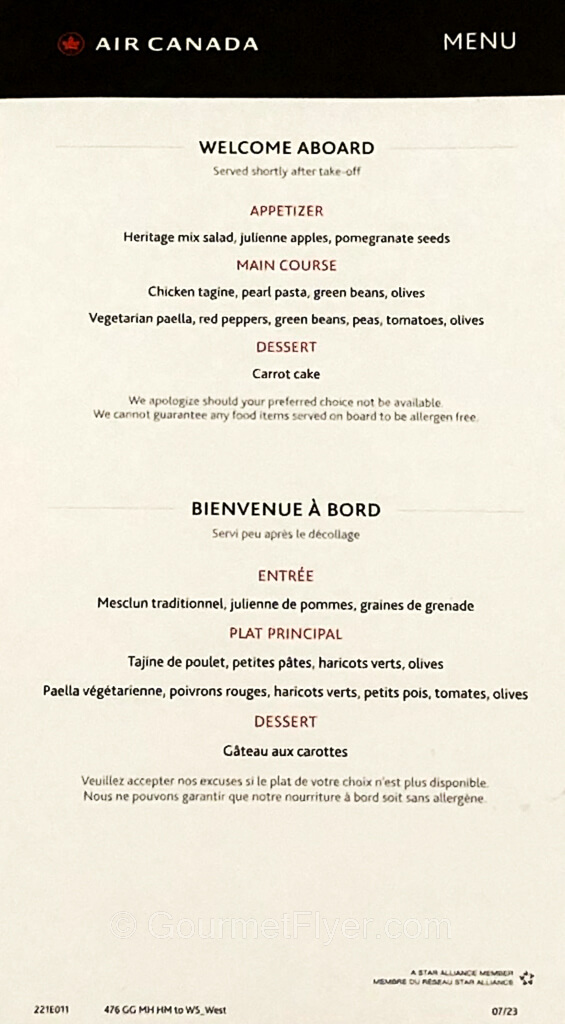 As the menu above indicates, there were only two choices – chicken tagine or vegetarian paella. The online menu is available on the airline's website up to a week in advance. However, online ordering is not yet available on North America flights as of this writing.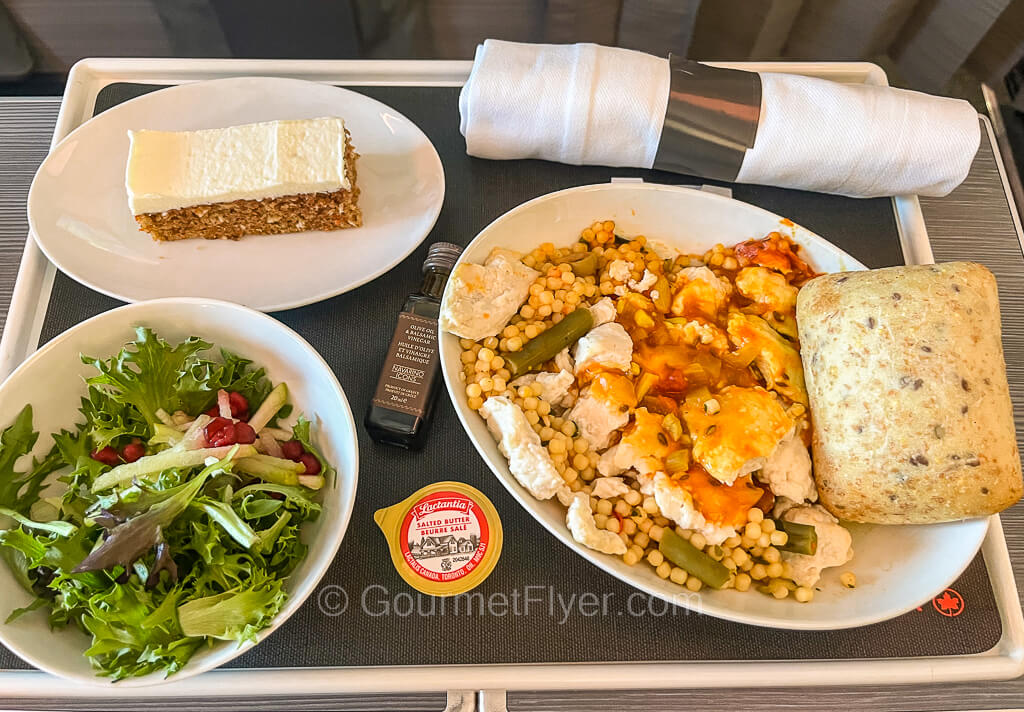 The "appetizer" on the menu was really a green side salad which accompanied most meals in a Business Class cabin. The salad came with a mini bottle of olive oil and balsamic vinaigrette. A warm roll was served from a basket. Dessert was a slice of carrot cake which was delicious – and sadly, the highlight of the meal.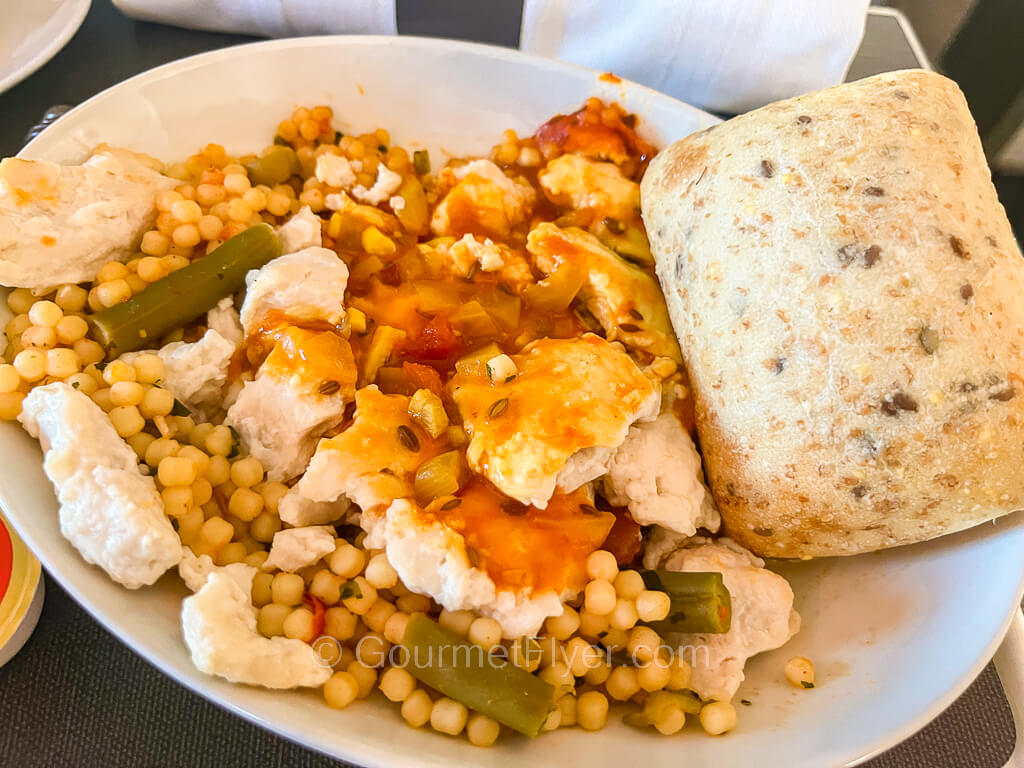 My wife had the chicken tagine which was made with small chunks of chicken breast meat. She let me have a taste and I found some of the chicken pieces had a strange texture. The flavor was fine, and I definitely liked it more than the paella that I ordered.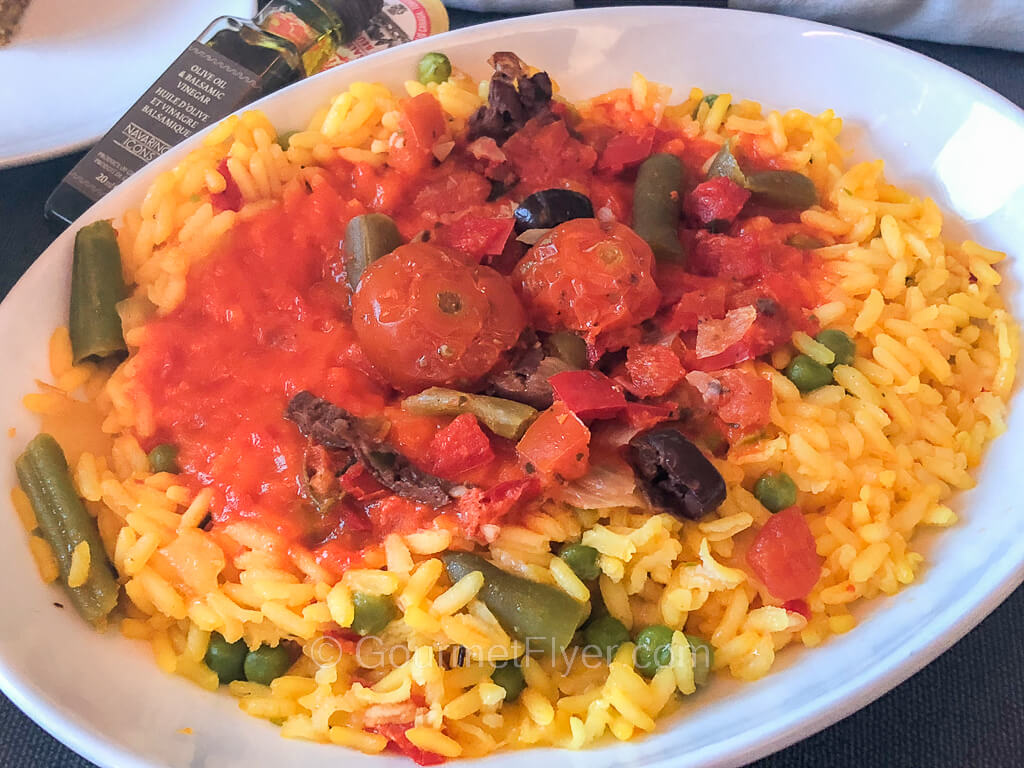 I found the paella completely overwhelmed by strong spices that are not typical of paella – if you are referring to the dish from Spain.
Service was very attentive throughout the meal. Trays and empty dishes were removed in a timely fashion and drinks were refilled promptly.
Conclusion
Air Canada North America Business Class is very similar to the first or business class service of most domestic routes operated by a major US carrier. I found the flight attendants courteous, professional, and attentive. On a short trip that spent less than 3 hours in the air, the services and amenities provided were more than adequate. It would still be nice to have a pre-departure beverage service though! The food was probably the weakest link on this trip. I know Air Canada rotates their menus often so maybe this particular rotation does not agree with my palate. Moreover, with only two main dishes to choose from, options are very limited compared to many other airlines on similar routes.
My overall impression of Air Canada's Business Class service between Vancouver (YVR) and Los Angeles (LAX) is very positive in every aspect except for the food. I eagerly look forward to another experience in the near future, hopefully, with a different dinner menu.