Updated July 16, 2023
This is a list of recommended best things to do in Chicago which embraces both adventurous and cultural explorations of the city's landscapes. From a peaceful stroll along the Riverwalk to a nerve wrecking ride atop the Willis Tower and everything in between, this vibrant city offers such a wide spectrum of activities to engage in that there will never be a dull moment throughout your visit.
This is also a guide that helps you discover the Windy City's rich history and deeply diverse culture. From the bar of a lively jazz club to the stage of a Broadway musical, from a visit to Greektown or a tour of Chinatown, you will find your explorations within the city an enriching experience. To help you better navigate your visit and plan for your itinerary, my recommended list of the best things to do in Chicago is divided into the following categories:
Table of Content
Adventures in Chicago
Architecture Boat Tour
Weather permitting, one of the best things to do in Chicago is to take a river cruise – and especially the architecture cruise, as you will see so much and also learn so much about the architecture, evolution, culture, as well as history of the city. It is a very comprehensive sightseeing tour.
There are a few operators, and I took my cruise with Shoreline Sightseeing and the experience was enjoyable. The guide was very knowledgeable and gave the presentation with a great sense of humor. I found the journey both entertaining and educational.
They have two locations – the Michigan Avenue Pier and Navy Pier. Both locations are ideal where you can bundle the other activities on your itinerary together with the cruise. You can read my review of the excursion here.
360 – John Hancock Center
360 is located at 875 N Michigan Avenue. People still call this building the John Hancock Center (the same way people call the Willis Tower Sears Tower.)
Its Observation Deck offers one of the best panoramic views of the city and its surrounding areas. Breathtaking is an understatement.
The highlight of your visit – if you dare – is the TILT. In a way, it is like the glass balcony (the Ledge) from the Willis Tower but taken one step further. You will be tilted so that your body is facing downward! Yikes! Are you sure you want to do it?
Skydeck atop the Willis Tower
If you have taken the architecture boat tour, your guide would probably have told you about the rich history of the Sears Tower. Yes, it's now called the Willis Tower, but old-time locals still call it Sears Tower.
The 103rd floor of the skyscraper offers a panoramic 360-degree view over four states on a clear day. The "Skydeck Experience" also give you a tour of the Windy City's rich history and culture.
The most adventurous attraction is "The Ledge" – get out if you dare! It is an all-glass balcony that extends over four feet outside the building. This is definitely not for the faint of hearts.
Chicago CityPASS
If you are planning to visit 5 or more of the city's most iconic and popular attractions, you can save up to 48% on admissions by purchasing the CityPASS in advance! The CityPASS includes admission to the World famous Shedd Aquarium and the thrill ride of the Skydeck plus your choice of 3 of the following:
Field Museum
Art Institute
Museum of Science and Industry
360 Observation Deck
Adler Planetarium
Shoreline Sightseeing Architecture River Cruise
Not only is this the best bargain that you will find, but the mobile ticket also gives you easy access to all 5 of the most exciting attractions of your trip. The key is that you have to purchase the CityPASS online in advance before you arrive at any of the above destinations. Please go here for more information.
Outdoor Destinations in Chicago
Riverwalk
The Riverwalk is one of my favorite places to go in summer. You can go there just for a leisurely stroll as well as for waterfront dining. Go here for a map and directions, as well as dining options and special events.
As far as attractions are concerned, there are canoe and kayak rentals available if you are of the adventurous type! It always gets me nervous when I see those tiny kayaks getting in the way of those large river cruise boats.
Or you can just dip your toes in the water and do nothing. Sometimes I'll just sit there sipping a cocktail while writing my travel blog.
Many drinking and dining options are available. One of my favorites is Chicago Brewhouse. Don't forget to grab a hot dog. And remember: No ketchup allowed!
Cloud Gate
The shiny, iconic structure that reflects the skyline of the Windy City is officially called "Cloud Gate" but is more widely known as "The Bean". It is the major attraction of Millennium Park.
The kidney-bean shaped sculpture is 33 feet high, 42 feet wide, 66 feet long, and weighs 110 tons (220,000 pounds).
Taking selfies will never be this much fun again. The mirror-like surface of The Bean gives you numerous angles, perspectives, and reflections to create the most interesting and unique pictures.
You can create different views during the day or night, rain or shine, cloudy or snowy. The possibilities are endless.
If you need a drink to calm your nerves after the ride, BAR 94 serves local craft beers and custom cocktails.
Buckingham Fountain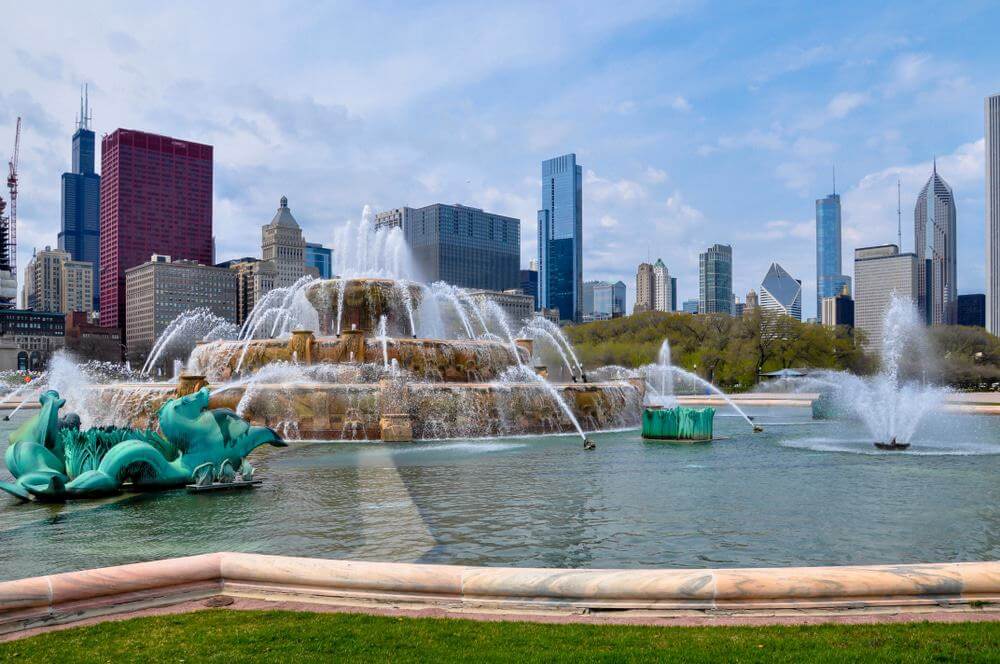 The Buckingham Fountain is the centerpiece of Grant Park and is also one of the iconic landmarks of the city. It is one of the largest and grandest ornate fountains in the World. Equipped with 133 water jets and over 800 lights, the fountain displays a stunning water show every hour on the hour daily starting from 9am. In the evening, a Las Vegas Bellagio style fountain show synchronized with spectacular lighting and sound captures the audience for the entire breathtaking 20 minutes.
Buckingham Fountain is open from May to October each year, and the current season (2023) kicks off on Saturday, May 13.
Navy Pier
Navy Pier is a large waterfront dining and entertainment complex and is also the pier from where several river cruises operate. It is also home to the iconic Centennial Wheel. Navy Pier is one of the favorite attractions in Chicago for both locals and tourists alike.
This place is vibrant, lively, and is always packed with people having fun. During summer, especially on weekends, there are often live music, DJ performances, or other live and exciting events taking place.
In the summer season, there are also firework displays on Wednesday and Saturday nights.
Museums and Theaters in Chicago
Art Institute
The Art Institute is an iconic museum and has the largest collection of Impressionist arts outside of the Louvre. It is also where one of Vincent van Gogh's Self Portraits is housed. Many masterpieces from renowned Impressionist artists such as Monet and Renoir can also be found.
As you wander around the museum you may come across a striking and huge glass window on display. It is called the Tiffany Window which is located above the Woman's Board Grand Staircase. It is composed of 48 panels of different types of vibrantly colored glass and is 26 feet tall and 18 feet wide. This is one of my most favorite photo spots.
A wide spectrum of arts from numerous countries and cultures across the World are also on display. The place is enormous, and to really be able to appreciate and understand everything that you are seeing, I recommend allocating at least one full day to the museum.
Chicago History Museum
The History Museum is a smaller and lesser-known museum, but this is actually my personal favorite because it tells you the story of the city – its history and its culture, the challenges that it faced and the resilience of its people, and everything that comes along with it. If you really want to know the city, make sure that a visit to the museum in on top of your agenda. Some of my most favorite collections are:
Sun-Times Photo Collection
City on Fire
Lincoln
Crossroads of America
Remembering Dr. King
Museum of Science and Industry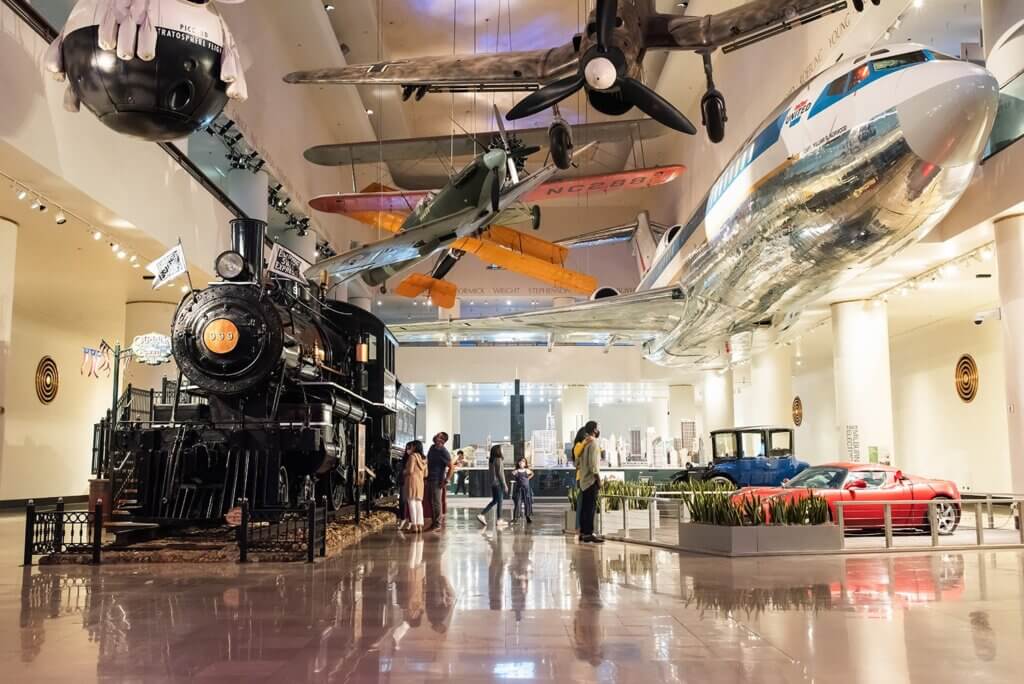 The Museum of Science and Industry (MSI) provides a full-filled day of exploration and education to the entire family and is great for all ages. With more than 35,000 artifacts housed in over 400,000 square feet of exhibit space, MSI is among the largest science museums in the world.
Some of the most popular permanent exhibits include the WWII era German U-505 submarine tour, a visit inside a real-life Boeing 727 airplane, a working underground coal mine, and Science Storms which explores natural phenomena such as lightning and tornadoes. The museum's five-story high Giant Dome IMAX theater is currently showing Mount Everett explorations, a journey through the universe, and a discovery into the depths of volcanoes. With literally numerous exhibits, interactive displays, and innovative inspirations, there will never be a dull moment.
Shedd Aquarium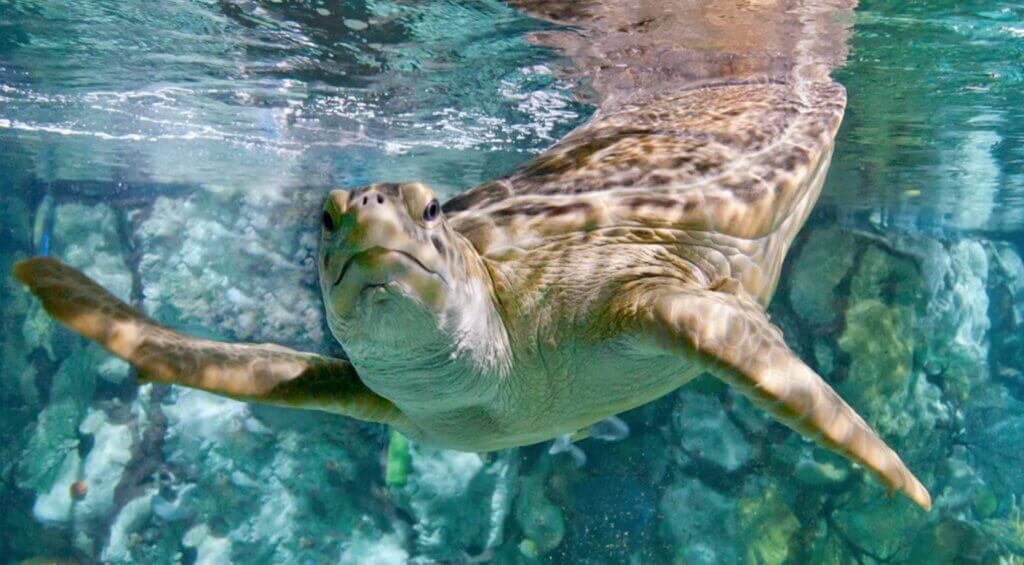 You will need at least half a day to a full day to explore the over 32,000 animals and sea creatures housed in the Shedd Aquarium – the third largest in the Western Hemisphere. You will meet many stars, such as Nickle, the green sea turtle living in the 90,000-gallon Caribbean Reef.
See Beluga whales from Alaska or visit rockhoppers and Magellanics penguins from Antarctica. Experience a 75-minute shark feeding tour or visit the Wild Reef – a 400,000-gallon shark habitat. Explore the Abbott Oceanarium and make friends with dolphins, sea lions, and sea otters. Touch a sea star at the Polar Play Zone or feel the skin of a sturgeon at the Great Lakes exhibits. Enjoy a great day of family fun suitable for all ages.
?Money Saving Tip: Get the City Pass which includes Shedd Aquarium, Skydeck, plus 3 more popular attractions and save 48%.
Field Museum
One of the most popular museums and attractions in Chicago is the Field Museum. It is located right next to the Soldier Field and is best known for its documentaries of natural history. Educational displays document advancements from distant ancient cultures to the scientific and technological breakthroughs to today.
The main theme of the museum is "discovery across time". It takes the visitor to explore the cultures from across the World from past to present.
It also offers plenty of interactive and immersive activities and is great for kids of all ages.
Blue Man Group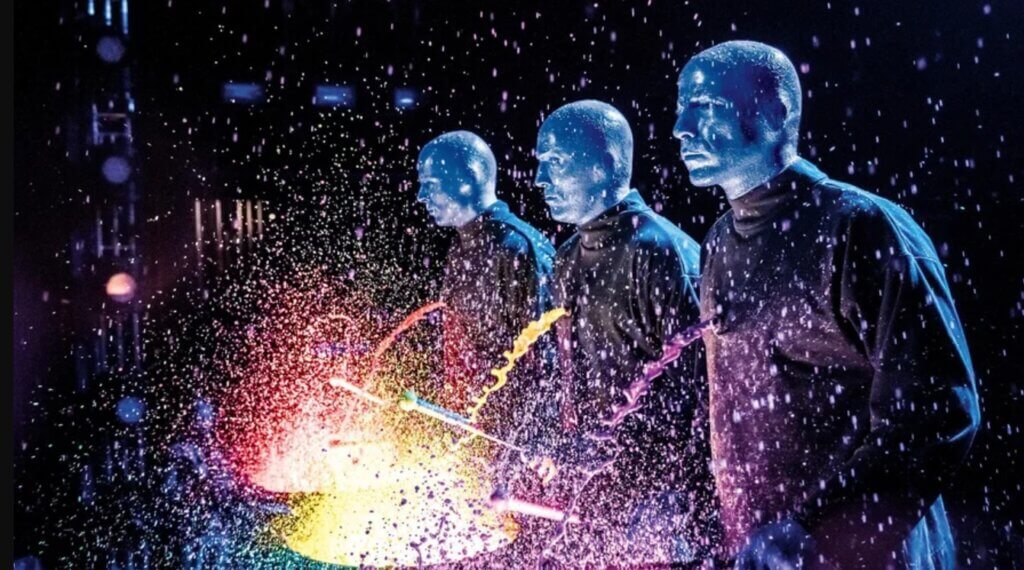 Chicago is only one of four cities in the US to host a permanent Blue Man Group (tickets) production (the other three are Boston, Las Vegas, and New York). What started as a street show in 1987 by three good friends wearing blue masks in Manhattan is now a global sensation with touring shows featured around the World. The blue men always appear in groups of three and are always mute throughout the show. Messages are conveyed through theatrical expressions and sounds.
One of their signature performances is the "paint drum" where drums with colorful paint continuously flowing onto them are beaten violently, sending paint in neon droplets flying throughout the stage and onto the front "poncho rows", and creating a spectacular effect. The show is full of music, percussion, innovations, surprises, and comedy – often with a touch of satire. It will capture your attention for the full 90 minutes and you will not find a single moment of downtime.
This show is always sold out. To avoid disappointment, book your advance tickets here.
Theater District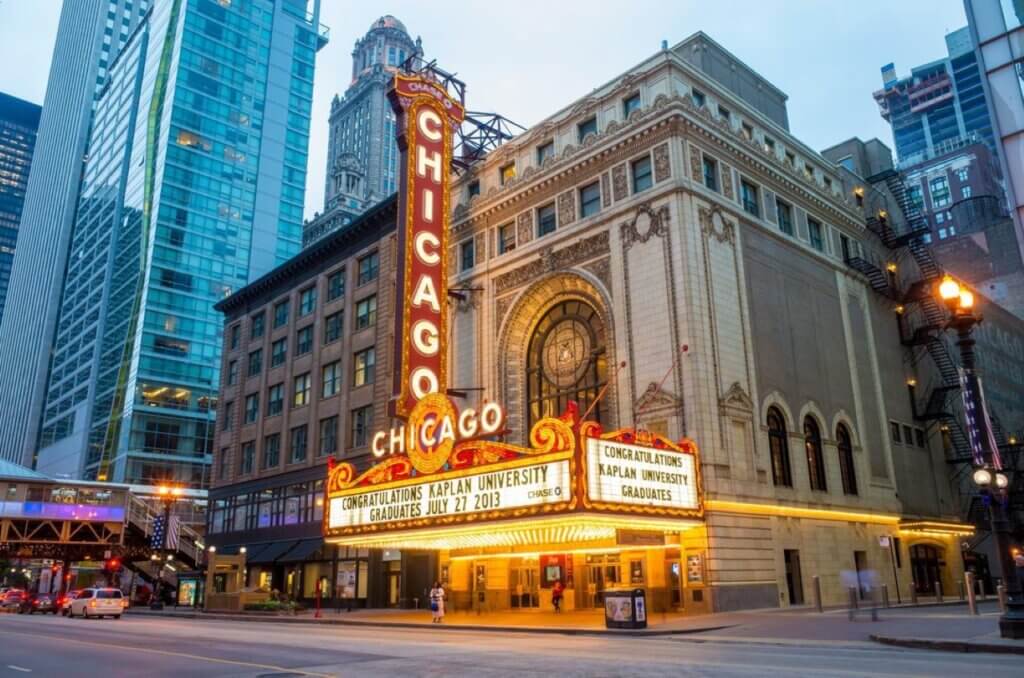 The Theater District is loosely referred to as the area bounded by the river to the north and the west, Michigan Avenue to the east, and Monroe to the south. While this is not Broadway in New York or the West End in London, you can still find many world class performances on the stages of these iconic theaters.
The nine-time Tony Award winning "The Book of Mormon" is currently playing in the legendary Cadillac Palace Theater until April 16. Disney's "Aladdin" is coming to town in May of this year while "MJ", the Michael Jackson musical, will kick off on August 1. "West Side Story", one of the most beloved romantic operas of all times, will be playing in the Lyric Opera starting June 2. You can also catch another Tony Award winning blockbuster "Hadestown" which debuts at the CIBC Theater on June 20.
Cultural Explorations in Chicago
Visit a Jazz Club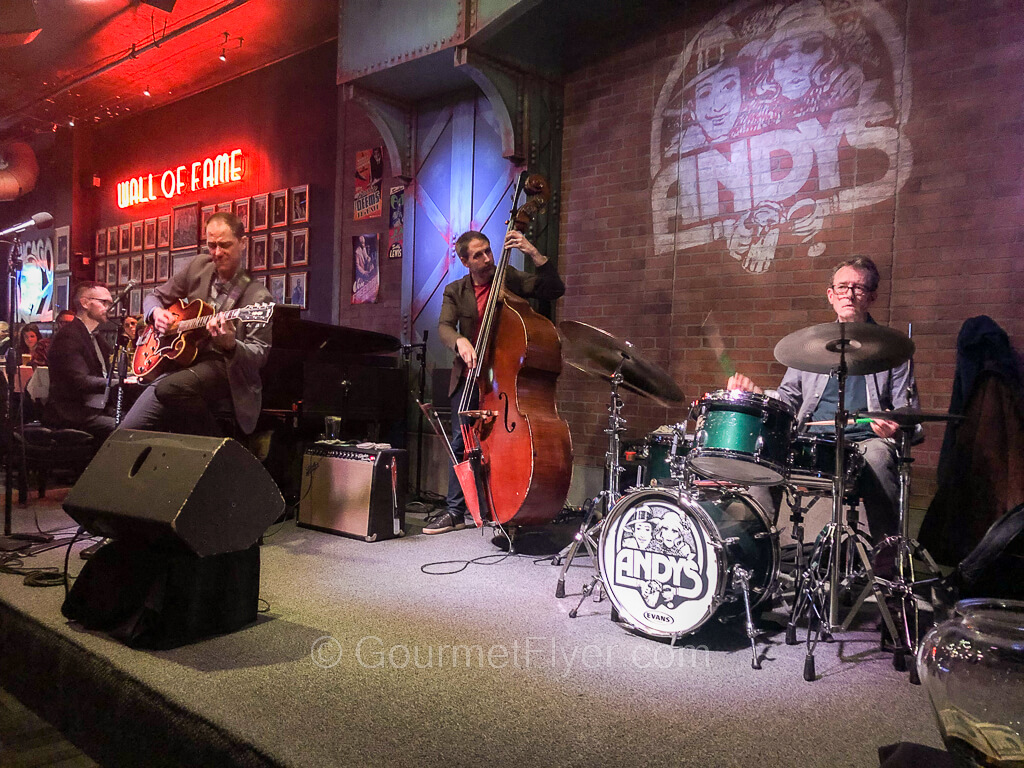 The Windy City is home to one of the richest jazz scenes in the country and is also the birthplace of many legendary jazz musicians. Jazz is embedded deeply into the culture of the city. One of the most enriching experiences and things to do in Chicago during your trip should definitely include a visit to a jazz club.
Just a short walk from the Magnificent Mile is Andy's Jazz Club and Restaurant. It is an ideal place for dinner with jazz or for a date night. Andy's is conveniently located within walking distance from many hotels in the area. Reservations are required and there is a $15 cover charge which is good for one show only.
Located uptown at Lawrence and Broadway is the Green Mill which was a speakeasy run by the mobsters during the days of Prohibition. It was a favorite hangout of Al Capone who had a particular booth reserved for him. Today, it is one of the liveliest jazz clubs in the city with live music playing nightly. Reservations are not accepted. Cash only. No credit cards.
Greektown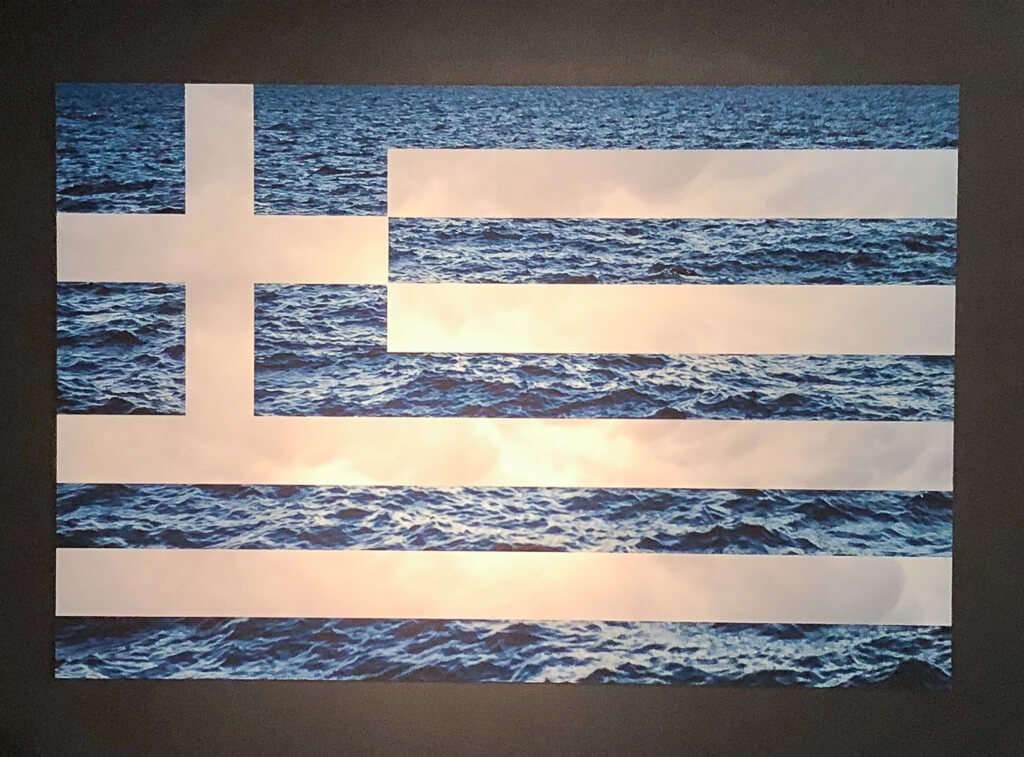 Although today's Greek Town is much smaller than the original neighborhood founded decades ago, it is still rich in history, culture, as well as many yummy good eats. The heart of Greek Town is located on Halsted Street (Blue Line UIC-Halsted) between Van Buren and Madison. The centerpiece of the community is the National Hellenic Museum which features exhibits showcasing Greek art and culture. There is also a section devoted to celebrating the lives of Greek immigrants as they venture across the ocean to America.
Greek Islands offer authentic Greek cuisines in an elegant setting with moderate prices. This is the most popular and loved Greek restaurant in the city. For a taste of traditional Greek pastries such as baklava or kataifi, visit Artopolis Bakery. As the name suggests, Mr. Greek Gyros is where you go to grab a hearty gyro, a kabob dinner, or a fusion favorite – the gyro cheeseburger.
Chinatown
The Chinatown here is one of the smaller ones in the US. It is definitely less vibrant and less extensive when compared to its counterparts in San Francisco or NYC. Nevertheless, there are some very nice dim sum restaurants as well as authentic Hong Kong style cafes and teahouses.
My Favorite dim sum restaurant is Ming Hin Cuisine. For a bowl of authentic Hong Kong style "cart noodles", go to Ken Kee.
One of the cultural experiences to explore is the Chinatown Square Zodiacs. It captures twelve bronze sculptures of animals of the Chinese zodiac on individual pedestals.
Get A Deep-Dish Pizza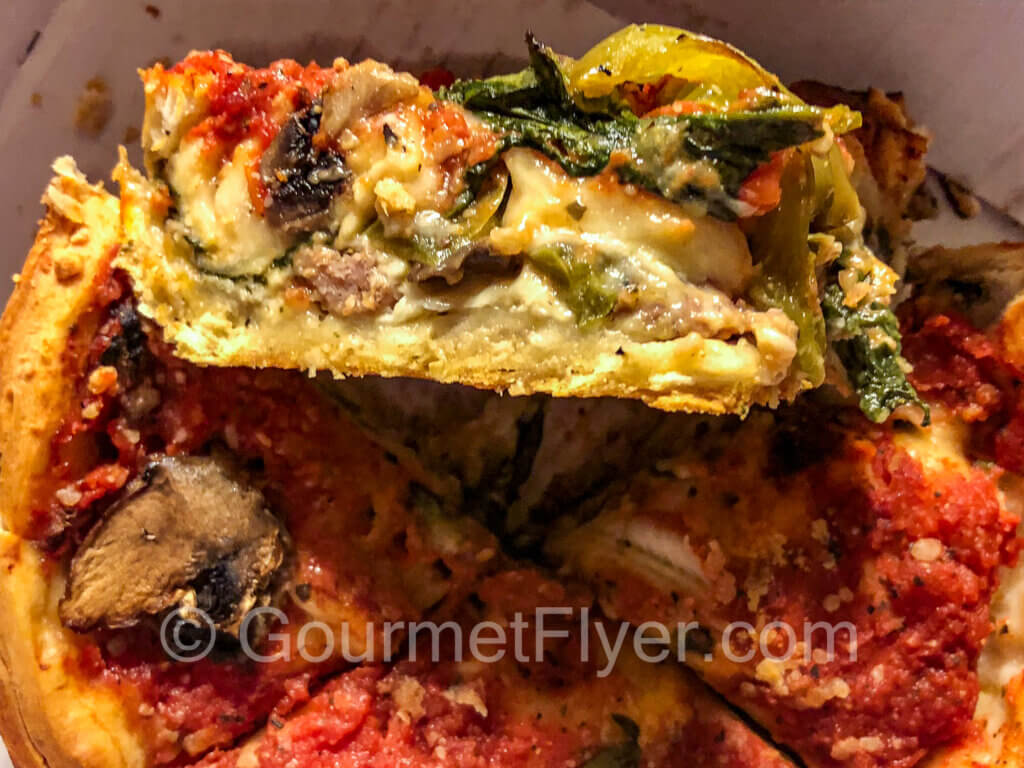 Your visit to this foodie's paradise is not complete without having a feast of deep-dish pizzas. And even better, have two!
While there are literally numerous places in the city to grab one of their World-famous deep-dish pizzas, the two most famous rivalries are Giordano's and Lou Malnati's. And I am listing them here strictly in alphabetical order to avoid any controversy which name should go first.
My personal palate will tell you that Giordano's pizzas have better layers, but Lou's have a fresher and more robust tomato sauce. But I'll let you be the judge.
Join A Pizza Tour
A great way to fully explore the truly authentic local pizza scene is to join a tour. Not only will you be sampling delicious slices of the famous pies, but you'll also learn a lot about the history, culture, and many culinary aspects of the city's iconic food from a professional guide.
The Chicago Pizza Tour starts in a renowned pizzeria in the Magnificent Mile and will transport you in an air-conditioned minibus to various places in town, including off the beaten path local favorites. The entire journey is about three and a half hours, and you will be tasting four different types of pizzas – deep dish, thin cut tavern style, burnt cheese caramelized crust, and coal fire.
Get A Hot Dog
Getting a Chicago dog is certainly on the top of most visitor's list of foodie adventures and there is no shortage of amazing dogs throughout the city. In the Riverwalk area, there are several pubs and restaurants where washing down a hot dog with a beer is one of the most favorite orders.
Other local favorites include The Wiener Circle, Doghouse, and Portillo's.
My personal favorite is Portillo's where their hot dog with everything on it is nicknamed "drag the dog through the garden". It is served on a steamed poppy seed bun and is topped with onions, tomatoes, peppers, pickles, mustard, relish, and celery salt. And remember, no ketchup, please!