Updated February 15, 2023
It is not easy to compile a list of the best places to eat in Chicago. Other than the iconic Chicago dog and deep-dish pizzas, restaurants in Chi-Town cook up an international spectrum of yummy good eats. There are quite a few trendy fine dining eateries that are worth splurging for, and there are also plenty of moderately priced places with menus that offer great values.
My list of the best iconic places to eat in Chicago consists of mostly moderately priced restaurants that offer the best bang for the buck. This list is particularly useful for first-time visitors as it gives you a general outline of the restaurant scene in the Windy City. To truly reflect the rich cultural diversity of the Windy City, my recommendations are divided into the following categories:
Table of Contents
American Cuisines in Chicago
Joe's Seafood, Prime Steak, and Stone Crab
Hours: Sun – Thu 11:30am – 9:30pm; Fri – Sat 11:30am – 10:00pm
First, please do not confuse this place with Joe's Crab Shack.
Joe's Seafood, Prime Steak, and Stone Crab is on an entirely different level, a completely different World. This restaurant is elegant, classy, and refined. And their steaks and seafoods are probably the best that you can find in the Windy City.
The name of the restaurant probably already suggests what you should order. Stone crabs are a delicacy not easily found. They are known for their delicate, rich, and succulent taste. The story goes that they are hand-harvested one claw at a time.
As for steaks, the 24-ounce bone-in rib eye is one of their specialties. Several surf and turf selections are also available. If steak and lobster is your thing, go with the FILET AND TAIL!
Au Cheval
Hours: Mon-Thu 11am – 10:15pm; Fri 11am – 11:15pm;
Sat 10am – 11:15pm; Sun 10am – 10:15pm
Au Cheval is somewhere between a diner-style restaurant and a French American gastropub. It is probably one of the busiest and most popular restaurants in Chicago. They don't take reservations so all you can do is to go there and wait. Typical wait during peak times on weekends can be 1 – 2 hours, or sometimes longer.
Although Au Cheval has a quite extensive diner-style menu, they are best known for their burgers.
Ordering is simple: Choose single or double. Add egg. Add bacon. This will be one of your most memorable burger experiences.
Shaw's Crab House
Hours: Sun – Thu 11:30am – 9pm; Fri – Sat: 11:30am – 10pm
Shaw's Crab House is an old-timer in the area and is well-known to be one of the best restaurants for seafood in town. There seafood is always fresh. If you love crabs, the ultimate experience is the Alaskan King Crab Dinner. Prices are rather steep, but the quality and freshness of the food are top-notch.
Personally, I love eating their whole Maine lobster wearing a bib and sipping a glass of Chardonnay. The chef cracks and breaks the shell of the lobster nicely and at the perfectly right places, so extracting the delicious meat from the lobster is rather easy and enjoyable.
Takeout menu is available and there is a takeout counter near the front of the restaurant.
Andy's Jazz Club and Restaurant
Live performances at 6pm, 8:15pm & 10:30pm nightly (NO 10:30pm Mon/Tue)
Chicago is home to legendary jazz scenes so your visit will be incomplete without a trip to a jazz club. Andy's, located in the River North area just a short walk away from the Magnificent Mile, is a jazz club as well as a restaurant. It is a jazz lover's perfect place for a date night or an intimate dinner.
Reservations are required and there is a cover charge ($15 per person as of this writing). Note that the cover charge as well as dining reservation is good for one show only (90 minutes). Live performances are scheduled nightly. Please check their website for showtimes.
The Dearborn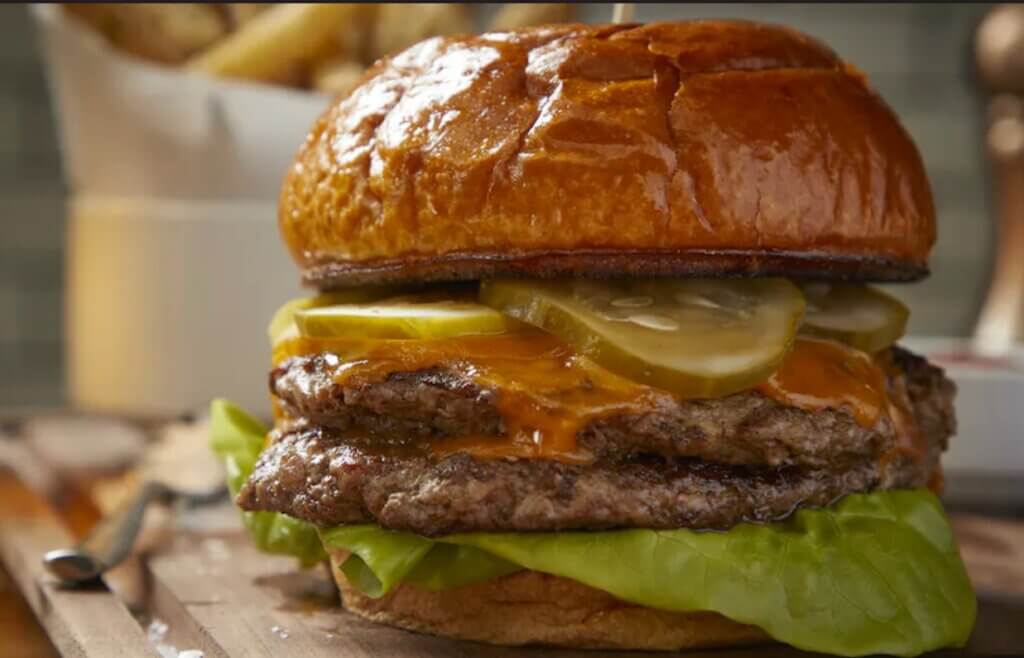 Hours: Mon – Thu 11am – 10pm; Fri 11 – 10:30pm; Sat 10am – 10:30pm; Sun 10am – 10pm
Located at the vibrant corner of Dearborn and Randolph and near the theatre district is a well-loved local gem that you'd really like to visit if you are looking for a hearty Midwestern meal. For the truly Midwest burger, get their famous Dearborn Burger made with CDK Farm Angus beef straight from the heart of Illinois, topped with Wisconsin cheese, dressed with their own special house sauce, and sandwiched between a brioche bun.
Another well-known and well-loved favorite is their fish and chips, which was featured in Food Network's Beat Bobby Flay Show. The fish is always fresh and perfectly golden brown. The portion is large, just like any Midwestern meal should be. Upgrade to truffle fries for the perfect enhancement. Reservations are highly recommended.
Wildberry Pancakes and Café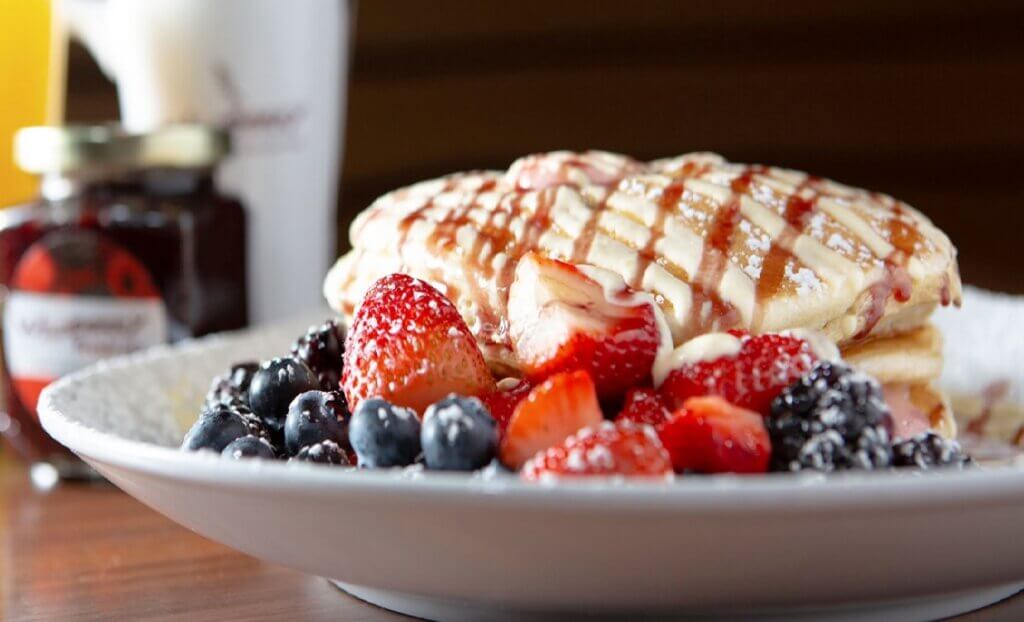 Hours: Daily 7am – 2pm
Wildberry has two locations in the downtown area and the most popular one is on Randolph Street, across from the Millennium Park. This is one of the most popular breakfast and brunch place in town and they are almost always packed so be prepared to wait, especially on weekends. But the food is so good I promise you that it is definitely worth the wait.
Their name might suggest that they specialize only in pancakes, but no, they also have excellent Belgian waffles and crepes. If you love pancakes, then I suggest you check out their signature dish – the Berry Bliss Pancakes. Moreover, locals love their skillets. Go for the Mexicana if you like to try bold Southwestern flavors. Or the Butcher's Block for a Midwestern feast of gooey cheese, eggs, ham, sausages, and bacon. Vegetarians will love their Garden Skillet loaded with mushrooms, spinach, asparagus, broccoli, and tomatoes along with eggs and cheese.
Reservations are not accepted. There is also no waitlist or phone or text systems. Just the old-fashioned way – you give them your name and you wait right there for them to call your name. If you are not there when your name is called, you lose your turn!
Chicago Brewhouse
Hours: 11:00am – 10:00pm daily (when open for the season)
This vibrant pub-style bar and restaurant is at a prime location in the Riverwalk and has plenty of outdoor seating. Air-conditioned indoor seating is also available in summer if that's what you prefer. On a hot summer day, yes, this is what I prefer LOL!
This restaurant is known for their "Split Foot Long Chicago-Style Hot Dog & Polish Sausage" where you get both classic sausages on the same bun which doubles the pleasure.
An authentic jumbo German pretzel with an ice-cold beer is also a good idea.
Personally, I like their Pizza Flatbread (that's what they call it) which is pictured here.
Asian Restaurants in Chicago
Momotaro
Hours: Sun – Thu: 5pm – 10pm; Fri – Sat: 5pm – 11pm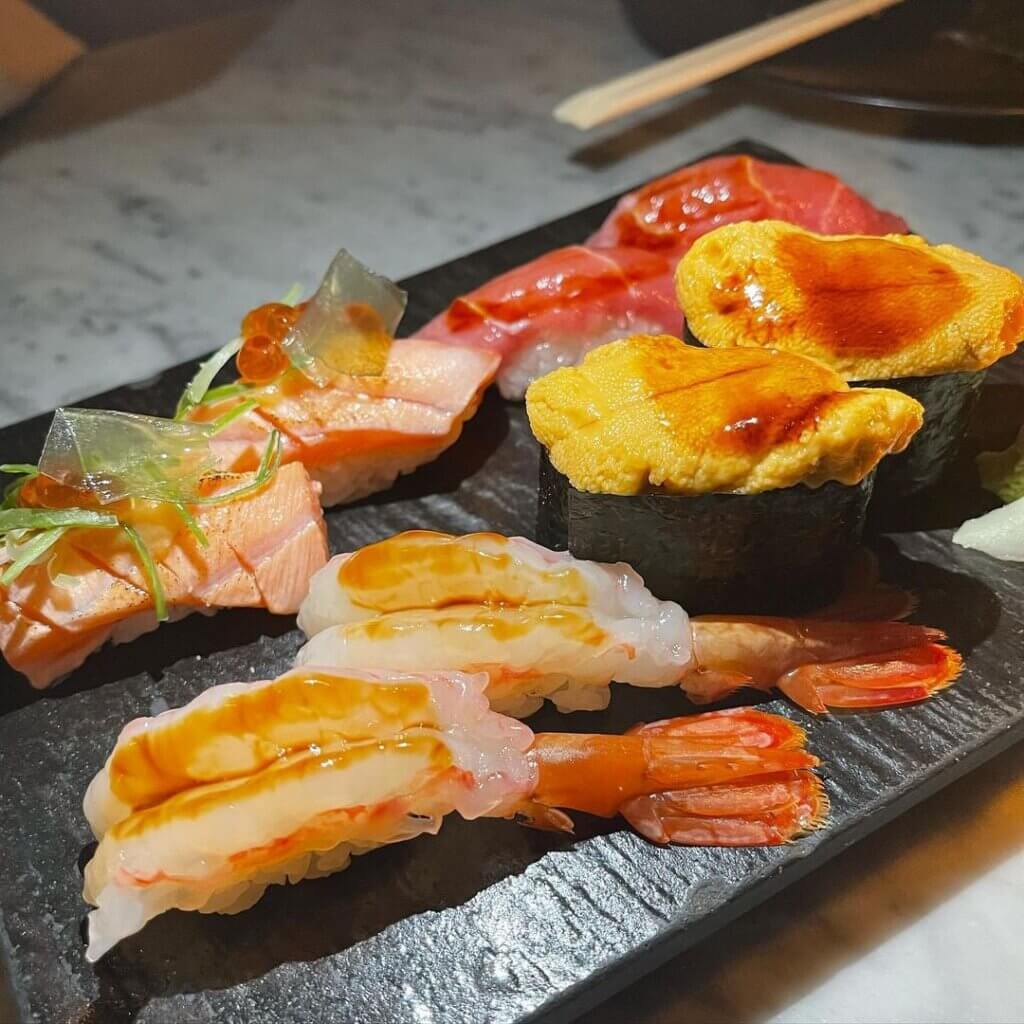 If you are craving of sushi in Chi-Town, Momotaro is one of the best places to go. Momotaro is a stylish sushi restaurant with a contemporary menu and a fusion twist. Executive Chef Gene Kato takes pride in blending old-school traditional Japanese cuisine with modern and innovative culinary methods and presentations.
Some of their most popular dishes are the Makimono sushi rolls. I particularly like the Tekka Maki made with blue fin tuna. Their signature is the Momomaki – a roll made with blue eye tuna, spicy octopus, and pickled daikon.
Prices are moderately high, but I assure you that the top-notch quality of the food definitely justifies the price tag.
Ming Hin Cuisine
Hours: Daily 10am to 12am (midnight)
So, you are strolling along Chinatown looking for the best dim sum that you can find. At the same time, you are worried that you probably can't find anything decent in the Midwest.
Let me assure you that Ming Hin Cuisine is one of the best places to eat dim sum in Chicago and is as good as some of its counterparts in the West Coast, where Chinese food is generally held to a higher standard. In fact, it is a very pleasant surprise for me when I team up with a couple of local dim sum enthusiasts to check this place out.
Most of the usual staple like har gow (shrimp dumpling), siu mai (shrimp and pork dumpling) and bean curd rolls taste good, and the ingredients are of good quality as well.
Chinese broccolis are fresh, egg rolls are crispy and yummy, and the pan-fried pork buns are authentic (the dough is a bit thick, but, hey, don't be too picky now!)
Come dessert time, I am impressed by their assorted egg custards which come in three flavors: traditional, mango, and green tea. Overall, this is a great Chinese restaurant in the Windy City!
Ken Kee
Hours: Sun – Thu 11am – 11pm; Fri – Sat 11am – 12am
Ken Kee is another amazing Chinese restaurant in Chicago's Chinatown. The moment you walk in, you will see that the interior is decorated with lots of neon signs that makes you feel like you are in the streets of Wanchai. You are ready for that authentic Hong Kong café experience.
Ken Kee is famous for their Hong Kong style "cart noodles". You will choose a broth, a type of noodles, and then select your toppings. Typically about two dozen toppings are available, which include BBQ pork, beef balls, fish balls, fish filets, squids, beef tripes, among a dozen or so other goodies.
It is a very rich bowl of piping hot noodle soup good for any day, but especially good on a chilly day in the Windy City.
"Cart Noodles" originated from Hong Kong back in the 1950's when hawkers sell noodle soups in their push carts on the streets. They were very popular for a few decades and flourished probably until the 1980's when controversial and increasingly strict regulations drove many of them out of business. Today, the culture of "cart noodles" still remain, although they are most likely served in cafes and restaurants.
Chicago Curry House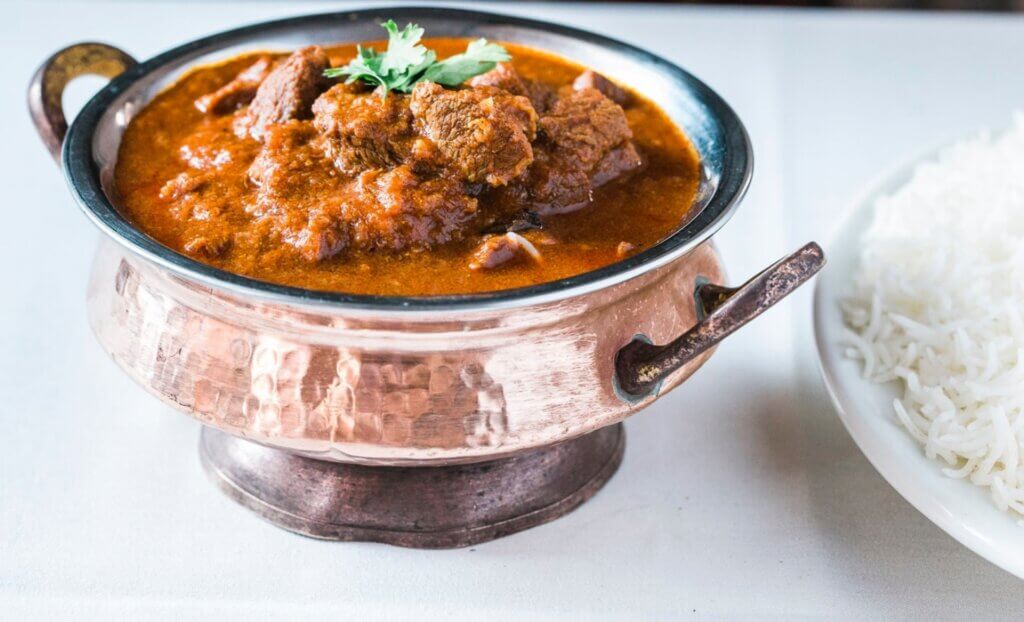 Chicago Curry House is an Indian and Nepali restaurant that is an absolute gem in the Printer's Row area in the South Loop of the Windy City. If you are in the mood for Indian food, this is probably the best that you can find near the Downtown area – or maybe even in the entire state of Illinois.
The garlic naan is a must-order. Fresh from the oven, garlicky, aromatic, and soft, this goes perfectly well with all curry dishes. Samosa is a classic Indian deep-fried pastry that is filled with curry paste, peas, potatoes, and spices. This is always my favorite app.
Chicken Makhani (butter chicken) is one of their signature dishes. This is a curry that is on the milder side in terms of spiciness and is buttery and creamy. My personal favorite is chicken Tikka Marsala, which is a tomato-based curry dish where the chicken is roasted in a clay tandoor oven. For bold and spicy hot flavors, get their chicken Vindaloo. For a classic Nepali entrée, try the momo – a steamed or fried dumpling made with minced chicken meat and plenty of spices.
Iconic Places to Eat in Chicago
Giordano's
Hours vary by location
This is part one of the "Tale of Two Pizzas". When in Chicago there are two pizzerias that you have to visit: Giordano's and Lou Malnati's, and they are listed here strictly in alphabetical order. No debate here.
Personally, I like Giordano's deep dish better because of its "stuffed pizza" concept and its meticulous layering. Here is a cross-section of a Giordano's pie showing its layers. One of the most popular household favorites is the Classic Deep Dish stuffed with pepperoni, mushrooms, green peppers, and onions. Vegetarians will love and appreciate their super veggie pie with mushroom, green peppers, onion, broccoli, black olives, and spinach. Of course, you can also custom order your ingredients.
Lou Malnati's
Hours vary by location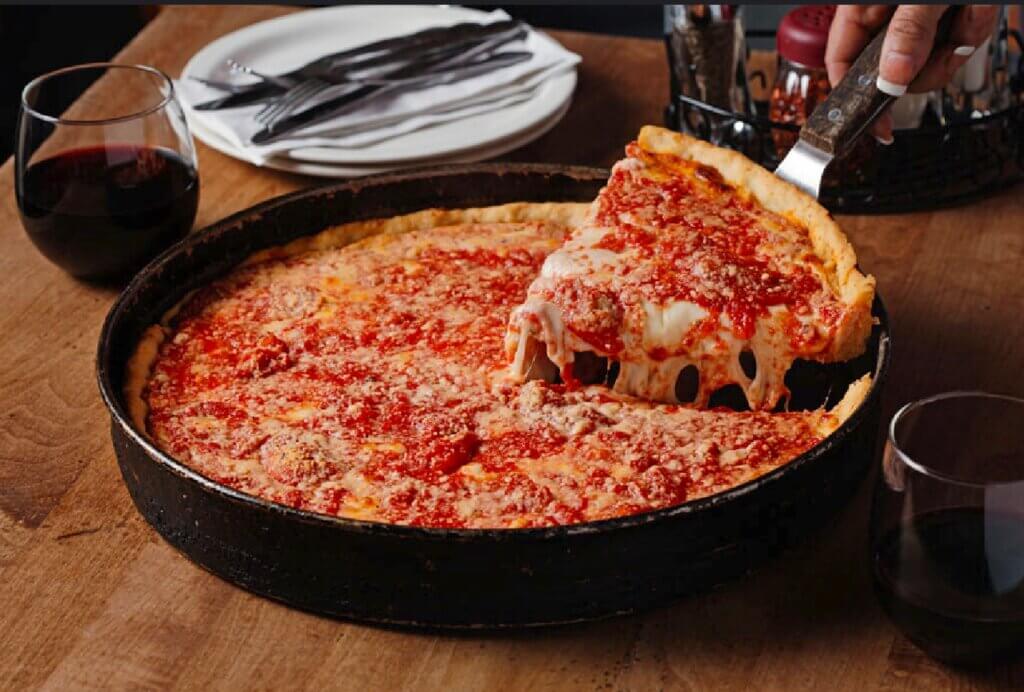 This is part two of the "Tale of Two Pizzas". While I love Giordano's stuffed pizza and its rich layering, I love Lou Malnati's pizza sauce. Lou definitely wins the "battle of the sauces" as far as I am concerned. The sauce of a Lou Malnati's pizza definitely taste better and is less processed, with chunks of fresh tomatoes enhancing the flavors.
Lou's version of the Classic Deep Dish is loaded with pieces of lean sausage, extra mozzarella, their freshly made tomato sauce, and is baked in their signature "Buttercrust". Vegetarian pies as well as a "create your own" options are also available. I also recommend their Buff-a-Lou wings which I like very much. They are moderately spicy hot with just the right kick to give you a mild burning sensation without being too overwhelming.
Portillo's
Hours vary by locations
Other than getting a deep-dish pizza, your other iconic local food to eat while you are in town includes a true Chicago Dog from Portillo's. The is what is known as "dragging the dog through the garden" as Portillo's states on its website.
Ordering is simple, even though they have quite a few selections on their menu. If this is your first time there, get the Chicago dog with everything on it. That is where the term "garden" means because your dog comes with onions, tomatoes, peppers, and pickles and are seasoned with mustard, relish, and celery salt. The celery salt adds the perfect finishing touches to the dog which is served in a steamed poppy seed bun.
Al's Italian Beef
Hours vary by location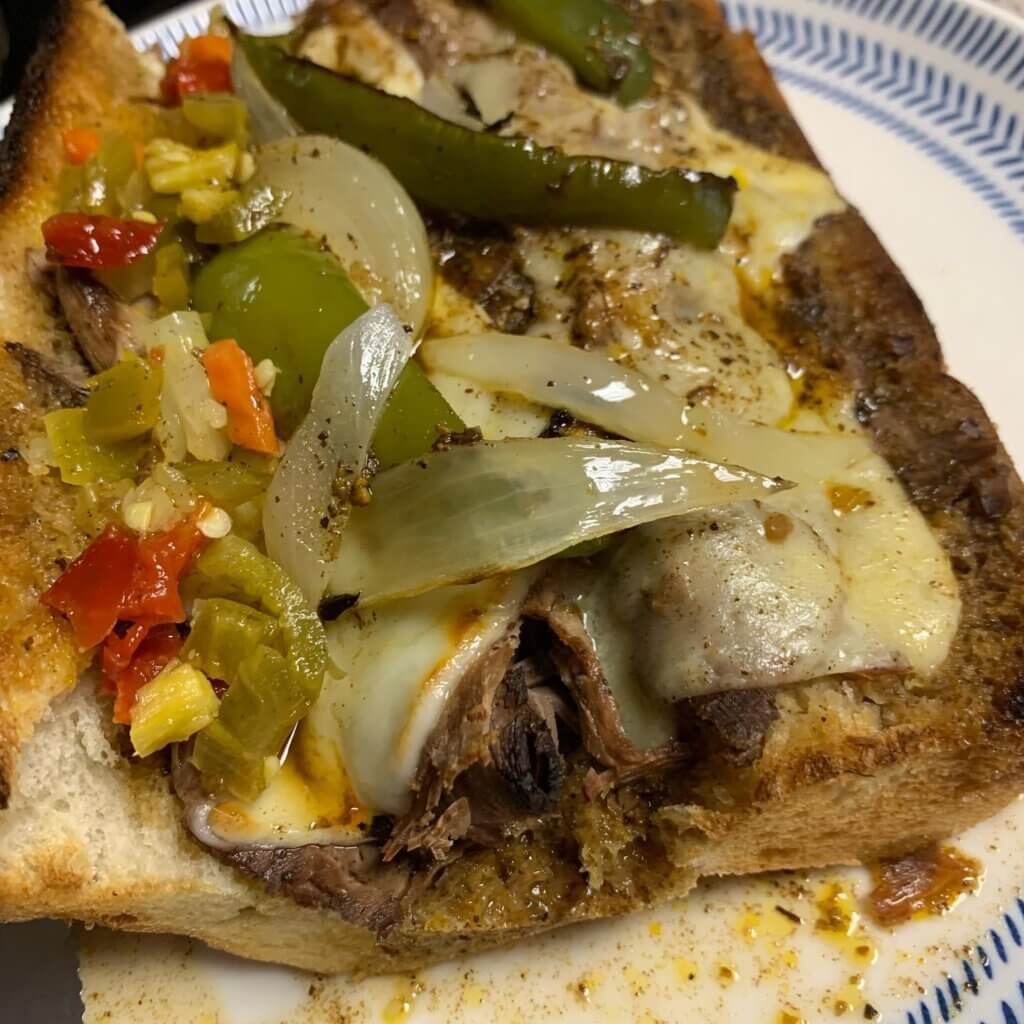 Italian beef sandwiches are as iconic as Chicago dogs and deep-dish pizzas in the Windy City. There is no shortage of great Italian beef sandwiches in the city, but I am going to recommend one of the best-known old-timers and, probably, the original creators – Al's Italian Beef.
The typical sandwich is made with a pile of thinly sliced and well-seasoned Italian beef stacked into a freshly baked French roll that is soaked in a richly flavorful au jus. You have the option to decide how "wet" you want your sandwich to be – dry, wet (regular), or dipped. Believe me, get it dipped. It's the perfectly messy and perfectly soggy sandwich that you probably can't find anywhere else outside of the wonderful Chi-Town. Remember to add cheese and peppers!
Latin Restaurants in Chicago
Havana Grill
Hours: Mon – Thu 12pm – 10pm; Fri – Sat 12pm – 1am; Sun 12pm – 9pm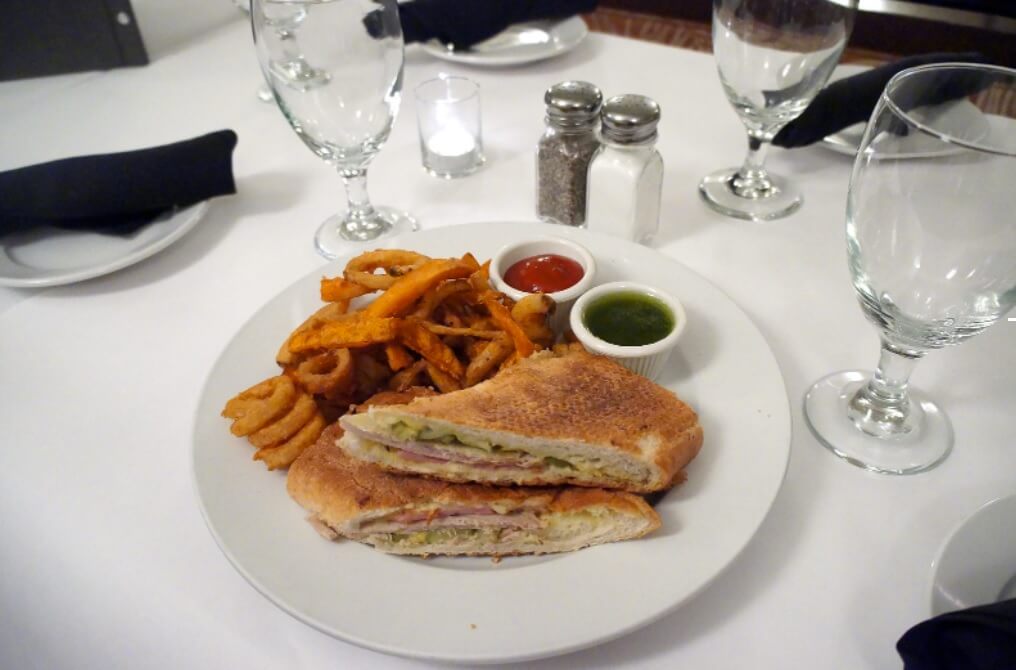 Havana Grill is a small, cozy, but lively Cuban restaurant in the River North area on Clark Street, and just a short walk from the river. This place is often packed at night and the vibrant Latin music sets the mood for the perfect Cuban dinner.
For drinks, get their exotic Caribbean mojitos. Many flavors are available. My favorites are mango, peach, and coconut. For app, try the tostones if you've never had that before. They are crispy fried plantains served with a creamy garlic dip.
For entrees, their pulled pork is a well-loved local favorite, beautifully presented over a tower of jalapeño mashed potatoes. Other popular dishes are carne asada (chargrilled skirt steak served over black beans and rice) and pollo a la caserola (pan-seared chicken breast served with poblano pepper sauce).
If you happen to go there for lunch, be sure to get their traditional Cuban sandwich – the Torta Cubana!
Carnivale
Hours: Sun 10am -2pm/4pm – 9pm; Tue – Thu 4pm – 10pm; Fri – Sat 4pm – 11pm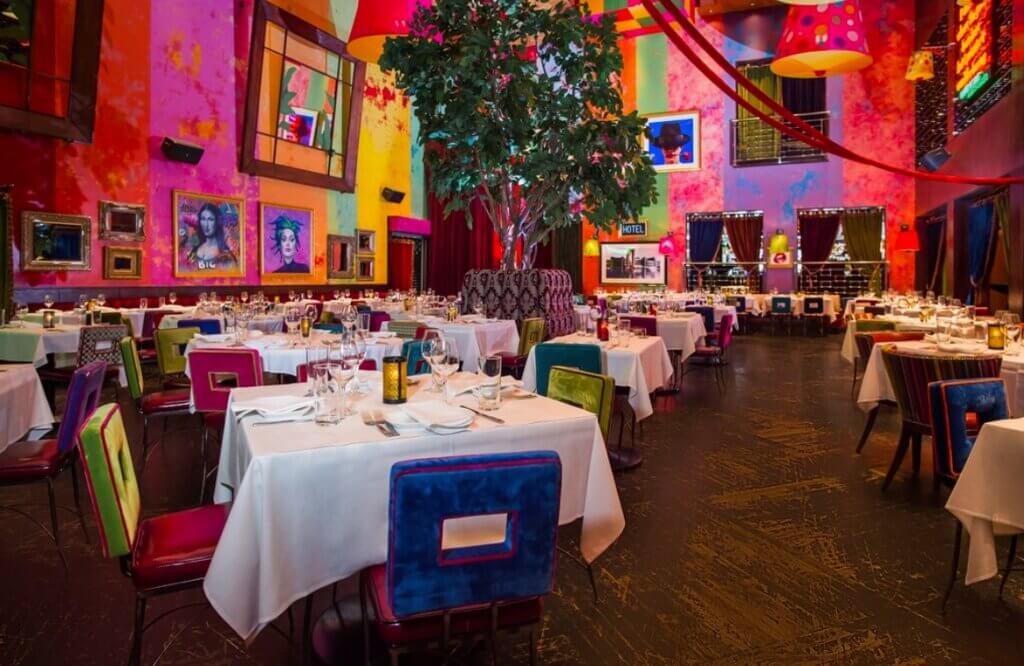 The interior of Carnivale is artfully decorated with a passion in art and Latin culture. This is probably the most colorful and vibrantly decorated restaurant in the entire Windy City. The atmosphere is festive, the vibes are chill, and the crowd is often lively. You are all set for a memorable and authentic Latin experience.
They are well known for grilling their steaks over a live fire charcoal grill. Their best deal is the Argentina style grilled meat platter for two. It comes with Churrasco, short ribs, sirloin, Morcilla (blood sausage), chicken, and bone marrow. The Brazilian Churrasco ordered by itself is also a good choice. Another yummy option is their Cuban style Wagyu top sirloin.
Sol de Mexico
Hours: Wed – Thu 4pm – 9pm; Fri – Sat 4pm – 10pm; Sun 1pm – 8pm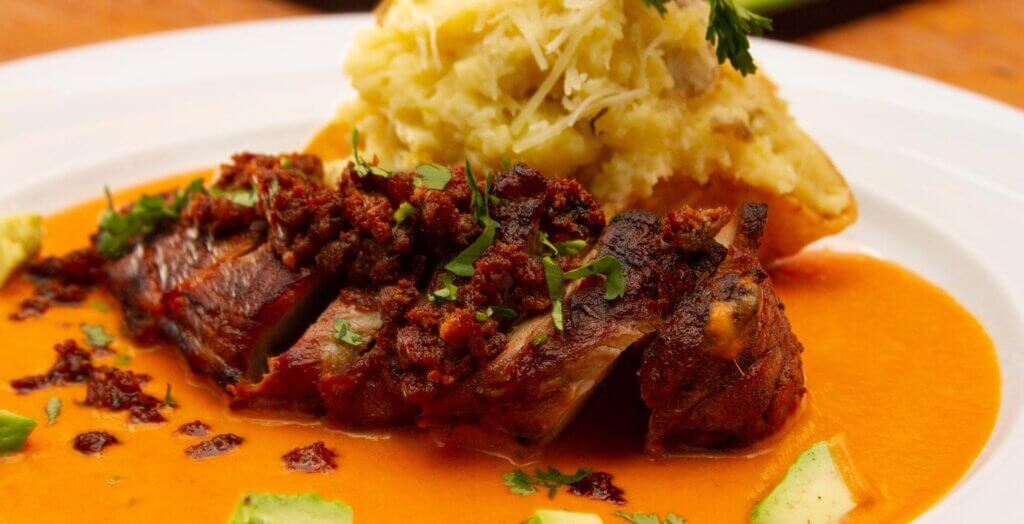 Sol de Mexico is an authentic Mexican restaurant that is a hidden gem in N Cicero Ave. It is a bit far from the downtown area, but I assure you it's worth the trip. It is family owned and is led by celebrity head chef Clementina Flores who has received numerous awards. She is also well known for having catered dinner for President George W Bush as well as Mexico President Vicente Fox.
Although the restaurant is somewhat trendy and fancy, the food is absolutely authentic. For apps, be sure to get an order of their guacamole, which is their house special made from Clementina's own secret recipe.
Their Carne Asada is a local favorite. A top-quality marinated rib eye is chargrilled, butterflied, and served with cheese, black beans, and fresh guacamole. Another well-known favorite is the Borrego En Mole Negro, a rack of baby lamb with black mole and Chile Chihuacle. They also have an extensive margarita menu that will satisfy every flavor that you have in mind.
European and Fusion Fares in Chicago
Girl and the Goat
Hours: Sun – Thu 4:30pm – 10pm; Fri – Sat 4:30pm – 11pm
The name may sound funny, but Girl and the Goat is indeed one of the best places to eat in Chicago. Reservations are hard to come by so make yours weeks in advance.
Girl and the Goat is the creation of "Top Chef" (Season Four, 2008) and "Iron Chef" (Season One, 2017) Stephanie Izard. It serves trendy, tapa-style style dishes with bold flavors and a Mediterranean influence.
As the name might suggest, they are well known for their goat belly and goat liver mousse. The glazed pork shank, which has a hint of Asian influence in its hoisin sauce, is also a favorite.
Prices are on the higher end, but you can expect a top-notch fine dining experience.
Quartino
Hours: Daily 11am-1am
Quartino is one of my most favorite places to eat authentic Italian tapas in the heart of the Windy City.
I highly recommend their PAPPARDELLE AL SUGO DI MANZO (Pasta ribbons with braised beef and tomato sauce). The tomato sauce is rich and almost heavenly, and the beef literally melts in my mouth. The al dente pasta is a perfect companion to such a flavorful sauce.
They are also famous for their NEAPOLITAN PIZZE (Naples style Pizza). The outside layer of the crust is slightly burnt and crispy while the inside is airy and soft. Undoubtedly, one of the best pizza doughs that I've experienced.
And don't forget to order CALAMARI. The batter is light and crispy, and the texture of the calamari is soft but still slightly chewy – which means they are fresh!
BROCCOLINI is a great veggie side dish! It has a nice hint of chili pepper plus a dash of lemon juice that makes the veggies even more refreshing than they already are.
Reservations are highly recommended. Takeout menu and service are available.
The Purple Pig
Hours: Sun – Thu 11am – 9pm; Fri – Sat 11am – 10pm
The Purple Pig is a gastropub serving mostly tapa-style and trendy American dishes with a Mediterranean twist. As the name suggests, they specialize in pork, and the BRAISED BERKSHIRE SHOULDER is what they are famous for. The amateur chef in me could tell that it has been slow cooked for hours to make the meat richly flavorful and tender.
For Veggies, I highly recommend the GRILLED CAULIFLOWER which was delicious with a buttery flavor and a hint of lemon juice.
I also like their MUSHROOM AGNOLOTTI (a small ravioli-type pasta made with a single piece folded dough). It is delicious and if you have a vegetarian diner in your party, I will highly recommend this dish.
Labriola
Hours: Mon – Thu 11am – 9pm; Fri 11am – 10pm; Sat 10am – 11pm; Sun 10am – 9pm
Labriola is a popular and busy Italian café type restaurant in Chicago. It is located near Grand and Michigan, just slightly off the Magnificent Mile. This restaurant is always vibrant, and the atmosphere is friendly. The outdoor patio dining area is lovely.
For small plates, I recommend the braised short ribs ravioli. For pizza, I like their Danny's Special deep dish. If you've remembered to save room for desserts, then don't forget that tiramisu is their specialty.