Updated August 14, 2023
From the most expensive fine dining restaurants to the cheapest Michelin One-Star food stall, Singapore has some of the most exciting places to eat in the World. It is a city where crab is the national food, and hawker centers are iconic fixtures. It is a city where famous chefs from around the World come to seek venturing opportunities while little known local street hawkers earn international fame.
Singapore's local cuisines feature a blend of Chinese, Malay, Indonesian, Indian, and even some Western flavors and promise the richest and most authentic cultural dining experience.
From Southeast Asian street foods to a lavish international buffet, from a local Zi Char family restaurant to a trendy Spanish tapa bar, from chili crab to white pepper crab, this guide will take you to some of the most exciting and memorable dining experiences in this vibrant city. To give you the best bang for your bucks, many of the eateries recommended here are either cheap eats or moderately priced. There are also a few restaurants where you can splurge a little for a romantic date night or a special occasion.
Table of Contents
Traditional Local Restaurants in Singapore
JB Ah Meng
Hours: Daily 4:45pm – 2am
JB Ah Meng is one of the best places to eat in Singapore and has attracted celebrity chefs from around the World to dine there. It is most famous for the White Pepper Crab – a must-try when you visit!
Crab is almost like the national seafood of Singapore and JB Ah Meng specializes in the white pepper version (while most places serve the more popular chili version). Their crabs sell out often and I recommend that you reserve your crabs as you reserve your table.
For more information, read my Review of JB Ah Meng.
Hua Yu Wee
Hours: Daily 5pm – 11pm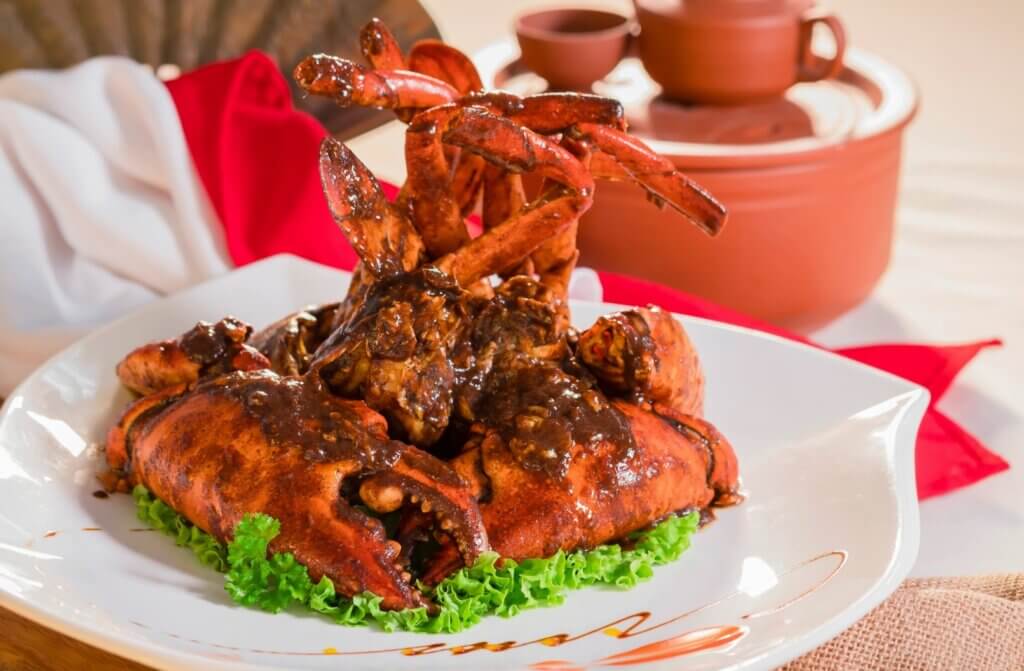 Another old timer serving traditional Zhi Char and seafood dishes is Hua Yu Wee. They are famous for their crabs cooked in various ways – steamed, chili, and white pepper – but are best known for their black pepper version. Other local seafood favorites include la la, a Southeast Asia specialty, lobster in an Italian herb sauce, and prawns deep-fried in a cereal batter.
This restaurant dates back to the 1950's and it is not by any means contemporary or elegant. But it gives you the "old Singapore" dining scene kind of atmosphere. The restaurant is family friendly with many round tables suitable for large gatherings. The place is very popular with locals and is almost always packed with long wait times. Reservations are highly recommended.
National Kitchen by Violet Oon
Hours: Daily lunch 12pm – 3pm; dinner 6pm – 10:30pm;
High tea 3 – 5pm (Fri – Sun only)
Violet Oon is a local celebrity chef, and her specialty is in Peranakan cuisine. It's like a fusion of Chinese dishes with a Southeast Asian flavor.
The National Kitchen by Violet Oon is located in the National Gallery. If you are planning to visit the gallery, you can hit two birds with one stone. This is exactly what my wife and I are doing right now. After walking for hours in the museum, we are ready to order a feast.
The chicken wings are great. They have a spicy turmeric coating and a hint of lemongrass.
Beef Rendang is like a Southeast Asian beef stew cooked with coconut milk and some strong spices. The flavor is bold and delicious.
The dry laksa is a soupless rice noodle, almost like spaghetti with gravy. The prawns are fresh and sumptuous.
Kueh Beng Kah is a tapioca cake, which is my favorite Southeast Asian dessert. It has a cheesecake-like texture and is moderately sweet. This promises to be a delightful dessert.
Violet Oon Satay Bar and Grill
Violet Oon Satay Bar and Grill is another creation of the celebrity chef. This Violet Oon's eatery has more of a focus on satay and drinks. Satays are well-marinated and have a rich flavor. They are chargrilled and served with spicy peanut sauce. A sprinkle of grated pineapple adds the finishing touches of the dish.
The selection of entrees is quite extensive. Many of the items on their menu are also the signature dishes in the National Kitchen. For example, beef rendang and dry laksa. For dessert, I highly recommend the Kueh Beng Kah, which is a tapioca cake with a cheesecake-like texture.
The restaurant is located in vibrant and charming Clarke Quay in Singapore, right next to the taxi stand. There is also easy MRT access from the Clarke Quay station.
Sin Ming Roti Prata
Hours: Daily 7am – 6pm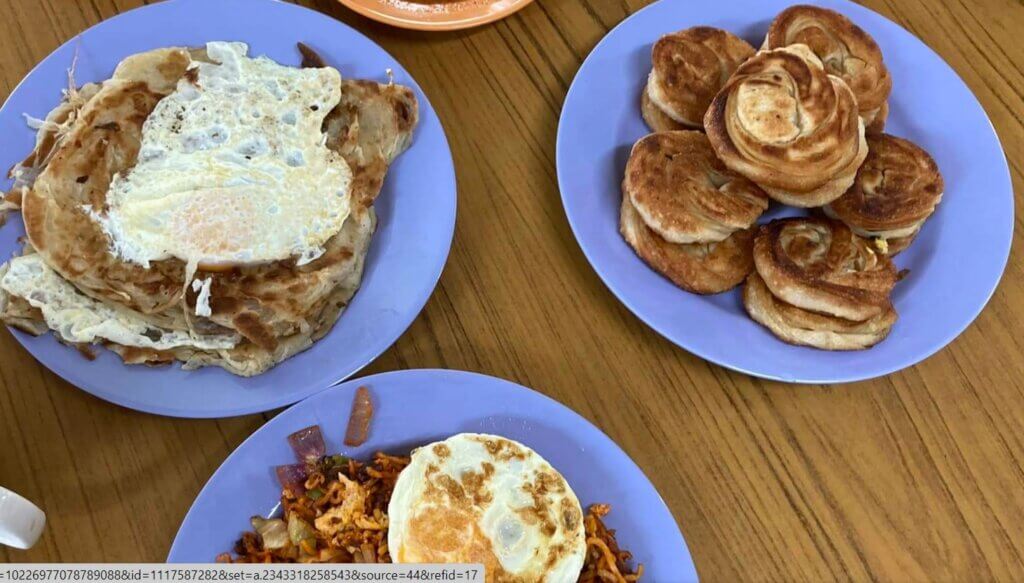 Located in Upper Thomson, Sin Ming is not the easiest place to find but has the best roti prata in the Lion City. They are very popular, and lines are always insane during breakfast and lunch times. It seems that the only way to avoid the long line is to come very early in the morning, before 7:30am.
Their prata is always served piping hot, and they are not overly oily. Their signature dish is the coin prata which is not like a flatbread, but is thicker and airier, and shaped somewhat like a Danish pastry. The crust is crispy, and the inside is soft, fluffy, and slightly chewy – which is almost like heavenly.
They have many varieties of prata available, such as banana milk, cheese, mushroom, strawberry, among at least a dozen others. However, I always prefer the plain one and eat it with curry. Be warned that their curry is very bold in flavor and spiciness, so make sure that you can take the heat before ordering. Their curry is (spicy) hot enough to literally make you sweat!
Singapore's Iconic Cuisines
Jumbo Seafood
Hours vary by location
You probably already know that crabs are the iconic national seafood in this island nation, and Chili Crab is something that you seriously don't want to miss.
There are plenty of restaurants in Singapore where you can find the famous chili crab. But if you are in the gorgeous, vibrant, and somewhat romantic Clarke Quay area, Jumbo Seafood is the place to go.
A whole large crab already cut into pieces and with the shells cracked open is served in a wok-shaped dish filled with a stimulating chili sauce. The heat of the chili is moderate, which I think is enough to give the dish a good kick without being overwhelming. The sauce is on the mildly sweet side and it retains the rich natural flavor of the crab that is cooked in it.
Wear a bib, get your hands messy and dirty, and savor every bite of the meat that you manage to extract out of the shells. They have five locations in the Lion City including one at the airport so hopefully you can find one near you.
Long Ji Zi Char
Hours: Daily 5pm – 10:30pm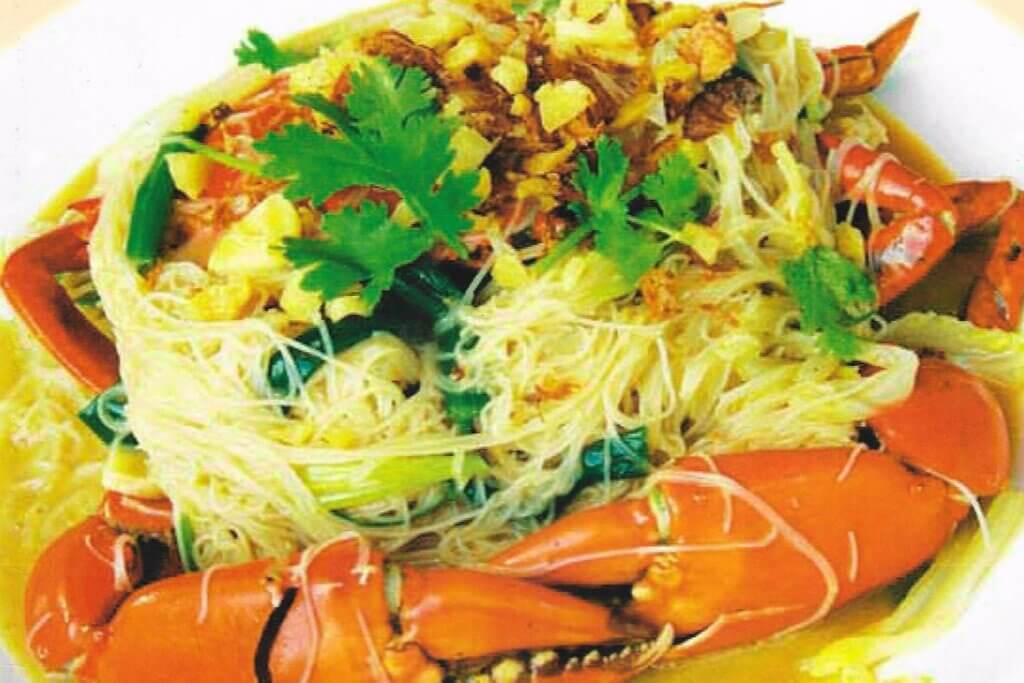 Long Ji is a traditional Zi Char family restaurant (Zi Char is a local dining term that refers to casual home cooking, usually done by braising in a hot liquid or stir frying in a very hot wok) that is best known for their crabs.
Crabs are like the national food of Singapore and Long Ji serves several renditions of this popular seafood, each in its own unique and delicious way.
Their signature dish is the crab beehoon which is a cut-up whole crab cooked in a rich brown sauce and served over thin rice vermicelli. Chili Crab is cooked in a sweet and spicy tomato-based sauce. Other local favorite ways of cooking this national shellfish include black pepper, white pepper, salted-egg, butter sauce, and ginger & onion.
Song Fa
Hours vary by location
Song Fa is a familiar household name in the Lion City and the lines of each of its seven restaurants are almost always out the door and wrapped around the block. This is one of the best places to eat bak kut teh, or pork rib soup, in Singapore.
The peppery broth is made with pork ribs, a blend of secret spices and lots of garlic and white pepper. The white pepper gives a distinctly strong flavor to the broth that is stimulating to the palate. The rib meat, which has soaked in the richness of the broth, falls off the bone and almost melts in your mouth.
After you finish your ribs when there is more room in the bowl, you can ask for a refill of the broth. They will happily do that.
If you really like the soup and want to duplicate it in your own kitchen, they do sell boxes of pre-mixed packets of the spices at the cashier's counter. I always pick up a couple of boxes whenever I'm in town.
Hill Street Fried Kway Teow
Hours: Tue – Sat 11am – 4:45pm; Closed Sun and Mon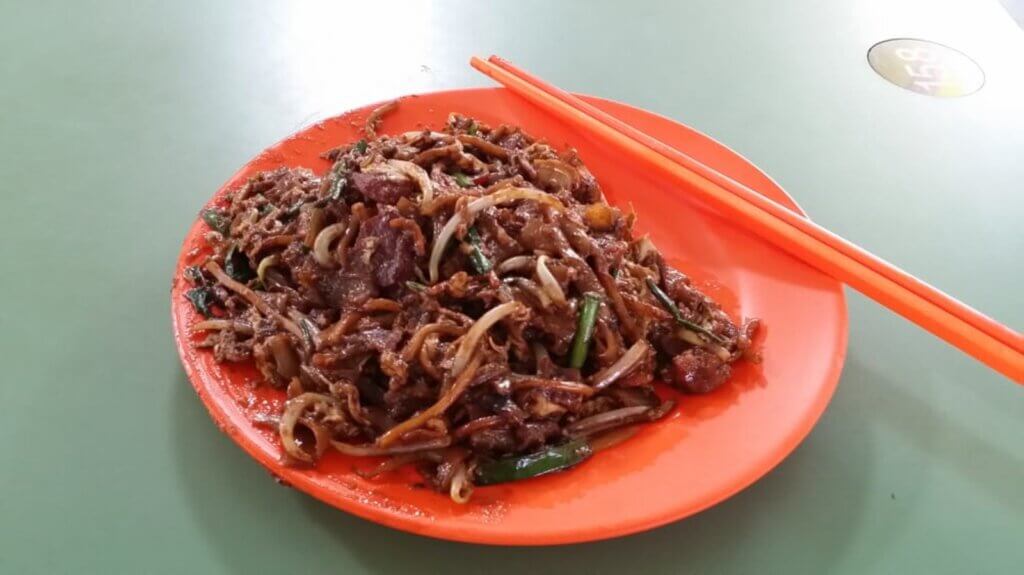 As their name suggests, Hill Street Fried Kway Teow is famous for their Fried Kway Teow, aka Char Kway Teow, a traditional Singaporean dish found mostly in hawker centers. It is made with flat rice noodles (similar to the Chinese chow fun or the Thai Pad Thai) and is typically stir-fried in high heat with soya sauce, meat or shrimps, and bean sprouts. What separates Hill Street from the rest of the other players is their special technique that produces the exceptional texture of the rice noodles as well as the wok hei – or fragrance of the wok – that brings an aromatic sweetness to the dish.
Located in the Bedok South Market & Food Centre, the line at this hawker stall is always insanely long, even before the place opens. But your patience will be rewarded by one of the best Fried Kway Teows in town.
Wee Nam Kee
Hours vary by location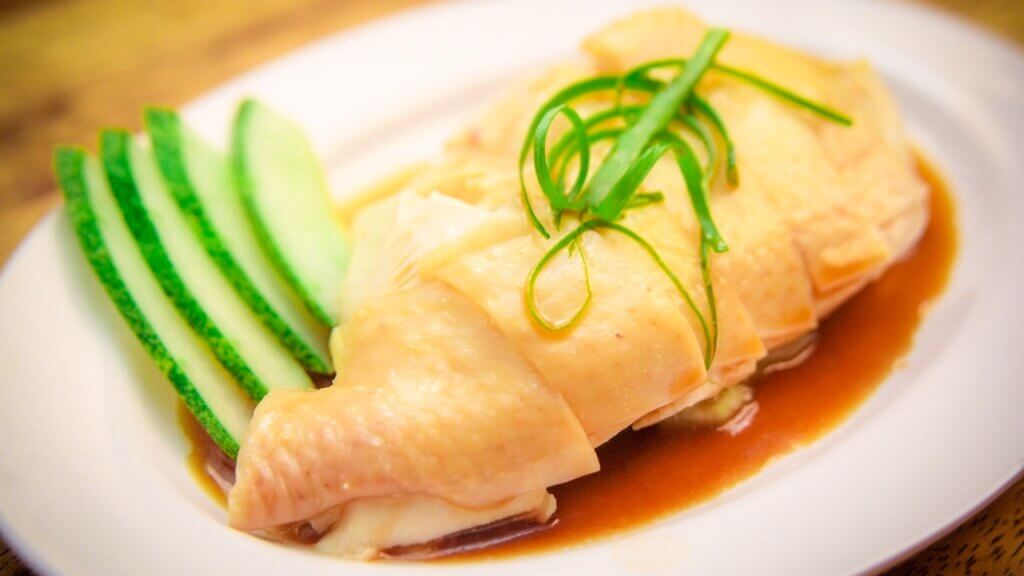 Hainanese chicken rice is a Southeast Asian specialty as well as an iconic Singaporean dish that is not to be missed. Wee Nam Kee has been in business since 1987 and is the top household name in Hainanese chicken rice. I usually go to their main branch in United square, but they have 7 branches scattered across the Lion city to serve you. Go here for a list of their locations to find the one nearest you.
The poached chicken has great texture, and is tender, moist, and flavorful. The special fragrant rice is cooked with chicken bone broth and oil infused with ginger, garlic, among other spices. The sweet aroma of the rice fills the air as the dish is brought to your table. While this dish is served throughout Asia, I can assure you that you will find the most authentic and memorable flavors right here in the Lion City.
Hawker Centers in Singapore
Chinatown Complex Food Centre
Hours: 8am – 10pm (Individual stall's hours may be different)
Your visit to the Lion City is not complete without a trip to a hawker centre. They are like food courts, some of them are open-air, and most of them are without air-conditioning. However, you can always get some of the best meals at bargain prices. Most of the stalls are open for lunch and dinner.
There are literally over 100 hawker centres in Singapore, and my top favorite is the Chinatown Complex Food Centre. It is the largest with over 250 stalls. It is also one of the most convenient, just off the Chinatown MRT station. Moreover, I find this location one of the cleaner ones among the several that I have visited.
Its most famous anchor is Hawker Chan, who is famous for his soya sauce chicken rice. This eatery was voted the cheapest Michelin-starred restaurant in the World in 2016. A delicious entrée of soya sauce chicken with rice cost less than three USD. It beat out Tim Ho Wan from Hong Kong which previously held the title.
Other local favorites here include Hokkien mee (Chinese Fujian-style chow mein), bak kut teh (pork rib soup), and the juicy soup dumpling xiao long bao (XLB).
Maxwell Road Food Centre
Hours: 8am – 2am (Individual stall's hours may be different)
Maxwell Road is my number two favorite among all the hawker centres in Singapore. This food court is also clean and orderly and is more comfortable than many others that I have been to.
The main anchor here is Tian Tian Hainanese Chicken Rice. This is a chicken rice dish completely different from Hawker Chan's Soya sauce chicken rice. Soya sauce is not used here. The Hainanese chicken rice is a fragrant rice made with chicken broth and spices. And yes, chicken fats too! But that's why it tastes so good.
There are other chicken rice stalls as well, one was said to be owned and operated by an ex-Tian Tian employee. Pork porridge (congee) is another specialty of many hawkers here. A popular anchor is Zhen Zhen Porridge.
This is a very diverse market and there are numerous other dining options, including plentiful of Western foods if you are craving for a menu closer to home.
Newton Food Centre
Hours: 12pm – 2am (Individual stall's hours may be different)
Remember the movie Crazy Rich Asians? One of the first things that Nick did as soon as they arrived in Singapore was to take Rachel out to dinner. They were enjoying a table full of food with friends Colin and Araminta, the supermodel and hotel chain heiress. That scene was filmed at the Newton Food Centre.
Newton is my other favorite hawker centre. Most of the seating is outdoors, so it may not be as popular on a hot day. But at night, this place is bustling. Some of the stalls also sell craft beers which makes the atmosphere even more lively. (Did you notice the beers on the table in the Crazy Rich Asian scene?)
This market in general is better known for their seafood. Take your time to walk around and you will see large selections of fish, shrimps, lobsters, and crabs. One of the famous hawkers here is Alliance Seafood of Michelin Guide fame. They are famous for their chili crab, which is always a crowd pleaser among locals and tourists alike.
History and Culture Tour with River Cruise and Hawker Dinner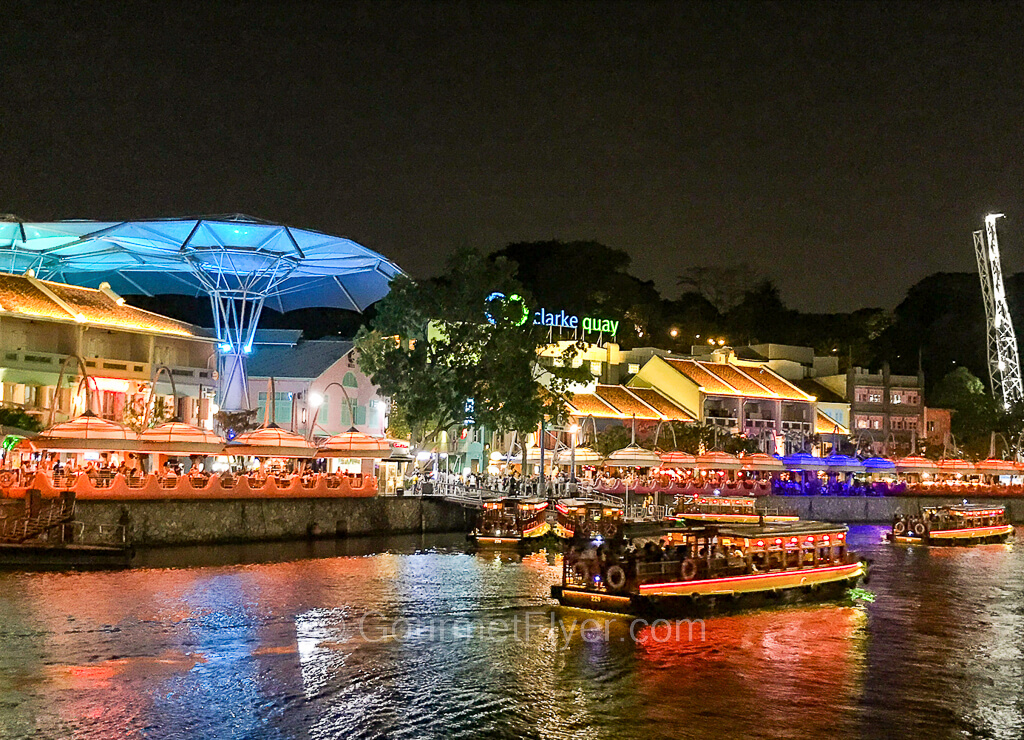 The Lion city has a complex history dating back from the early settlements of a diverse population from various parts of Asia to British colonialization, to Japanese occupation, and finally, independence. The Singapore History and Culture Tour takes you through the streets of the city to explore its many historical monuments which bear witness to its transformation. You will also learn about its richly diverse cultures as you enjoy one of the most colorful and memorable sightseeing tours that you'll remember for a very long time.
Your first stop is the famous St. Andrew's Cathedral followed by the former City Hall and the National Gallery. Your trip continues to Clarke Quay, the vibrant, lively, yet charming waterfront well known for both its nostalgic beauty and nightlife. From there you will take a boat cruise along the river. To me, the cruise is the highlight of the entire itinerary. The iconic Merlion Park is next, followed by a series of other attractions and landmarks.
Your journey continues to Maxwell Food Center, one of the city's iconic hawker markets. You will enjoy an authentic and traditional chicken rice dinner, along with freshly squeezed sugar cane juice – Southeast Asia's signature drink. The trip concludes with a visit to a teahouse to indulge in an imperial tea ceremony.
Food Republic
Hours: Daily 10am – 10pm
Among all the great places to eat in Singapore, the hawker centre experience is unique and is almost a must-visit. But I just told you above that most hawker centres are open air, not air-conditioned, and some are not very clean or comfortable.
Food Republic is a great alternative. It is an extensive dining atrium structured just like a hawker centre. But it is in a modern setting in a clean, air-conditioned, and comfortable environment. It still retains the street-food atmosphere and delivers the hawker stall experience in a thematic village-like backdrop.
This particular Food Republic is on the third level of VivoCity, the largest shopping mall in the Lion City. It is easily accessible via MRT. There are ten other locations throughout the island nation. Most are open for lunch and dinner for both dine-in and takeout.
Other Asian and International Food in Singapore
FOC Restaurant
Hours: Tue – Sat 12pm – 11:59pm; Sun 6pm – 11:59pm; Closed Mon
FOC is an authentic Spanish tapa restaurant that brings a slice of Barcelona flavor into the streets of Singapore. It's a trendy and high energy place with an upbeat and lively atmosphere.
I am teaming up with my local foodie buddies and we are ordering a lot of small plates from their extensive menu. Prices are moderate to moderately high, but the quality is good.
The chicken wing sandwich is made with boneless wings and topped with avocado mayo. Prawns on a sizzling platter are fresh and succulent. Octopus slices are tender and delicious.
Another great small plate is the mushroom croquetas which are very rich in flavor. Want some veggies? The whole cauliflower with pickles and a generous sprinkle of goat cheese is amazing. A squid ink paella completes our extravaganza for the day.
Bread Street Kitchen by Gordon Ramsay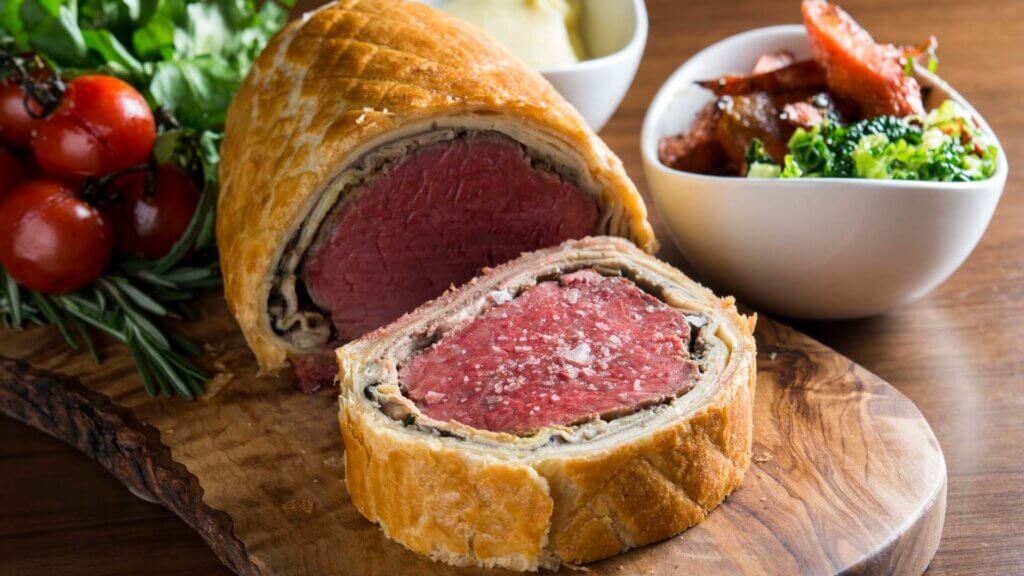 Located in The Shoppes at Marina Bay Sands, Bread Street Kitchen offers sophisticated British dining in an elegant setting with waterfront views. Their signature dish is of course Chef Ramsay's favorite – beef Wellington – which teams of chefs compete to perfect on the Hell's Kitchen TV show. You will also find a refined version of fish and chips with fluffy and crispy batter.
Chef Ramsay also brings the British tradition of Sunday Roast to his restaurant in Singapore. USDA prime beef is served with Yorkshire pudding, roasted potatoes, vegetables, and a rich gravy. A complete a la carte brunch menu is also available.
The dress code is smart casual. Reservations are highly recommended.
Orchard Café
Hours: Daily 12pm – 2.30pm; 6pm – 10pm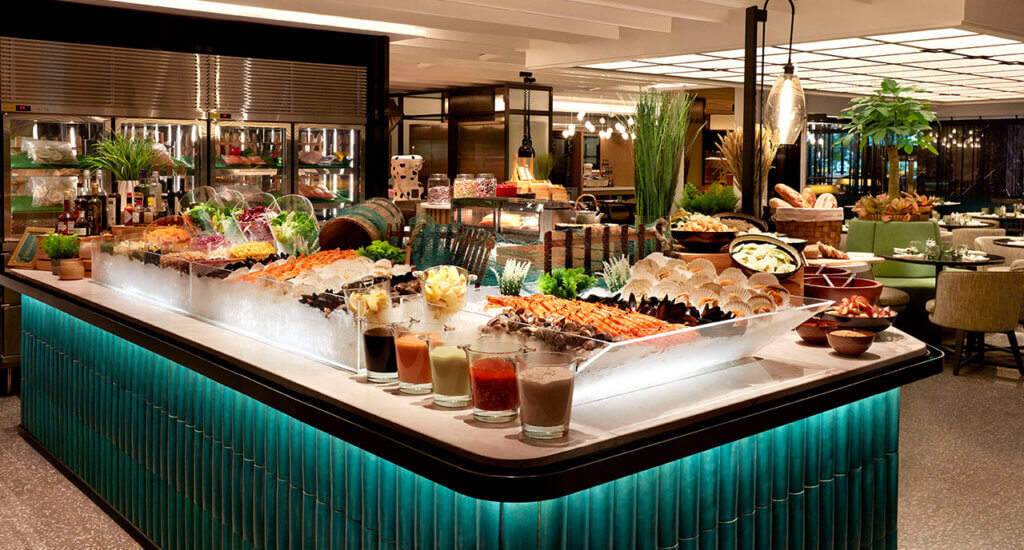 Located inside the Orchard Hotel, the Orchard Café has one of the best values in lunch buffets in Singapore. It was recently renovated and now features an inviting open-space design with an ambience that reflects casual elegance.
The salad bar is extensive and offers both Asian and Western spreads which includes Japanese sashimi, sushi, as well as cold cuts and seafood. The local section features an impressive noodle station that serves the best laksa. A large variety of Indian and Malaysian cuisines are also available.
The Western section features a carving station as well as a charcoal grill. A large assortment of meats and seafood are served there. The chicken satay and BBQ beef briskets are my personal favorites. Last but not the least, the dessert station offers plenty of delicious local favorites such as mango cake, lychee mousse, and durian penget. The spread there is quite amazing so be sure you go there with an empty stomach!
Grand Shanghai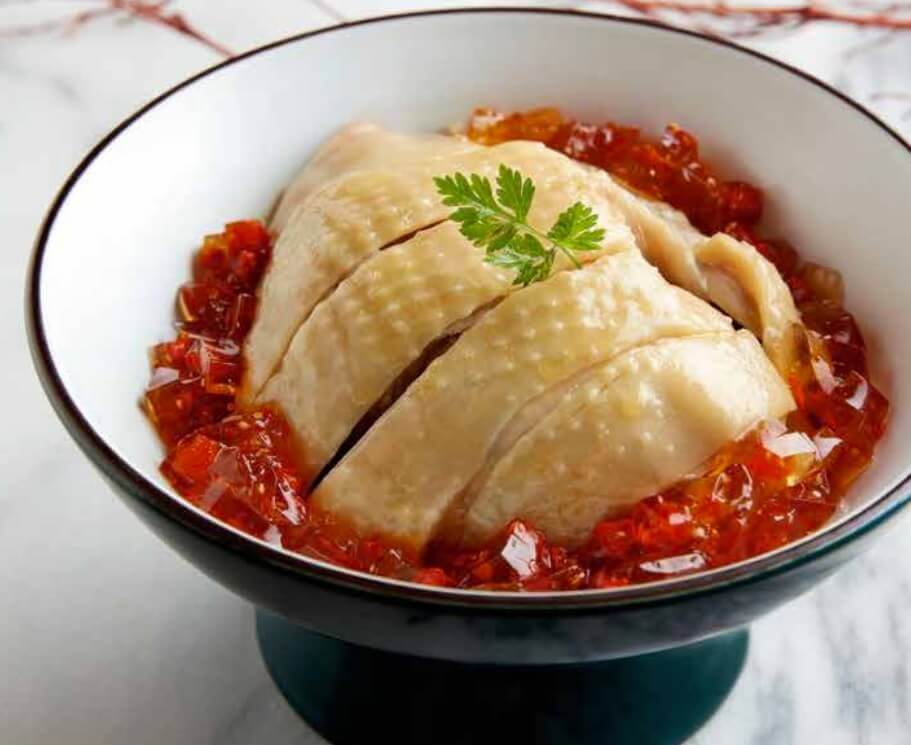 Grand Shanghai serves authentic and refined Shanghainese cuisines in an elegant setting with nostalgic atmosphere of the glamorous "Old Shanghai". The décor reflects the opulence and sophistication of a bygone era that now exists only in movies and TV dramas.
Your best bets here are traditional dishes which they execute very well. For a cold app, get the drunken chicken which is a steamed cut-up chicken marinated in Chinese rice wine and refrigerated for one to two days for a strong "drunken" flavor. Shanghainese smoked fish is another authentic household favorite.
For seafood, deep fried yellow croaker is popular among locals and tourists alike. Fish steamed with Chinese wine is another one of their specialties. They also offer chili crabs, which is Singapore's national dish. For meats, braised pork belly and sauteed sliced pork are both family mealtime favorites.
Paradise Dynasty
Hours vary by location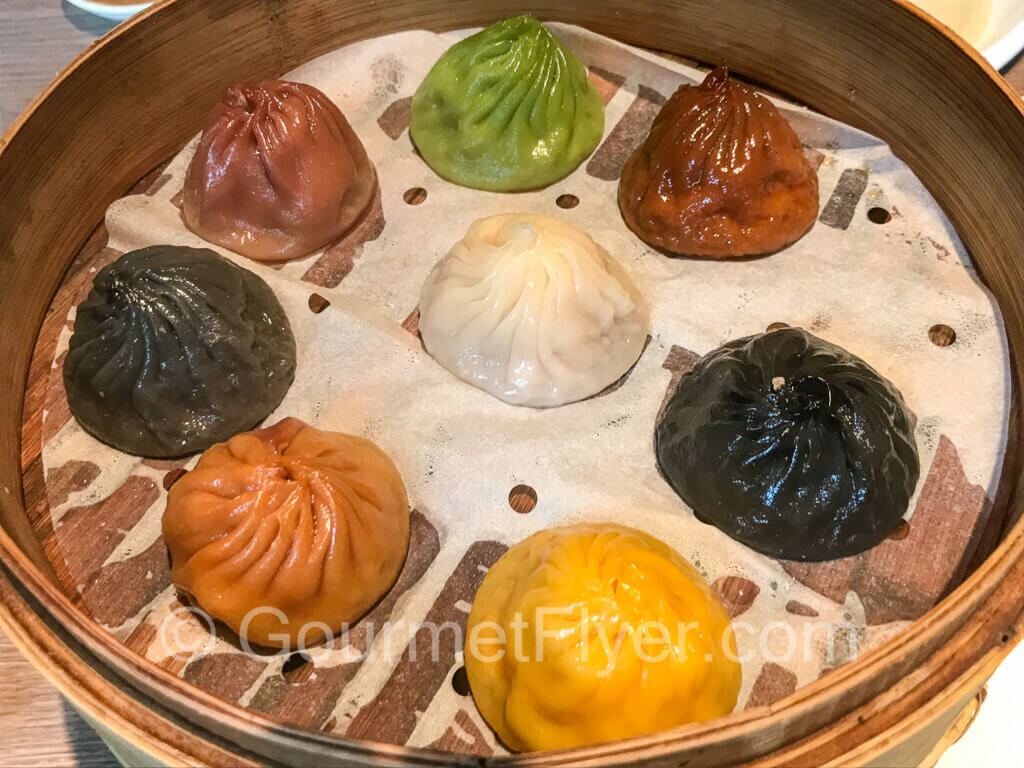 Paradise Dynasty is famous for their xiao long bao (steamed soup dumpling) featuring small dumplings wrapped meticulously to capture a meat filling drenched in a pocket of piping hot and delicious soup. Their signature dish – which is now imitated in numerous places around the World – is their medley of 8 xiao long baos in different flavors.
From the picture above, the dumpling in the center is the original flavor. From the green one on top and going clockwise, the different flavors are luffa gourd, foie gras, black truffle, cheese, crab meat, garlic, and Szechuan.
Other exciting local favorites include their chicken soup which is homemade from scratch and is rich and flavorful. Their drunken chicken – chicken marinated in Chinese wine – is my favorite appetizer. For dessert, be sure to grab a plate of the famous black sesame glutinous rice ball topped with peanut powder.
Ippudo
Hours vary by location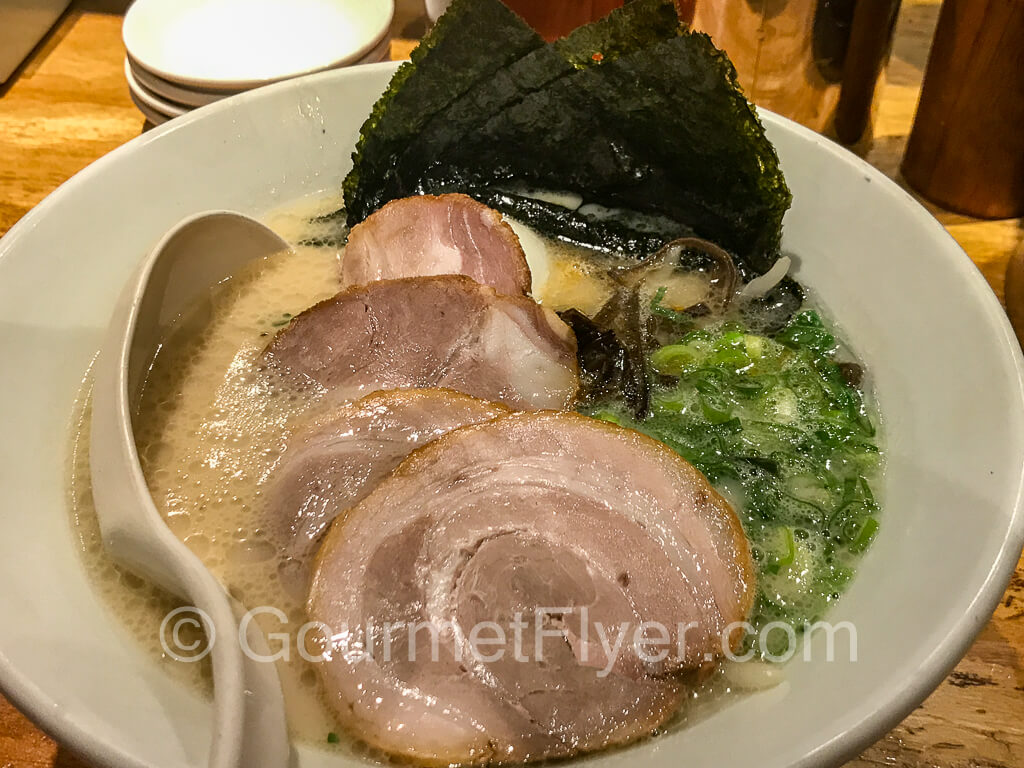 While there are almost numerous ramen restaurants in Singapore, nothing is like this iconic Japanese brand that started the ramen craze in New York and popularized it across many major cities around the World. It now has 12 locations in locally to satisfy your most exquisite taste for ramen.
My personal favorite is their signature creation called Shiromaru Motoaji. It features thin and slightly chewy Hakata noodles served in a milky pork bone broth topped with chashu and garnished with spinach and bamboo shoots.
Their Akamaru Ramen is a mildly bold version of the pork broth made with Ippudo's secret recipe of "Umami Dama" – a rich miso paste. For a hot and spicy bowl of ramen that will give your palate a nice kick, get their Karaka Spicy ramen which promises a burning flavor infused by their house blend of hot chili paste and garlic oil.
Tim Ho Wan
Hours vary by location
Tim Ho Wan of Hong Kong Michelin Star fame has now expanded globally including several locations in the vibrant Lion City. This particular restaurant is inside Plaza Singapura (Dhoby Ghaut MRT station). Of all the THW's that I have been to outside of Hong Kong, I rank this Singapore restaurant on the top of my list.
The deep-fried chili crab dumpling is amazing and is a must-try. It is like a traditional taro pastry (woo kok), but the filling is chili crab. It's great that THW includes some local flavor in their varieties.
Another rather unique dish is the 3-star siu mai (pork dumpling) with 3 distinct flavors: Ham, black mushroom, and quail egg.
Explore the original Tim Ho Wan in Hong Kong.