In a city where stunning light shows light up the bay at night and hawker centers are iconic structures, Singapore offers its visitors a wide variety of things to do and places to see. Below you will find a list of my selections that should be the highlights of your visit to the Lion City, as well as some activities that will enrich your cultural experience.
Gardens by the Bay
Among all the things to do in Singapore, a visit to the Gardens by the Bay is on the top of the list. It is the top tourist attraction of the city.
The venue where the wedding at the end of the movie Crazy Rich Asians takes place is the Garden by the Bay. The backdrop is also where the nightly evening light show "Garden Rhapsody" is displayed. The place looks really cool, especially at night. And the best part is that admissions to just the ground of the garden is free.
However, the highlights of your visit will most likely be in the two domed shaped buildings – Flower Dome and Cloud Forest – which requires admission tickets. But let me assure you that you will definitely get your money's worth.
The displays in the Flower Dome are seasonal, but since Singapore doesn't really have four seasons in a year, the variations are limited. The flower displays are gorgeous, and they completely take my breath away. While most of the landscapes are artificial, every single plant and flower is real and alive.
The Cloud Forest is my favorite. The moment you walk in you will be amazing by the stunning architecture and a rainforest waterfall. You will navigate through a series of stairs and elevators which take you to different levels of excitement.
Spectra Light and Water Show
Spectra is an outdoor extravaganza of dancing waters and laser lights synchronized with symphony music. It is an enchanting display of colors, lights, and sounds that will take your breath away. The show is symbolic of Singapore's complex history and its journey through time to become the Global city that it is today.
The show is free and not to be missed. It can be viewed from almost anywhere on the city's waterfront surrounding Marina Bay. The Marina Bay Waterfront Promenade is a popular location, but it gets crowded, so you need to arrive early to find a good spot.
Sentosa
Sentosa is an island resort with numerous dining and entertainment options. There is enough to do that you can easily spend a daytrip or an entire weekend there. For first time visitors, I highly recommend taking the cable car to get there. This sort of kills two birds with one stone as the cable car ride is a major attraction in itself.
To immerse in Singapore's history, visit the Fort Siloso historical site. Nature lovers could explore Palawan Beach and reach the southernmost point of continental Asia.
Of all the fun activities, I enjoy the skyline luge the most. You'll take a ski-lift up the hill then ride down on the luge. You'll be speeding through exciting slopes and turning sharp corners.
For the even more adventurous minds, there is a zipline at Mega Adventure Park. The ultimate adventure is iFly, an indoor skydiving experience simulated by a wind tunnel.
There are plenty of great eats everywhere and there is no shortage of fine dining places. My favorite is FOC Sentosa. For those seeking a cultural dining experience, visit Malaysian Food Street for hawker stall style street food in a hawker center kind of setting.
After you've had dinner, remember to catch the night show Wings of Time. It's a light and water extravaganza complete with fireworks.
National Gallery of Singapore
The National Gallery of Singapore focuses on Southeast Asian art, mostly since the 19th century. It takes you through a chronological journey of the region, reflecting its social and political changes.
The exhibition "What is your name?" invites visitors to explore the Lion City through its arts. It showcases Singapore's art history from the 19th century to the present day. The artwork reflects the people and the communities of the city nation, telling the stories of their lives through the lens of art.
In short, this is a gallery of Asian heritage. A galley of the people, their lives, and their cultures.
A tip to the visitors: The rooftop here is an amazing photo spot. It is one of the best places to take a picture with the Marina Bay in the backdrop.
Lunch or dinner idea: I highly recommend the National Kitchen by Violet Oon, which is located inside the gallery. It is a dining experience that you will not forget!
Eat at a Hawker Centre
Your visit to the Lion City is incomplete without a trip to a hawker centre. These are large food courts with hawker stalls selling mostly a wide variety of local specialties. Take your time to walk around and explore what each stall has to offer. If you are like me, you will have a hard time deciding what to get.
This is what I call a cultural dining experience. It is a local way of life. This is where families and friends from all walks of life gather around a messy dining table in a noisy and lively food hall to eat, to bond, and to share their life stories.
Remember the movie Crazy Rich Asians? One of the first things that Nick did as soon as they arrived in Singapore was to take Rachel out to dinner – in a hawker Center. That hawker centre is called Newton Food Centre and is among the most popular in Singapore.
Who were they eating with? Colin and Araminta – the supermodel who was also the heiress of a billion-dollar hotel chain. The fact the some of the richest and most famous people are eating in a hawker centre tells you a lot about its culture and significance.
Explore Chinatown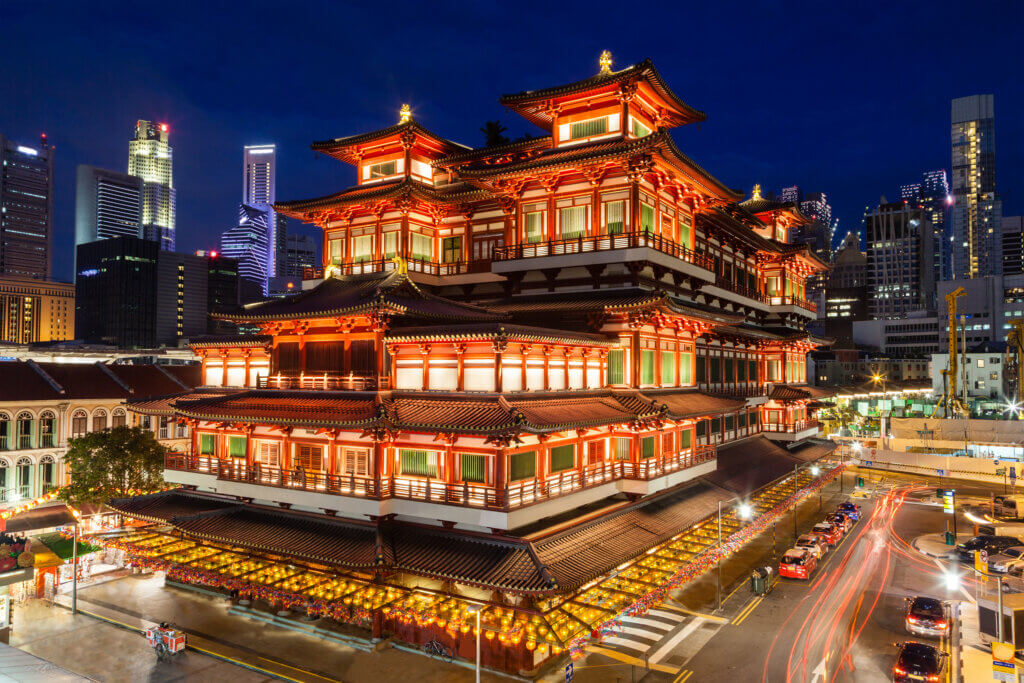 Singapore's Chinatown is large, vibrant, colorful, and full of cultural and historical values as well as yummy good eats. It is easily accessible from most parts of Singapore by MRT. Both the Downtown (Blue) and North East (Purple) lines take you to the Chinatown station. A good starting point is Chinatown Point, a modern shopping and dining complex. I always stop by Song Fa to get a bowl of my favorite bak kut teh.
I recommend you continue on New Bridge Road in the southwest direction (following the traffic flow) for a few minutes and you will be at the Kreta Ayer Precinct of Chinatown. The place to visit there is the Chinatown Heritage Center which highlights the footstep, lives, challenges, and resilience of Singapore's early Chinese settlers.
Further down the road is another foodie's paradise – the Chinatown Complex Food Center – one of Singapore's famous hawker centers. The anchor there is the Michelin starred Hawker Chan, famous for his soya sauce chicken rice.
The next stop is the spectacular Buddha Tooth Relic Temple (pictured above). You will continue on Smith Street to Trengganu Street and go south from there. You can see the temple's stunning architecture from a distance, and you can't miss it. The temple is also a museum in itself and a tour there is certainly one of the highlights of your visit to Chinatown.
The Maxwell Road Food Center – another foodie's heaven – awaits further down the road. My favorite there is Tian Tian Hainanese chicken rice.
But other than all the food, there is plenty of history and culture to explore along the way. To fully explore the richness of Singapore's Chinatown, I highly recommend the Chinatown Walking Tour by Monster Day Tours. The tour is free of charge and the tour guides are all highly knowledgeable and professional. (While the tour itself is free, tips are appreciated.)
Clarke Quay
Clarke Quay is a favorite spot for both locals and tourists alike and is one of my most favorite hangouts in Singapore at night. This place is almost like my comfort zone when in Singapore.
I like to grab a beer, order some wings or satay, and enjoy the live music from local up and coming performers. You can also take a boat tour of the river.
If you are hungry and want a full meal, there are many great restaurants in the area. One of my favorites is Jumbo Seafood, where I order their signature chili crab every time I'm there.
If you are in a romantic mood, you can take a boat ride with your partner under the stars, or amidst the lightshow if you choose the right time. Or just take a leisurely walk along the river and enjoy the romance that is in the air.
Palawan Beach
While you are on Sentosa Island and want to take a break away from all the adventures and excitement, Palawan Beach will be a great option. You will enjoy the calm turquoise waters and the relaxing scenery.
Stop by the FOC Beach Club for a drink to soak in some Spanish-themed and Mediterranean flavors. Walk across the short suspension bridge. It is so low, and the water is so shallow that it is not one bit scary. So don't worry.
Climb up the watchtowers to get a panoramic view and take that Instagram worthy picture. After that, continue your walk until you've reached the "Southernmost Point of Continental Asia" sign.
Is this really the southernmost point of continental Asia? Read my blog article The Southernmost Point of Continental Asia to read about my journey there and my thoughts on this question.
Merlion Park
The merlion is a mythical creature with a lion's head and the body of a fish (mer as in mermaid, hence in this case, merlion). This is the national mascot of Singapore.
I know this is a touristy thing to do in Singapore, but you just have to take a picture with the Merlion like I did. This is also a great spot to take a picture of the iconic Marina Bay Sands Hotel. You can see the Spectra light show here as well, but the sound is not as good.
Universal Studios
I am recommending Universal Studios only to those who have not visited Universal studios in the United States. If you've already been to Hollywood or Orlando, then your time can probably be better spent elsewhere.
But Asian visitors will love this place, as it is like a Hollywood with an Asian flavor. It's like going to Disneyland in Hong Kong. You get the idea?
Here you get to meet some of your favorite movie characters. Some current meet and greet include Transformers: Voices of Cybertron, Madagascar, Gru and the Minions, Hatched! Featuring Dr. Rodney, and Sesame Street
There are also some thrill rides that are not for the faint of hearts. If you are ready for one of the scariest rides in the World, get on the Battlestar Galactica: Human vs. Cylon. Choose your side – human or cylon and let's go! The two dueling roller coasters will give you a truly exhilarating adventure as the two coasters twist and turn and race toward each other at turbo speeds.
Trick Eye Museum
Trick Eye Museum is located in the main Resort World plaza on Sentosa Island.
I would actually call this a studio rather than a museum. Anyways, there are more and more of these places now that use optical manipulations to create visual illusions. It is where you take those Instagram worthy pictures to amaze friends and family.
There are about 80 photosets. Some are interactive, some require you to do certain things to create the optical illusion. On some photosets, there are markers telling you where to position yourself and where your photographer should stand. Pay attention to those for best results.
Believe me, it's not just for kids. In fact, many adults are having a lot more fun than the kids.
In a way, it's a silly thing to do. But sometimes silly fun things to do are the most fun. Go for it! I did!