I believe you can live in the Big Apple for years and still haven't explored all the amazing attractions and landmarks in the city. I have been visiting NYC every year for many years and I continue to find new places to visit and new adventures to explore. In this sense, it is really not feasible to have a list of best things to do in New York for the visitors who will be here for a few days to maybe a week.
My goal is to assemble a diverse list of things to do in New York that will help you get up close and personal to this vibrant and exciting city by focusing on a few key highlights. My list is useful to first-time visitors to get a quick orientation of the major attractions in New York, while repeat visitors can catch up on what they've missed. My recommendations of the most iconic and cultural experiences of New York are divided into the following categories:
Table of Contents
Outdoor Things to Do in New York
New York Botanical Garden
The New York Botanical Garden is one of the many things to do to get away from the hustle and bustle of New York (NYC) for a day. It is a nature lover's paradise, a museum of living plants, and a showcase of botanical diversity.
My recommendation is to take the tram tour as soon as you arrive to get an orientation of the huge campus and have an idea of where everything is and what you like to see.
There are periodic themed exhibitions integrating art, culture, and innovation into the garden. As of this writing, the garden is featuring Yayoi Kusama's Cosmic Nature. Check their website for special exhibitions during your visit.
While you are there, if you want to indulge in a nice lunch, be sure to visit the Hudson Garden Grill. Reservations are required.
The easiest way to get there by public transportation from Manhattan is to take the Metro-North Railroad Harlem local line from the Grand Central Terminal to the Botanical Garden station. From there it is just a short walk.
Central Park
Central Park is an oasis in the midst of the hustles and bustles of New York City. It is a great place to escape from the city and find some peace and quiet. One of my favorite walks whenever I'm in town is to stroll along The Central Park Lake. The walk is always soothing and refreshing. There are also many photo spots along the way.
The park is huge – it is 843 acres of landscapes that stretches from 59th Street to 110th Street and from 5th Avenue to 8th Avenue. A 90-minute guided tour is available and is recommended for first-time visitors.
Strawberry Fields
One region within Central Park which is of particular interest to Beatles fans is Strawberry Fields – a John Lennon Memorial named after the song Strawberry Fields Forever. The site of the original Strawberry Fields – a former children home in Liverpool frequented by John as a child – is now a tourist attraction.
The memorial is located just across the street from the 72nd street subway station. It is also across from the Dakota building where John and Yoko Ono used to live, and steps away from where John was killed.
The centerpiece of the memorial is an "Imagine" mosaic installed into the ground. On most days, there are street performers playing Beatles songs in the area.
Instead of a traditional memorial with a statue, Strawberry Fields is a living and dynamic landscape that Yoko believed John would have wanted.
Arts and Museums in New York
The Metropolitan Museum of Art (MET)
The MET is one of the major museums in the World and is in the same caliber as the Louvre in Paris or the British Museum in England.
The collection is extensive. There are a lot of top-tier masterpieces on display, such as Study of a Young Woman by Johannes Vermeer (his other famous work Girl with the Pearl Earring is in The Mauritshuis in the Netherlands). Here you will also find one of Van Gogh's Self Portrait.
Works by Renoir, Monet, Rembrandt, among many other legendary artists are also on display. Besides painting, their collections also include Sculptures, Arms and Armor, Egyptian Art, Asian Art, among many others. The place is huge, and any museum fan can easily spend an entire day there. An audio guide is available.
MET Cloisters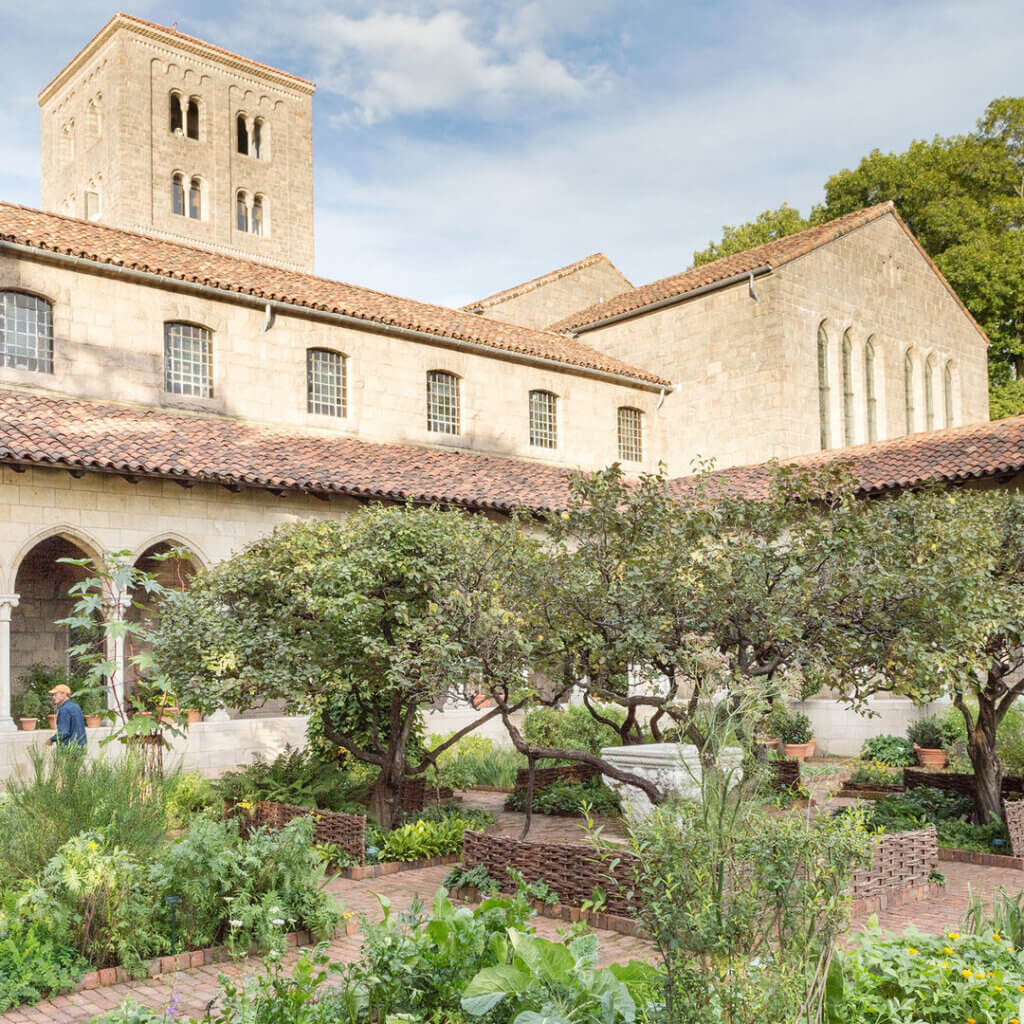 The MET Cloisters is a branch of the Metropolitan Museum of Art and is located in northern Manhattan, overlooking the Hudson River. It is a completely different experience from the MET in Fifth Avenue. The entire complex is Medieval themed, and it feels like you just travelled back in time, a world away from NYC. You will be absorbed in the stunning architecture of a French monastery.
The exhibits are primarily Medieval arts, paintings, and sculptures, many of which display religious influence. The garden and the courtyard are absolutely gorgeous. The covered walkways, or cloisters, provide a tranquil and relaxing environment for the visitors to reflect and contemplate as they make their ways to the galleries.
Museum of Modern Art (MoMA)
MoMA showcases fine and contemporary arts that span through a diverse spectrum in time and culture. It houses some of the most famous and precious paintings in the World. Among its famed collections are Van Gogh's The Starry Night and Picasso's Girl Before a Mirror. On the more contemporary side, Andy Warhol's Campbell's Soup Cans and René Magritte's The Lovers are refreshing creations.
MoMA is literally huge, with multiple galleries housing over 200,000 works of art. So be prepared to spend at least half a day to a full day there. MoMA is located on West 53rd Street in Midtown Manhattan. Its satellite museum, the PS1, is located on Jackson Avenue in Queens.
Iconic Things to Do in New York
Statue of Liberty
You visit to New York City is incomplete without a visit to the Statue of Liberty – the symbol of freedom in the World. To get there you need to take the ferry to Liberty Island. The ferries depart from Battery Park in Lower Manhattan and Liberty State Park in New Jersey.
While you are on Liberty Island, be sure to check out the Statue of Liberty Museum to discover the history of the statue in interactive galleries. Access to the interior of the pedestal requires advance reservations. Spaces are very limited so book your early.
National Immigration Museum
Your visit to the National Immigration Museum on Ellis Island is best combined with your trip to the Statue of Liberty. Your Statue Cruises tickets include stops at both Liberty Island and Ellis Island. Just be sure to check the ferry schedule to make sure you have enough time to enjoy both places.
The museum is located in the actual former immigration facilities. There is no better place to document and to display the history of American immigration. Through carefully curated galleries and exhibits, the museum highlights the journey of every American immigrant and celebrates the dream of reaching the promised land.
Times Square
Whether it's a touristy thing to do in New York or not, if this is your first visit to the Big Apple, Times Square should probably be on your agenda. It is particularly interesting at night. With the bright lights and mega screens, plus the street performers and all the actions around you, you will never be bored.
You visit to Times Square can be multi-purpose or bundled with other activities. You can combine your visit with shopping or dining in the area or seeing a Broadway show which is just a short walk away.
9/11 Memorial and Museum
The 9/11 Memorial and Museum is located at the original site of the twin towers. Nobody needs an introduction to what the event and the memorial is all about. It's a great place to visit to remember what happened, to pay tribute to the victim and the heroes, and to celebrate the hope and the resilience of the American people.
The memorial is free and open to the public. Admission tickets are required for the museum.
The Oculus
The Oculus is the hub of many New Yorkers' daily commute. It houses the terminal for the New Jersey PATH train as well as 12 subway lines. It is also an architectural gem to behold. It is part of the World Trade Center Reconstruction Plan after the 9-11 events. The light that comes through the spine-like skylight symbolizes the light and hope after the 9-11 tragedies.
There is a shopping mall attached to it as well as a few restaurants. While you are there, be sure to get the World-famous Mille Crepe cake from Lady M. And don't forget to take that Instagram-worthy picture to impress your family and friends.
Cultural Things to Do in New York
See A Broadway Show
Seeing a Broadway show is definitely a great thing to do when visiting New York. There are few cities in the World where you can easily find over a dozen World-class productions in an area of a few blocks.
My personal favorite is Phantom of the Opera. I think everybody should see this show at least once. Kids friendly shows include The Lion King and Aladdin. Those interested in pop icons will like MJ the Musical (Michael Jackson), The Tina Turner Musical, or the Girl from North Country (Bob Dylan).
Museum of Chinese in America
MOCA showcases the lives of Chinese Americans, from their immigrant journeys to the challenges that they face, to the bonds and communities that they establish. It also highlights some of the achievement of Chinese Americans and the significant contributions that they've made to the growth of America. There are collections on current affairs as well as historical events.
MOCA is located in New York City's Chinatown.
Visit Chinatown
NYC has one of the larger and better organized Chinatowns in the US and it is definitely worth a trip there. You can find many bargains in local gift shops where you can buy the exact same souvenirs you see at a tourist attraction, but at a fraction of the price. While you are there, get some authentic dim sum and enjoy a Hong Kong style café experience.
To better understand the heritage and history of Chinese Americans, visit the Museum of Chinese American (MOCA).
Little Italy
Little Italy is located adjacent to Chinatown – in fact in some area you will see both Chinese and Italian businesses. So, it's easy to kill two birds with one stone here and visit both communities at the same time. There are many authentic Italian eateries of all price ranges – from pizza by the slice to fine dining. At night, the streets here are lively and it's a great place to experience some Italian flavors.