October 22, 2023
This is a comprehensive review of my Delta Airlines First Class flight from Los Angeles (LAX) to Seattle Tacoma International Airport (SEA) on a Boeing 737-900ER aircraft. Most readers who follow my posts probably notice that I usually fly United or other Star Alliance partners. Indeed, this was my first time in many years on board a Delta plane and I noticed quite a few differences from what I have been used to. In fact, I do like many of the ways that DL operates its premium cabin. In this article, I will recap my experience from start to finish, and will also share with you some of my observations and insights.
Table of Contents
Pre-ordering Meals
This is considered a medium to long journey that is between 900 and 2,299 miles and a hot meal service is offered on selected departures at certain times. For this particular flight that pushed back at 9:35am, a full breakfast was served.
About a week before departure, I received an email which gave me a link to pre-order my meal. There were two menus to select from: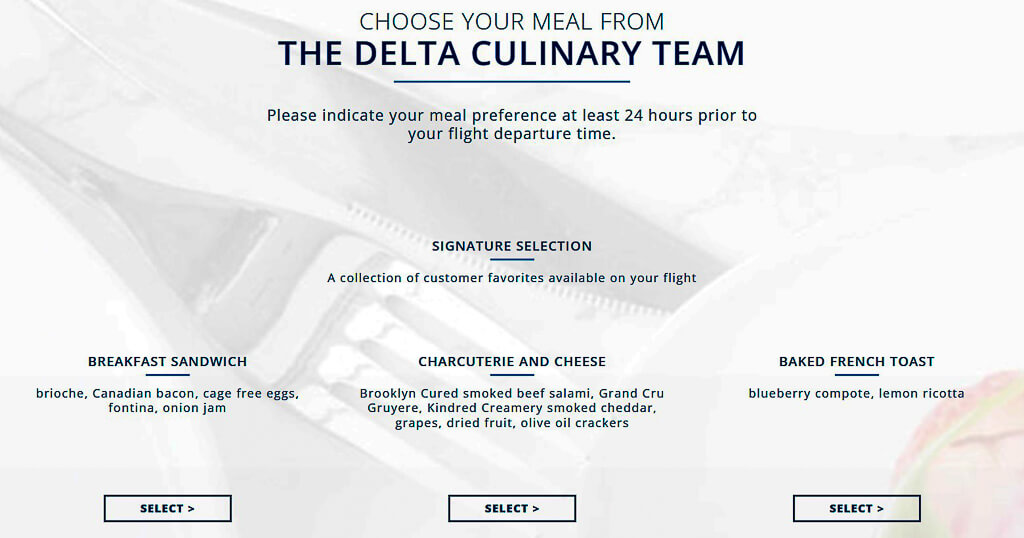 The above are standard choices across most markets that are generally available on most itineraries. If you do not pre-order your meal, you will select from these options on board.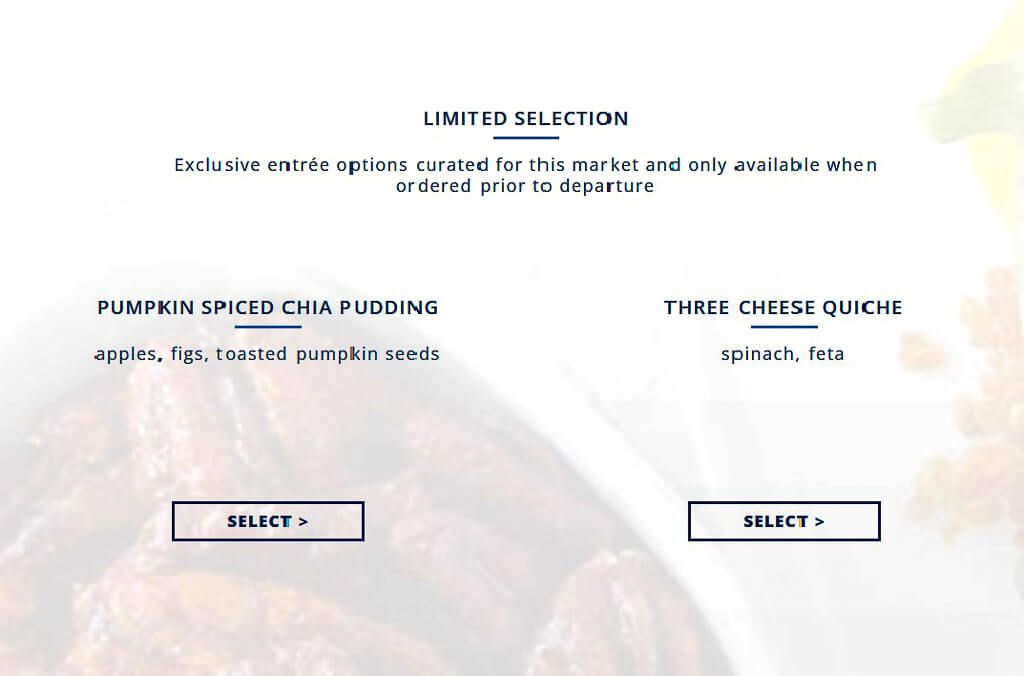 The picture above shows what Delta calls "Limited Selections" which are entrées catered to a specific market and are available only when ordered online at least 24 hours prior to departure.
Since I have had many breakfast sandwiches and French toasts before, I was going to try something new, and I pre-ordered the quiche from the special menu.
Pre-Flight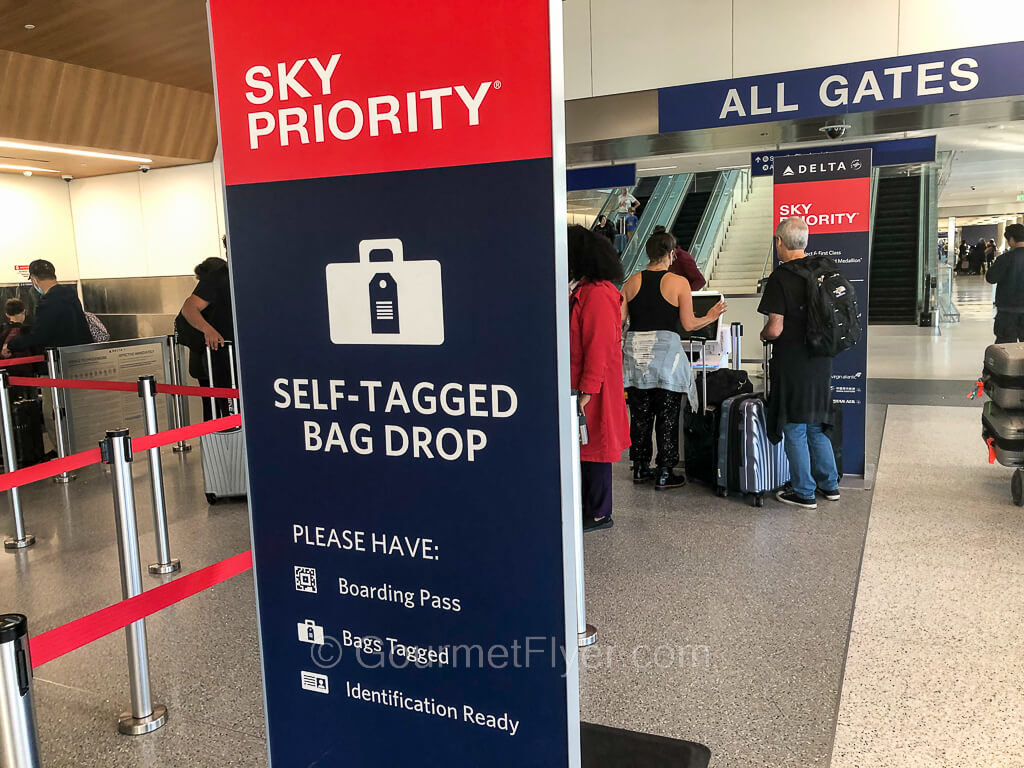 Even without any status with the airline, I enjoyed Sky Priority service which included dedicated check-in lanes, expedited security screening lines, and priority baggage handling. I also got to check two bags for free.
Note: Since I had Clear and TSA Pre-Check, I used that instead for my security clearance as it was a lot easier and more efficient.
Boarding
I think among the big three carriers in the US, Delta has the best boarding policies for customers in premium cabins. First class passengers board in Zone One, immediately after persons with disability and military personnel.
DL's boarding priorities are very roughly summarized as follows:
Pre-boarding of people with disabilities and active-duty military personnel.
Delta One and First Class passengers.
Diamond Medallion members.
Premium Select (premium economy) customers and families with children in strollers.
Passengers seated in Comfort+ and Platinum and Gold frequent flyers plus elites from selected programs.
DL's Silver members plus selected credit card holders and elites from other programs.
Main cabin customers.
Main cabin customers ticketed in discounted fares.
Passengers with Basic Economy tickets.
Pre-Departure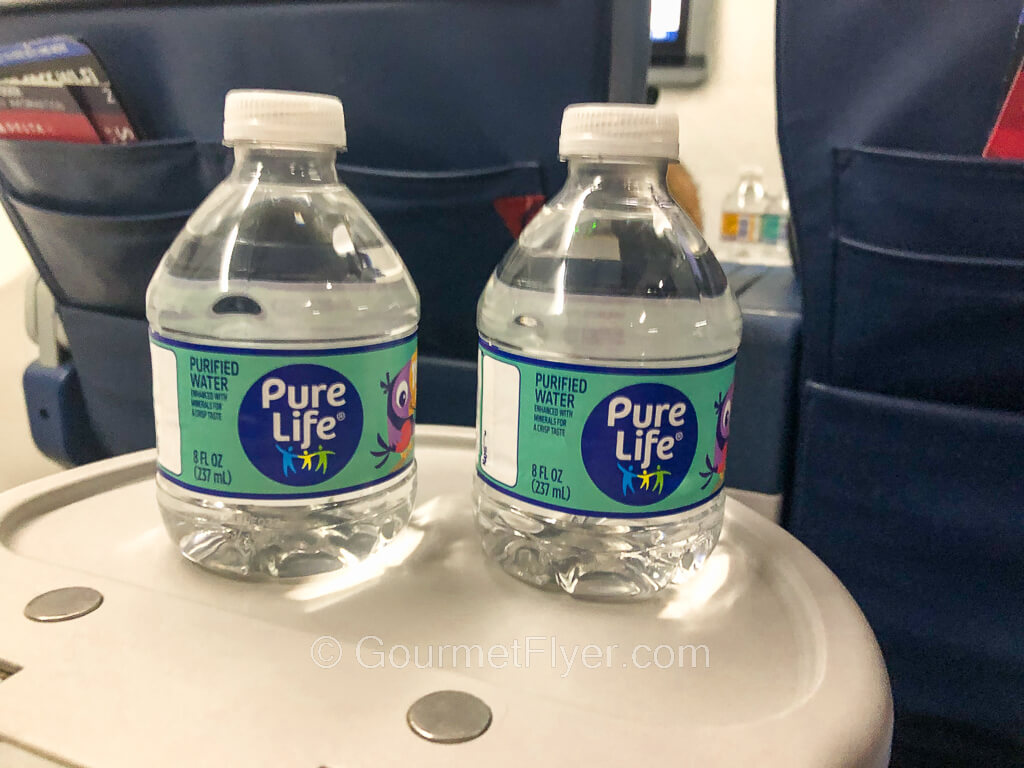 Small, bottled waters were already placed on the seats when I boarded. I found this a great gesture as well as a convenience. However, there was no pre-departure beverage service.
When boarding was completed, a flight attendant passed out packages of earbuds.
The Seat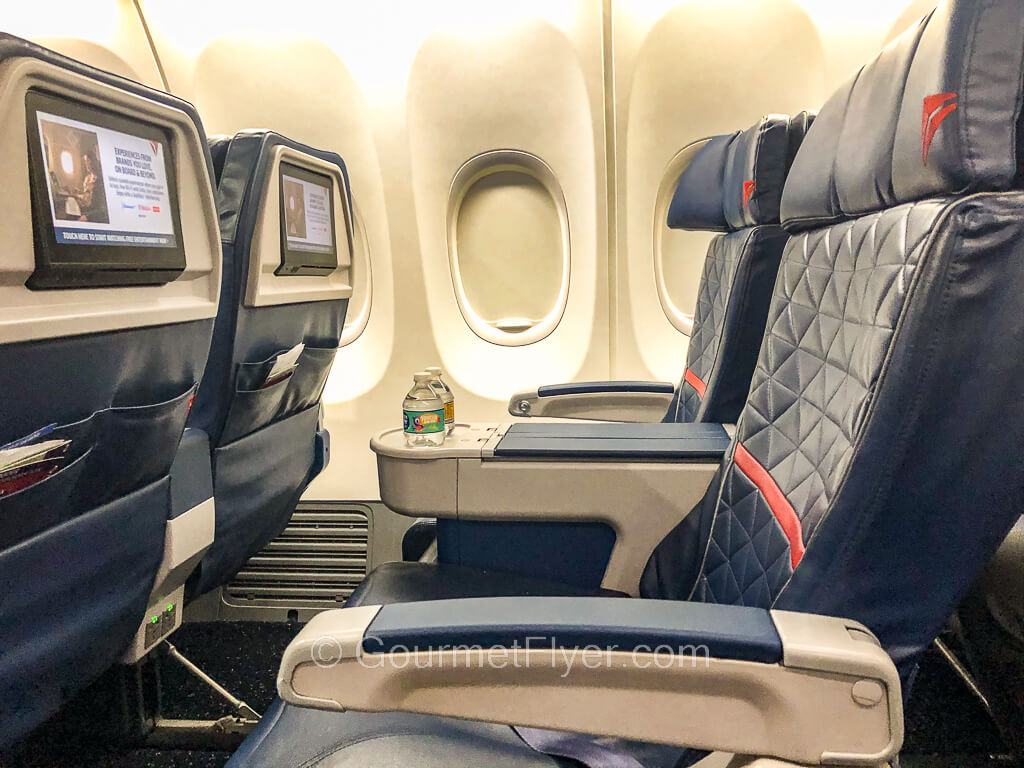 The airlines' version of the Boeing 737-900ER aircraft has 5 rows of First Class seats in a 2 – 2 configuration, with a total of 20 passengers. The seats are typical domestic first-class versions of the big three carriers in the US, but DL's 739 rendition appears to have a larger space for drinks between the seats at the armrests. They are spacious and comfortable. The table below shows their width, pitch, and recline as compared to those in the economy cabin.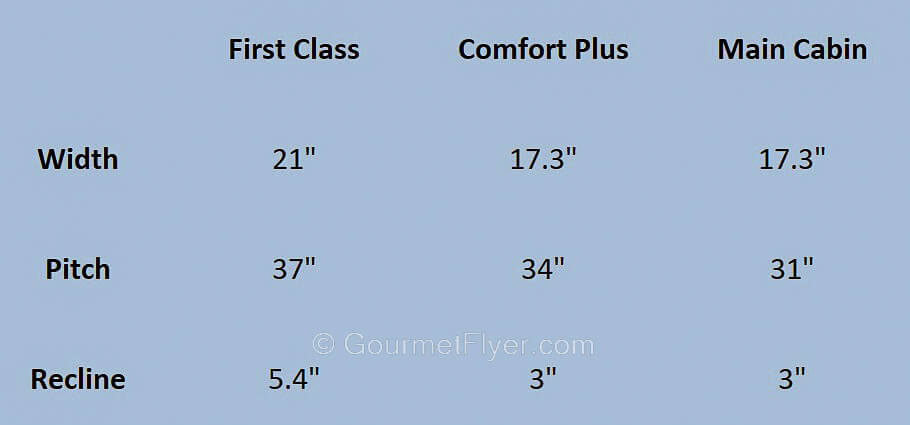 AC Power sockets for charging your devices are located below the seats in front of you. A USB outlet is also available under the entertainment screen.
Entertainment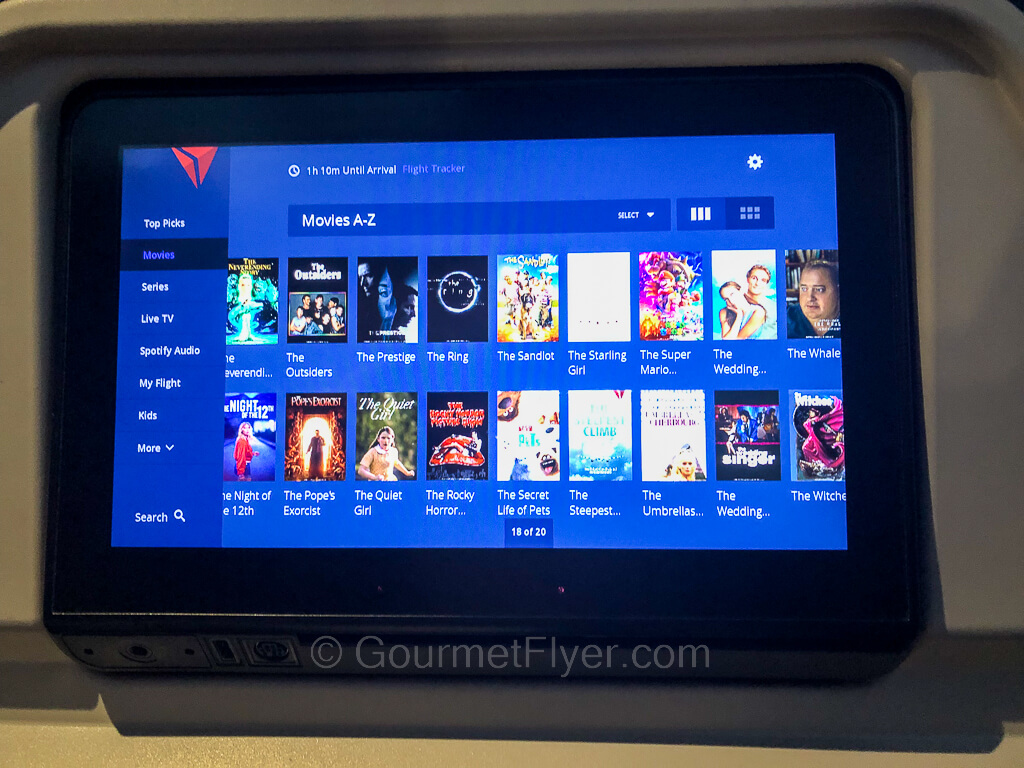 First class passengers enjoy a larger seat back entertainment screen – 11″ versus 9″ in the back of the plane. Plenty of movies were available, and I counted over 360 of them. Live TV stations included CNN, CNBC, ESPN, Food, among a few others, as well as major network stations.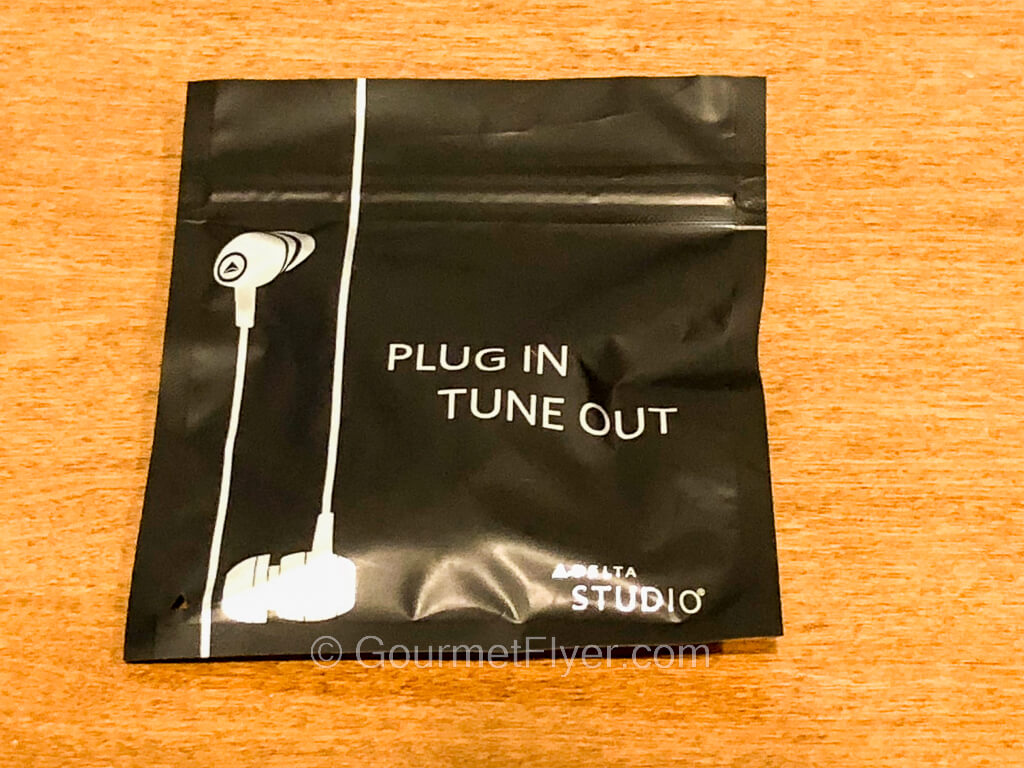 A pair of good quality earbuds were provided in a Ziplock type resealable packet. The earbuds are certainly reusable, and the packaging makes perfect sense so that you can take them with you for your other trips.
Beverages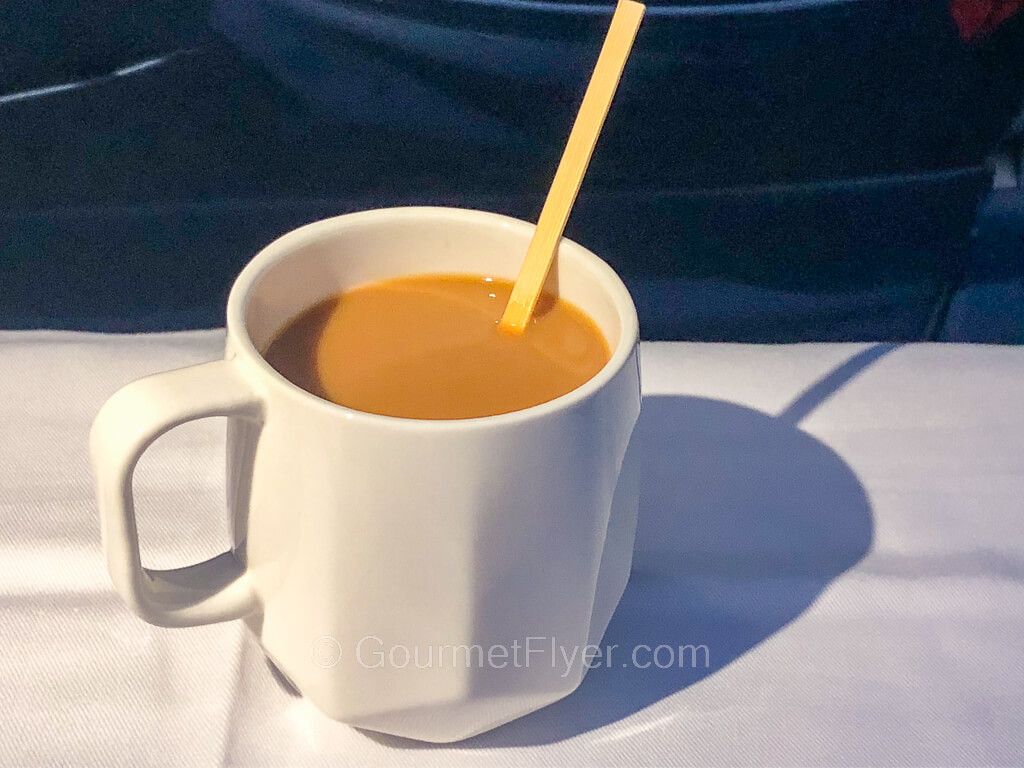 Two flight attendants were serving the cabin and one of them took drink orders as well as delivering them. A good selection of beers, wines, and cocktails were available, but since it was an early morning departure, I just ordered a coffee with cream and sugar. The coffee had a rich aroma and tasted good.
A few of my neighbors ordered wine and champagne and I observed that the wine glasses were quite large, and the serving size was generous. It was a much larger portion than the tiny wine glasses from United that I am used to.
Meal Service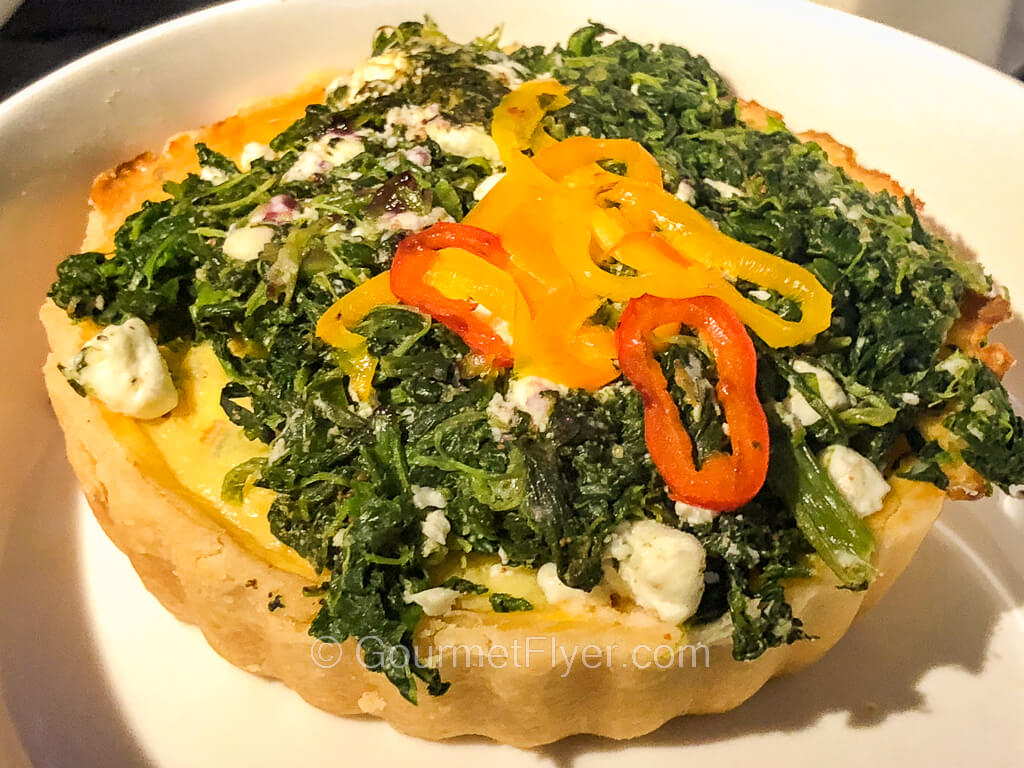 Shortly after we reached the appropriate altitude, the other flight attendant delivered a white tablecloth to each seat from front to back. At the same time, he also confirmed the customer's pre-order (if there was one) or asked them what they would like. One interesting note was that when passengers asked him what was available or had questions about an entrée, instead of explaining it verbally, he showed them the screen of his smart phone like device.
After taking all the orders, he delivered the trays quite efficiently, mostly in a front to back order. I received the breakfast entrée that I had pre-ordered in a reasonable amount of time. The quiche was filled with a good amount of feta cheese and topped with plenty of spinach and a medley of peppers. The crust was slightly buttery, a little crispy at the edges, but not very flaky. Overall, it was delicious, and I absolutely enjoyed it.
The main breakfast entrée was accompanied by a bowl of fresh cut fruits, a warm croissant, and fresh marmalade served in a mini ramekin.
Service was close to impeccable, and I was asked at least twice whether there was anything else that I would like. I also liked the fact that both FAs circulated the cabin quite frequently during and after breakfast and were visible and available if needed.
Conclusion
Overall, my experience on this Delta Airlines flight in the first-class cabin was highly positive. They delivered a superior premium cabin product on a journey that spent only two and a half hours up in the air. The meal service was outstanding, and I particularly liked the fact that there were specialties and regional cuisines that were available for pre-order only. My other observation was that having flown United almost exclusively for my domestic travels, I found DL's boarding order a breadth of fresh air. Although I cannot say this conclusively after just one experience, every employee, agent, or FA that I've encountered today was professional and friendly. I am really looking forward to my next journey with Delta in the near future.