Updated February 25, 2023
This is not intended to be a list of the best restaurants in London, but rather my selection of eateries that I believe will give you the most authentic tastes of local flavors, as well as the most memorable cultural dining experiences. Most places are moderately priced, family friendly, and offer the best bang for your buck.
It's a diverse selection of eateries from a food stall in the Borough Market to a brasserie atop the Sky Garden. From afternoon tea on board an iconic British Routemaster bus to the freshest and most authentic local sushi gem that you can find in the city. These are places where your dining experience will be elevated and remembered for a very long time. These are indeed some of the most iconic and exciting places to eat in London.
Table of Content
Iconic and Trendy Places to Eat in London
The Borough Market
Hours: Mon – Fri 10am – 5pm; Sat 8am – 5pm; Sun 10am – 3pm
The Borough Market (London Bridge Underground Station, Northern or Jubilee Lines) is a vibrant food market that can satisfy everyone's palate. You can find anything from the greasiest meats to the purest vegan food.
It can get very crowded, and lines can be super long, but that's exactly what a traveling foodie is looking for. This is street food at its best!
Ideally, go there with a group of people so you can order a lot of different items and share. Be there all day and eat all day!
Some of my favorites are the Spanish seafood paella, bratwursts, and sauteed mushrooms. For sweets, I highly recommend the Thai dessert kanom krok, which is like a small pancake that is crispy at the bottom and creamy inside. It is a favorite street food in the streets of Bangkok.
Duck and Waffle
Hours: Tue – Thu 7am – 1:30am; Fri – Mon 24 hours
Duck and Waffle is a trendy bar and restaurant with a stylish decor and vibrant atmosphere. For a table in the dining room, reservation is a must and should be made weeks in advance.
When we arrive, we take the private glass elevator to the 40th floor and enjoy a spectacular night view of the gorgeous city along the ride.
When we reach the dining room, the hostess takes us to a window table which I have requested. The World-famous Gherkin building is almost right in front of our eyes. The iconic Tower Bridge can be seen in a distance.
When at Duck and Waffle, order duck and waffle!
That must be one of the best duck confits that I've ever had. The skin is thin and crispy, and the meat is moist and juicy. The tender duck confit sits atop a rather smallish waffle which is topped with a sunny side up duck egg. The use of a duck egg in this dish, I believe, is deliberate. The yolk of a duck egg is much thicker and richer than a regular (chicken) egg. Moreover, it completes the duck theme of the plate.
Burger and Lobster
Hours vary by location
This is one of few places where you will eat a burger and a lobster in the same meal, and on the same plate. This London obsession has now spread to NYC, Bangkok, Singapore, and beyond. So, when I am in town, I have to go check out the place. Burger and Lobster has 9 locations locally and there is always one nearby.
The menu is focused, and ordering is simple: You order a burger and/or a lobster. There are combos for one person as well as combos for two to share. Lobsters can be ordered grilled or steamed. A large selection of cocktails and beers are available to accompany your surf and turf extravaganza.
Darwin Brasserie
Hours: Mon – Tue 12pm – 10pm; Wed – Thu 9am – 10pm
Fri – Sat 8:30am – 10:30pm; Sun 8:30am – 9:30pm
Darwin sits atop the Sky Garden and is London's highest rooftop brasserie. A window table offers spectacular view of the Thames River and the iconic Tower Bridge. The nighttime view is particularly enchanting.
If you have a restaurant reservation, you do not need a separate entry ticket to the Sky Garden.
We had a sea bass and a chicken breast, and the food was good. In fact, I was pleasantly surprised by the quality of the food in such a touristy place. The decor is casually elegant. Vibes are lively and chill. Prices are moderately high.
Fish and Chips in London
Applebee's Fish
Hours: Mon – Wed 12pm – 10pm;
Thu – Sat 12pm – 11:30pm; Sun 12pm – 6pm
Applebee's Fish is located in the Borough Market and offers a takeout counter as well as a full service dine-in restaurant. Do not confuse it with the Applebee chain in the US. On a somewhat chilly day, I opted to sit inside at the counter overlooking the kitchen.
My favorite app is the tiger prawn tempura. The tempura is made with fresh, large, and sumptuous prawns coated in a light batter and deep fried to perfection. The prawns are so fresh that it tastes like they just jump out from the ocean and onto your plate. Instead of a soy sauce based dip like those from a Japanese restaurant, the tempura is served with a wasabi mayo that is refreshing.
The fish and chips are amazing. The fish is so fresh and without even a hint of fishiness (important for me). I can see that the fish filets are freshly carved, and hand battered. This must be a super popular dish as I see the chefs churn out plates after plates nonstop. London is one of the best places in the World to eat fish and chips. But Applebee takes it to an even higher level!
The Golden Chippy
Hours: Mon – Sat 11am – 11pm; Sun 12pm – 11pm
The Golden Chippy is a small eatery located in the Greenwich borough and it has only seating enough for about 12 people. This is mostly a takeout place.
But don't judge a restaurant by its size. When you first look at this place, you will likely doubt whether you are at the right place – the restaurant that has won awards and is almost legendary. But once you've tasted the fish, you know you are at the right place.
The batter is light and perfectly crispy, while the fish inside is moist, flaky, and almost melt in your mouth. One bite and you can tell the fish is the freshest that one can get.
The Golden Chippy is not only a well-loved local gem. It has also attracted foodies and fish and chips lovers from around the World.
Poppies
Hours: Sun – Wed 11am – 10pm; Thu – Sat 11am – 11pm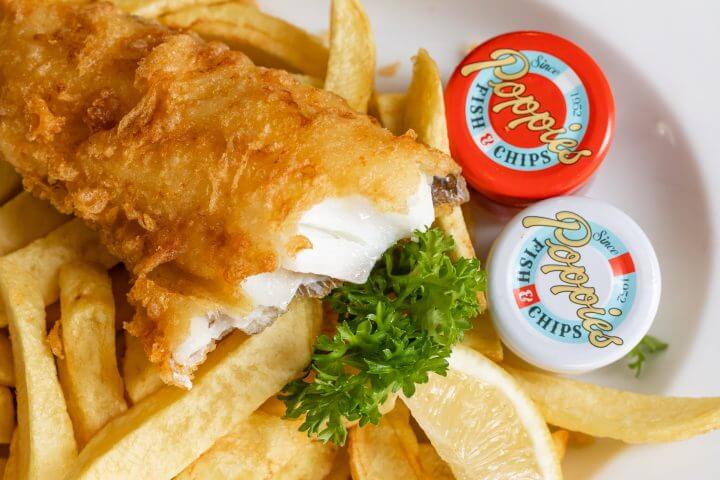 The original Poppies was founded over half a century ago by Pat "pop" Newland in Spitalfields. The diner-like interior features a 1950's décor and retro vibes that enhance your dining experience with a touch of nostalgia. Its success leads to new locations in Camden and Soho.
The regular haddock and chips is their signature dish and you can't go wrong with it. Nothing fancy – just old-fashioned way of deep frying the freshest cuts of fish the traditional way. The batter is light, crispy, and not greasy; the fish is moist and tasty. Chips are always crunchy on the outside and fluffy inside.
The Mayfair Chippy
Hours: Daily 12pm – 9:45pm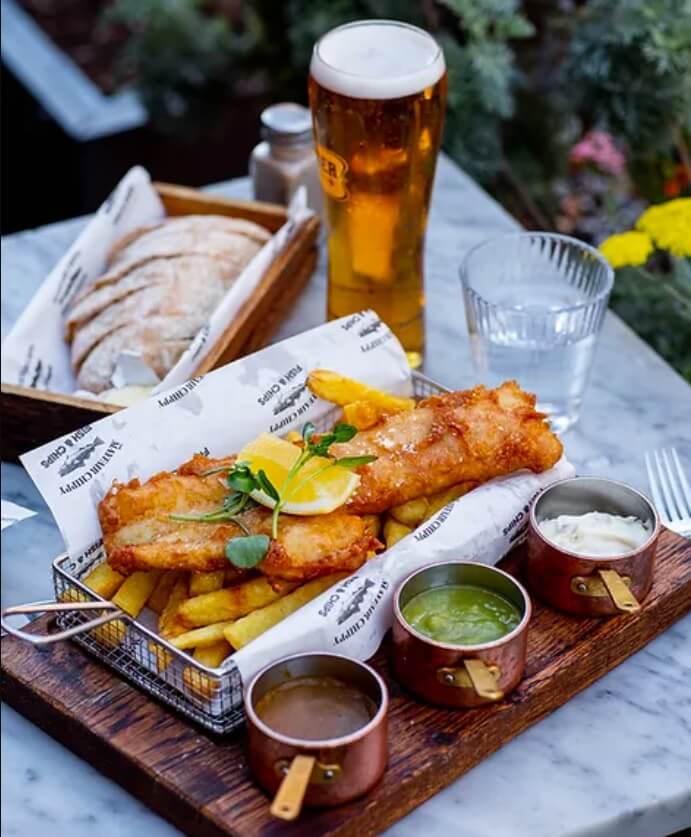 If you happen to be in the street of the Mayfair area, be sure to stop by Mayfair Chippy for some of the best fish and chips that you can find in the city. It is an award-winning neighborhood gem that is well loved by locals and tourists alike.
The house specialty is the Mayfair Classic, featuring fried cod or haddock served with chips, mushy peas, and a choice of tartar or curry sauce. Their fish is always fresh, lightly battered, and fried to a golden-brown crispiness and perfection.
Besides fish and chips, also explore their full menu of seafood, including their signature soft shell crab burger, rock oysters, and steamed mussels.
Afternoon Tea in London
The Orangery
Afternoon Tea: Daily 12pm – 4pm
The Orangery is located right next to the Kensington Palace and is the perfect place to indulge in a traditional English afternoon tea experience.
The baroque Orangery was built in 1704 and was the venue where Queen Anne held many of her parties. The restaurant reflected some of the original elegance and sophistication in its design.
The 3-tier afternoon tea platter includes finger sandwiches, two different types of scones, and an assortment of pastries and mousses.
When in London, sometimes it is not just about the best places to eat. Afternoon tea in England is more than just a meal or a snack. It is an indulgence. It is a cultural experience. To learn more, read my article The Origin of Afternoon Tea.
The Great Court
Afternoon Tea: Daily 11:30am – 5pm
Located inside the British Museum, the Great Court Restaurant serves traditional English afternoon tea on selected days and times. Please visit their website for opening hours and to make reservations (recommended).
This is a great place to indulge in the British culture while giving your feet some rest after venturing through this huge museum.
The triple deck platter features a variety of finger sandwiches, scones, and some delicate cakes, tortes, and macarons.
The place is casual, and the ambience is more like that of a family restaurant. So, while the tea and food are both good, you will not experience the elegant or semi-royal decor in places like the Orangery. However, the good news is that the prices here are a lot more reasonable.
To learn more about this British indulgence, read my blog article The Origin of Afternoon Tea.
Brigit's Bakery Afternoon Tea Bus Tour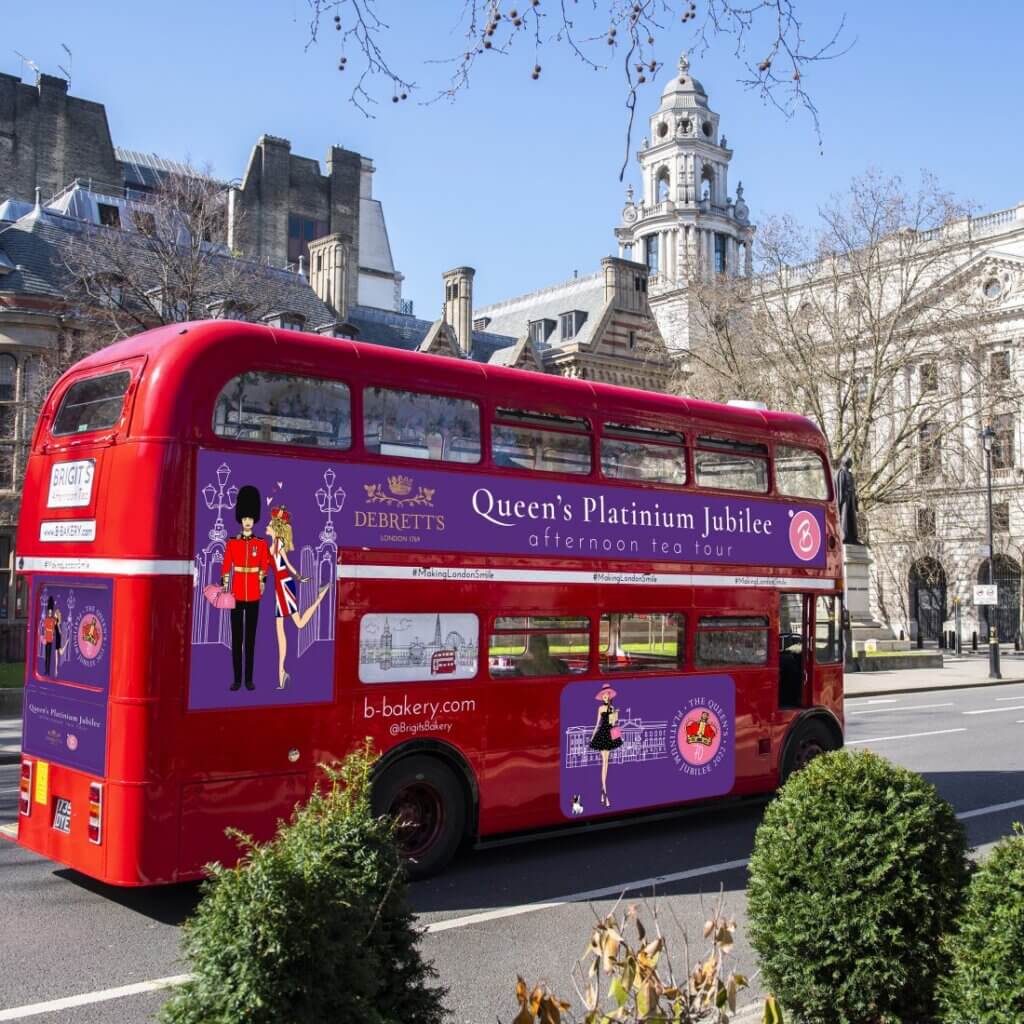 What's more British than afternoon tea in London? How about enjoying afternoon tea on board a classic red Routemaster bus while touring the streets of the city and seeing its iconic landmarks?
Brigit's main anchor is a vibrant and elegant bakery in Covent Garden, and they also operate various afternoon tea bus tours. These tours are absolutely a classic British experience that I think most visitors will enjoy. It is a quintessentially British afternoon tea experience that is both delightful and memorable.
Various tours are offered throughout the day. Most tours start from Victoria or Trafalgar Square. Visit their website for details.
Asian Food in London
Dishoom
Hours vary by location
It is well-known that one of the best places to eat Indian food outside of India is London. Dishoom is a small chain of "Bombay Café" style bistros that feature a casual and moderately upscale dining experience. It offers a comfortable environment with cool vibes. The atmosphere is friendly and vibrant, and it is always a perfect place to chill, and to grab some yummy Indian food with a couple of bottles of Kingfisher.
My favorite app is the vegetable samosas. The skins of the veggie samosas are so crispy and thin that the skin just crumbles and melts in my mouth. The magic is that these are vegetable samosas that don't taste like vegetarian. A must-order!
Chicken Ruby is a variation of Tikka Marsala. The chicken is drenched in a moderately spicy and slightly sweet tomato-based curry sauce and garnished with fresh parsley. This is a crowd-pleasing favorite that is great for sharing.
A great side dish is their "gunpowder potatoes". I guess the "gunpowder" are the flavorings of a mix of black pepper and exotic spices. The flavor is bold and unique and is unlike any potatoes I've ever had.
Royal China
Royal China is one of the best places to eat Hong Kong style dim sum in London. It is conveniently located in the Hyde Park area, near the Queensway and Bayswater tube stations.
The food is legit and is comparable to some of the best places in Southern California or New York City.
I am particularly impressed by their fried minced cuttlefish balls. The batter is light, and the fish balls have a good degree of bounciness. They almost taste like those from the streets of Hong Kong.
The paper-wrapped prawns with sesame seeds are fresh and fried to perfection. The black bean sauce of the pork spareribs is rich and delicious. If you are looking for authentic dim sum, you will not be disappointed.
Pham Sushi
Hours: Mon – Fri 12pm – 3pm and 5pm – 10pm; Sat 5:30pm – 10pm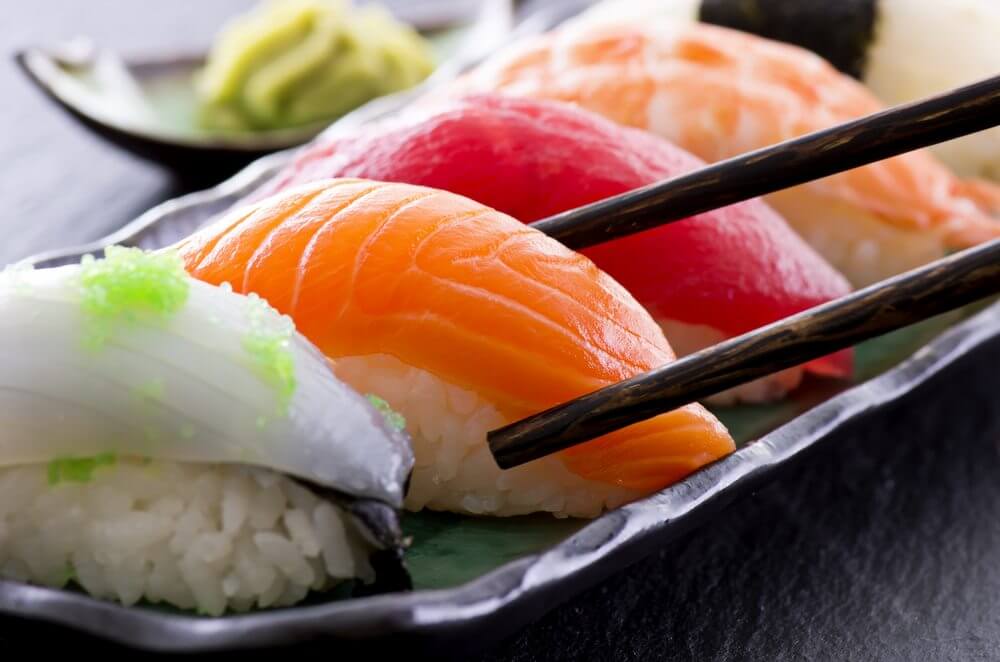 You might have heard people say that you cannot get good sushi in London without paying an arm and a leg. That's probably because this British is full of expensive and sophisticated fusion type sushi restaurants that will indeed put a dent in your wallet.
Let me take you to Pham Sushi, a neighborhood gem serving authentic and traditional nigiri sushi and rolls. Their fish is always fresh and top-notch quality. Prices are very reasonable, given the top quality of the food. For about £5 you get two pieces of either salmon or tuna sushi. Combination platters run from £15 – 25.
They also have a nice variety of rolls. Their signature roll is their Pham Special which is a snow crab and avocado roll wrapped in turbot sashimi. If you feel like splurging a little, get their lobster tempura roll. My favorite is the crunchy toro roll.
They have two locations; one is for takeout only and the other is for dine in. Reservations are recommended. Check their website for details.
Ippudo
Hours vary by location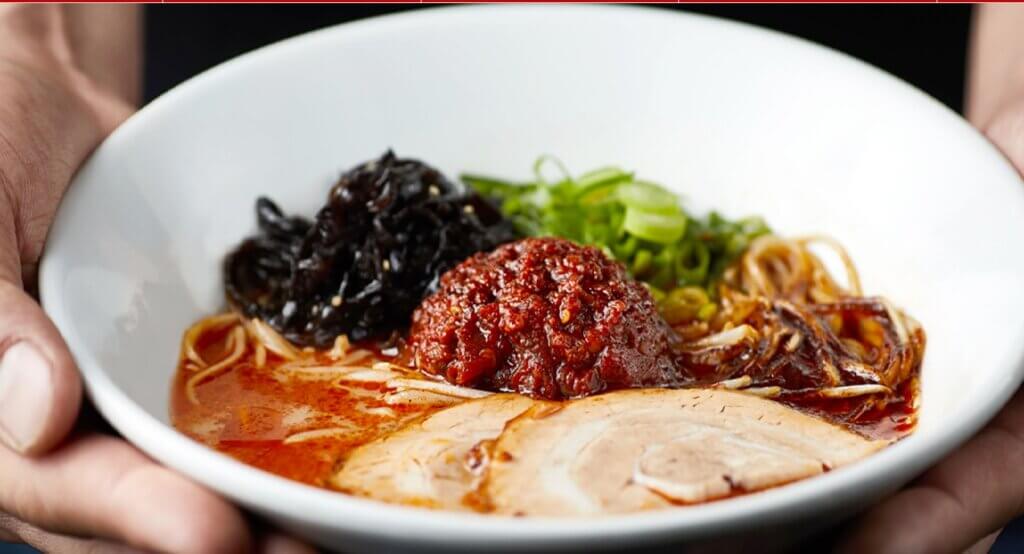 One of my most favorite comfort food on a chilly winter day in London is a bowl of ramen with piping hot soup. Now that one of the most iconic brands of ramen in Japan has four locations in town, it is almost a foodie's dream come true. Ippudo is famous for their rich and milky pork bone broth slow cooked for more than 18 hours for its layers of depths in its flavor. The classic bowl of ramen made with this special broth is the Shiromaru, composed of traditional Hakata thin noodles and topped with slices of chashu, a blend of veggies, and green onions.
If you want a bowl of ramen that will give your palate a burning sensation, get the Karaka-Men. It is the classic tonkotsu ramen topped with Ippudo's secret spicy miso paste which adds a dimension of bold flavors to the soup noodles. For apps, get their Hirata Buns. These are soft and fluffy freshly steamed buns stuffed with a filling of your choice – chashu, chicken, veggies, or sweet chili shrimps.
Steak and Seafood in London
Steak & Co
Hours vary by location
Steak & Co is a steakhouse that specializes in steaks served on a sizzling hot stone. In a nutshell, you choose a cut of steak, butter, seasonings, and sauce.
The steak is delivered to the table seared on the outside to seal in the juices and flavor, but completely raw inside.
Then you'll cook your steak on a sizzling hot stone the way you like it. It is a great experience which I truly enjoyed.
The quality of the meat is top-notch. For a lean cut, get the filet. The rib eye is well marbled and has a beefier flavor.
Pictured above is my filet steak cooking on the sizzling hot stone.
Flat Iron
Hours vary by location
At Burger and Lobster, you order burgers and lobsters. At Flat Iron, you guessed it, you order flat iron steaks. In fact, you don't have too many other options other than a cheeseburger or a filet steak. You probably have a more difficult time deciding what side dish to order. If that's the case, I'll recommend the dripping chips and creamed spinach. For sauce, go with the peppercorn!
The flat iron steak is pre-sliced and is served on a cutting board with a cleaver, which I think adds a nice touch to the presentation. The beef is top quality, tender, and flavorful. According to the restaurant, Flat Iron raises their own herd near Thirsk in North Yorkshire.
Flat Iron has nine restaurants throughout London and there should probably be one near you. They are always very busy, and reservations are required. Prices are moderate.
FishWorks
Hours vary by location
FishWorks is a fish lover's paradise. They have a fishmonger upfront, and you can pick your fish and have them cook it to your liking and paired with specialty sauces. This almost reminds me of the Chinese seafood restaurants in Hong Kong, where they literally pick up a fish from a tank and show it to you at your table.
Dover Sole and Monkfish are always the locals' favorites. Prawns, live mussels, and oysters are also available. A whole lobster thermidor is the ultimate splurge.
The restaurant is casual and charming. The atmosphere is homey and definitely family friendly. Their three locations are in Covent Garden, Marylebone, and Swallow Street. Prices are moderate to moderately high.
Sophie's Steakhouse (Soho)
Hours: Mon – Tue 12pm – 11pm; Wed 12pm – 12am
Thu – Sat 12pm – 1am; Sun 12pm – 10pm
Sophie's in Soho is a contemporary steakhouse and cocktail bar in the heart of London's theatre district. It is one of the best restaurants in in town for a pre-theatre treat. The décor is trendy and stylish; the atmosphere is cool and vibrant.
They have a lunch and pre-theatre pre-fixe special which is a great bargain. I love their steak frites! The steak is tender, juicy, and rich in flavor.
They are also known for their extensive martini's menu, which features giant 10-ounce martinis. My personal favorite is the lychee martini. Give it a try!
European Cuisines in London
De Amicis
Hours: Mon – Fri 12pm – 3pm and 5:30pm – 10:30pm;
Sat 12pm – 4pm and 5:30pm – 10:30pm; Sun closed
It is always delightful for a traveling foodie to stumble upon a nice neighborhood gem like De Amicis. It is a family-run authentic Italian restaurant with a cozy and intimate ambience. The quality of the food is top-notch. The menu is quite extensive, and prices are moderate.
My Lasagne Della Casa is baked freshly in a small individual baking dish. The sauce carries a taste of fresh tomatoes, is rich in flavor, and delicious.
I also recommend their Scaloppa alla Milanese (veal Milanese) and is one of Milan's popular local specialties. The breading is light and is fried to a perfect golden brown. Inside the breading, the meat is moist and tender.
Café Rouge
Hours vary by location
Café Rouge is a chain of moderately priced French bistros in the UK with a half-dozen locations in London. The one I went to is on Wellington Street in Covent Garden. It is across the street from the British Film Museum.
They have a good selection of steak frites. Pictured above is a 5-oz Black Angus rump steak lunch special. The steak is tender and flavorful, and is served with rich melted garlic butter. I find their daily lunch specials a great value and make this a good place to take a break and recharge your batteries while visiting Covent Garden.
For dinner, traditional French classics like beef bourguignon and duck confit are also good. If you are staying in the area, they also have an extensive French breakfast menu. Get the croque madame!
The Real Greek
Hours vary by locations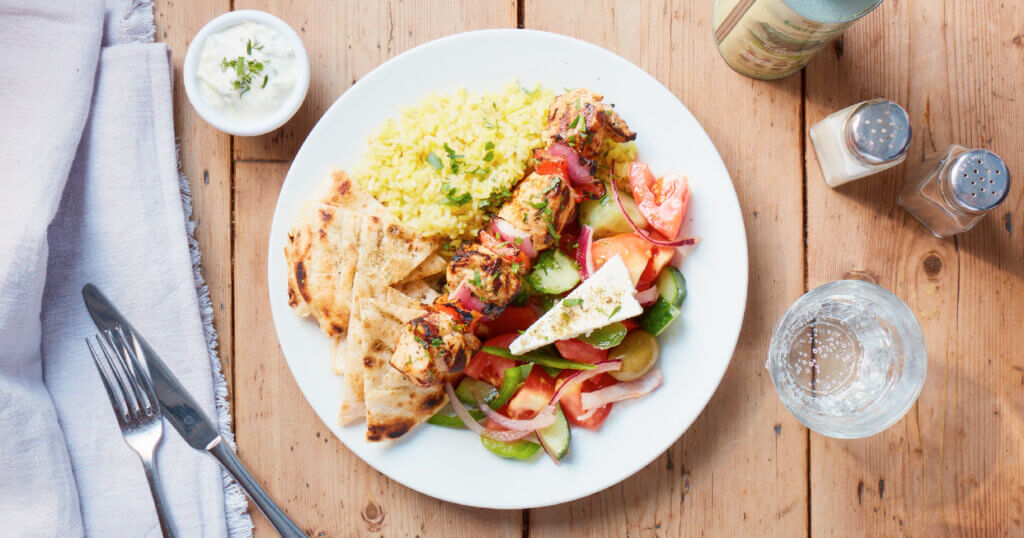 The Real Greek is a chain of casual authentic Greek restaurants with many locations in England. Their most popular locations in London are in Soho and Covent Garden.
Their menu is quite extensive, with a large selection of cold and hot meze (appetizers). They are served tapa style and it is typical to order many dishes to share. Some of my Greek favorites are moussaka (made with eggplant and potato, layered with minced lamb in tomato sauce) and chicken Monastiraki (chicken marinated with Greek herbs, served with tzatziki, onion, and tomatoes.) While you are there, don't forget to get a souvlaki wrap too – they are so good!
If you would like a more formal dinner, pre-fixe set dinners are also available. If you happen to be there for lunch, their lunch specials starting from £9 are some of the values in town. For dessert, get the traditional baklava, which is a crispy filo pastry filled with honey and coarsely chopped nuts like walnuts, almonds, and peanuts.